Are you looking for small towns in Texas? We have you covered. In this article we will walk you through cute towns in taxes, small cities in Texas and the best small towns in Texas .
Texas is a large and diverse state with so much to see and do. It can often be overwhelming and hard to know where to start.
We always think the best way to really get to know a state is to visit the small towns. These small towns often allow you to see off the beaten track and you also get to experience the hospitality of the locals.
And when it comes to Texas, boy do they have some colourful, unique and beautiful small towns. From beautiful cute towns, to quirky towns, to slow and sleepy towns to happening towns, Texas has it all.
Texas is so huge that you could say there was a town here to suit everyone whatever their tastes and interests. We feel you could travel the whole of Texas and never bumped into a similar towns. It's a great place for a road trip.
In this list we have tried hard to included towns that are different and will suit every taste. This list is a start but by no means exhaustive. When it comes to small towns in Texas the list is huge and the options endless, but these towns are great places to start.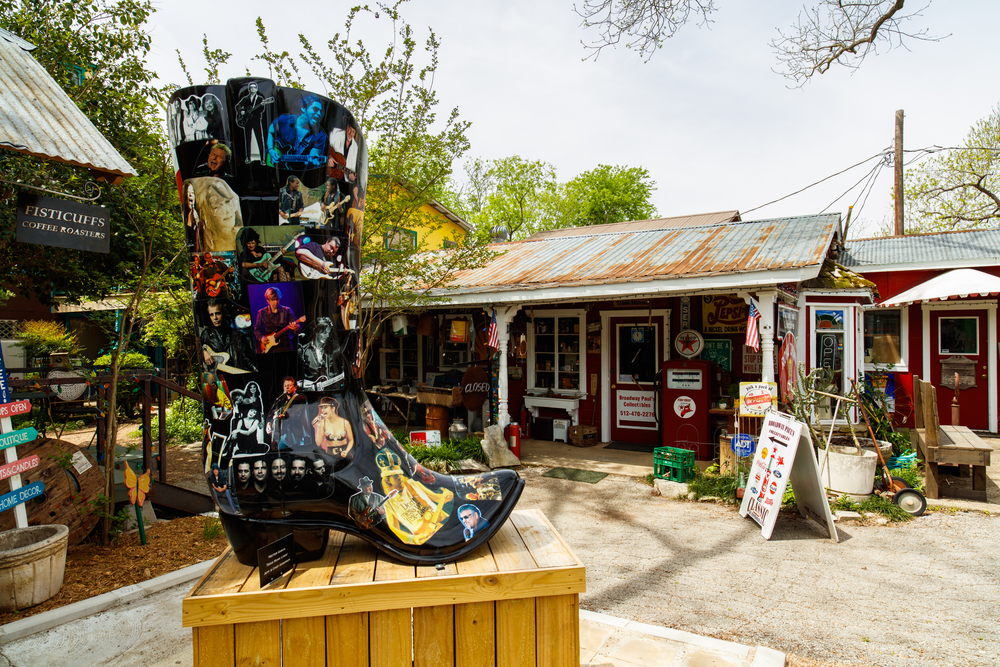 Fredricksburg
When it comes to small towns in Texas I'm not sure they come more epic then this one. That's perhaps why its popular and pretty much makes every list.
The town is known for two things its German heritage and vineyards. Take your pick as to which interest you the most.
Founded in 1846, Frenricksburg is a very historic town that is wonderful to visit anytime of year. You will find everything here from museums, shopping, great dining and amazing countryside.
It's also referred to as the "most charming town" which gives you an idea of its pull. When it comes to cute small towns in Texas this is top of our list.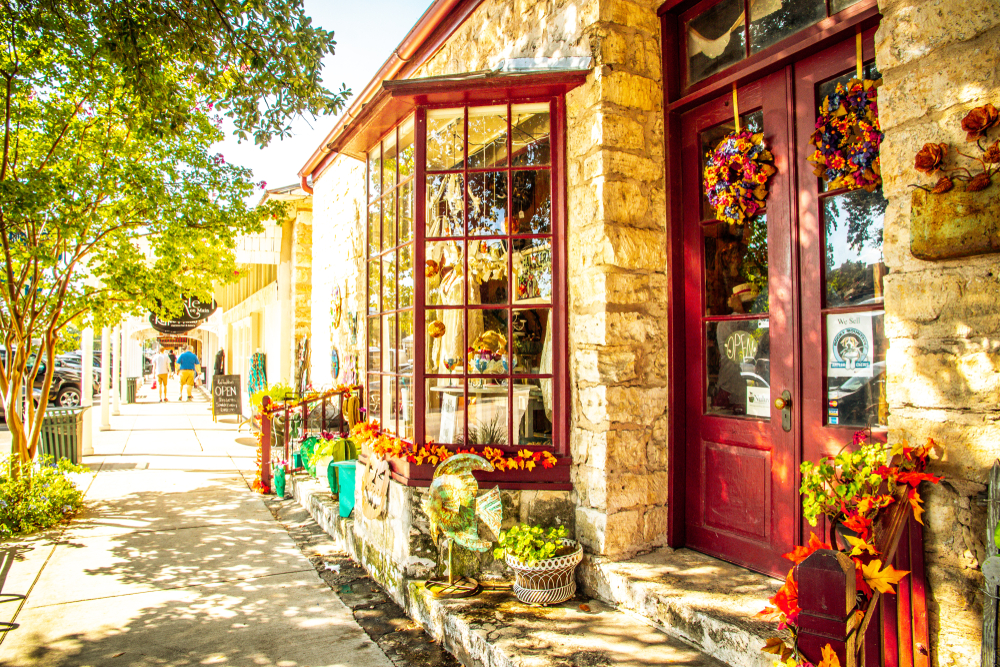 Dripping Springs
23 miles west of Austin is the town of Dripping Springs. It's best known for the Hamilton Pool Preserve. Hamilton Pool Preserve is a scenic natural swimming pool in a canyon below a 50-ft waterfall, It has a somewhat grotto feel about it.
However the town has a lot more to offer. It's charming with plenty or wineries and distilleries. It's also a very popular wedding destination with some amazing locations you can get wed.
It is the gateway somewhat to Texas Hill Country and really is beautiful. One of the small towns near Austin that you really need to pay a visit to.
Please note at the time of writing Hamilton Pool Preserve is closed for swimming while there is a assessment on overhanging rocks so please check before you make the journey.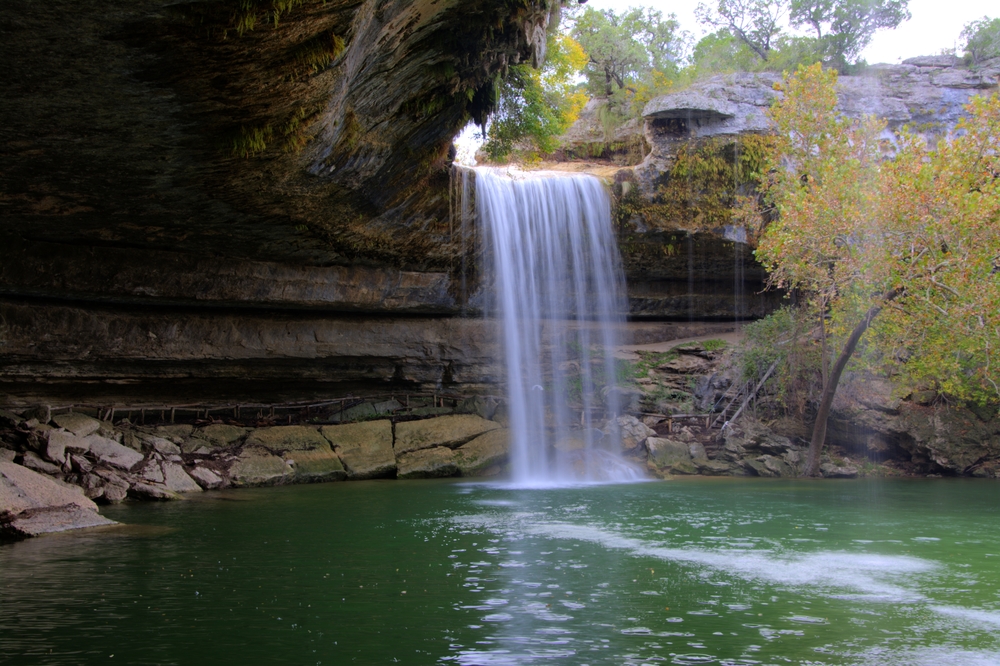 Round Top
If you are an antique person then how about Round Top? It's a charming town that hosts the annual antiques fair.
It's of coarse awash with antique shops one that has a London Double Decker bus. Also take a stroll around Henkel Square Market and Rummel Square they are beautiful.
Oh and they also have the smallest active Catholic Church in the world.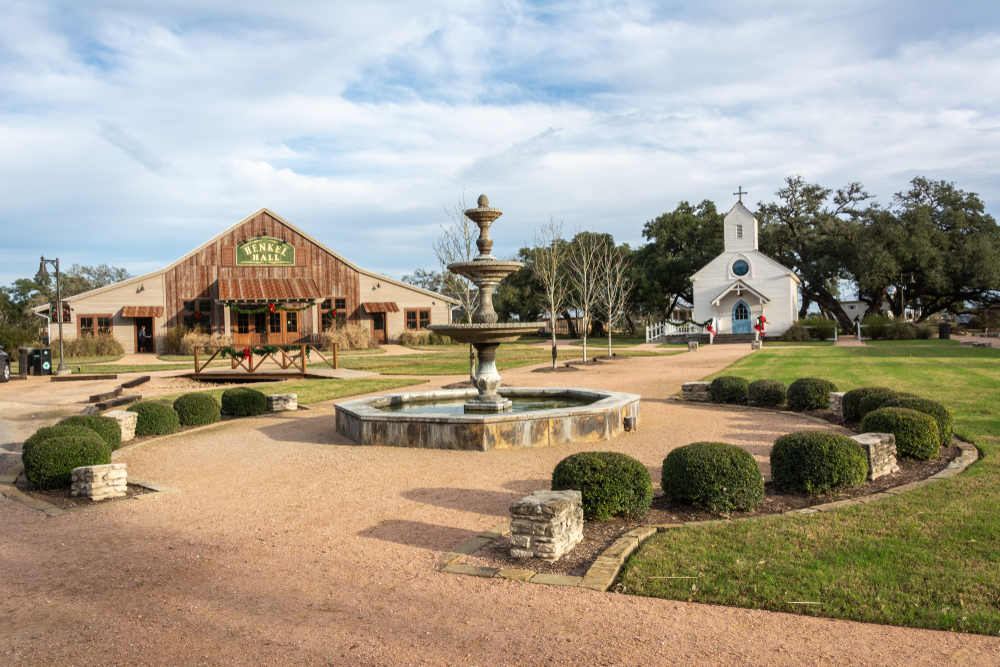 Luckenbach
When it comes to small towns this one is tiny with just three residents. Despite its population of three it is somewhat of a country music hot spot.
Also while you are here visit the oldest building a combination of store post office and saloon built in 1886.
Its very close to Fredricksburg, just 13 miles away so you an combine the two quiet easily. While they are both cute small Texas towns, they couldn't be more different than each other.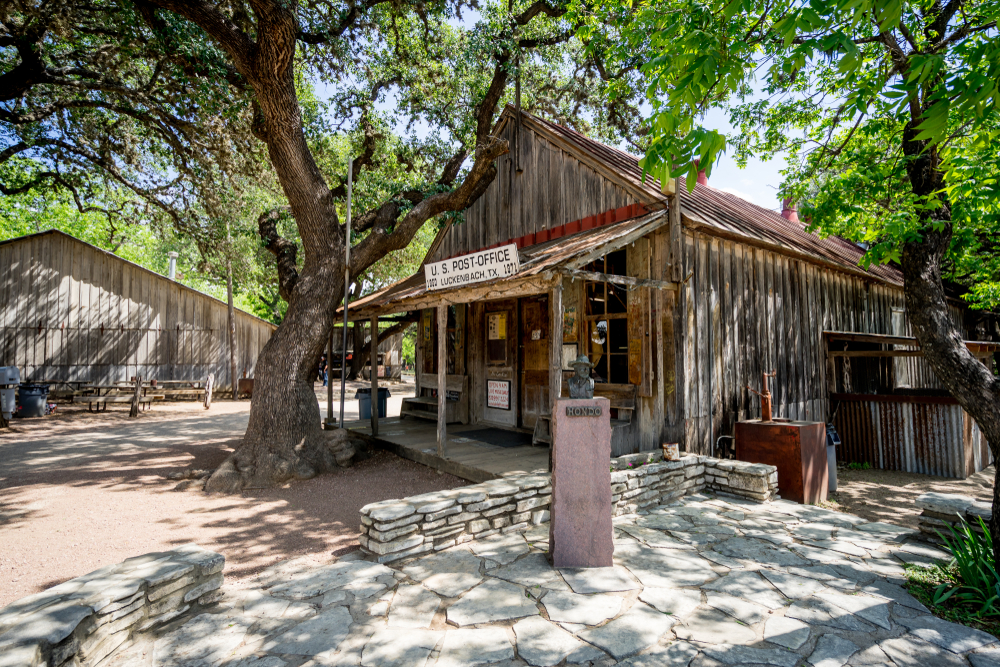 Marfa
This town is both interesting and surprising. It's one of the most unique and somewhat unexpected small towns in Texas.
First it's home to the smallest Prada store in the world (though it is never open,it's actually an art installation), several works by Andy Warhol, and several other quirky works of art.
The Prada installations has become somewhat of a cultural icon having visitors flock to this small town to see Michael Elmgreen and Ingar Dragset creation. Even Beyonce has passed through just to see it.
This is one of the small Texas towns that is perfect for a getaway. If you are after something different this might be perfect for you.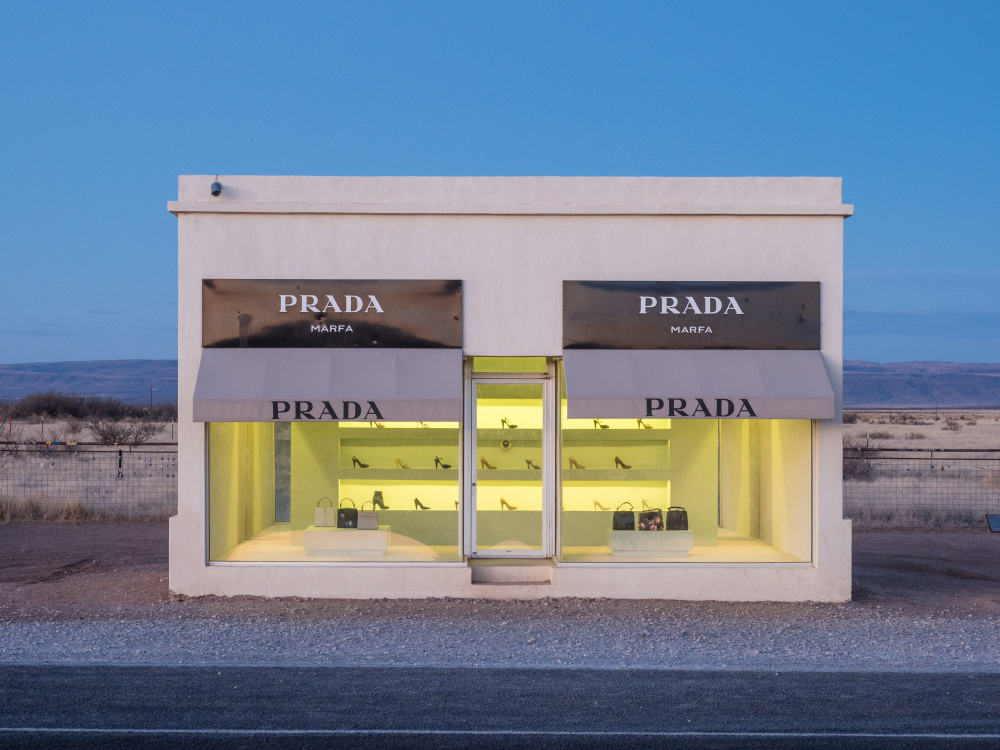 Wimberly
If you love to swim this is the small town for you. Located where Blanco River meets Cypress Creek the nearby Blue Hole and Jacob's Well are great swimming holes.
Wimberly is also a great little town with a wonderful art and music scene. on the first Saturday of the month Wimberly host the largest flea market in Texas. So if you are then pop in and buy some unique items.
And if like us you love seeing towns for up high the nearby Baldy Mountain provides great views of the area. When it comes to small towns in Texas Hill Country this one should be on your list.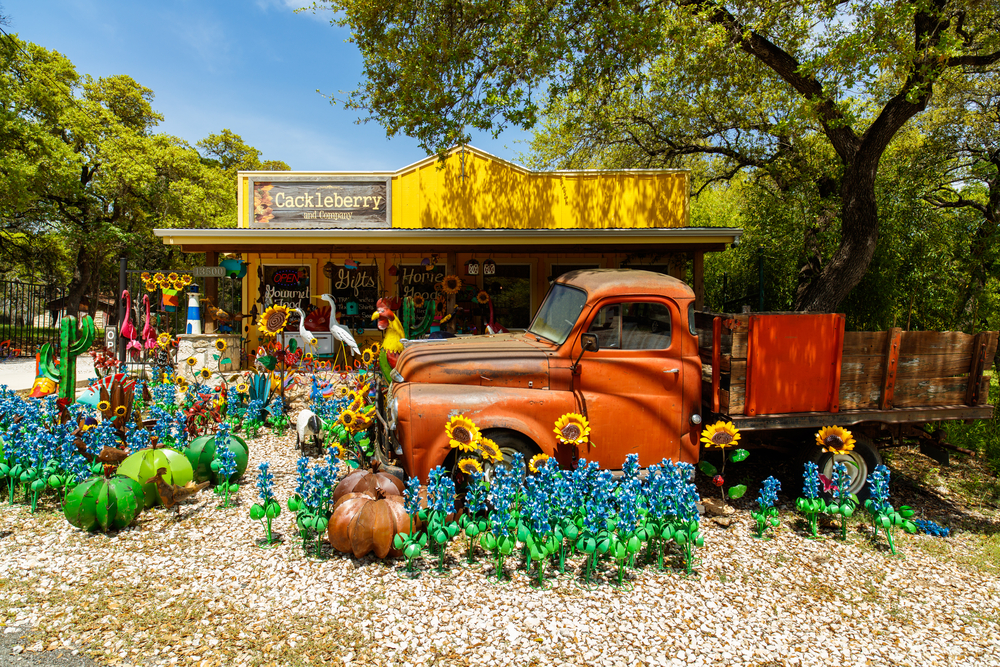 New Braunfels
Located between San Antonio and Austin this is another one of those cute German inspired towns well worth a visit.
The Guadalupe and Comal Rivers run through the town and water sports are a big draw here. It is also close to the Natural Bridge Caverns so combine it with a trip there.
Make sure to visit the historic district which is know for its restaurants, antique shops, museums. This is one of the small towns near San Antonio that you must visit.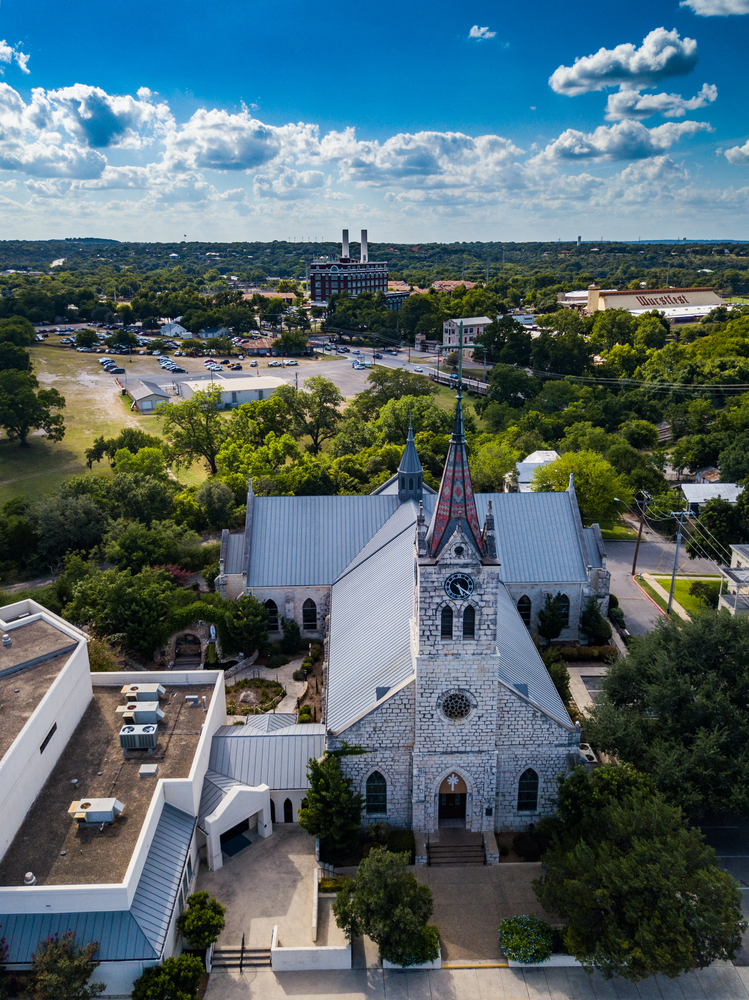 Nacogdoches
Nacogdoches is one of those towns that has something to offer everyone. Whether it's shopping for particular antiques, walking in nature or the historic downtown it has a lot to offer.
It's the oldest small town in Texas and offers history in plate loads which is piles with the hospitality and charm only a small town can. The town is sprinkled with historic trails, some trade routes of the native Americans.
It's also quite a picture perfect location. One of the cute small towns in Texas to visit if you love history.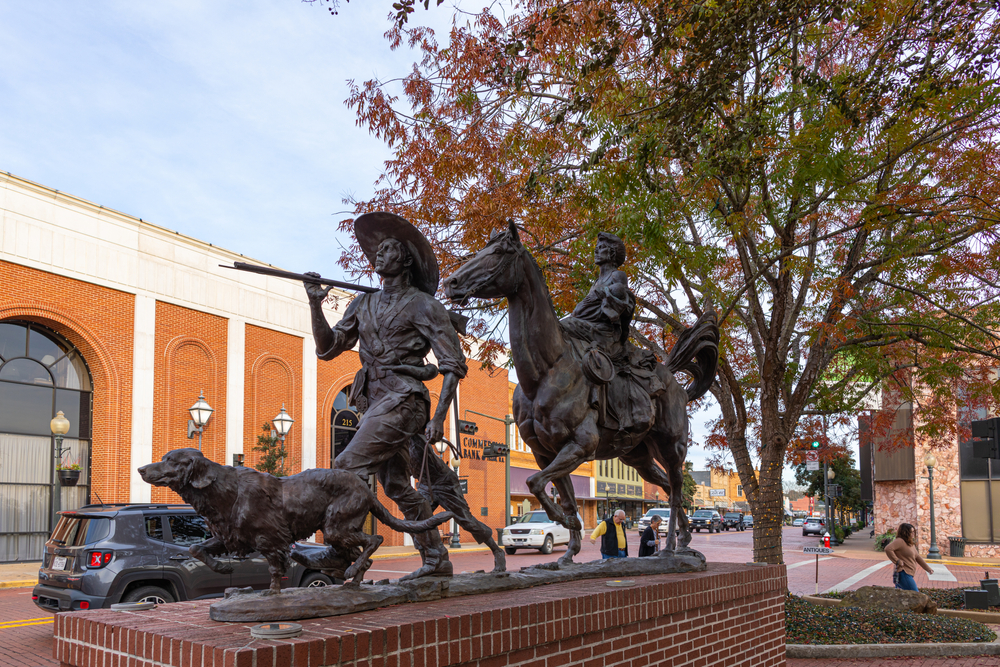 Mineola
Sometimes known as "the forks of the river," due to its proximity to the Sabine River, Lake Fork Creek, Big Sandy and Little Sandy creeks. This town offers plenty to do and see.
Most notable the Mineola Nature Preserve a 2,911 acres on Loop 564 along the Sabine River, with facilities including wetlands, numerous hiking and equestrian trails, bee hives, extraordinary bird-watching, and more for the outdoor enthusiast.
Lake Fork is also worth a visit with its 315 miles of shoreline and bass fishing. The town itself is also well worth a visit.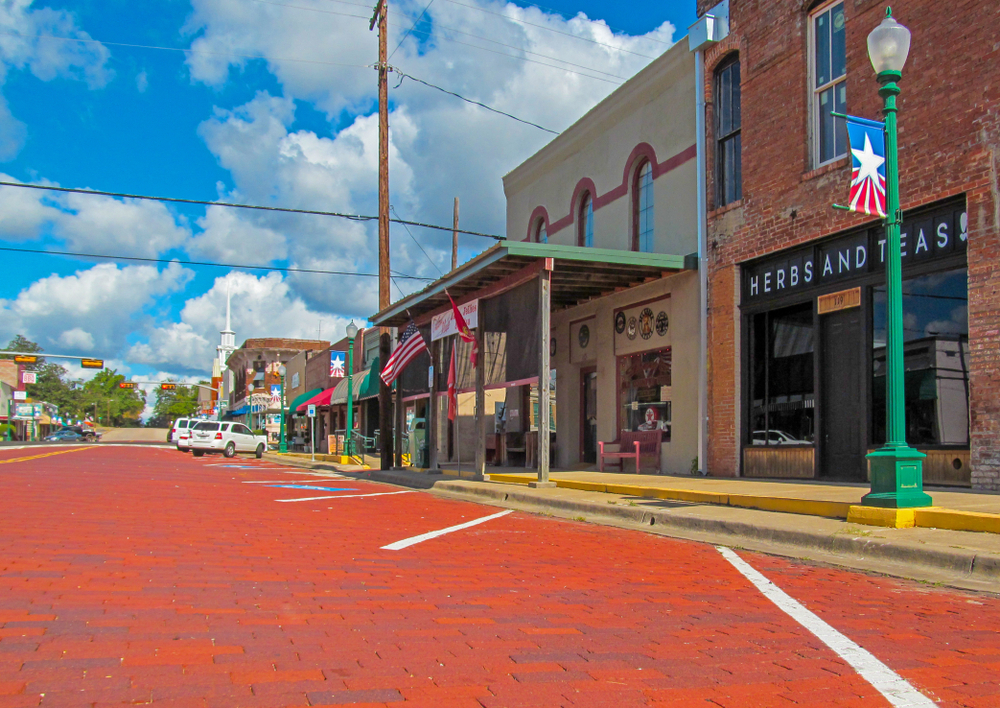 Marble Falls
Don't let the name fool you there is no marble at Marble fall. Here the marble is Texas limestone and the town sits on the banks of Lake Marble Falls.
It's one of the quaint small towns in Texas Hill Country and is perfect for those who love the outdoors and those that don't. The downtown area while small is very lovely.
Marble Falls is one of the best places to see bluebonnets in Texas so naturally it gets busier when they are in season. And we are told the Bluebonnet Cafe serves the best pie.
Its a perfect location for a romantic getaway.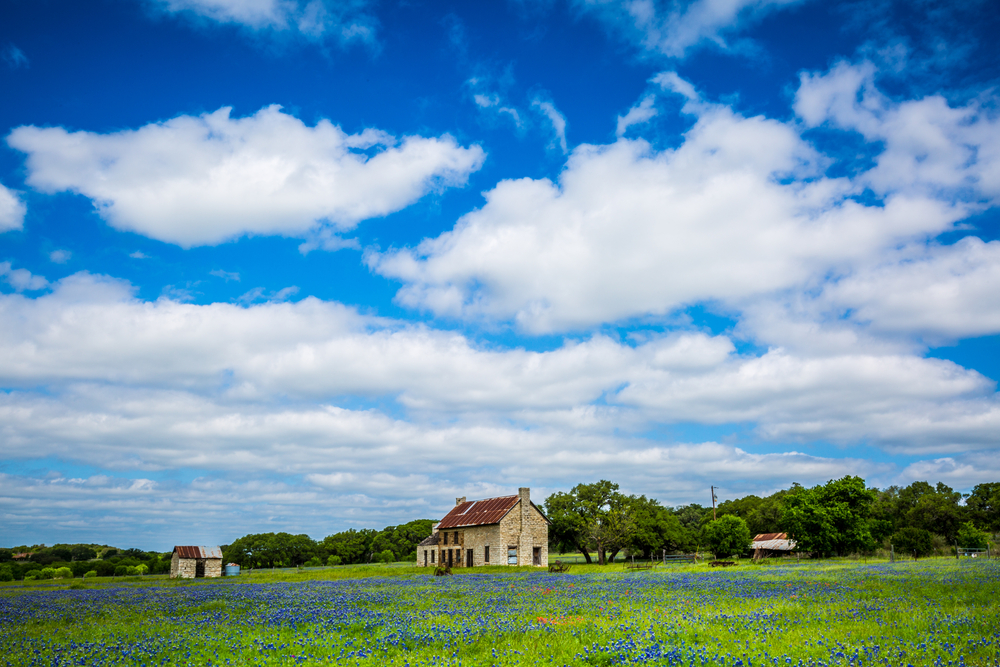 Driftwood
Not the smallest town we have featured here but with just 200 residents but definitely up there in tiny towns status.
For a small town it's pretty well known and that is for one reason alone. That reason, the legendary Salt Lick BBQ one of the best barbecue places in Texas at least according to most Texans.
Its very close to Dipping Falls so combine that with a visit to the best barbecue place in Texas.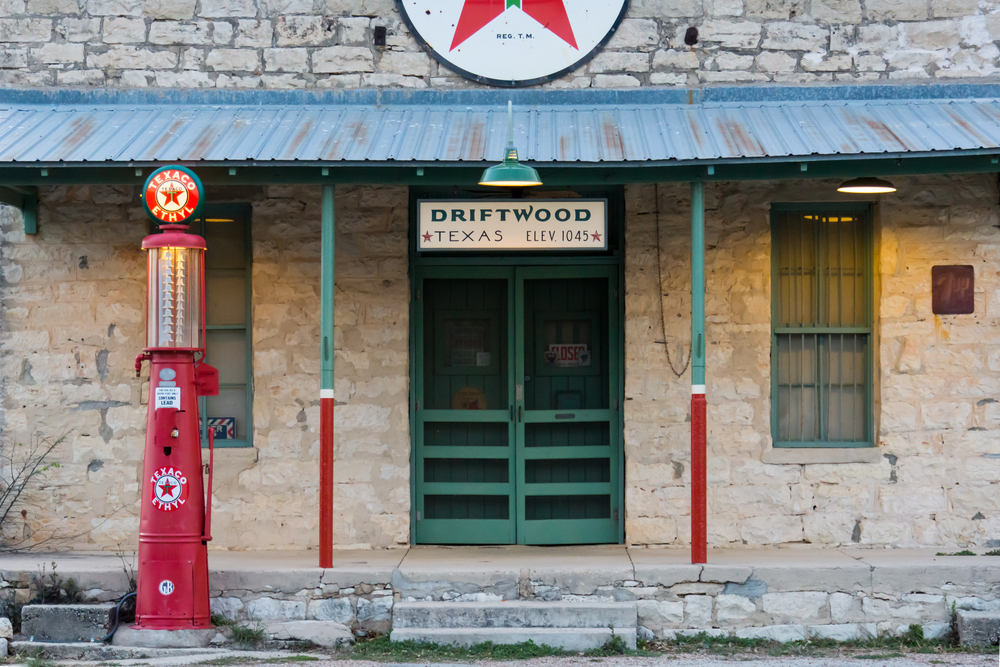 Smithville
Less than an hour form Austin this is a great small town to visit where you really want all the charm.
The downtown is just picture perfect in fact so much so many a Hollywood film has turned here to film small town USA.
The lawns are manicured the homes beautiful and historic, the quaint and cuteness just scrams at you. Hope Floats was filmed here.
One of the small towns near Austin that is great for a getaway.
Port Aransas
With a population of 4000 this is one of the larger smaller towns but its just perfect for a laid back beach getaway,
On Mustang Island the beaches are greats, the restaurants we are told superb and the lighthouse worth a visit. One of the small Texas cities well worth a visit.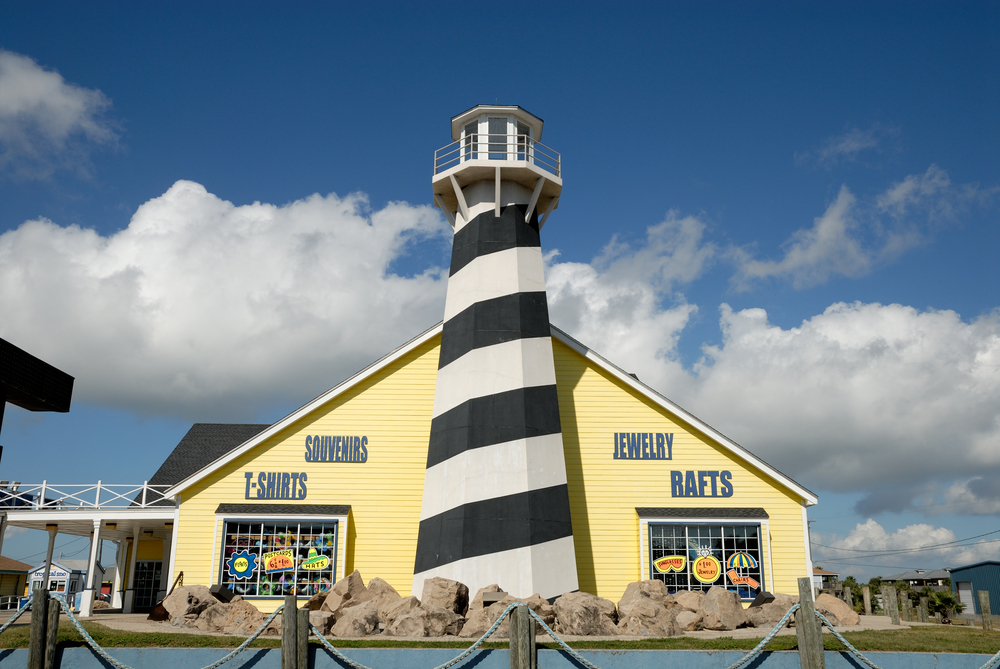 Jefferson
Known as one of the most romantic small towns in Texas. It is a great place for a getaway with your love one.
The downtown has many antique shops , the charming general store is a must visit and Jay Gould's elaborate private rail car that dates to the late 19th century is worth a visit.
While most use this is a stop off for the unique and incredible Caddo Lake State Park it is worth staying a while and taking in the town.
One of the small towns near Dallas that is well worth a day trip to.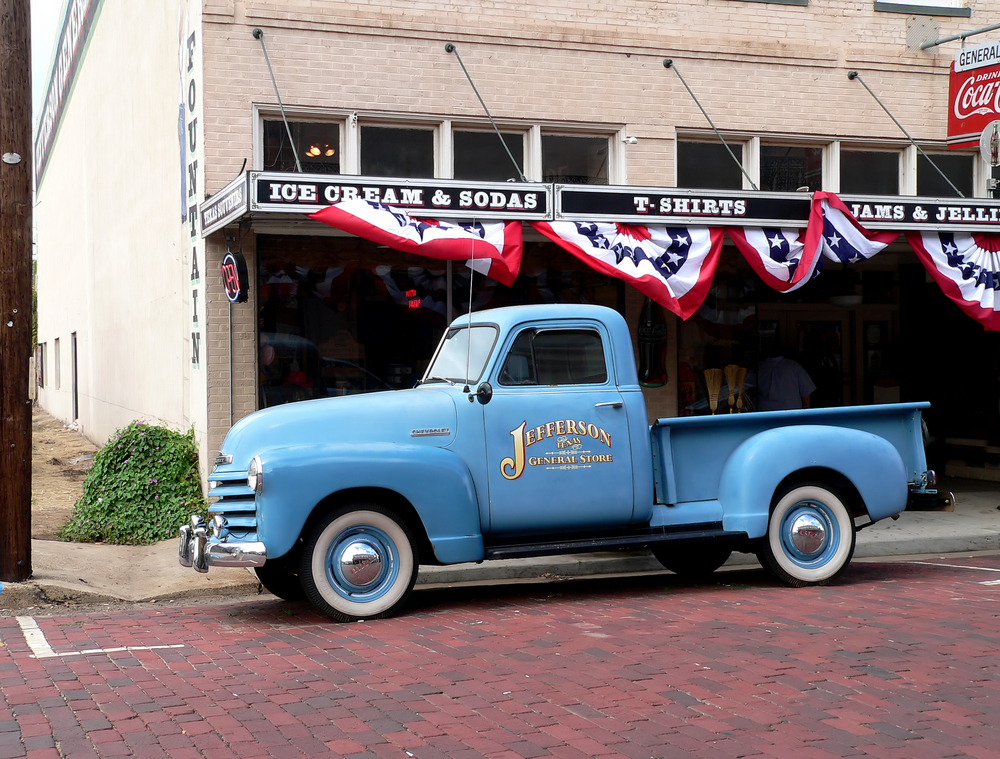 Lockhart
Known as the "barbecue capital of Texas" we just had to get this one in the list. This is the place to go with a empty stomach.
The legendary barbecue places are Smitty's, Kreuz, and Black's and are all worth a visit. The barbecue is complemented by the many brewers that are also here.
This is all topped off with Texas charm and one of the most beautiful courthouse that we have ever seen.
Georgetown
Really close to Austin this town is often overlooked but we think it is well worth a visit. While some may see it as a suburb of the capitol we feel it is a town in its own right.
It has one of the most beautiful town squares in Texas and the downtown area is equally as stunning. The historic courthouse is a big pull too.
Also of note here are the Inner Space Caverns, Georgetown's own blue hole and the Red Poppy Festival that happens here.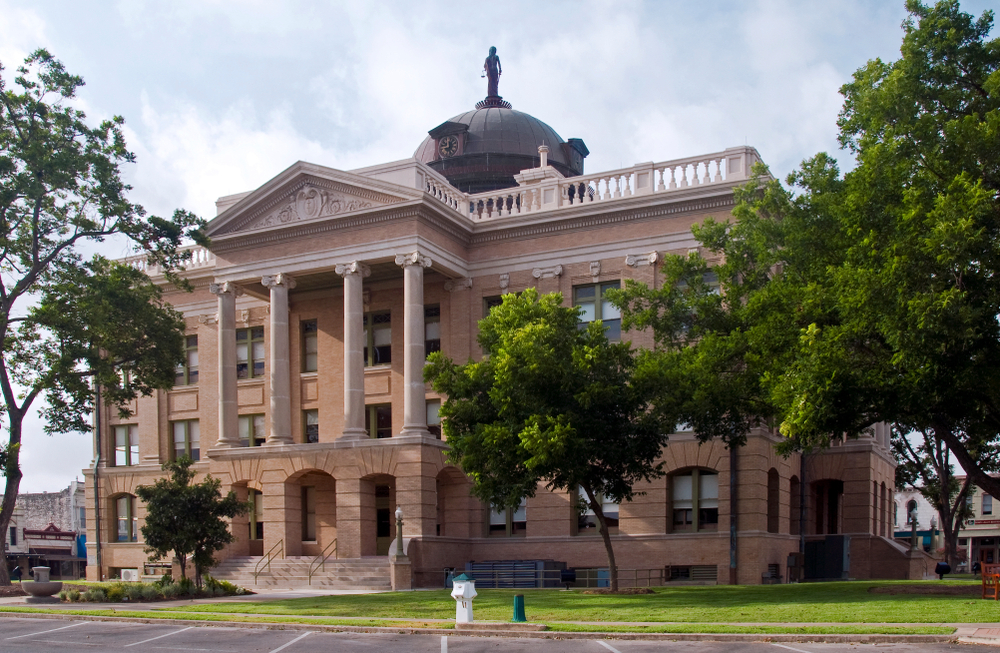 Boerne
If you are looking for a small town in Texas where you can relax and unwind then Boerne may be perfect for you. Located just 20 minutes form San Antonio it's a great pace for a getaway.
There is lots to see and do here including the Guadalupe River State Park, Cascade Caverns and the Kendall County Historic Jail built in 1887.
Its a town with lots of history and we highly recommend what is known as a "Free DIY Historic Walking Tour." Walk and learn about the towns Germans influences, and the ingenuous America Indian who inhabited here. There are over 100 properties to visit in the walk.
One of the small towns near San Antonio that is well worth a visit.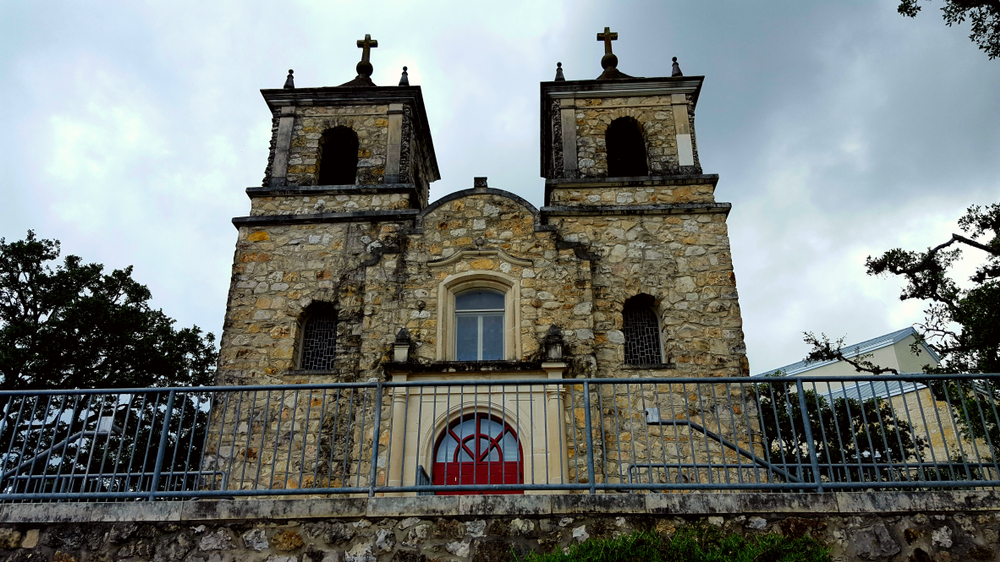 As you can see when it comes to small towns in Texas there really are a lot to choose from. Whichever of these cute small towns in Texas you visit we know you will have a great time.
Whether you visit one of the small towns near Dallas or opt for one of the small cities in Texas you will not be disappointed. Come back and tell us about your visit and let us know what small Texas town you would add to the list.