Are you looking to visit the cutest towns in Texas Hill Country? We have you covered with the best places to experience all that the Hill country has to offer!
Texas Hill Country is located in southern and Central Texas between Dallas, San Antonio and Austin. Perfect for day trips, weekend getaway or vacation as each offer something unique. Known for wineries, breweries, amazing restaurants and shopping each with their own flare.
From small towns to larger towns many of which have a German influence each town is known for their amazing outdoor activities ranging from National parks to rivers, springs, wildflower fields and festivals. And for those looking for culture and arts you can explore galleries and National Museums in each of these Texas Hill Country towns!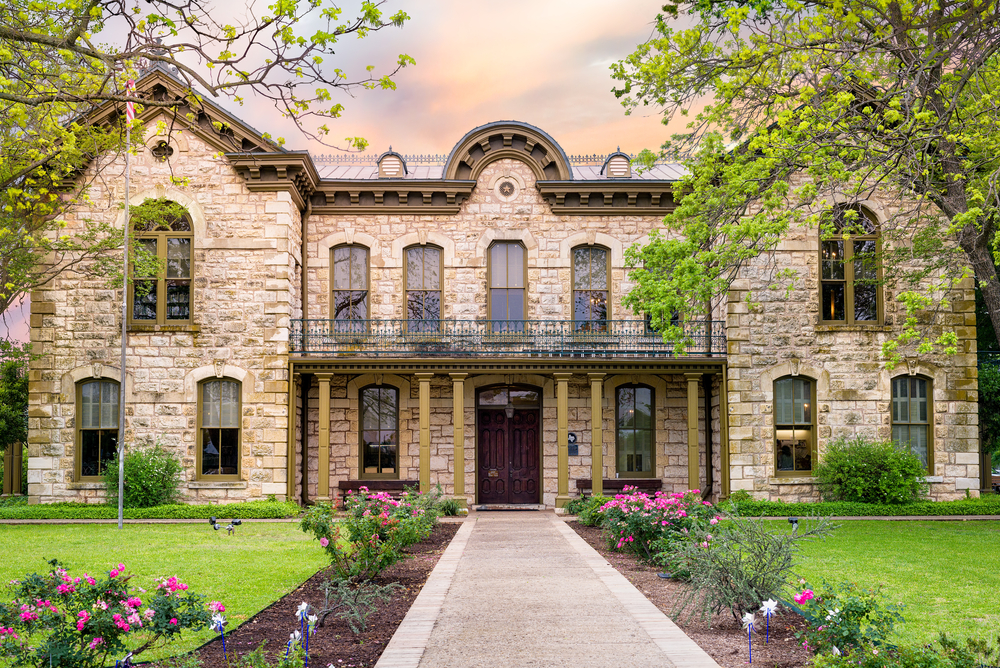 10 Cutest Towns In Texas Hill Country
Fredericksburg
Founded in 1846, Fredericksburg is one of the most popular Texas Hill Country towns. This German inspired town is the perfect place to visit year-round, and is often referred to as " one of the most charming towns". From shopping and dining on main street to exploring the area's wineries, museums, and the great outdoors this town has it all!
Check out the Patio Sisters Claire Suites on VRBO for where to stay in the area. This studio that sleeps 2 comes with a private outdoor hot tub and wood-burning fire pit!
For wine lovers, the Texas Hill Country is home to over 100 wineries, and Fredericksburg is at the heart of wine country. Visit over 50 wineries in Gillespie county, where tours and shuttles are organized from the downtown area every Saturday.  If you are looking for arts and history visit the Charles Morin Fine Art museum or one of the many art galleries. Head to the Fredericksburg Pioneer Museum to learn about the history of this city, or visit the National Museum of the Pacific War. 
Or head just 20 minutes south to the Lyndon B Johnson State and National Park. Outdoor attractions from cycling, Enchanted Rock State Are with trails, rock climbing, and more.
Some of the biggest events of the year are Oktoberfest and Christmas season. If you are looking to visit Hill Country towns near San Antonio you are just 70 miles away!
Check Rates: Patio Sisters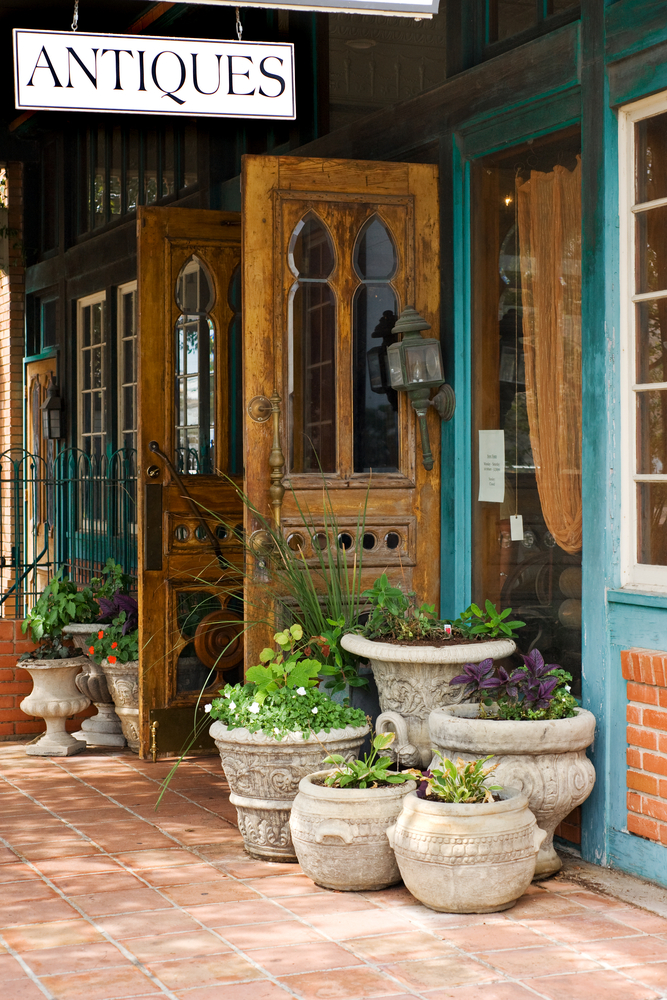 Lockhart
Lockhart is one of the Hill Country towns near Austin. Located just 30 minutes south, you will find the BBQ capital of Texas! If you are a foodie looking to visit one of the Texas Hill cities this is the place. On your visit here you will want to head to Main Street, where you will find restaurants, antique shops, and boutiques.
If looking to stay in the area head to the Hi-Way Ranch Lockhart. This 40-acre property accommodates 8 guests in a 3 bed/3bath home complete with a large wooden dock and a small pond. The perfect places to escape and enjoy nature.
Head to the oldest library in Texas the Dr. Eugene Clark Library, or visit the architectural stunning County courthouse and the Jail Museum located near the town square. Enjoy the outdoors with hiking, golf, and more at Lockhart State Park.
Check Rates: Hi-Way Ranch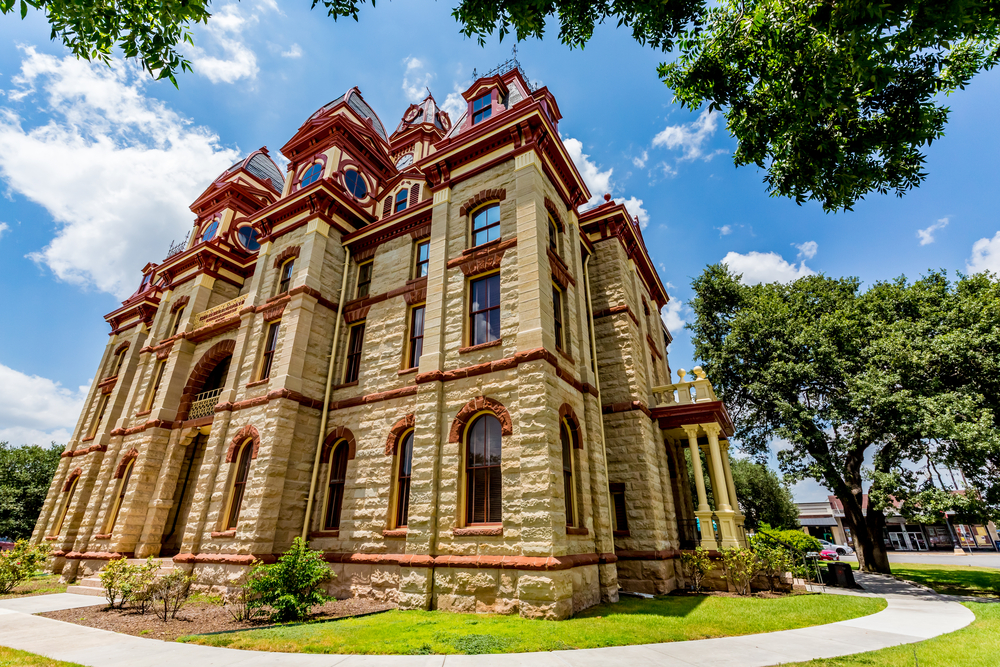 Luckenbach
Luckenbach is known as one of the small towns in Texas Hill Country. Known as the Texas town where just 13 people live accounting to Southern Living Magazine. This small town is just 13 miles from Fredericksburg.
You will be transported back to an old country town of the 1800s. It is the perfect spot to visit for the day in Hill Country to enjoy country music, with an outdoor music hall and a general store in the home of the old post office.
The Lucky Lane is the perfect place to stay in Luckenbach. This three-bedroom home, can sleep 4 guests and is fully equipped with everything you need from a covered front deck and back porch with views of the sunset, hammocks, an outdoor fire pit, and a shower for stargazing.
Check Rates: Lucky Lane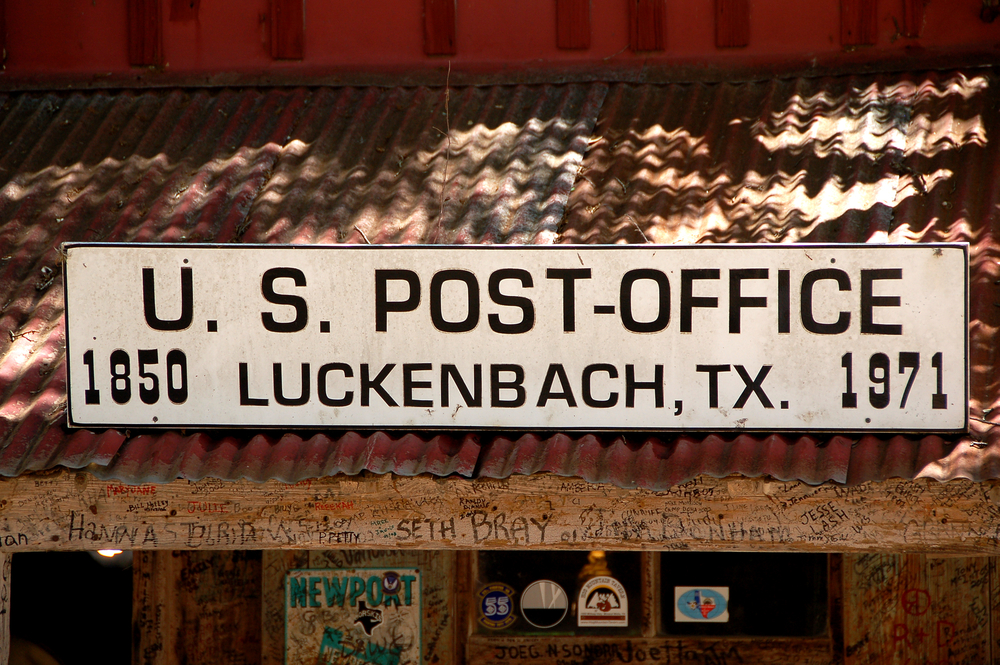 New Braunfels
New Braunfels is the best Texas Hill Country town for those who want to visit a German inspired town. Located between San Antonio and Austin this is the perfect stop on a road trip through Texas. The Guadalupe and Comal Rivers run through the city offering visitors every opportunity to enjoy the outdoors and water actives.
Check out the town's visitors page for a list of festivals throughout the year. From swimming, canoeing, tubing, visiting the falls, boating, and more you can enjoy life on the water. A popular visitors attraction is the Natural Bridge Caverns to explore 180 feet below Earth's surface.
From the largest country fair in Texas to Schlitterbahn Waterpark Resort there is so much to do. Try Ziplining, listen to live music, or go on a ghost tour!
The Historical district (Gruene) is known for its German restaurants, antique shops, museums, and more. After exploring the downtown Gruene Historic district, end your stay at a Romantic Casita with Private River Access. This newly refurbished casita is situated on the Guadalupe River with a private riverfront area with a patio and fire-pit and sleeps, 2 guests.
Visit one of the area wineries or try one of the breweries on the Hill Country Beer Trail.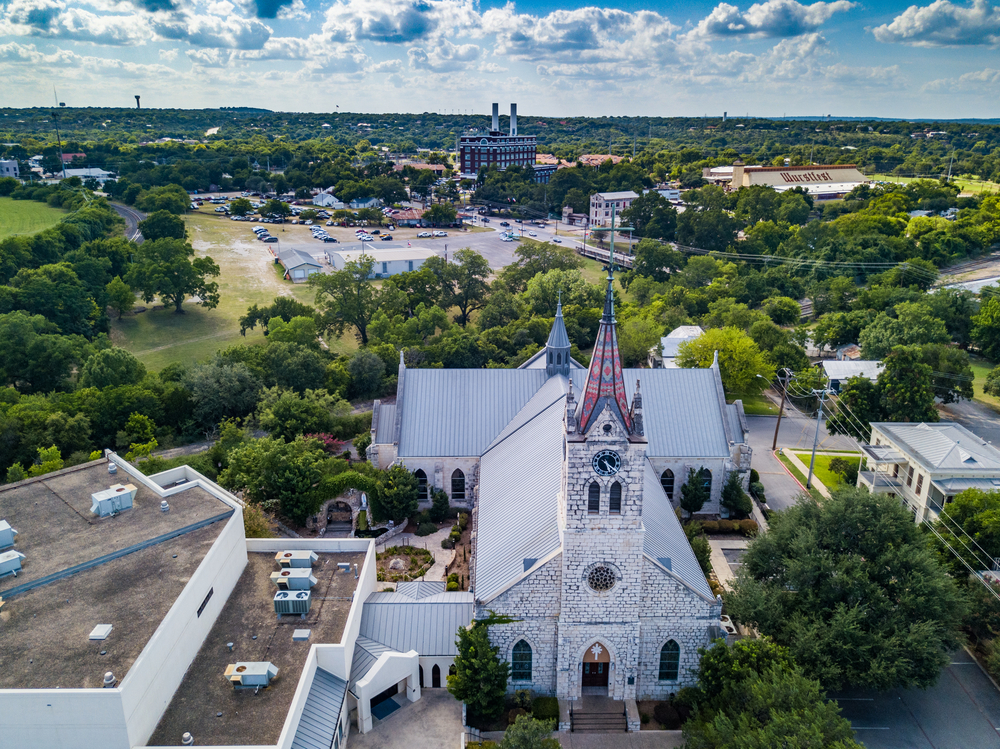 Dripping Springs
Located just 25 miles from Austin, and 3 hours from Dallas, Dripping Springs is one of the great towns in Texas Hill Country. Known as the "gateway" to Hill Country this is a great first stop. This area is known for its state parks that showcase limestone bluffs, canyons, cypress forests all just 30 minutes from downtown Dripping Springs.
Cool off in the turquoise water at Hamilton Pool Reserve, hike and horseback ride in Pedernales Falls State Park, or head to the Dr. Pound Historical Farmstead and museum where you can experience what it was like to live as a pioneer family in Texas.
If traveling with friends or family and looking for somewhere to stay the Drippings Springs Farmhouse Lodge is just one block from downtown and features 4 bedrooms that can sleep, 11 guests. Featuring a modern kitchen and bedrooms, and a large outdoor covered patio with tables and a fire pit. Perfect for those attending a wedding in the "Wedding Capital of Texas"!
Dripping Springs is the best Hill Country Towns for those looking to go on a tasting tour of Texas. There are plenty of wineries and breweries located just a short drive away. Make sure to stop into the Texas Hill County Olive company to sample local olive oils, or taste Texas-made vodka at Deep Eddy Distillery and Dripping Springs Vodka.
Check Rates: Farmhouse Lodge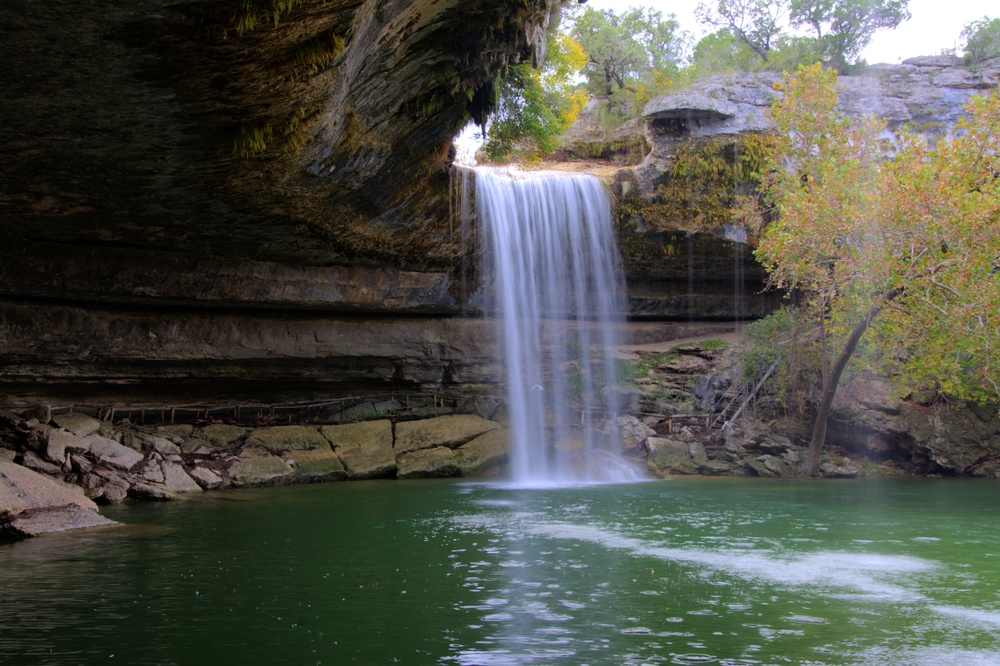 San Marcos
San Marcos is one of the Texas Hill Country towns located just outside of Austin in Central Texas. Visit year-round, as the San Marcos River stays 72 degrees and is crystal clear! This is one of the towns in Texas Hill Country to visit if you are looking for outdoor adventure.
From Glass bottom boat rides over Spring Lake, to Skydiving, the Wonder World Park underground cave system, to a train ride on Mystery Mountain there is so much to explore. There are multiple parks around the city to explore, and a Farmer's Market on the Square every Saturday.
The River House Retreat is located on the San Marcos River and offers guests a floating dock, a large pavilion on the river with bbq grill, picnic tables, and a ladder down to the river. The house sleeps 12 and offers a full kitchen and 3 bathrooms.
For those looking for arts and culture visit the Wimberley Glassworks where you can watch artisans craft handblown pieces, visit the outdoor murals, or one of the many art galleries in town. Visit the Calaboose African American Museum about life in Texas for African Americans or the Commemorative Air Force Museum located in a vintage 1943 hanger showcasing WWII aircraft.
Check Rates: River Retreat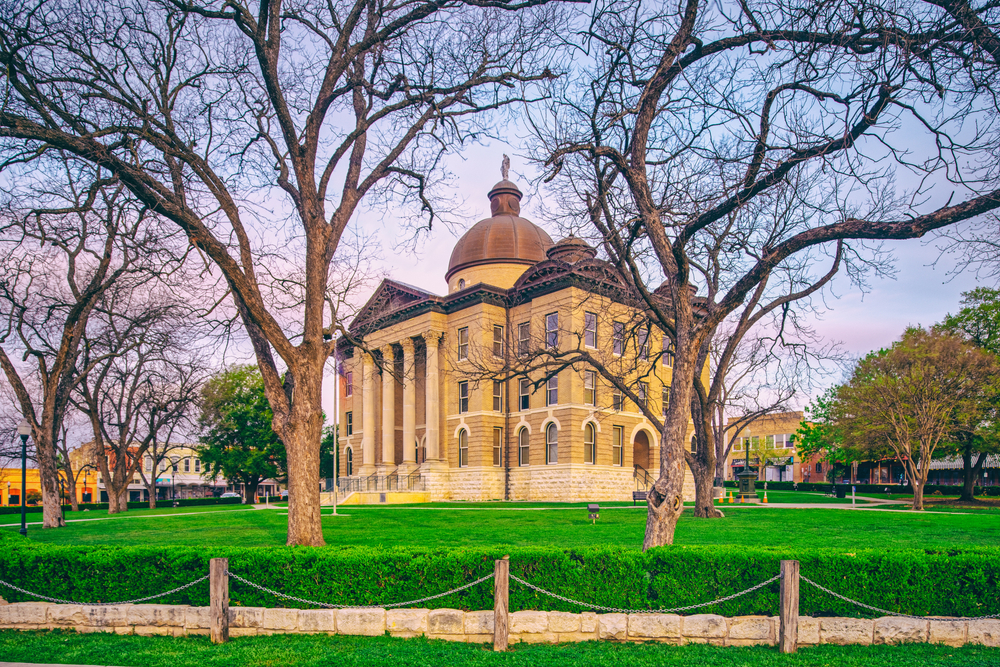 Boerne
Boerne is one of the small towns in Texas Hill Country where visitors can relax and unwind. It is located just 25 minutes north of San Antonio. For those wanting to stay in downtown Boerne, check out the Modern Farmhouse Home. This 3 bed/ 3 bath home is completely renovated with a large backyard and three patio areas. You can walk downtown to one of the 80 shops and dine on the Hill Country Mile alongside the beautiful Cibolo Creek.
Head to the outdoors at Guadalupe River State Park or Boerne City Lake Park where you can tube or paddleboat down the river. Just north of town, you will find Cascade Caverns and a Cave without a name where you will head below ground to explore the limestone caverns that stay a constant 66 degrees year-round. There are often
For something unique visit the Kendall County Historic Jail built in 1887, or become one of the 100,000 visitors exploring the Cibolo Nature Center and Farm that promotes and teaches about the conservation of natural resources.
Check Rates: Modern Farmhouse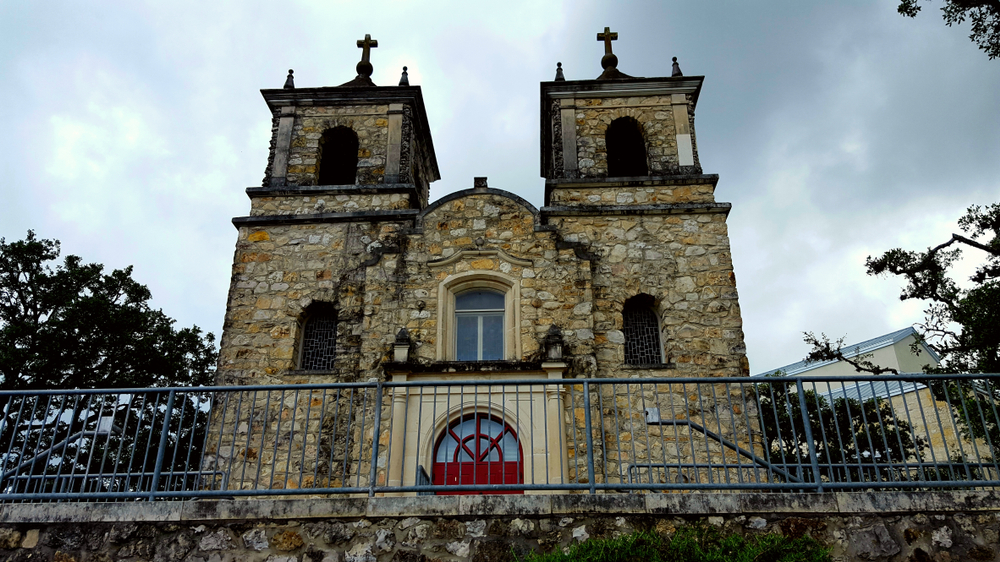 Wimberly
Wimberly is one of the Texas Hill Country towns to visit on a day trip from Austin. Known for its swimming holes of Jacob's Well and Blue Hole offering visitors some of the best Texas springs. Jacob's Well is known for cave diving through narrow caves up to 100 feet deep.
After visiting one of the area springs climb the 220 steps up to Old Baldy Mountain for a lookout over the city. For those looking to shop, on the first Saturday of the month Wimberly host the largest flea market in Texas. As with all Hill County towns make sure to visit one of the wineries overlooking the high bluffs and cypress trees.
If looking for somewhere to stay try the Bella Rosa Cottage. This one-bedroom, one-bath cottage is located on the banks of Cypress Creek. From the cottage, you can walk less than 1/2 mile to downtown Wimberly. Enjoy the view from the deck or cozy up in the wood-burning fireplace in the living room. The downtown area, Wimberley Square is known for shopping, restaurants and art galleries, and more.
Check rates: Bella Cottage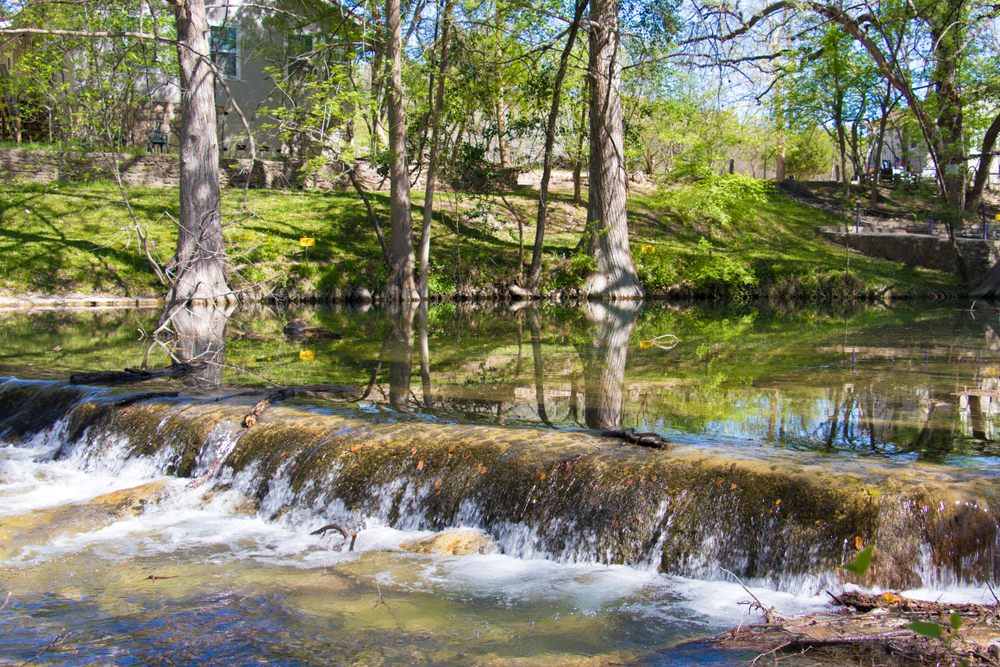 Marble Falls
Just to the northwest of Austin, you'll find a small town called Marble Falls. It is one of the best places to see Bluebonnets in Texas. They only bloom for a few weeks between March and April, but make for a breathtaking backdrop in pictures.
Founded in 1887, it is located in the heart of Hill country. From romantic trips to outdoor adventure you can find wineries, breweries to downtown dining and fishing and water activities alongside the Colorado River Marble Falls offers it all.
Are you looking for luxury one-of-a-kind lakefront accommodations? Check out the Luxury Yurt Safari. Perfect for couples looking for a romantic getaway the safari ens are located on Lake Travis and have AC/heat as well a king-size bed and open bathroom and shower and private hot tub. Relax in Texas Hill Country while watching the sunset or listening to sounds of the wildlife!
Check Rates: Luxury Yurt Safari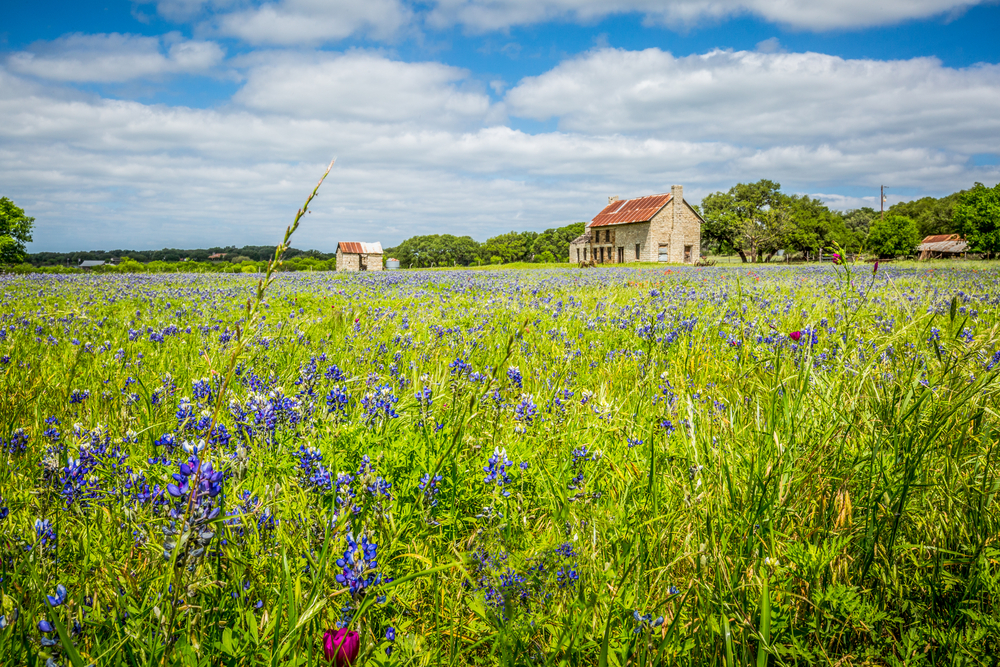 Johnson City
Johnson City is the starting point for the Texas Hill Country wine trail along High way 290. As you follow along HW 290 you will find not only wineries but breweries and distilleries. It is actually the second most visited wine area after Napa!
This Hill County town is home to the 36th President Lyndon B Johnson National Historical Park and State Park, which tells the story of the 36th President of the US, from life on the LBJ ranch to an 1800's historic home and more. If visiting during the springtime make sure to check out the Bluebonnets which grow in the area.
For those looking to be immersed in nature and wildlife, the Ranch Barn is for you! Located on a 60-acre ranch this spectacular wooden barn has a large living space that can be open-air, two air-conditioned bedrooms, a large deck to spot all the wildlife, and a gorgeous kitchen. Prepared to be wowed!
Check Rates: Ranch Barn