Are you looking for resort hotels in Texas? You are in the right place, in this article, we will walk you through 5-star hotels in Texas, luxury hotels in Texas, Texas resorts, and lodges in Texas.
We have done the work so you don't have to. So whether you are looking for a luxury hotel in San Antonio or Texas resort hotels we have it all covered.
If you have never visited Texas before you are in for a treat. This state is big, bold, unique, and very beautiful.
It's a diverse state and has something to offer everyone. From larger-than-life cities to quaint countryside towns from mountain peaks to beautiful sandy beaches, it has everything.
There is more to Texas than the stereotypical image you might be familiar with. Texas has a lot to offer the traveler however you want to spend your holiday.
And when it comes to accommodation Texas has lots of options. From resorts to ranches you can take your pick. What we will guarantee though is that they all offer that Texas hospitality and 'go big' attitude that Texas has become associated with.
In this article, we are going to cover resort hotels in Texas. All hotels and resorts have chosen are at least a 4 * rating most of them 5 and all offer the vacationer something different unusual or the height of luxury.
If you are looking for luxury hotels in Dallas then most likely it is this list of resort hotels in Texas. So sit back and get ready to read about the best Texas resorts.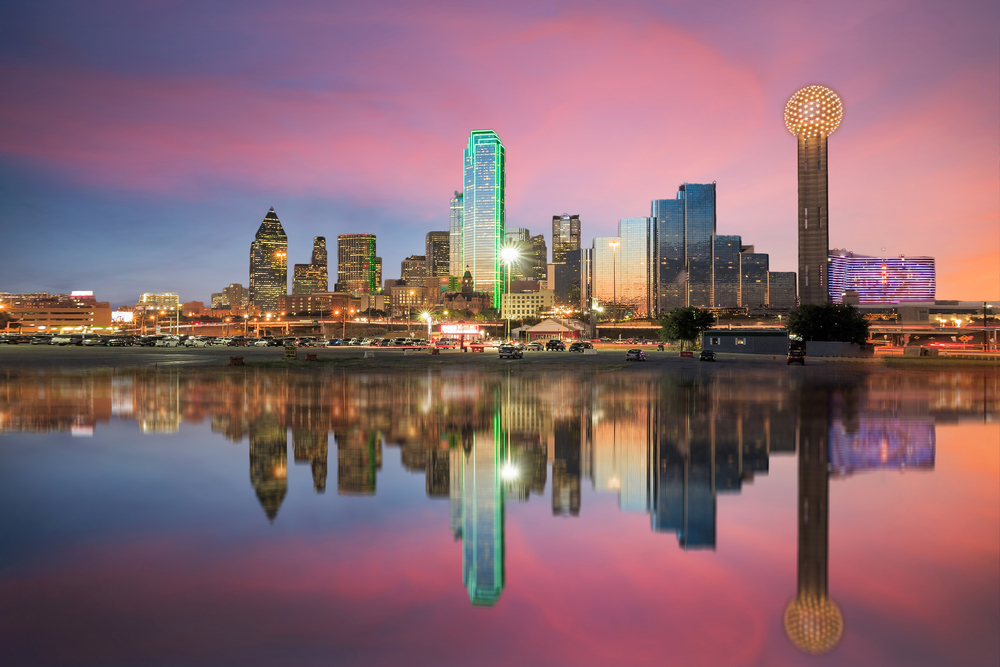 16 Luxurious Resort Hotels In Texas
The Driskill, in The Unbound Collection by Hyatt, Austin
The Driskill is one of the most iconic hotels in Austin and was one of the originals. Established in 1886 The Driskill is oozing with history and charm.
When it comes to resort hotels in Texas they don't come with more history than this one.
The hotel also has an envious downtown location and is perfect for exploring downtown Austin and the entertainment district. It is also less than 10 minutes walking from most of the historic locations in the area.
The inside and the outside of this hotel are beautiful, a nod to decadent eras long since passed.
The service is impeccable, the surroundings beautiful and the experience once in a lifetime. If you are looking for a luxury hotel in Austin then this will be perfect for you.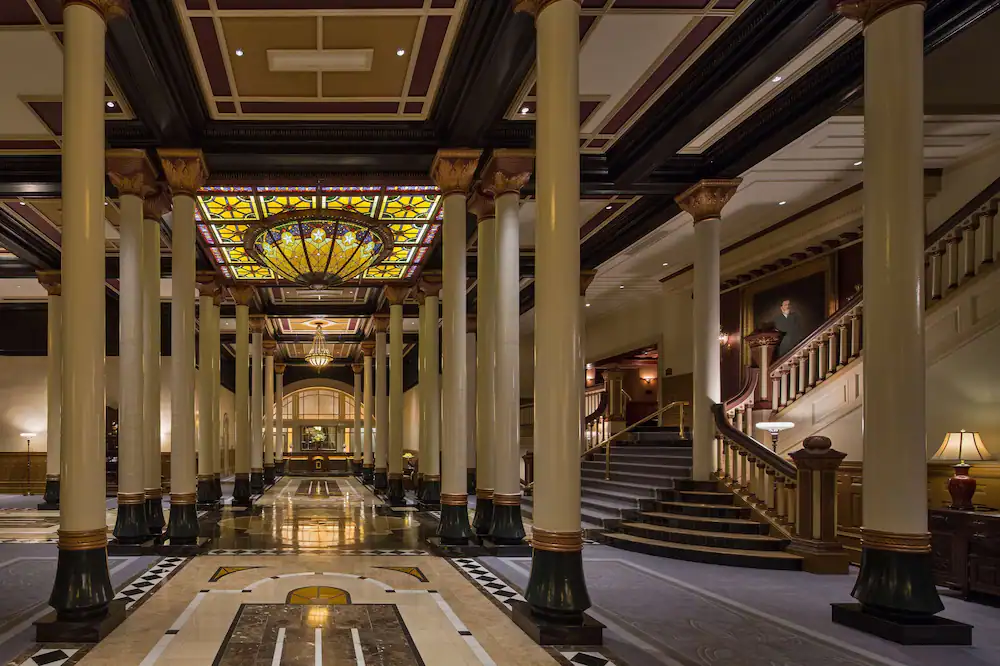 Hotel Saint Cecilia, Austin
If you are looking for a resort hotel in Texas that is unique and somewhat funky, then Hotel Saint Cecilia might be perfect for you. It is a blue red and white lovely designed hotel with neon signs free bikes and free wi-fi. 
Located just under a mile from the Austin convention center and just over 1 and a half miles from Barton Springs Pool it's in a great location for you to explore all the surrounding area has to offer.
Guests love this hotel as it is tucked away from the hustle and bustle and people rave about this charming boutique-style hotel.
You can get rooms looking over the pool or lake and there are six poolside bungalows. The rooms include all the amenities you would expect and guests' comments on how delicious the breakfast is.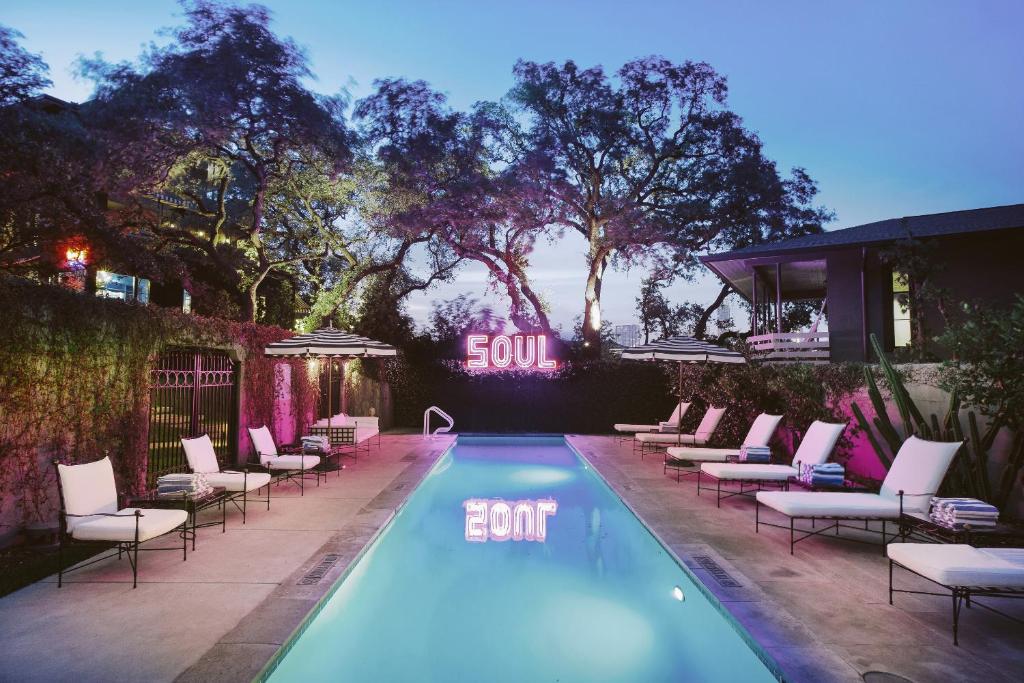 Commodore Perry Estate, Austin
If you like your resort hotels in Texas to be a bit more traditional and grand then Commodore Perry Estate might be the place for you. You will feel like a celebrity at this resort, in fact, they pride themselves on their world-class service. 
The Perry Estate is nothing short of beautiful you will want for nothing here. The grounds are stunning, the staff is friendly, and the facilities are second to none. 
There is a swimming pool, an incredible garden and a terrace that is huge. It's located in Austin and just over 2 miles away from the University of Texas and the Capitol Building.
The breakfast rates highly here and the guests comment on how exceptional the staff is.
When it comes to luxury hotels in Austin they don't get much better than this.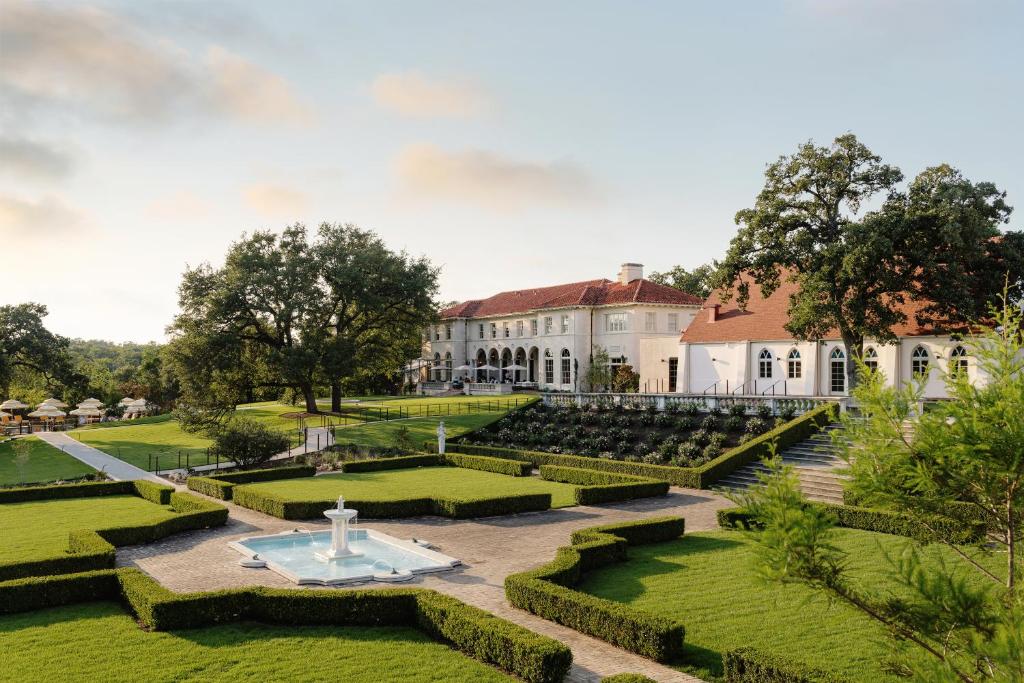 Omni Barton Creek Resort & Spa, Texas Hill Country
If you are looking for luxury hotels in Texas hill country then this one should be at the top of your list. Nestled in the rolling hill country of Austin, Texas they are of 4000 acres of pure bliss for you to enjoy.
Newly appointed the Omni Barton Creek Resort & Spa is beautiful and draws inspiration from the surrounding natural beauty. Nature is teamed with modern-day facilities and creates an amazing experience.
The beds are plush, every detail is thought through, and mother nature creates some breathtaking views which add to the relaxing atmosphere.
Perfect for a romantic getaway, a golf retreat, a spa weekend, or a family getaway.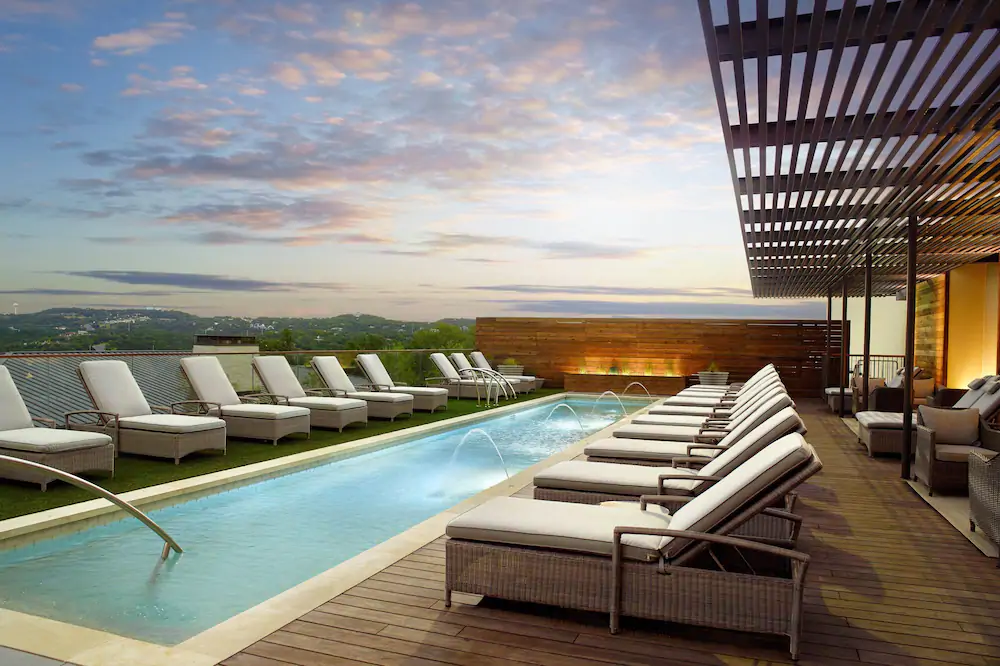 Miraval Resort & Spa , Austin
If you are looking for a luxury hotel in Austin then the Miraval Resort and Spa might be for you. This natural sanctuary is centered around well-being and balance. 
Perched among the hills overlooking Lake Travis this resort is beautiful with everything designed with your wellness in mind. The hotel even lets you craft your own experience from a couple's retreat, a culinary experience, or a wellness experience.
This resort is as unique and individual as are the people who stay here. Everything is designed for comfort and wellness including meditation channels, meditation pillows. filtered water and a host of other things.
There are of course all the facilities you would expect and then some. Everything is perfectly appointed and this resort hotel in Texas puts people at its core.
The Miraval says it's more than a spa resort, health retreat, or luxury hotel calling itself a unique wellbeing space. And I think that is true it's also a digital-free environment.
If you looking to get away from it all while also enjoying the beautiful natural scenery of Texas this would be an excellent choice for you.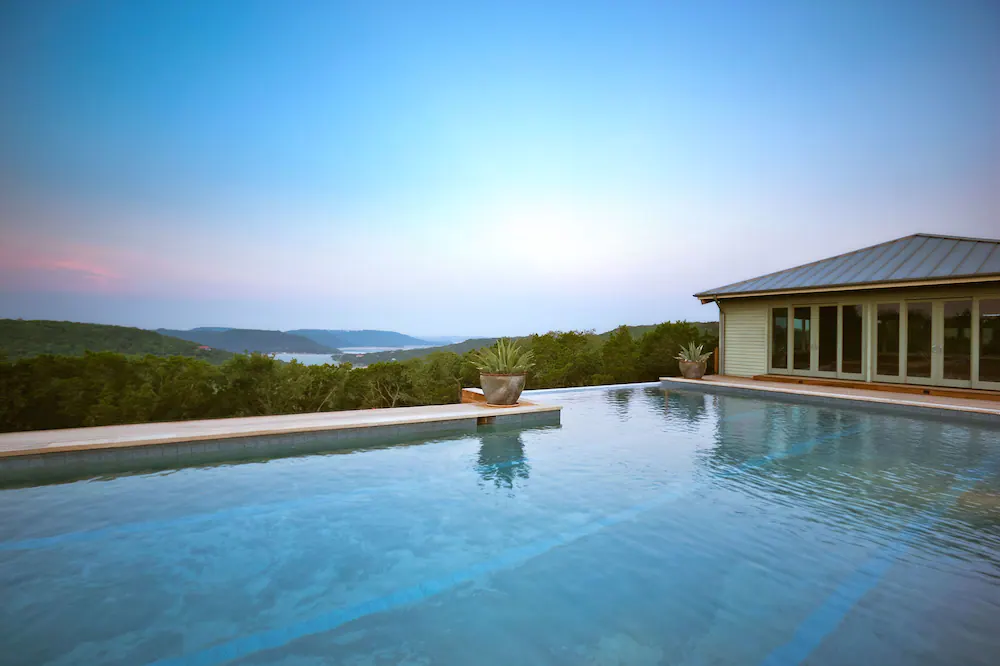 Lakeway Resort and Spa, Lake Travis
This is one of the resort hotels in Texas that offers a lot. You will find a spa, four private golf courses, a 3 tier pool with a swim-up bar, a business center, and a full-service marina. Lakeway Resort and Spa also overlooks Lake Travis so the view is pretty special too.
The floor-to-ceiling windows in the bedrooms let you enjoy the amazing view and you can watch the sunset while having drinks at the Back Porch.
There is also a gym and a children's pool with a waterslide making this hotel perfect for families.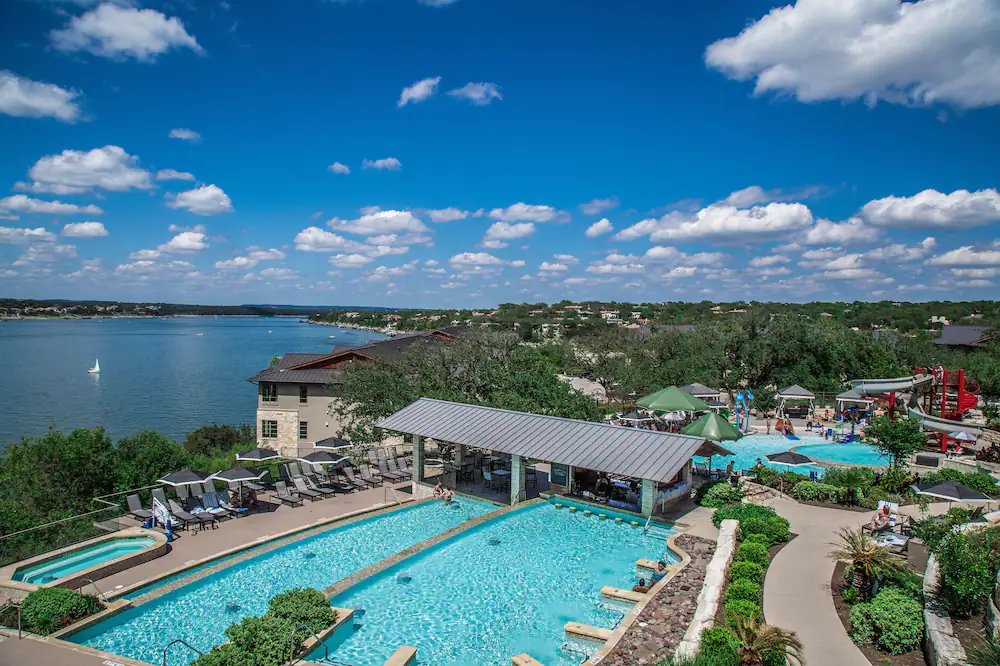 Hall Arts Hotel , Dallas
This hotel is a beautiful white canvas with pops of color. Hall Arts Hotel lets the art within it speak for itself providing a backdrop for the unique pieces within. 
There are all the mod cons you would expect including an outdoor rooftop swimming pool and fitness center. Private parking is also available.
The airport is five miles from the hotel and the hotel is close to the AT&T Performing Arts Center, Dallas World Aquarium, and Sixth Floor Museum.
The hotel is a relaxing retreat from the busy area outside and guests praise the excellent staff and comment on how beautiful the hotel is.
It's the attention to detail that puts this hotel apart from its counterpart. It's a really luxurious, beautiful experience in the heart of Dallas.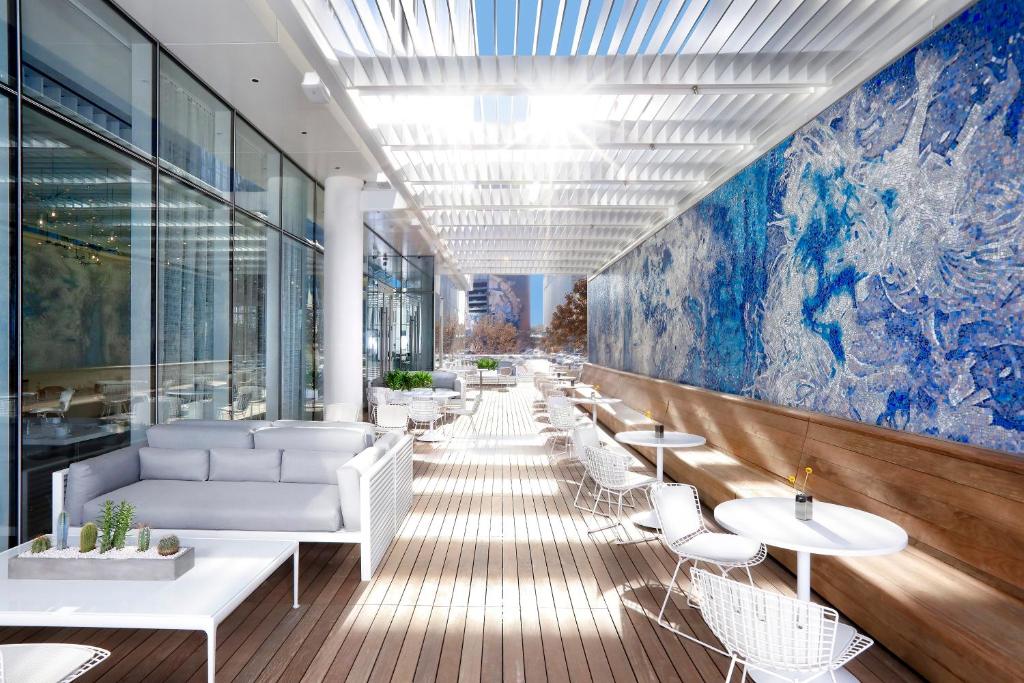 The Guild Victory Park, Dallas
A mid-century style decor adds a classy and grown-up look to this hotel. The Guild Victory Park provides a charming refuge in the middle of Dallas. 
A mix of apartments and rooms there are all of the mod cons you can imagine and some units and room her beautiful balconies with breathtaking views.
It's steps away from the American Airlines Center – home to the Dallas Mavericks, the Dallas Stars, and some of the city's biggest concerts. The downtown area is just a short drive away.
It's not your ordinary hotel combining luxury with style and comfort. There is a swimming pool and parking is available And a fitness center is on-site.
Guest rate this property highly loving the interior and how friendly the staff is. If you looking for something a little different then this is it. Luxury hotels in Dallas don't get much better than this.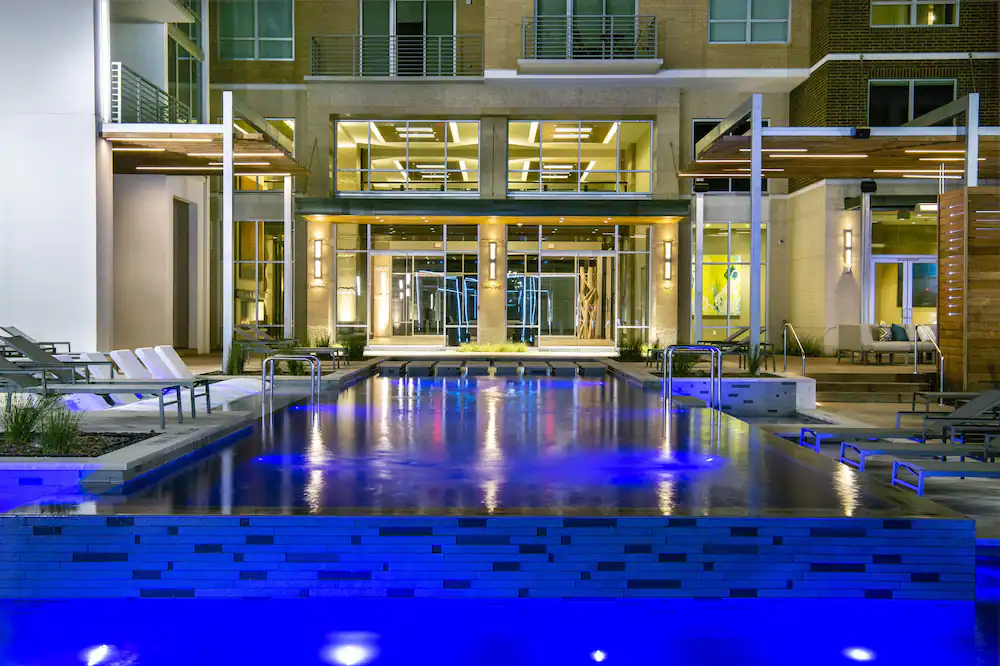 La Cantera Resort & Spa, San Antonio
Of all the resort hotels in Texas, this one wins the swimming pool with the best view reward. Every guest comments how incredible the swimming pool is and how stunning the view from it is.
If you are looking for a luxurious oasis near San Antonio then this luxury hotel in San Antonio is for you. La Cantera Resort and Spa there are four swimming pools, one adult-only infinity pool, hot tubs, and an on-site golf course. There is also a full-service spa in the hotel.
San Antonio River Walk is within about 20 minutes drive and the hotel is just across the street from the Shops at La Cantera and Six Flags Fiesta Texas, with free shuttle service for guests.
The hotel is decorated in clean earthy tones giving it a very serene nature. Here you can relax but be near enough to the hustle and bustle when you need to.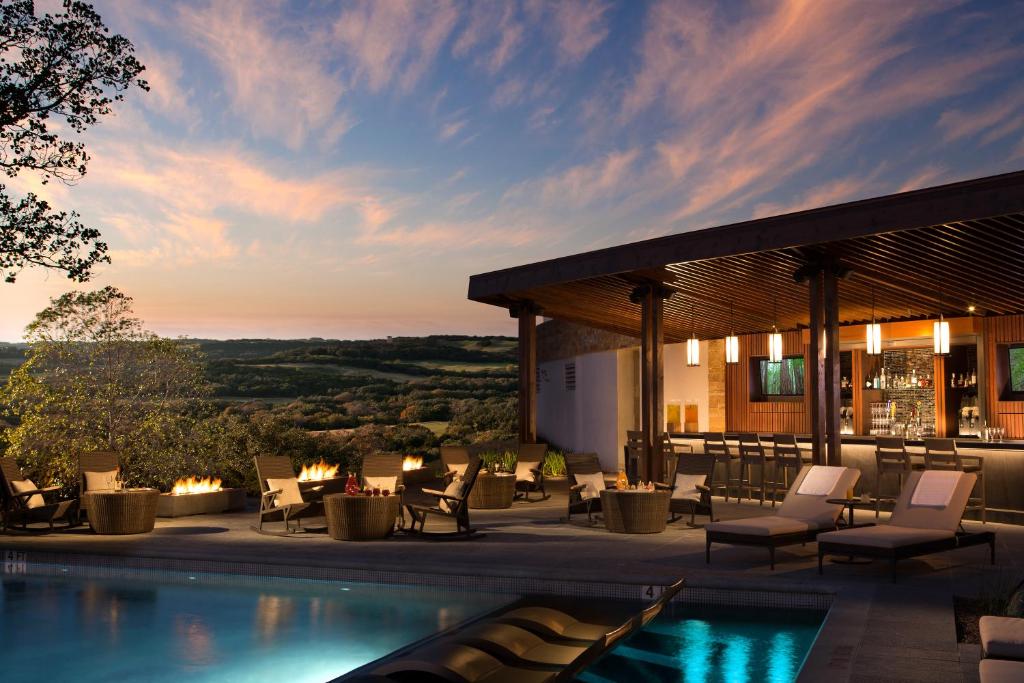 Hotel Emma at Pearl on the Riverwalk, San Antonio
If you are looking for a resort hotel in Texas with character then this is it. Think big wooden beds bare walls big leather sofas and you have got the vibe.
Hotel Emma at Pearl on the Riverwalk has a sun terrace, fitness center, outdoor pool, private parking, and is adjacent to the Riverwalk. Some rooms have private terraces overlooking the river. And the best bit is the hotel has a library.
The restaurant serves farm-to-table food and there is an on-site market and a bar and club room. The hotel also offers free use of bicycles.
I don't know about you but we were sold at the word Library. There is something very homely and welcoming about this hotel and guests seem to love it.
Four Seasons Hotel, Houston
This is one of the resort hotels in Texas where you really can do anything. Four Seasons Hotel, Houston is urban sophistication through and through with some added texas charm.
In a great location after a day of exploring you can relax at the rooftop pool oasis, improve your swing at the Topgolf Swing Suite or learn more about bourbon at the vibrant lobby bar.
Whether you are here on business, as a solo traveler, a couple, or a family this hotel won't let you down.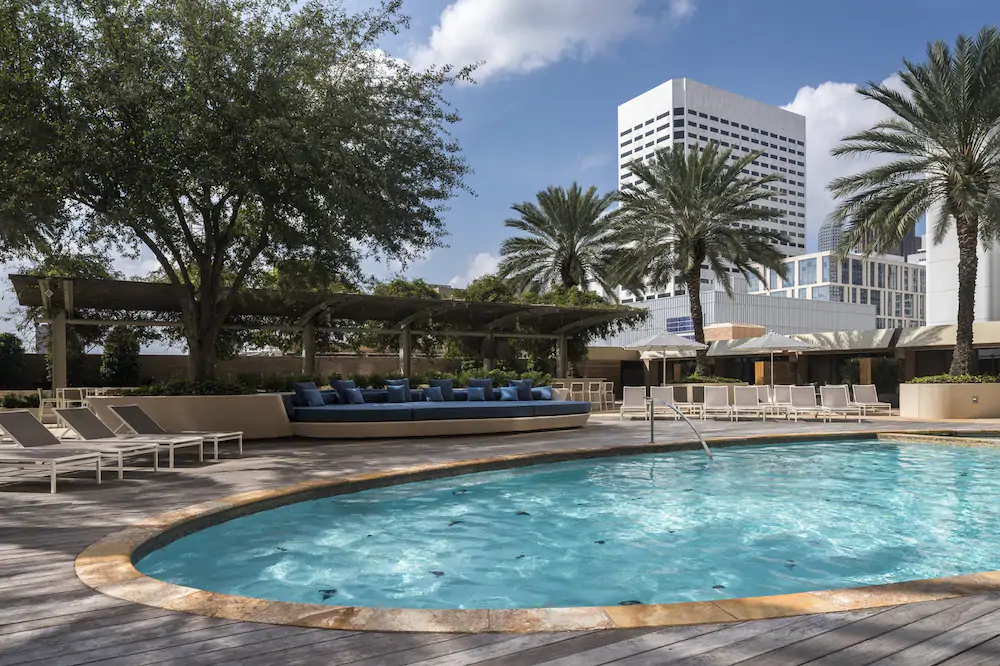 The Post Oak Hotel At Uptown Houston
The Post Oak Hotel is a one-of-a-kind luxury hotel that is designed beautifully. It's also one of only 19 Hotels and Spas to earn the coveted Forbes Five-Star rating in the United States, and one of 35 properties in the nation honored in the Preferred Hotels & Resorts Legends Collection.
Within one mile of The Galleria in Houston, this hotel features an outdoor swimming pool, a business center, and a fitness center and the bedrooms have Nespresso coffeemakers.
You come here for the attention to detail and the impeccable service and the added bonus is the impeccable interior spaces and the incredible spa.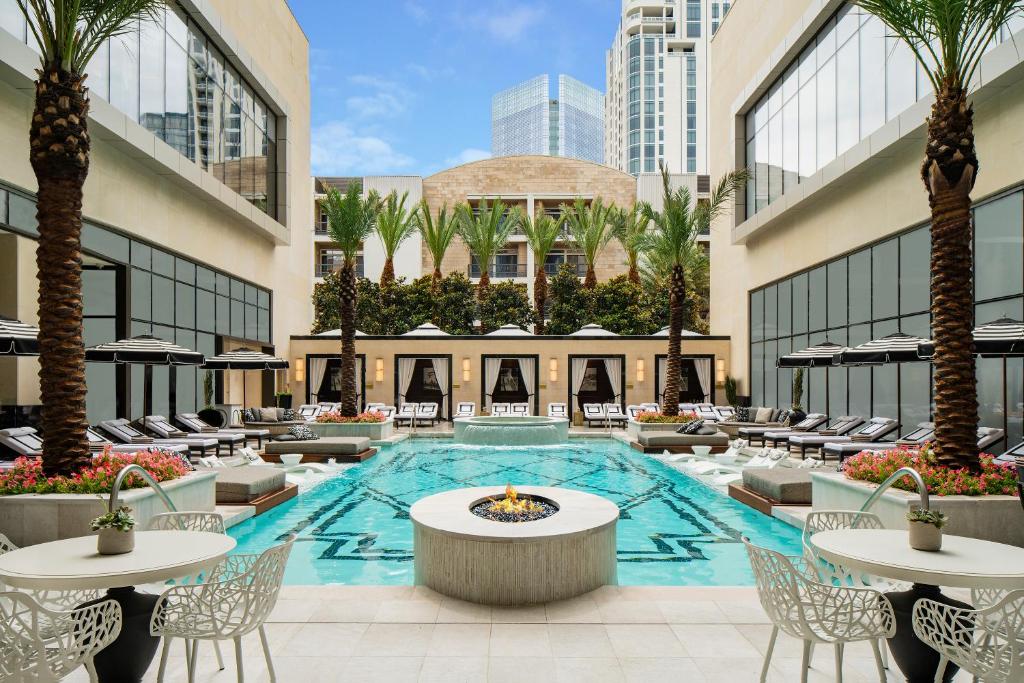 Hotel Galvez and Spa ,Galveston
If you like your resort hotels in Texas by the beach then the Hotel Galvez and Spa is for you. Located on the shores of the Gulf of Mexico it is just a 5-minute drive from Galveston center.
There is a business and fitness center, a pretty impressive pool complex, and a lovely spa to enjoy. You can also rent a bike if you want to enjoy the local area.
The evening can be spent enjoying fresh seafood while enjoying views of the water. The hotel is light and airy and the communal areas are beautiful and bright.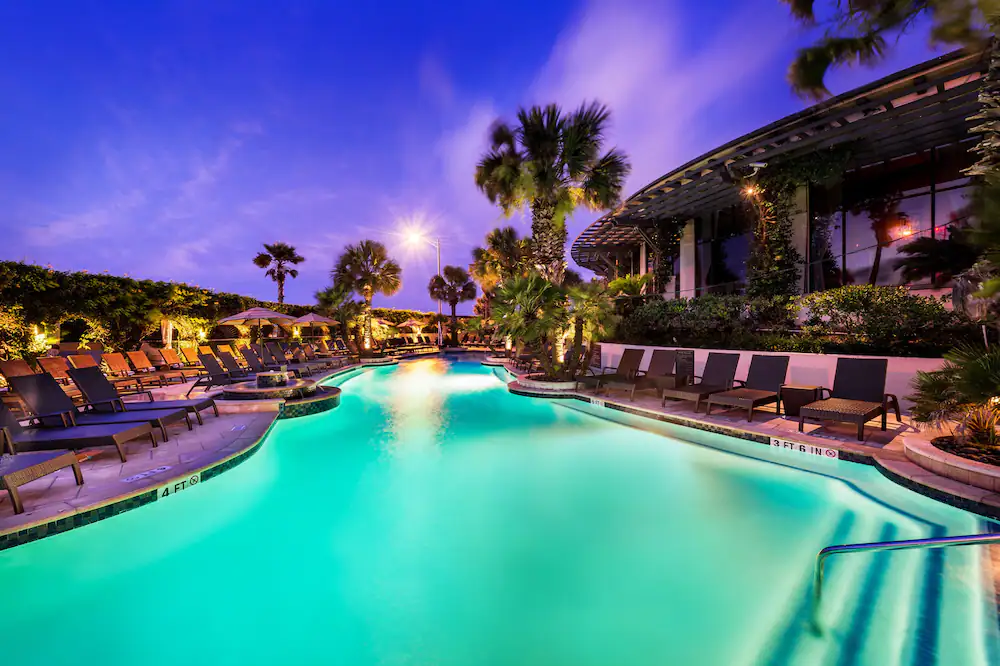 The San Luis Resort Spa & Conference Center
This is one of the resorts in Texas that offers great views and here they are on the gulf coast. The San Luis Resort Spa & Conference Center l has a spa, conference center, fitness center, and 3 on-site restaurants to enjoy.
All rooms have a private balcony and outdoor seating area with some overlooking the pool and ocean.
There is direct beach access and tennis courts and you can hire bikes. The outside areas are beautifully appointed and the pool bar is a lovely added extra.
A great hotel to enjoy the wonderful beaches that texas has to offer.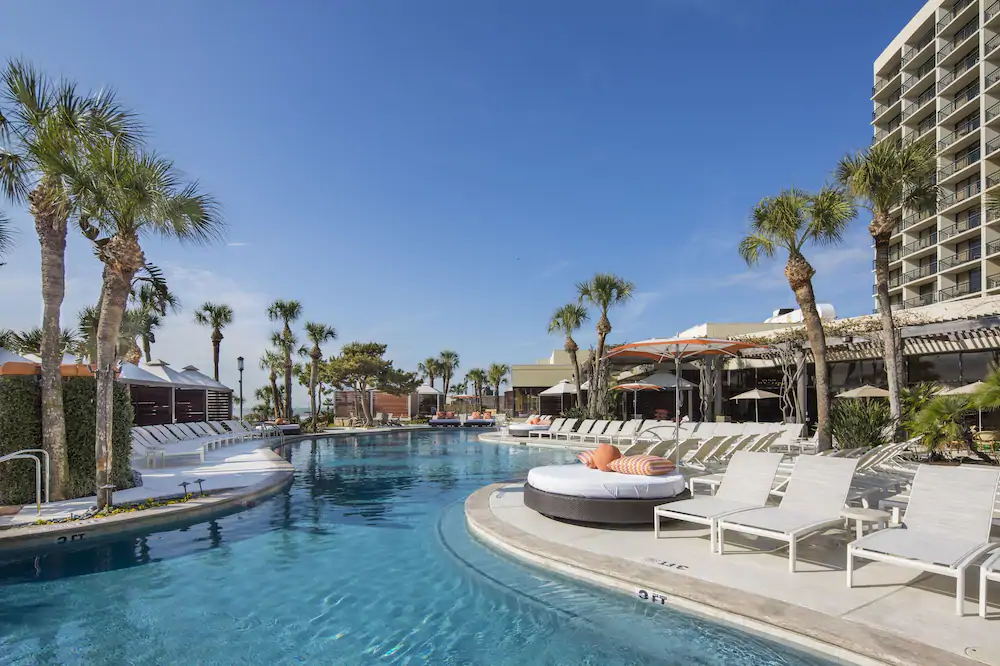 Flying L Ranch Resort, Bandera
When it comes to resort hotels in Texas do they get much better than luxury ranch resorts? We don't think so.
The Flying L Ranch Resort is located in Bandera and among other things the location features an 18-Hole Championship Golf Course. You will also find five restaurants, a general store, a water park with a lazy river, a business and conference center, an outdoor swimming pool, and a children's playground.
There are an array of activities that can be organized for you including golfing, horse riding, tennis, and hiking. Of course, there is western entertainment, wagon rides, and campfires, and s'mores.
There are over a dozen room types here ranging from a small suite that will sleep four to a 10 bedroom, 10 bathroom lodge. So if you have a large family or are planning a large event this accommodation is perfect.
The facilities here are extensive and we have only mentioned a few of the things available, let's just say you will not run out of new experiences here.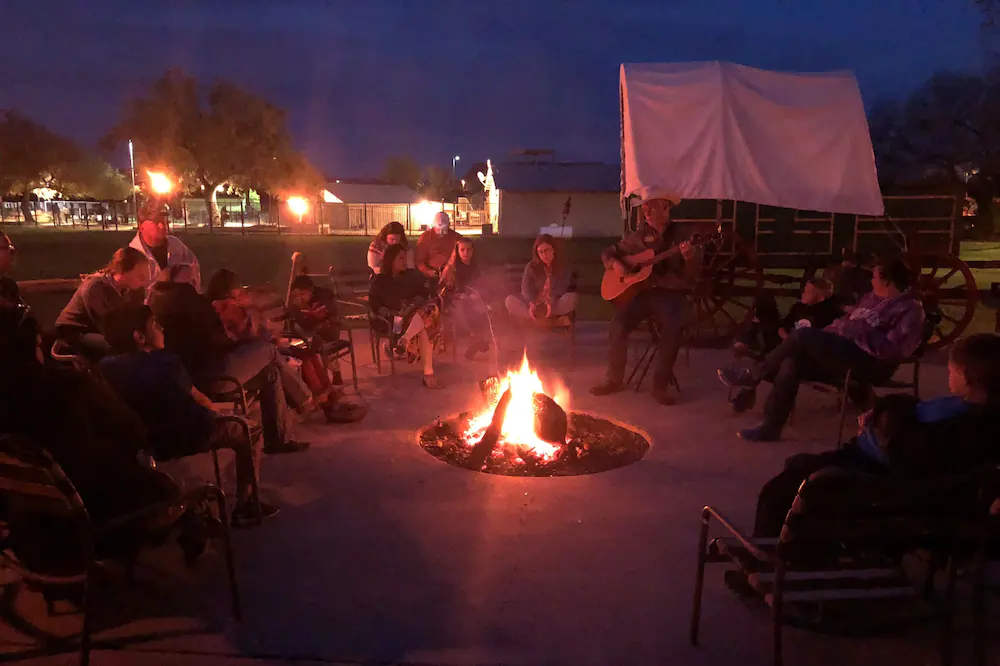 Wildcatter Ranch and Resort, Texas Hill County
In the heart of the beautiful North Texas Hill Country sits Wildcatter Ranch and Resort where you can experience a one-of-a-kind stay guided by local Texas cowboys.
This 1,500-acre property in Graham offers a host of activities including horseback riding, clay shooting, archery, ranch roping, and much more. The tomahawk throwing and historical Jeep tours really caught our attention.
Rooms on offer are numerous from staying in the luxurious estate with its swimming room and cinema, to cozy cabin suites and a host of other options.
There is also an infinity-edged pool, hot tub, and therapeutic massages available on site. And the restaurant is of course a steakhouse.
A trip here would be a truly unforgettable experience.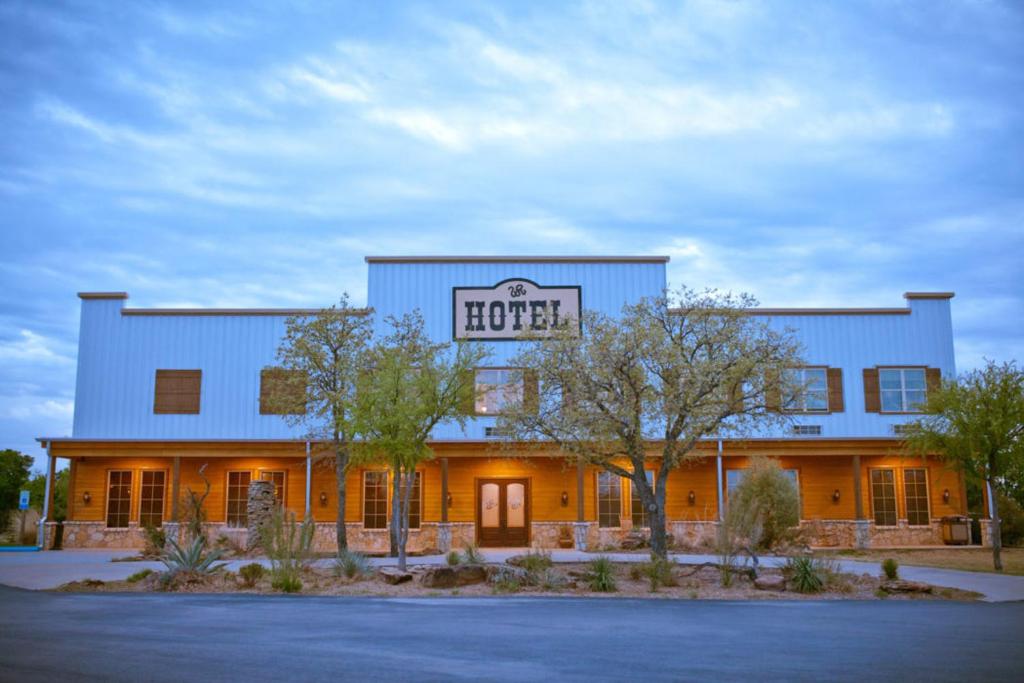 As you can see when it comes to resort hotels in Texas there is so much to choose from. From Texas resort hotels to luxury hotels in Texas the choice is endless.
The 5-star hotels in texas are really something special and we know whichever you pick you will have an amazing time. Whether it's one of the lodges in texas for an unforgettable experience or one of the texas resorts for a romantic getaway we know you will have an amazing time.