Are you starting your next adventure and need a list of things to do in Texas? You've come to the right place! We've got the most epic stops, sightsees, road trips, and more in Texas that will make you want to bring a pen to keep track of where you've been so you can complete the list!
Texas is extremely unique and there's a little something for everyone here! Whether you're here for a day, a couple of weeks, or you live in Texas and just want to explore, this list is the perfect companion to your Texas adventure.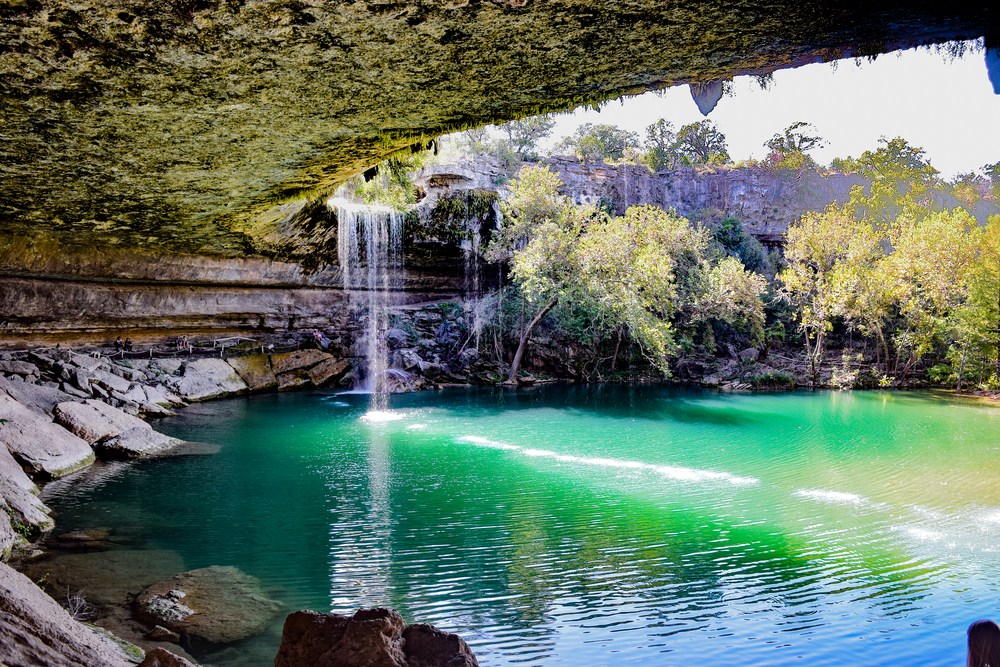 30 Things To Do In Texas: The Ultimate Bucket List
Hamilton Pool
Hamilton Pool is a nature reserve located in Travis County Park. This is one of the most epic things to do in Texas during your stay! It's so popular that they require a reservation before you are able to show up, and you have to be prepared for reservations to fill up early!
Hamilton Pool is home to a 50-foot waterfall that will be the perfect subject of any picture, or provide the perfect background for your group photos!
Hamilton Pool is also home to the Golden-cheeked Warbler and many other various bird species. The Golden-cheeked Warbler is even pictured on their Travis County Park logo!
This is one sight you will want at the top of your itinerary!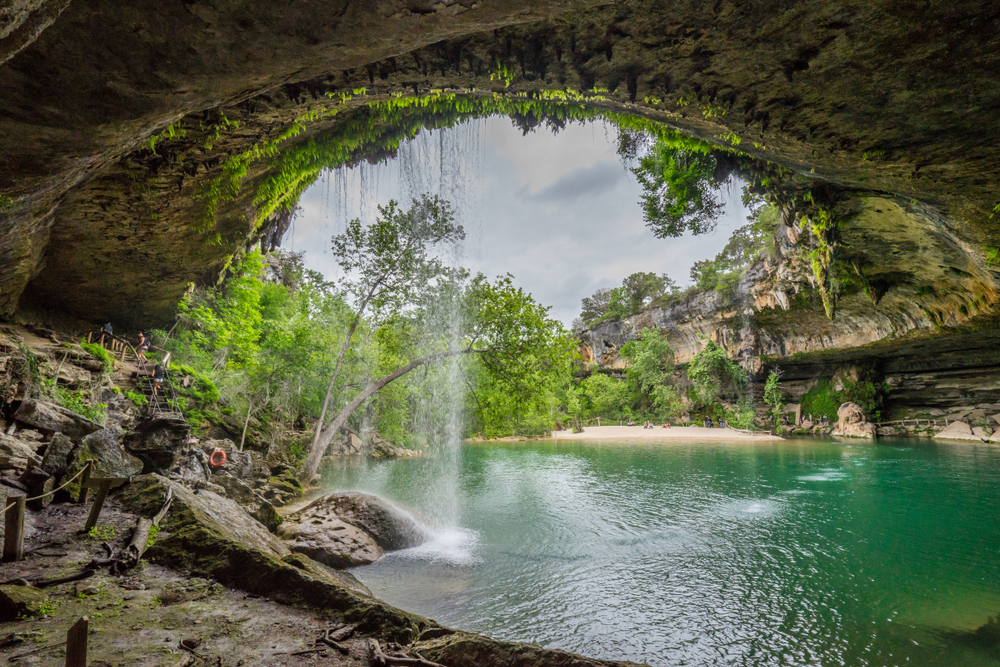 Explore The Small Towns
One thing you have to do while in Texas is explore the small towns!
You can visit Luckenbach with a population of only 3 people, or visit the popular Prada location in Marfa! No matter which small town you choose to explore, you will find a uniqueness that can only be found in that particular town!
Many of the small towns are located near each other so you can make it a weekend trip, or take a few days and stretch from Dripping Springs to Nacogdoches!
Exploring the small towns in Texas is one way to find some of the most hidden gems that state has to offer!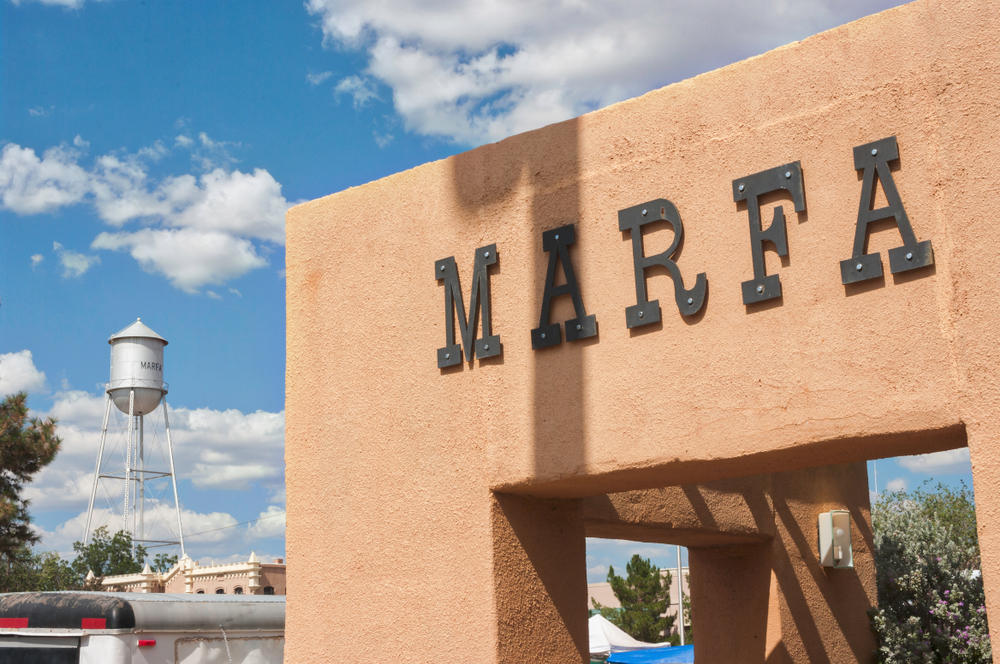 Haunted Texas Road Trip
Now this one might now be for the faint of heart. A Haunted Texas Road Trip is the perfect way to test your limits and experience something you just can't explain!
The most notable stops are the Yorktown Memorial Hospital, Lobo, Marfa, and Terlingua. Each stop has an unexplainable feeling that will make your trip memorable.
While the Marfa Prada store seems like a great place to stop, the city has an unexplainable phenomenon called the Marfa Lights which are floating bright orbs that no one has been able to explain. Not to mention in Lobo, the town has been abandoned so the isolation you might feel here will have the hairs standing on the back of your neck!
We guarantee you will want to stick around during this road trip and see what phenomena you can experience.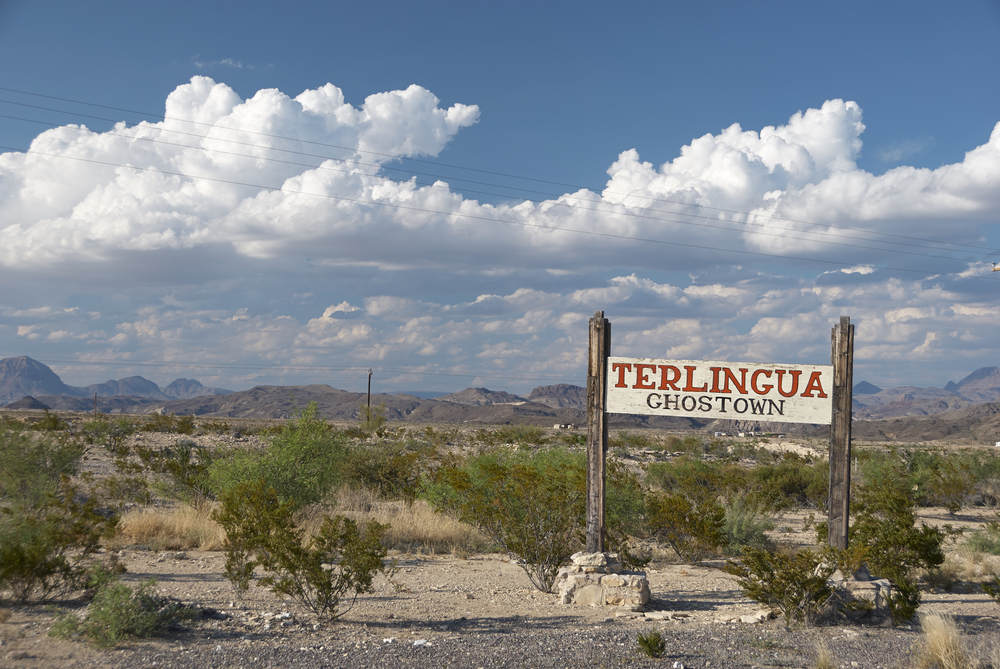 See The Bluebonnets
Of course one of the things in Texas you have to do is stop and look at the Bluebonnets! The official state flower is an eye-catching experience as the areas they are located create blue fields!
You can visit the Bluebonnet House in Marble Falls, or head to Ennis, just south of Dallas, to travel through the Official Bluebonnet City of Texas! In Ennis, you will see the official Texas Bluebonnet Trail and will experience hundreds of beautiful Bluebonnets!
You also have to stop in Burnet, the Official Bluebonnet Capital of Texas! If there's any place to see the glorious fields of Bluebonnets, it's Burnet.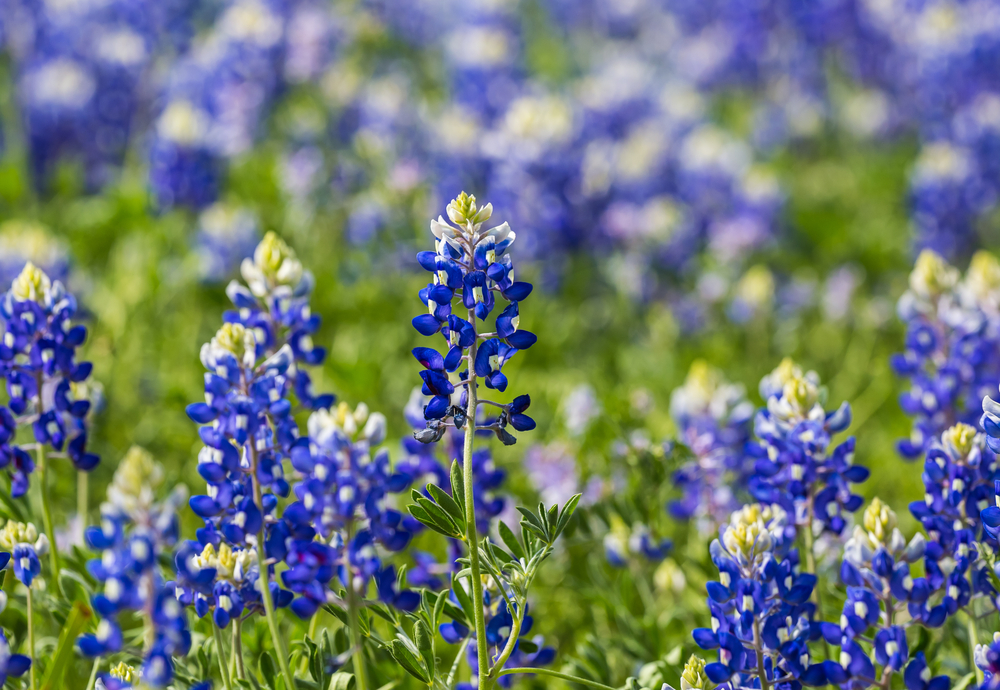 Gorman Falls Waterfall
If you find yourself around Wichita, Texas, you must stop and see the Gorman Falls Waterfall!
This 650-foot waterfall is full of tiered cascading falls and is one of the most captivating things to do in Texas. This waterfall is positioned in Colorado Bend State Park, and you will have to pay the park's entrance fee to view the falls, but it will be worth every penny!
You absolutely need to utilize the bridge and see that perfect viewing spot!
Swimming is not allowed here, but viewing the falls will make the mile-round trip hike from the parking lot completely worth it!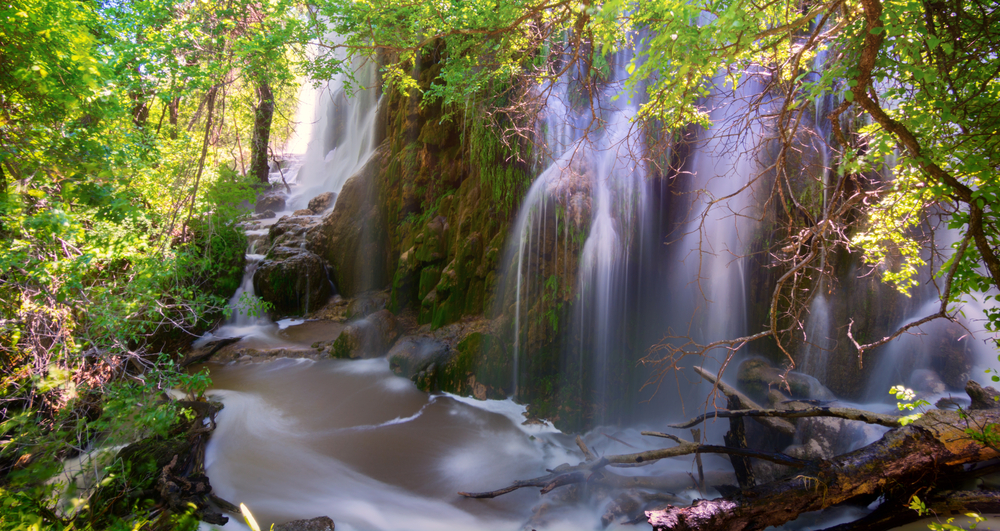 Big Bend
You can't come to Texas without taking the time to visit Big Bend!
Located in Brewster County, Big Bend is often named "Texas' Gift to the Nation." You'll have to make the trip to Big Bend National Park and spend time in the Chisos Mountains.
Here, you can stop and explore the Langford Hot Springs, or take a day hike through the park. The best time to visit Big Bend is the Spring or Fall so that it is not too hot or cold outside.
The beauty of Big Bend is one of the best things to experience in Texas, so don't leave this off your itinerary!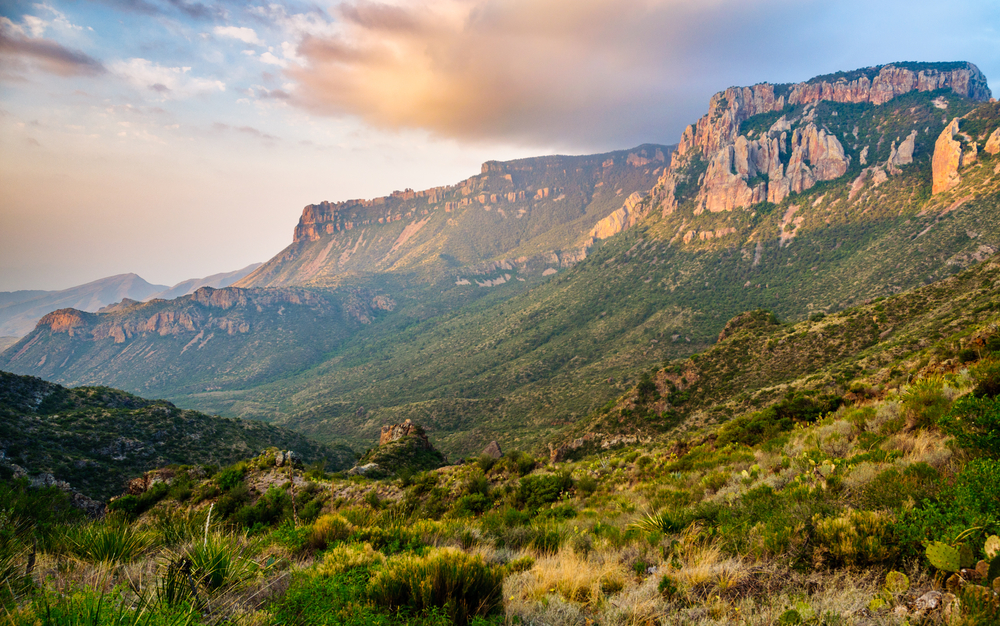 Kayak at Nichol's Landing Paddle Trail
Kayakers traveling to Texas will definitely want to add this kayaking hot spot to their list of things to do in Texas!
Nichol's Landing Paddle Trail is located at the Upper Guadalupe River and is comprised of about 10 miles of kayaking trails.
Here you'll see beautiful Cypress Trees and have plenty of trails to relax and spend time in the water. This kayaking hot spot is great for a 3-6 hour experience, so make sure to plan to spend a good portion of your day here!
The trail ranges from rapid and rushing to calm and serene so all skills are necessary when experiencing this trail!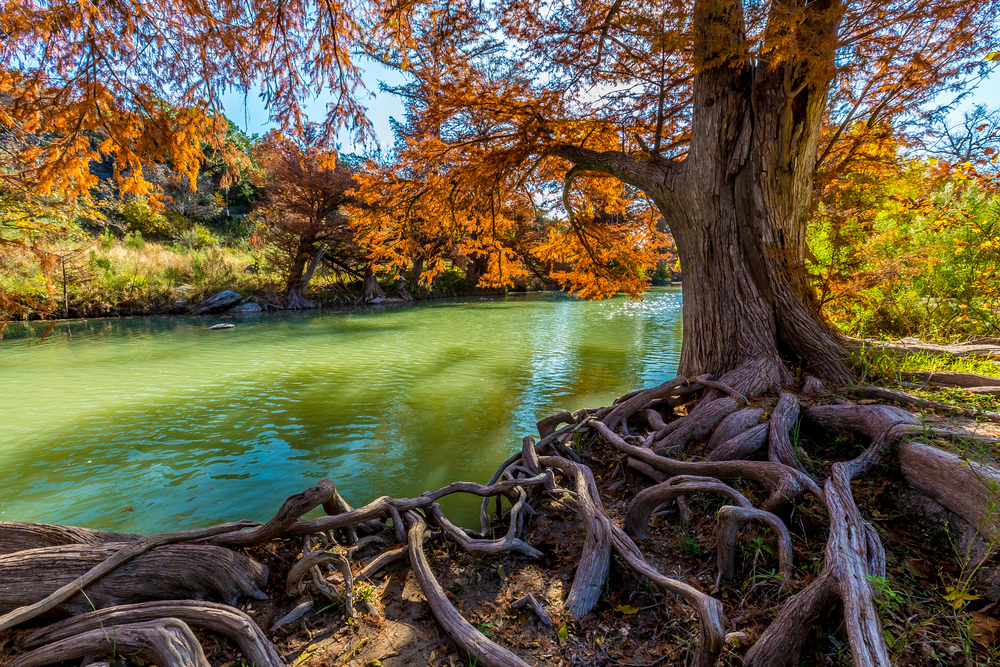 Dallas Museum Of Art
The Dallas Museum of Art is one of the most elaborate museums in Texas. With art from the third millennium BC stretching all the way to present day, you're sure to see a lot of history and even a few famous artists.
At the Dallas Museum of Art, you can see works from Jason Pollock, Andy Warhol, and Vincent van Gogh. These works have people traveling from all over to see these famous works!
They also have programs for kids and plenty of lecture series with famous authors and artists. There's a little something for everyone at this Texas museum!
Boca Chica Beach
Located in the southernmost part of Texas, this beach is considered a hidden Texas gem.
This beach is located near Corpus Christi and South Padre Island with a huge view of the border of Mexico! At Boca Chica Beach, you'll find the clearest water in Texas. If that doesn't sound like reason enough to stop and check out the beach, there's always the special wildlife to entice you!
This beach is home to the critically endangered Kemp's Ridley Sea Turtle, and every Spring and Summer they nest on Boca Chica Beach!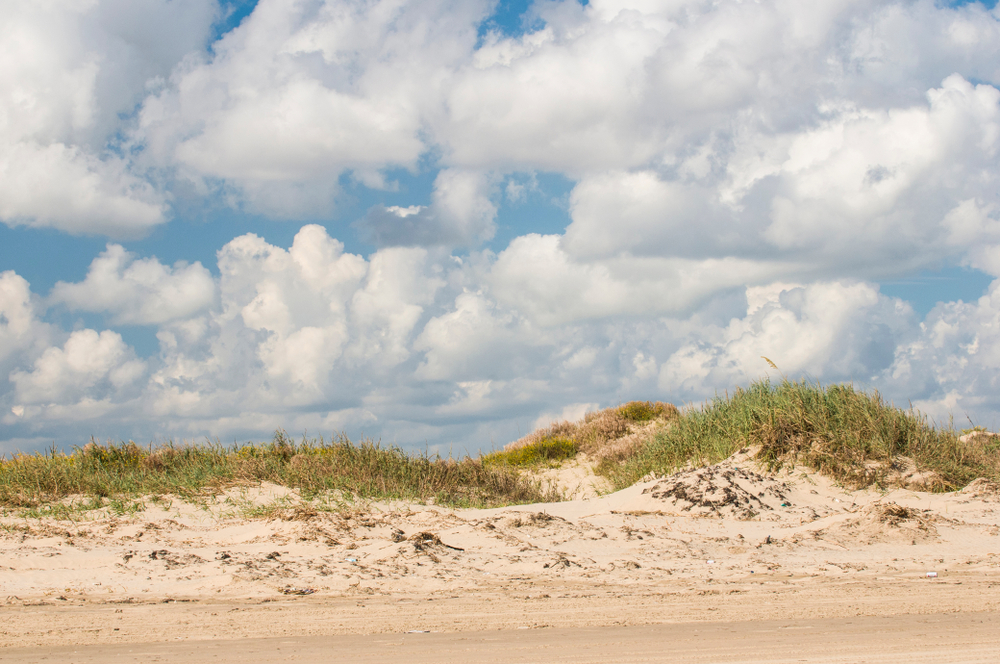 Guadalupe Mountains National Park
One thing you have to experience while in Texas is the Guadalupe Mountains, National Park!
This Texas park is known for having the 4 highest peaks in Texas, and the stargazing on a clear night that is unlike anywhere else! From here, you can see over 11,000 stars and have a perfect view of the Milky Way!
You can also hike any of their numerous trails, or spend a few days camping on the land. If you're crunched for time, you can visit their visitor's center and spend some time in the museum!
The entrance fee to the park is $10, but worth every penny!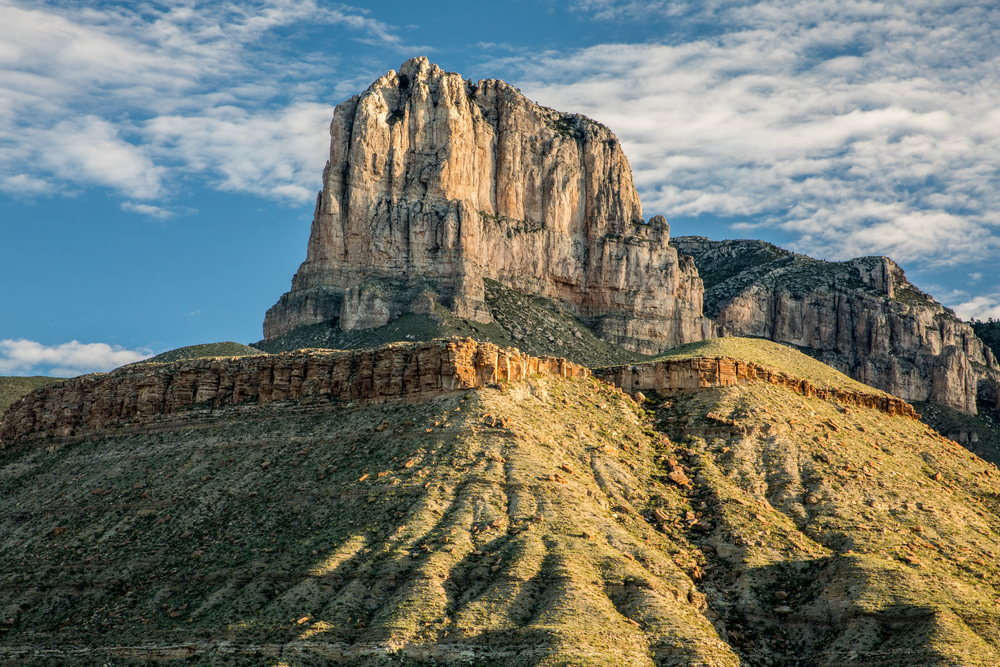 Castle Falkenstein
This Texas castle will feel straight out of a fairy tale!
This castle was created by Terry Young and his wife after a trip to Europe left them inspired to build a castle of their own in Texas.
Located in Burnet, part of Texas Hill Country, this castle is frequently used for privately hosted events, weddings, and even lodging rentals! If you're looking for a fairy tale experience for your Texas trip, this castle is perfect for you!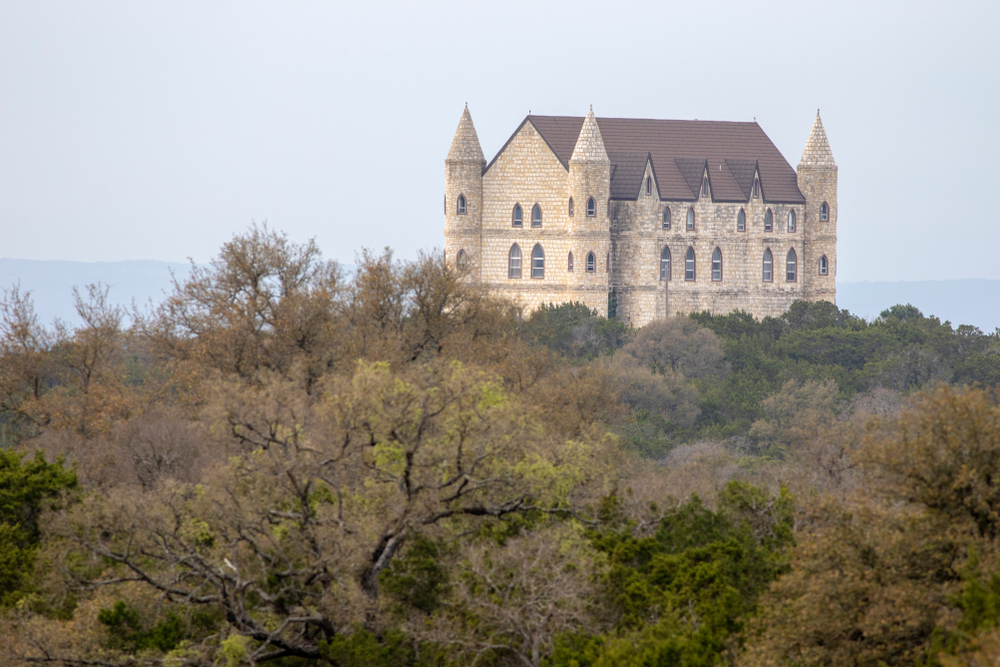 Fall Foliage In Lost Maples State Park
If you find yourself in Texas during Fall, this location needs to be one of your first stops!
Here you'll find Uvalde bigtooth maple trees that turn red, orange, and yellow during the fall season. The park even has a Fall Foliage Color Report that gets updated every week in November so that you can ensure you are going at a time when the colors are the most vibrant!
The park tends to fill to capacity quickly, especially the week of Thanksgiving, so make sure to head out there early!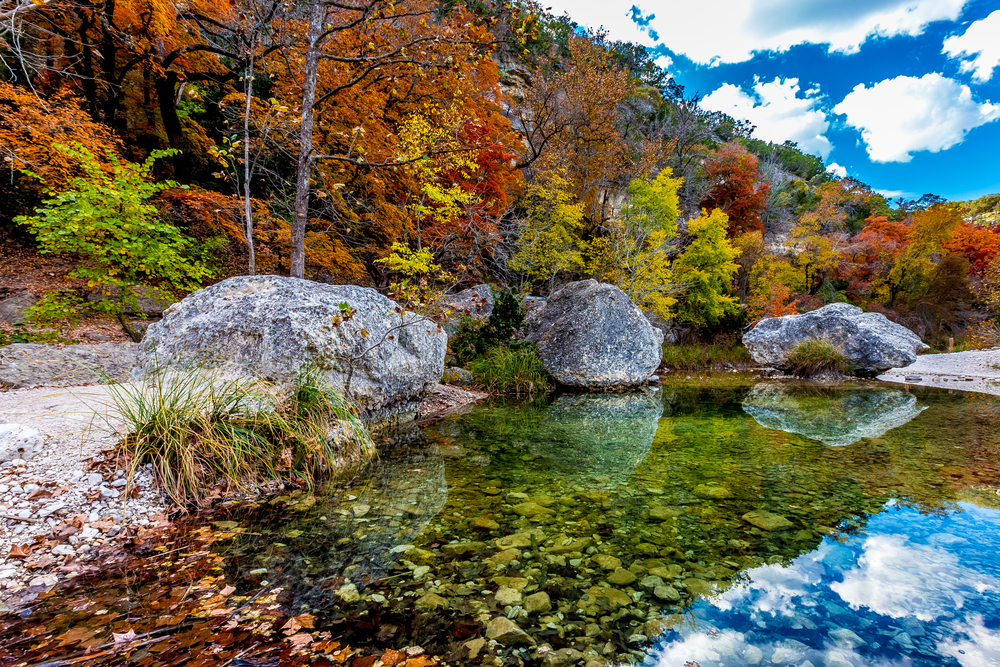 San Antonio River Walk
The San Antonio River Walk is one of the most famous attractions in Texas!
The River Walk is home to numerous hotels and dining experiences that will put you right into the heart of the River Walk. The River Walk also hosts festivals and parades year round.
Some of the most notable parades are the Parade of Lanterns and the Holiday River Parade!
You can also kayak in the San Antonio River Walk between March and September!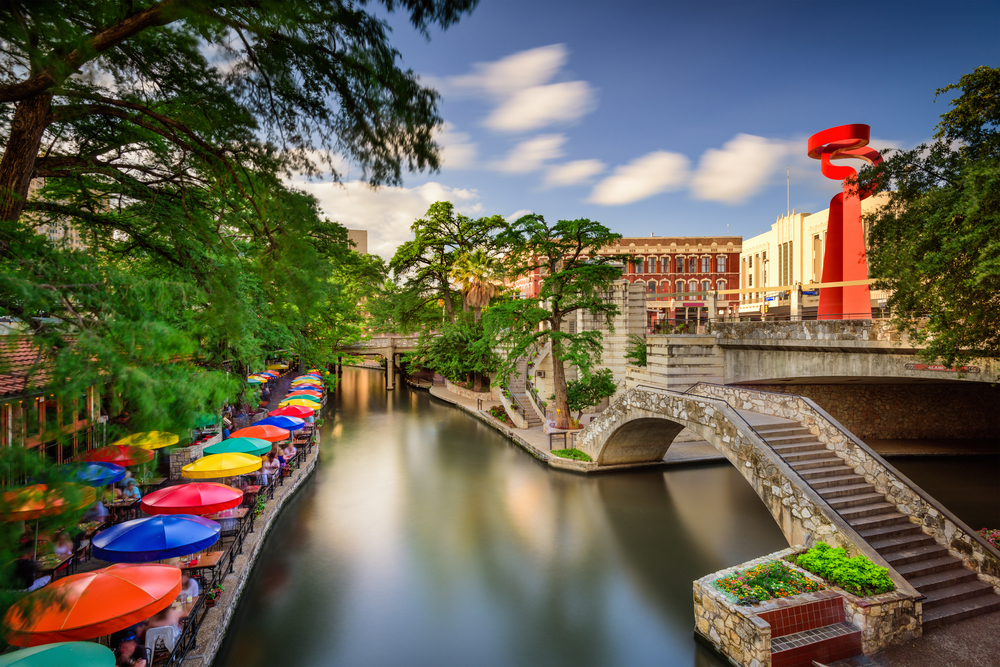 Jacob's Well
Jacob's Well is located in Hays County and is one of the most popular places in Texas! The natural well area is roughly 81 acres and is open 8 a.m. to 6 p.m. daily!
Jacob's Well is the second-largest submerged cave in Texas and at its deepest point reaches 140-feet deep! People from all over come here to swim, so much so that you have to make a reservation to swim in the well!
The allowed time for each swim reservation is 2 hours, so make sure you plan your day for this! You can also hike in this area, and you do not need a reservation to hike, only to swim!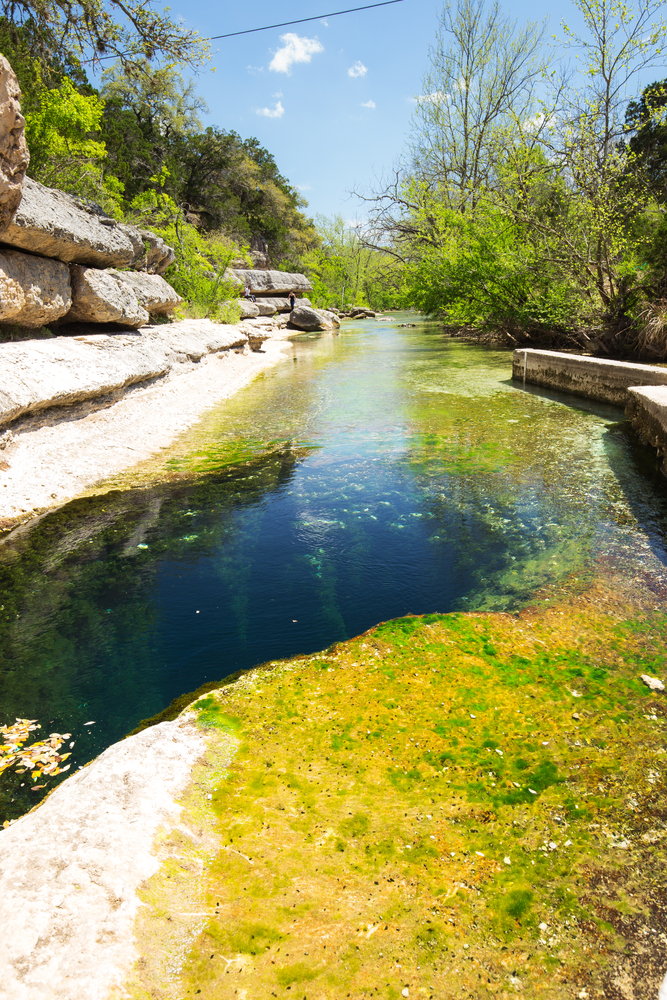 A Fabulous Weekend Getaway
While in Texas, you must have a fabulous weekend getaway at The Driskill Hotel in Austin!
The Driskill Hotel is located on 6th Street, which is one of Austin's most famous streets! This street is historic and is home to the Austin nightlife and culture! The hotel is within a 10-minute walk from the State Capital Building.
The hotel is extremely luxurious and you will feel like a royal for the entire duration of your stay! You won't want to come to Austin without spending a weekend treating yourself to this experience!
Go Camping At Palo Duro Canyon State Park
You can't come to Texas without a camping trip! The perfect place to pitch a tent is at Palo Duro Canyon State Park! This state park is truly one of the best things to do in Texas!
This area is known as the Grand Canyon of Texas. Located in the Texas Panhandle, this park offers campsites in multiple different areas! All campsites in the area offer electricity, but you can opt-out of using it to get the full camping experience!
No matter which campsite you stay at, you are guaranteed views of the Palo Duro Canyon! It is truly one of the best things to do in Amarillo.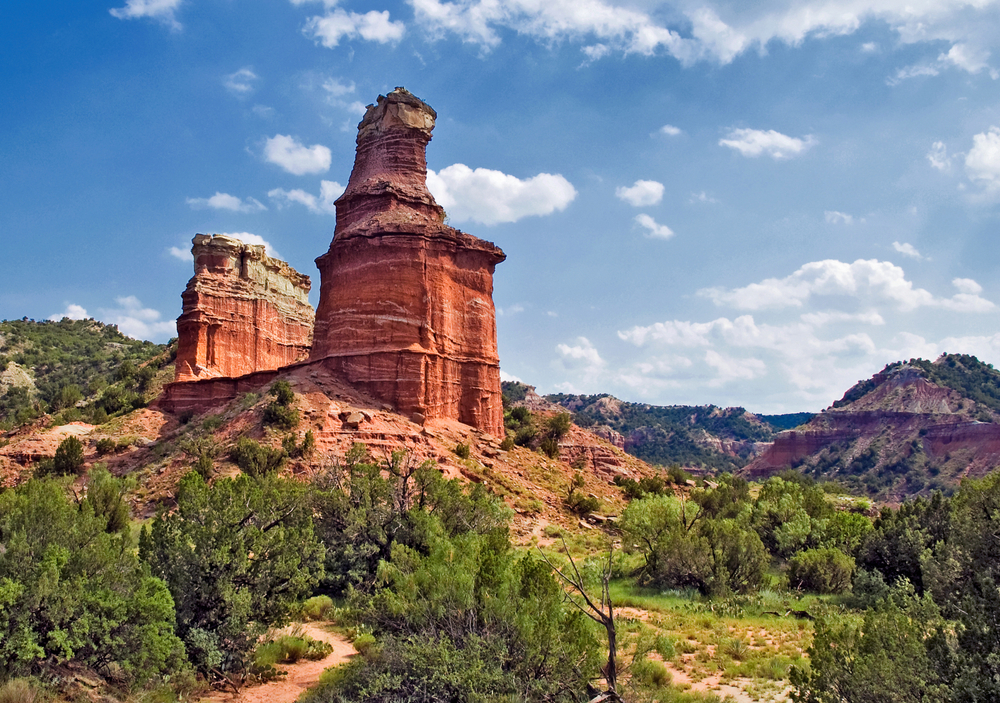 Visit Jester King Brewery
Are your really in Texas if you don't stop at a brewery while you're there?
Jester King Brewery is located in Austin, and it is much more than just a brewery! Here they serve pizza, wine, beer, and many events for their guests!
There is a nature trail located on the 165-acre ranch, and plenty of areas to stop and enjoy the brewery experience. They also host many summer concert series and Goat Yoga!
We know you'll enjoy this Texas brewery!
Houston Museum Of Natural Science
One of the best things to do while in Texas is to visit the Houston Museum of Natural Science! The world around you will seem so much more interesting after a visit here!
There are many permanent exhibits here such as the Cabinet of Curiosities, Cullen Hall of Gems and Minerals, and the Morian Hall of Paleontology!
Not only do they have those awesome exhibits, you'll also need to stop by the Burke Baker Planetarium and see Lamps of Atlantis and Black Holes, two very popular exhibits!
Tour Kyle Field
Being in Texas, one of the first connections you might make is Texas football! That's why you should take a tour at Kyle Field, the largest stadium in Texas!
This stadium is the largest ranked by its 102,000 capacity limit. It's located at the Texas A&M campus in College Station.
The tour lasts between 45 to 60 minutes and is a cheap fun way to experience the largest home to Texas football!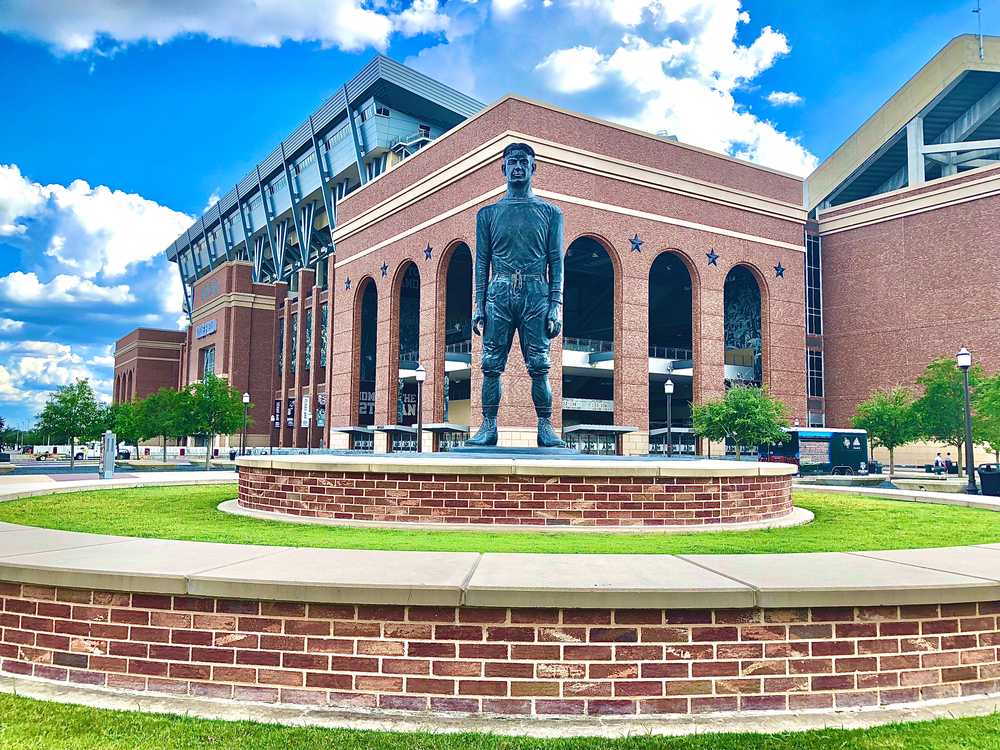 Coastal Texas Road Trip
With the Gulf of Mexico nearby, it'd be a shame to not take a coastal Texas road trip!
This road trip would take you through the most popular Texas towns on the coast like Galveston, Matagorda, Corpus Christi, and South Padre Island.
At any of these stops, you can stop and explore the beaches, or take a dip in the warm waters thanks to the Gulf of Mexico!
You'll find a uniqueness to each stop on this road trip that will keep you entertained for days!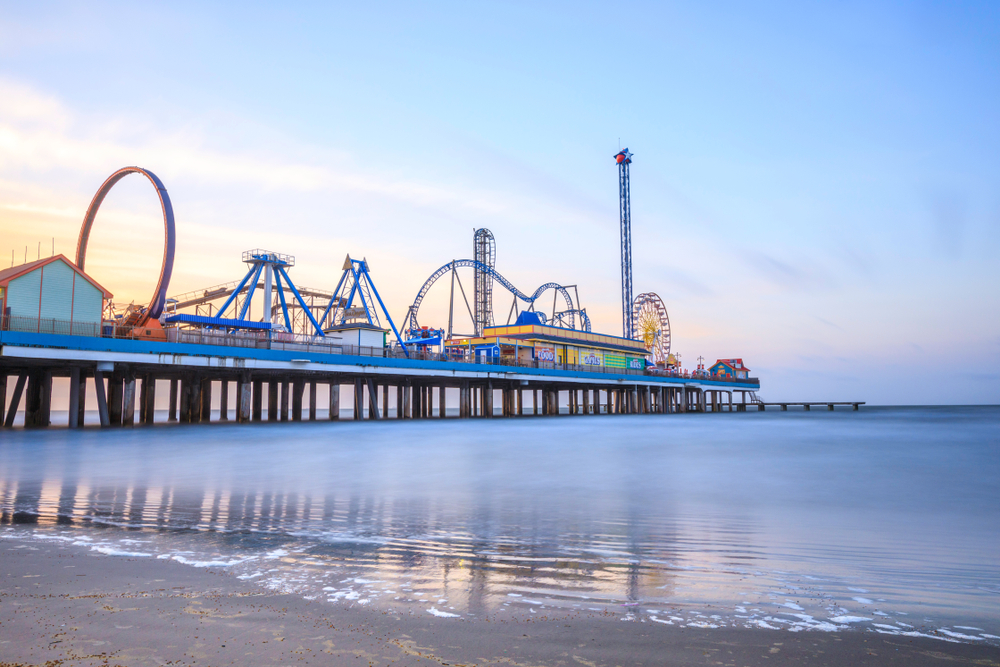 Go To The Texas State Fair
If you're in Texas during September or October, you must check out the Texas State Fair in Dallas!
This Texas fair is the longest-running fair in America, and even better, it is also the largest! This fair is home to Big Tex, the World's Tallest Cowboy, and also a famous Texas icon!
Beginning in 1886, the Texas State Fair prides itself on promoting Texas traditions in Agriculture, Education, and Community Involvement.
When you're in Texas, this will end up at the top of your list!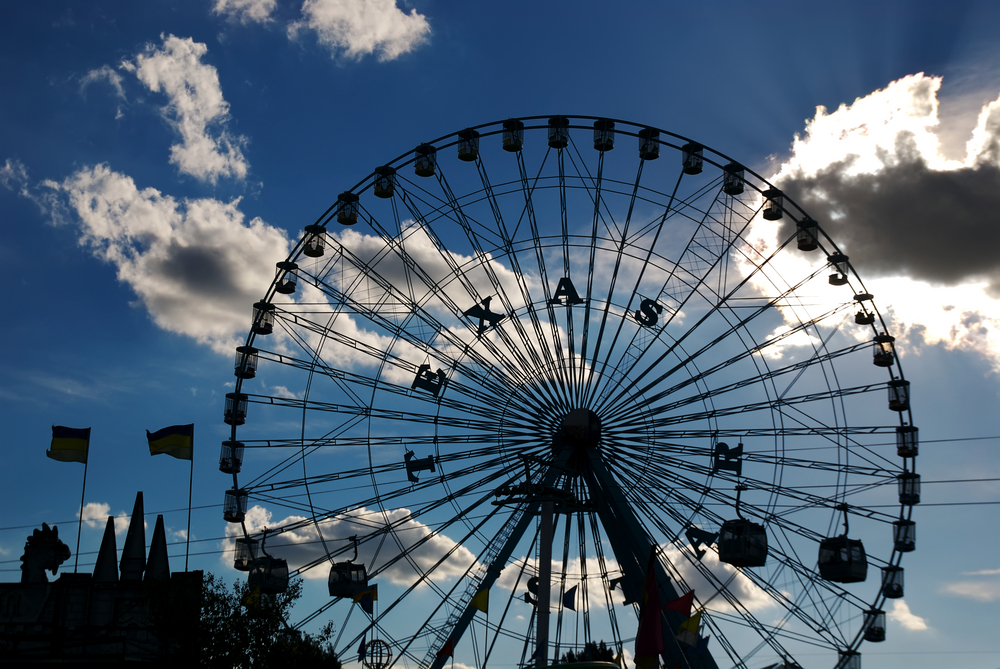 Visit The Fort Worth Zoo
This one is for animal lovers!
The Fort Worth Zoo is one of the oldest zoos in Texas, and is home to 540 animal species! The zoo hosts special events all the time such as field trips, weddings, holiday parties, and corporate events!
Here you can interact up close and personal with sharks and stingrays! This is one of the reasons this zoo was ranked by USA Today as the number 5 zoo in the nation!
Get ready for an animal-filled day here!
Eat At Tito's Mexican Restaurant
Tito's Mexican Restaurant is located in San Antonio and is a great place to experience authentic Mexican food in Texas!
Tito's is known famously for their Margarita/Tequila Bar, as well as their fajitas and enchiladas. Here you'll get the taste of Mexico in Texas!
This San Antonio restaurant was established in 2003 in the Historic King William District! When you're in Texas, you'll want to make a stop here for delicious food and Happy Hour drinks!
Bat Watch At Congress Avenue Bridge
This is one experience in Texas that you simply can't do anywhere else!
The Congress Avenue Bridge in Austin is home to the largest urban bat colony in North America. Here, over 1.5 million bats reside during the summer before heading back to their home in Central Mexico for the fall.
The best time to view these night flyers is at dusk on any summer night! You can access the bridge for perfect viewing free of charge.
The largest bat colony in North America is waiting for you during your time in Texas!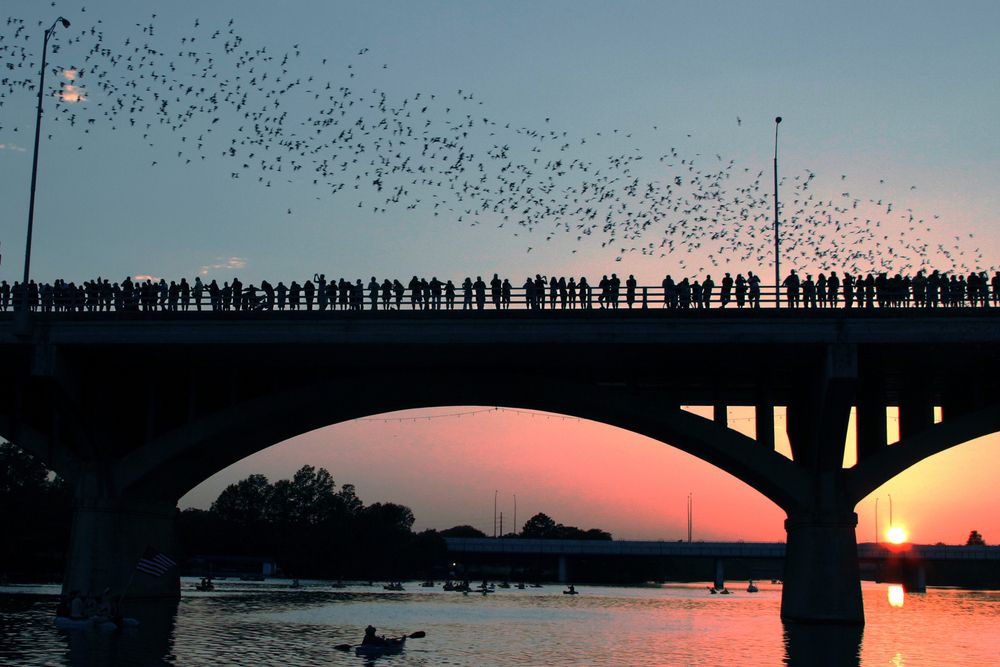 Visit Space Center Houston
You definitely won't want to miss out on this experience!
The Space Center Houston is one of the most popular places to visit in Texas. This is in part because it is home to NASA's Mission Control Center!
Here, you'll find the world's largest collection of moon rocks, and you'll see tons of NASA's systems on display. If you're here during the holidays, you'll even get to experience Galaxy Lights, a holiday display that the center is famous for during the winter!
Start planning your trip to NASA!
The Fort Worth Stockyards
The Fort Worth Stockyards is the perfect place to feel like you're in an old Western movie!
The Fort Worth Stockyards is the perfect place to view a true Texas rodeo. There are also concerts and western theme shops all throughout the stockyards!
You can stop at the museum and learn about the history of Fort Worth while you buy the best pair of boots you can't find anywhere else!
Cadillac Ranch
Cadillac Ranch is one Texas location that you are able to leave your mark on the state!
Located in Amarillo, Cadillac Ranch is an iconic fixture of Cadillac vehicles stationed in the ground, with years of layering from past visitors. People come from all over to spray paint their own mark on a vehicle!
You can bring your own spray paint, or you may be lucky enough to find a can that was left behind by a previous visitor!
You can also visit the visitor center and buy jewelry made from paint chips that have come off the cars! There's no record of how many layers of paint are currently on this fixture!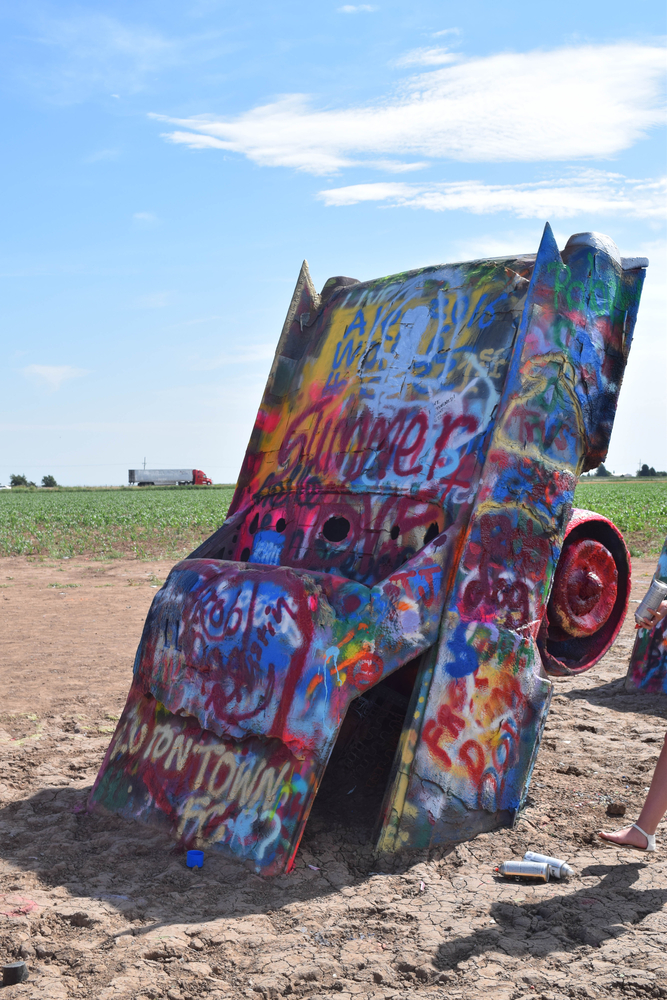 Visit The Texas State Aquarium
In 2019, this Texas aquarium was voted by USA Today as the number 4 aquarium in America!
One of the coolest things about this aquarium is the 4 bottlenose dolphins they house in their Dolphin Bay exhibit! They also have a Saving Sharks exhibit where you can track tagged sharks in real-time!
Other popular exhibits here are Jungle, Caribbean Sea, and Living Shores. Each with something to teach you about wildlife and oceanic life.
You'll want to make sure to stop here at least once while in Texas!
Visit The Gaylord Texan At Christmas
A Texas Christmas that you'll remember can happen at the Gaylord Texan!
While Texas isn't known for snow, that isn't true for the Gaylord Texan. During the holidays, this hotel offers snow tubbing, snow throwing, various snow slides, as well as its famous ICE! show.
The ICE! show is a 9-degree ice showing of a true winter wonderland. You'll want to pack a coat and mittens for this experience!
The Alamo
One thing you need to do is.. remember the Alamo! You can't come to Texas without stopping at this historic marker.
The Alamo is known as the Shrine of Texas Liberty, and there's no doubt that this is a huge piece of Texas history! You'll be able to take a guided tour and see everything the Alamo has to offer.
Make sure to walk through the Living History and talk to the Living Historians. Here you'll get an up-close and personal take on what life was like during the 1800s and even learn about events surrounding the Battle of the Alamo in 1836!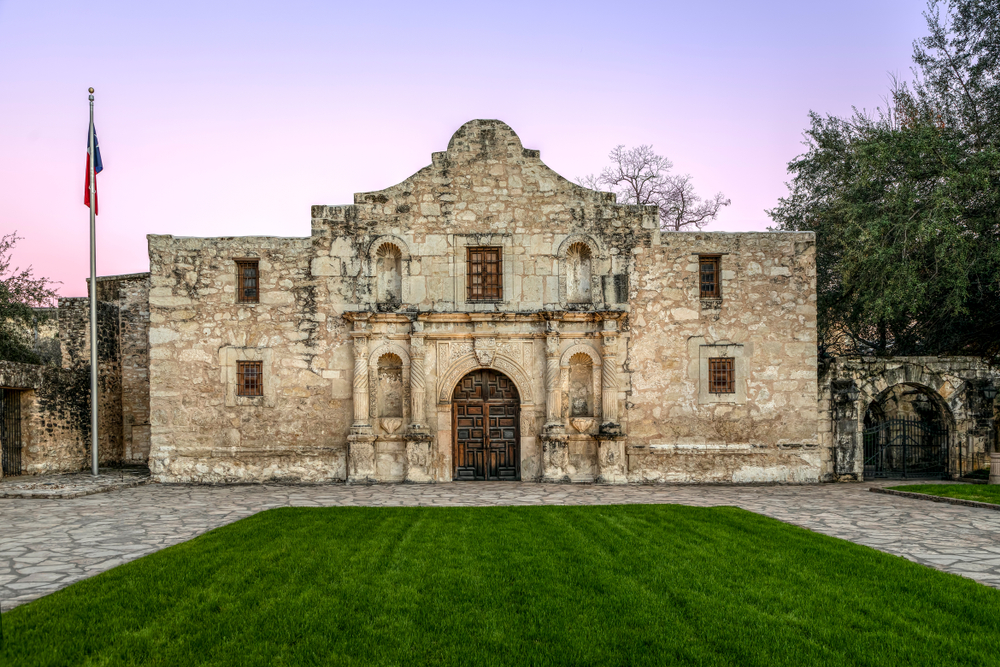 Texas is one of the largest states in America, and that means there are a lot of things to experience in Texas! Whether you want to spend a weekend getaway somewhere, are looking for the best place to see various animal species, or you just want to see what makes Texas.. well Texas!
There is something unique in Texas for everyone. We know you'll love the stops on this list!