Are you planning your next adventure and looking for things to do in Texas Hill Country? Whether you have been before or this is your first time visiting, get ready to be enchanted by the landscape and unique locations this region has to offer!
These stops are perfect for a quick day trip or a week long vacation. This list will answer all your questions on what to do in Texas Hill Country!
Maybe you are looking for some charming, small town shops? Or is floating down a winding river more your style? Perhaps you are on the hunt for the most beautiful field of flowers? No matter what type of experience you are after we have you covered with these Texas Hill Country attractions.
Get your bags packed and your camera ready, because we have found the best places to visit in Texas Hill Country. This is sure to be a trip to remember!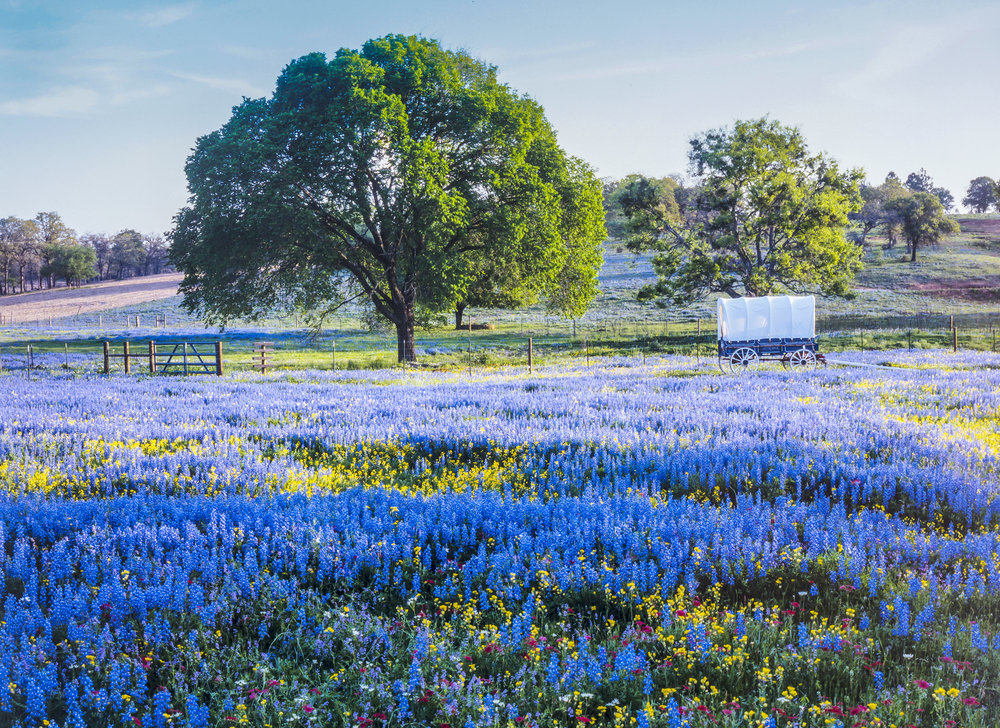 15 Best Things To Do In Texas Hill Country You Shouldn't Miss
Jacob's Well
If you are looking for picturesque scenery and to be blown away by the beauty of nature, then you have to stop at Jacob's Well!
Jacob's Well is the second-largest submerged cave in Texas and is an active spring that lets out thousands of gallons of water everyday. The well itself is located in the Jacob's Well Natural Area which is over 81 acres!
When visiting you can reserve a spot to go swimming in the well, talk about a magical experience! There is a charge to go swimming (all prices can be found on their website), but it is completely free to wander around the park and view the springs.
This is definetly a hidden gem in Texas and one of the top things to do in Texas Hill Country. Don't forget to bring your camera. If there was ever an insta-worthy location, this is it!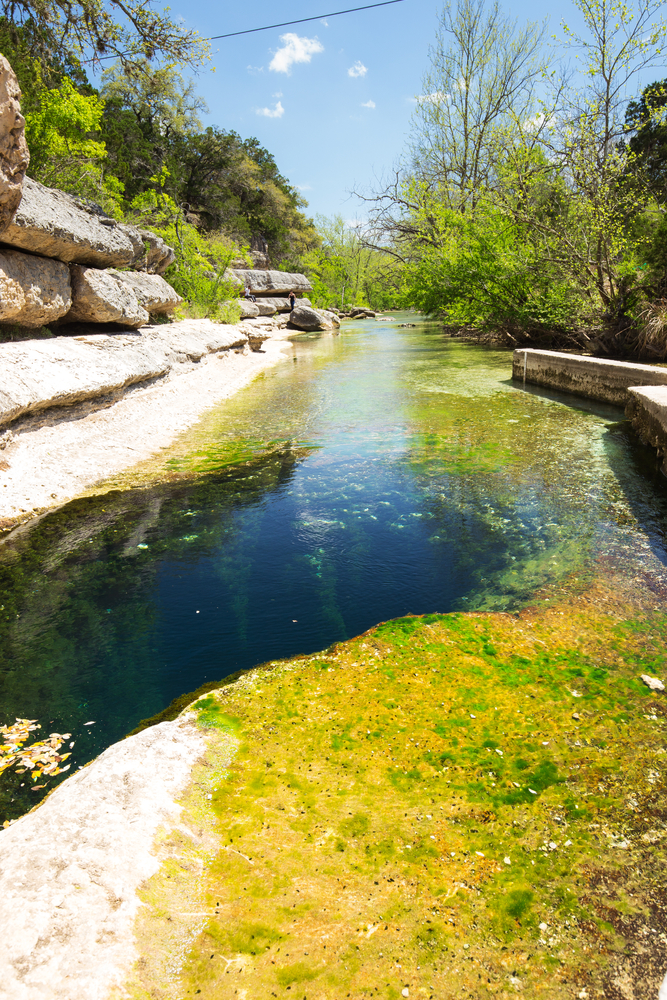 Fredericksburg
Located right in the center of the region, this is one of the Texas Hill Country attractions you cannot miss! German charm and a historic city center can be found in Fredericksburg which is truly one of the cutest towns in Texas Hill Country!
The town was established in 1846, when the first German settlers came to the area. Check out the Pioneer Museum to learn more about the areas rich German heritage.
Take a stroll down Main Street to find one of a kind boutiques, coffee shops, delicious restaurants and dessert cafes. Fredericksburg is the sister city to Motabaur, Germany and you can sense the old world charm when walking around. Just strolling is truly one of the best things to do in Fredericksburg!
There are more than 50 vineyards and wineries in Gillespie County, where Fredericksburg is located. You can either book a more structured wine tour or if you are feeling spontaneous, hop on the wine shuttle that leaves from downtown every 10 minutes on Saturdays!
With so much to do and see, we think Fredericksburg is a great stop for a day trip and one of the best things to do in Texas Hill Country.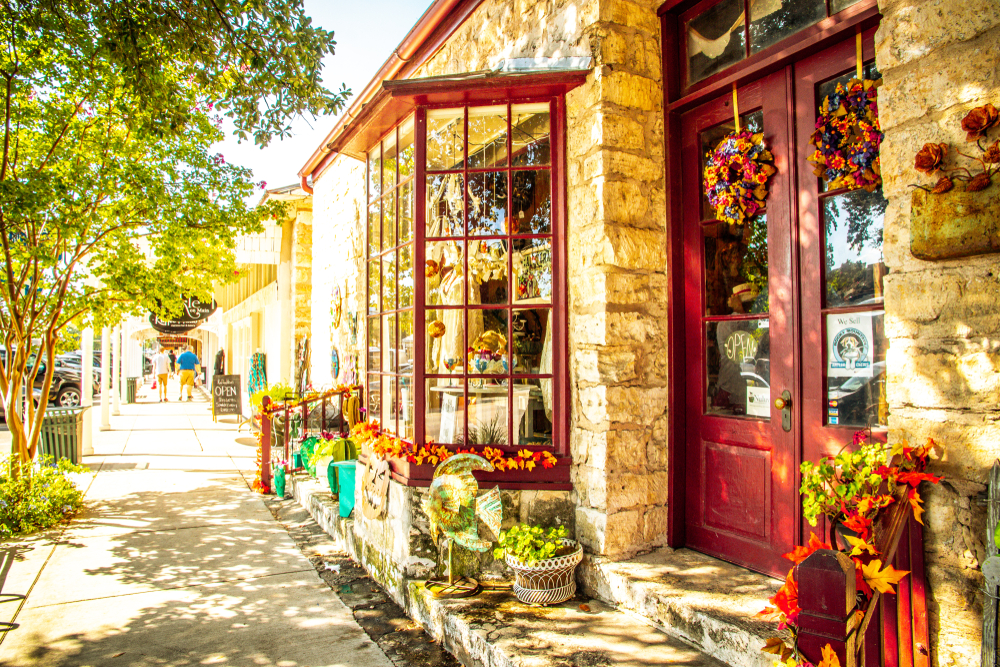 Schlitterbahn Waterpark
Are you the adventurous type? If so, you need to check out Schlitterbahn Waterpark!
This German Medieval themed waterpark has something for the whole family, which is why it is one of our top fun things to do in Texas Hill Country. It is also located less than an hour from San Antonio in New Braunfels, so it is close to a lot of other can't miss vacation destinations.
For the thrill seekers there are tube slides, water coasters, downhill drops and even surfing. If relaxation is what you are looking for try one of the lazy rivers or the Dragon's Lair heated pool with swim up bar.
The littlest kids will also be excited to play in the Butterfly Bayou or the Kinderhaven area which has a small pirate ship and slides. Sure to make even the most energetic kids fall asleep early!
Make sure to add Schlitterbahn Waterpark to your list of things to do in Texas Hill Country.
Garner State Park
Garner State Park is the most popular parks in Texas for camping and once you visit, it is easy to tell why. The views are breathtaking, especially if you go during the fall. This is one of the best places to experience fall in Texas!
The park is located on the Frio river so make sure to pack your swim suit. You can go for a quick dip in the river or bring a tube and float down while taking in the gorgeous scenery.
With 16 miles of hiking trails there are so many great views to take in and places to explore.
They have historic cabins to rent on site or you can bring your own tent and camping gear to set up your base on one of their designated campsites. You can even try to catch your own fish dinner on the Frio river, but maybe bring a backup meal in case you aren't so lucky!
Garner State Park is one of the most beautiful Texas Hill Country attractions and should be at the top of your list!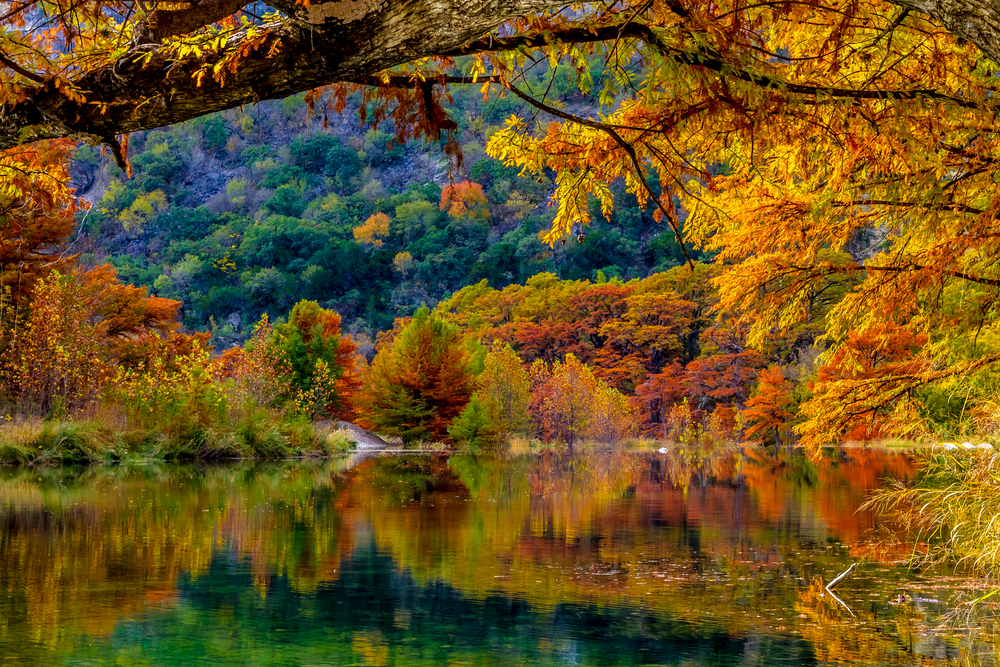 Hamilton Pool Preserve
Located not far from Austin, Hamilton Pool is one of the prettiest places to visit in Texas Hill Country.
The natural pool was formed long ago when the dome of an underground river fell due to erosion. The water is the most magical shade of jade green and features a 50 foot waterfall that flows into the pool!
Currently, they aren't allowing visitors to swim in the waters because of safety concerns and falling rocks, but seeing this sight is still worth the trip.
To get to the pool you hike about a quarter of a mile from the parking lot and are rewarded with some of the most breathtaking views. You can even go on a guided hike, if you are looking for more information on the history of Hamilton Pool and the surrounding plants and wildlife.
Hamilton Pool Preserve is truly a sight to behold!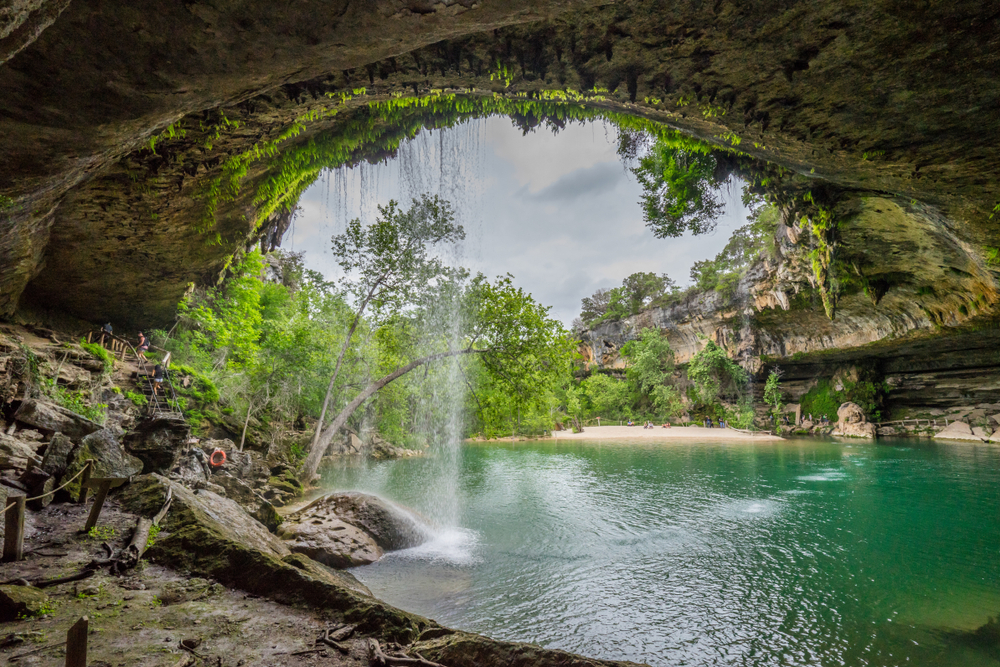 Enchanted Rock
For a truly mystical and out of this world experience, check out the Enchanted Rock State Natural Area. Enchanted Rock is a monadnock, which is basically a small mountain, made of pink granite. It is the largest of its kind in the U.S.
The area has almost 11 miles of hiking trails, including the awe-inspiring Summit Trail. Though the Enchanted Rock is the star, the surrounding landscape is rugged and beautiful.
Many myths and legends have been born from Enchanted Rock. The Tonkawa Indians believed they saw ghost fires and heard creepy noises on the top of the dome. Don't be too scared though! Geologists say the noise is caused by changes in the weather and the "fires" were really just parts of the rock glistening after a rainfall.
Enchanted Rock State Natural Area is also an International Dark Sky Park, so make your trip extra magical with a night spent under the stars!
If you are already planning on seeing the sights in Fredericksburg, be sure to add Enchanted Rock to your itinerary since it is less than 20 miles away. What a fabulous vacation seeing two of the best things to do in Texas Hill Country.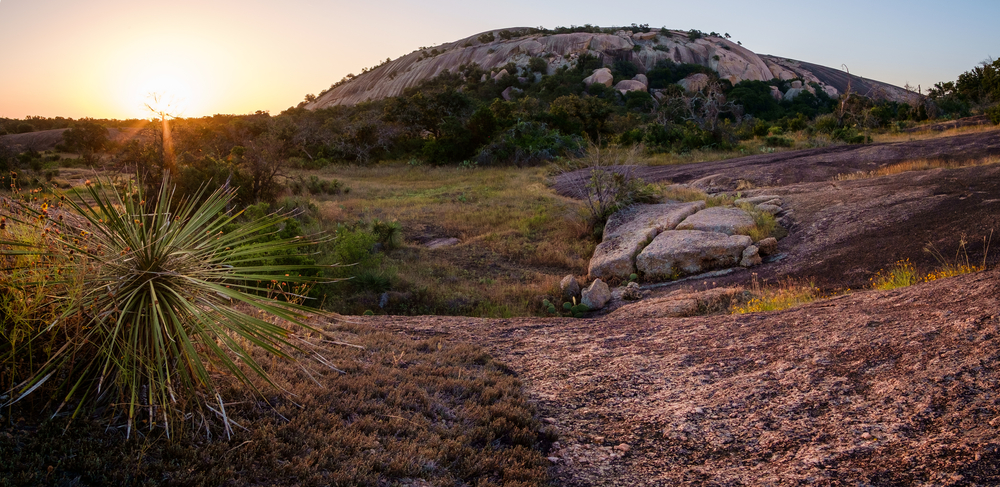 The Alamo
Don't forget to visit The Alamo when looking for things to do in Texas Hill Country!
This was the first of the San Antonio missions and was known as Mission San Antonio de Valero in colonial times. The Alamo is an important part of Texas history, in 1836 during the Texas Revolution a group of Texas soldiers defended it against the approaching Mexican army.
It is free to tour the church, but they also offer more in depth, guided tours if you are a history buff and looking to increase your Texas history knowledge! They also have flowering gardens and a bronze sculpture trail that shouldn't be missed.
When planning your trip, make sure to check out the other Spanish missions in San Antonio!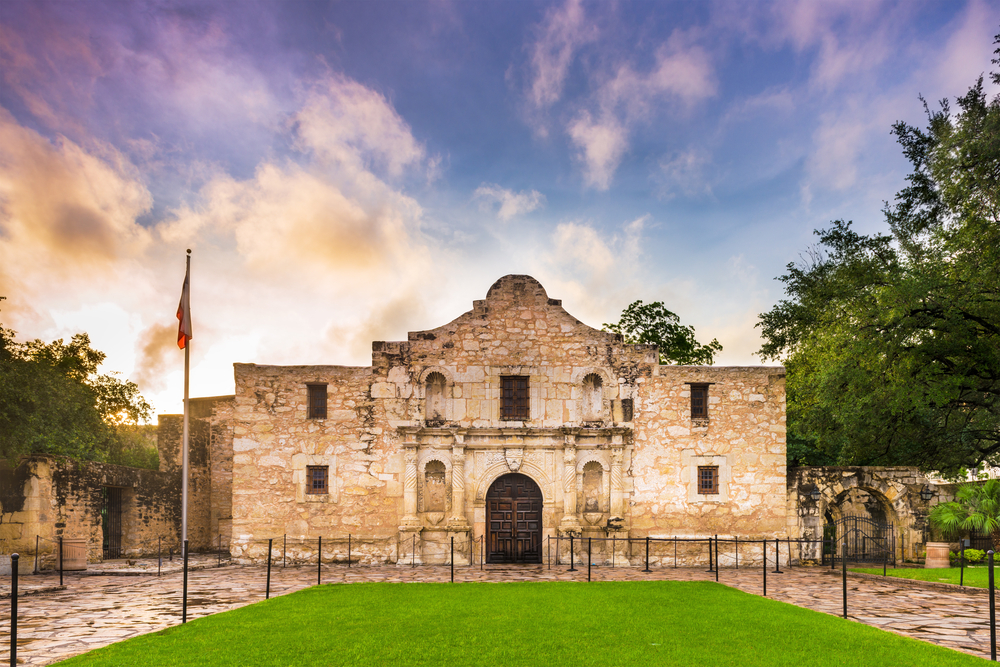 Hunt for Bluebonnets
Not many things are quite as magical as a field of wildflowers and Texas Hill Country is famous for their bluebonnets!
Seeing these beauties in full bloom will require a bit of luck and a vacation during the right season. Bluebonnet's bloom time is dependent on the weather in the seasons prior, they need rain and a good freeze in the winter followed by a nice amount of rain in early spring.
Typically, you can plan to see the bluebonnets in late March, April and early May, though this can vary slightly. Even if you are off a bit you should still be able to see some Texas wildflowers.
The best places to see these blooms are in the northern part of Hill Country. Specifically Marble Falls, Burnett and around Fredericksburg.
When visiting, remember to treat the land with respect and not pick the flowers. We want to make sure the bluebonnets are around for everyone to see and enjoy!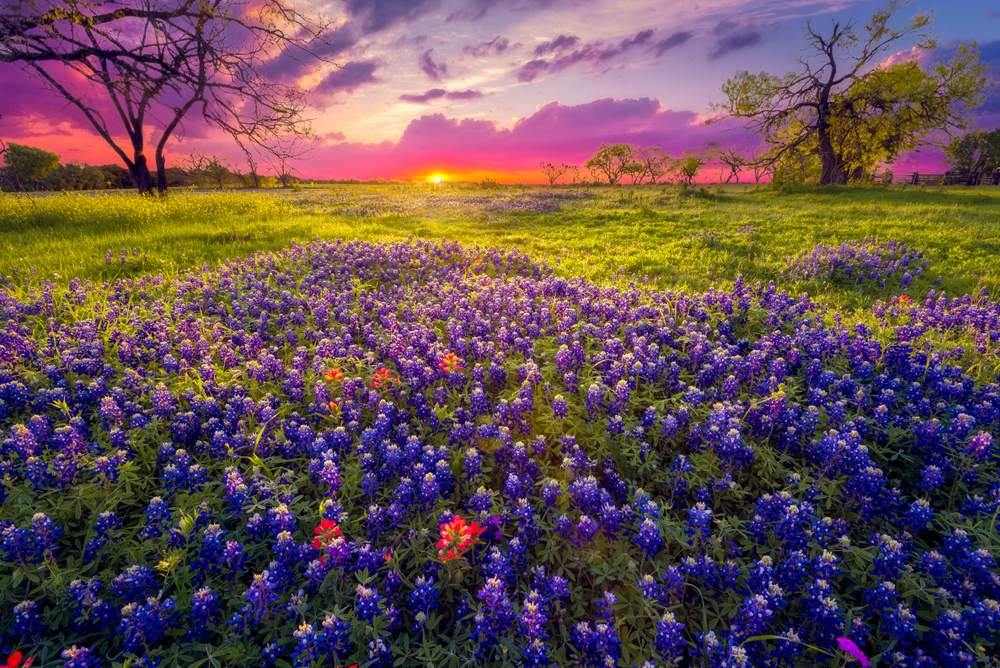 Natural Bridge Caverns
Natural Bridge Caverns are some of the largest caverns in Texas and are located just outside of San Antonio. We think the caverns are one of the most fun things to do in Texas Hill Country underground!
When touring the caves you get to go 180 feet below ground and the temperature is always a balmy 70 degrees Fahrenheit!
Many different tours are available when visiting the caverns including, the Discovery Tour, a Hidden Passages Tour and the Adventures Tour which takes you through some undeveloped parts of the cave so you can feel like a real explorer!
There are also other activities, including seeing the bats fly, going mining for gems, an outdoor maze and a zip line course! Something for everyone in your group to enjoy!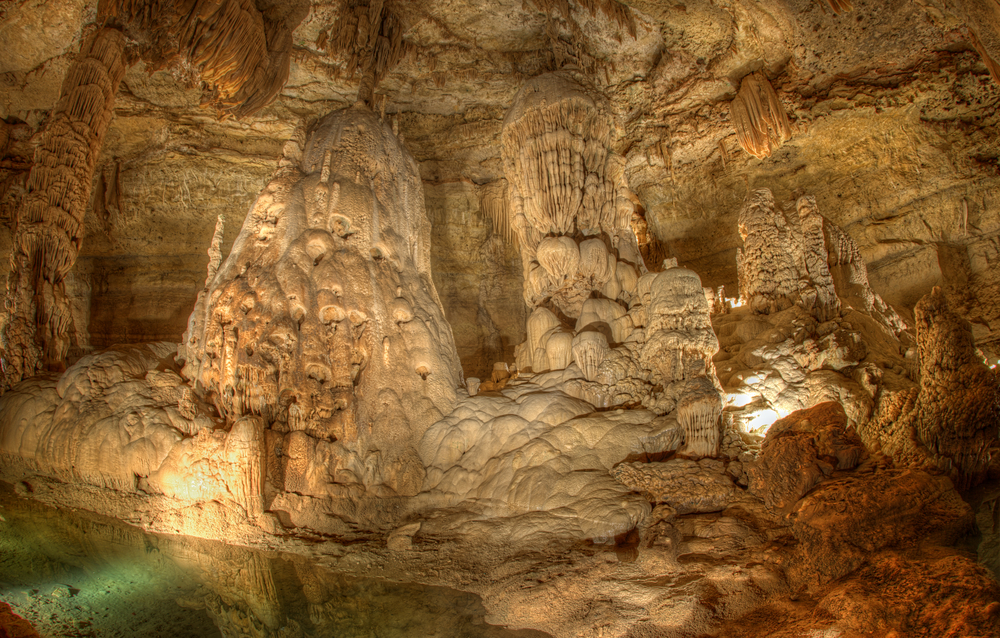 Tubing on the Guadalupe River
If you are planning a visit during the spring or summer months and are looking for one of the most relaxing and fun things to do in Texas Hill Country, then look not further.
The Guadalupe River flows from Kerr County to the San Antonio Bay on the Gulf of Mexico. The course of the river in Hill Country is known for being a popular tubing spot. The stream moves at a steady pace and is surrounded by lush greenery and limestone banks.
There are many spots along the river to rent tubes, with different length trips tailored to your schedule. So whether you want to float down the river all day or just go for a quick ride, you are covered.
What are you waiting for, go get your float on!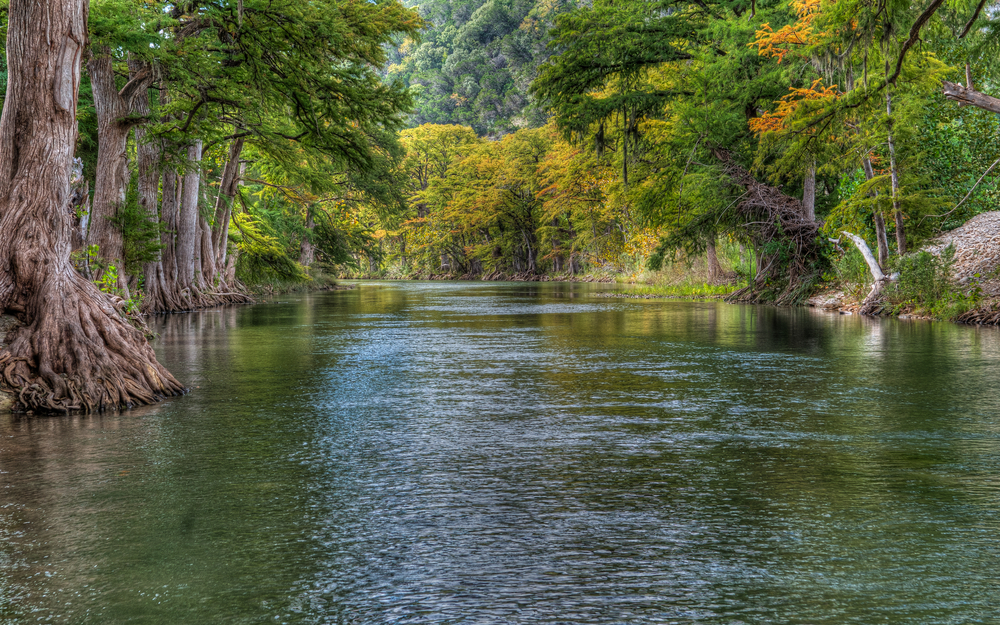 Gorman Falls
Looking for an outdoor adventure with incredible sights? Then you need to check out Gorman Falls located in the Colorado Bend State Park, and don't worry, we are still in Texas Hill Country.
Gorman Falls is a 70 foot tall cascading waterfall that flows into the Colorado River. The trail to Gorman Falls is 2.6 miles roundtrip and is a fairly flat hike with little shade at the start (don't forget your hat and sunscreen) but gets steeper the closer you get to the falls.
There is no swimming allowed by the falls, but that does not mean you should skip this stop. The falls are a natural wonder and need to be seen in person!
After seeing the falls make sure to check out the Spicewood Springs or take a cave tour. The park also offers camping sites and hiking trails along the Colorado River making this one of the best places to visit in Texas Hill Country.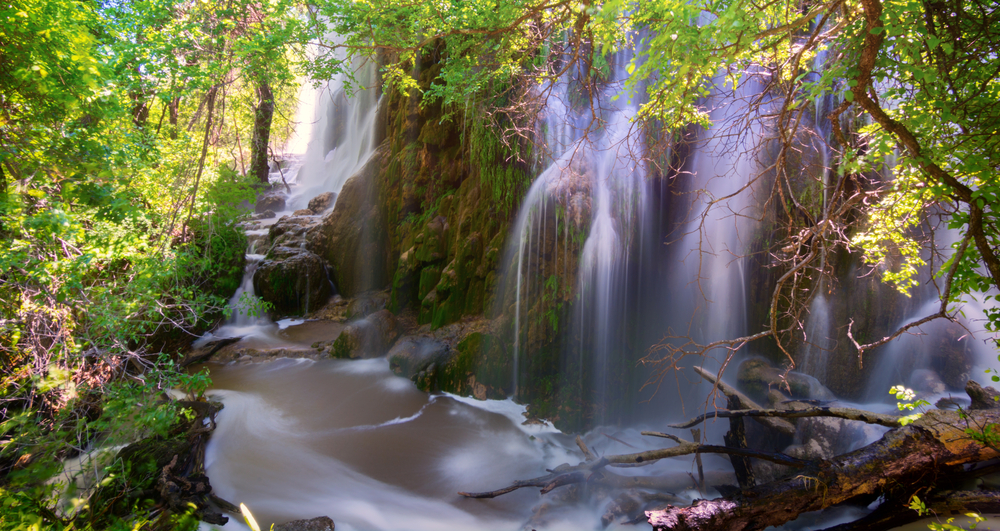 Luckenbach
Country music fans will want to make a stop in Luckenbach, which was made famous by the song Luckenbach, Texas by Waylon Jennings and Willie Nelson.
When Luckenbach was founded most of its residents were German immigrants. Nowadays there are only a handful of permanent residents and the place has a ghost town feel. The town has two main buildings, one is the old post office that operates as a general store selling souvenirs to visitors and the other is a dance hall were country artists come to play.
Before visiting, make sure to look at the upcoming events to plan your trip around a festival or one of your favorite country musicians shows.
Luckenbach also offers RV camping spaces so you can stay close to the action. Though this isn't a stop for everyone, if you love country music then this is one of the Texas Hill Country attractions you cannot skip!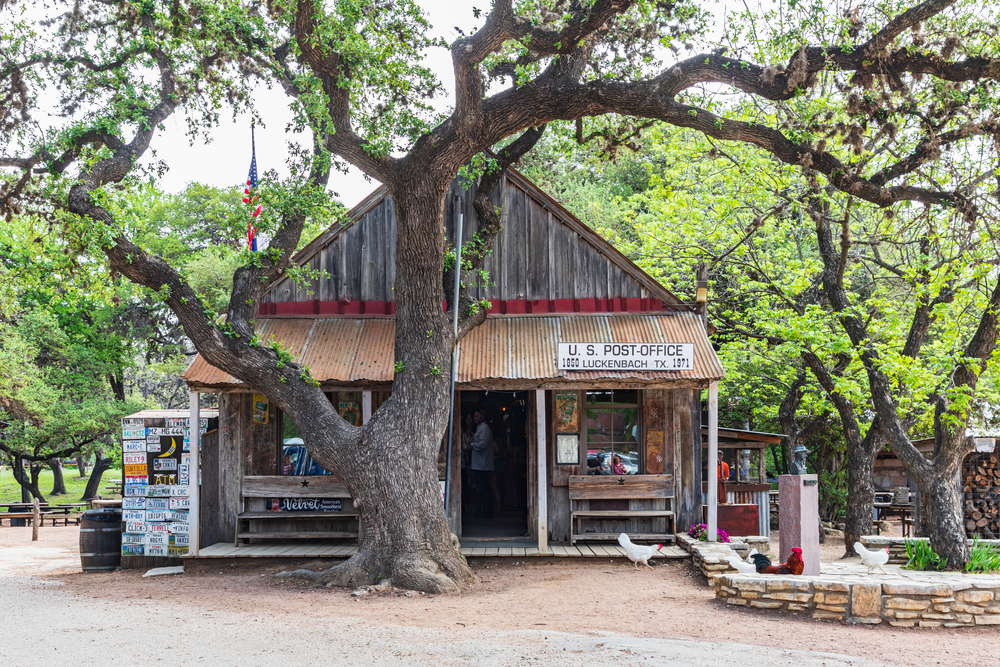 Lavender Fields in Blanco
If you were excited about finding the Bluebonnets, then you need to see the lavender fields in Blanco, Texas.
Hill Country Lavender was the first lavender field in the area. They got their start after a trip to Provence. The owners were walking through the lavender blooms in France and were reminded of their landscape and weather back home in Texas. When they got home they tested growing their own lavender in Hill Country and it was a success!
The lavender typically blooms between mid May and early July. Seeing the purple rows of lavender blossoms throughout the fields is a magical sight. Make sure to have your camera ready!
If you happen to be visiting Hill Country during the second weekend of June, make sure to stop by The Blanco Lavender Festival, you won't be sorry!
San Antonio River Walk
Are you looking for an adventure in the city with bright lights and unique architecture? The San Antonio River Walk is picturesque and one of the best Texas Hill Country attractions, especially if you are a foodie!
The San Antonio River Walk is a city park with a pedestrian walkway bordering the river, that is one level down from the car filled streets. The sidewalks are lined with small shops and five star restaurants for you to stop in during your stroll.
Boat tours and taxis are available in case you get tired of walking or want to see the sights in a different light. If you are planning a special evening or looking to add some magic and romance to your night, we suggest booking a dinner cruise under the stars.
The River Walk is beautiful anytime of year, but Christmas time may take the cake. The lights draped and glowing over the river are sure to put even the Grinch in a holiday mood! This is one of the most festive places to spend Christmas in Texas!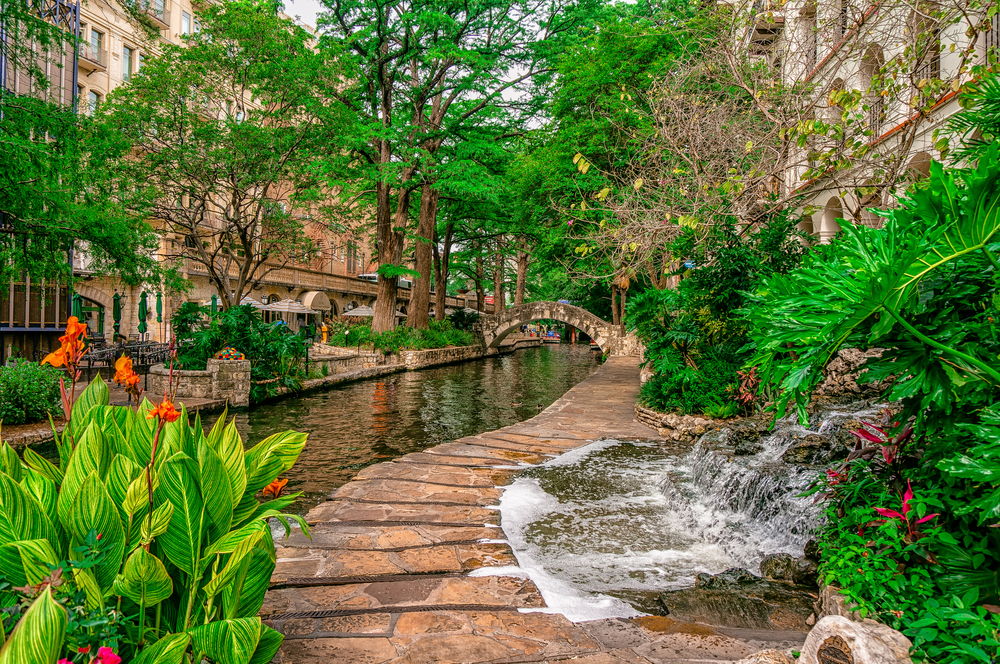 Zilker Botanical Garden
The Zilker Botanical Gardens are located on 28 acres near downtown Austin. Considered a "jewel in the heart of Austin" the botanical garden contains many different themed gardens throughout.
Some of the gardens include, The Hartman Prehistoric Garden, the Taniguchi Japanese Garden and The Mabel Davis Rose Garden, these are all laced together with secret passageways and koi filled ponds.
For the perfect day trip, plan on packing a picnic and eating it in the Oak Grove once you get hungry from walking around all day and smelling the flowers. Remember to check the daily events before visiting to see if anything special is going on, including Music in the Garden.
Kids and adults alike will love seeing The Woodland Fairie Trail which is lined with 40 fairy sized houses made of natural materials.
Make sure the Zilker Botanical Gardens are added to your list of things to see in Texas Hill Country!