Are you looking for the best cities in Texas? Well, you have come to the right place! This is our list of the most vibrant cities in Texas that you must visit!
Texas is one of the most popular destinations in the United States due to its diverse landscapes, vibrant culture, and historical significance. Over 72 million visitors trekked to Texas last year!
From El Paso to Galveston and everywhere in between there is a vibrant Texas city waiting for you to explore! Whether you have a day, weekend, or longer, the best cities in Texas have something to offer. Try our road trip suggestions across Texas for a worthwhile adventure!
Visit countless historical sites, explore museums, craft breweries, beautiful beaches, golf courses, restaurants, and more across the state of Texas!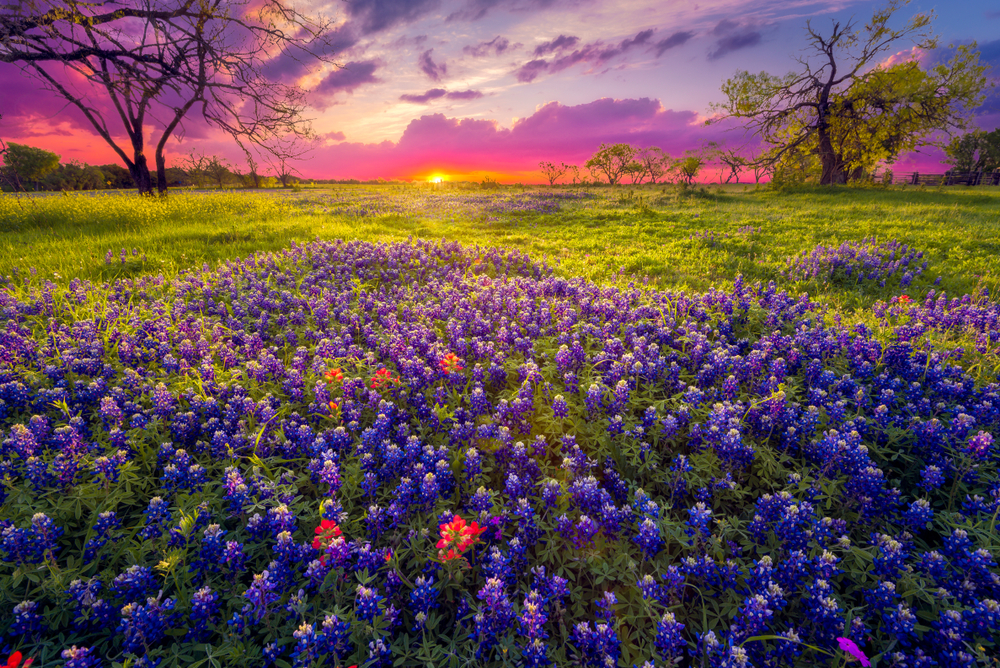 12 Vibrant Cities in Texas You Must Visit
Arlington
Arlington, located just west of Dallas, is one of the best cities in Texas! It has something to offer everyone! It is home to Six Flags Over Texas and the Epic Waters Indoor Water Park which will provide plenty of fun and adventure for the whole family.
And if you are looking for more family fun, Arlington is one the most vibrant cities in Texas to take the kids! It is the home of the River Legacy Park! The River Legacy Park features a Living Science Center along with biking trails, hiking trails, canoeing, and picnic areas. River Legacy Park also hosts multiple festivals and events throughout the year!
If you are looking for a more laid-back adventure you can stroll through the Arlington Museum of Art or visit the Planetarium at the University of Texas at Arlington. Or visit one of the many craft breweries located in Arlington.
Arlington has something for everyone to enjoy, from theme parks to the great outdoors!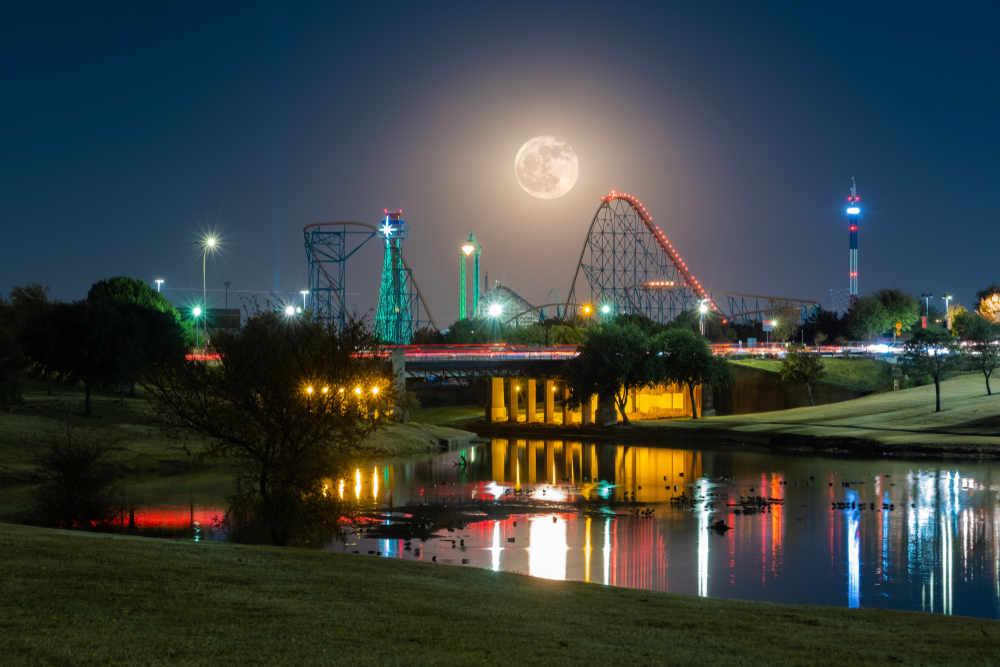 Corpus Christi
Corpus Christi is located on the southern coast of Texas and boasts a variety of attractions. From beaches to museums, this Texas city is unique!
Visitors flock to Corpus Christi for its miles of pristine beaches. You can visit McGee Beach downtown or check out North Beach which has some great restaurants nearby. Corpus Christi is one of the cutest beachtowns and cities in Texas.
If the weather is not on your side there are plenty of great museums to check out in this vibrant city in Texas! Explore the Art Museum of South Texas which has a permanent collection featuring art from the Texas region and around the world! You can also check out the USS Lexington Museum, Texas Surf Museum, or the Selena Museum!
Families can also enjoy the Texas State Aquarium and the South Texas Botanical Gardens and Nature Center. Both offer fun experiences such as animal encounters. The South Texas Botanical Gardens is also dog-friendly!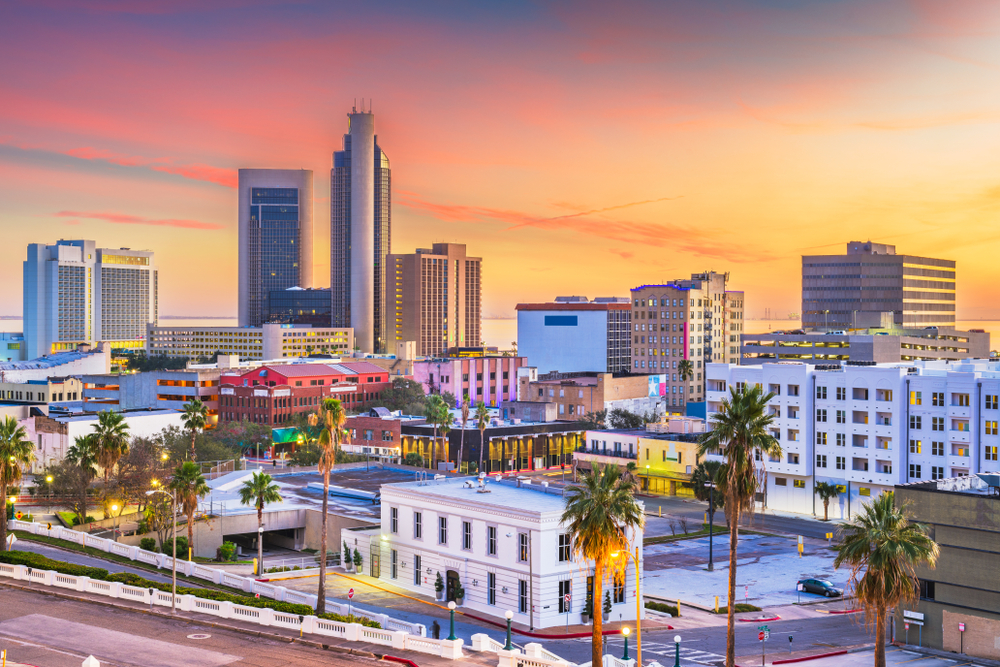 Austin
Known as the live music capital of the world, Austin is one of the best major cities in Texas. Over 30 million domestic visitors flock to its multiple music venues and festivals each year. Austin hosts events such as South by Southwest and the Austin City Limits Music Festival.
If big festivals aren't for you, Austin is home to a variety of smaller music venues such as Broken Spoke. Stop in for live music and dance lessons at a true Texas dance hall!
This vibrant city in Texas is also the state capital. You can take a self-guided tour of the Capitol building or visit the Lyndon B. Johnson Presidential Library. The Lady Bird Johnson Wildflower Center which boasts a variety of gardens and an arboretum is also located in this Texas town!
Austin also has great outdoor activities! Visit McKinney Falls State Park for hiking, bouldering, fishing or just taking the beautiful fall foliage each year!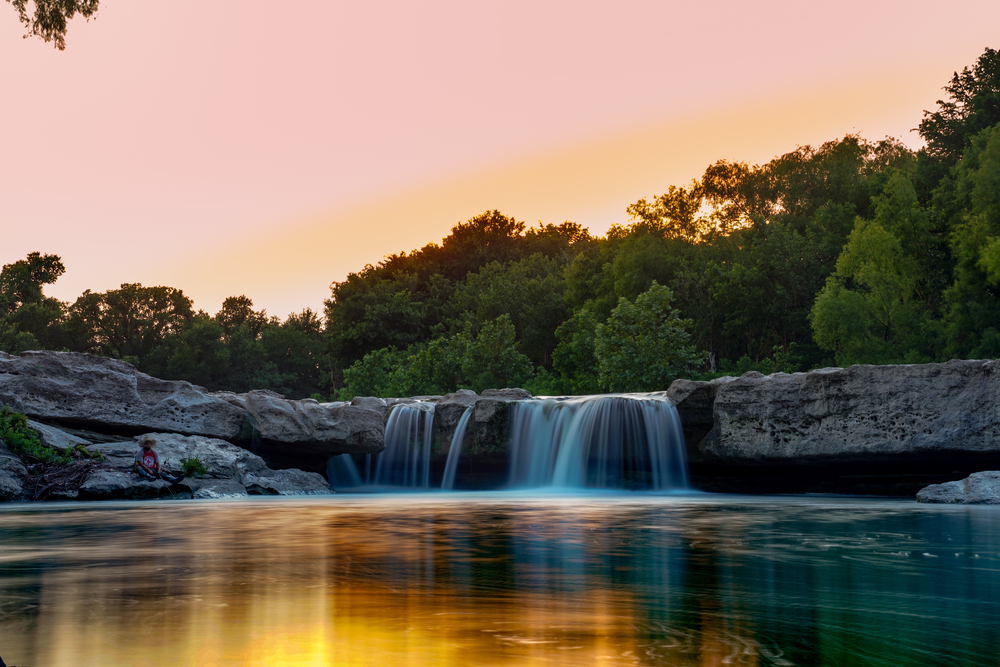 Texas City
If you are looking for one of the best cities in Texas for an adventurous getaway, Texas City is right for you. Located on the southern coast of Texas, just south of Houston, this town is full of unique attractions.
When looking for family activities, The Texas City Museum is full of history and fun! It includes a detailed telling of the town's history and boasts a large selection of model train displays. Nearby, Nobel Park is home to a preserved train locomotive and caboose for children to explore! Texas City's history as a major port makes it one of the most unique Texas towns.
You can also enjoy the great outdoors in Texas City. Fishing charters at Texas City Dike provide adventure or you can relax at Texas Dike Beach. If you are looking for more extreme adventure, Texas City Levee Kitesurfing Beach for kitesurfing rentals and lessons!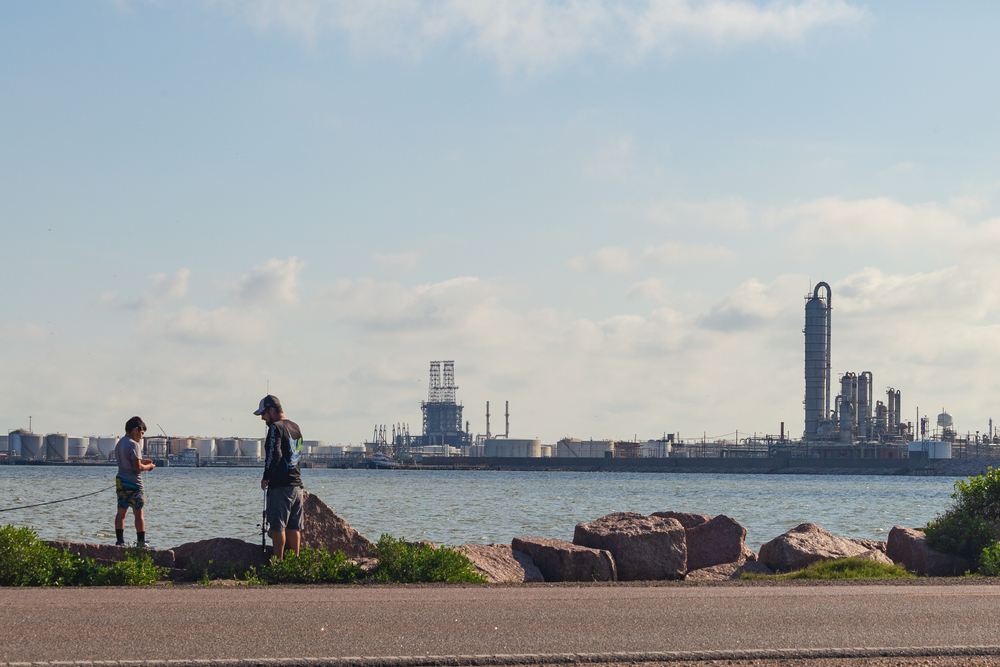 San Antonio
San Antonio is one of the most historic cities in Texas! Located southwest of Austin, San Antonio is filled with great historic sightseeing.
Visit the San Antonio Missions National Historical Park which is home to four Spanish Colonial-era missions and is part of the Mission Trails Historic Sites. Mission Trails also includes several historic houses, a fire station, and even the Lone Star Brewery. If you are a history enthusiast check out our list of must-see prettiest Spanish missions in Texas!
Not to worry if history isn't your thing, San Antonio has much more to offer! The San Antonio Riverwalk has wonderful restaurants, hotels, and activities. Speaking of restaurants, San Antonio has been recognized as a UNESCO Creative City of Gastronomy. Make sure to check out these great restaurants in San Antonio to satisfy your inner foodie!
San Antonio is one of the most famous cities in Texas and makes for an excellent get-away. Remember the Alamo!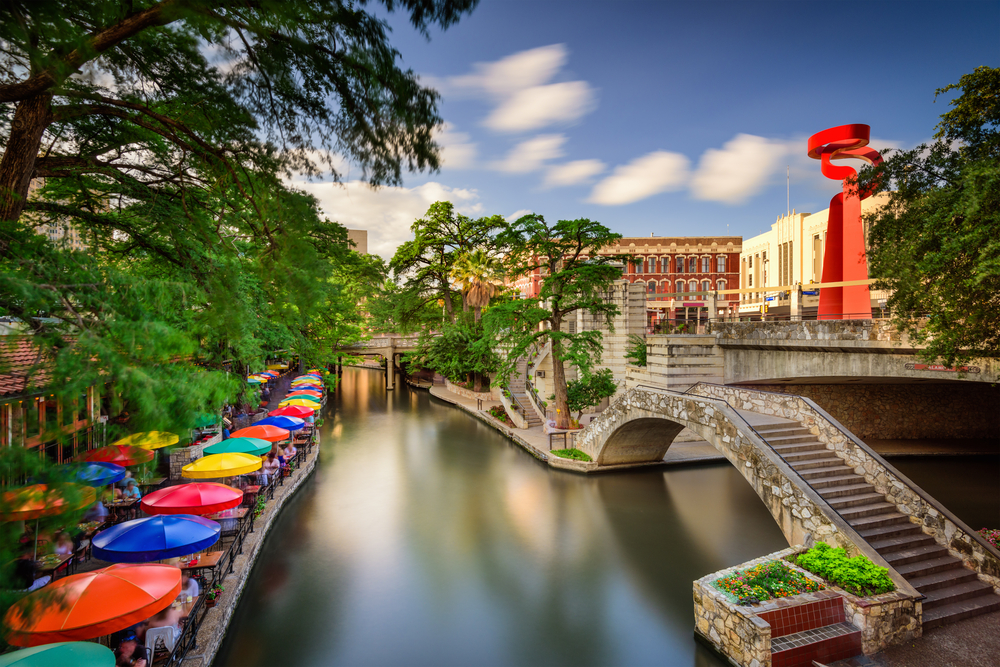 Pearland
Pearland is located just outside Houston and provides an eclectic adventure! From dining and shopping to museums and outdoor activities, Pearland is one of the best cities in Texas!
If looking for a vintage gem or antique treasure, Pearland is the place for you. Wander through Cole's Antique Village and Flea Market or explore the many antique shops throughout the Pearland area.
Pearland has also created scavenger hunts for grown-ups and kids alike to explore the city. By searching for artistically decorated pears scattered around the town, you can make sure to explore every corner of one of the most vibrant cities in Texas!
Visitors can enjoy urban hiking, geocaching, golfing, and excellent birdwatching as well!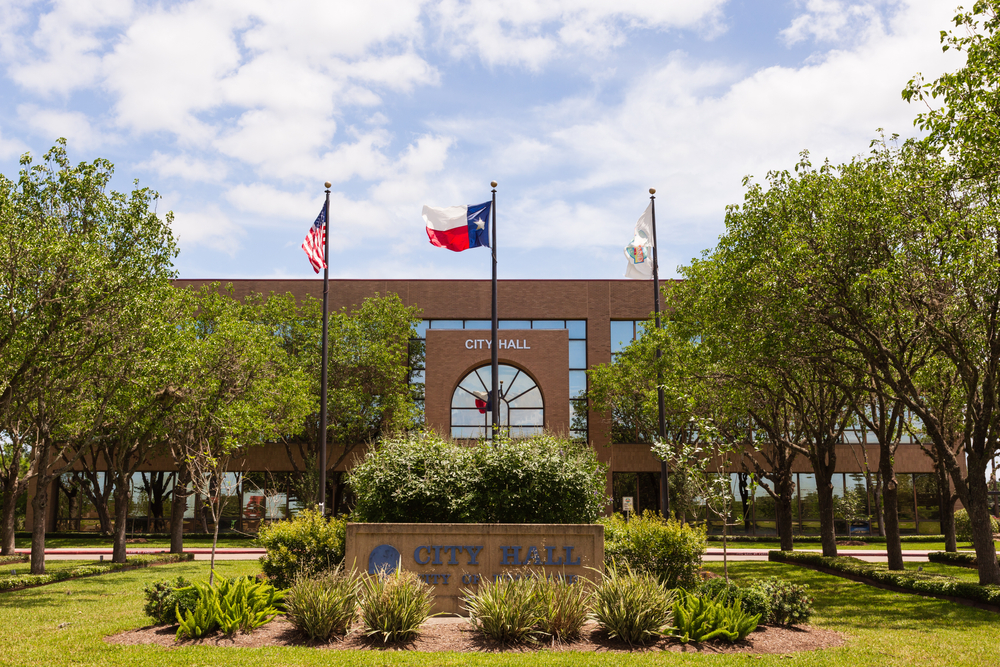 Dallas
Being one of the major cities in Texas, Dallas offers a variety of experiences and fun. Travelers can immerse themselves in an arts and culture paradise while also enjoying everything else Dallas has to offer!
The Dallas Museum of Art boasts art spanning 5,000 years and more than 25,000 artworks! This museum also has new exhibitions throughout the year, programs for all ages, as well as tours. It even made our ultimate Texas bucket list! If you are looking to experience even more Dallas arts and culture, check out the Nasher Sculpture Center or see a performance at the Winspear Opera House!
Families visiting Dallas can enjoy dinner and a show at Medieval Times or meander through the Dallas Arboretum and Botanical Garden on a sunny Texas day! Kids will also enjoy a trip up Reunion Tower for a 360° view of one of the best cities in Texas!
Dallas is also home to several awesome breweries and bars for a fun night on the town. Dallas has a little something for everybody!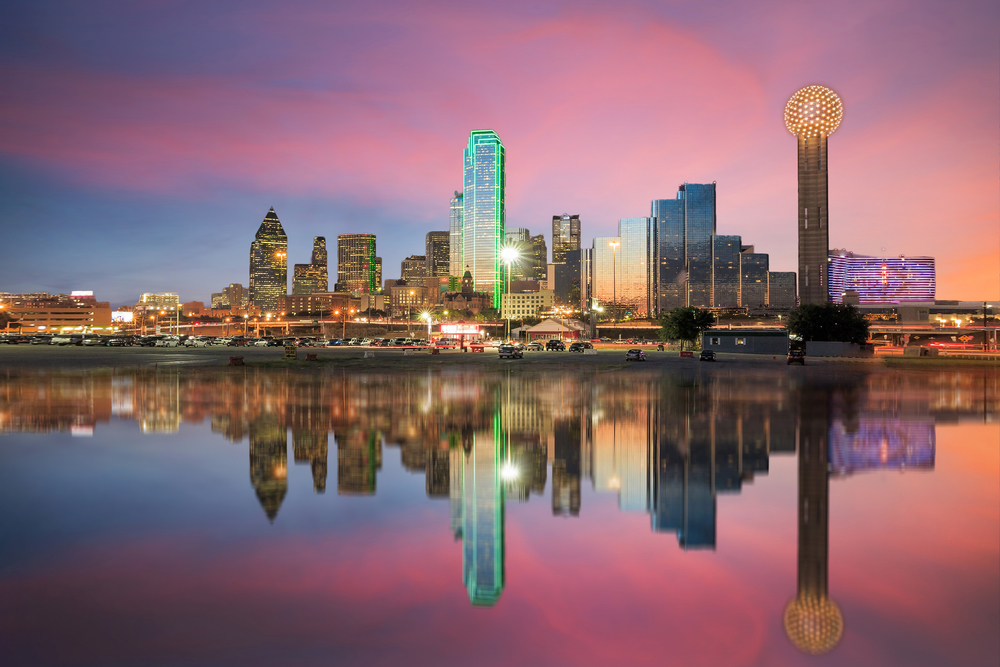 El Paso
If you love the outdoors and history, El Paso is the place for you! Visitors can traverse Hueco Tanks State Historic Site and marvel at the natural rock basins previously used for the rainwater that naturally pooled there. Rock climbing, hiking, bird watching, and even a historic ranch house make Hueco Tanks State Historic Site a must-do in El Paso!
El Paso is also home to the Magoffin Home State Historic Site and the El Paso Mission Trail if you are looking for even more Texas history. If history isn't your thing, you can visit the El Paso Zoo or one of its many museums such as the El Paso Museum of Art. El Paso is one of the most diverse cities in Texas!
Home to a variety of exquisite golf courses, El Paso is every golf enthusiast's dream! With several public state-of-the-art golf courses every golfer can find a course to suit their needs.
El Paso's myriad of attractions makes it one of the most interesting Texas towns to visit!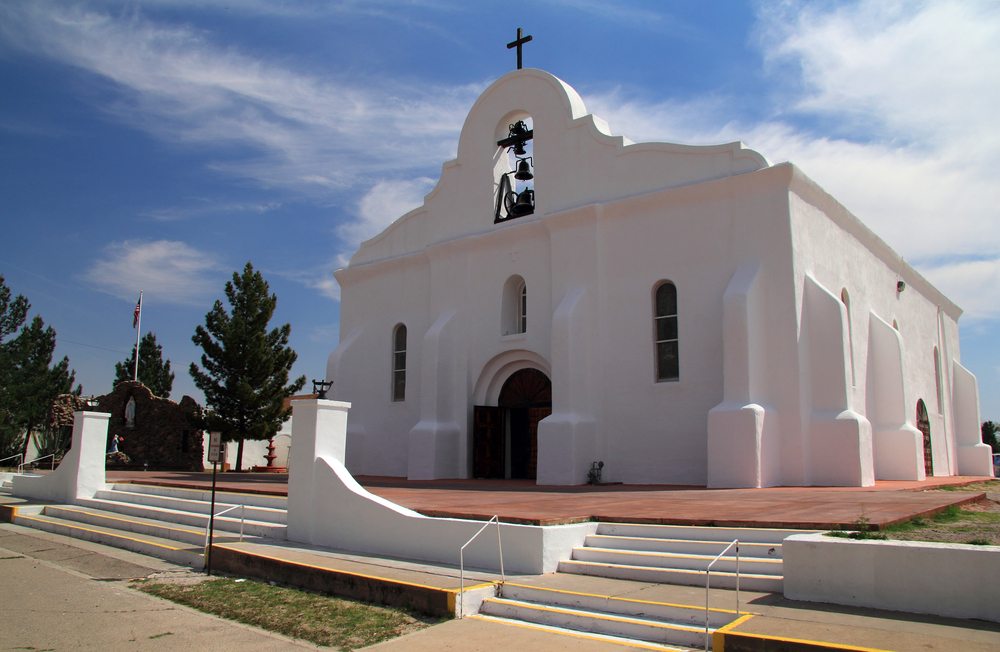 Houston
Being one of the major cities in Texas, Houston is an exciting, unique place to visit! With a variety of cultural and culinary experiences, those who visit will not be disappointed!
With cuisines across the world being represented in Houston, everyone can find something to excite their palette! Visitors can even experience several different food tours to get a true taste of Houston! Afterward, you can visit one of the several craft breweries that make Houston their home.
Space Center Houston and the Houston Museum of Natural Science supply educational fun for adults and children alike! An enchanting afternoon at The Cockrell Butterfly Center, located next to the Houston Museum of Natural Science, is sure to bring joy to the whole family!
In fact, Houston has a museum district that features 19 museums ranging in topics and experiences! Houston is definitely one of the most vibrant cities in Texas with something for everyone to enjoy!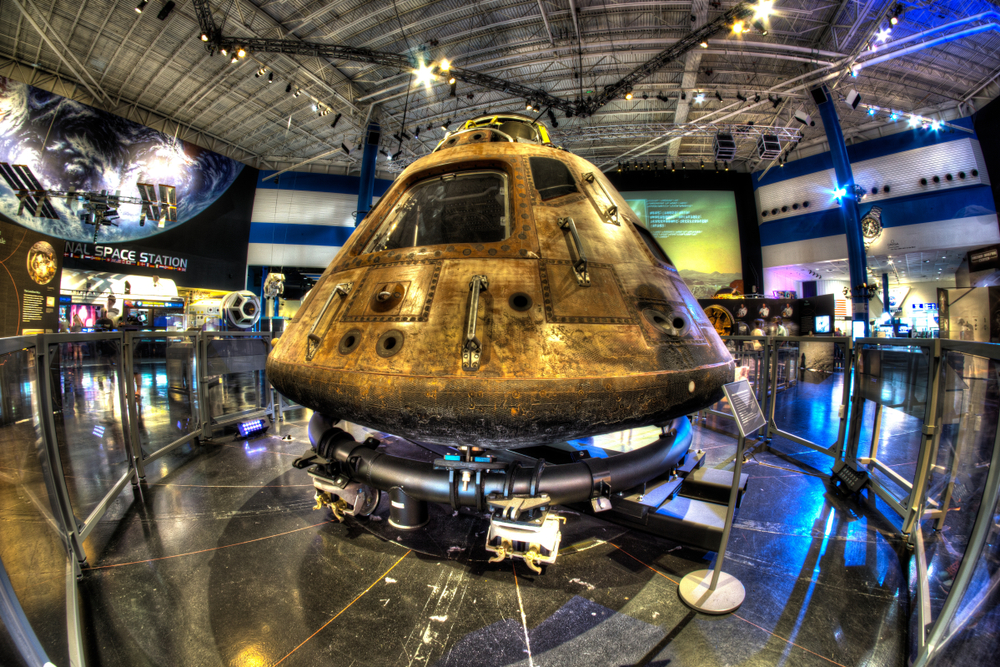 Fredericksburg
If you are looking for an enchanting getaway, look no further than Fredericksburg. With its German influence and natural beauty, this is one of the best cities in Texas to be transported to a different place!
Fredericksburg, located in central Texas, was home to a German community founded in 1846. The German culture still plays an important part in Fredericksburg. From the architecture to the cuisine to its Christmas celebrations, visitors will feel like they are vacationing in Europe.
And if that doesn't tickle your fancy, Fredericksburg is one the best Texas towns for wineries! Whether you want to spend a relaxing evening at a tasting room or tour wineries and vineyards, Fredericksburg has something to enjoy. Make sure to check out the many great restaurants in this beautiful town!
Fredericksburg boasts the Enchanted Rock, a strange rock formation providing beautiful hiking, especially in cooler weather. Make sure to check out our 14 Best Things to do in Fredericksburg list!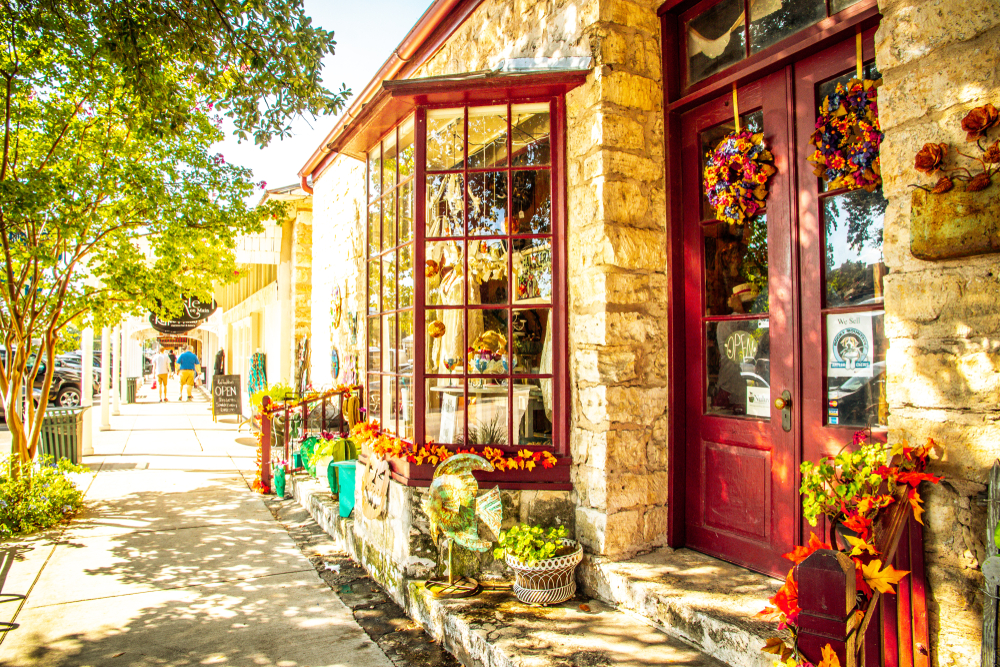 Dripping Springs
Dripping Springs is truly a Texas hidden gem! Whether looking for outdoor adventure, natural beauty, or just some relaxation visitors will find it in Dripping Springs.
This is one of the best cities in Texas for experiencing Texas's natural beauty. It is home to Hamilton Pool Preserve, a picturesque, natural pool with a beautiful waterfall. A 1/4 mile trail is necessary to reach the pool, but the view will be well worth it. In fact, Hamilton Pool Preserve made our list of 15 Best Things To Do In Texas Hill Country!
Outdoor enthusiasts will also enjoy Reimers Ranch which sits on the Pedernales River. Hiking and bike trails, rock climbing, fishing, and even horseback riding trails are available at Reimer Ranch. Dripping Springs is one of the most unique Texas towns when it comes to the great outdoors.
And if you are looking for a more laid-back vacation, Dripping Springs has a winery, distillery, and even the Texas Hill County Olive Company to explore!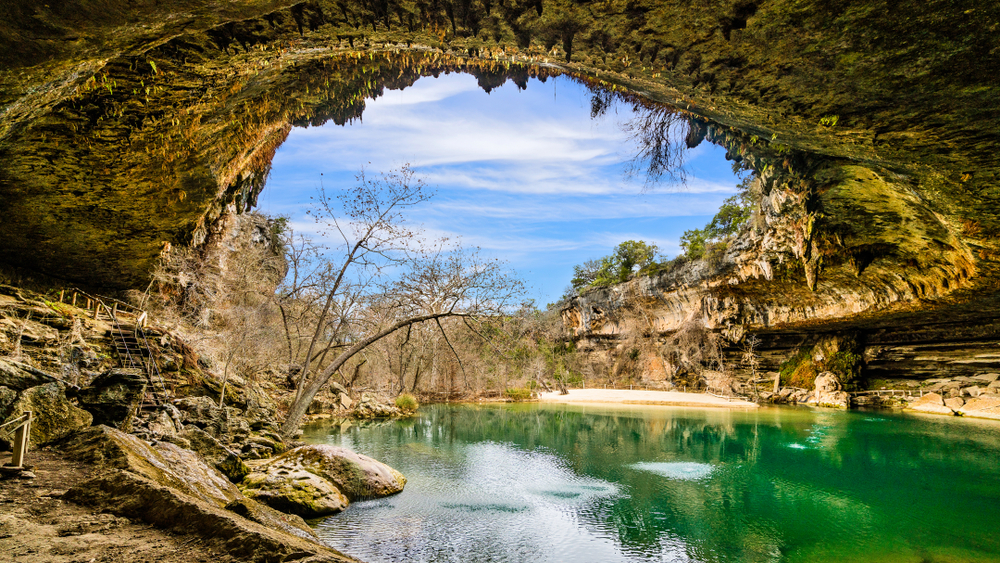 Fort Worth
For a singular Texas experience, Fort Worth fits the bill! Fort Worth is one of the most authentic cities in Texas. Visitors can enjoy the year-round Stockyards Championship Rodeo at the Fort Worth Cowtown Coliseum or explore the National Cowgirl Museum & Hall of Fame. Both are sure to really make you feel like a true Texan!
Fort Worth also has world-class art museums, such as the Kimball Art Museum and the Modern Art Museum of Fort Worth. Families can enjoy several outdoor attractions as well, including the Fort Worth Zoo, Fort Worth Water Gardens, and the Fort Worth Botanic Garden.
If you happen to be flying in or out of Fort Worth, make sure to check out the Vintage Flying Museum located at the southeast end of Meacham International Airport to explore its awesome collection of historic aircraft!