Texas might not be the first state that comes to mind when you think of fiery foliage, but fall in Texas is a magical time nonetheless. If you can't make it all the way up to Vermont, you can still enjoy the fall colors in Texas. If you love fall foliage without the northern chill, Texas is for you!
There are plenty of Texas state and national parks that turn bright red and orange in the fall. These are perfect places to go hiking and to photograph all the pretty trees. There are also some Texas cities with fall foliage if you know where to look.
If you want to create a road trip dedicated to searching out fall foliage in Texas, that is totally possible. If you are flying in, start in Houston or Austin and move on from there.
Now let's get going!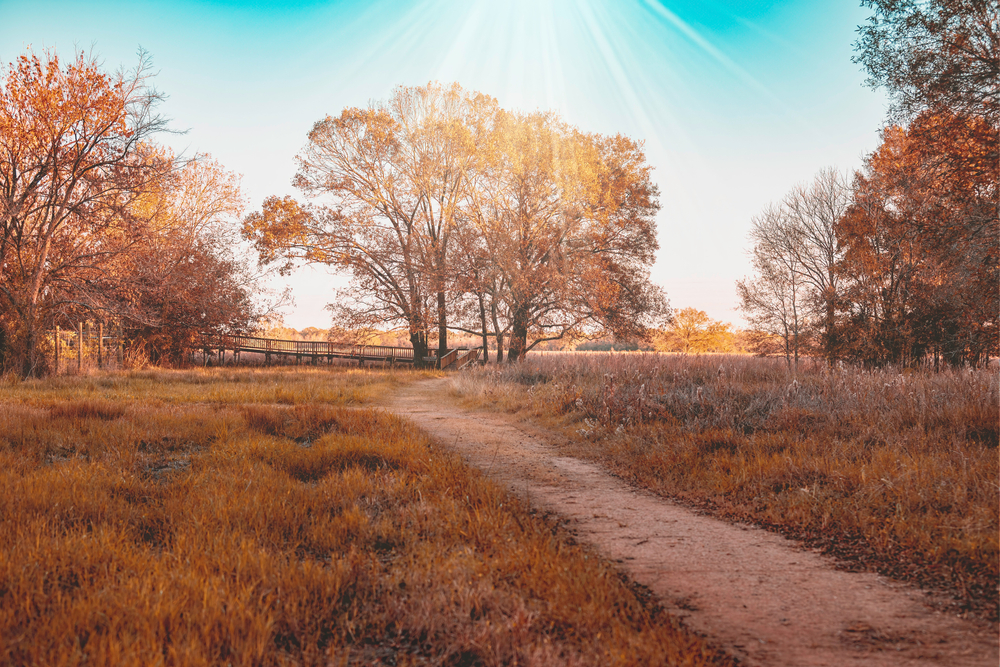 10 Best Places To Experience Fall In Texas
Garner State Park
Garner State Park is one of the top places to visit during the fall in Texas. Found along the Frio River in the Texas Hill Country, this park reaches an elevation of 1,800 feet so it is easy to find a great viewpoint to appreciate the changing colors of the season. Add it to your Texas road trip for some stunning foliage!
With sixteen miles of hiking trails, you will have plenty of opportunities to become one with nature. The bald cypress trees are stunning sentinels along the river. You will find many great views of canyons, streams, and rugged cliffs. Keep an eye out for the many animals that make this place their home, especially some endangered birds.
Along with hiking and wildlife viewing, you might enjoy renting a paddleboat or kayak so you can get out on the beautiful water. Kids might enjoy taking part in a ranger program. Remember to pack a picnic and make use of the tables and barbecue pits.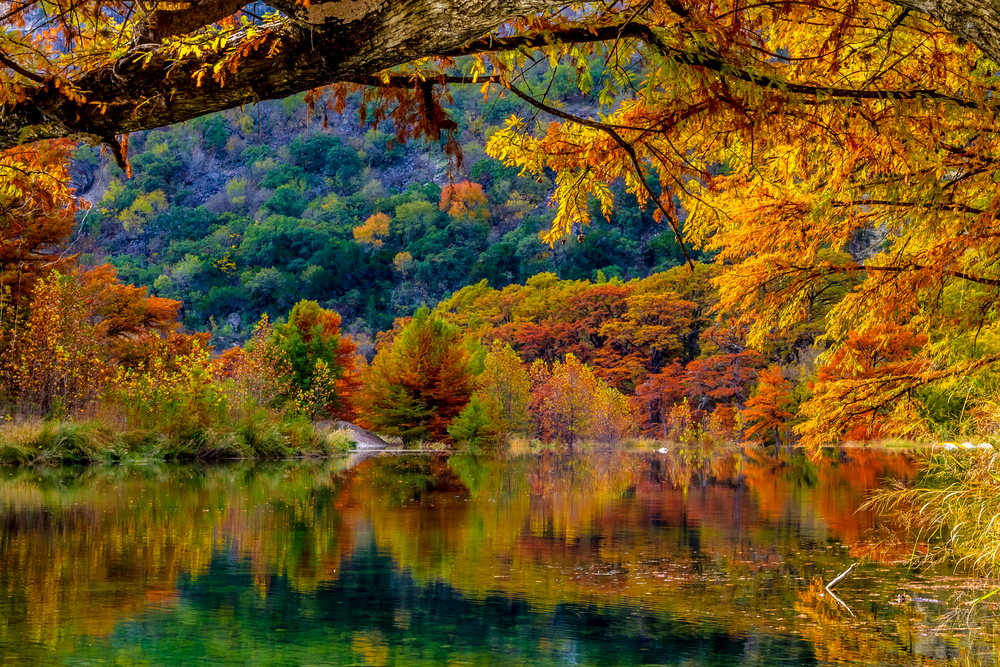 Guadalupe River State Park
Fall in Texas would not be complete without a trip to Guadalupe River State Park, which is also found in the Texas Hill Country. This pretty, waterside park is a great day trip from either Austin or San Antonio. If you want to stay longer in order to better soak up the fall colors, then you can camp here.
The thirteen miles of hiking and biking trails will lead you to many gorgeous overlooks. If you want to experience the park from the perspective of the river, then get into a kayak or canoe and take on the five-mile Guadalupe River State Park Paddling Trail.
There is also a Discovery Center in this park that will be interesting for kids. Interactive, hands-on exhibits will help kids learn about nature in a fun way. The Honey Creek State Natural Area is another place to explore. You can even join an educational tour here with a guide.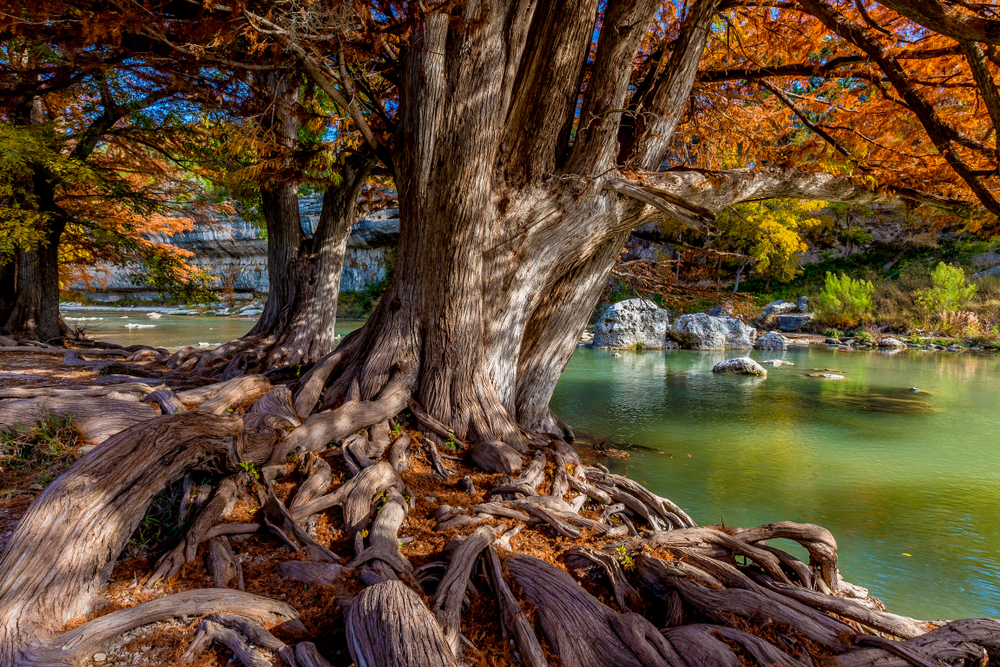 Lost Maples State Park
Lost Maples State Park is the place to be for exploring Texas during the fall. While the park is full of wildflowers in the spring, it is taken over by gorgeous red and orange leaves when fall rolls around. Don't forget to bring your camera, because this is one of the best places to photograph fall trees in Texas.
Along with the typical trees found in the area, the park has a special, protected group of Uvalde bigtooth maples. The leaves of these trees become bright, vibrant red in the fall. People flock to Lost Maples State Park just to see these amazing trees. Make sure to check the park's Fall Foliage Color Report before coming so you see the colors at their best.
If you like hiking, choose the trail that takes you to the top of a 2,200-foot high cliff. From here, you will be greeted with sweeping views of the leafy canopy of fall trees. Fishing, birding, and stargazing are also popular activities in this Texas state park.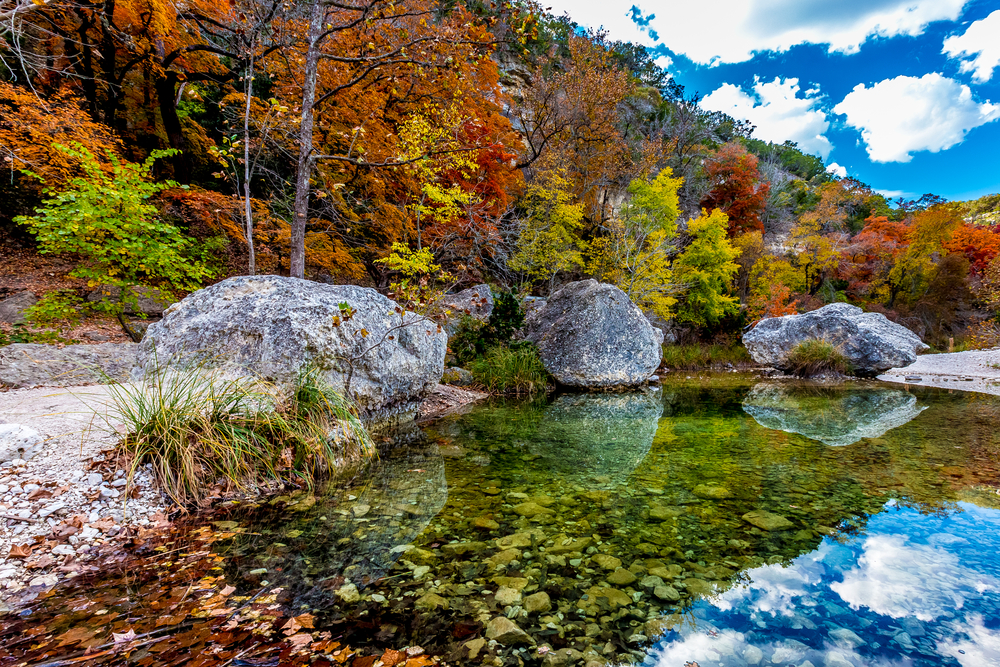 Japanese Garden in Fort Worth
If you visit Fort Worth, Texas, in the fall, then you need to take a trip to the Japanese Garden. This garden opened in 1973 and is a great place to escape the city and stroll through nature. The garden consists of seven and a half acres of cherry trees, Japanese maples, bamboo, and scenic bridges. Pretty ponds are home to over a thousand koi fish.
In the fall, the maple trees pop in a dreamy red that you will not want to miss! As you walk the trails, imagine you are in Japan. If you are looking for a great fall wedding venue, the Japanese Garden could be an option for you.
There are a ton of other gardens throughout Fort Worth to explore in the fall as well. Check out the Four Seasons Garden for bright chrysanthemums and maple trees. No matter which garden you go to, you will find perfectly curated nature escapes.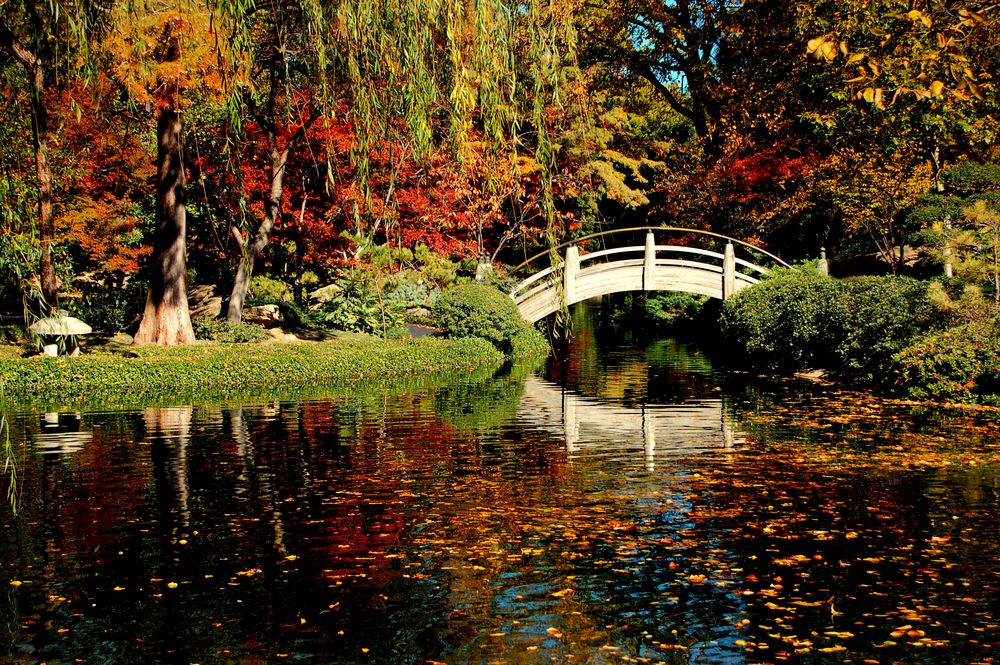 Austin and Surrounding Area
Austin is one of the most popular cities to visit in Texas. If you come to this hip city in the fall, then expect to find pretty and colorful areas dotted throughout town as well as on the outskirts of the city. First, take a walk along the river. You will find many green areas full of trees, including the Zilker Botanical Garden.
Next, check out the Wild Basin Wilderness Preserve just a few minutes northwest of downtown. This is over two hundred acres of beautiful land dedicated to preserving wildlife habitats. The leafy woodlands here turn into a variety of bright colors in the fall. Come hike and find all the best photo spots.
McKinney Falls State Park is just south of Austin and features a cypress tree named Old Baldy which is over five hundred years old and is 103 feet tall. You will also find pretty waterfalls and plenty of wildlife. Hike the trails to immerse yourself in the Texas fall foliage.
Barton Creek Twin Falls is on the outskirts of Austin. This part of the Greenbelt is popular in the summer for its swimming holes, but in the fall, people come to see the pretty, Texas fall foliage. The hike to the waterfalls is just over three miles round trip. Nearby is another waterfall called Sculpture Falls which is worth a visit as well.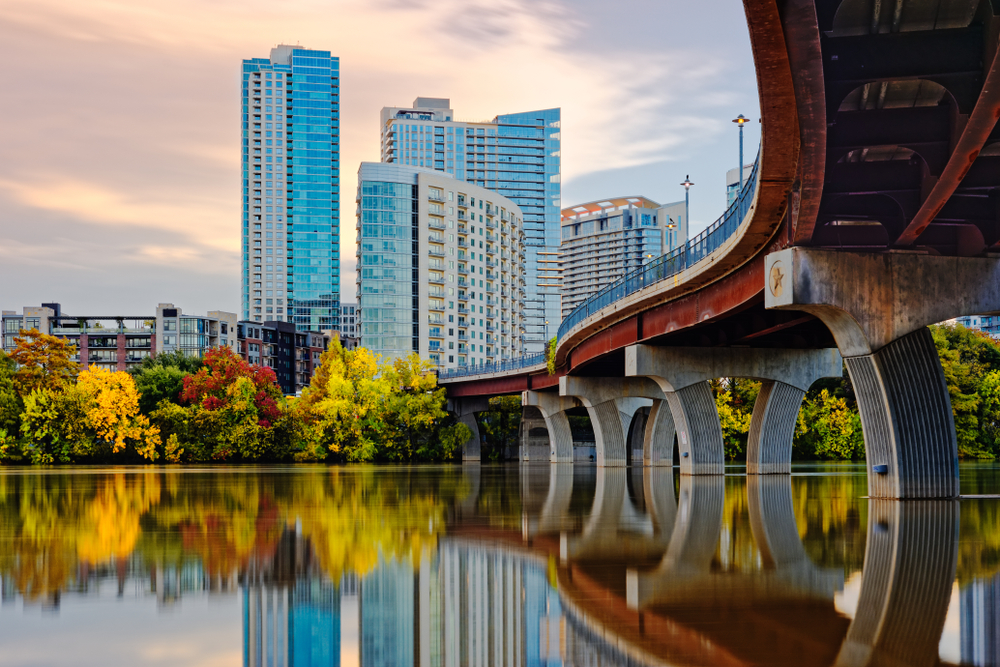 Hamilton Pool
Hamilton Pool is one of the best weekend getaways in Texas and is also a great place to experience fall in Texas. This natural swimming hole is fed by a fifty-foot waterfall and is a pretty place all year. In the fall, the trails in the park turn from green to red, orange, and yellow. Follow the trails to the Pedernales River and find quieter places away from the crowds.
Keep in mind that you do have to hike from the parking lot to the pool. The hike takes about thirty minutes and does involve steep sections and uneven steps. Make sure to wear appropriate shoes!
If it is warm enough and the bacteria levels are low on the day you visit, you can swim in the pool, which will be refreshing after hiking. The grotto is also partly covered by a cliff and surrounded by tall trees, so there is also plenty of shade to relax in.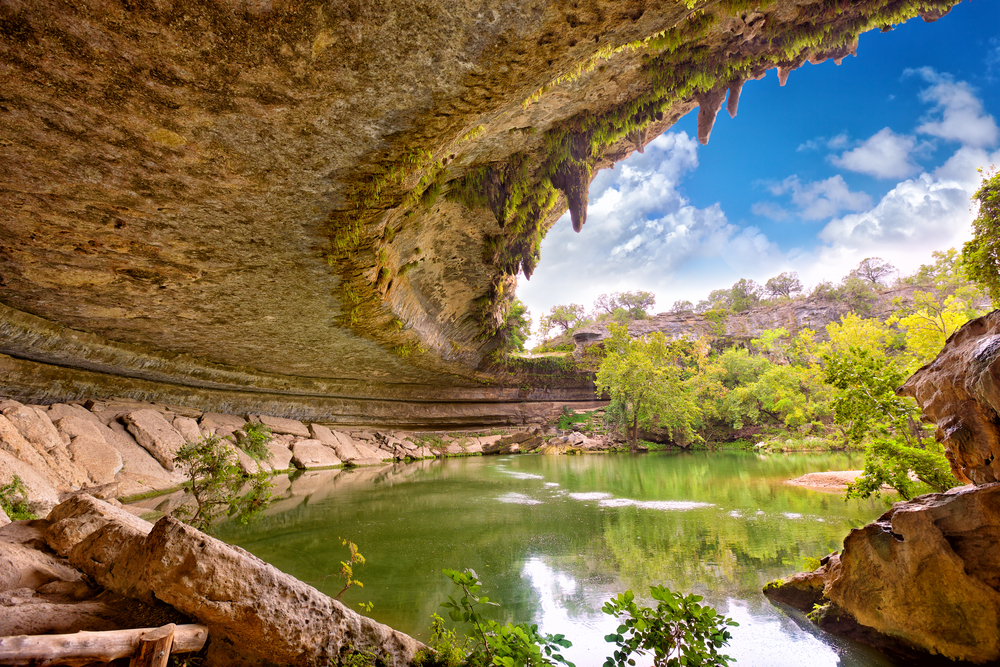 Pedernales Falls State Park
Pedernales Falls State Park is another great place not far from Austin with great fall foliage. The Pedernales River loops through this park creating small waterfalls as it flows over slabs of limestone. The river also makes tranquil swimming holes you can enjoy if it is hot enough. Just be aware of flash floods.
Scenic hiking and biking trails are open to explore as well. The trails vary in difficulty and length. If you want an easy, half-mile trip, set out on the Twin Falls Nature Trail and find an awesome nature overlook. If you want something longer, the six-mile Wolf Mountain Trail will bring you to creeks and small canyons. The Juniper Ridge Trail is a ten-mile mountain biking trail with obstacles.
No matter which trail you choose, if you visit Texas in the fall, the area will be bursting with warm colors. Another fun option to seeing the changing colors is to take a ride down the river in a kayak or canoe. Relax in the shade as the current takes you through the pretty trees.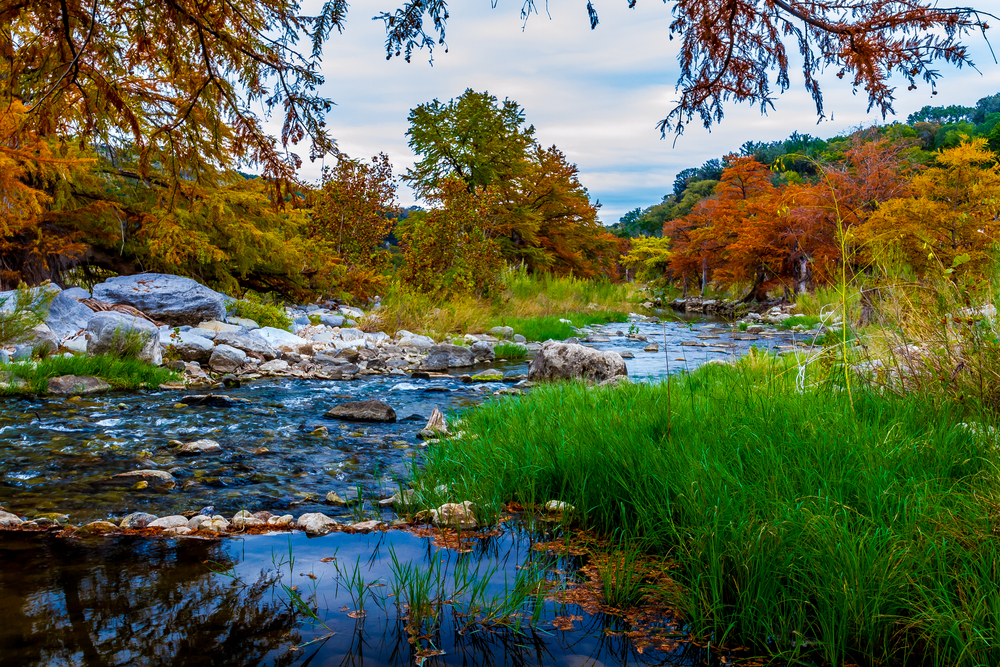 Houston and Surrounding Area
Houston is down near the Gulf of Mexico so you would not expect it to experience many fall colors, but the parks throughout the city do redden quite a bit. If you are in Houston during autumn, you should seek out these pretty areas for their Texas fall color displays.
First, Buffalo Bayou Park is a 130-acre park along the river with many trees and open fields. The hiking and biking trails will wind you through the golden hues of fall. Kids will love the awesome playground and the skate park. There are also bridges to photograph and views of the city.
Memorial Park is a great place to spend time outside, especially in the fall when the trees change color. There are lots of courts and fields for a number of different sports or you can walk the pretty trails. The Houston Arboretum is right next to Memorial Park. With plants like the Parsley Hawthorn and Sweetspire showing off their pretty fall leaves and berries, it is a must-see place.
Lastly, Hermann Park is next to the Houston Zoo and is full of colorful live oaks, crape myrtles, and Shumard oaks. This is a great area to come to with kids because of all the fun activities.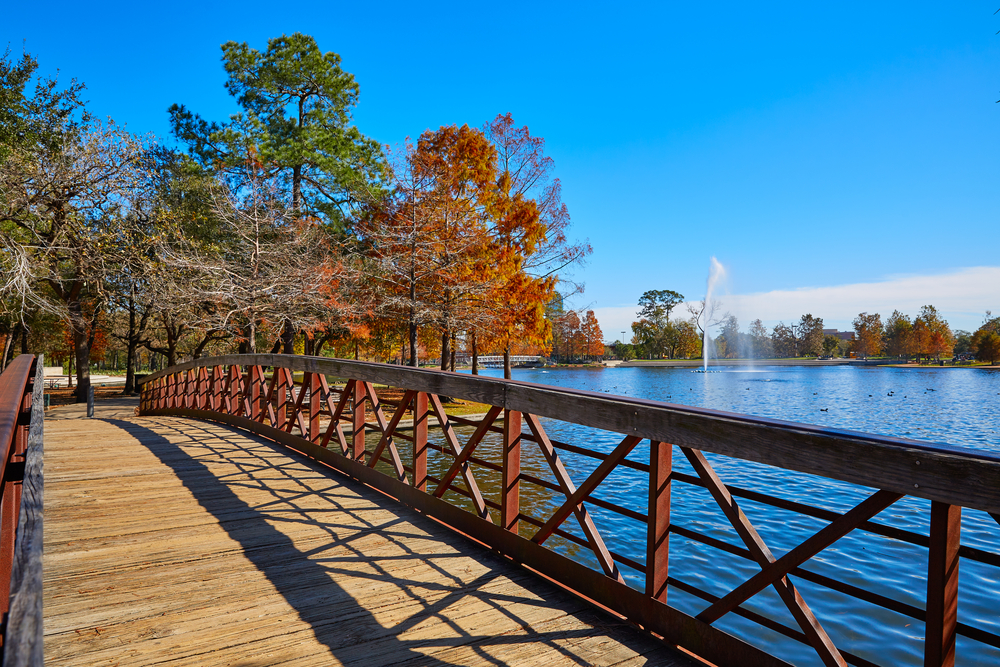 Guadalupe Mountains National Park
Found on the western side of Texas on the border with New Mexico, Guadalupe Mountains National Park is one of the best places to visit in Texas for fall colors. The National Park Service has a fall colors report online you should check before you plan your trip so you can make the most of the fantastic colors.
There are a ton of hiking trails to choose from all with their own take on fall colors. The McKittrick Canyon and Pine Springs areas are some of the best to catch sight of the fall trees. If you want to reach the highest point in Texas, plan a day hiking to the top of Guadalupe Peak. At 8,751 feet, you will be rewarded with gorgeous views.
The Guadalupe Mountains are also a great place to go horseback riding, birding, and stargazing. There are also historic sites and museums to visit. Plan on camping for a night or two if you want to explore in-depth.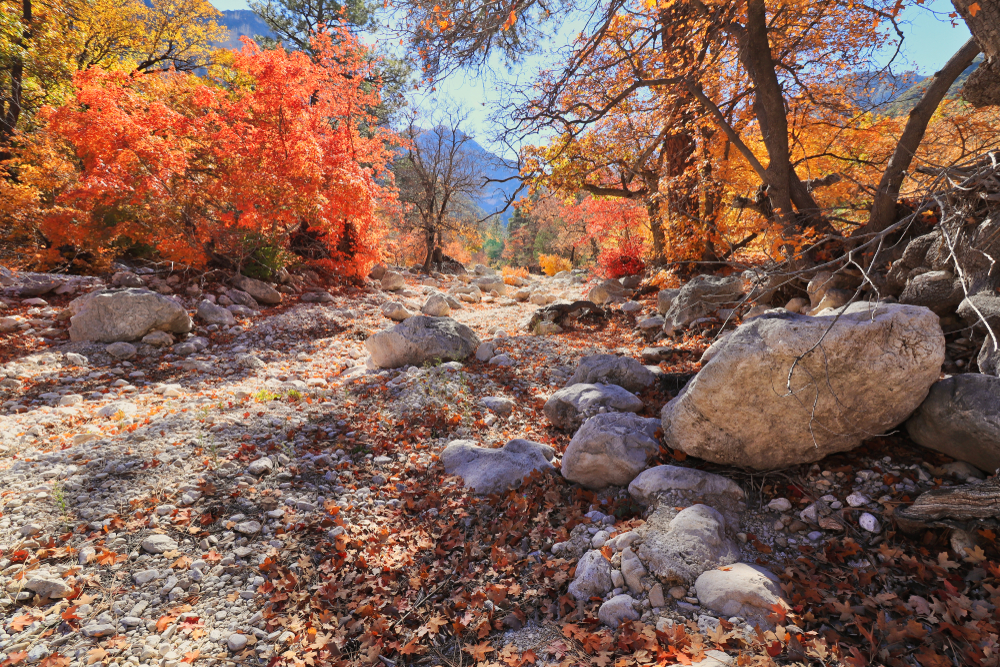 Big Bend National Park
Big Bend National Park is on the border with Mexico and has a desert landscape. It does not pop in the fall as much as some of the other places on this list, but it is still worth a mention. Fall comes to Big Bend in mid-December, so plan your trip then if you want the chance to see the fleeting fall colors in South Texas.
If you know where to look, you can find fall foliage in Big Bend. Hike the five-mile Window Trail which takes you through the Oak Creek Canyon. Also, check out the Chisos Mountain basin and the connecting thirteen-mile South Rim Trail. Here you will find oaks, bigtooth maples, and aspens putting on their fall display.
While in Big Bend, you can also enjoy river trips or scenic drives. Find some historic sites or check out the natural hot springs. Big Bend is very biologically diverse so you will have the opportunity to see a variety of plant and animal species. If you bring your passport, you can make a day trip to Mexico.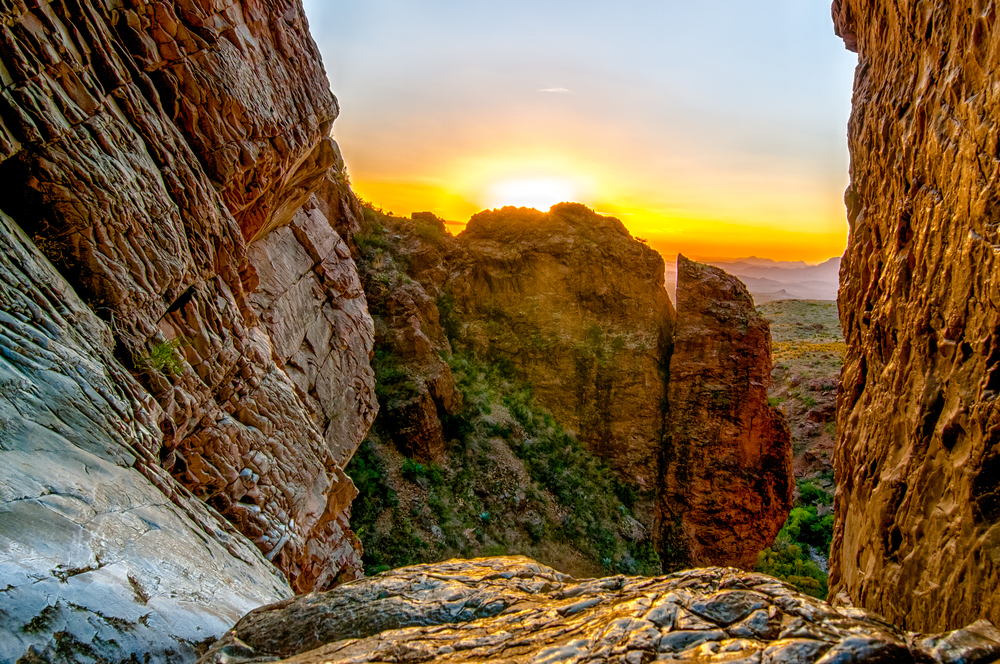 Visiting Texas in the fall will treat you to many beautiful, natural sights. Even though this Southern state is not at the top of most people's fall bucket lists, there is still plenty of fall foliage in Texas if you know where to look. From the many state parks to hidden corners within major cities, there are plenty of fall colors to discover in Texas.