If you are planning a trip down south to the Lone Star State and looking for a splash of romance, then you must see these castles in Texas!
Whether you are simply a lover of the magical and romantic, or perhaps looking for wedding venues, you should definitely take a look through these options to guarantee you the perfect destination! Discover some of the very best castles in the south!
Texas may be known for its cowboys and BBQ, but who's to say cowboys and cowgirls can't be princes and princesses as well? But don't worry, in these Texas castles there will be no danger of curses or dragons!
Many of these castles are more modern structures, but while the castles in Texas may not be as ancient or legendary as those in Ireland and Scotland, they are exciting and gorgeous nonetheless!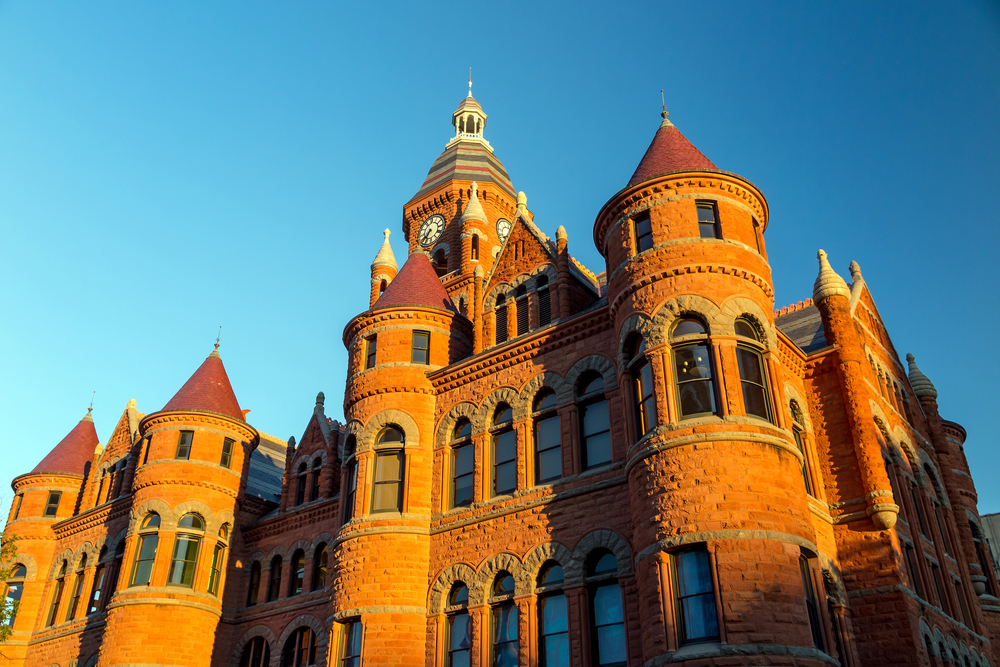 10 Fairytale Castles in Texas You Must See
Newman's Castle
Newman's Castle is nestled in the hill country of Texas right outside the town of Belville. Mike Newman began his castle in 1998 and finished in 2008. The castle has all the classic features of a medieval fortress!
Besides being able to tour the castle, you can also book it for weddings, parties, and so on, perfect for lovers of medieval stories and adventures!
This is definitely one of the best castles in Texas for those looking for a truly medieval-looking structure. Plus, since this is one of the castles in Texas hill country, you can truly feel as if you are visiting a fortress amidst woods full of danger!
You must have a reservation if you wish to tour the castle, but they are available six days out of the week, so it isn't too hard to find a time in their schedule!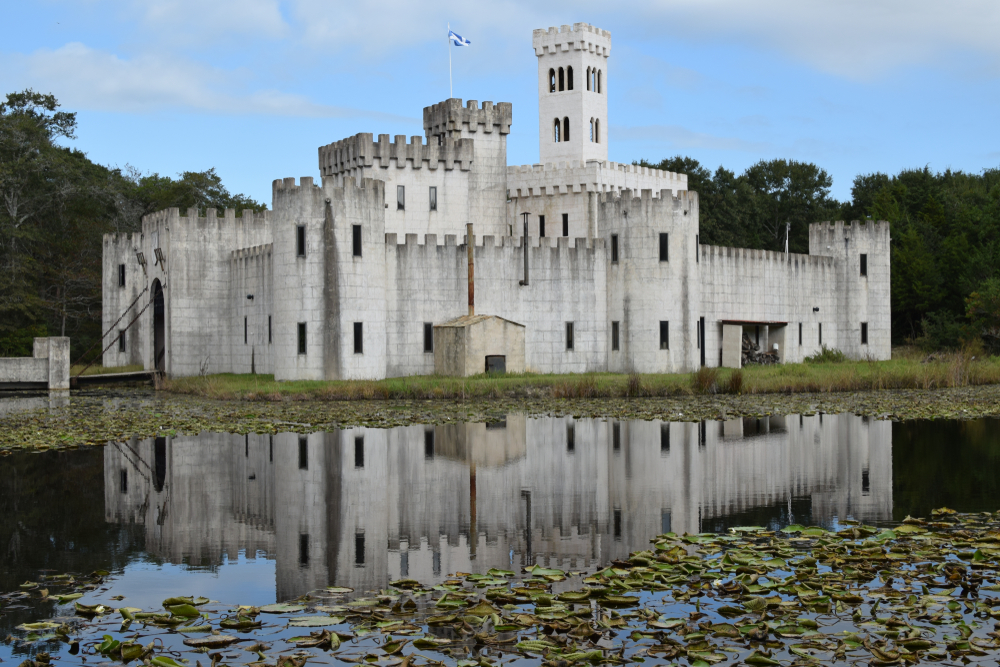 Castle Falkenstein
This majestic edifice was built by Terry and Kim Young after their trip to Bavaria and Neuschwanstein Castle upon the inspiration of a castle that King Ludwig II (who had Neuschwanstein built) never got the chance to build, but the plans for which the Youngs got to view.
The property boasts of a 14,000 square foot castle upon 113 acres of beautiful Texas hill country! And this castle in Texas is located in Burnet, only a couple of hours from Waco, so if you happen to be around and have some time to spend, you can make your way over there and see the Waco Mammoth National Monument!
You can also book Castle Falkenstein for whatever your desired celebration might be. Or perhaps you would just like to live in a castle for the weekend, you can rent it overnight too!
Surrounded by forest but protected by the castle walls and portcullis, Castle Falkenstein is the perfect romantic and magical spot for a family vacation, the kids will have a blast roaming the castle halls, playing on the green lawn, or even exploring the rocky forest beyond the walls in search of dragons to slay!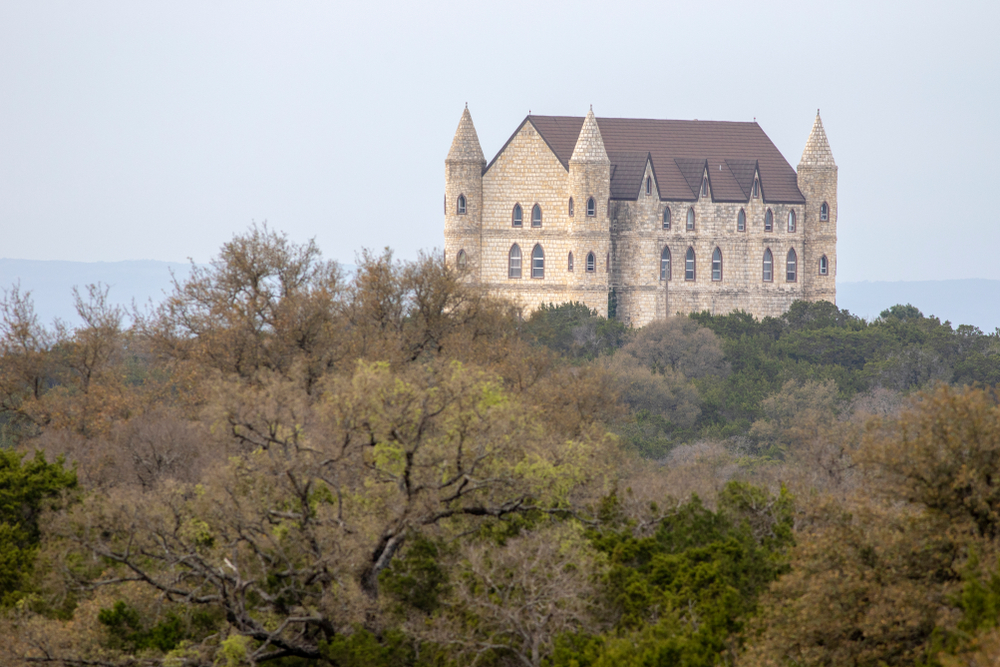 Wise County Courthouse
This gorgeous courthouse, worthy of a fairytale, was built in 1896 in the Romanesque Revival architectural style. J. Riely Gordon designed this building and many other courthouses around Texas.
There is a winding staircase (part of it was removed to make way for an elevator though) that leads to the bell tower high above the town. The pink granite it is built with makes for a unique appearance, but paired with the turrets and bell tower the overall look is that of stately grandeur!
Besides being a lovely work of architecture, Wise county Courthouse is also situated in Decatur, a more rural area of Texas, and fits perfectly into the rugged, enchanting landscape.
If you are in the mood for a nice jaunt over to this area, this castle in Texas is worth your time to look at and admire, and the Decatur square has many other fun shops to recommend it!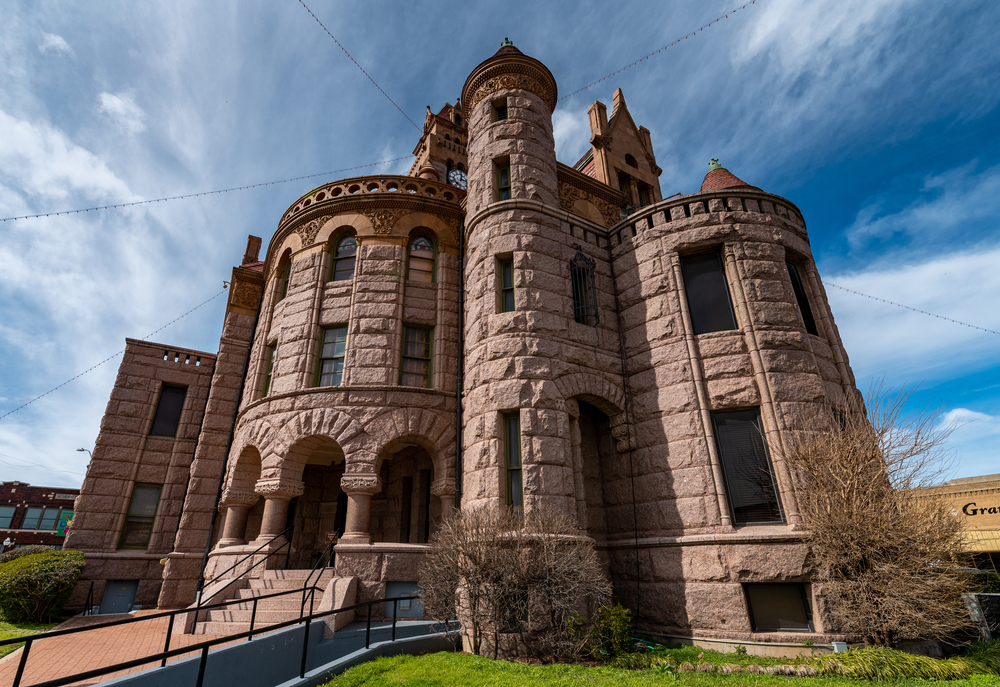 Bishop's Palace
On Broadway and 14th St. in Galveston, you can find another castle in Texas of glorious proportions!
Bishop's Palace was begun in 1887 and finished in 1893. This enormous house was originally the home of Walter and Josephine Gresham (it is also called Gresham's Castle) and their nine children, but the Roman Catholic Diocese of Galveston bought it in 1923 to be used as the home of their bishop.
Upon the relocation of the diocesan offices, it became a tourist attraction and you can now take self-guided tours for $9 for youth (those under 5 get in for free!) and $14 for adults.
This is definitely a Texas castle you will not want to miss, and if you are a lover of Victorian history this is a MUST-see! The beautiful stained glass windows, ornate wood carving, and glorious proportions of the building are sure to take your breath away!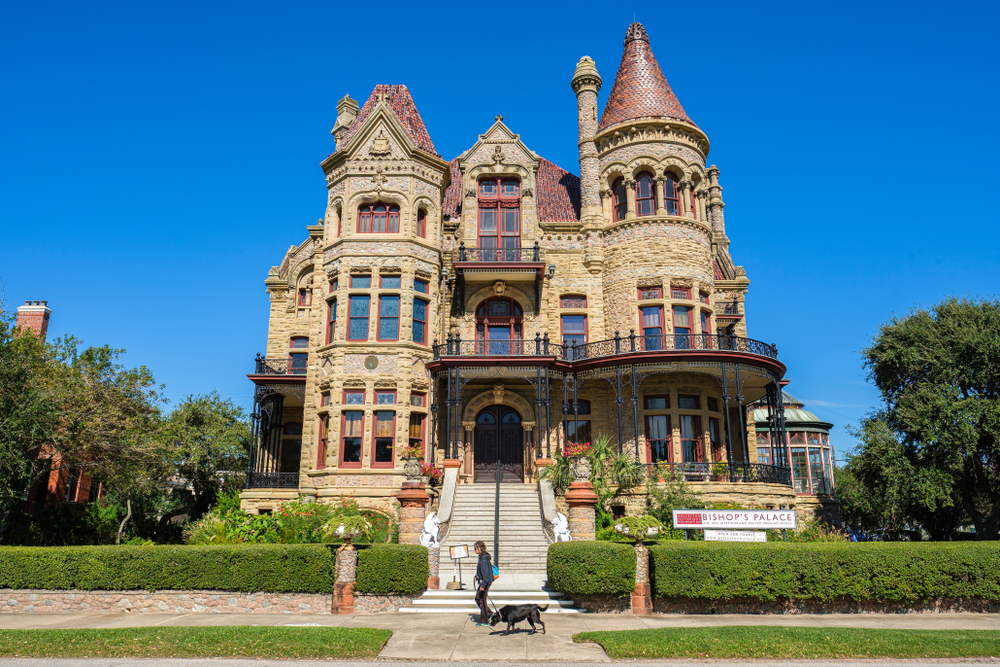 The 1892 Victoria County Courthouse
Located in downtown Victoria, Texas we have another Romanesque revival-style courthouse. Built-in 1892, this castle in Texas is gorgeous with its cross gables, beautiful limestone, and grand clock tower is worth your time to visit!
Look familiar? Yep! J. Riely Gordon (the same architect used for the Wise County courthouse) designed a large portion of this building. Gordon turned out to be too busy to complete the building, so his design partner for the project, D.E. Laub, had to finish it with the help of the general contractors, Byrne and Johnston. Despite not completing the structure, you can definitely still see Gordon's lovely style in this elegant design.
This historical landmark is open for tours Mondays through Fridays and anyone can visit between 8 AM and 5 PM! This is a wonderful family vacation destination, Victoria has plenty of places to spend the night from AirBnBs to hotels, and there are lots of family activities to enjoy while you're there, you can visit the museum, the zoo, the trampoline park, and even other historical architecture!
Whatever you decide to do if you go to Victoria, you can't miss out on seeing this architectural beautify and historical treasure!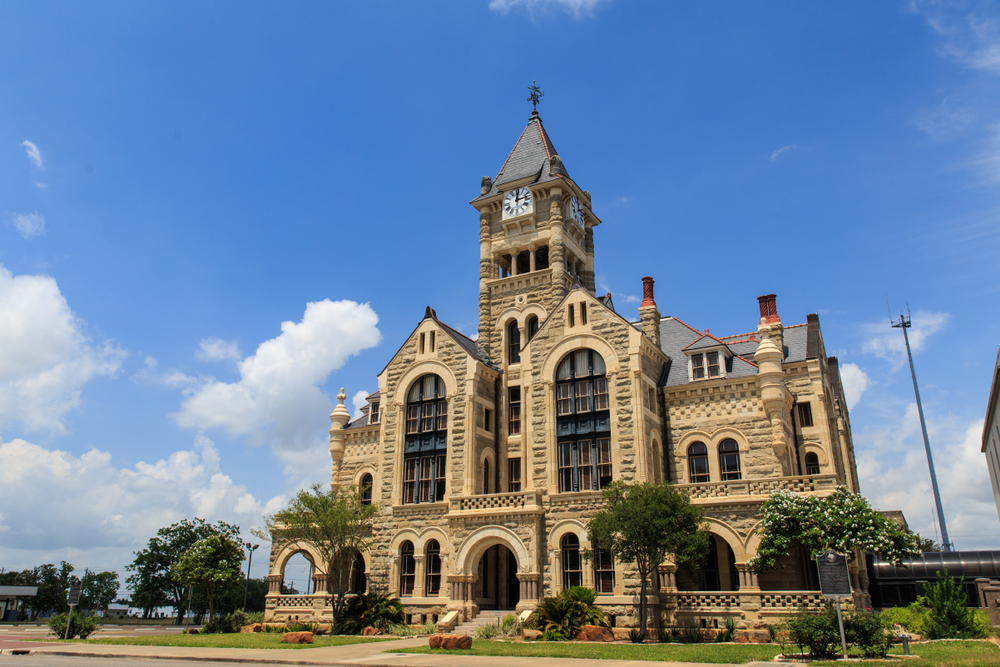 Chateau Cocomar
This is the perfect wedding destination for those looking for a Cinderella wedding! The magnificent chateau is situated on 7 acres and is full of marble floors, elegant halls, paintings, and all sorts of French-inspired loveliness!
What would you like for your special day? A scenic gazebo? A romantic courtyard? A grand ballroom? Chateau Cocomar has it all!
This castle in Texas is grand, elegant, and romantic all in one.
But perhaps it isn't your wedding? Maybe it's your quinceanera or a fundraiser? Well, prepare to wow your guest for whatever your special occasion might be with this incredible destination!
Denton County Courthouse
This is one of Texa's most beautiful courthouses. Dating back to 1896, this building is one of Denton's most beloved historical landmarks and a hotspot for visitors and Dentonites alike.
This building has an interesting history. Believe it or not, it was the fourth Denton county courthouse! The construction of this courthouse was a rather rocky business though, there was debate as to who the architect should be, and it came very close to being J. Riely Gordon himself!
However, there was a bit of a scuffle after Gordon brought forward his final plans for the building. Commissioner J. M. Miller stated that his vote for the plans had been bribed. The long and the short of it was that Gordon was dismissed and W. C. Dodson was hired as an architect in his stead.
The courthouse is situated in downtown Denton and sits in the middle of four intersecting roads. These roads are lined with fun tourist attractions like painting and rock climbing, funky shops like the bookstore and the antique store, and lots of good food!
This courthouse is definitely worth your time to visit, and Denton has a fun personality all of it's own.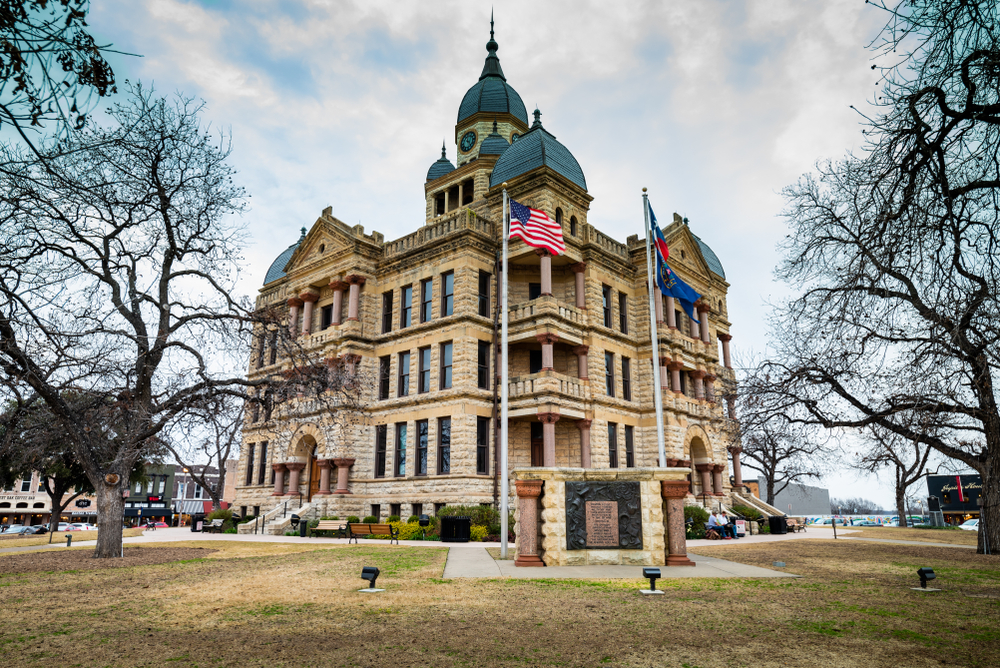 Mission Concepcion
One of the oldest buildings on this list, Mission Concepcion was finished all the way back in 1755 after 20 years of work. It is an old Catholic mission, and it's still in use today! It is truly one of the best things to do in Texas!
Located a little south of downtown San Antonio, this is the perfect stop if you are already in the area, but well worth the time to visit for its own sake, even if you have to go out of your way.
The architecture is stunning with its weather-beaten and ancient presence, and gives off such an air of romance and beauty it had to be added to the list of castles in Texas!
It was, in fact, a fortification in its own right. The establishment of the church and surrounding buildings had many challenges during their time there. Not only was there much sickness and death, but there were also attacks from outside tribes!
Be sure to visit the Mission Concepcion, and while you're there consider the lives of the people ages before us who lived and died within those walls. Feel the stone that has stood the test of time with your own hands and read about this church's history. It will be well worth your time!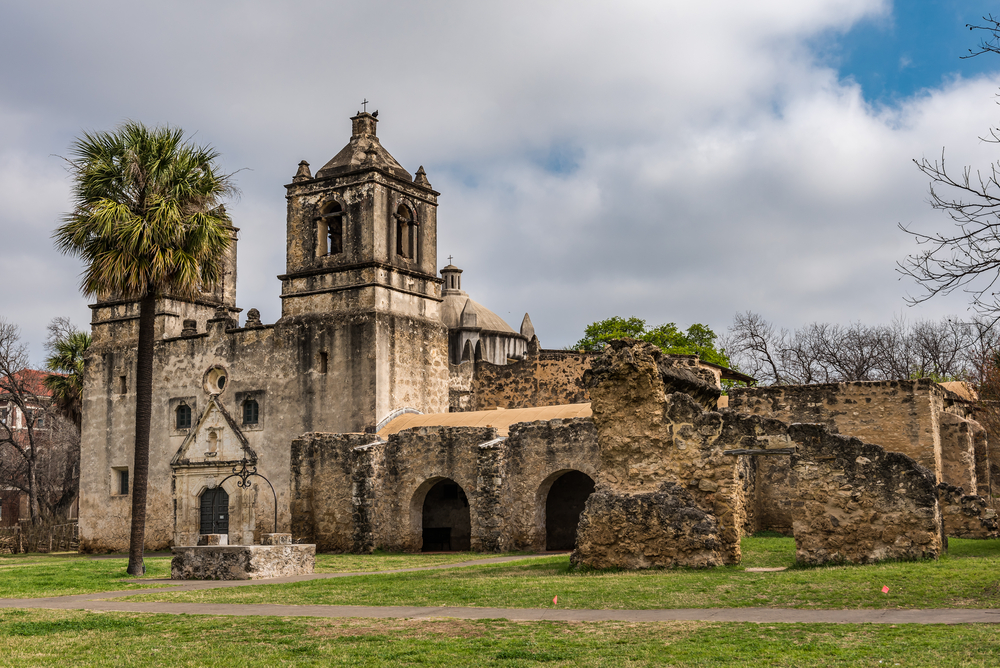 San José Mission
Another one of the old Catholic missions located in San Antonio, San José Mission is equally beautiful as her sister parish and worth a visit, plus, this way you can hit both Missions in one trip!
San José is the "Queen of the Missions." Not only is she as old as Mission Concepcion, she is also bigger. Her history is the same as that of Mission Concepcion, but this should NOT stop you from visiting San José as well! The beautiful architecture and old age of the structure are both stunning.
While you're there, you can take a look at the other missions. They are located right here in San Antonio!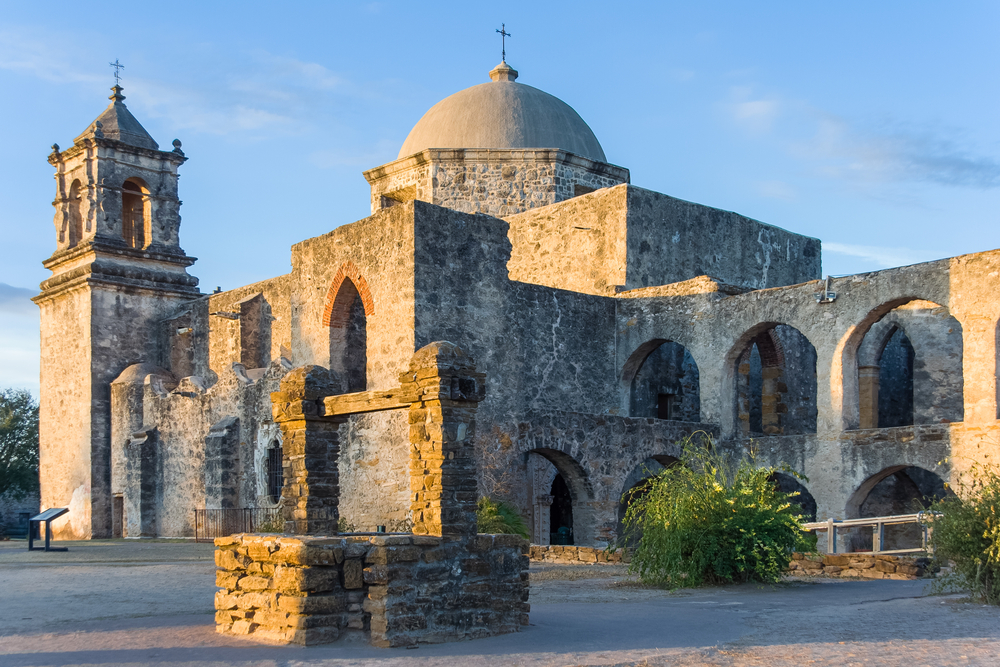 Museum in Dallas
This gorgeous structure in downtown Dallas was built in 1892. Its tall clock tower, elegant turrets, and wyvern statues perched like gargoyles easily give it a place on the list of Texas castles!
There is so much historical and cultural relevance in this museum that it would be worth a trip even if it weren't so lovely, but the fact that it looks like a castle out of a fairytale is an added bonus!
This building is also interesting to compare to some of the others on this list because here we have a Richardsonian Romanesque style design, which differs somewhat from the Romanesque style which we saw earlier in this article with the Victoria and Wise County courthouses. The architect for this one was Max A. Orlopp.
But whether you love architecture, history, or just romantic buildings you will be glad you stopped by The Old Red Museum!