Are you on the hunt for the best cabins for rent in Texas? You have come to the right place! These cabins in Texas feature terrific options for a cabin getaway, a lake cabin stay, or a comfy and romantic cabin vacation.
Whether you're on a mission to see national parks, the Hamilton Pool Preserve, the Alamo, or some Austin city life, these Texas cabins will provide a great place for you to stay.
We've included an appealing and flexible variety of cabins to meet your preferences and travel needs, as well as the number of travel companions you'll have along.
Let the Texas adventures begin! [By the way, if you haven't settled your itinerary yet or you're looking for more things to do on your trip, check out this Texas road trip list!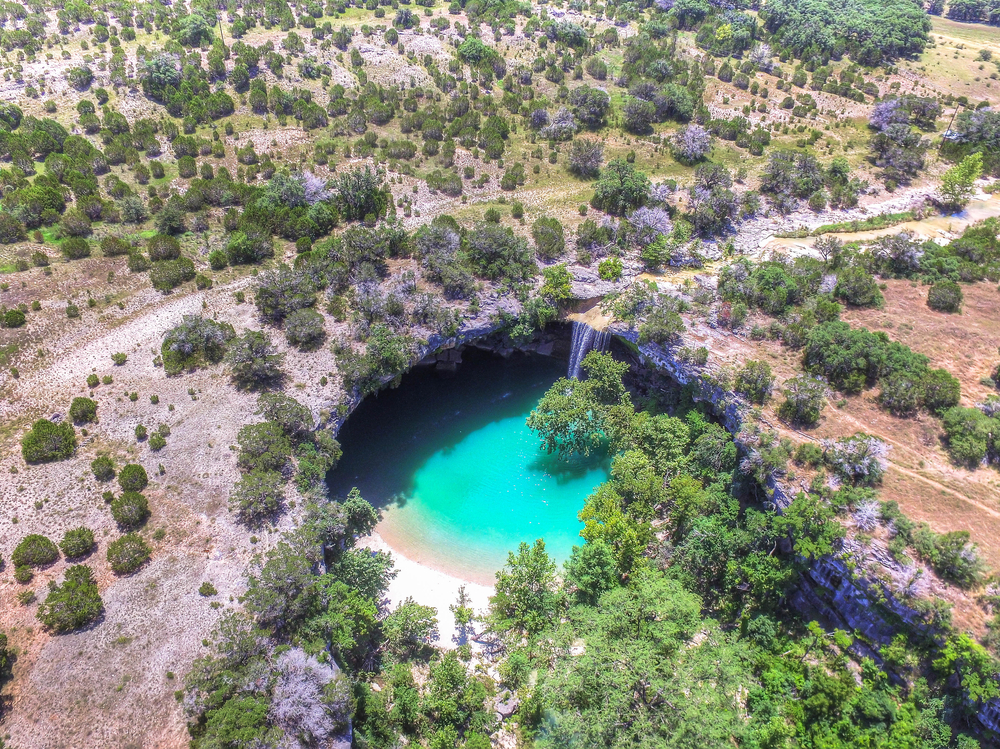 15 Cozy Cabins in Texas You Must Visit
Perfect Beach Getaway
This gorgeous, large, accommodating cabin getaway in Texas is located on the Bolivar Peninsula — near Galveston — and gives you great access to the beach, just steps away. The hosts have thought of everything you might need for a large crowd… this cabin along the Southernmost border of Texas sleeps 10 people comfortably, including a bunk room with 4 twin-size beds!
This rental in Crystal Beach offers everything you need for your group vacation, including a fully equipped kitchen, TV, outdoor shower, fire pit, and more. Enjoy your evening glass of wine on the wrap-around deck with beautiful views.
Click Here to Check Rates on VRBO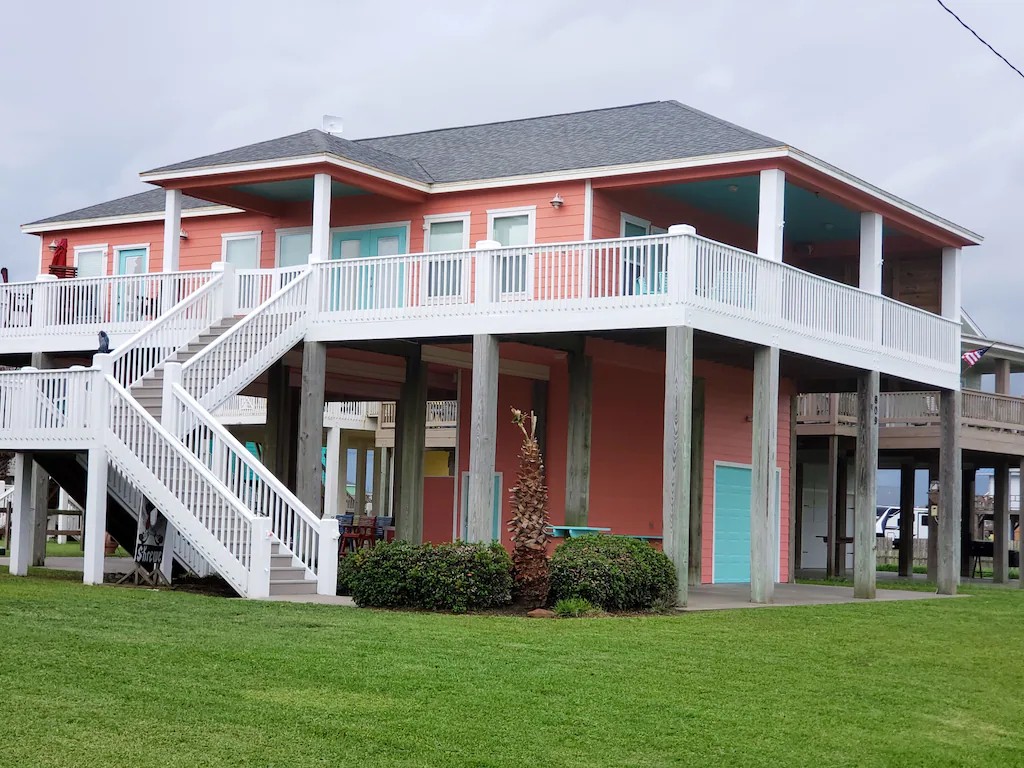 Lady Bird Tree House
This modern-looking cabin in Texas is located in Austin and is right next to the best outdoor scenes in the city! If you like kayaking or hiking, this is one of the top Texas cabins for you! Not only is it just steps from Zilker Park and Barton Springs Pool, it is across the street from the river source of Lady Bird Lake.
Unbelievably, it's also only a ten-minute ride to downtown Austin and all the best restaurants and nightlife there. The interior of the rental is gorgeous, with natural wood and geometric designs throughout.
If you're headed toward Austin, this stylish cabin in Austin is one you don't want to miss. You can bring up to 9 guests with you.
Click Here to Check Rates on VRBO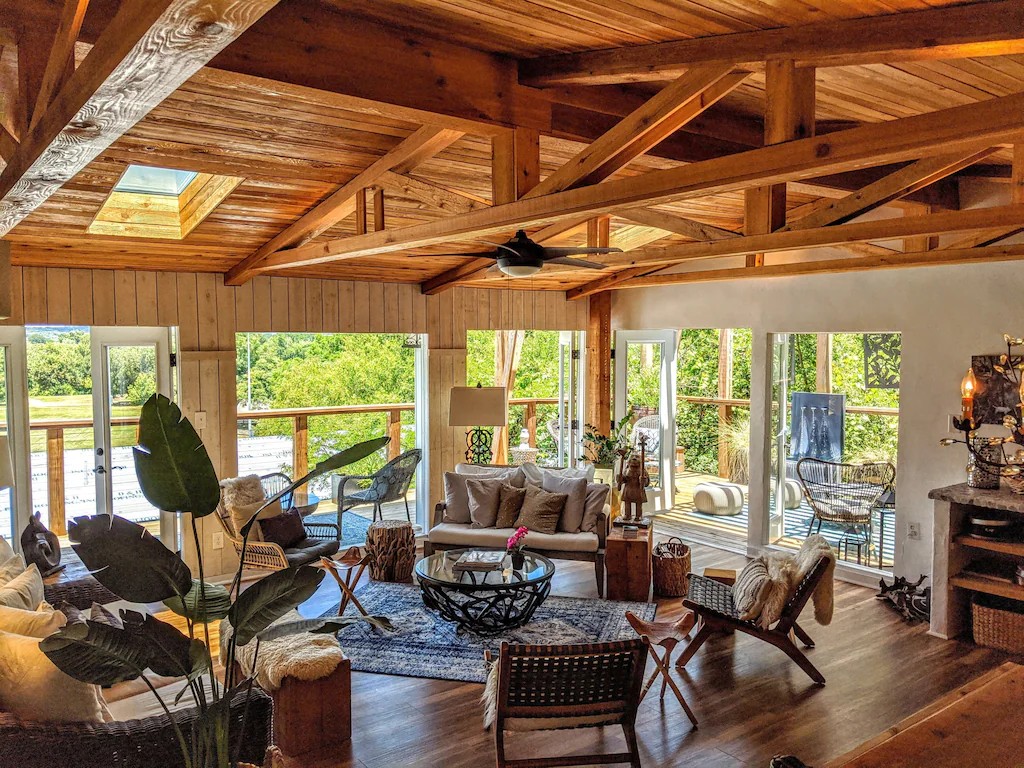 Cedar Cabin Retreat
Looking for small, intimate, simple, and simply romantic cabins in Texas? The hosts of this VRBO at Cedar Cabin Retreat call it "romantic seclusion." This spot is cozy and works well for 2 guests. This cabin in the Hill Country outside San Antonio is definitely a place to check out if you want to be out in the woods yet close enough to get to the luxuries of town.
While it's simple, it has what you need and offers charm and relaxation, including a stocked bookcase, wood stove, hot tub, and hammock. Book your stay and look forward to the deck, the fire pits, the trees, and a cabin in Texas Hill Country!
Click Here to Check Rates on VRBO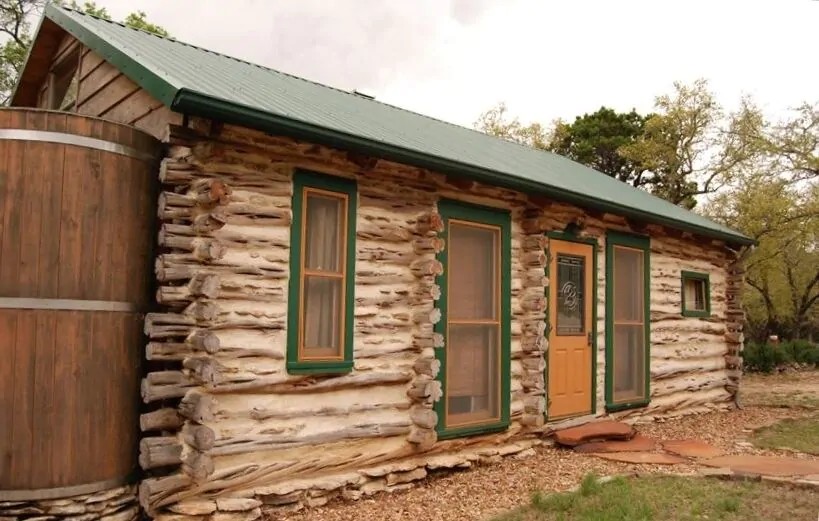 Blazos Bluffs Ranch
Blazos Bluffs Ranch has some of the most beautiful natural scenery of any cabin rentals in Texas that we have ever seen! It feels like something out of a fairytale. We know you'll want to visit!
This cabin is located on a 300-acre property. Fish in the river, bring your kayak to take in the views or try out horseback riding on the property. The inside, with its cozy cabin vibes, is a perfect match for the surrounding beautiful nature.
If you're looking for a serene and charming escape for the whole family, you have to check this cabin in Waco out!
Click Here To Check Rates On VRBO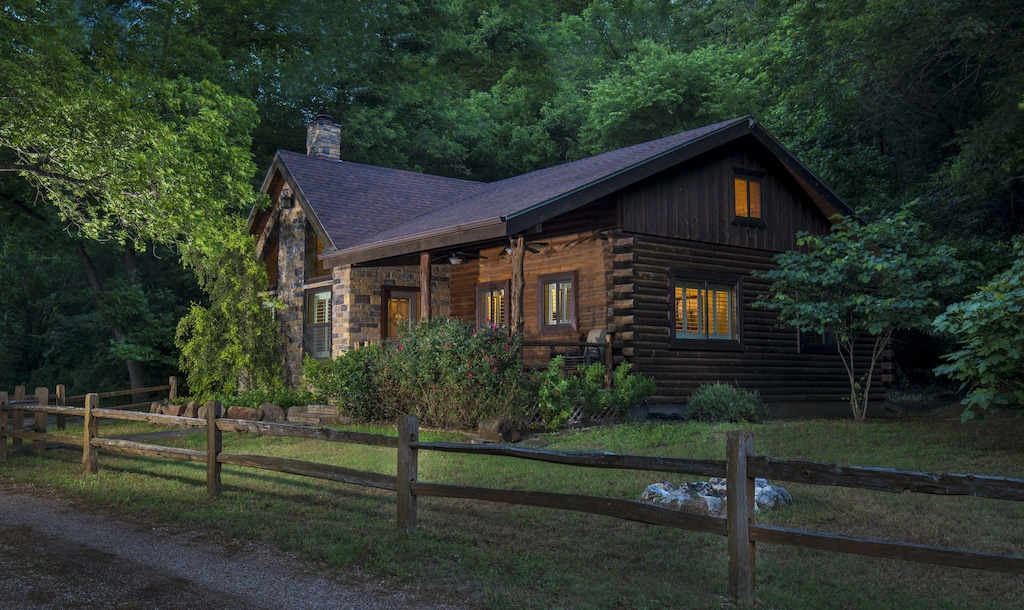 The Bohemian
This two-story cabin just outside Austin, in Texas Hill Country, is one of the most remarkable Texas cabins!
The hosts' design, style, and attention to detail really make the place shine, and their care for their guests shows through in all that's included in your stay, such as green, environmentally friendly soaps, coffee beans from a local roaster, and extra amenities for kids and infants.
The Bohemian is a perfect Texas cabin rental for a couple or small family; it accommodates up to four guests. The hot tub on the back deck will give you great star gazing, or you can enjoy a bath in the clawfoot tub in the master bedroom (with a view!). And the property is ten acres! You'll have plenty of space and get to enjoy a refreshing time out in the country.
Click Here to Check Rates on VRBO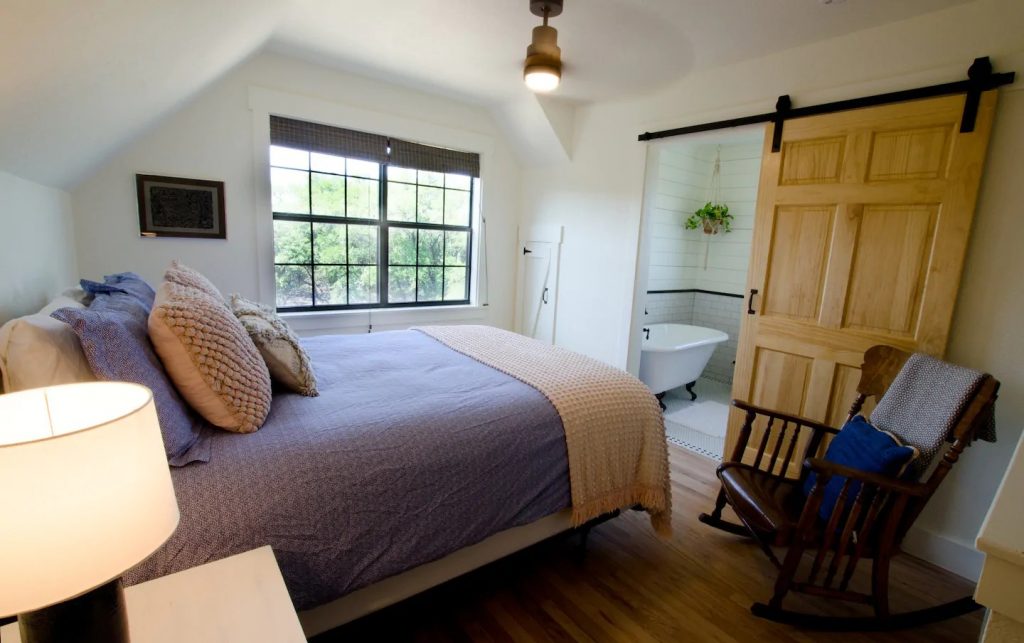 Hill Country Creekside Cabin
Staying in the heart of a major city isn't everyone's cup of tea. If you prefer space and natural beauty, the Hill Country Creekside Cabin in Texas Hill Country on the outskirts of Austin might just be one of the most perfect cabin getaways in Texas for you!
This location has everything you need to relax and enjoy your vacation including a front porch and a hammock, firepit, and grill. It's also near to hiking, rock climbing, and kayaking. The property itself features a spring-fed waterfall as well as a grotto. Nothing like lounging in your own private pond!
Click Here To Check Rates On VRBO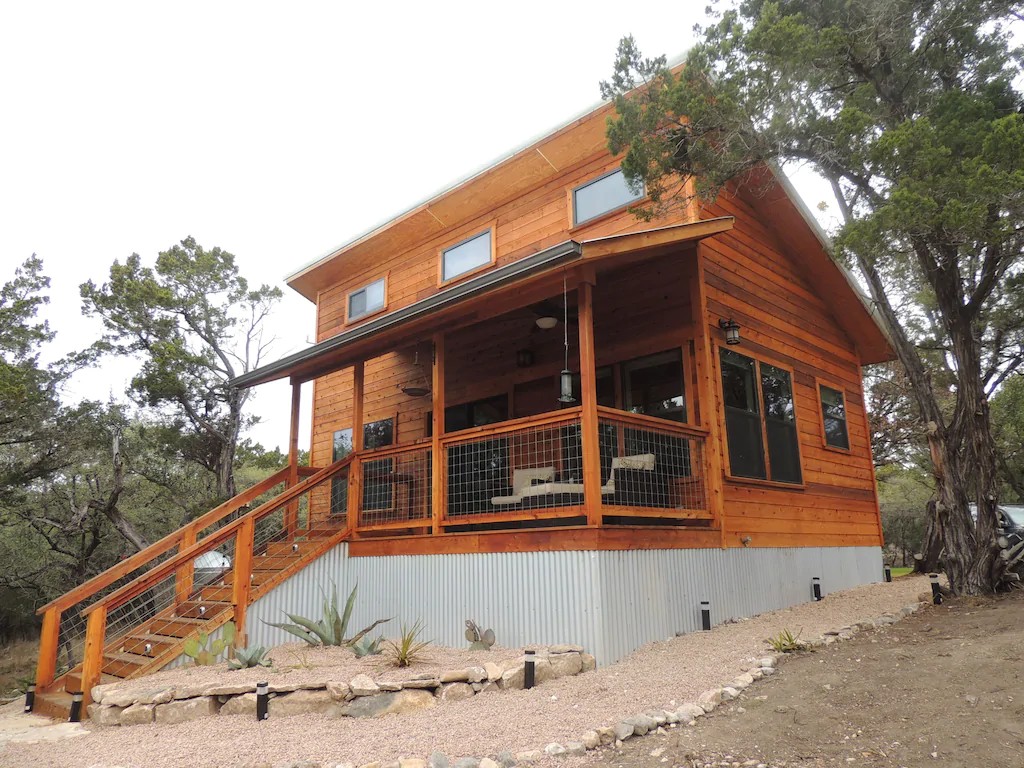 Bird Point Cabin
This beautiful, natural light Texas cabin in Fredericksburg is set up for an inspiring and blissful stay. It's designed and decorated perfectly for those who love a blend of modern and rustic! We love the light wood walls, angles, and how much sunlight gets in!
This cabin rental in Texas is stocked with almost everything you'll need. Plus you'll love unwinding in the hot tub after a busy day! The bedroom is super cozy, the fireplace is raring to go, and the location is perfect for those looking to check out Fredericksburg!
Click Here to Check Rates on VRBO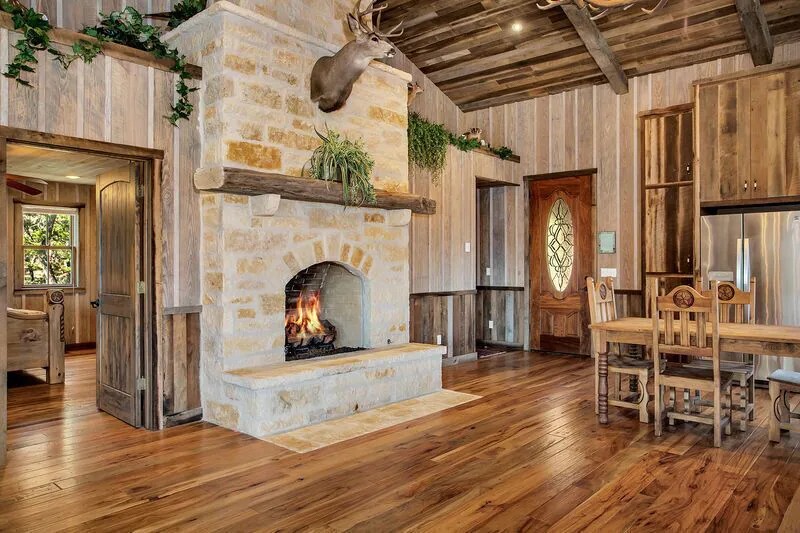 The Nautical Tree House
This is one of the most perfect romantic cabins in Texas for you and your sweetie. The Nautical Tree House, though not actually in a tree, is up high and is built and outfitted with rustic elegance.
Two people can stay here and enjoy the trees and peace and quiet. It's not too far away from the quaint town of Dripping Springs and its famous wineries. You'll want to stop by the nearby Hamilton Pool Reserve to check out the natural waterfall and swimming pool!
Click Here to Check Rates on VRBO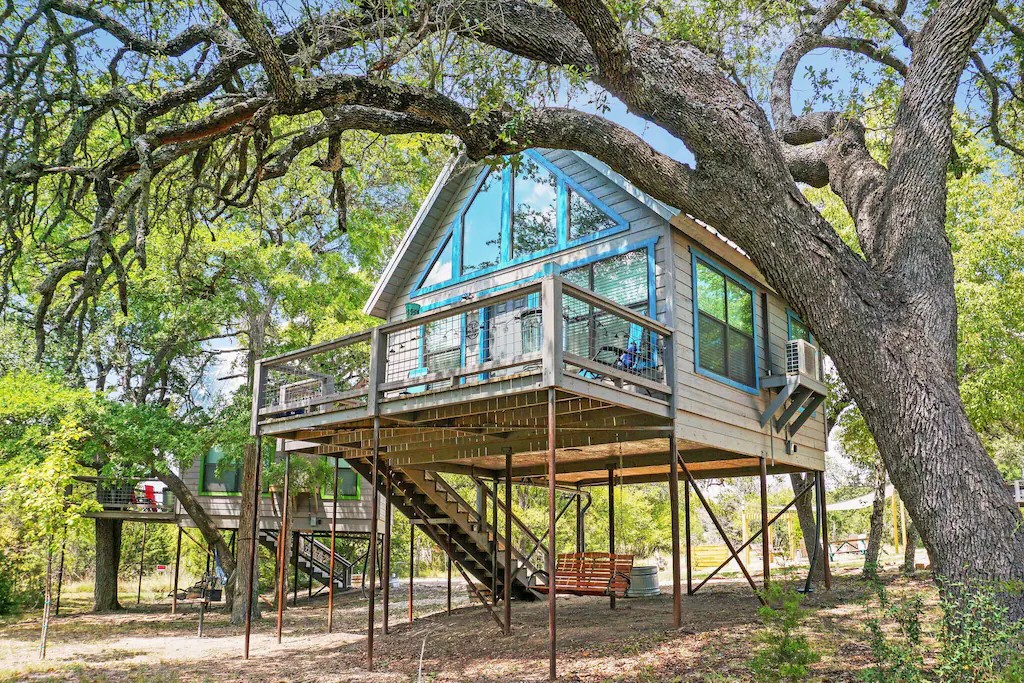 Three Graces Cabin
Three Graces Cabin is the most mind-blowing and welcoming romantic log cabins in Texas. It's truly luxurious and exquisite, and surrounded by the most beautiful nature!
Enjoy the scenic walks, the nearby river and dam (which creates a waterfall!), the hot tub, the canopy bed, the outdoor shower, and the hammock (from which you can hear the waterfall sounds!). This cabin rental in Wimberley also has a treehouse that many couples have gotten engaged in!
Click Here to Check Rates on VRBO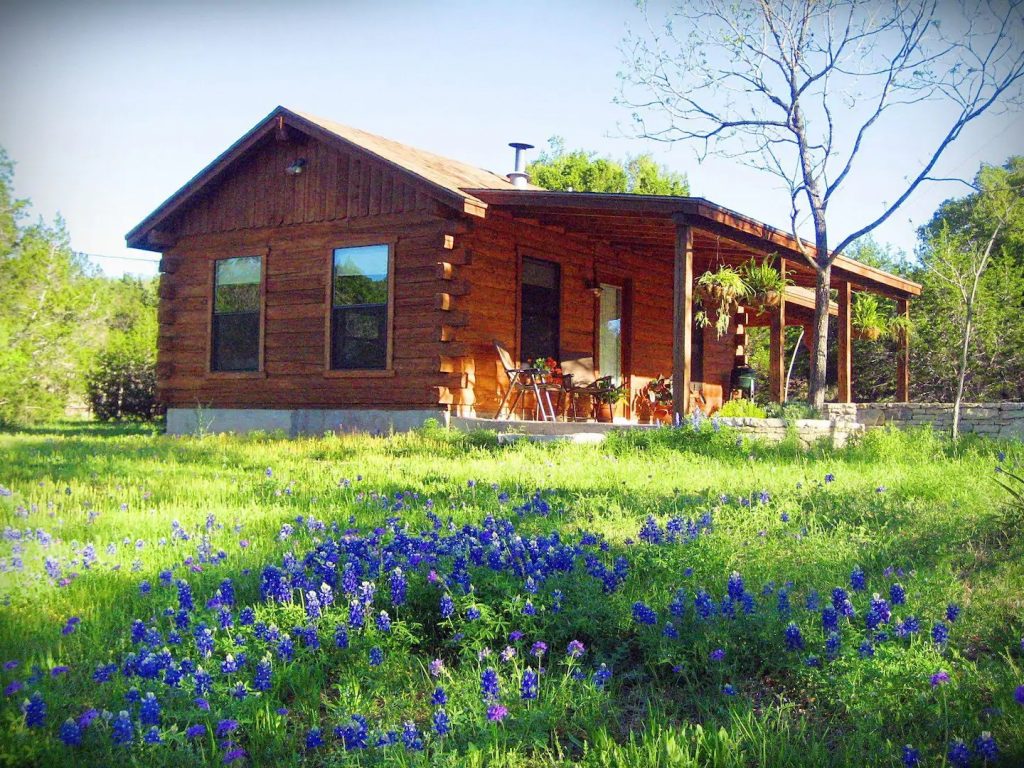 The Moonshiner Cabin
Feel like you've stepped back in time at this cabin in Wimberley. It's one of the most unique Texas cabins!
This little cabin was inspired by the 1920s when flappers and jazz were all the rage. The owners have also added just a dash of that steampunk charm. Don't worry, though. This gem has all the modern charms you want, like wifi, tv, and a comfortable bed.
Kick back in the clawfoot tub. Curl up by the wood-burning stove. Get away from the modern hustle and bustle at this one-of-a-kind getaway.
Click Here to Check Rates on VRBO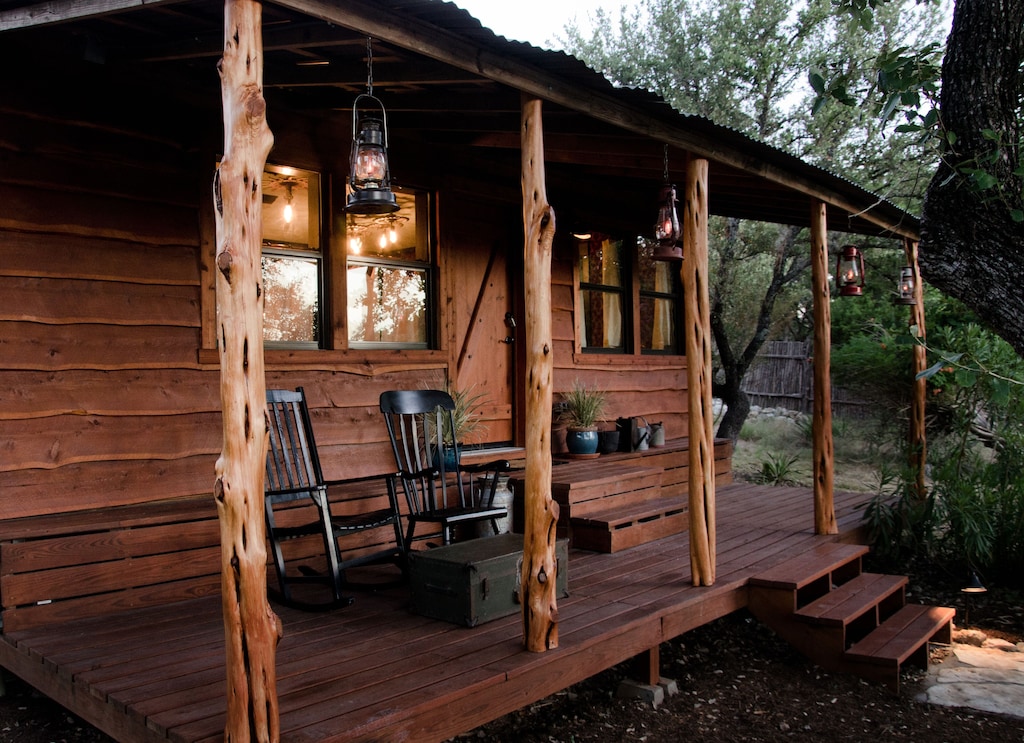 Romantic Couples Retreat
The Horse Thief Inn is a cozy and romantic cabin in Texas Hill Country, near Wimberley. You'll love how close this cute, rustic studio is to both the downtown and to nature. The privacy is what really makes this VRBO one of the most romantic cabins in Texas.
Relax in the private hot tub or get closer to nature with the outdoor shower. All around, this Texas cabin rental is a terrific find and will give you a relaxing, wonderful stay!
Click Here to Check Rates on VRBO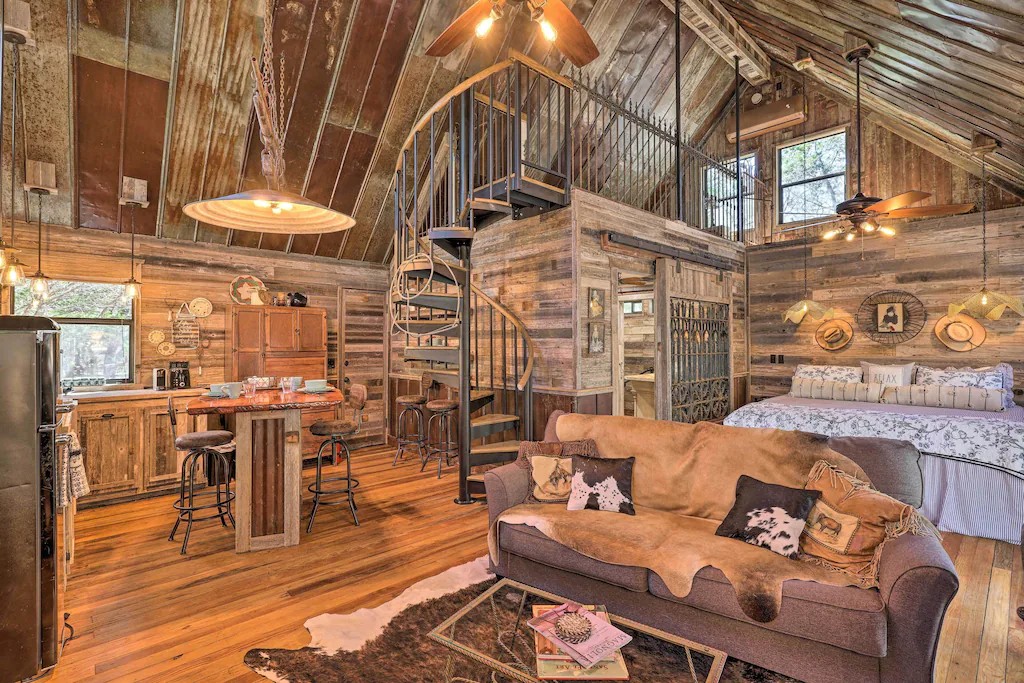 Lake Conroe Lodge
This Waterfront Cedar Lodge, in Willis, accommodates ten guests and has a cute cabin vibe right on Lake Conroe. Now this cabin is really built for larger gatherings, making it one of the best lake cabins in Texas! The house is filled with luxurious touches throughout, including a deep jet soaking tub inside a European-inspired bathroom.
Under the house is where the best action is! Here you'll find a massive dining table, outdoor kitchen, and fun entertainment area for the whole family.
Click Here to Check Rates on VRBO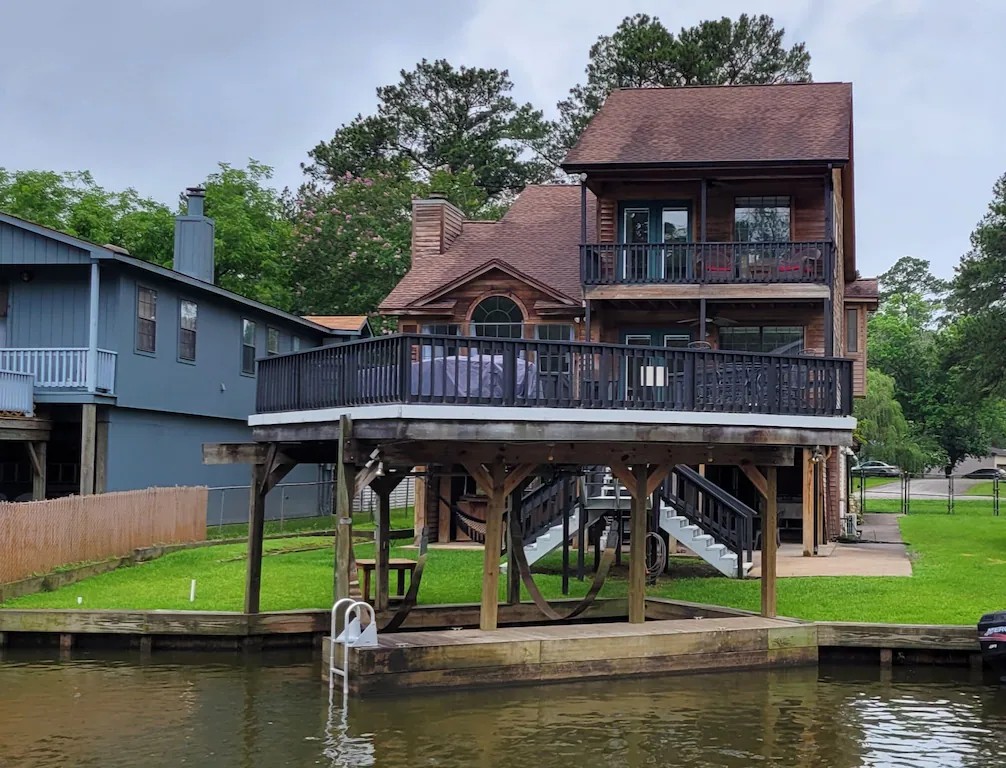 Secluded Texas A-Frame
This Texas A-frame Cabin in Leakey is one of the most fabulous cabin getaways in Texas. Who hasn't dreamed of staying in a secluded a-frame in the woods?
This VRBO has a very distinctive, one-of-a-kind design, including a huge porch. Kick back and watch the wildlife go by. It also sits on a 32-acre property.
This amazing Texas cabin is very well furnished and beautiful in design, as well as provides all your necessities. You'll have a wonderful time here; definitely consider this spot for your Texas vacation!
Click Here to Check Rates on VRBO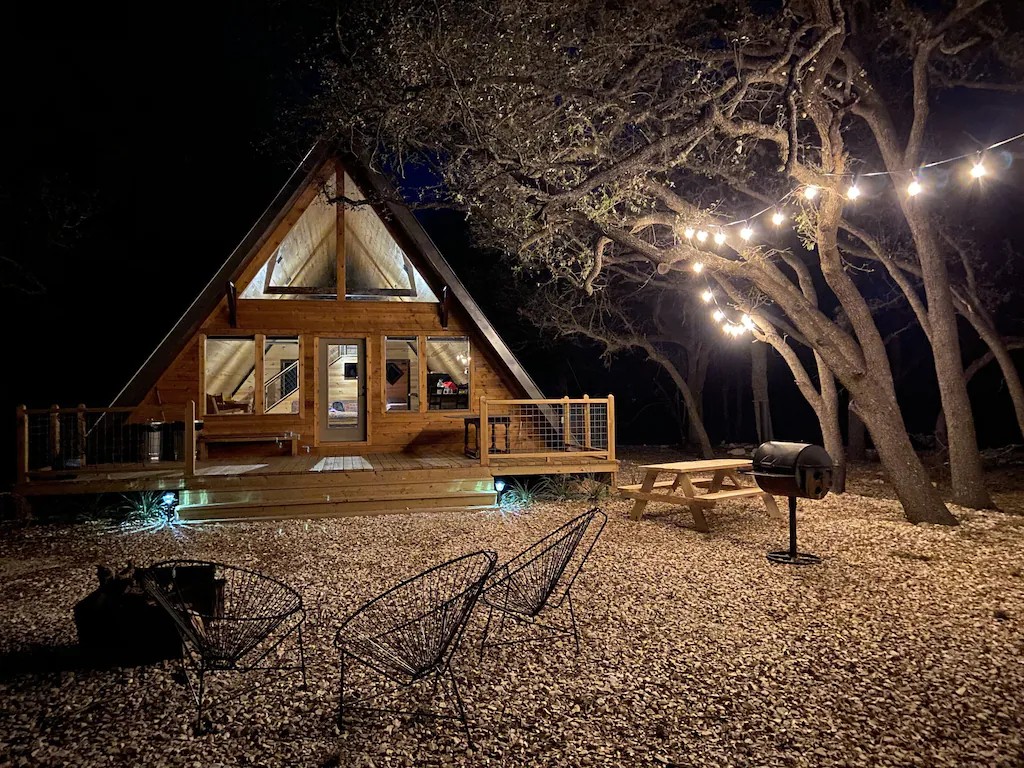 Breathtaking Lakefront Lodge
This Caddo Lake Cabin is a family-friendly Texas lake cabin, which will give you so much to relish during your stay! Ten guests can sleep here.
If you're looking for classic cabin vibes, this is the place. You'll find wood and pine accents throughout. The kid's room has an arcade that they will love. The deck and picnic area has gorgeous views of the lake.
This is one of the best lake cabins in Texas, so don't forget to add it to your list!
Click Here to Check Rates on VRBO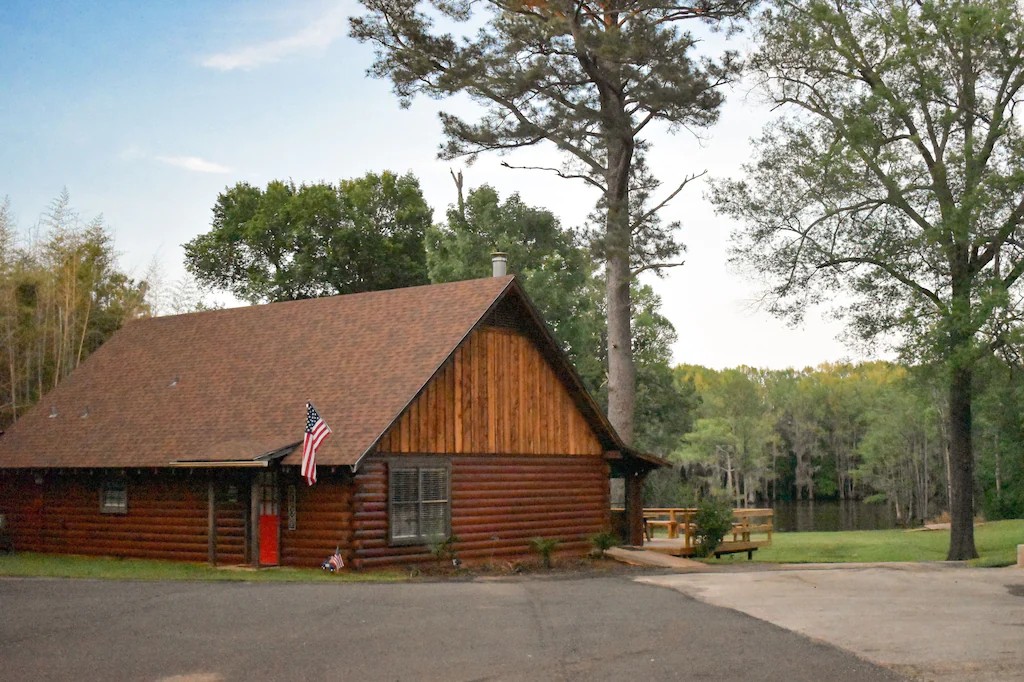 Lone Star Cabin
This Wine Country Cabin in Fredericksburg is a treat! Perfect for a couple's getaway, you'll love staying at one of the best romantic cabins in Texas. It's honestly just as homey inside as it is adorable outside.
There is a ton to do around this cabin. Vibrant Fredericksburg is only 5 miles from this cabin. You won't want to miss checking out why this town is so popular. Plus there are 6 wineries within 1000 feet of this cute cabin as well as a wild seed farm. Find romance at this quaint retreat!
Click Here to Check Rates on VRBO