Are you looking for the best German towns in Texas? We've got you covered with our list of the top German cities in Texas that you must visit!
Texas is renowned for its large cities, cultural makeup, and plethora of food options, but did you know that there are unique German villages in Texas that are spread throughout the state?
Visiting these towns is similar to stepping into a quaint, German village. Full of beautiful fields, museums, and wineries, it feels like entering into the charming German countryside. You will also be pleased to find authentic, German restaurants that serve an abundance of German food. There is something for everyone to enjoy.
They are located close to large cities in Texas and are the perfect getaway from the hustle and bustle. There are so many things to do in Texas, but in these cities you will have lots to do without being surrounded by the loud noises and busyness of the city. It won't even seem like you are in Texas!
Here we have put together a list of the cutest German towns in Texas that you must visit. While in no particular order, all of them are worth a visit. Each city has its own uniqueness in cuisine, history, culture, and architecture.
This is a perfect list that will help you navigate these beautiful towns. Be sure to add all of these cities to your bucket list!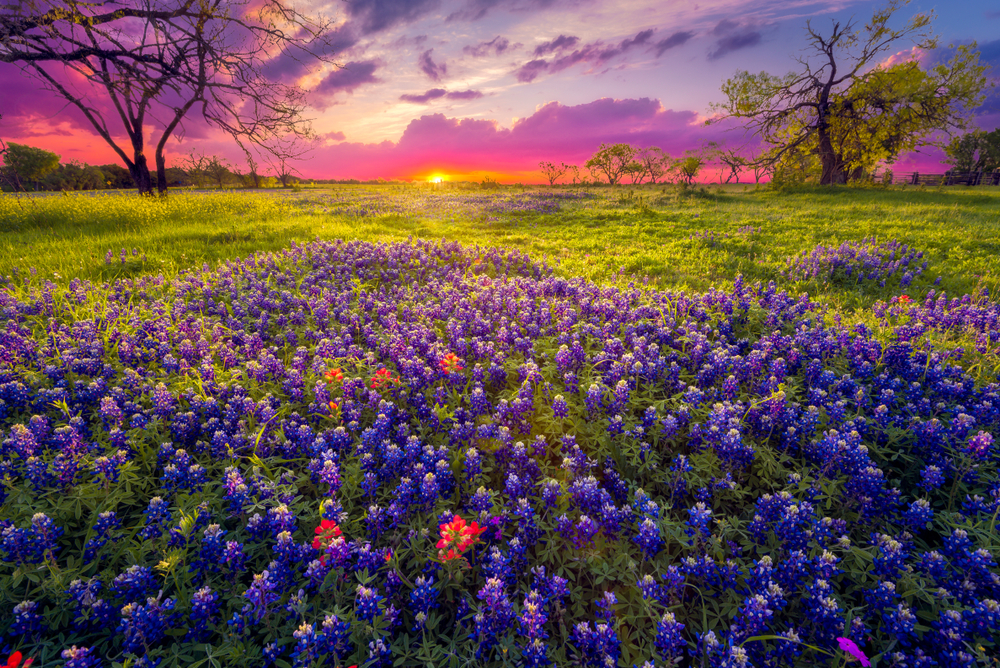 Why Are There German Towns In Texas?
Not broadly known, many German immigrants migrated to Texas in the mid-19th century. There wish was to settle and create a new Germany in Texas. Upon arrival, they set about establishing German towns in Texas. In fact, the descendants of Germans are the largest European-derived group. Millions of Texans claim German ancestry!
When the Germans immigrated to Texas, all of them did not stay in one place. They formed many communities across the state. As a result, each German village developed its own uniqueness.
The Germans brought their own style, architecture, cuisine, culture, art, beliefs, and language with them! These were passed on through generations and are still heavily present.
There are several Texas German dialects spoken by descendants of German immigrants. Although that number is dwindling, there are still a handful of Texas German speakers.
German immigrants definitely left their mark on the German towns in Texas. The evidence can be seen through their descendants, towns, museums, and restaurants. Visiting these cities allow visitors to delve into the originality of German charm.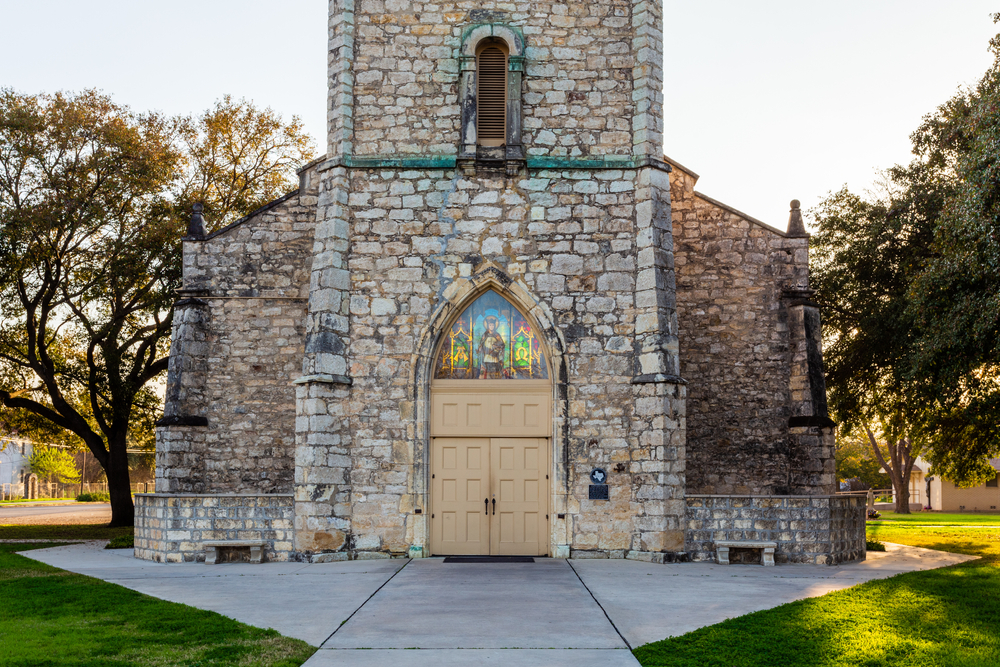 5 Cutest German Towns in Texas
Fredericksburg
Fredericksburg, a German city near Austin, is located in Central Texas. Deemed as the home of Texas German, Fredericksburg is jam packed with opportunities for you to see and experience authentic, German culture. There is something to do for everyone!
German descendants have prioritized keeping the culture and traditions of their ancestors alive. This can be seen through their yearly festivals, fairs, restaurants, and concerts.
Fredericksburg is home to over 50 wineries! The award-winning wines are so unique because the German immigrants used native mustang grapes to make their wines. Stop by one of the several vineyards or tasting rooms across the town. Pontotac Vineyard Weingarten is a local favorite!
Visit the Fredericksburg Brewing Company located on Main Street. There you will find six different beers on tap, award-winning brews, and German-style lagers.
There are several museums to visit in Fredericksburg for history lovers. Make sure to check out the Pioneer's Museum. Museum visitors are able to see the story of the German immigrants and the challenges they encountered.
If you love the outdoors, you won't want to miss the abundance of activities that are offered. You could visit a field of colorful wildflowers, take a horseback ride, or go bird watching to see if you can spot one of the 300 different species of birds that take residence in Fredericksburg!
Visit in the fall when the weather is great and attend the Oktoberfest celebration, an ode to all things German. It takes place the first week of October and offers music, arts, crafts, music, a children's area, and some of the most delicious food you will ever eat.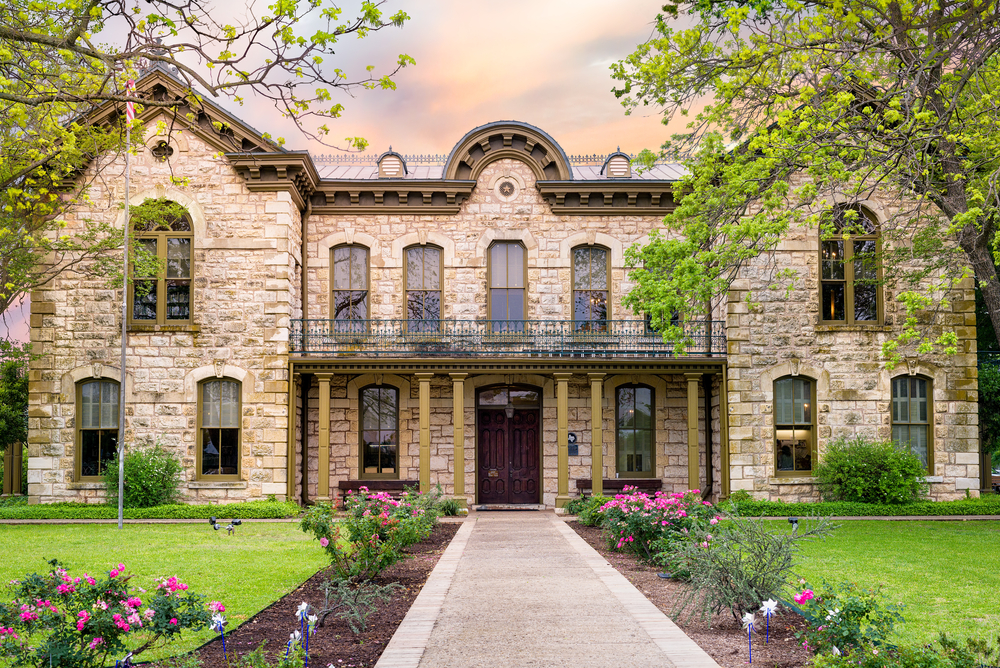 Luckenbach
Luckenbach is another one of the German towns in Texas. Located near San Antonio, it has a whopping population of 13! It was named after Jacob Luckenbach who assisted in settling the town.
Although small, Luckenbach is not lacking in things to do. Visit Luckenbach Feed Lot to try some bona fide, German bratwurst. Their old fashioned cherry limeade is a must try.
The old general store was converted into a souvenir shop that features sarcastic signs and merchandise that is stamped with Luckenbach's unofficial motto, "Everybody's Somebody in Luckenbach."
Several concerts, shows, and festivals are held yearly in Luckenbach. Check out their official website to see a schedule of entertainers.
Make sure to stay at the Full Moon Inn and Breakfast, a themed bed and breakfast that provides luxurious amenities.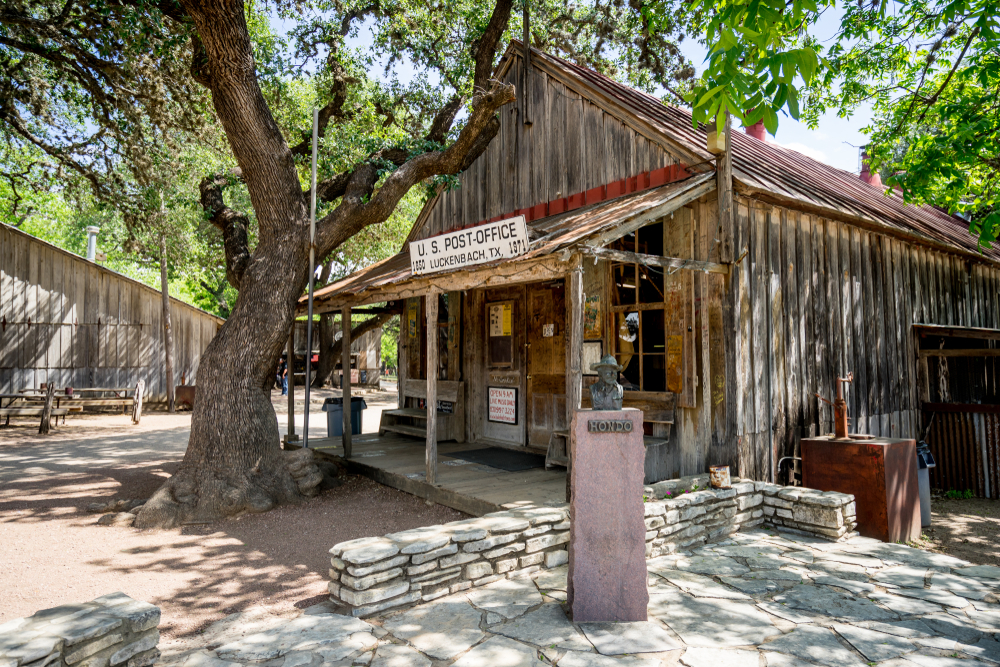 New Braunfels
New Braunfels is one of the more popular German towns in Texas. It is well known for its architecture, antique shops, cuisine, shopping, and amazing festivals that help to promote its German history.
The city is also known for America's number one waterpark, Schlitterbahn, which was aptly named to pay homage to German culture.
New Braunfels also boasts an amazing art scene with several galleries, concerts, and plays to attend. Visit the nonprofit Brauntex Performing Arts Theatre to see local artists and national touring acts.
Since the Guadalupe and Comal Rivers flow through the city, there are ample opportunities for swimming, camping, paddle boating, and sightseeing. Landa Park is a must do if you love trails and beautiful scenery!
There are a number of dining options in New Braunfels. From lively bars to fine dining, there is ample to choose from. In addition to German food, there are several other ethnic cuisine choices such as Asian, Italian, Mexican, and more. New Braunfels offers some of the best food of the German towns in Texas. You won't be disappointed!
New Braunfels has its own version of Oktoberfest called Wurstfest. It is an annual celebration of German culture and Texas fun that includes great food, entertainment, dancing, carnival rides, and games. Look to visit New Braunfels in the fall if you want to catch this 10 day festival!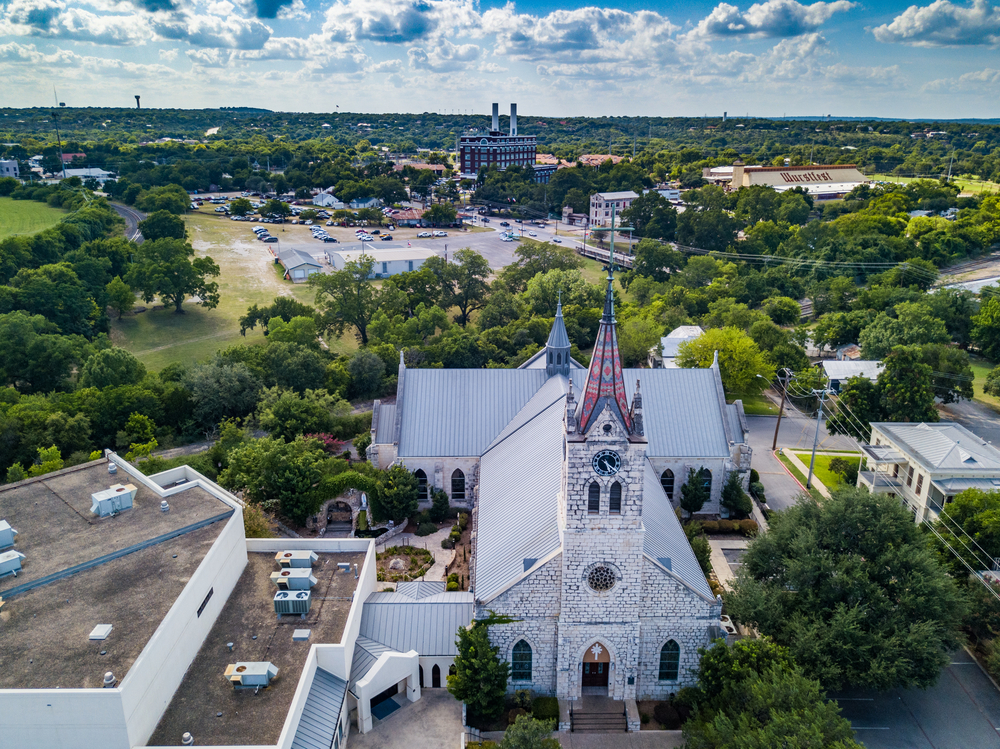 Boerne
Boerne is another German city near Austin that is located near the Cibolo Creek. Whether you are looking to spend some time outdoors, visit a winery, enjoy the nightlife, or get pampered, there are a number of activities for your choosing!
Be sure to enjoy a historic stay at the charming August House Bed and Breakfast. It is one of the longest running bed and breakfasts in Boerne and is just one block away from Main Street, restaurants, and shopping.
Do you love camping? Visit Bergheim Campgrounds and River Outfitters to go camping, canoeing, kayaking, and tubing.
Stop by the Diamond C Stables and Ranch to enjoy a serene horseback trail ride through the beautiful Texas Hill Country. Don'y worry about your experience as they have horses that are skilled for every experience level!
Gina Marie's Art Studio is perfect for lovers of both shopping and art. Art classes are offered for both children and adults in water coloring, sketching, acrylic, and more.
Complete what the locals call a "Free DIY Historic Walking Tour." There are over 100 historic properties in downtown Boerne to learn about German influences and the Indigenous folks who inhabited the land. Pick up a brochure at the Boerne Visitors Center or download it on your device.
The Boerne Community Theatre is a nonprofit theatre that is extremely passionate about providing education, production, and development of performing arts. Be sure to check out their lineup so that you can catch a show while there.
Boerne also offers several spas for those days when you want to get pampered. Visit the Face Time Spa located in downtown Boerne inside a beautiful Victorian House. The staff specializes in a number of services. It is one of the best spas of the German towns in Texas.
Branch on High serves up some of the best wine in Texas Hill Country. Make sure to try their award-winning wines!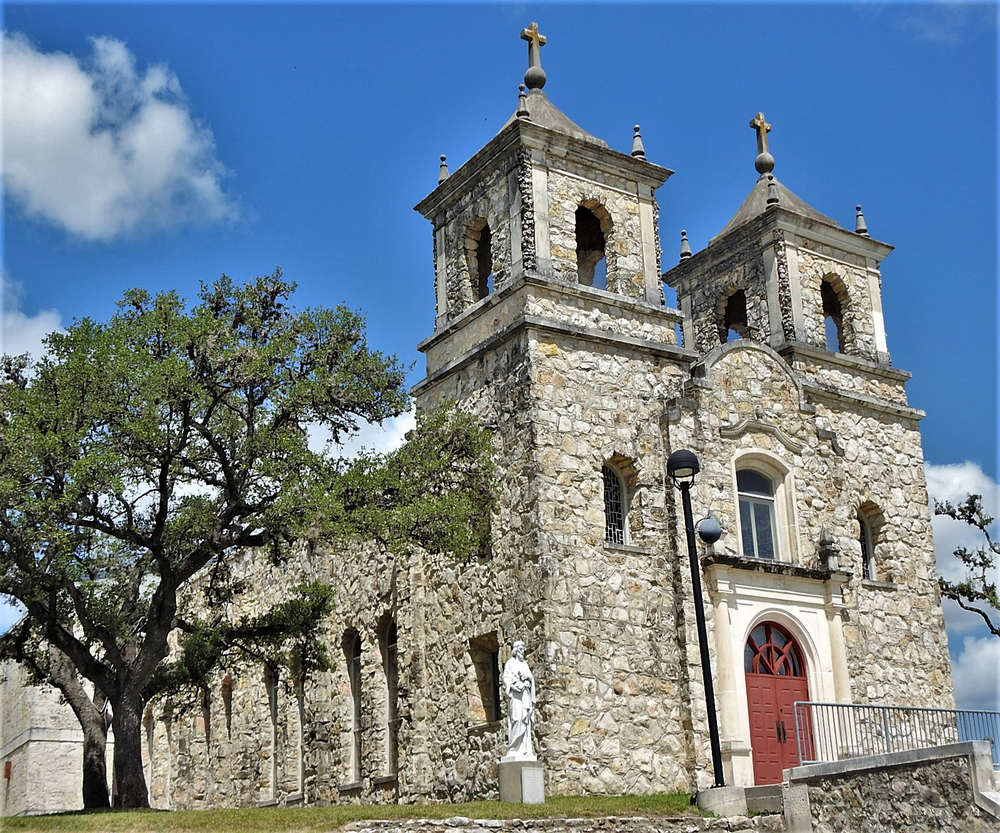 Schulenburg
Schulenburg is a German town located between Houston and San Antonio.
It is well known for its Painted Churches. The amazing architecture cannot prepare you for the marvel and breathtaking beauty on the inside. Be sure to book a tour.
Try to catch the yearly Schulenburg festival. Held on the first weekend of August, the festival highlights the Czech and German influences on the town and culture. It even includes a sausage cook-off and live polka music!
Stop by the Majek Vineyard and Winery, a charming winery that serves wine that is 100% Texas made.
Visiting Sengelmann Hall is a must do. Rooted in family tradition and culture, it serves up some of the best food Texas has to offer. The fact that it looks likes a 19th century saloon is a plus!
Calling all coffee lovers! If you are looking to enjoy a cup of fresh coffee, visit Satiate at The Garden Co. Marketplace & Cafe. You can also grab a bite to eat. Being that it is also a garden center, the food is delicious, and the ingredients are fresh.
Want to enjoy a quiet day? Visit Wolters Park that has a large pavilion, BBQ pics, picnic tables, and a swimming pool.
If you are a fan of polka music and dancing, visit the Texas Polka B. Honoring musicians of Czech, German, and Polka ancestry, the museum contains a number of records, costumes, and artifacts surrounding Texas Polka.