Are you looking for the prettiest swimming holes in Texas to cool off at? We've got you covered!
These gorgeous swimming holes can be found all across Texas making these stops one of the coolest places to discover! From state parks to open beaches, springs to swim in, or rivers to float down, Texas offers the best swimming holes to explore!
Here we have put together the best places to swim in Texas to showcase one of the most fun ways to spend a day, no matter where you may be in Texas. These spots offer stunning views, family fun activities, and tons of opportunities to get in touch with nature all around! The following texas swimming holes really are some of the most exciting things to do in Texas!
Make sure to grab a water bottle and your best sunscreen and then get ready to experience the prettiest swimming holes in Texas!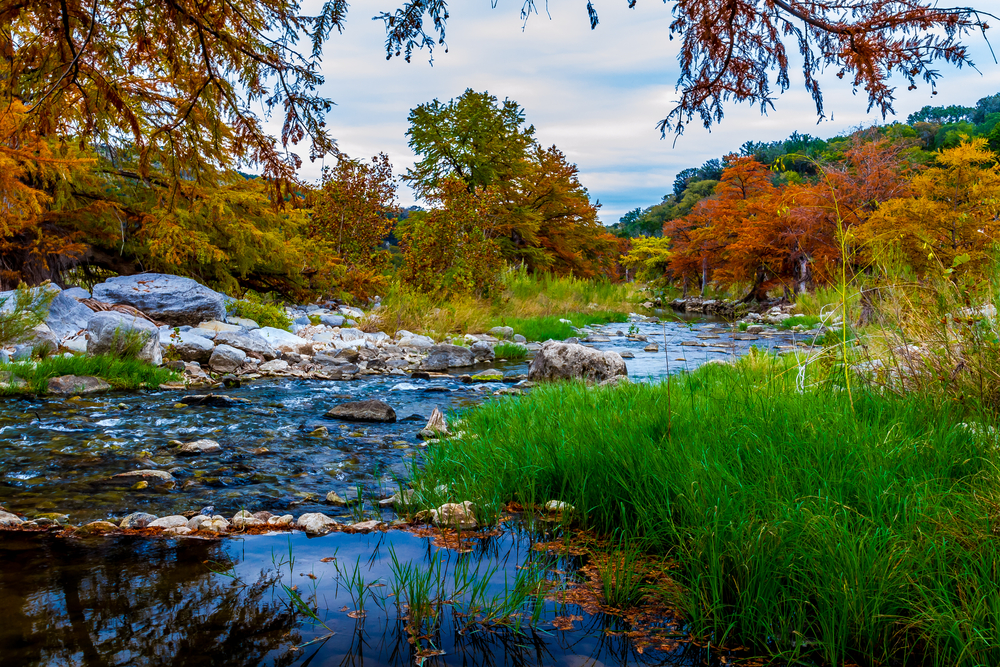 12 Prettiest Swimming Holes In Texas
Krause Springs
If you can't pick just one swimming spot to commit to then head to a combination of 32 natural springs, a swimming hole, and even a waterfall! Krause Springs can be found just outside of Austin and is definitely one of the prettiest swimming holes in Texas to see.
Krause Springs was originally founded in 1955 by the Krause Family, who still owns and operates the site to this day! The park is 115 acres of crystal waters and gorgeously green landscapes. This important area is even listed on the National Registry of Historical Sites!
Swimming is allowed in all of the onsite springs as well as there are several man-made pools on the property. Due to the pools being constantly spring-fed, this causes the water to stay at a comfortable 68 degrees, no matter the time of day or year. The springs also ensure that the swimming holes will never close due to drought. No pets or glass is allowed on the property.
Guests are offered a wide variety of things to do and explore, such as swimming, hiking, or wandering through the onsite Butterfly Garden. This all adds up to make Krause Springs a must add to any Texas road trip!
Be sure to stop by the website for the springs before going for some general park rules and regulations as well as ticket prices! Krause Springs is certainly one of the best natural swimming holes in Texas!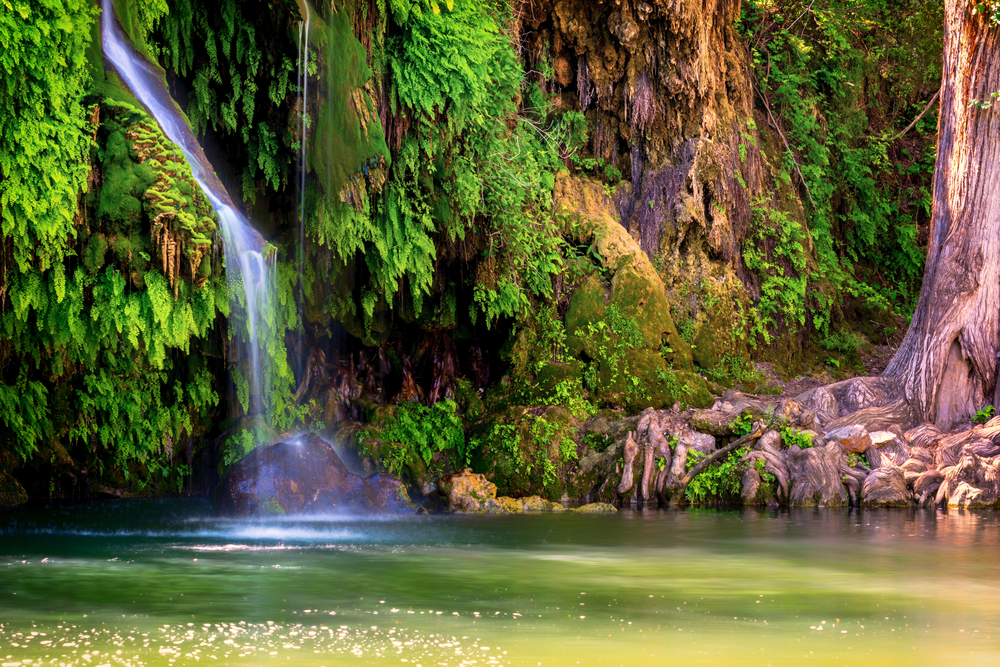 Jacob's Well
One of the prettiest natural springs in Texas is undoubtedly Jacob's Well! Located just outside of Wimberley, Texas, Jacob's Well is one of the top places to swim in Texas for residents and travelers alike!
The main well of water is actually the entrance to the second-largest underwater cavern system in Texas! Jacob's Well is constantly fed water from the Trinity Aquifer, which at the deepest part of the cave system is nearly 150 feet deep. Due to the spring water, the well's temperature stays at an even 68 degrees.
Jacob's Well Nature Area is open to the public for swimming May – September by online reservation only at this time so be sure to reserve your time before you go! Additionally, the reservations require a small fee and guarantee two hours of swim time. The park kindly states that dogs, glass, and alcohol are not permitted into that natural area at any time.
This mix of relaxing temperatures and beautiful scenery makes Jacob's Well one of the best swimming holes in Texas!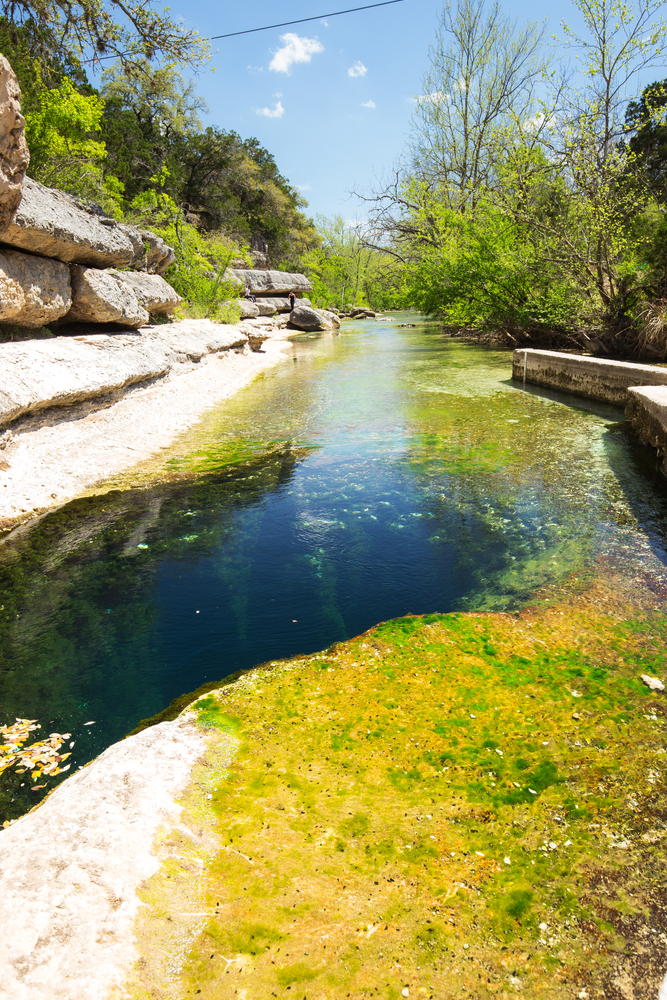 Guadalupe River State Park
Found in the Texas Hill Country, Guadalupe River State Park is one of the best Texas watering holes to spend the day at! At the river, visitors are able to go swimming, canoeing, fishing, and best of all tubing!
Just north of San Antonio, the Guadalupe River offers nearly 9 miles of the best places to swim in south-central Texas! The easy to hike banks allow for this location to be family-friendly, even for the youngest members.
There are park reservations available as well as fees to enter, but there are over 90 campsites to spend the night and continue the adventure the next day!
Guadalupe River State Park is easily one of the most family-friendly and prettiest swimming holes in Texas!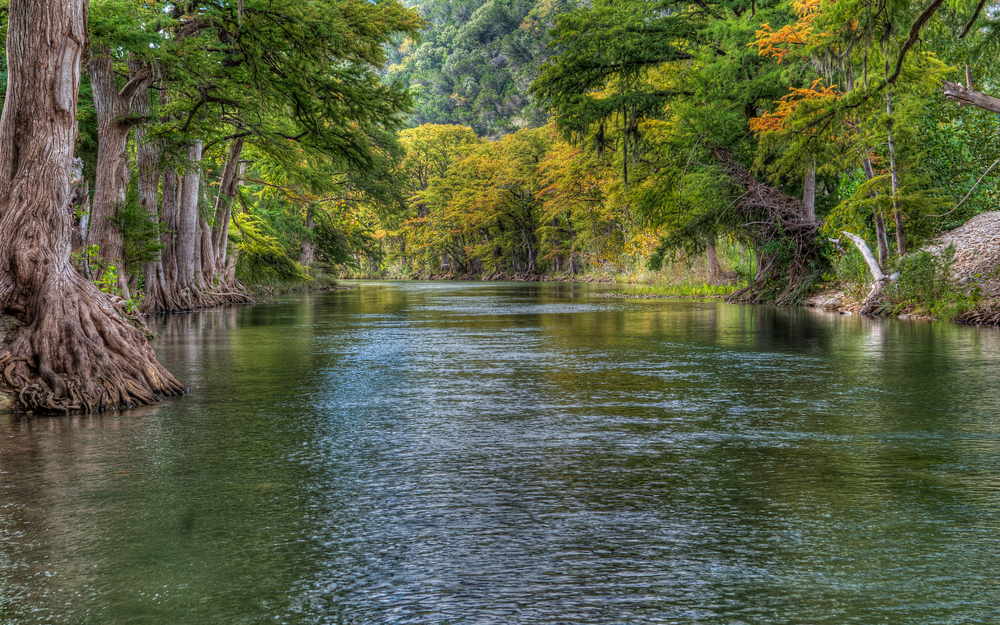 Barton Springs Pool
In Austin's Zilker Park is where you can find one of the best swimming holes in Texas, Barton Springs Pool! This spring-fed pool is the perfect spot for swimming as the temperatures stay around 70 degrees year-round!
Barton Springs is the perfect mix of swimming and nature, as the pool is a great spot to cool down, and while your their you can learn about all the species that have made Barton Springs their home! This all easily puts Barton Springs Pool on the list of best swimming holes in Austin!
Be sure to check their website to learn more about the area and to purchase your entry pass to the springs!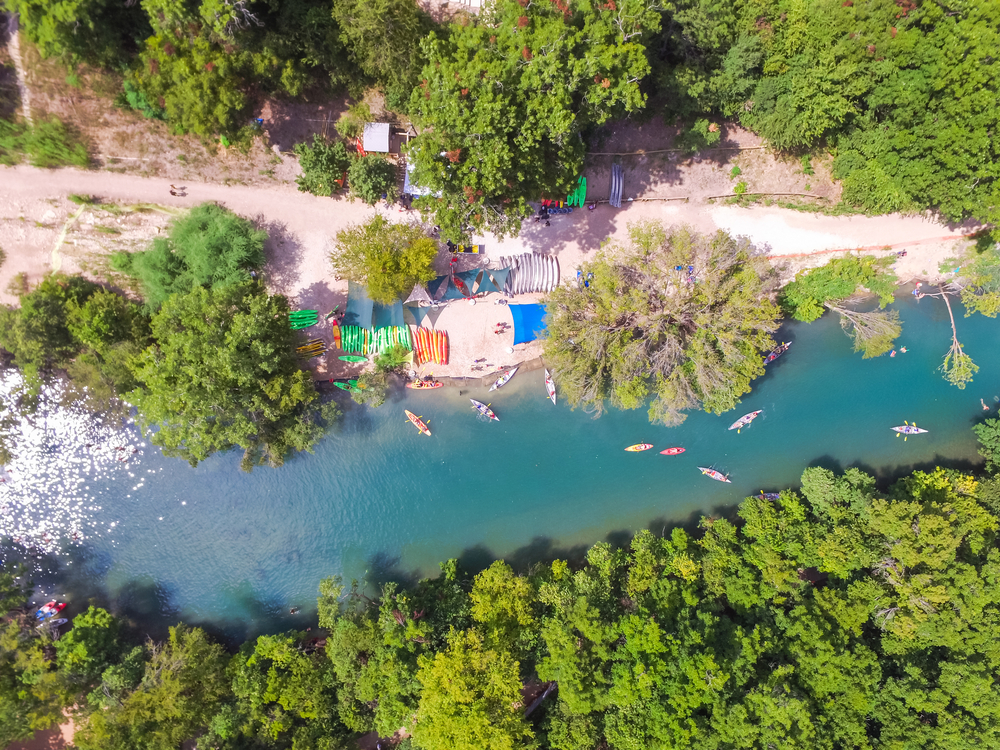 Canyon Lake
Hidden in Texas's Hill Country, Canyon Lake is a favorite for residents and travelers alike for its crystal clear water! For those looking for more to do than just swimming this is the perfect swimming hole for in Texas for you!
At the lake, you are able to go fishing, hiking, scuba diving, take a helicopter tour, and so many more! Be sure to check out their website for the best things to do in Canyon Lake!
Along the shoreline of the lake, you are able to swim in several different spots, but like most places, you need to get there early to ensure a good spot! Best of all some of the beaches at Canyon Lake are dog friendly.
With more than 80 miles of shoreline and wide-open waters, Canyon Lake not only has something for everyone but definitely makes our list for the prettiest swimming holes in Texas!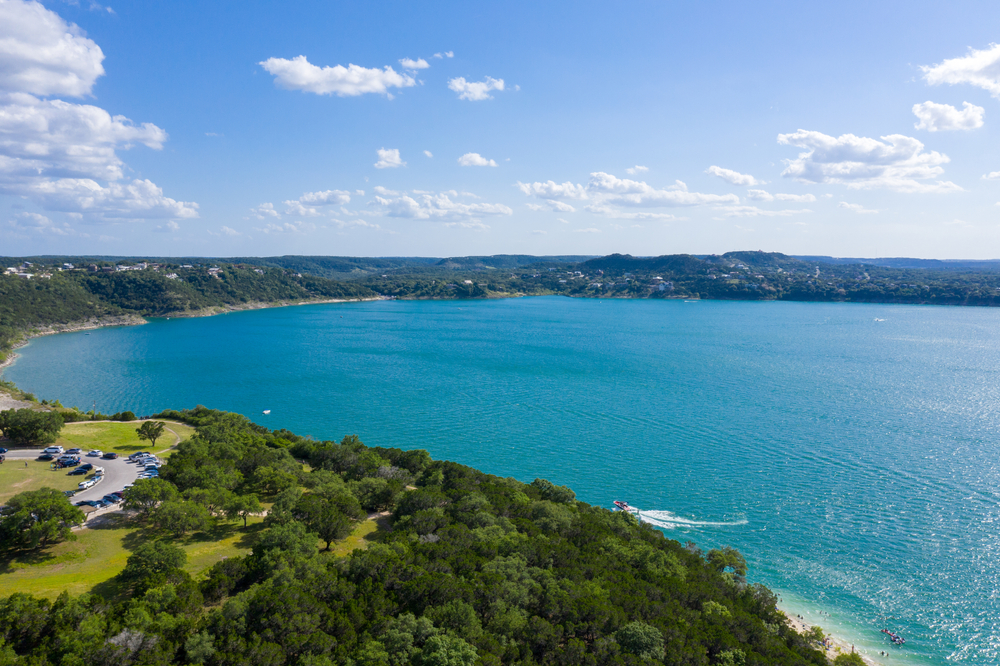 Lake Travis
As the website states, if it's on the Lake, it's here! Lake Travis offers fun, sun, and food for all ages and all interests! For the best water-based adventures, Lake Travis is definitely one of the best swimming holes in Texas to stop at!
Lake Travis offers tons of activities for all to do. For the kids, there are zipline adventures and a giant floating waterpark. For the adults, there are all sorts of things to do such as boat rentals and parasailing. They even have sunset dinner cruises for the couples out there!
No matter what you may be looking for Lake Travis is definitely one of the most fun swimming spots in all of Texas!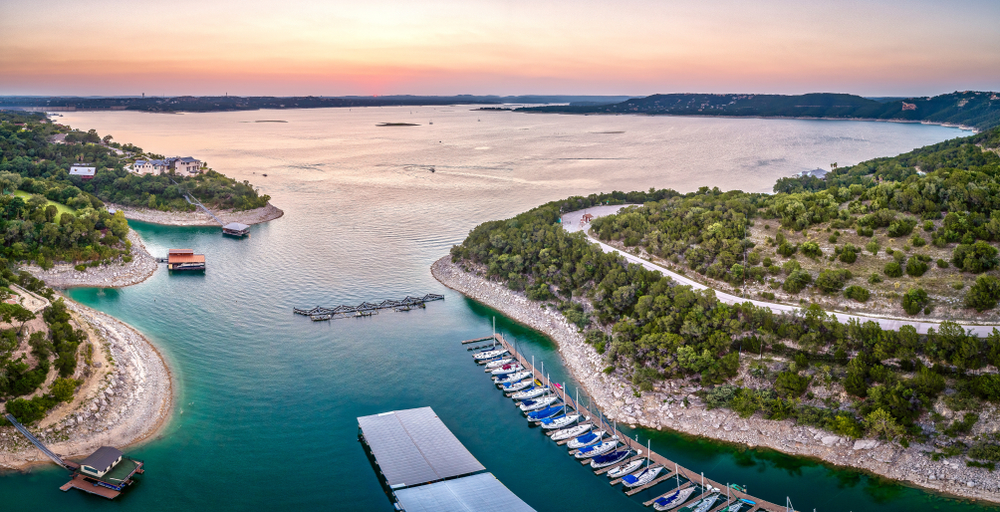 Devil's Waterhole
While Devil's Waterhole may sound like something spooky, we guarantee it's one of the best swimming holes near Austin! The name itself really just came from a previous resident who liked to share with the whole world how hard it was to cross the area.
Located only an hour away from the heart of Austin in the Inks Lake State Park, Devil's Waterhole is home to all sorts of fun activities. The watering hole is open for swimming, paddle boating, and even for those more adventurous ones some cliff jumping or scuba diving! The park actually rents out kayaks or canoes for anyone interested.
It is recommended to arrive at Inks Lake State Park early to grab the best spot and any rentals you might be interested in as the swimming hole is quite popular. Additionally, an important note is that to actually get to the water hole a short hike is required.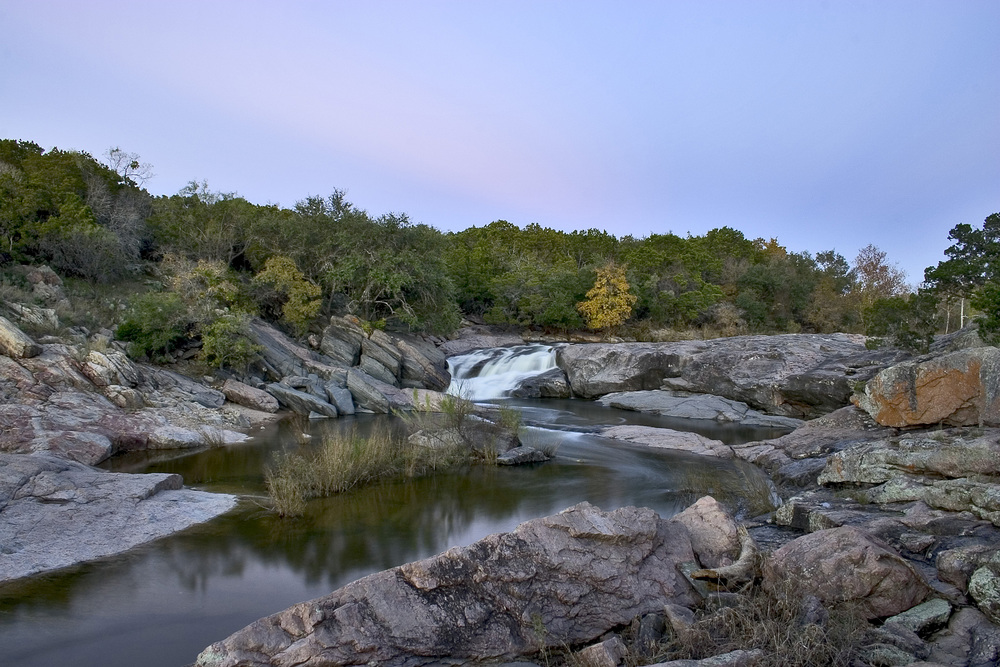 Balmorhea State Park
For the more daring out there Balmorhea State Park is a must-see swimming hole in Texas! With some of the clearest water in Texas, this waterhole allows for one activity many others don't, scuba diving!
Found near Big Bend, Balmorhea State Park is the world's largest spring-fed pool, nearly 15 million gallons of water flow from the San Solomon Springs into the pool daily. The pool itself is nearly 25 feet deep and maintains a constant temperature in the mid-70s. This makes Balmorhea State Park one of the best swimming spots in Texas!
Snorkeling and scuba diving are allowed in this park, but visitors are required to bring their own equipment. Additionally, there is a park fee for all those who wish to participate in any water activities.
Balmorhea State Park is really the best place to enjoy a day at a texas swimming spot!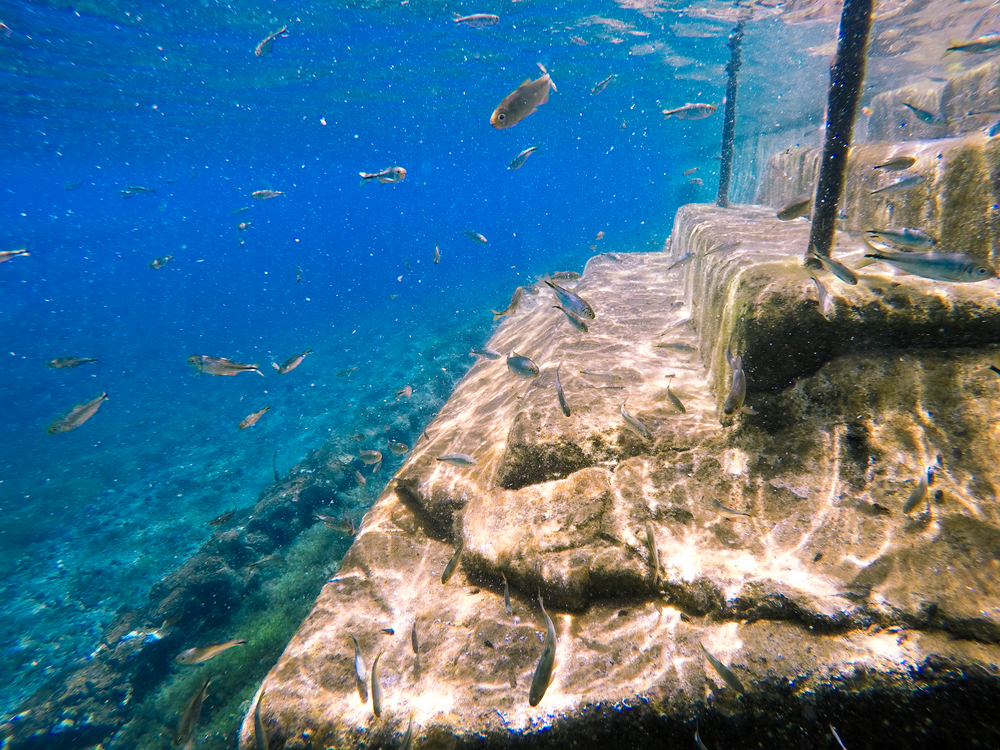 Colorado Bend State Park
Just two hours northwest of Austin is where you can find one of the prettiest swimming holes in central Texas! Colorado Bend State Park offers a whole range of activities for the whole family in the middle of stunning views!
Colorado Bend State Park is definitely a spot for the more adventurous as the park contains over 35 miles of hiking available. You can hike up to the 70 ft tall Gorman Falls, paddle down the Colorado River, or if you have kids you can get them involved by having them become a Junior Ranger!
Most importantly don't forget to take a dip in the Spicewood Springs! It takes almost a 4-mile hike to reach the springs but the views at the end are totally worth it. The springs themselves are surrounded by several cascading waterfalls and lush greenery making this spring easily one of the most stunning swimming holes in Texas.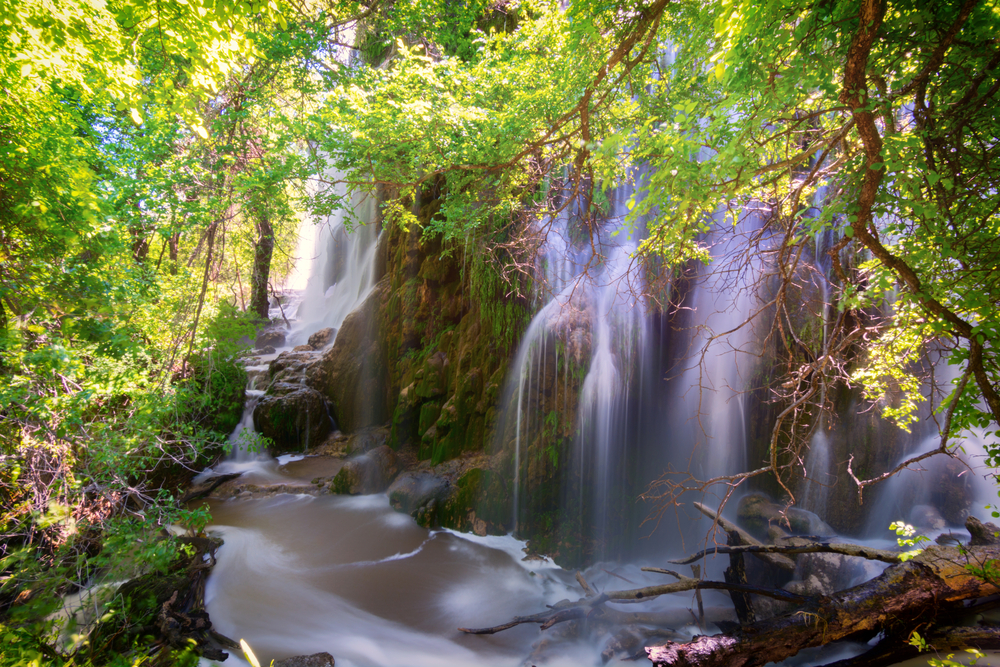 Blue Hole Regional Park
If you are on the hunt for the best swimming whole near San Antonio, Blue Hole is the spot for you! This regional park showcases the real hidden gem in Eastern Texas. With its crystal blue waters and historic ecosystems, Blue Hole is effortlessly one of the prettiest swimming holes in Texas.
Blue Hole Regional Park is open daily during the months of May through September and offers all sorts of activities for the perfect day trip! The park covers 126 acres and contains close to 5 miles of trails, community gathering spaces, volleyball and basketball courts, and most importantly the Blue Hole Swimming area!
The swimming hole is open daily from May to September and does require reservations that are specific only to the swimming hole. The reservations show up as 2 separate time slots from 9 am – 1 pm and 2 pm – 6 pm but you are able to book both and stay the entire day!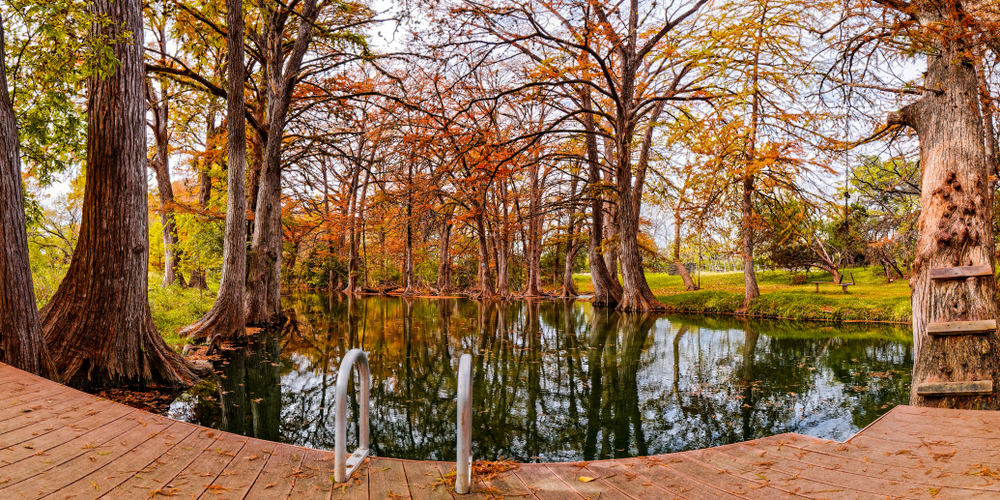 Pedernales Falls State Park
A little over three hours from Dallas is the gorgeous Pedernales River and Pedernales Fall State Park. With crystal clear emerald waters, Pedernales Falls State Park is definitely one of the prettiest swimming holes near Dallas.
Swimming at Pedernales is definitely for the more adventurous as it does require a 1.5-mile hike which includes steep stairs. Be sure to check the state parks website for safety tips and facts about the park before arrival.
In addition to swimming, the park offers campsites, hiking and biking trails, canoeing or tubing rentals, and 10 miles of horseback riding trails. And be sure to book a reservation before coming in order to ensure your adventure!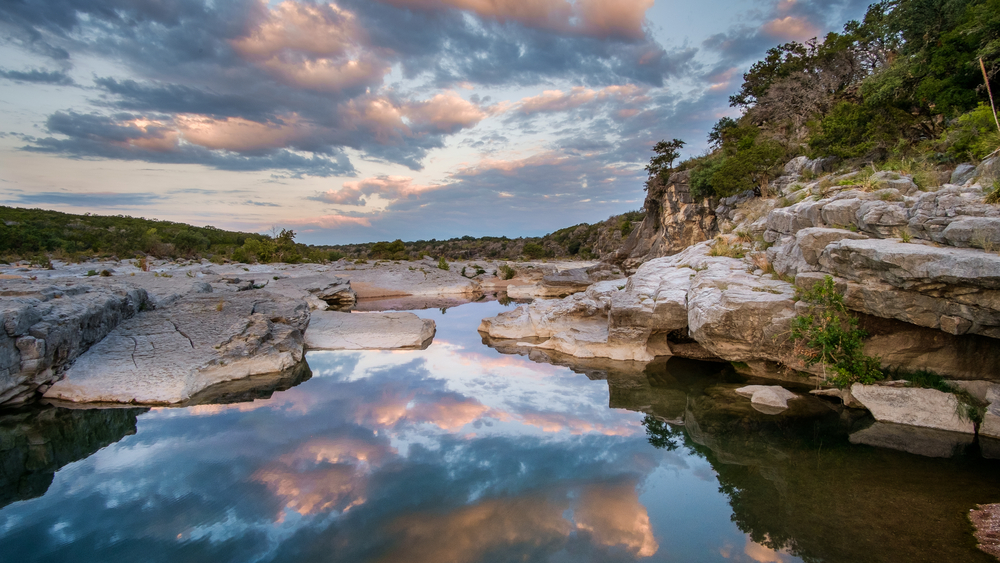 Huntsville State Park
Only a mere hour away from Houston is Huntsville State Park, home to Lake Raven! Lake Raven feels like another world, where you can lose yourself in the majestic Pineywoods of East Texas. The clear water and tall trees put Lake Raven squarely on the prettiest swimming holes near Houston.
With over 210 acres of open water, Lake Raven is the perfect place for all types of water activities. The lake offers swimming in the designated swim area daily from 10 am – 8 pm as well as the opportunity to rent canoes, kayaks, or paddleboards!
An important note is that the park does offer reservations and does require a $7 entrance fee for all those over 13 years old of age. Additionally, the park does contain alligators, and would like all visitors to be aware and cautious.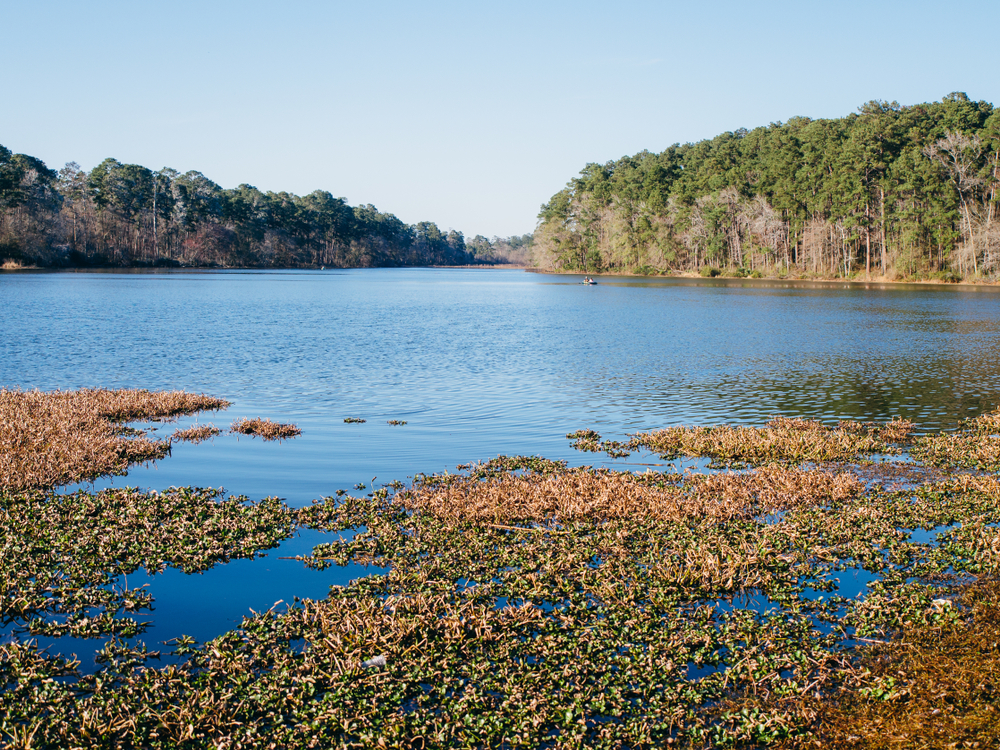 No matter if you are looking for a day jammed full of activities or a beach to relax on, if you are in Dallas or San Antonio, Texas is full of great swimming spots to beat the heat! So be sure to grab your best sunscreen and dive on into the prettiest swimming holes in Texas!