When planning a trip to the Lone Star State you might not think to include waterfalls in your travels, but there are several beautiful waterfalls in Texas that are worth adding to your itinerary. They can be found in a variety of surprising terrains from deserts and canyons, to grottos and caves. (There's more to Texas than the flat land!)
The best Texas waterfalls include a mixture of natural and man-made water features. Whether you're in the city or out in nature, their trickling and rushing sounds will be the perfect calm for your travels.
If you are traveling to Texas during the summer, be sure to check swimming options as many of these waterfalls feed into swimming holes and rivers. A dip in these natural pools will definitely help cool you down after a scenic hike! Just be sure to double-check and make sure that they're open to the public and not located on private property.
Many of the waterfalls in Texas on this list are located near or in major cities, so be sure to see if one of them will be close to where you're visiting.
If you're looking for the prettiest waterfalls in Texas, you've come to the right place!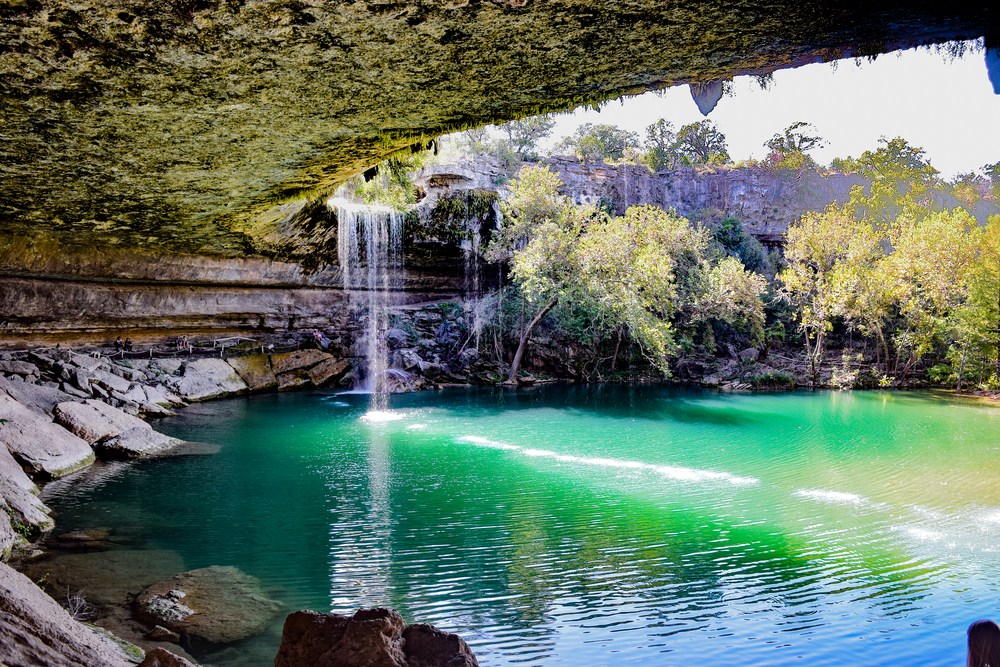 14 Prettiest Waterfalls In Texas
Gorman Falls
Don't let its location fool you. Gorman Falls may be a part of Colorado Bend State Park, but it's a true Texas waterfall. What starts off as a rocky trail ends in a mossy-faced waterfall that spans about 650 feet. Because of the beautiful natural life that grows around, under, and alongside Gorman Falls, swimming in the natural pool is not allowed.
The sound of the falls mixed in with the green growth makes this waterfall a wonderful escape, but if you plan on visiting, make sure you come prepared! The majority of the trail to Gorman Falls doesn't have coverage, so pack plenty of water and sunscreen. If it has recently rained, the trail down to the falls can be very slippery, so hike with caution.
In order to access this Texas waterfall, you do have to pay the Colorado Bend State Park entrance fee which is $5 for visitors 13 years and older and free for those that are 12 years and under. It is one of the prettiest waterfalls in Texas!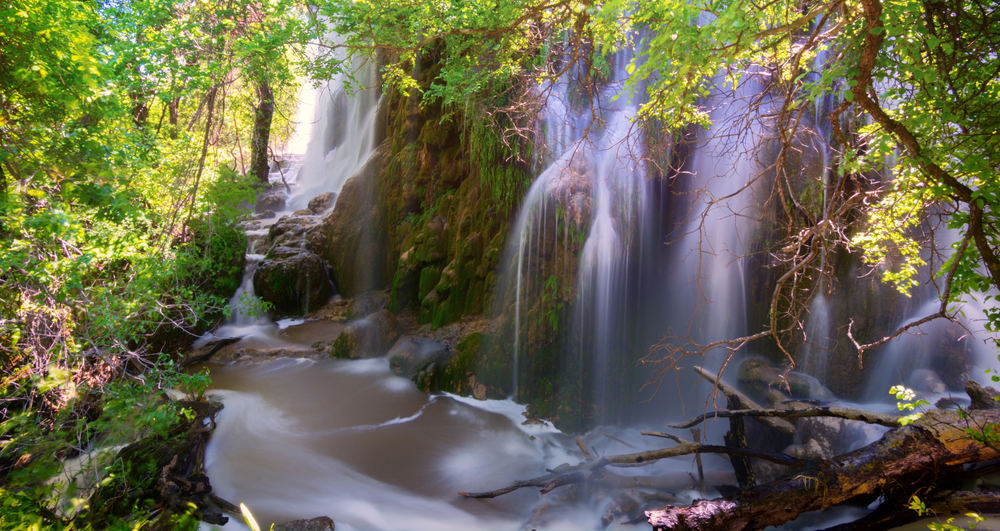 Wichita Falls
This waterfall in Wichita, Texas is the perfect blend of man-made and mother nature. With walking paths along the tiered cascades, Wichita Falls is a great waterfall in Texas that you can easily visit if you're in the city.
These falls are located inside Lucy Park and are a great location to spend the afternoon with family and friends. It's a mile walk (roundtrip) from the parking lot to the falls, so it's great for little children. Since it's also a public park, there are no fees to walk the trails or to visit this waterfall.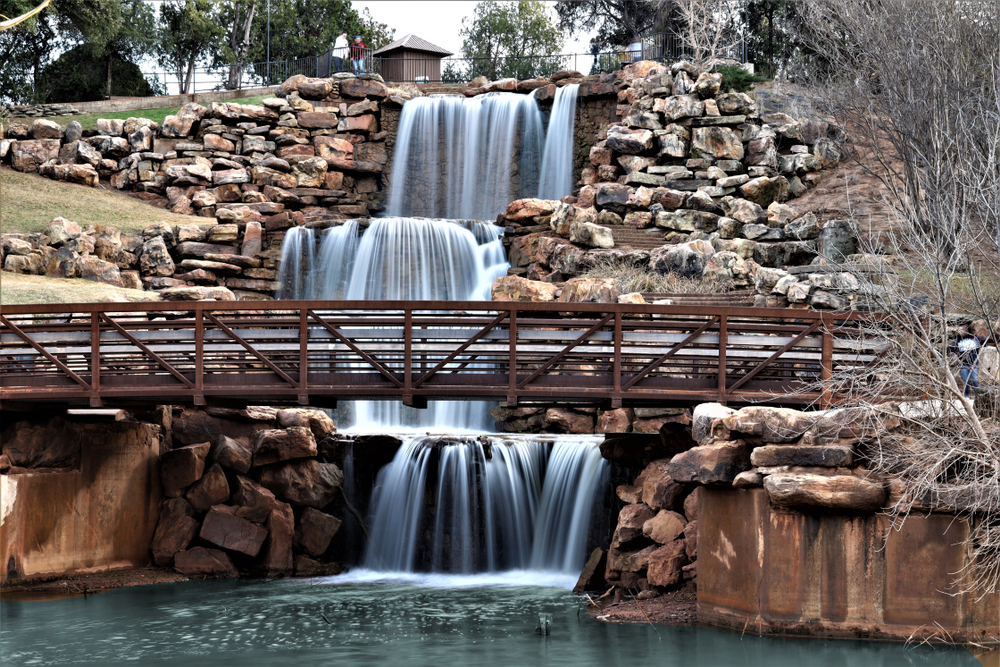 Hamilton Pool Preserve
One of the landmark waterfalls near Austin, Hamilton Pool Preserve is a Texas waterfall that drops off a 50-foot limestone cliff. With a wide cave behind the falls, this location is go-to Instagram-worthy. Because of its unique features and close proximity to the city, Hamilton Pool Preserve is popular with locals and tourists alike. It is truly one of the best things to do in Texas!
Swimming is currently restricted and due to the fragile nature of the cave, and hiking is not permitted, but you can enjoy the views from the Preserve's beach. Reservations are required to visit the pool and can be made on Travis County Parks' website.
Reservations are payable by cash only (debit and credit cards are not accepted). The entrance fee/vehicle is $12 and per person are $8 (13-61 years of age), $3 (62 years of age and older), and free (12 years and younger).
The Hamilton Pool Preserve is definitely a day trip from Austin you will want to take.
Pedernales Falls
What Pedernales Falls lacks in height, it makes up for with its width that spans across the entire Pedernales River. The river has several pools that are well-known and well-used by fishers.
There are multiple pools below the Falls that are open for swimming or tubing, which makes the Pedernales Falls State Park a great place to visit when looking for waterfalls near Austin (especially in the summer).
If swimming isn't your thing, you can opt to hike, fish, or mountain bike along the river.
To enter Pedernales Falls State Park visitors that are 13 years and older pay $6 and those that are 12 years and under are free.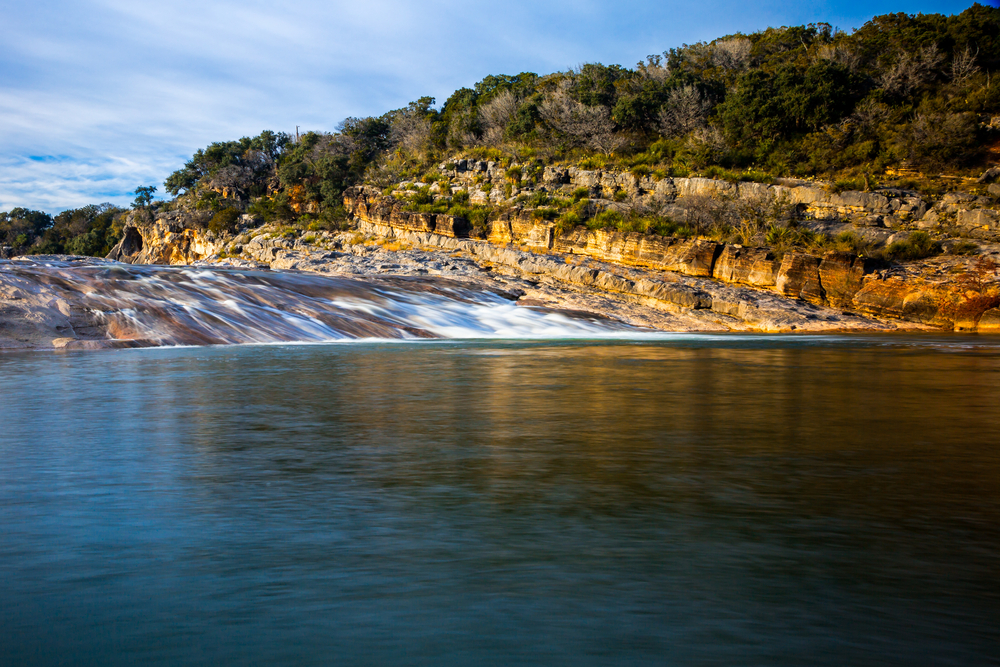 McKinney Falls
These falls located in McKinney State Park are divided into the upper and lower falls (so you get two falls for one state park fee). In the summer, the upper falls are used by swimmers to jump off the 10-foot limestone ledges into the swimming holes.
The hike to McKinney Falls is a little over a mile and reservations are required to enter. The waterfall's location is about 25 minutes outside of the city which makes it a great waterfall in Austin to visit.
Entrance fees to McKinney State Park are $6 for visitors 13 years and older and free for those that are 12 years and under. This fee is minimal considering all the different options you have within the State Park. You can camp, hike, bike, or fish, so there is sure to be something for everyone!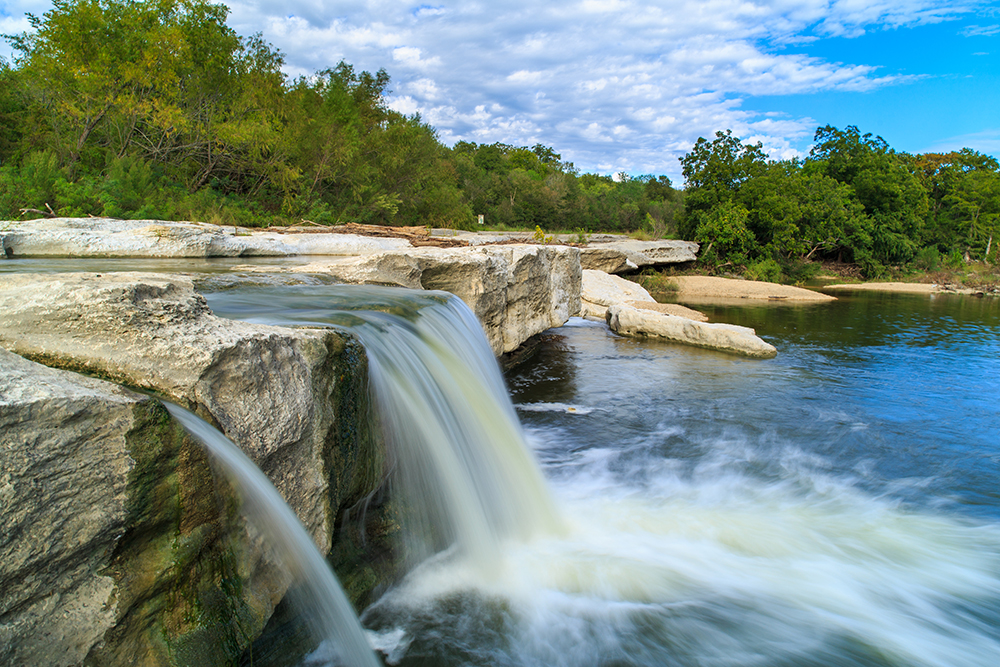 Cattail Falls
High in the Chisos Mountains, Cattail Falls breaks up the desert around it. Cattail Falls is a Texas waterfall that creates its own oasis in the middle of the desert. Cattail Falls is an 80-foot waterfall that fills several pools during the rainy season. The Falls are found at the base of Cattail Canyon, a sizeable ravine that can only be furthered explored by experienced climbers and hikers.
Because the falls are difficult to reach, the wildlife, flora, and fauna that are found at Cattail falls are rich in variety. Before hiking to this waterfall, be sure to ask a park ranger for directions as the trail is hard to find.
To visit this Texas waterfall, you'll need to pay the entrance fees for Big Bend National Park which are $30/vehicle, $25/motorcycle, or $15/individual (bicyclists and hikers). It is truly one of the best waterfalls in Texas!
Window Trail
If you want a mix of hiking and a scenic view, you'll want to visit this waterfall on Big Bend National Park's Window Trail. The Window Trail is a little over a 5-mile hike (roundtrip) and has heavy foot traffic. Its popularity is due to the payoff view where you overlook the National Park.
Note that this Texas waterfall is seasonal, so you'll want to visit right after the rainy season when the creeks that feed into the waterfall are overflowing. During its peak, this is the tallest waterfall in Texas.
Along with avid hikers and waterfall chasers, bird watchers can often be found on the Window Trail as a variety of birds are native to the area.
To visit this Texas waterfall, you'll need to pay the entrance fees for Big Bend National Park which are $30/vehicle, $25/motorcycle, or $15/individual (bicyclists and hikers).
There are several other waterfalls in Texas on this list that are from Big Bend National Park, which is why we recommend it as a National Park you don't want to miss when you visit Texas!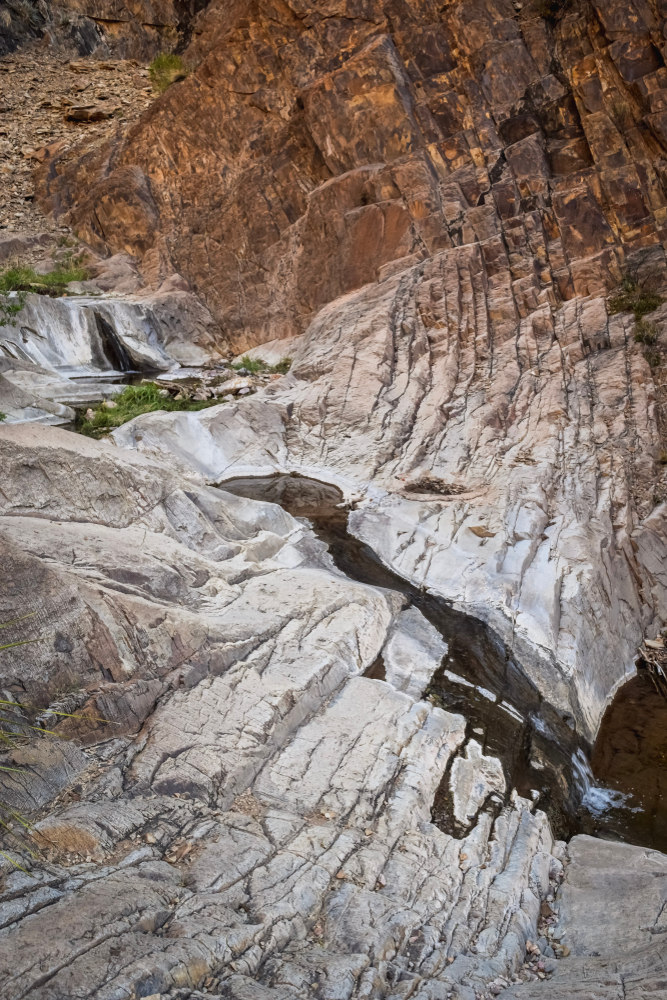 Krause Springs
Krause Springs is a popular waterfall near Austin that's known for its beautiful camping and natural swimming pool. There are over 30 natural springs on the property and they feed into the natural pools year-round.
Krause Springs is located on private property but is open to the paying public. It costs $8 for those over 12 years and $5 for children between 4 and 11 years to enter the property. If you want more time to explore, you have the option of renting either a tent or RV campsite.
You won't mind the cost once you see the Krause Springs. The falls are surrounded by ferns and Cyprus trees, giving this Texas waterfall an otherworld feel. With a rope swing, picnic tables, and several manmade pools to accompany the natural pool, this is a great spot to visit with family or friends. It is one of the prettiest natural springs in Texas!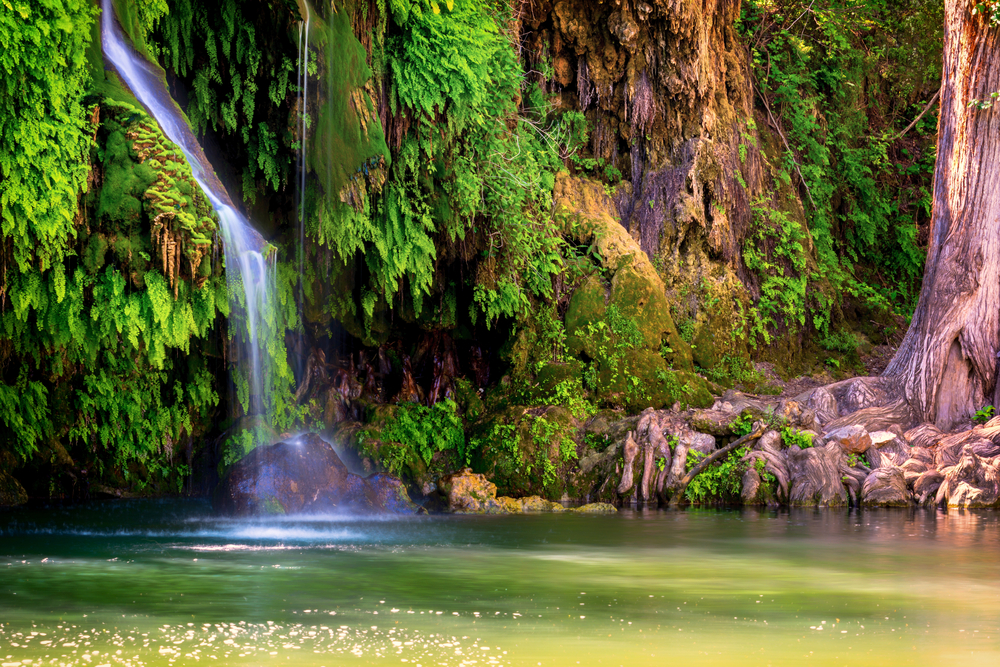 Pine Canyon Waterfall
Located in the same Chisos Mountains as Cattail Falls, Pine Canyon Waterfall is the pay-off at the end of a 4-mile (roundtrip) hike. To reach the trail, you will need a 4×4 or all-wheel drive vehicle since the road is unpaved and subject to weather conditions.
To visit this Texas waterfall, you'll need to pay the entrance fees for Big Bend National Park which are $30/vehicle, $25/motorcycle, or $15/individual (bicyclists and hikers).
Westcave Waterfalls
A highlight of Westcave Preserve, the Westcave Waterfalls are one of the must-see waterfalls near Austin. The 40-foot waterfall spills over the travertine into a beautiful grotto pool that you can explore.
Keep in mind, this Texas waterfall is only accessible with a tour guide reservation, but you can purchase your tickets at Westcave Outdoor Discovery Center. Due to COVID-19 groups are limited to 4 individuals from the same household. The tour fee for each group is $60.
The tour will take you through dramatic landscapes from a savanna, down a 100-foot staircase, and into the canyon that houses 40-foot Westcave Waterfalls. Each tour group will have time to enjoy this Texas waterfall from multiple viewpoints.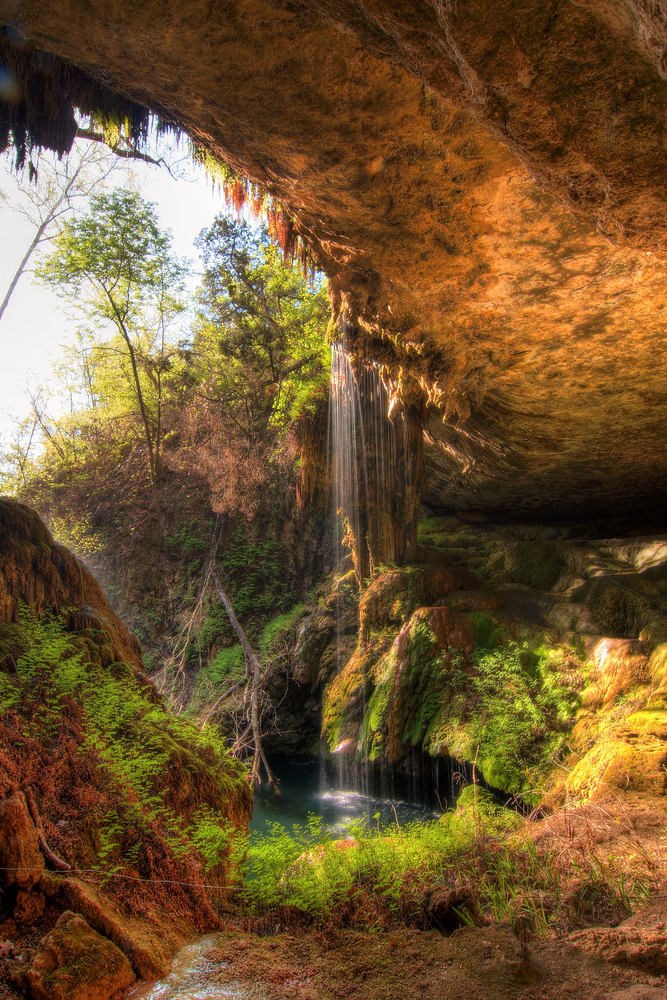 Boykin Creek Waterfall
Located near the East Texas and Louisiana border, Boykin Creek Waterfall runs over the ruins of the Aldridge Saw Mill. While the falls are small, the combination of water and a piece of East Texas history make this Texas waterfall unique.
Along with the quaint Boykin Creek Waterfall, Boykin Springs Recreation Area also has several swimming holes, campgrounds, and hikes. The variety of activities available make it a family-friendly location to explore nature.
If you plan on a day-hike, you are able to enter the area for free, but if you plan on renting a campsite you'll have to pay $25/night.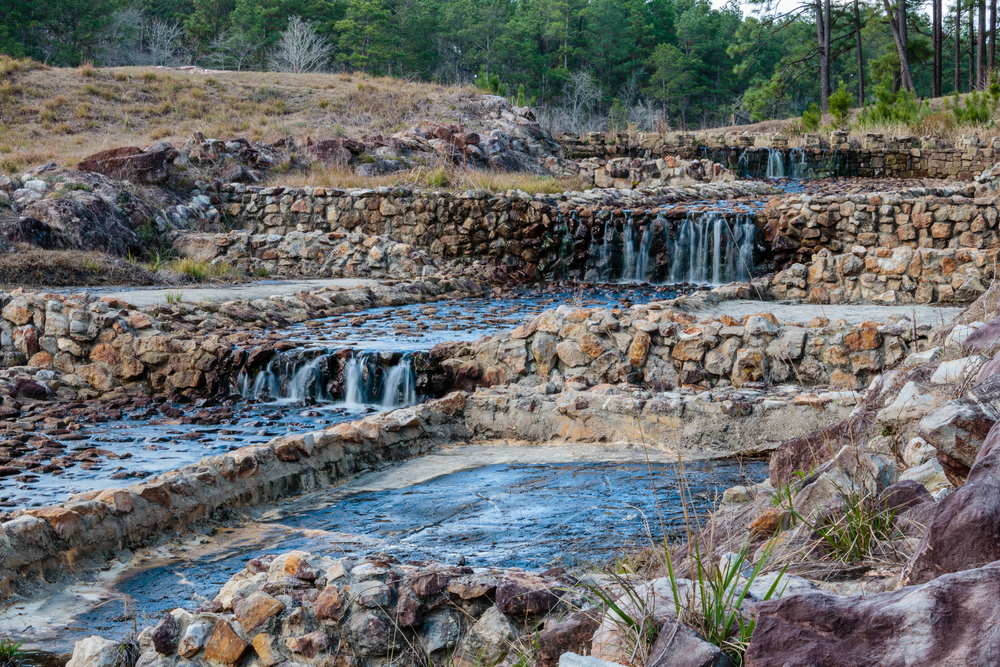 Airfield Falls
The Airfield Falls are the only natural waterfall in Fort Worth. This waterfall's unique location is just east of the Naval Air Station and its trail includes a McDonnell Douglas C-9 aircraft.
The trail leading to the falls has a mix of flowers, honeybees, and berries. The tiered falls are also on the migratory path of monarch butterflies, so it's a true sanctuary in the city.
The trail is used by a mix of joggers, cyclists, and those going for leisurely strolls, so no matter the level of activity you're looking for, the trails by this Texas waterfall are a great option! You can even bring a swimsuit and wade in the natural pool beneath the Airfield Falls at one of the prettiest waterfalls in Texas!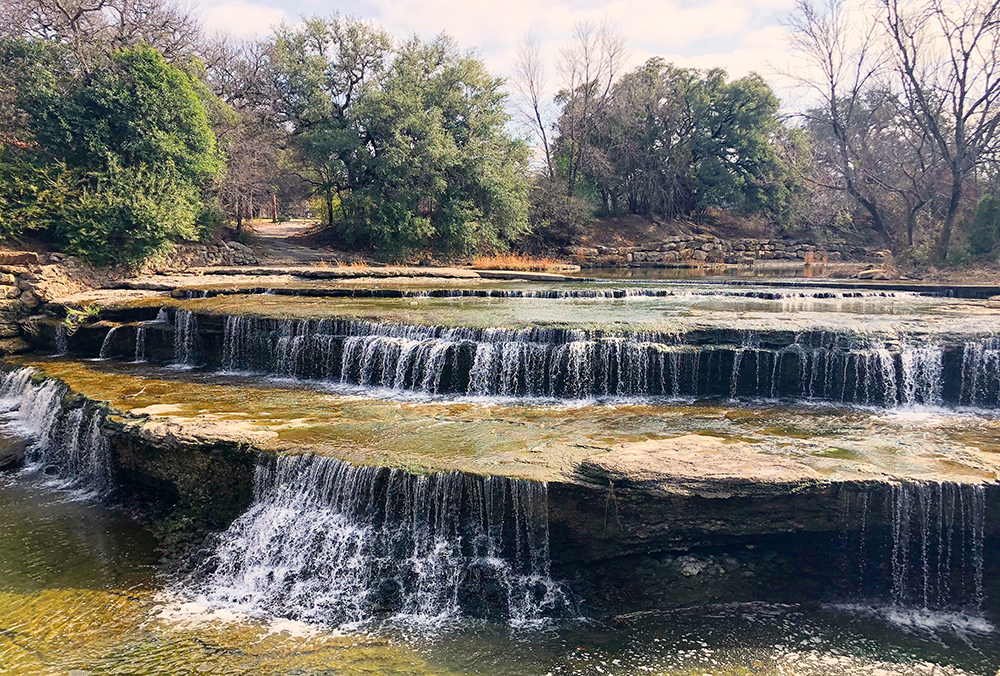 Madrid Falls
At 100 feet Madrid Falls is the tallest waterfall in Texas that's open to the public (the second tallest waterfall in Texas when including waterfalls on private property). Its impressive height is surprising considering it's located in the Chihuahuan Desert, an area that doesn't see a lot of rainfall.
This Texas waterfall is not frequently visited, because its trailhead is difficult to reach and requires a four-wheel-drive vehicle. For the adventurous hikers that visit the Falls, there are three overlooks that offer fantastic views while protecting the growth and natural habitat for local wildlife.
Madrid Falls is located in Big Bend Ranch State Park where visitors 13 years and older pay $5 to enter and those that are 12 years and under can visit for free.
Dolan Falls
Sourced by the Devils River, Dolan Falls is a waterfall of clear blue water. Because of the cleanliness of its water, the Devils River is renowned for its great fishing and kayaking options. This draws a variety of outdoor and adventure enthusiasts of all ages to the River.
Due to its remote location in Texas Hill Country, these falls are only accessible via a river trip down Devils River. The land on either side of Dolan Falls is private and closely monitored by the various landowners.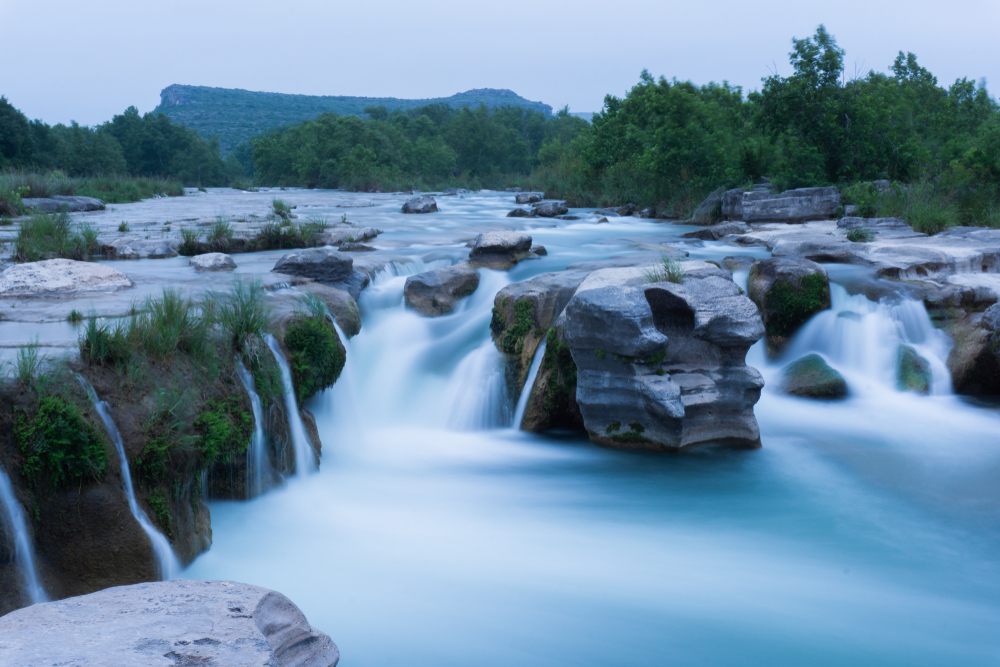 While waterfalls are probably not the reason you will be visiting Texas, these 14 beautiful falls are definitely worth adding to your itinerary. You'll be surprised at the natural beauty you'll find at the end of these trails. A Texas waterfall is always a nice way to end a hike (especially if you can take a swim in the waterfall's swimming hole or river).
We hope that you enjoyed this list of the 14 prettiest waterfalls in Texas. Which waterfall will you add to your next visit to Texas?