On the hunt for the prettiest natural springs in Texas? We've found them for you! No matter what corner of the state you're in, you're never far from some of the most scenic springs in the Lone Star State.
Each location on our list features a variety of relaxing and unique activities to make the most of your journey into the most peaceful waters of Texas. Whether you're looking for adventure, relaxation, or a day where everyone in the family can have fun, there is a spring waiting to welcome you! It is truly one of the more relaxing things to do in Texas!
Please remember to respect the land and pack out your trash! Please do not litter, be quiet and respect other bathers, and be a good steward of nature.
Read on to find out about the most beautiful natural springs in Texas!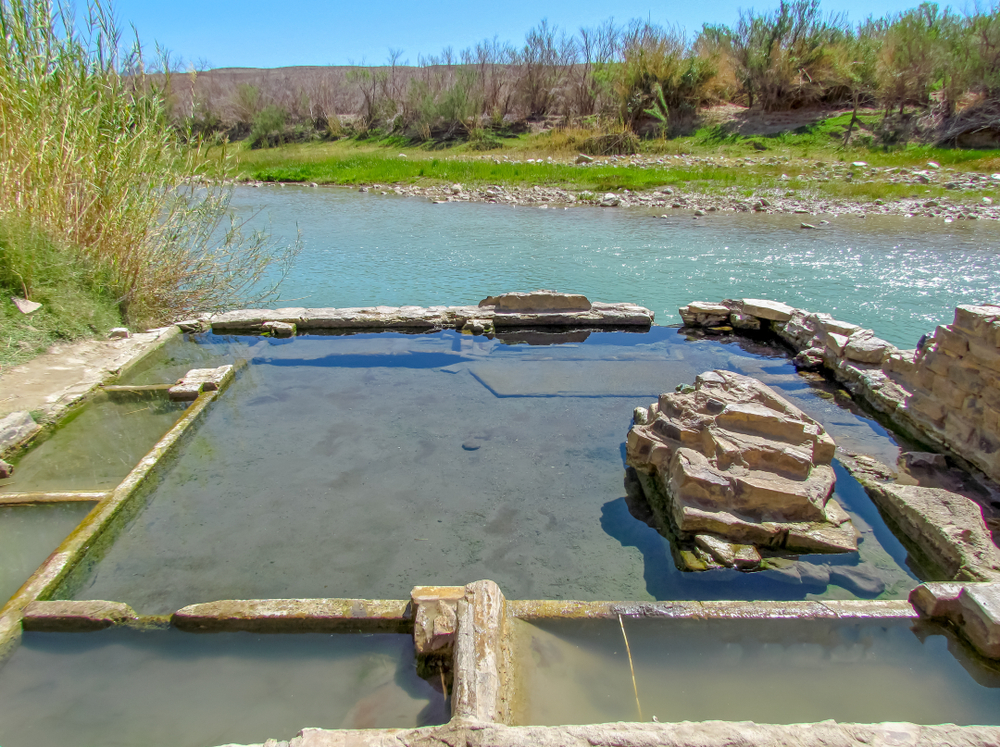 10 Prettiest Natural Springs in Texas
Jacob's Well
A trip to Jacob's Well is one of the most picturesque springs in Texas – definitely not to be missed. It is the second-largest submerged cave in Texas and spans 81 acres of lush natural land. In fact, Jacob's Well makes our list for one of the most magical spots in Texas. Swimming is a popular pastime here, but guests can also enjoy the views from dry land.
If you're coming to the area to swim during the summer months, you must make a reservation in advance on Jacob's Well website. Reservations guarantee swimmers two hours of time in the water, and swimmers must pay a fee to reserve the spot (prices are listed on the website). Non-swimmers are invited to attend on a first-come, first-served basis, and there is no fee needed to check out the scenery. Hiking trails abound in the area with various paths that run by Jacob's Well. Please see the park's recommended hiking hours which differ by season for the best experience.
Visitors to the area between October and April can be treated to a guided tour of the area. A knowledgeable naturalist will guide guests through the history of the well, the aquifer system, and the local wildlife. Tours are conducted by request only, so make a reservation through the website to plan ahead.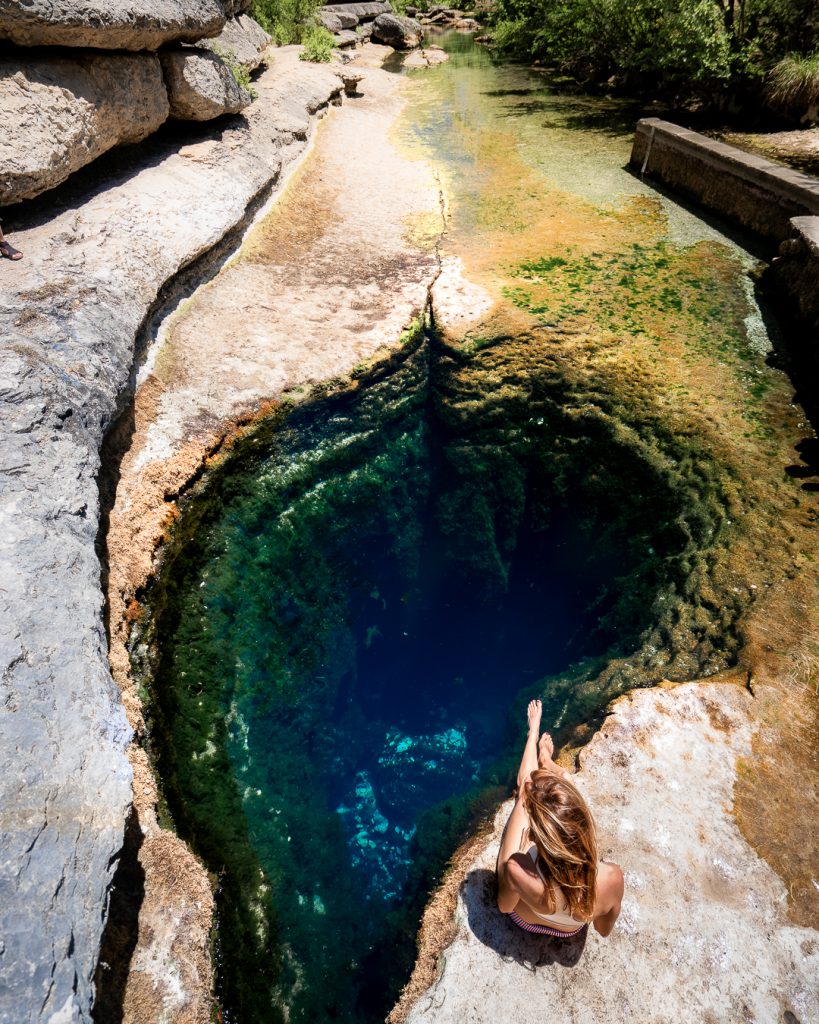 Hamilton Pool Preserve
To witness some of the bluest water in the region, travel over to the Hamilton Pool Preserve, one of the most beautiful swimming holes in Texas. The pool is fed from the Pedernales River, creating a 50-foot waterfall that plunges over a limestone outcropping to form this beautiful natural swimming spot. Visitors can view lush vegetation and a variety of wildlife species, like the Golden-Cheeked Warbler, on a visit to Hamilton Pool.
Before you go, check the Hamilton Pool website to ensure that swimming is allowed during your visit. Oftentimes, it is, but sometimes due to falling rocks or hazardous weather, the pool will be closed for guest safety.
It is one of the best day trips in Texas and swimming is allowed year-round, as long as safety permits. There is no lifeguard on duty in the area, but swimming vests are provided by the park as needed. Reservations to attend the area must be made in advance online. Guests will reserve their spot by car, and will then pay for individual tickets to the park upon arrival.
To enjoy the area out of the water, the hiking trail around the pool is a fun and scenic activity. It is a roughly 30-minute hike from your car to the pool, but the terrain can be rough and rugged, so make sure your travel party is up for the challenge. Guided hikes are offered for visitors to learn more about the area and the wildlife that surrounds it. The guided hike experience takes guests into areas that are not accessible on a self-guided hike, and the tour lasts around an hour.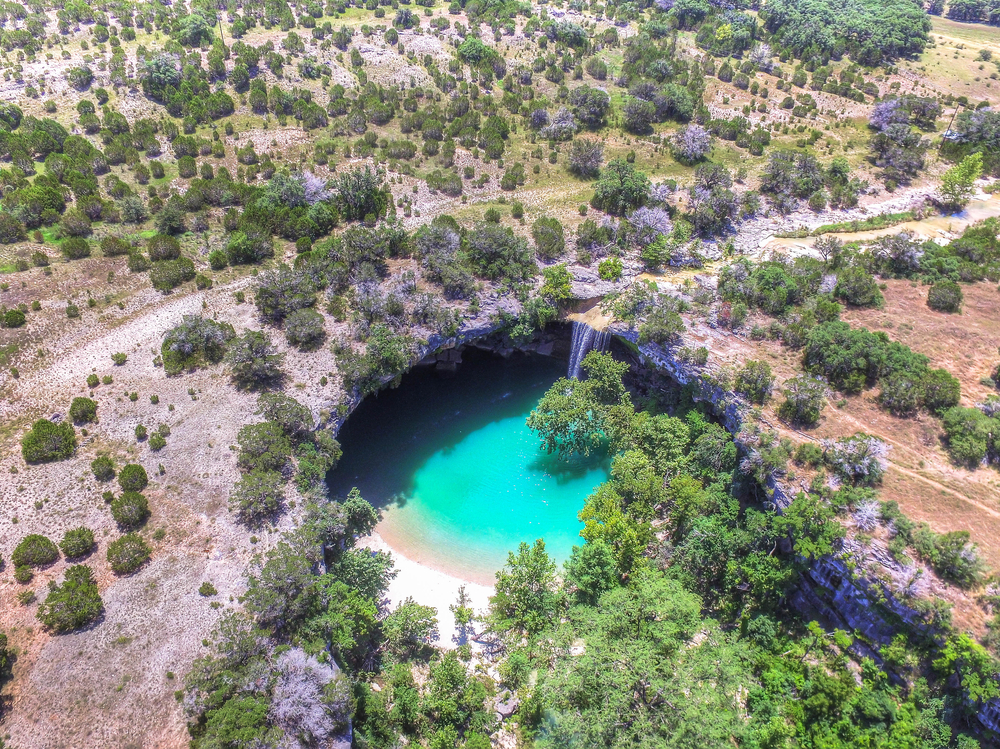 Krause Springs
For camping enthusiasts, a visit to Krause Springs will be one of the loveliest camping experiences in the state. Located near Austin, visitors can escape the city to the flourishing natural beauty at Krause Springs, one of the most enchanting springs in Texas.
Since 1955, Krause Springs has been serving the Texas community with a variety of springs on their property – 32 springs, in fact! Swimming is allowed in all of the springs during the summer months, and the fun doesn't stop there! Guests can also meander through the outstanding Butterfly Gardens to experience the thriving wildlife in the area.
Camping is allowed with primitive tent sites being offered, as well as sites that accommodate RV's. The RV sites have access to water and electricity, but the primitive sites do not, so bring what you need with you if camping there. No pets are allowed on the property.
Make sure to check the website prior to your visit for camping and day ticket rates, and to make sure the springs are accessible. It is truly one of the prettiest waterfalls in Texas!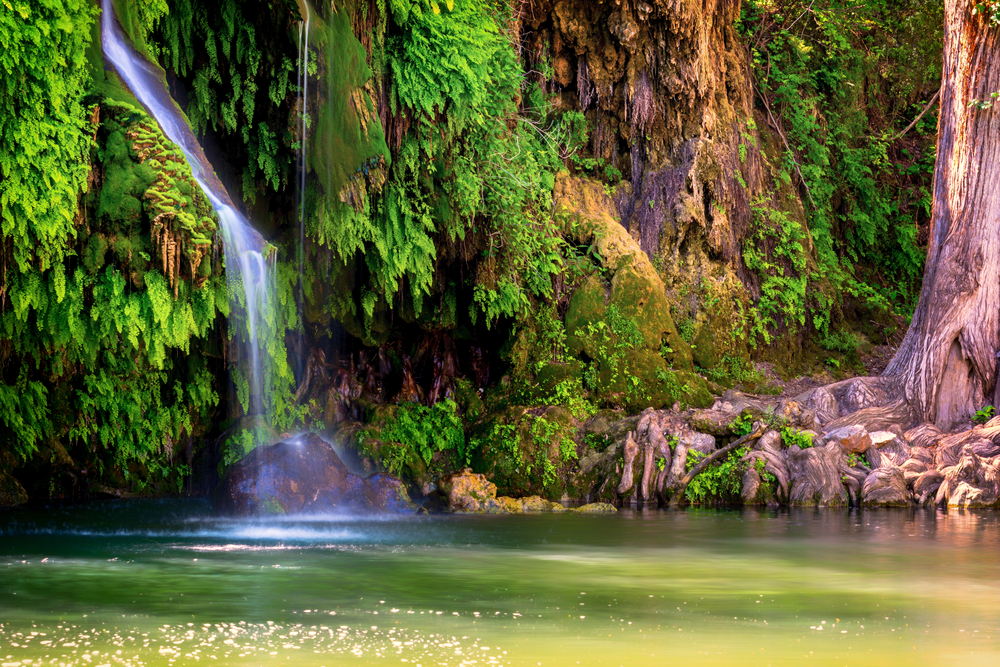 Barton Springs Pool
Located within Zilker Park in Austin, Barton Springs Pool is a treasure of the area. Because the pool keeps an average temperature of 70 degrees, it is an ideal spot for swimming no matter the season, making this one of the best swimming holes in Texas and a great thing to do in Austin!
When visiting Barton Springs, a website check-in prior to your visit is a must. Peak hours require an entry pass that must be purchased in advance. If you choose to visit during morning hours, an entry pass is usually not needed. Times are subject to change, so make sure to look at their schedule close to your visit.
Barton Springs is also home to elusive endangered species like the Barton Springs Salamander. If you want to learn more about the animals that call this area home, visit Splash next to the pool, which is an exhibit that helps guests learn about Barton Springs as a natural habitat.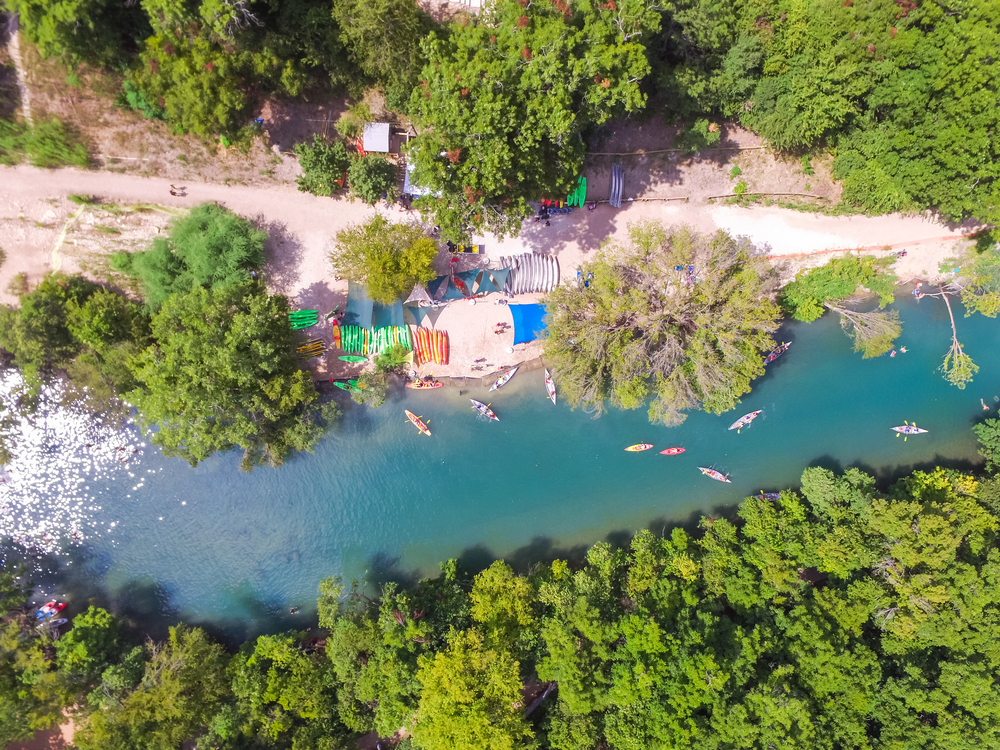 Guadalupe River State Park
Activities abound at Guadalupe River State Park in Spring Branch. Many people flock to the area for excellent swimming, but the magnificent Guadalupe River affords opportunities for so much more, all the while featuring some of the clearest water in Texas!
In addition to swimming, guests to Guadalupe River can fish, tub, and canoe at various spots on the river. Bring your own boat or canoe, and enjoy the Guadalupe River State Park Paddling Trail. Check out a variety of ponds, creeks, and lakes on a journey of your choosing spanning 4, 15, or 19 miles of waterways. If you're in the area to fish, fishing gear can be rented within the park, but all other equipment must be brought with you.
For land-based adventures, visitors can enjoy over 13 miles of hiking and biking trails. With a variety of trails to choose from, there are hikes to suit all ages skill levels. Geocaching is also a popular activity along the trails! A few trails are open to equestrians looking to bring their own horses for a ride in the park, but horses are not allowed to camp in the park overnight.
With so much to do, you might be looking to extend your stay in the area, so camping is a popular option for many travelers. The park offers 85 campsites with water and electrical access, and 9 walk-in primitive sites. If you're planning to camp in the area, you will want to reserve your spot prior to your trip!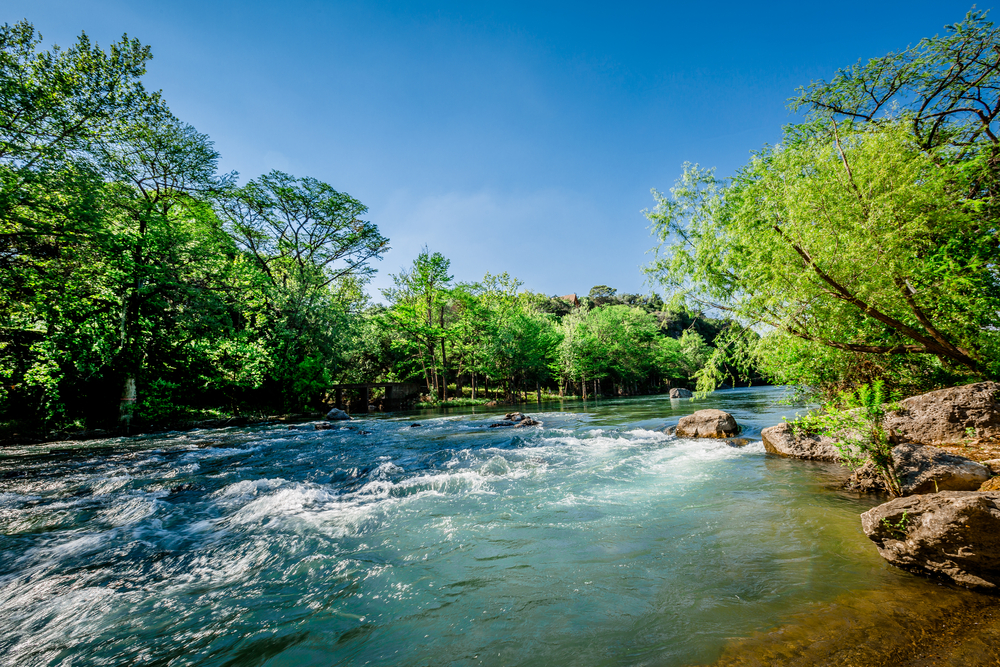 Big Bend National Park Hot Springs
To visit the best hot springs in Texas, Big Bend National Park is where it's at! Thousands of years ago, this area was populated by indigenous people of the region, and visitors can view their rock art that has been preserved over time. The Hot Springs Post Office, built in the early 1900s, is also located nearby to allow visitors a chance to step back into history!
The hot spring itself is heated geothermally and stays at an average temperature of 105 degrees. The natural salts that flow from the rocks into the waters have been said to have healing powers on the folks that bathe there. For many, a trip here is an incredibly relaxing and rejuvenating experience. Swimming is not permitted in this area, so if you make the journey here, you should be prepared to enjoy a nice soak and less active water day.
If you're looking to get some movement in during your visit to Big Bend, guests can hike to the hot springs for a half-mile trip. If you're looking for more of a hike, you can bypass the hot springs and continue on the trail that will take you along a bluff overlooking the Rio Grande. Camping is not permitted in the area around the hot springs, but guests can find campsites elsewhere in Big Bend if you're looking to stay overnight in the area!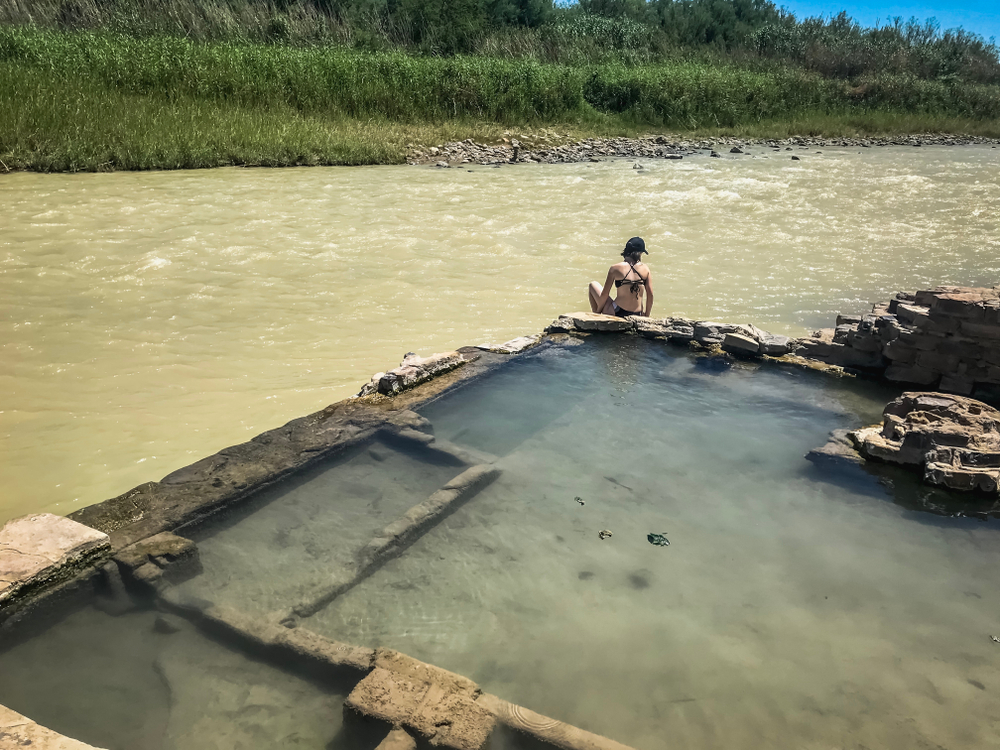 Balmorhea State Park
If you're looking for the world's largest spring-fed swimming pool, look no further than the pool at Balmorhea State Park. Featuring some of the clearest water in Texas, you won't want to miss out on an opportunity to dive in and swim these waters.
Swimming is the most popular activity here, but this is one of the only locations on our list that also allow snorkeling and scuba diving in their waters. If you are looking to participate in these activities, you must bring your own equipment and have the necessary permits. The pool is up to 25 feet deep and keeps an average temperature of 76 degrees, perfect for a year-round dip. Swimmers must pay the park entrance fee, but no reservations are required here.
Other activities include geocaching, bird watching, and exploring the restored desert wetlands in the area. Camping is a great way to make the most of your visit to Balmorhea. All campsites have electrical access and must be reserved in advance. Make sure to check the website for availability and rates.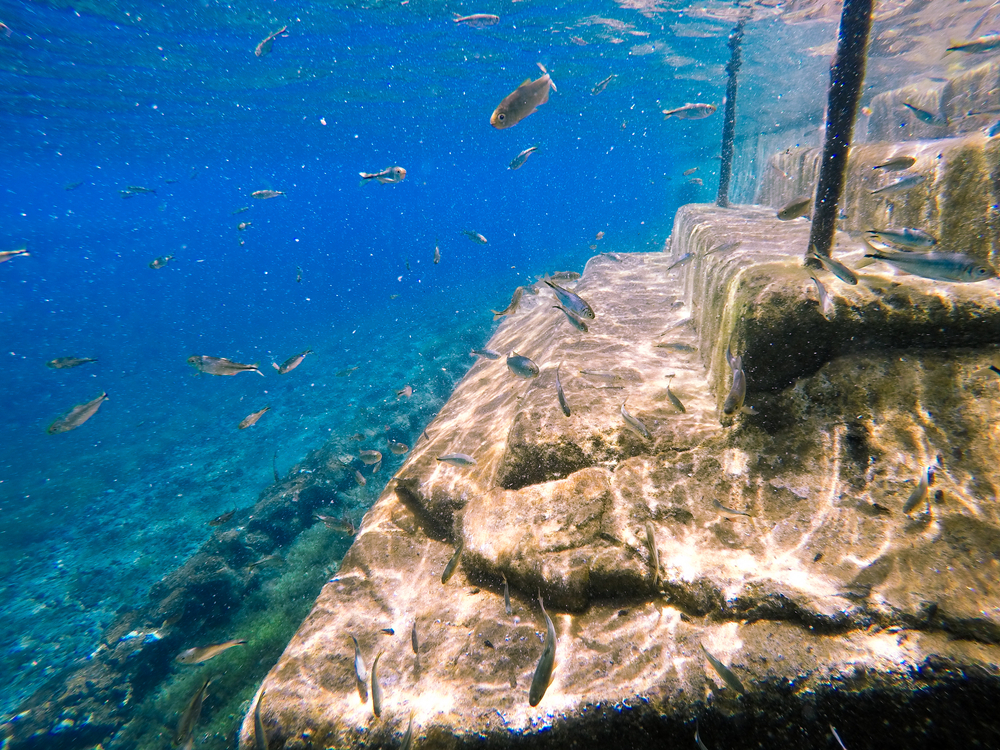 Comal Springs
Comal Springs are the largest springs in Texas. Seven main springs surround several smaller springs, all located within Landa Park. The springs were a favored living site for indigenous people in the area many years ago, allowing this site to teem with artifacts and archeological treasures – you never know what you might find here!
On a visit to Comal Springs and Landa Park, visitors can expect to immerse themselves in a large spring-fed swimming hole, perfect for cooling off on a hot day. While swimming is a main draw to the area, this location offers many unique activities and experiences not found elsewhere on our list. Bring along your golf clubs to hit the links on the Landa Park golf course, or take a dry tour of the waters in the park by paddle boating around the area. Kids will love the access to a miniature train ride, and you can finish any activity off with a delicious picnic.
Multiple nature trails allow guests to hike throughout the park, admiring local vegetation and wildlife, including the endangered fountain darters, which can easily be viewed by paddle boat. The Comal River and surrounding springs play a part in the rich history of the area. For history buffs, check out the Comal Springs website to learn about the area's many uses and view pictures to compare and contrast yesterday and today.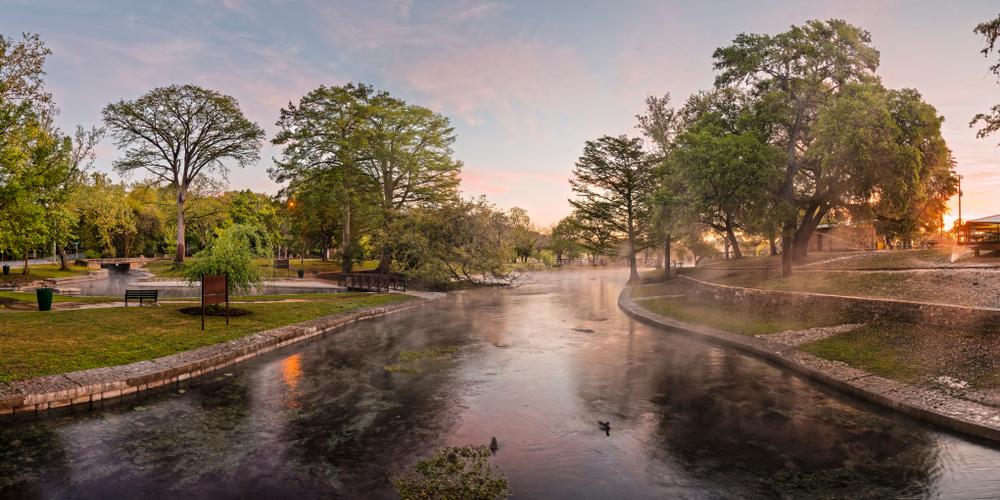 Boykin Springs Recreation Area
Boykin Springs is a thriving rocky spring in Zavalla. In addition to enjoying one of the most beautiful natural springs in Texas, there are plenty of reasons to visit and enjoy this amazing water landmark.
Camping is the most popular activity in Boykin Springs Recreation Area, with both campsites and cabins being available to guests. With a diverse array of campsites available from primitive sites to RV access, every camper is sure to find a spot that suits their needs. It should be noted that drinking water is available throughout the park, but no campsite features water access.
Additional activities in the area include fishing direct from the springs, abundant hiking on the Sawmill Hiking Trail, and swimming in the area. There are a variety of swimming spots, one that features a sandy beach, perfect for enjoying a water day with family.
The rocky dam showcasing multiple waterfalls has become a favorite spot for pictures and is right next to a family-friendly swimming hole. This is definitely one of the top springs to visit with small children and one of the best things to do in Texas!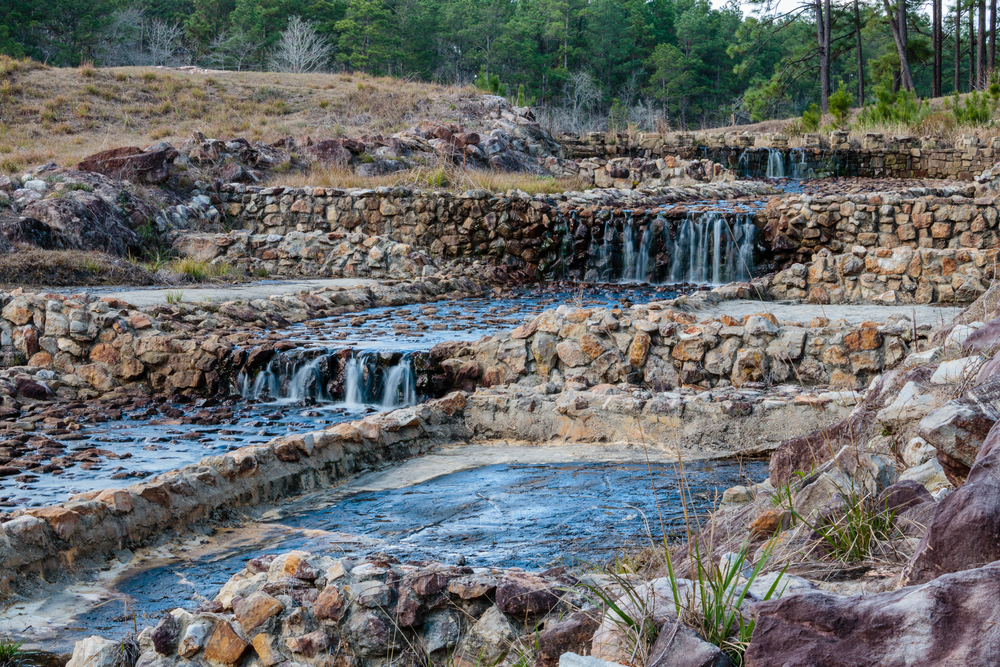 Blue Hole Regional Park
Saved from development in 2005, the city of Wimberley preserved these iconic springs in Texas for generations to come. The site is now a 126-acre park, open for visitors of all ages.
Swimming is open daily during the summer months, and on weekends in May and September. Reservations are required to swim in Blue Hole, so make sure to secure your spot prior to your visit. From October through April the swimming section of the park is closed, but there are many reasons to visit and appreciate the surrounding area.
Blue Hole Regional Park also offers guests the option to hike the four and a half miles of trails that abound around Blue Hole Springs – get in touch with nature and check out the creatures that are native to the area! Children will love the playground near the pool area, and teens are sure to make the most of the basketball court or the sand volleyball court. This is really the perfect place to enjoy yourself with the whole family.
The park is open during daylight hours, and visitors must purchase a pass to enter for the day. Check their website for rates.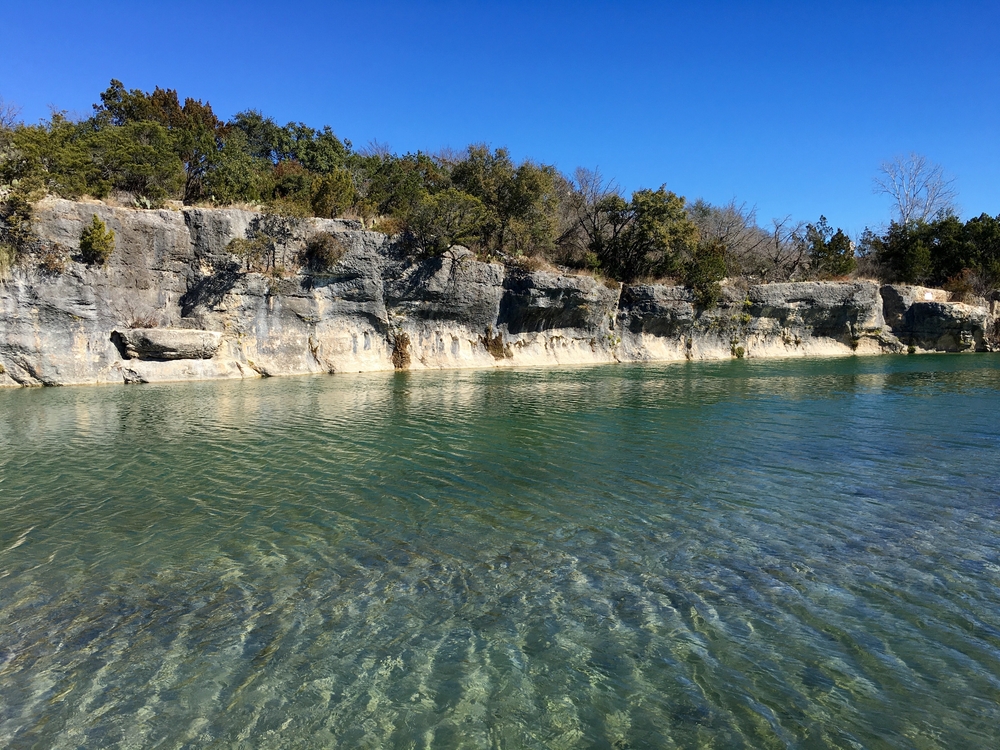 Whether you're looking to relax in the hot springs at Big Bend, or scuba dive in the clear blue waters of Balmorhea State Park, there is a spring in Texas just waiting to welcome you for a day on the water. With springs located near all the major cities in Texas, these make great day trips for an escape from the hustle and bustle of the state's most populated areas. Grab your swimsuit and come marvel at the natural wonders that await you at the loveliest springs in Texas!