There are so many fun things to do in Canyon Lake, Texas! Called The Jewel of the Texas Hill Country, this beautiful lake with its clear blue waters is the perfect place for some fun in the sun. From fishing and tubing to fossil hunting, Canyon Lake there's plenty for you to enjoy!
Canyon Lake is more than 80 miles of shoreline and sunshine. You'll find lots of Canyon Lake attractions around the area like amazing vineyards, perfectly preserved fossils, and excellent golfing.
If you're staying in San Antonio, we recommend taking a day trip from the city to visit Canyon Lake. There's so much to do you may not want to go back!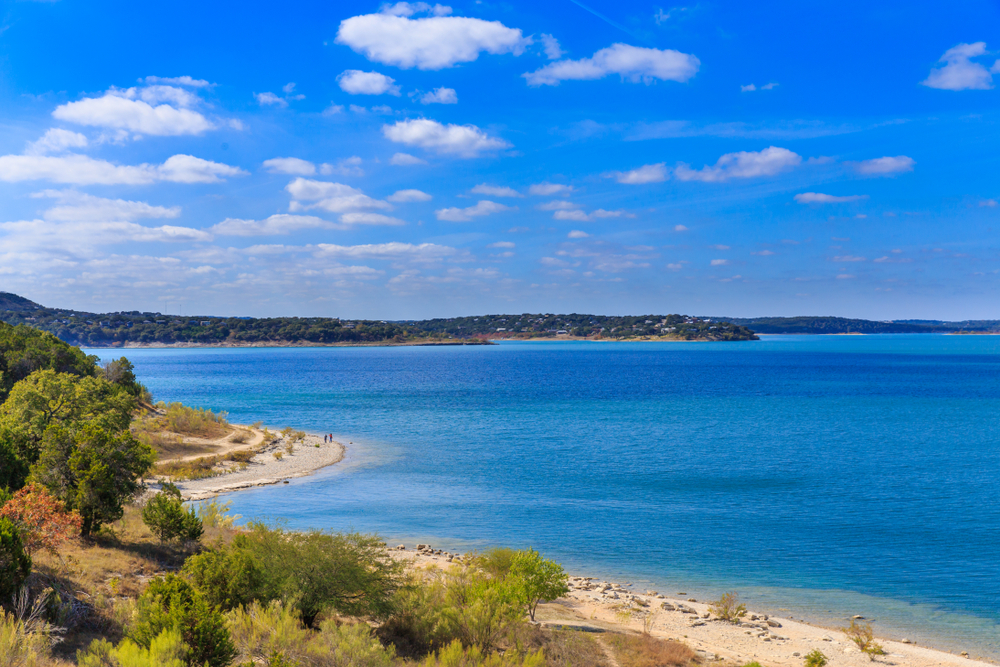 What Is Canyon Lake?
Considered The Water Recreation Capital of Texas there are plenty of cool things to do in Canyon Lake, Texas. The Jewel of Texas Hill Country is a reservoir that formed in 1927 after a dam was built on the Guadalupe River where locals and visitors alike enjoy classic Canyon Lake activities like swimming, scuba diving, boating, or fishing.
If you find yourself in the Lone Star State and you're looking to enjoy some of the stunning natural beauty you can't miss out on visiting Canyon Lake!
There is no shortage of fun things to do in Canyon Lake! Don't miss out on the chance to spend a unique day at one of the best things to do in Texas!
Where Is Canyon Lake Located?
Located almost halfway between San Antonio and Austin visitors can take an hour-long drive north on I-35 or US-281 N from San Antonio. Canyon Lake sits east of Guadalupe State Park and is surrounded by beaches, parks, and plenty of places to stay if you can't get enough fun in just one day.
We absolutely recommend taking a Canyon Lake day trip and experiencing some of the unique nature in the Texas Hill Country. Canyon Lake is more than just a stop between San Antonio and Austin, the area has lots to offer! Personally, we think there are too many Canyon Park activities to fit into a single day!
Read on for our list of the best things to do in Canyon Lake, Texas!
Best Things To Do In Canyon Lake, Texas
Cranes Mill Park
Whether you're traveling in an RV or looking to set up a tent for the night, camping at Cranes Mill Park is definitely one of the most fun things to do in Canyon Lake, Texas. The park sits on a long peninsula on the southwestern shore of the lake and is the perfect spot to enjoy a warm summer sunset.
The camping grounds offer 30 RV sites, 34 tent sites, docks to fish on, and undeveloped acres of land visitors can explore. With plenty of open dates, it costs $30 to reserve an RV spot and $24 for a tent spot with or without electricity. Access to the showers is complimentary (and probably needed after a full day of lakeside fun)!
The Heritage Museum Of Texas Hill Country
With over 350 preserved dinosaur footprints, The Heritage Museum is definitely one of the more unique Canyon Lake attractions. Dino fans will have plenty to gawk at as they walk right alongside tracks made by giants of the past!
Just remember that the museum is closed Monday and Tuesdays, but the rest of the week visitors can stop by from 12 pm-4 pm to learn about the locals who lived around Canyon Lake over 110 million years ago.
If you're on a journey to visit as many of the coolest museums around the Lone Star state, make sure to add The Heritage Museum to your list.
Go Swimming
Wondering what to do once the heat arrives at one of the best summer spots in Texas? There's only one thing to do in Canyon Lake– go swimming! With its inviting blue waters and plenty of activities to do once you jump in, swimming is a must-do while you're visiting.
There are a few designated swimming beaches that sit along Canyon Lake's shores. Canyon Park is open from 9 a.m. to 7 p.m. during the summer, Jacob's Creek Park has one of the larger swimming beaches around, but if you're looking for other choices try Comal Park and Cranes Mill Park.
If you're not looking to spend a day on the shore, you can always rent a boat from one of the local rental companies and spend the day diving into the water from the bow.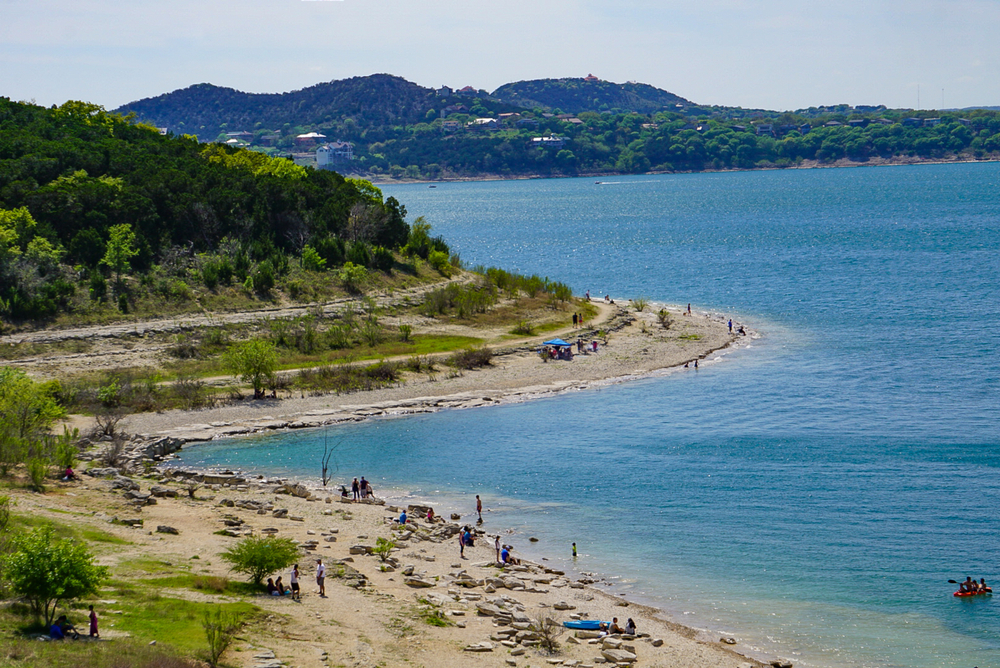 Visit Canyon Lake Gorge
During the summer of 2002, a torrential 34 inches of rain fell on the Guadalupe River, spilled over the dam, and carved a gorge out of the earth. A visit to this geological wonder is definitely one of the coolest things to do in Canyon Lake, Texas!
Geologists have now been able to study thousands of years of limestone rock formations that were previously covered. Even if you're not a geology nut, the landscape is stunning and well worth taking the time to explore!
We recommend rock lovers take a guided tour of the gorge, which is offered most days of the week for only $10 per person. The tours are a little physically demanding running at 3 hours of hiking through rock formations and nature so make sure to wear your walking shoes!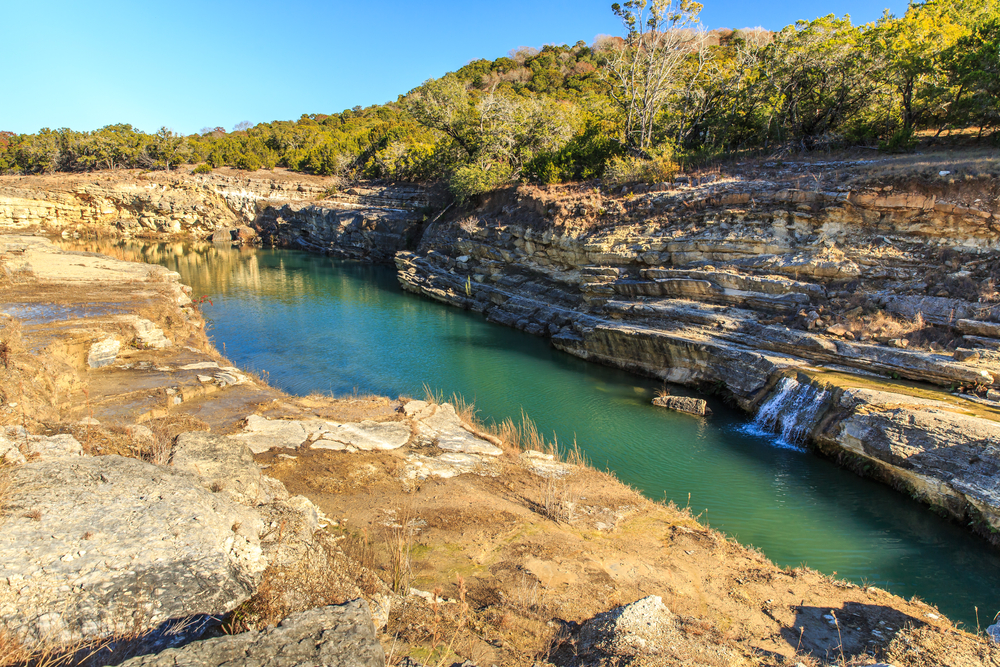 Go Scuba Diving
Not many people might consider diving a regular Canyon Lake activity, but locals will tell you how wrong you are! They'd also tell you to stick to areas like the North Park scuba area and Boat Ramp 1. You can also check out Party Cove if you rent a boat to get out there.
Divers who make it all the way to the bottom (134 ft deep) can go on a little bit of a treasure hunt and search for sunken objects that have been connected to each other with a rope. Make sure to keep an eye out for fishing line as the lake is a very popular site for fishing.
Explore Overlook Park
One of the only spots where you can't camp around Canyon Lake, Overlook Park is well worth a stop as one of the essential Canyon Lake attractions. The 0.6-mile loop is a hiking trail great for a short hike and bird watching. You'll be able to spot migrating warblers, osprey, and wrens.
With great views of the lake and the valley below, it's one of the best spots to enjoy some classic Texas Hill Country.
The park is open from 7 a.m. to sunset year-round and there are no entry fees.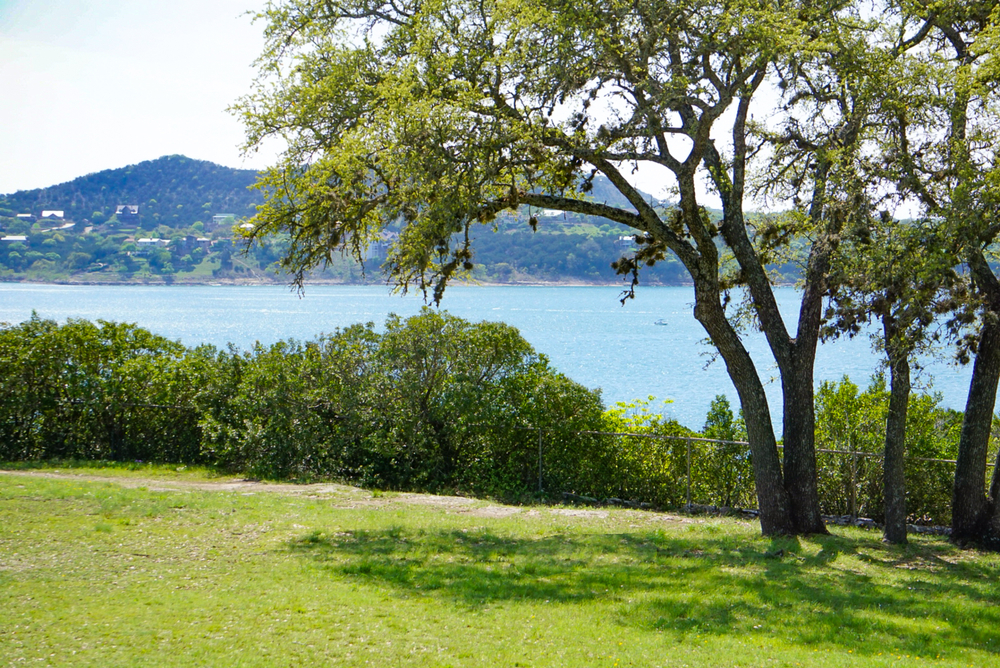 Look For Fossils
If walking next to well-preserved fossils at The Heritage museum wasn't enough, another amazing thing to do in Canyon Lake, Texas for dino lovers is to go searching around for fossils!
If fossil hunting is your thing then make sure to head to keep your eyes open while walking around Canyon Lake Gorge, that's the place to be! The surrounding area is known to be very fossiliferous and on one expedition you could find up to nine different fossilized species!
Picnic At Comal Park
If you're looking for pet-friendly activities and one of the most fun things to do in Canyon Lake, head over to Comal Park for a picnic! The beautiful scenery is the perfect backdrop to spend an afternoon of sunshine and delicious snacks.
There are 65 different picnic sites to pick from around the park, but little shade so we recommend taking some shade so you can spend all day enjoying the treats you made with so much care.
With 116-acres of land, the lakeside park is open from March through October and requires a $10 entry fee per vehicle.
Go tubing on Guadalupe River
East of Canyon Lake there's a perfect spot where all you need to have the perfect day are your friends, some snacks, a tube, and $24 bucks. Tubing with Whitewater Sports is one of the coolest things to do in Canyon Lake, Texas. You shouldn't miss out!
From 10 a.m. to 6 p.m. the Guadalupe River is open for business– and by business we mean the kind that requires sunglasses and going with the flow.
This has to be the most chill and most unique way to enjoy the local natural scenery.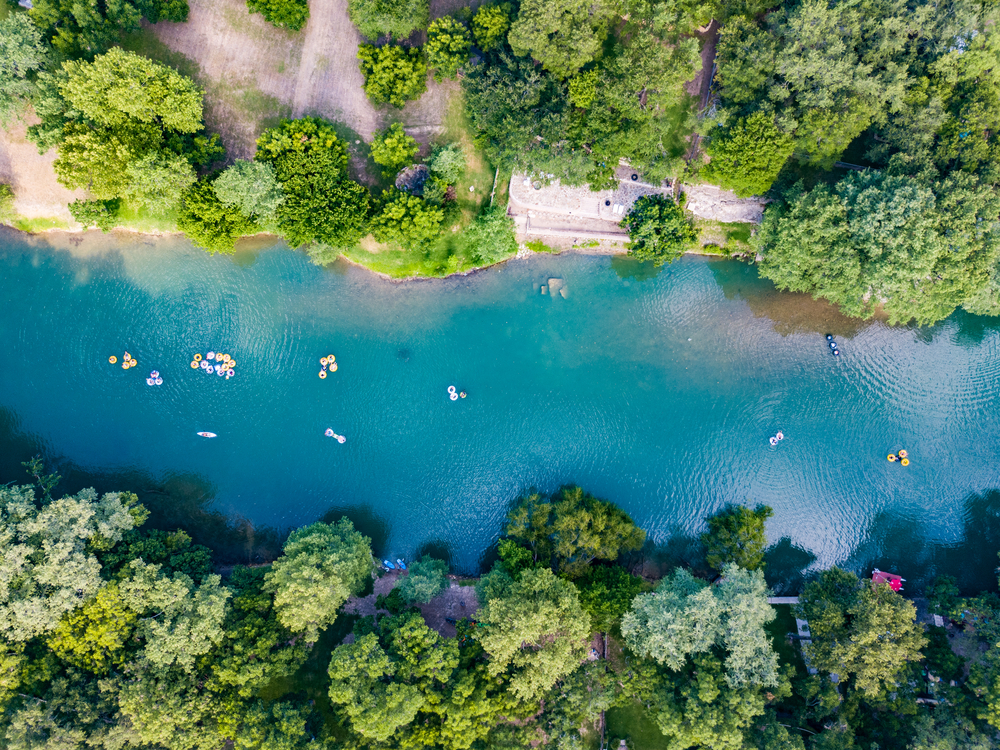 Go Fishing
Largemouth bass, Smallmouth bass, Guadalupe bass, and Catfish are the different species of fish visitors can expect to catch while out in Canyon Park. The self-sustaining population assures that there is good fishing all year round!
Most of the marinas in the area provide a corner where fishermen can set up and wait to see watch they can reel in for the day. Visitors also have the choice to rent a boat for the day and head out to cast their lines around different spots of the lake.
Tee off at Lakeside Golf Club
You don't need to be a member to tee off at this lovely 18 hole course. Lakeside Golf Park is a great reason to take a Canyon Lake day trip from San Antonio to enjoy stunning Hill Country views from the comfort of a beautifully designed golf course.
The shop will provide visitors with everything they might need in order to play whether you're a golf veteran or just looking for a relaxing way to spend your day. We recommend calling ahead to make sure you reserve a tee time. Rates depend on who your party is made up of and at what time you'd like to start playing, you can check them out on their official website.
Stop by 19th Hole Bar and Grill for a classic All-American burger meal once you've worked up an appetite!
Sip at Dry Comal Creek Vineyards
If outdoor activities are not your thing, there's another perfectly tasty reason to take a Canyon Lake day trip if you find yourself in San Antonio with a free day and not much to do. Wine, anyone?
The Texas Hill Country has many award-winning wineries and vineyards that offer fancy wine tastings, but if you're heading to Canyon Lake from the city then we recommend stopping by Dry Comal Creek vineyards on the way back into town.
Tastings are $20 per person and you get to sample 6 of their wines.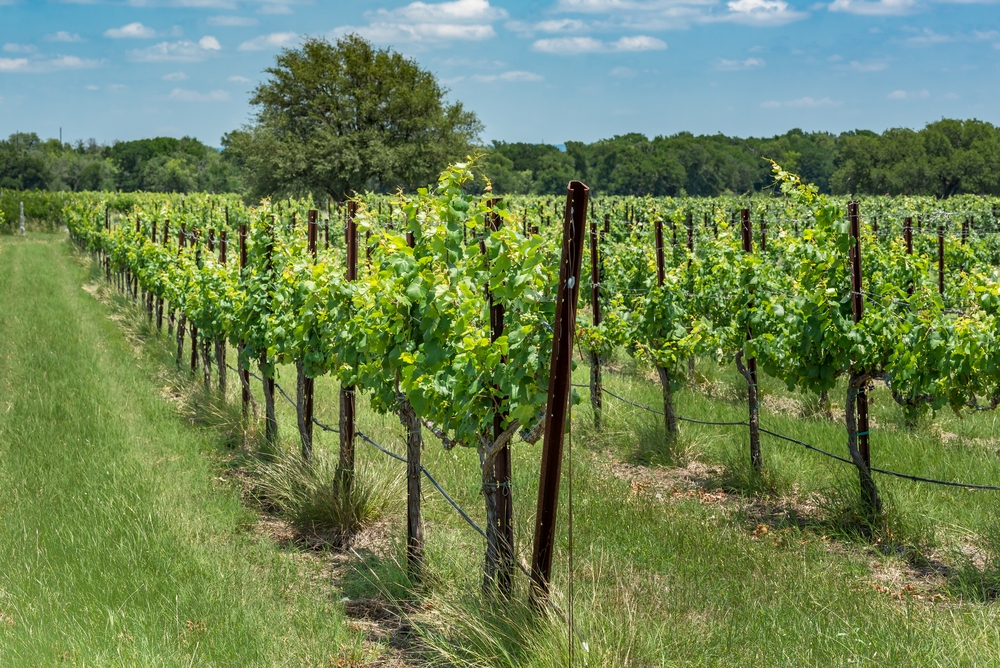 They say everything is bigger in Texas, and by the look of Canyon Lake and its surroundings, they're staying true to their word! This little corner of the state has so much to offer whether you're a dino lover, a rock enthusiast, into fishing, or simply want a day in the sum. Don't miss out on everything the jewel of Texas Hill Country has to offer!
Looking for more to do around the Lone Star State? Make sure to check out our 30 Things To Do In Texas: The Ultimate Bucket List!