Are you looking to plan a trip to one of the prettiest lakes In Texas? Look no further! Whether you are hoping to cool off on a hot day or check in for a romantic weekend at a lakeside cabin, you are sure to find the perfect spot on our list.
Texas offers a great variety of lakeside activities. When planning your next trip, we are sure you can find just what you are looking for at one of these lakes in Texas. We've included some of the best places you can go swimming, kayaking, fishing, and even camping! The possibilities are endless, you just have to choose your own adventure.
We've narrowed down the list to the best lakes in Texas to highlight their gorgeous views and all the fun activities they have to offer. Pack your sunscreen and let's get ready to explore the prettiest lakes in Texas!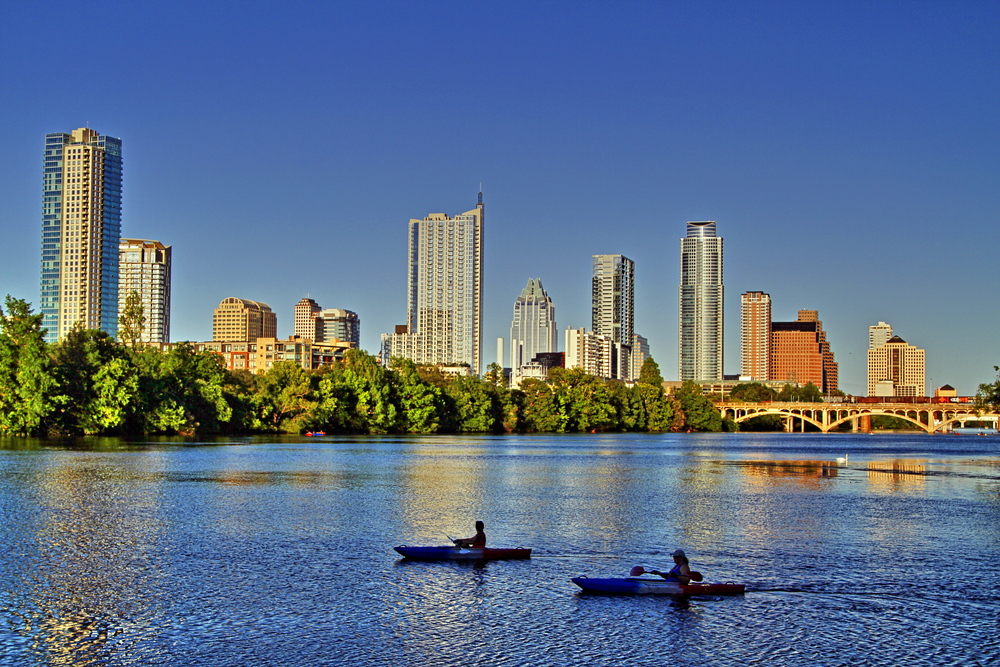 14 Prettiest Lakes In Texas You Must See
Caddo Lake
Pack your camping gear, and let's head to one of the best lakes in Texas for camping. Caddo Lake is located on the border between North Texas and Louisiana. Many visitors experience the lake by visiting Caddo Lake State Park, which offers nightly camp sites and cabin rentals.
Once you've got your campsite all set up, it's time to get out on the water. Caddo Lake offers kayaking, and Pontoon boat rides with guided tours. A tour guide can help you spot the wildlife, so we highly recommend checking one out!
The most breathtaking part of Caddo Lake is the forest of cypress trees that shape the shoreline. During the right time of day, you can snag a picture of the sunlight shining through the Spanish moss for the perfect vacation memento.
Keep an eye out for local wildlife, which could include white-tailed deer, armadillos, beavers, and alligators. Due to the alligator population at the lake, swimming is not recommended, so when you are ready to take a dip you'll have to check out one of the many other amazing lakes in Texas on our list.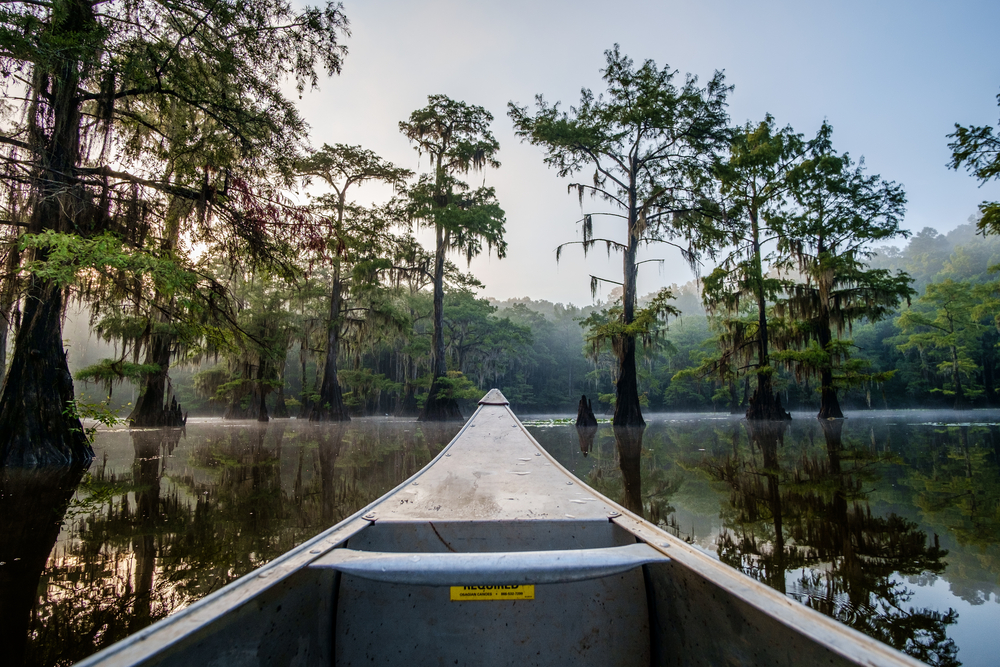 Lady Bird Lake
Despite its name, Lady Bird Lake is actually a reservoir on the Colorado River. But that does not exclude it from our list of lakes in Texas, because Lady Bird Lake has all the amenities that make for an incredible outdoor adventure and has a picture-worthy view of Austin.
But during the hottest days in Austin being out on the water is one of the quickest ways to cool down. Lady Bird Lake has countless options for kayak rentals, paddleboards and canoe rentals right along the shore making it easily one of the most fun lakes in Texas. If you are ready to jump in the water, take a dip at Barton Springs Pool, which is a nearby natural spring that runs right into Lady Bird Lake.
After you've spent the day out on the water, head up to the Boardwalk at Lady Bird Lake, which makes a full loop around Lady Bird Lake for sunset. Soon you will be joined by quite a few friends, 1.5 million to be exact. Nightly (during season March-August) you can see the departing of the Austin bats from the Congress Avenue Bridge over Lady Bird Lake. After the sun goes down the bats, wake up for their evening flight and begin to emerge from under the bridge, creating quite the show. Many companies also offer evening bat tours by boat for a different view of this evening spectacle.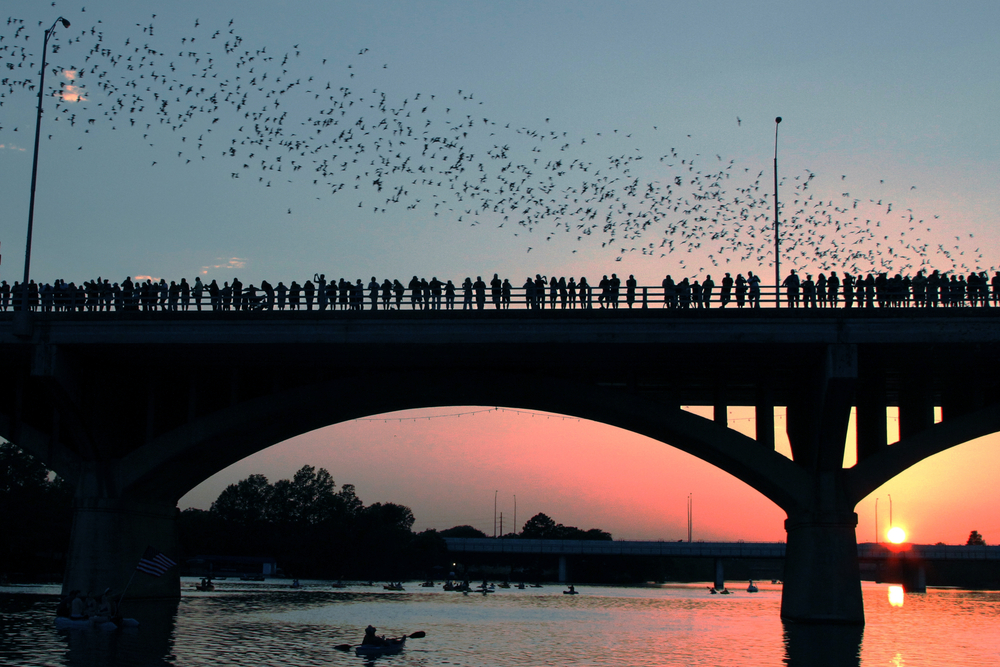 Canyon Lake
Maybe it's because it's known as the gem of Texas or because it's one of the clearest lakes in Texas, but either way, you'll have to see for yourself why everyone calls Canyon Lake "The Jewel" of the Texas Hill Country. If you are looking for outdoor recreation, Canyon Lake is one of the best lakes in Texas to put on your list.
If you are ready to jump right into swimming Canyon Lake has a couple of options for swimming beaches along the lakeshore. The beaches are very popular and can fill up in the Summer months, so make sure you get there early to claim the perfect spot. Many of the beaches in the area are also pet friendly, so be sure to bring along the 4 legged members of the family too.
Canyon Lake in addition to being a hub of recreation in the area also serves as flood control for the area. After a particularly heavy rain in 2002 a dam on the nearby Guadalupe River gave way and created the Canyon Lake Gorge. You can now take a guided tour, a pretty strenuous one, through the gorge. Don't be afraid if you don't know much about geology, the guide will point out the best spots, and the views alone are worth the hike.
Be sure to check with some of the locals in the area for the best places to fish, find fossils, go scuba diving, and many more of the Best Things to Do in Canyon Lake.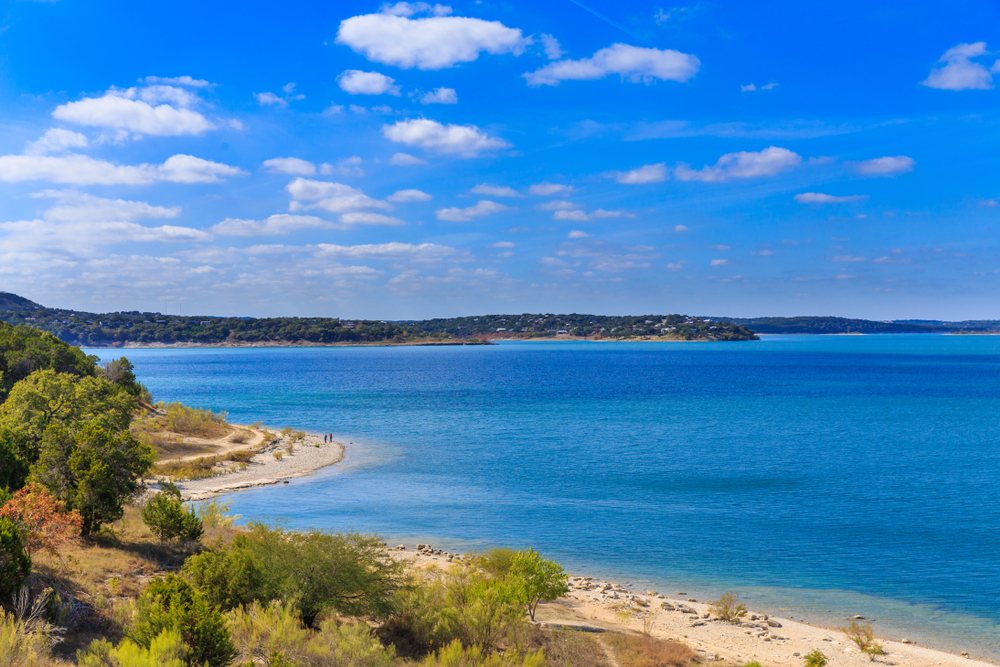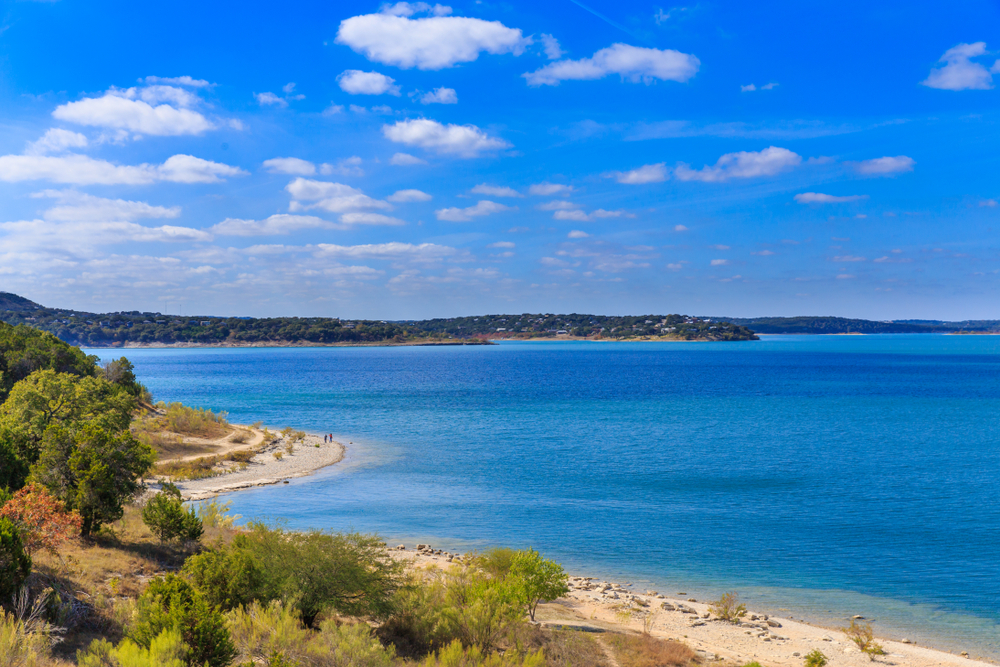 Lake Fork
Lake Fork is known as one of the best lakes in Texas for fishing. If catching a trophy largemouth bass is on your bucket list, Lake Fork is the place to go, with 15 of the top 20 Texas State Records for largemouth bass right here on Lake Fork. In addition to largemouth bass, you might also hook a catfish, crappie, or sunfish.
If you are new to the world of fishing, there are many local charters that can take you out on the water and show you the ropes, or rods if you will. You can also stop in to many of the local tackle shops to stock up on your gear for your next trip.
Lake Fork is dotted with a wide range of waterfront cabins. Whether you are looking for a cozy cabin for two, or a full cabin to accommodate the whole family, you can find the perfect spot. There are also plenty of camping sites nearby if you want to spend the evening amongst the stars.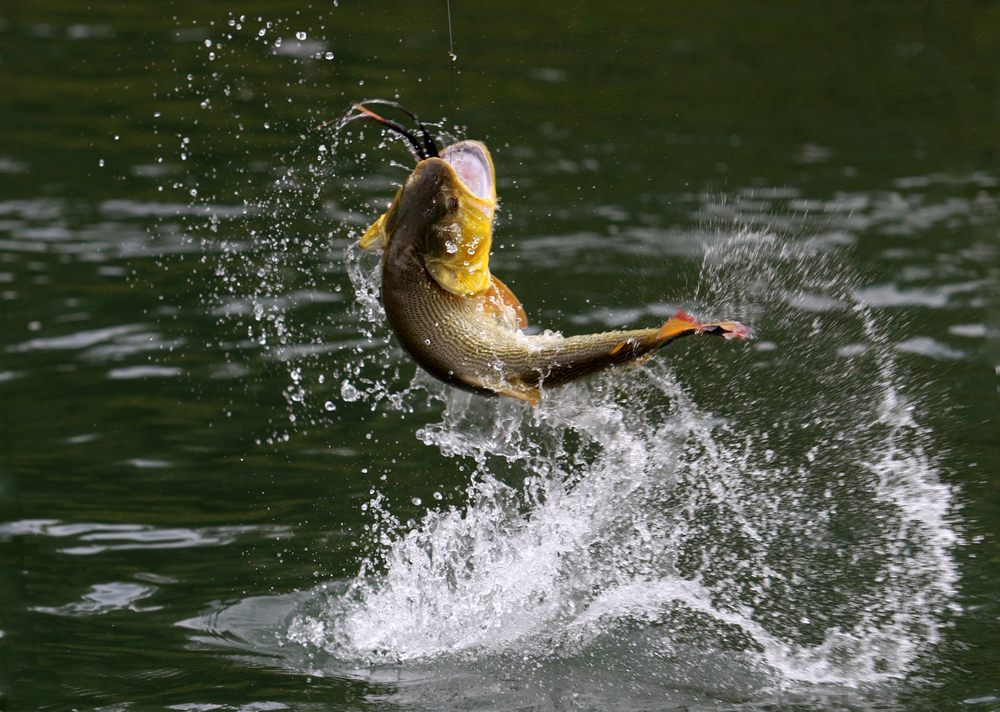 Lake Austin
Just down the river from Lady Bird Lake in Austin is Lake Austin. Unlike some of the other lakes in Texas on our list, Lake Austin is almost exclusively used by boats. Because the lake allows motorized vehicles, this makes it one of the most popular spots for boaters, waterskiers, and pontoon boats. If you don't have your own boat don't worry, many businesses have set up shop to offer boat rentals.
After an exciting afternoon of zipping around by boat on one of the most fun lakes in Texas, you'll be ready for a good meal! Lake Austin has quite a few dockside restaurants to choose from so you won't have to out be out of view of the water for a moment.
If you are ready to get out of the sun, you can jump in the car and head out on a nearby scenic drive. Bridge 360 is the iconic bridge highlighted in all of the photos of Lake Austin and it's a landmark not to miss. Once you've crossed over the bridge continue on to loop 360 Highway, also known as the "Capital of Texas Highway." This scenic drive takes you through the rolling hills of Austin and is considered one of the most scenic city drives in Texas.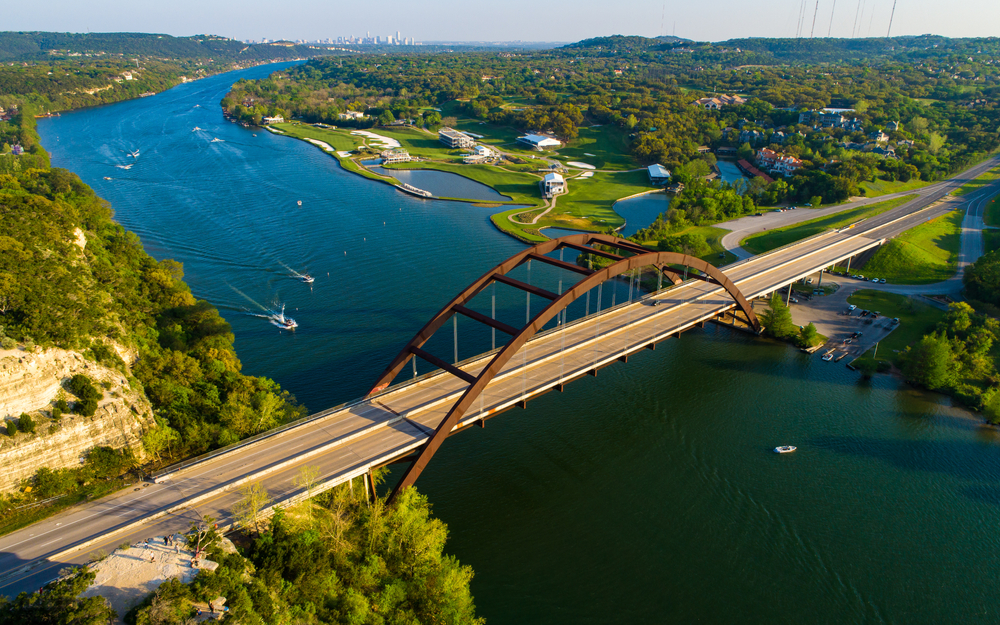 Lake Travis
If you thought Austin was holding the ranking for the best lakes in Texas so far, let's add another one to that list. Lake Travis is the largest lake in Austin and offers something fun for everyone. If you want to rent a kayak, you got it! If you are looking for a day on a pontoon boat, you've come to the right place! If you are looking for places to go swimming in Texas, look no further! Lake Travis has it all.
But what really makes Lake Travis unique is how deep it is compared to the other lakes in Texas. With depths over 200ft, this makes it one of the perfect places to go SCUBA diving. Whether you are an experienced diver or still looking to get certified, you can find an amazing guide and the right dive location to fit your skills and have an amazing adventure.
It comes as no surprise that Lake Travis is one of the most popular lakes in Texas with the numerous amenities offered. If you happen to find yourself here on a holiday weekend, you are in for a real party. Head out by boat to Devil's Cove and join what Texans like to call, the more prolific "party cove on not just Lake Travis, but in the country."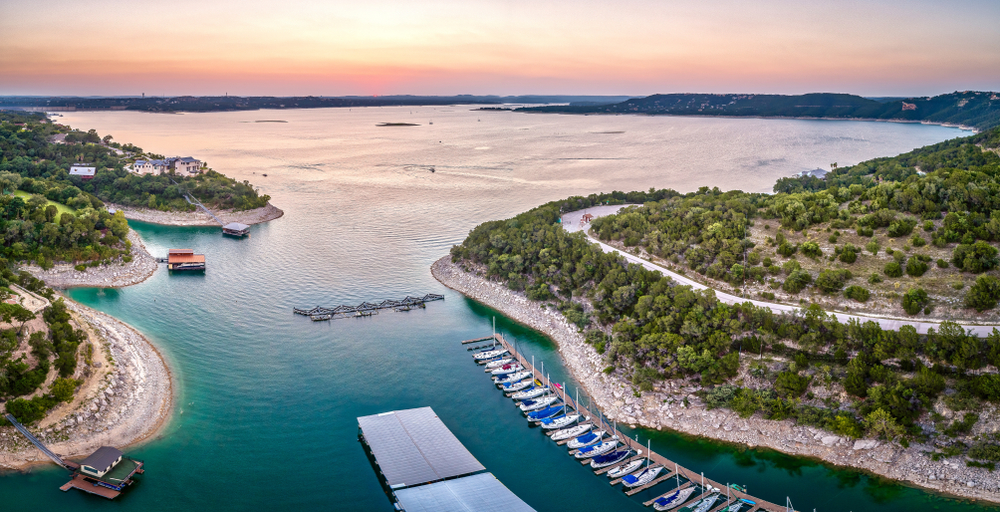 Lake Texoma
If you're thinking about putting one of the lakes in North Texas in your vacation plans, you should definitely take a look at Lake Texoma. Sitting between the border between Texas and Oklahoma, giving this lake its unique name, you'll see that its rocky shoreline sets it apart from the other lakes in Texas on our list.
If you're a history buff you are also going to love this area. Situated right on the lake is Eisenhower State Park, which offers all of the traditional state park amenities such as campsites, and ranger stations, but they also offer a cabin, nicknamed "Ike's Cabin." For an extra dive into history be sure to check out Eisenhower Birth­place State Historic Site.
Head out onto Ike's Hike and Bike Trail (say that five times fast) to take in the scenic overlooks of the lake. The 3.2-mile trail will show off why Lake Texoma is definitely one of the most pretty lakes in Texas. Be sure to stop at another point of interest, Lover's Leap. From here you can see the erosion of the rock walls, and see the Washita and the Red Rivers come together forming Lake Texoma.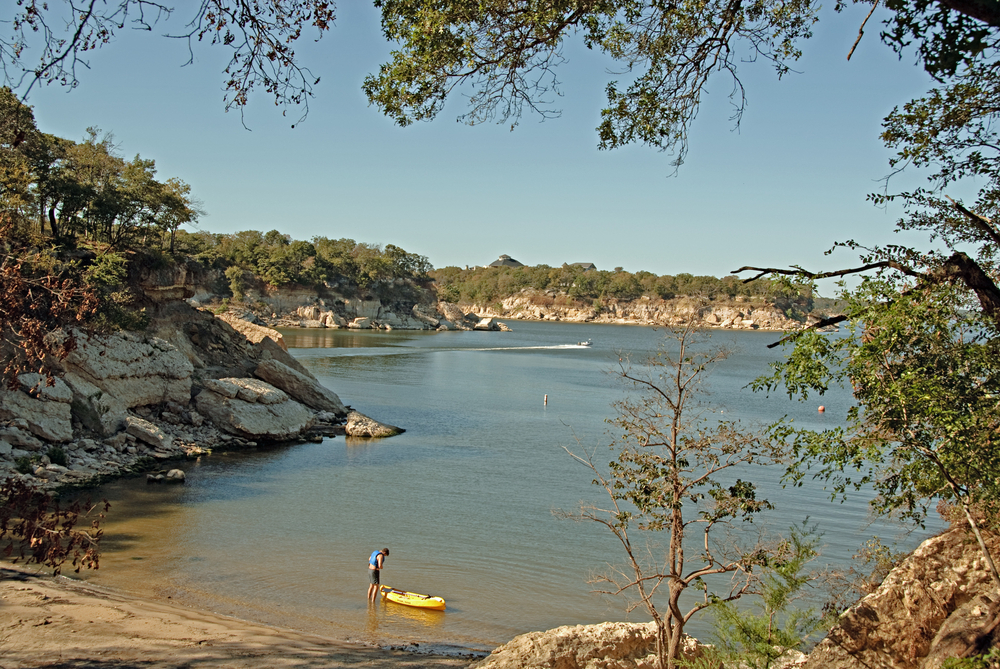 Lake Whitney
As the official Getaway of Texas, Lake Whitney most certainly deserves its spot on our list of amazing lakes in Texas. It is arguably the prettiest lake in Texas. With crystal clear blue water, untouched shoreline, and limestone cliffs to enjoy all the amazing views. If you are feeling adventurous, you might be able to find a group of cliff jumpers to join!
Don't forget to pack your fishing gear, because this lake is also great for fishing. And as one of the most clear lakes in Texas, you'll know exactly where to drop your line. Be sure to check with Texas Parks and Wildlife for freshwater fishing rules and guidelines.
Lake Whitney is also amazingly affordable. There are many adorable Lakeside cabins available on AirB&B. Each cabin offers something unique and different, giving you the chance to find something really customize your trip. If you are looking for an even more affordable stay, check out the lakeside campsites.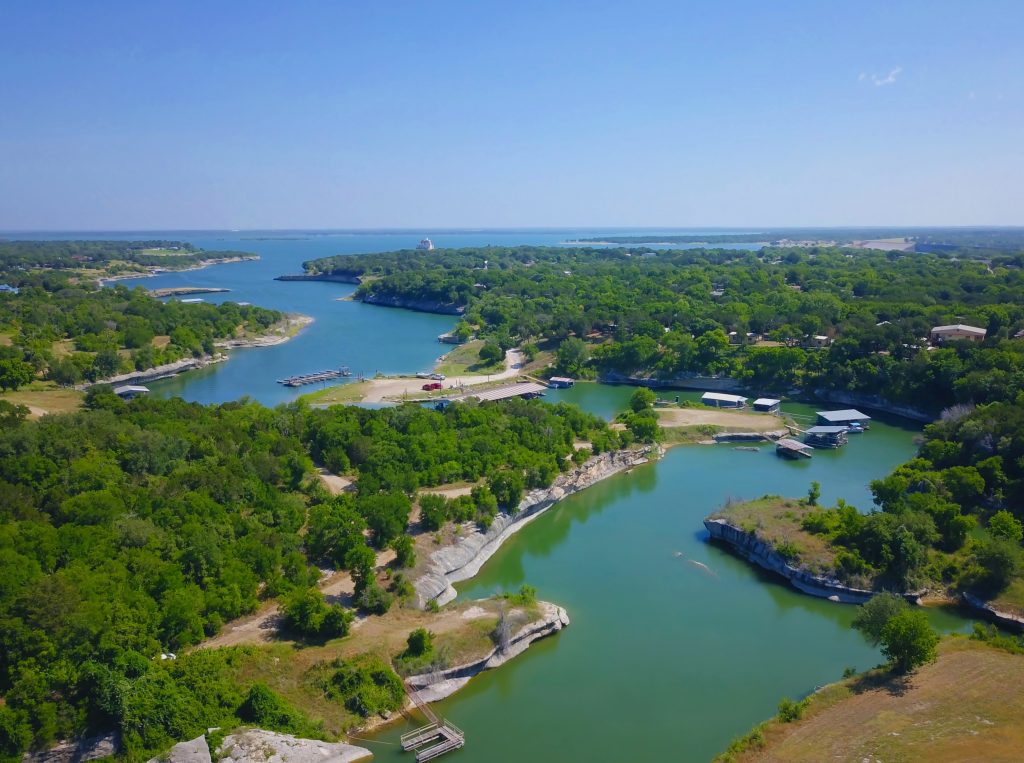 Lake Meredith
Located in the panhandle of Texas, Lake Meredith is an Oasis on the High Plains of Texas. Lake Meredith National Recreation Area is managed by the National Park Service and is one of the lakes in Texas that is a must-see. The National Park Service has different permits required for the activities available, so be sure to plan ahead before your trip.
Plan to include one of the many different hikes on your trip. Whether you are looking for an easy hike or a strenuous one, you can find one on Lake Meredith to enjoy the diverse habitats. One of the unique activities to do here also includes Off-Roading. The Blue Creek and Rosita Flats are set aside for all-terrain vehicle recreation.
Lake Meredith is also one of the most interesting lakes in Texas to visit if you are interested in geology. The exposed geology dates back over 300 million years. You can spot Dolomite, Gypsum, Fossils, and Petrified Wood. For a more in-depth tour, head over to the nearby Alibates Flint Quarries National Monument.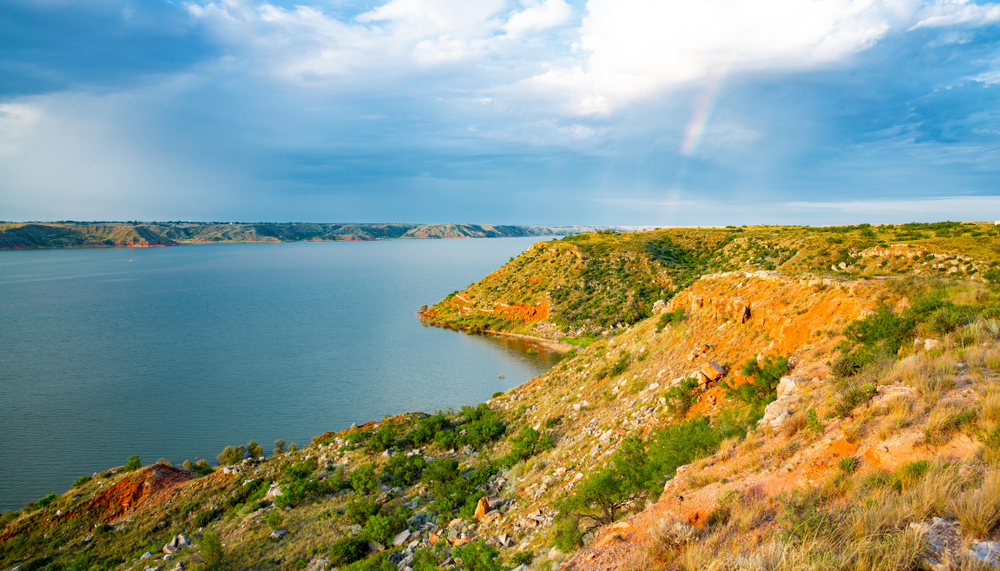 Possum Kingdom Lake
It might be a silly name, but Possum Kingdom Lake is holding the title of one of the best lakes to go swimming in Texas. And no, you don't have to worry about any Possums. Possum Kingdom Lake, locally known as P.K. Lake, is a great day trip from Dallas, or you can book a weekend getaway at a cabin at one of the local lakeside resorts.
You can head to Possum Kingdom State Park for the day and pick up a canoe, but since Possum Kingdom Lake is one of the more clear lakes in Texas, you might want to just jump right in the water. The crystal clear water is perfect for snorkeling, which will give you an underwater view of the fish. Did we mention that fishing is also a popular activity?
The main attraction of Possum Kingdom Lake is Hell's Gate, two rock cliffs that form a gate into a cove. This cove has become a popular destination for boaters to tie up together, and even hosts one of the largest 4th of July fireworks displays in all of Texas. Once you are surrounded by the rock formations, you'll see why this made our list of prettiest lakes In Texas.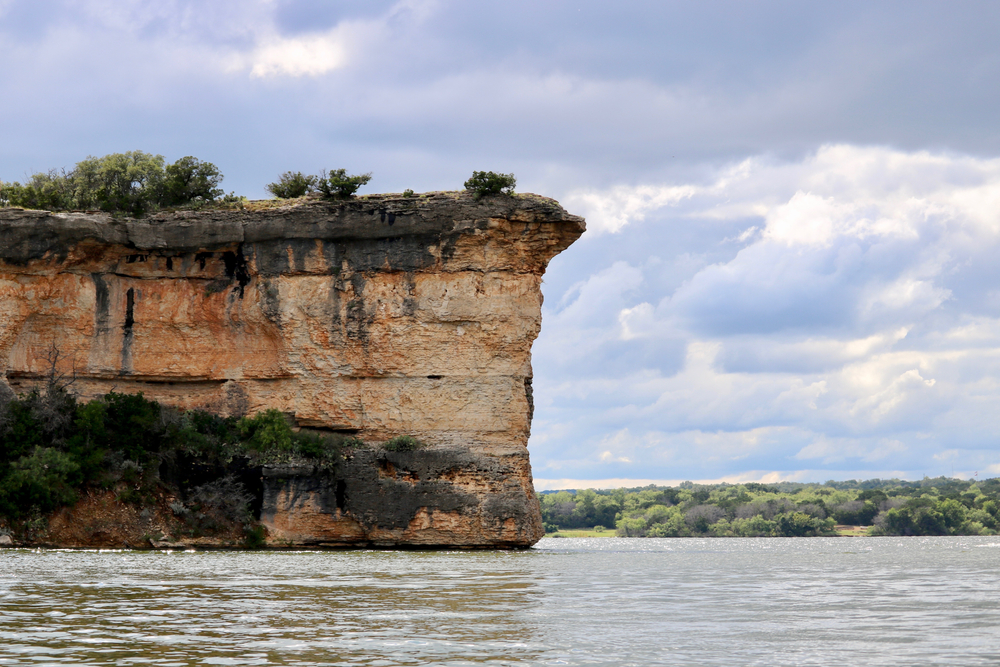 Lake Conroe
If you are looking for a beach weekend, but can't quite make it all the way to the Gulf shore, plan to make your destination Lake Conroe. Located north of Houston, Lake Conroe is on our list of best vacation lakes in Texas. You can plan your adventure to include one of your favorite water activities, including kayaking, paddleboard, or even jet skis. But it's what's around the lake that makes it such a great vacation spot.
There are two different locations to access the lake for swimming, and they are both very different. Lake Conroe Park is a local favorite offering you a real beach atmosphere without driving all the way out to the beach. Scott's Ridge Swim Area is another great place to jump in the water but offers a different view. Surrounded by the Sam Houston National Forest, you'll be amongst the pine trees right up until the shoreline.
From almost anywhere on the lake you will be able to spot the Lake Conroe Lighthouse. The lighthouse is located on private property so you aren't able to climb it, but if you grab a spot at one of the restaurants across the lake, you'll have a great view of the light during dinner.
Amistad Reservoir
One of the most southern lakes in Texas on our list is the Amistad Reservoir. Managed by the National Parks Service the Amistad National Recreation Area is just north of the Mexico border, an oasis in the desert. The area is one of the most popular lakes in texas due to the excellent fishing and boating opportunities, but if you do not have a boat, there are plenty more adventures to find.
The area is also home to Prehistoric Native America Rock Art. These pictographs can be seen by foot or by boat and will transport you more than 4,000 years into the past. Head over to the nearby Seminole Canyon State Park and Historic Site for a hike through the local canyon and caves to observe these amazing artifacts up close.
If you can brave the heat, Amistad National Recreation Area offers camping sites on a first come first serve basis. This may be one of the most unique lakes in texas for camping. They offer backcountry sites, which are only accessible by boat. An experience like that would take some real planning!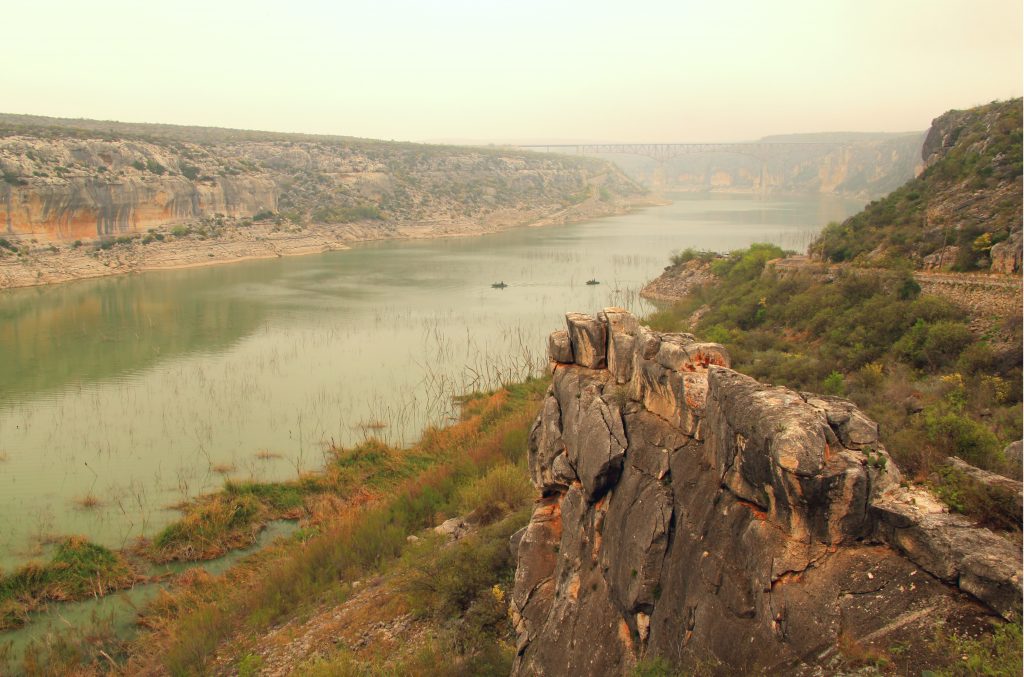 Lake Granbury
You might have thought that all of these beautiful lakes in Texas would make them all the perfect romantic getaway, and they are, but Lake Granbury is just a little bit something special. Situated amongst our other lakes in North Texas, Lake Granbury offers southern small-town charm to your stay. Head over to the local marina to rent a boat, and grab a quick meal at the lakeside grill before you hit the water.
Check into a cabin at the nearby Granbury Cabins at Windy Ridge, where there is no WiFi and no cable TV. They take "off-grid" very seriously, allowing you a chance to reconnect. The cabins offer hot tubs, lush bedding, and a front patio you won't want to leave.
When you are ready to explore the downtown area, catch a ride on the local trolly. The ride is totally free, offered Friday-Sunday, and travels the historic downtown. This is a great way to explore this charming little town and see the best of what Lake Granbury has to offer.
Lake Buchanan
Maybe on the small side of our list of lakes in Texas, Lake Buchanan still has an abundance of amenities to offer, and never seems to be too crowded. Head out on the water for your perfect day of fishing, boating, or just cruising.
One of the spots that sets Lake Buchanan apart from the other lakes in Texas on our list is Fall Creek waterfall. Located at the north end of Lake Buchanan, you'll find this hidden gem. It's not a well-traveled spot, so you are likely to have it all to yourself. Drop your boat anchor and cut the engine and you'll be surrounded by only the sounds of the waterfall.
While you looking for the perfect place to stay for your trip to Lake Buchana, consider one of The Fairytale Castles in Texas You Must See and book your Castle Falkenstein. With 14,000 sq feet of space, you could invite everyone you know to join you for your trip. It will definitely make it hard to return home unless you of course also live in a castle.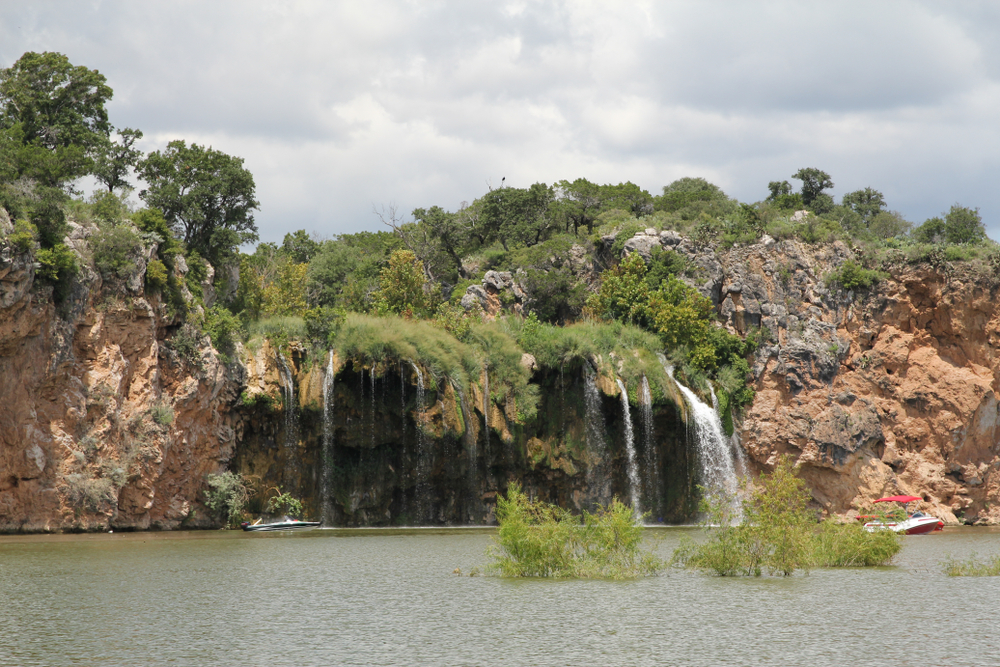 There are many more lakes in Texas to explore. Each lake offers something unique and amazing to experience. It is time to start planning your trip to any one of these best vacation lakes in Texas.