If you are planning to take some day trips from San Antonio, Texas, then you are in for some fun. There are so many amazing nature escapes and cool cities near San Antonio that beg to be visited.
Whether you are looking for ways to make memories with your kids or want a romantic weekend getaway, these San Antonio days trips have so much to offer. No matter where you go, you will have a great time!
San Antonio is on the edge of the Texas Hill Country, so you know there are a ton of beautiful nature scenes and quaint, small towns to be discovered. You will soon discover why this is one of the best regions in Texas!
Now, let's get trip planning!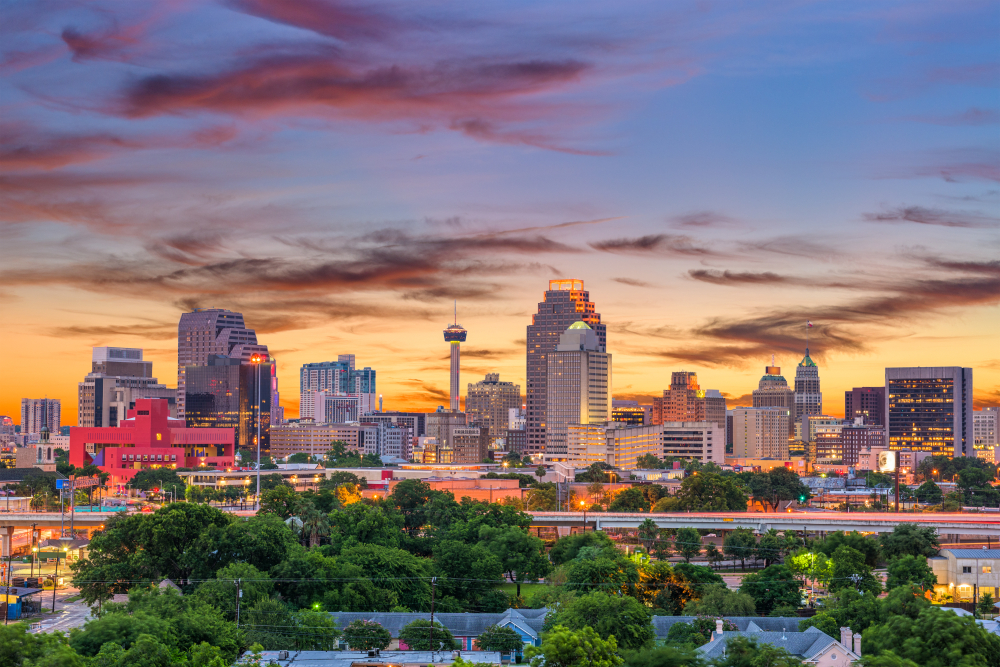 14 Best Day Trips From San Antonio
San Antonio Day Trips Under 1 Hour
New Braunfels
About forty minutes from San Antonio is the historic city of New Braunfels. This Texas city is known for its water attractions, so don't forget your swimsuits! If you are looking for no-fuss San Antonio weekend getaways, then this town is where you should go.
The Guadalupe and Comal Rivers provide places to go tubing or kayaking. Kids will love splashing around in the water and spotting wildlife. You couldn't dream of a more classic summer activity for families.
There is also a Schlitterbahn Waterpark if you want more high-speed thrills. Also, make sure to check out downtown and admire the old buildings as you shop and visit museums.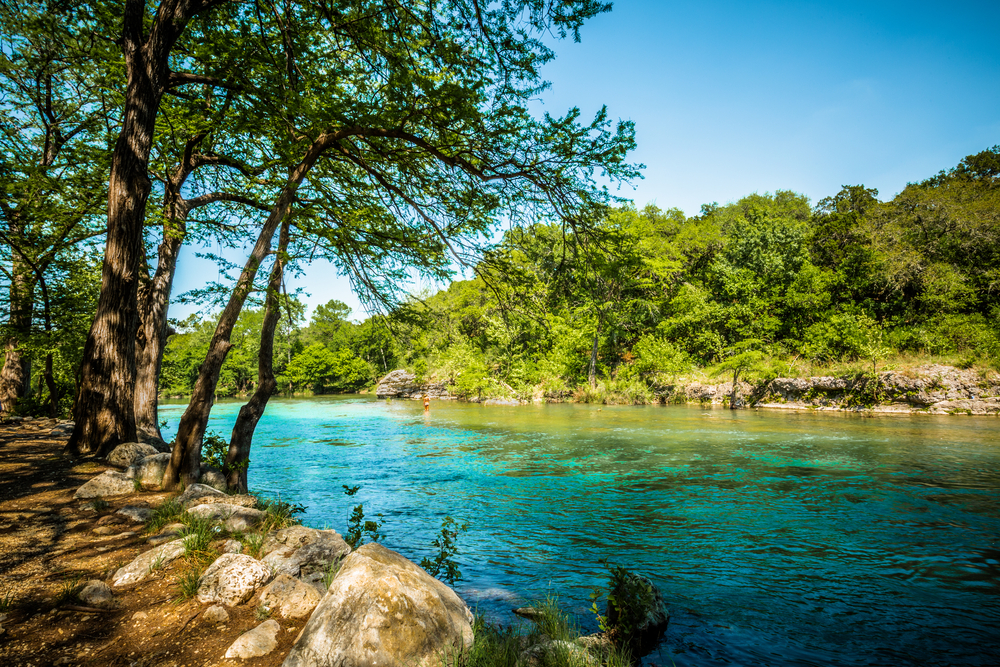 Gruene
Gruene (pronounced "Green") is a small town right outside of New Braunfels that is steeped in history. You can see the whole town in just a couple of hours, so it is perfect if you do not have a ton of time. You can also pair this day trip with a visit to some of the other locations on this list.
The Gruene Hall is a popular place to visit in town. This dance hall dates back to 1878, making it one of the oldest dance halls in the state. Enjoy a drink and dance to live music.
The quaint town also has some antique and craft stores to peruse. You will love walking the pretty streets, seeing the old architecture, and soaking in the small town vibes.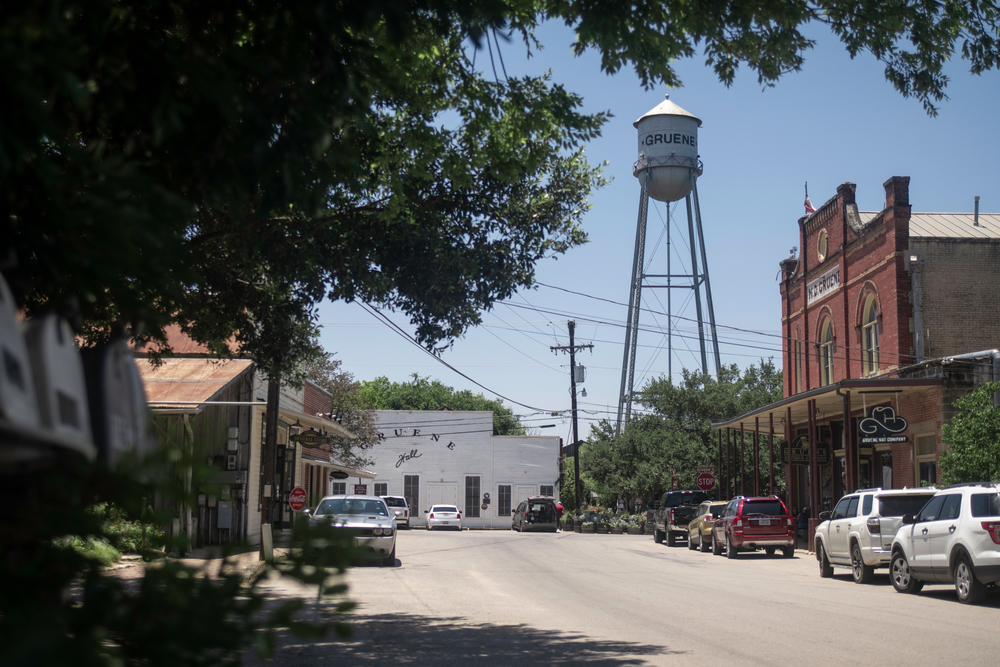 Natural Bridge Caverns
The Natural Bridge Caverns are one of the largest underground formations in Texas. They are also one of the best day trips from San Antonio since it is only a forty-minute drive.
The caves are a great place to escape from the Texas heat since they are always at a cool 70 degrees Fahrenheit. There are a lot of awesome formations that will leave you amazed!
You can only explore the caverns as part of a guided tour. There are a few different tours to choose from that range from easy to more adventurous. No matter which one you choose, you are sure to have fun!
There are also things to do aboveground such as a rope course, a maze, and the chance to pan for gems. There are also shops and restaurants. You can easily make a whole day of it.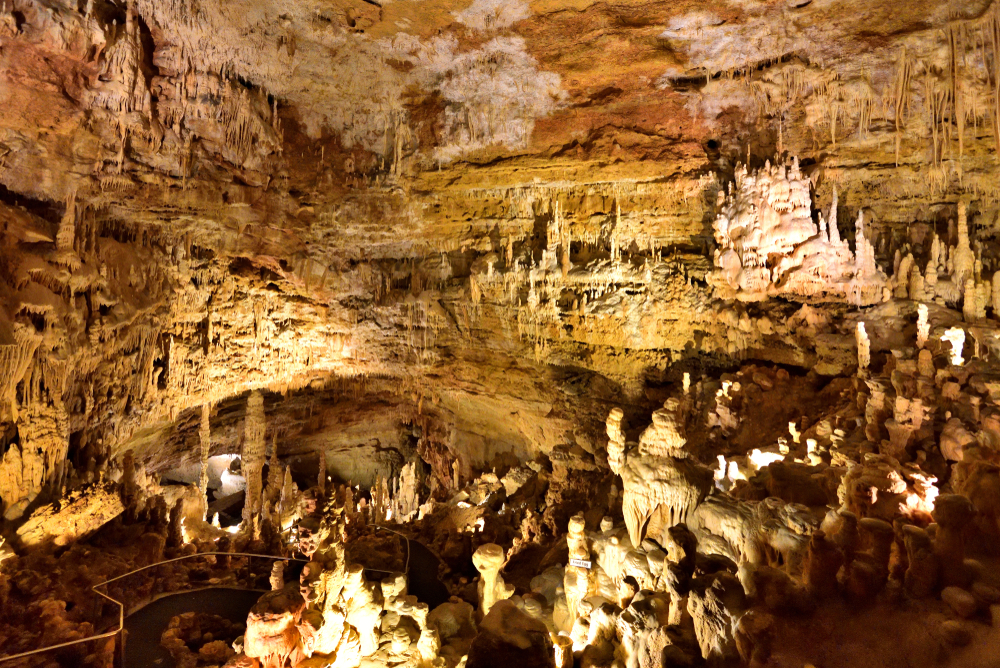 Canyon Lake
Canyon Lake is an hour north of San Antonio and is a great place to escape from the city and relax in nature. This area is a Texas hidden gem, so you do not need to worry about crowds.
Spend your time at the lake swimming, boating, kayaking, and fishing. If you are looking for more of an adrenaline rush, then try parasailing or water skiing.
Canyon Lake is also a great place to spot wildlife, including deer, coyotes, foxes, and a ton of birds. If you want to extend your time here, then you can spend the night camping and stargazing.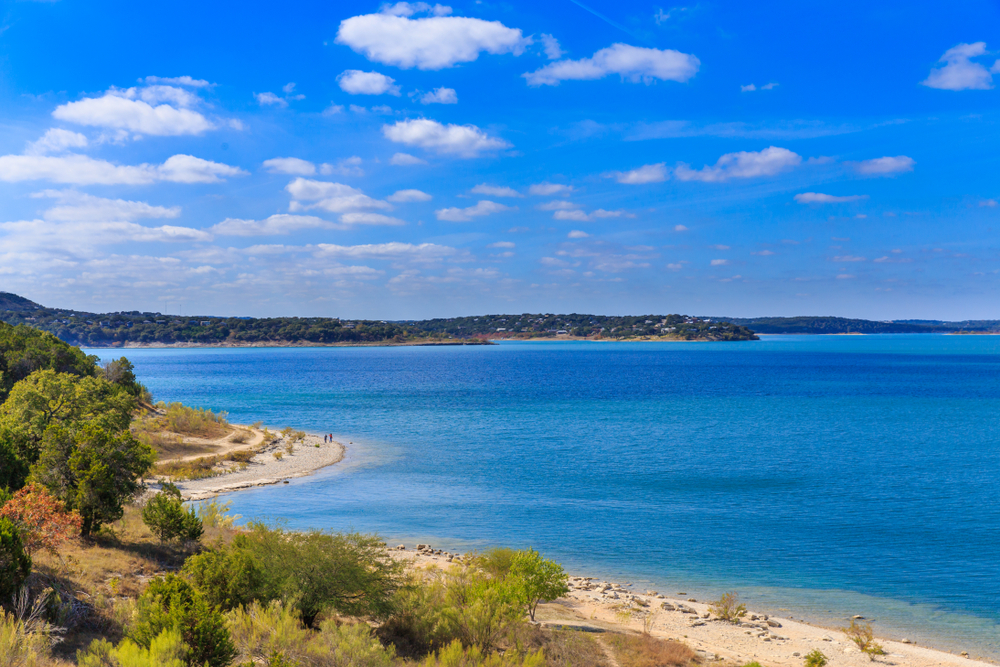 Best Day Trips From San Antonio Between 1-2 Hours
Fredericksburg
Fredericksburg was founded as a German settlement and still holds much of that European charm. In this cute town, you will find plenty of German restaurants and beer gardens. Come to Oktoberfest for a great party.
There are also cool history museums, art galleries, and antique shops. Just walking downtown and taking pictures of the pretty, old buildings is a great activity.
If you visit Fredericksburg as a couple's trip, you can have a romantic time at a winery in the countryside. You can also hike at Wildseed Farms, the largest working wildflower farm in the country.
Fredericksburg is just over an hour north of San Antonio. You will adore the scenic drive through Texas Hill Country.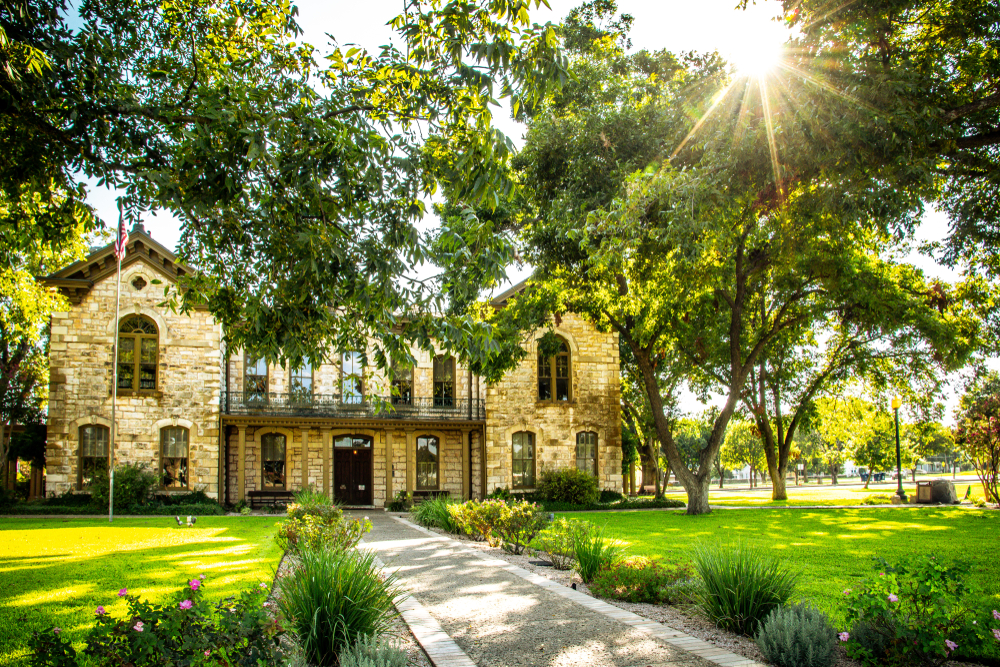 Lockhart
Drive an hour and a half northeast from San Antonio to reach Lockhart. You will feel as if you have stumbled onto the set of an Old West movie as you walk the lovely downtown. The town has actually been the filming location of many movies through the years!
There are so many historic buildings to admire, including the Caldwell County Courthouse, the Caldwell County Jail Museum, and the Dr. Eugene Clark Library. This last one is the oldest library in Texas still in operation. It was built in 1899.
Lockhart State Park is an idyllic place to play a round of golf or swim in a pool. There are also hiking trails and a creek where you can toss a fishing line.
Did we mention Lockhart is known as the Barbecue Capital of Texas? People from all over come to have a scrumptious meal. There are three main restaurants you need to taste and compare: Kreuz Market, Smitty's Market, and Black's Barbecue.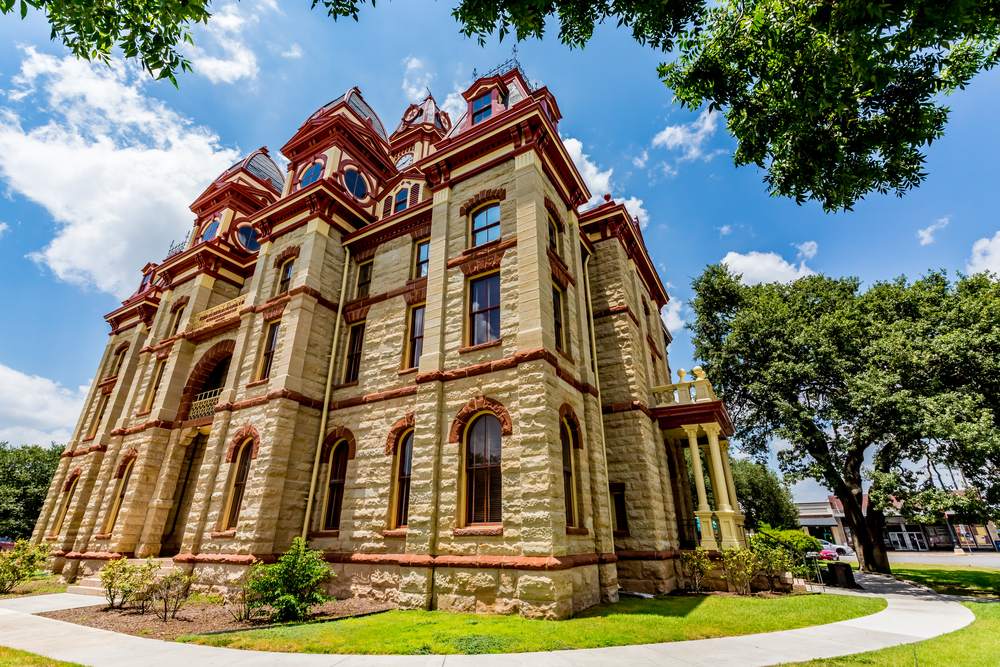 Austin
Drive about an hour and twenty minutes to get to the state capital of Austin. Known for its live music and art scene, Austin is a trendy and cool place to visit in Texas. Remember to "Keep Austin Weird."
Come to Austin to catch a concert or indulge in some delicious BBQ. Dive into culture at the many history and art museums. Don't forget to check out the beautiful State Capitol building which dates back to 1888. You can take a tour of this historic, Texas landmark.
Zilker Park is one of the best Austin attractions. You can swim at Barton Springs Pool or admire the plants at the botanical garden. This is also a great place to have a picnic or go for a hike.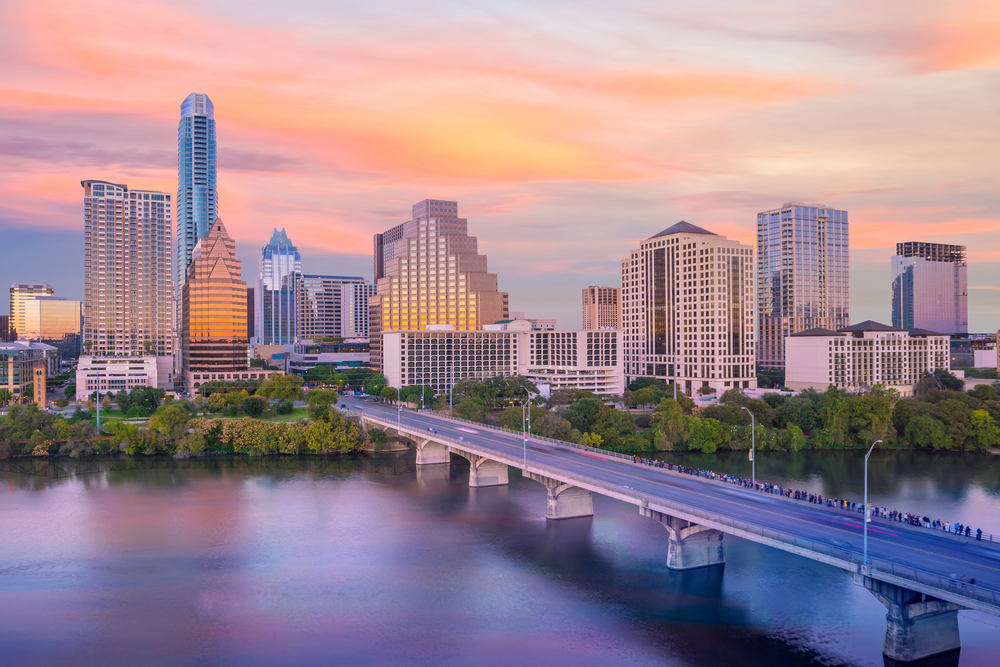 Krause Springs
Krause Springs is a beautiful, natural swimming hole about an hour and forty minutes from San Antonio. With lush greenery and trickling waterfalls, you will feel as if you are in paradise. Squint your eyes, and you can imagine you are in Hawaii instead of Texas!
The water is a refreshing 68 degrees Fahrenheit year-round, so it is perfect for beating the Texas heat. There are thirty-two springs on the 115-acre property so you can find a place for yourself.
If you want to be even more relaxed, take a stroll through the butterfly garden. The fountains and wind chimes add to the laid-back atmosphere. If you want more time than a day trip would allow, you can camp here.
Krause Springs opened in 1955 and is on the National Register of Historic Places. It is found in the town of Spicewood.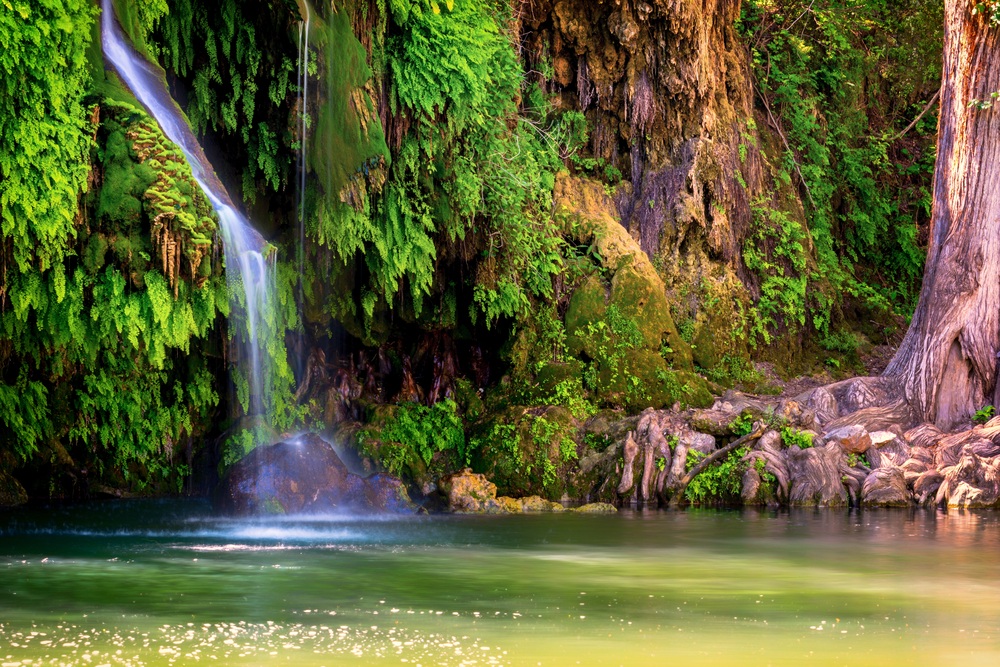 Dripping Springs
Dripping Springs is the epitome of Texas Hill Country towns. It is small and has a picturesque downtown full of boutiques and pubs. The town is nestled between rolling hills and award-winning wineries.
Reimers Ranch Park is a nearby place to visit for those with an adventurous spirit. This is a popular location to go rock climbing. You can also go hiking and mountain biking or swim in the Pedernales River.
The Hamilton Pool Preserve is also next to Dripping Springs and is one of the best day trips from San Antonio in itself. You could easily spend a day hiking, birdwatching, and swimming at this natural swimming hole. The 50-foot waterfall that cascades into the pool only adds to the tranquillity. Make sure to fill out a reservation before you go!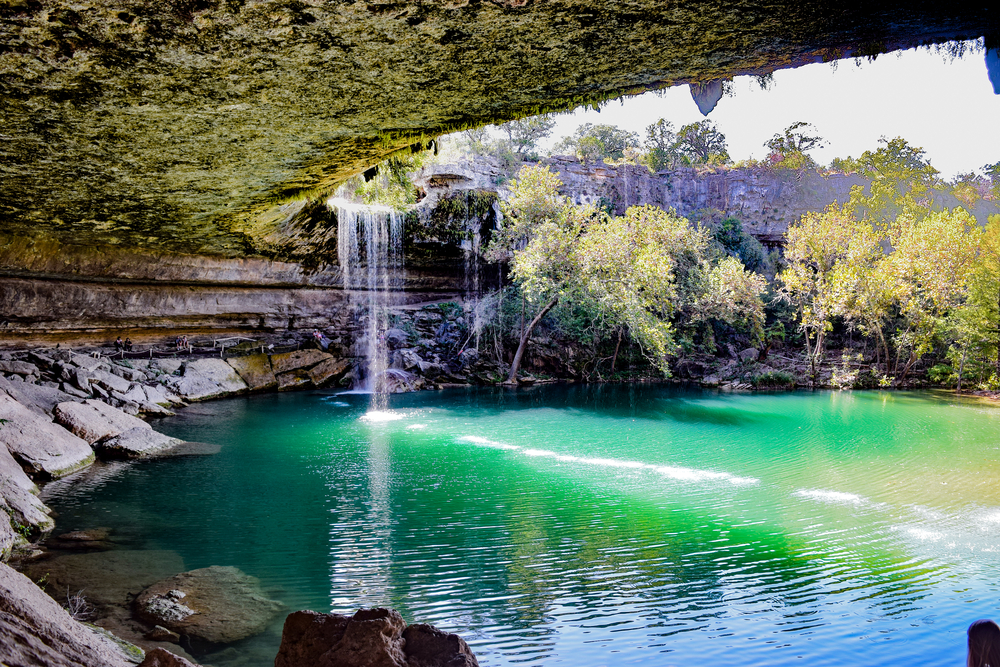 Longhorn Cavern State Park
If you drive north from San Antonio for around an hour and forty-five minutes, you will find yourself in Longhorn Cavern State Park. This is one of the most beautiful and unique nature day trips from San Antonio. If you are a fan of geology, this is the place to be!
Head underground on a fun walking tour. The guide will teach you all about the history and geology of the caverns. This tour lasts around an hour and is great for all ages.
If you want a more adventurous experience, then sign up for the Wild Cave Tour. This tour takes you into undeveloped parts of the cave. For this more difficult tour, the minimum age is eight. You must also be fit and prepared to get dirty. Safety equipment is included.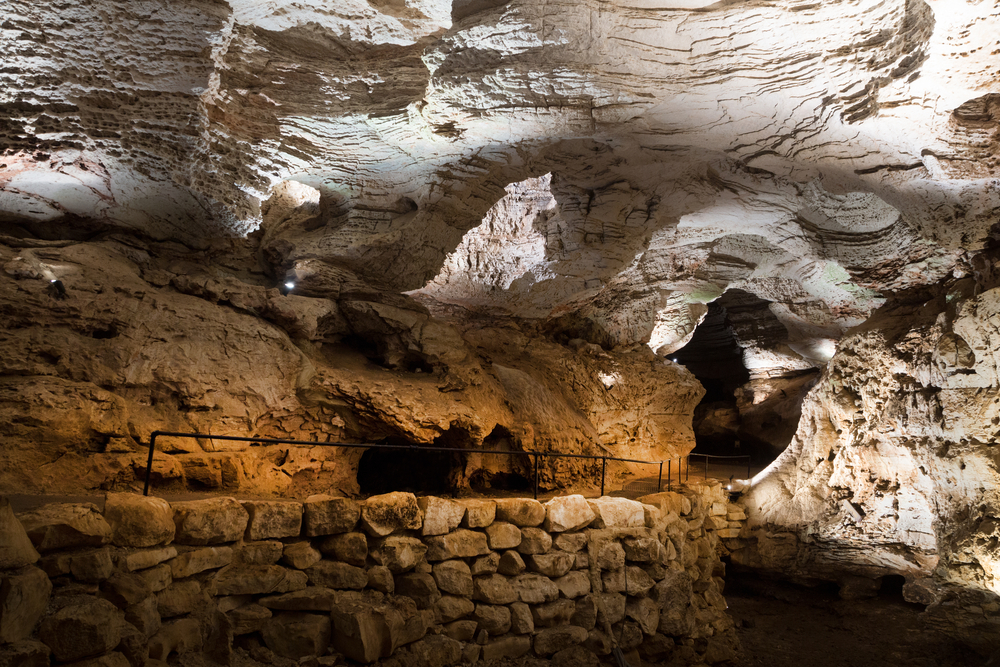 Enchanted Rock State Natural Area
The Enchanted Rock State Natural Area is about an hour and a half north of San Antonio. This Texas day trip is another awesome place to leave behind the rush and noise of the city. If you love gorgeous, sweeping views, come here!
Enchanted Rock is a 425-foot tall, pink granite dome. Though it is surrounded by trees, there are few plants on top so it easily stands out against the landscape. Hiking is the most popular thing to do here. There are eleven trails to choose from.
The Summit Hike is around 0.8 miles and while it is rated challenging, it is so worth it! The 360-degree views from the peak are jaw-dropping. The other hikes range from easy to difficult and are all under a mile. The hikes will bring you to lakes, canyons, and scenic overlooks.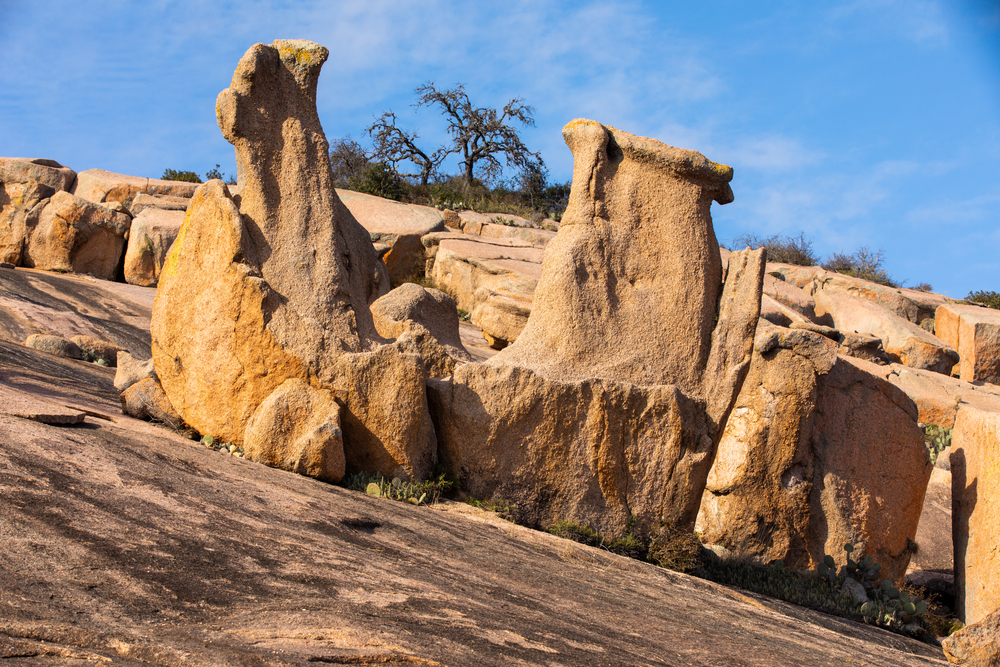 Lost Maples State Natural Area
Lost Maples State Natural Area is one of the best day trips from San Antonio as well as one of the best places to see fall foliage in the state. If you aren't able to make it to New England for fall, then you can come leaf peeping here.
There are over ten miles to hike and go birding. You can fish in the Sabinal River or Can Creek. Look out for cool wildlife, including gray foxes, armadillos, bobcats, and javelinas.
Drive for just under two hours northwest from San Antonio to reach Lost Maples State Natural Area. Don't forget to check the fall foliage report before planning your trip.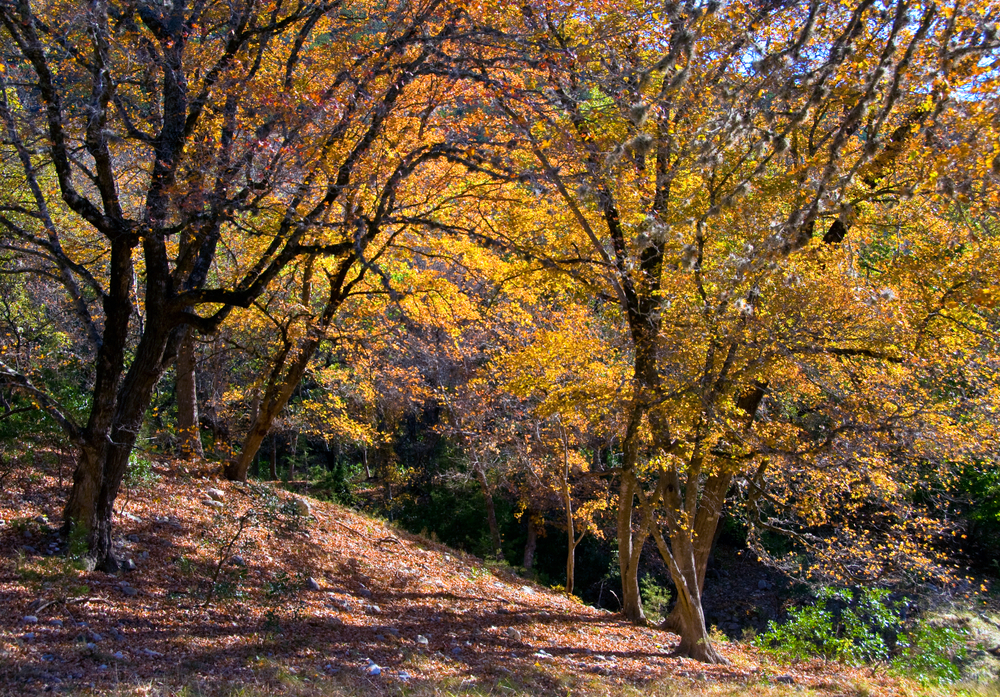 San Antonio Day Trips Over 2+ Hours
Gorman Falls
It might take about two hours and forty minutes to get to Gorman Falls from San Antonio, but the drive is so worth it to experience this Texas hidden gem. The falls are part of the Colorado River within the Colorado Bend State Park.
You do have to hike to see the falls. The trail is three miles roundtrip. There are rough and rocky areas, so make sure to wear appropriate shoes. Bring plenty of water too, since there is little shade until you reach the falls.
Once you make it to the seventy-foot waterfall, you will be in awe. You cannot swim in the water to protect the environment, but it is a great place to take pictures.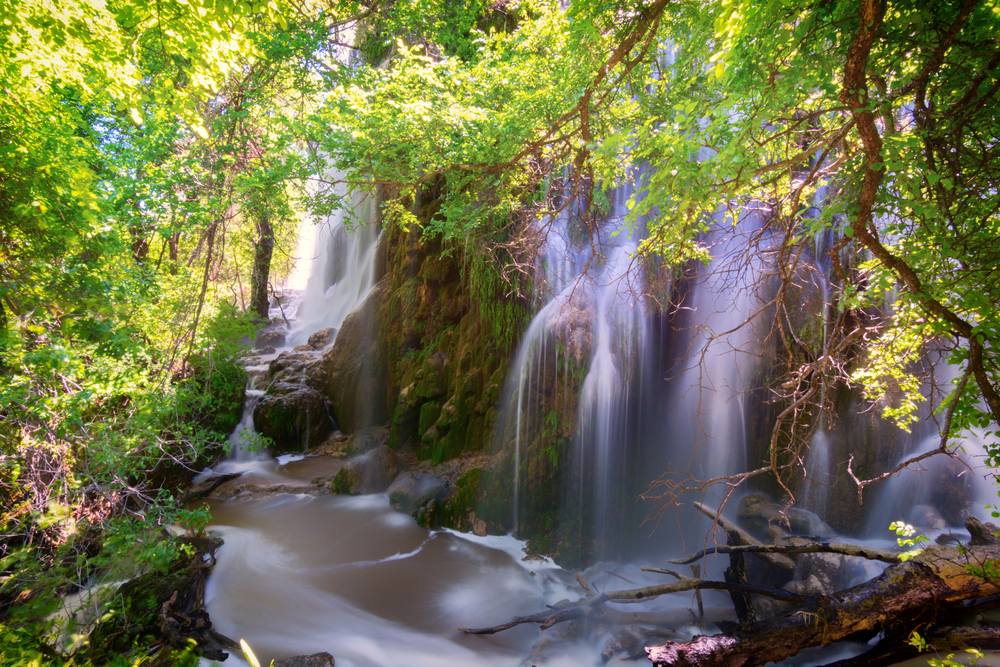 Port Aransas
If you want a beach day, drive nearly three hours south to Port Aransas on the Gulf of Mexico. This is a great place to smell the ocean breeze and soak in the sun on the pretty beaches.
Spend your day here fishing from the pier or on a fishing charter. You can also book all sorts of cruises. There are dolphin cruises, birdwatching cruises, and even the chance to ride on a replica pirate ship. How cool is that?!
You might like the Port Aransas Museum where you can learn about the history and culture of the area. Alternatively, if you want to get your blood pumping, you can go parasailing or skydiving.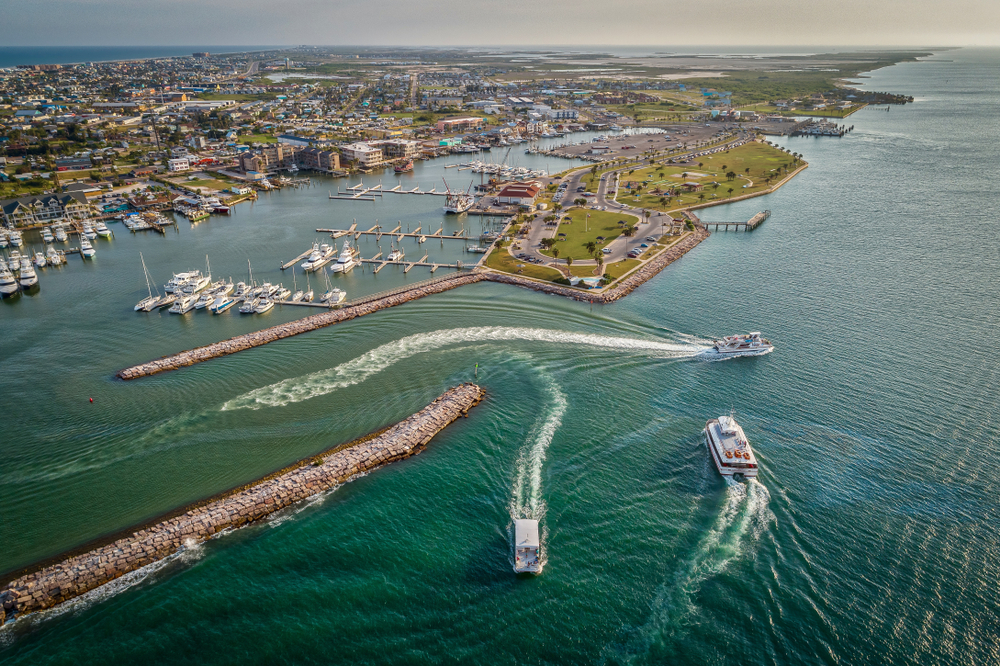 There are so many amazing day trips from San Antonio, Texas. There are too many to list! From vibin' cities to chill, small towns and worthy hiking trails to cooling, swimming holes, this region of Texas has so much to offer for any traveler.