If you've dreamed of spending Christmas in San Diego but weren't sure what to expect, then you've come to the right place! San Antonio during Christmas can be a magical holiday experience that you will absolutely love. With a rich Spanish colonial heritage, San Antonio is a beautiful city in southern Texas. It's known for being the home of The Alamo, the Riverwalk which is a pedestrian walkway along the San Antonio River, and, more recently, its foodie scene.
December in San Antonio is typically pretty mild. This is just one of the many reasons visitors love to spend winter in San Antonio for Christmas. On top of the mild weather, there are tons of Christmas events in San Antonio to enjoy.
From touring the historic missions that are all decorated for the holidays, strolling through spectacular light displays, and of course the Riverwalk. It is truly one of the best places for celebrating Christmas in Texas!
There are also Christmas activities in San Antonio that are unique to the city. This means your time spent in December in San Antonio will be full of one-of-a-kind activities and experiences. With so much to do and see in this beautiful city, you'll quickly understand why spending time in San Antonio during Christmas is one of the best ways to celebrate the holidays.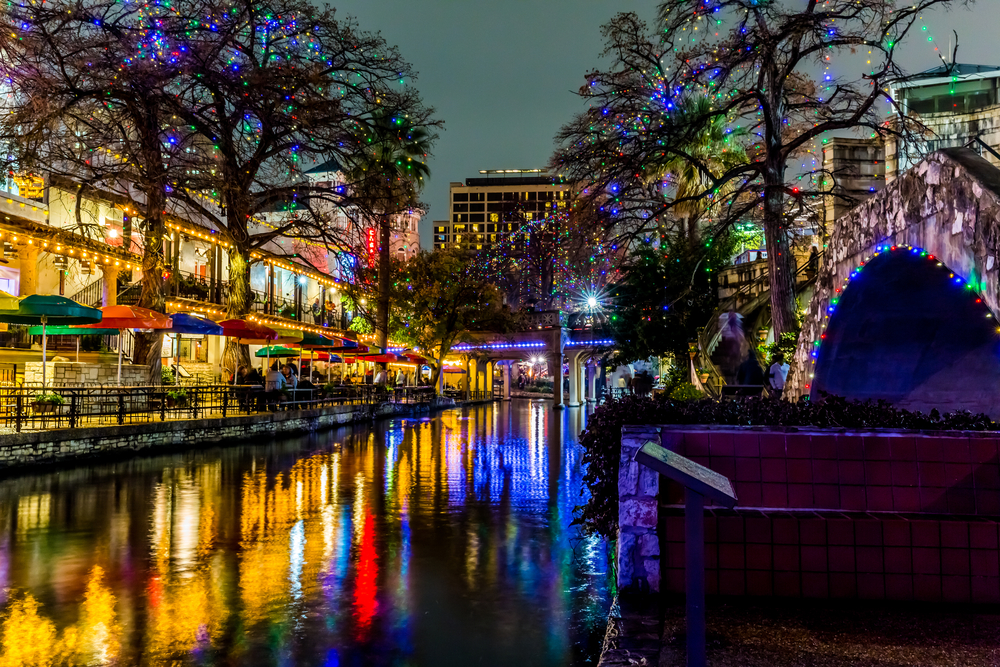 Is Christmas A Good Time To Visit San Antonio?
San Antonio in December is a great time to visit! The city, and especially the areas around the Riverwalk, come alive with festivity. There are great Christmas activities in San Antonio for all ages and it's a really fun city to explore during the holidays. Not only is San Antonio very festive during the Christmas season, but the weather is typically pretty mild too. For this reason, if you're trying to visit San Antonio and avoid the heat, December may be one of the best times of year to go.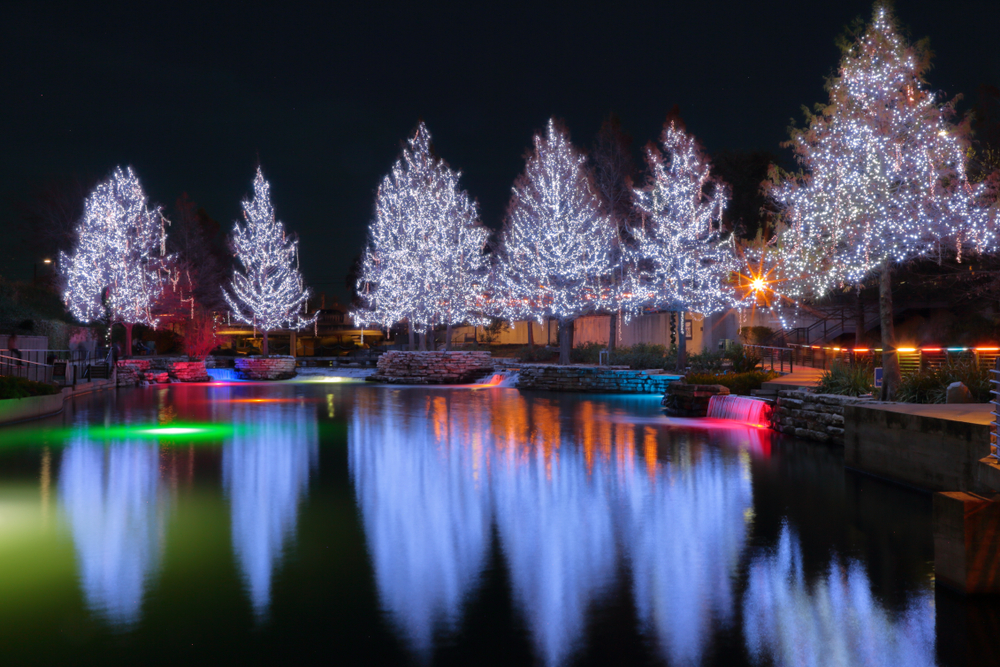 San Antonio Weather In December
As we said, the weather in San Antonio in December is generally pretty mild. On average, the high is around 65 degrees and the low is around 40 degrees. So there is still a wintery crisp in the air, but you can walk around during the day and you won't be freezing. Even at night, if you have on a warm jacket, the temperature isn't too bad that you can't walk around and enjoy the Christmas events in San Antonio.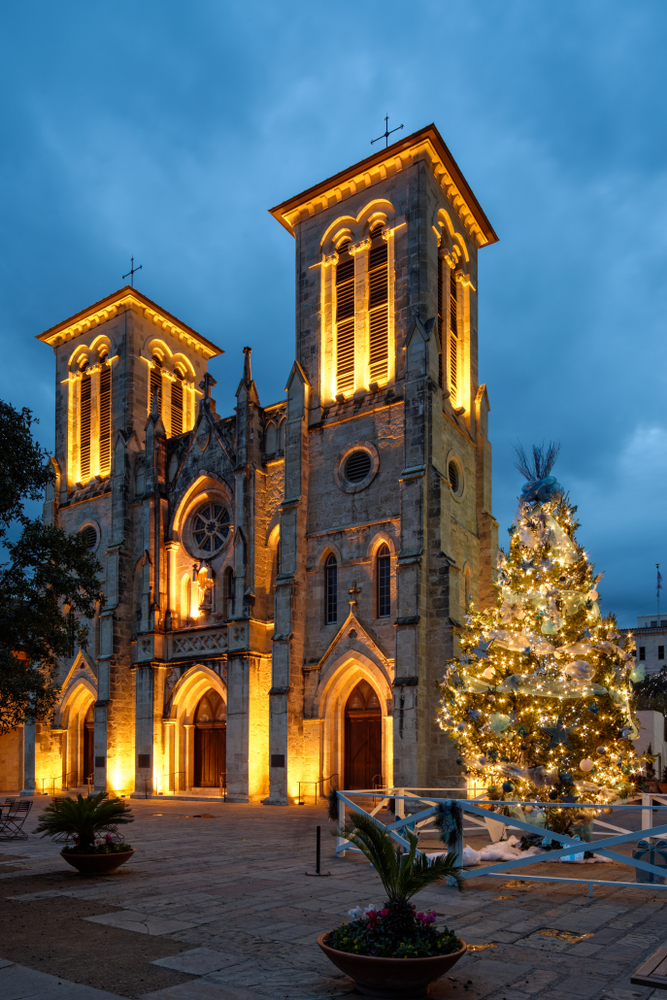 Does It Snow In San Antonio?
Because the winter in San Antonio is generally pretty mild, it is very rare to have snow in San Antonio. That doesn't mean it can't happen. However, generally, if it does snow it's usually only every couple of years and it's typically no more than a few inches. But when it does snow in San Antonio, it's very pretty.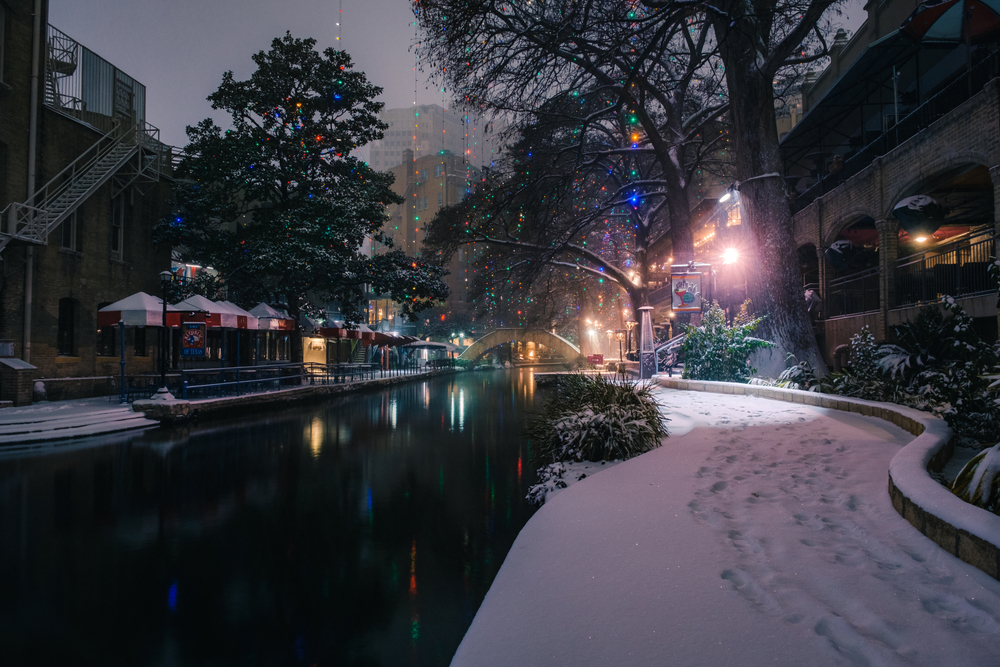 Where To Experience Christmas In San Antonio
Explore The Historic Spanish Missions
The Spanish missions in Texas date back as far as 1632 and are a great way to learn about Texas and San Antonio's history. Catholic priests and missionaries set up the missions as a way to teach Native Americans about Christianity.
This, of course, led to many issues and the eventual harmful treatment of Native Americans, which we do not condone. But now the missions teach visitors about the troubled past they are associated with, and more. Over the hundreds of years, they have become important community centers, especially during the holidays.
In San Antonio, there are five historic Spanish missions that you can tour. If you are visiting San Antonio in December, you'll find the missions decorated for the holidays. The missions experience their biggest tourist season in the winter in San Antonio, so you should expect to deal with some crowds.
There are Holy Day Feasts, mariachi masses, and Christmas vigils that you can attend throughout December in San Antonio. You can also bike or walk the trail between all the historic Spanish missions in San Antonio if you'd like to visit and learn about each one.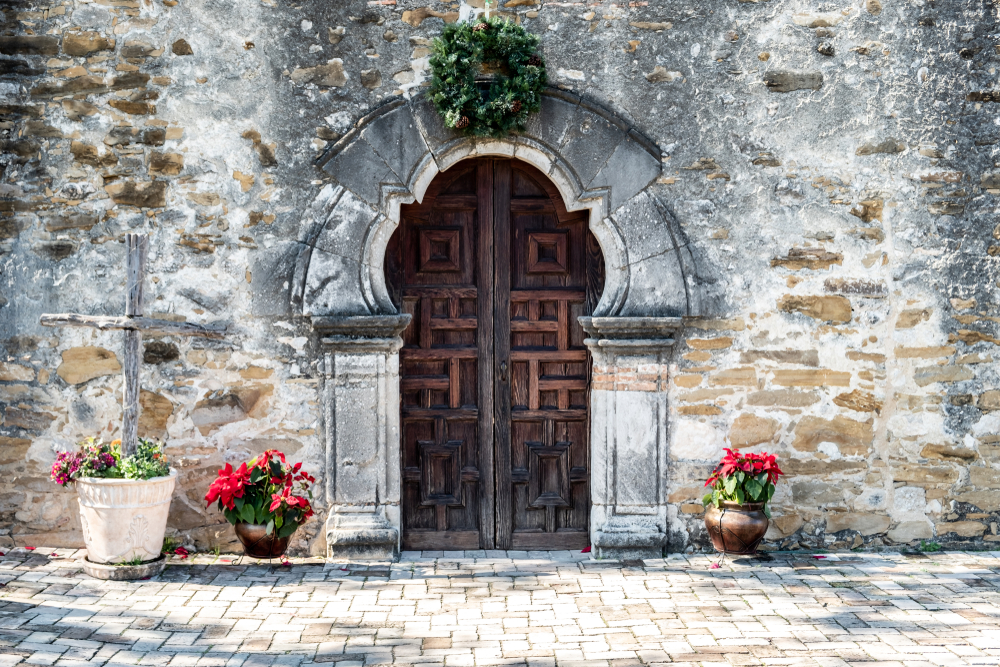 Stroll The San Antonio Riverwalk At Christmas
One of the most popular things to do in San Antonio year-round is the Riverwalk. When you're visiting San Antonio in December, you'll find that the Riverwalk is full of festive decorations and activities.
The San Antonio Riverwalk at Christmas is completely decked with lights, there is a boat that floats down the river with carolers at night, and there is even a Christmas parade on the river as well. You can enjoy all of these Christmas activities in San Antonio right from the streets of the Riverwalk.
While you stroll the Riverwalk, we suggest grabbing a bite to eat as there are many amazing San Antonio Riverwalk restaurants, going some shopping, and just enjoying the view. It's a popular spot in San Antonio for a reason. Make sure to check out our list of the Best Things To Do On The San Antonio Riverwalk, complete with a guide and tips!
It's absolutely beautiful, and the holiday lights just enhance the magic of the Riverwalk. They also offer boat rides on the river that take you on a tour and teach you the history of different areas along the river. It's one of the best Christmas activities in San Antonio!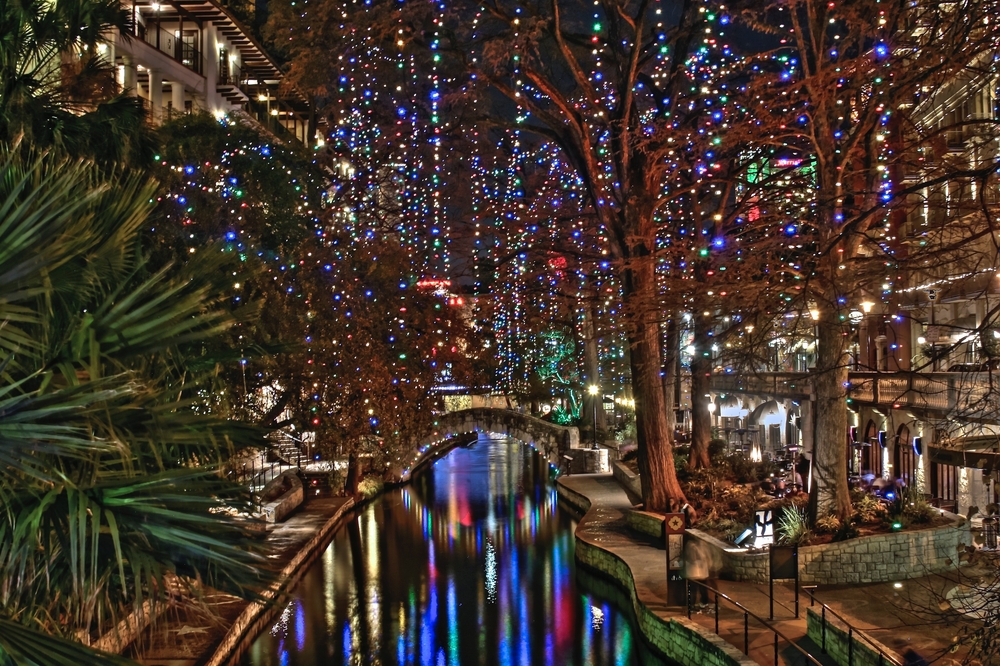 Admire Christmas Lights In San Antonio At Elf Acres
If you're looking for Christmas things to do in San Antonio that the whole family will love, get in the car and experience Elf Acres. Elf Acres in San Antonio is 20 acres of Christmas lights that you can drive through and enjoy. There are different scenes, themes, and even a Santa's Village. You pay a flat fee per car, and at Santa's Village, you can park and get out and walk around. In Santa's Village, there are more light displays, you can meet Santa and take your picture, and enjoy a nice cup of hot cocoa.
The season for Elf Acres typically starts around the middle of November and ends shortly after Christmas. You can purchase tickets beforehand or at the ticket booth. If you want to avoid a long wait time, it's suggested you visit earlier in the season or after Christmas, any night from Sunday through Thursday. On the weekdays they close slightly early so plan ahead. Elf Acres is busiest right around Christmas and Friday and Saturday nights. It's a really fun yearly Christmas event in San Antonio for the whole family.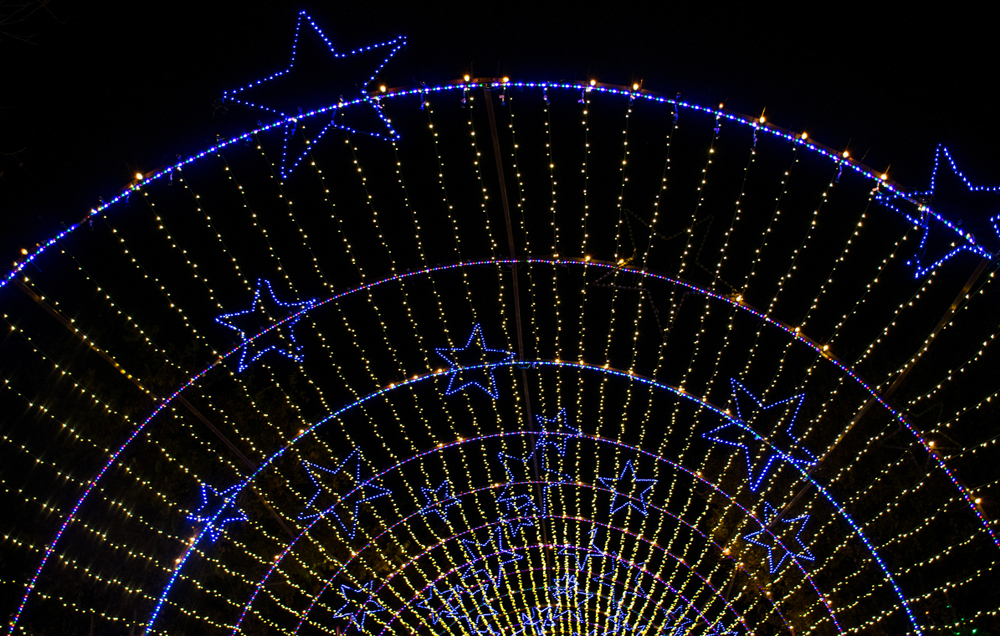 Shop At The Best Wholesale Christmas Company In San Antonio
The Best Wholesale Christmas Company is open year-round, but it's especially festive in December in San Antonio. This Christmas shop in San Antonio is packed to the brim with Christmas decorations, fresh flowers and floral arrangements, and anything else you can think of when you think of Christmas decor. You can browse their inventory online, but it's far more fun to spend an afternoon walking through the warehouse.
You'll find hundreds of different Christmas decorations in the Christmas shop in San Antonio. There are figurines, wreaths, fake trees, fake garlands, ornaments, Christmas lights, and more. If you're driving into San Antonio, you can even bring home some really cool pieces of Christmas decor for the yard like inflatable snow globes and Santa's reindeer sets. Even if you don't buy a thing, it's still a cool Christmas activity in San Antonio.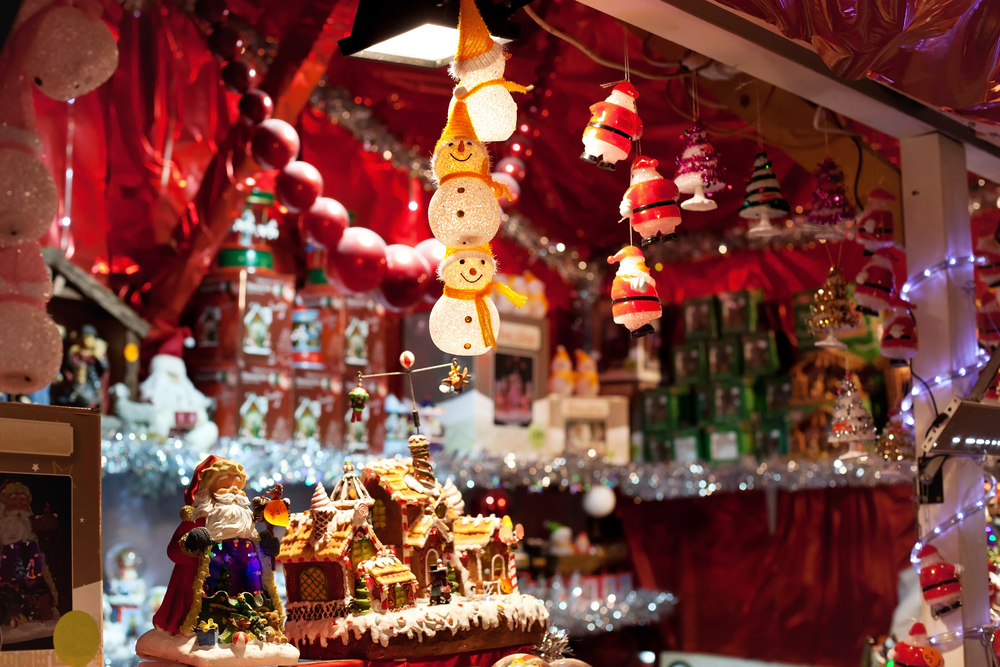 Go To The Pipe Creek Christmas Tree Farm Outside Of San Antonio
Believe it or not, you can find fresh Christmas trees in San Antonio, or at least just outside of the city, at the Pipe Creek Christmas Tree Farm. The Pipe Creek Christmas Tree Farm has been family-owned and operated since 1994 and offers a unique Christmas thing to do in San Antonio. Along with farm-grown trees, the Christmas tree farm also has other festive activities.
In December in San Antonio, drive out to the Christmas tree farm and enjoy a festive afternoon. There are hayrides and the kids can meet Mr. and Mrs. Claus and get their picture taken. You can also pick and cut your own Christmas tree. If you can't take a Christmas tree in San Antonio home with you, consider getting one of their fresh fragrant wreaths. They smell amazing and last for weeks when they are displayed outside in cool weather. If you haven't spent time at a Christmas tree farm before then this is a perfect time to go.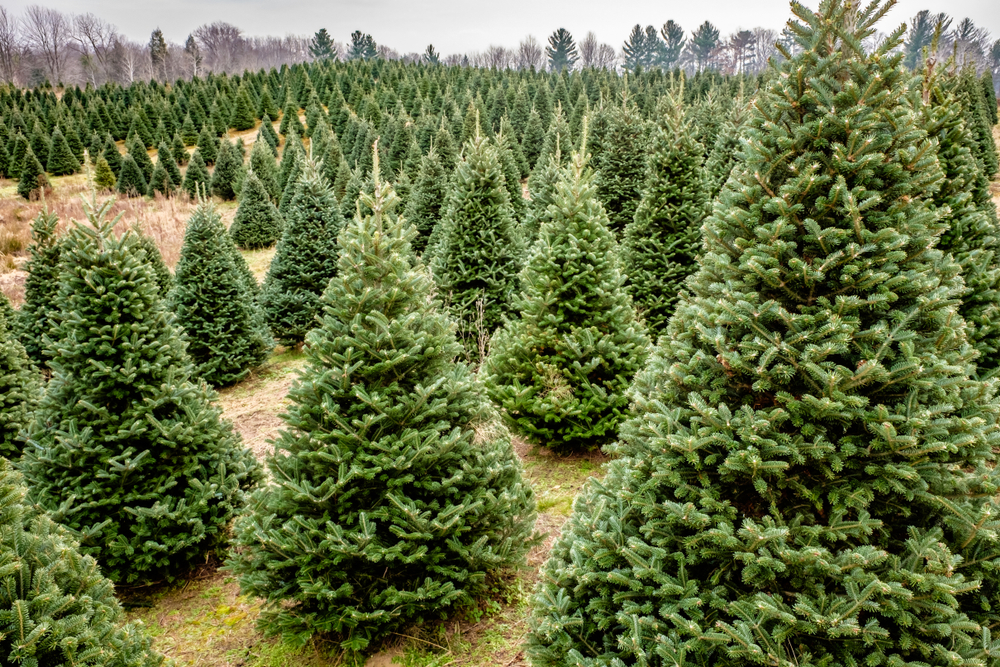 Meet Santa At Santa's Ranch
Santa's Ranch is just outside of San Antonio in New Braunfels. It is one of the most popular Christmas lights displays in San Antonio. The light display typically runs from the beginning of November to the day after New Years Day. So whether you're visiting San Antonio in December or November, you'll still get a chance to enjoy the lights. They also run nightly but close a little bit earlier on the weekdays.
You'll drive through over a mile's worth of light displays. There are over 1.5 million individual lights and the displays themselves are custom made. So you won't see anything else like them in Texas. There is a flat fee per vehicle and you can also enjoy the concession stand. There are freshly roasted nuts, cocoa, and other holiday classics. They also have a small souvenir shop and a place where you can take a photo with Santa.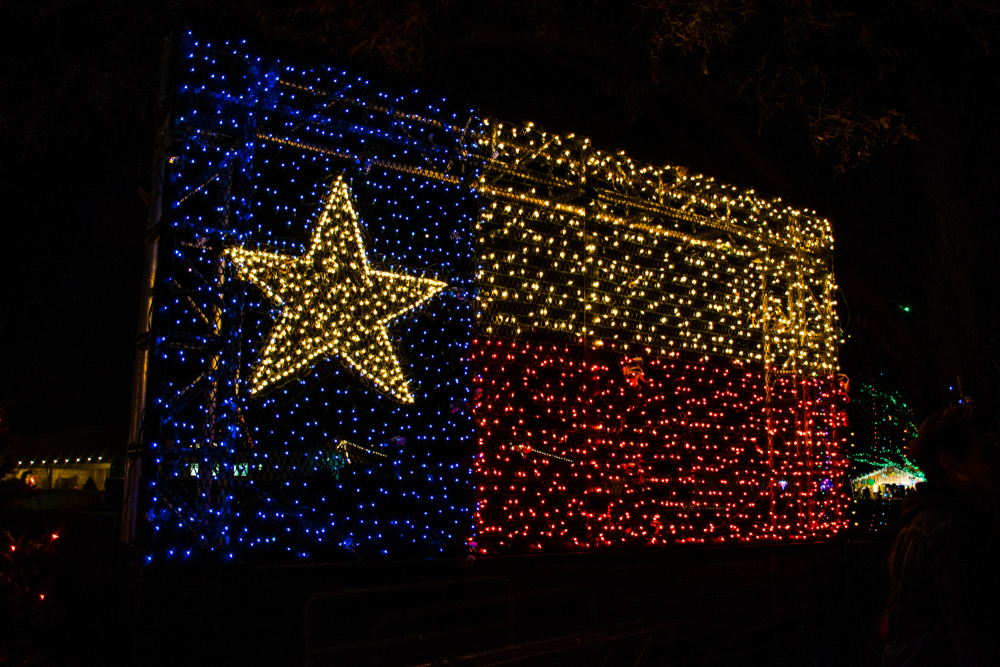 See The Neighborhood Lights At Windcrest Light Up
This decades-old tradition is a fun way to experience Christmas in San Antonio. The neighborhood of Windcrest has been elaborately decorating its homes for decades. There is a contest to pick the best decorations, as well as a yearly theme and different categories. The lights usually officially go on for the season in early December. So keep an eye out for the official start date before you visit.
You can drive through the neighborhood and admire the lights any night and it is free to do so. If you go to the Windcrest City Hall you can get a map of this year's winners for the Windcrest Light Up. It will have the locations of each winning home and which category they won in. If you want to experience a unique San Antonio Christmas tradition, explore the Windcrest Light Up.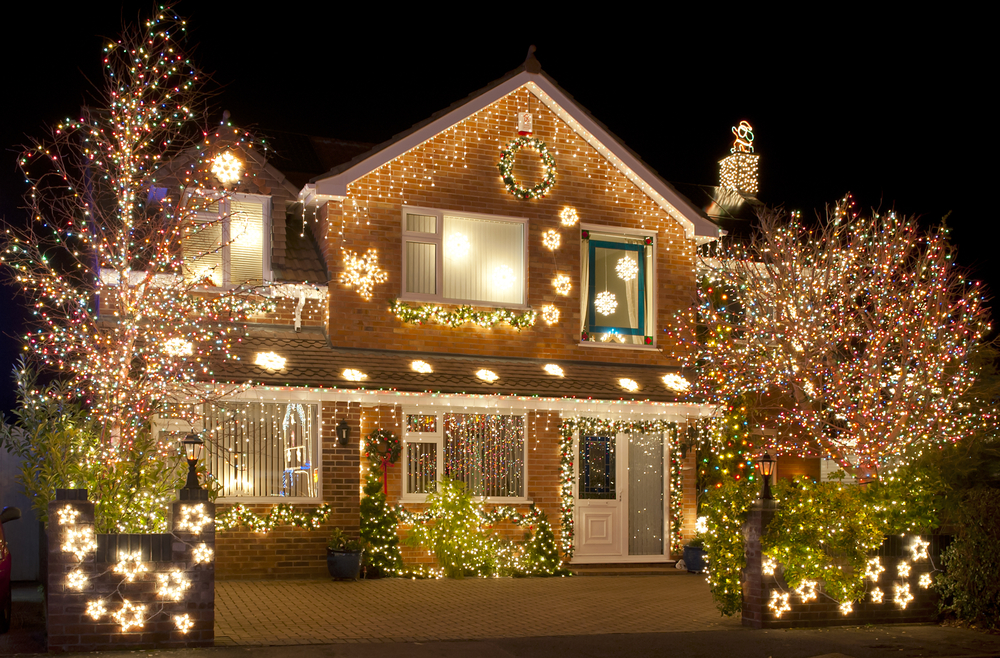 See A Christmas Performance
San Antonio is a big city in Texas and they have some great performing arts. During the holidays in San Antonio, we suggest supporting the local arts scene by seeing a Christmas performance. Depending on when you visit, there are different performances you can see. The schedule also changes yearly, so make sure to do your research if you're wanting to see something in particular.
Typically there are performances of The Nutcracker Ballet, Handel's Messiah, and even Mariachi bands who perform Christmas classics. There is a possibility that other performers will stop by as well, like the Trans-Siberian Orchestra, to play their classic Christmas album. With tons of different performing centers, you're bound to find a performance you'll love.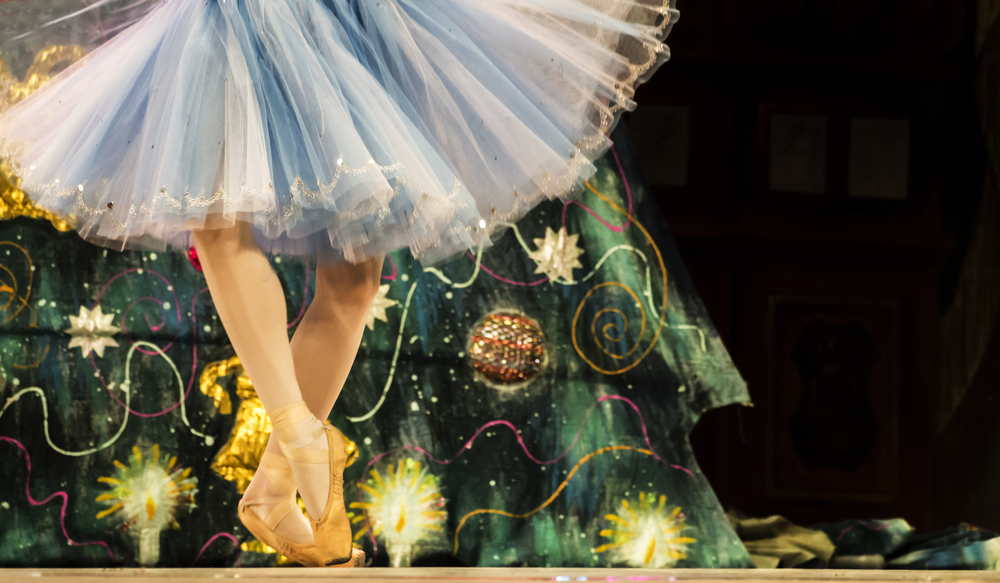 Go To The Historic Market Square And El Mercado
One of the best Christmas things to do in San Antonio is the Historic Market Square and El Mercado. Each December in San Antonio, the Historic Market Square, and El Mercado, turn into a magical Mexican-inspired Christmas Market. Typically many cities do a German-style market for Christmas, but not San Antonio.
San Antonio takes pride in its heavily Latin heritage, so the Market during the holidays is like stepping into a Mexican market at Christmas time. There are string lights, pop-up shops, and more. You can find unique gifts to bring home, many of them locally and artisanally made, and more. The area also has some amazing restaurants, bakeries, and coffee shops. It's a great way to spend an afternoon or evening enjoying San Antonio during Christmas.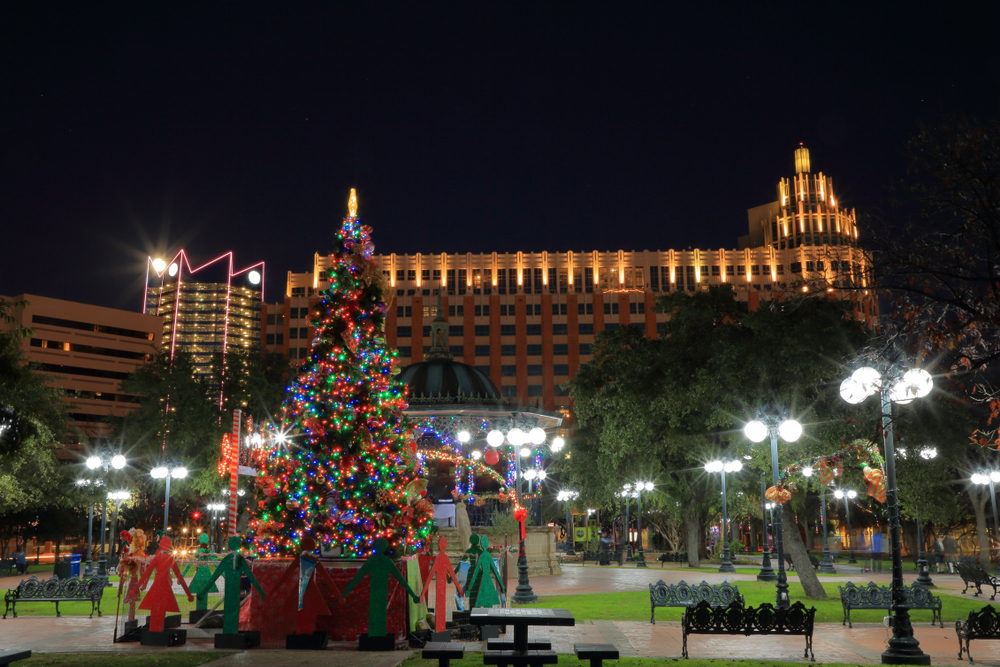 Enjoy The Lightscape At The San Antonio Botanical Gardens
The Lightscape at the San Antonio Botanical Gardens is a relatively new Christmas event in San Antonio. There is a fee per person to enter, and it quickly sells out. So we suggest booking in advance if this is something you're interested in doing. The event typically runs from mid-November until the day after New Years Day.
At Lightscape you'll walk through the botanical garden's 38 acres on a one-mile path to find an array of unique light displays. There is a Winter Cathedral of lights, a lit field of Texas Blue Bonnets, and more. You'll also get to enjoy the light path with a cup of hot cocoa, freshly roasted nuts, and other warm beverages and snacks. If you want to experience one of the newest additions to San Antonio at Christmas, head to the Lightscape at the San Antonio Botanical Gardens.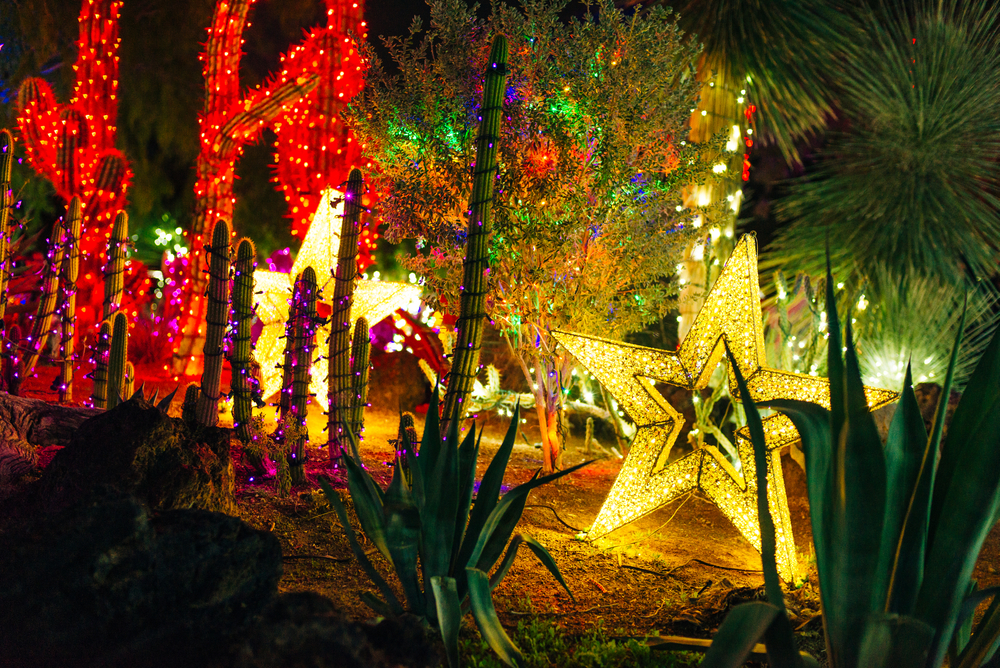 There is so much to do and see when you spend Christmas in San Antonio. It's one of the best Texas cities to enjoy mild weather, beautiful experiences, and even delicious foods as you celebrate the holidays. If you're looking for a great place to spend Christmas in Texas, we can't recommend San Antonio enough!