Whether you are singing carols all year long or seasonally, these festive places to celebrate Christmas in Texas will make your days merry and bright! The saying ' Everything's bigger in Texas' proves to be true every year around the holidays. From towering light fixtures to magical rides, there is a storybook moment waiting for you and your loved ones.
With so many options and locations to choose your next holiday outing, you are sure to find one that even Scrooge would love! Don't worry. No sleigh is required for any of these. The small elves in your group will find all play and no work at these Santa workshops!
The lights, decorations, and smells of Christmas will have you treating yourself with a cup of hot cocoa and fuzzy socks. Adults and children of all ages are sure to enjoy the wonders of Christmas in Texas! Creating memories for a lifetime is truly the center of each of these festive locations. So, check this list and check it twice to find out which will be your winter paradise!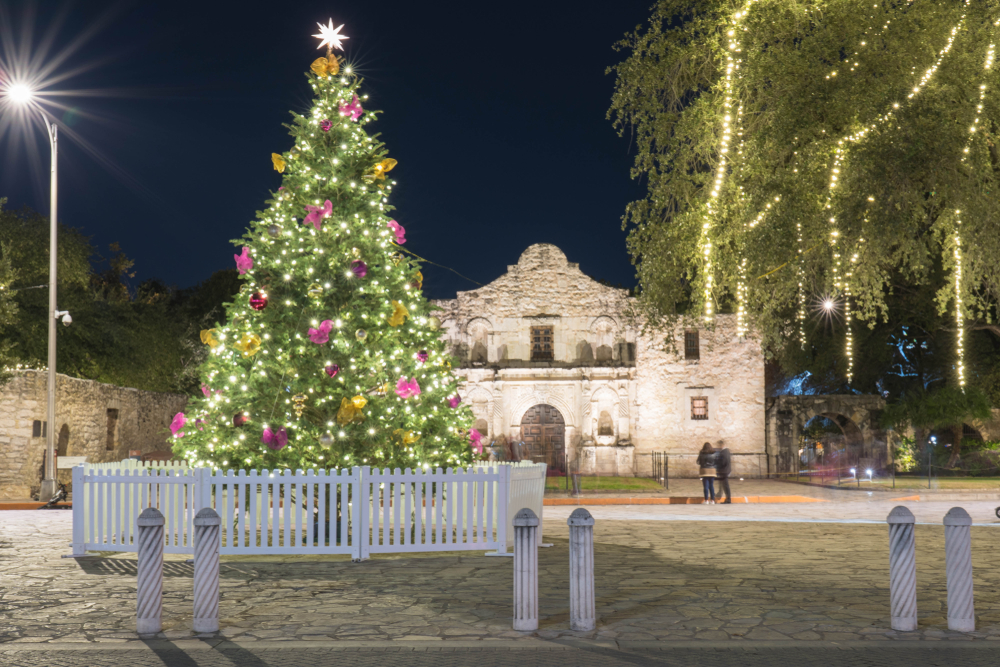 12 Festive Places To Celebrate Christmas In Texas
Gaylord Texan Christmas
Nothing but Christmas magic awaits you at the Gaylord Texan Christmas! Old Kris Kringle himself would dote upon the many activities to do. You can find this treat in Grapevine, Texas. You can even take a picture next to a snowman that you built! Snowmen aren't the only things to be built. . There are crafts that children in the group will enjoy making. Perhaps making it the perfect gift for someone!
A leisurely ride on the Christmas Carousel will definitely need to be on your long list of to-dos. Take a stroll through the splendid Yuletide Bright outdoor lights that feature 50,000 square feet of shimmering lights. Bright moments await!
If you are wanting a bit more action then you are still in the right place! There is an ice skating rink and snow tubing from a 2 story high ice slide. Sleigh, what!? For the ones who enjoy a good puzzle or mystery, there are escape rooms appropriately themed for the holidays. Be sure to grab a picture with ol' Saint Nick before you leave! Getting to see Christmas in Texas will awaken the inner child in everyone!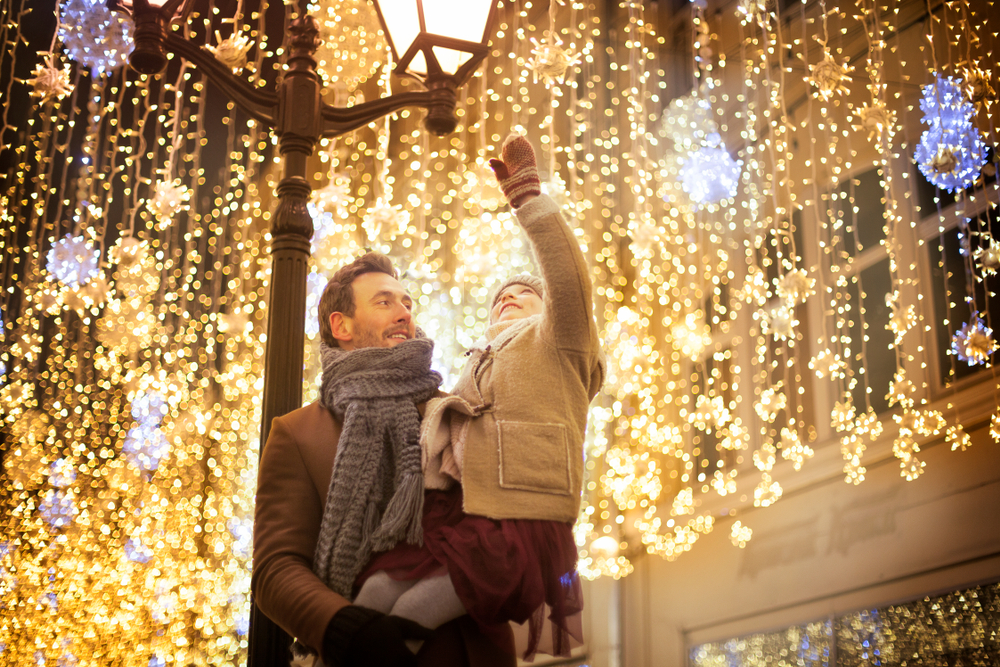 Santa Land
Deer to dream at Santa Land! Experience the winter wonderlands of Tyler, Texas at this festive Christmas extravaganza. With over 2 1/2 million lights displayed it is no wonder, this is one of the best places to celebrate Christmas in Texas! There are handcrafted and animated displays that will bring a smile to any resting Grinch face in the group. Hop into your vehicle and pile in your family and friends to drive through the enchanting forest of lights.
The colors, lights, and sights illuminate the 24-acre park creating a simply wonderful Christmas time. Santa Land features some original lighted and animated features. Among the many are Marshmallow Monster, Merry Mermaid, Elfland Carousel, Angel Land and so many more. You will have your elf a merry little Christmas indeed! Santa will also make a guest appearance. There are souvenirs at the gift shop to commemorate your trip!
Christmas Capital Of Texas
A holly jolly time awaits you at the Christmas Capital of Texas! More storybook memories are made here in Grapevine, Texas. Experience the Grapevine Vintage Railroad's North Pole Express that will immerse you and the children among the group in a delightful adventure.
The journey to Santa will include a train ride, a souvenir ticket, silver bell, Christmas cookies, and so much more Christmas spirit. Believe in the magic of Christmas once more on the ride to the North Pole!
There are homemade crafts to build, classes for making cookie cutters, and the North Pole Express General Store where you can make or purchase gifts! Christmas in Texas wouldn't be complete without amazing light shows and photos with Father Christmas. Yule be sorry if you miss out on this joys of the Christmas Capital of Texas!
Holiday Lights On The Riverwalk
You can almost hear the sleigh bells ring when you visit the Holiday Lights On The Riverwalk! This festive spot is for a stroll or a meal. The iconic Riverwalk of San Antonio, Texas is a beautiful place year-round. Add a little holiday spice and you have a luminous path with over 100,000 lights every year! If the lights don't have you taking elfies then a ride on a caroling boat might!
Sing your favorite Christmas songs with friends and family as you float along the river. Among the many decorations throughout the city, you will find over 2,000 traditional luminarias. Culture plays a big role in San Antonio and the holidays are no exception! Try some of the best restaurants in San Antonio right on the riverwalk! Eating, strolling, and shopping can all be done in one trip at the Holiday Lights On The Riverwalk. There is no better way to enjoy Christmas in Texas than enjoying it in historic San Antonio.
Holiday At The Arboretum
On the first day of Christmas, you should hope your true love takes you to Holiday At The Arboretum! If not you will want to make your way solo because there is so much to do and see. As a Dallas, Texas favorite, Holiday At The Arboretum offers visitors a gorgeous place to take in the winter air and colors of Christmas. On your stroll through the gardens, you will find Victorian-style gazebos that represent the 12 days of Christmas. This 25-foot-tall, impeccably adorned fixtures make every year a bit merrier.
If hot cocoa isn't what you hope for in your stocking then enjoy Holiday Tea at the historic DeGolyer House. The house is decorated with utmost grace and Christmas fashion. You may also enjoy the 12 Ciders of Christmas where you can taste local ciders! Christmas in Texas couldn't end without an ugly sweater contest! Get festive and show off your most creative sweater to try and win two Cool Thursday Concert tickets
Santa will make an appearance as well as Mrs. Clause who will read to the children. There are times for movies that show at the Outdoor Movie Party. What a good time to cuddle up in a warm blanket sipping on a warm drink of choice!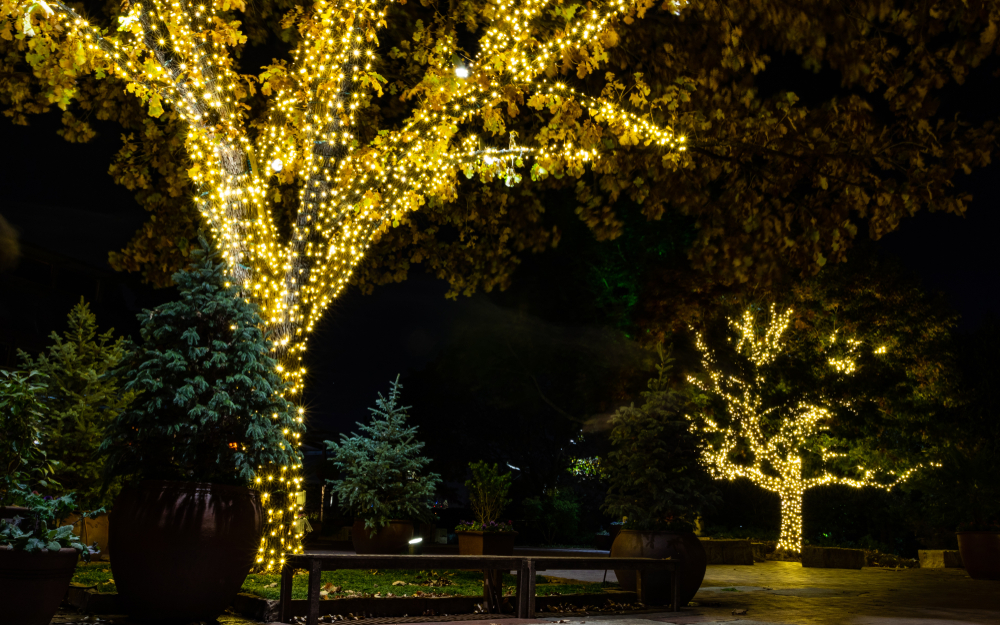 Santa's Ranch
Why wouldn't there be a Santa's Ranch included in this list? Saint Nick dusts off his cowboy hat to enjoy this fabulous spot in New Braunfels, Texas. There are over 1.5 million customer lights to see at Santa's Ranch! Your drive through the mile of colorful displays will have moments to store in your heart forever. The lovely displays are as charming as they are bright!
A ride to see Christmas lights can not be complete without hot cocoa or other festive snacks. There are concessions that will please everyone in your group. Souvenirs are also available to remember the most magical evening. Whether you are continuing family tradition or starting a new one, Santa's Ranch is one of the best places to experience Christmas in Texas.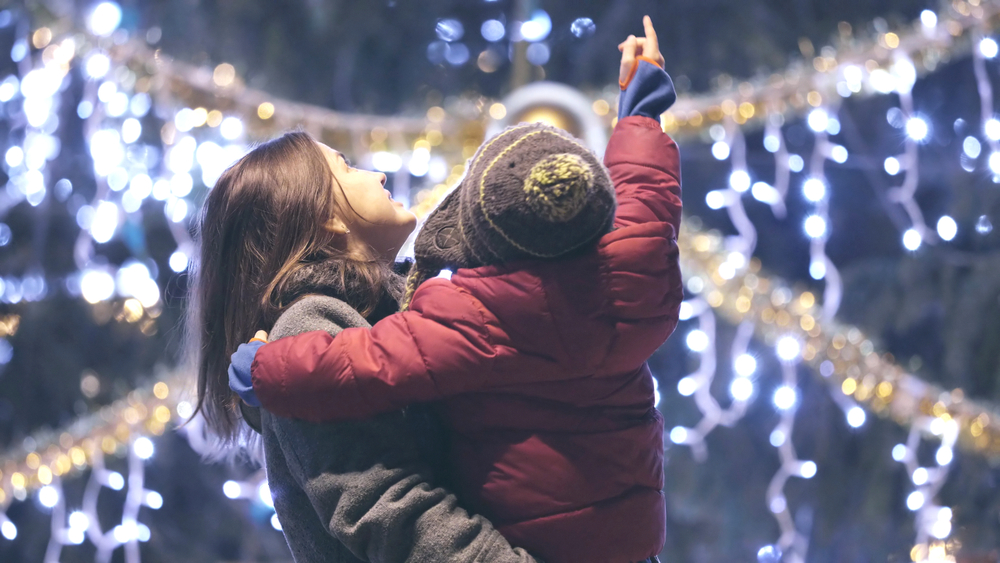 Christmas Ranch
There won't be a blue Christmas when visiting the Christmas Ranch! Spirits are merry and bright as are the glowing arrangements throughout the community of San Jacinto County, Texas. The line to the entrance can take some time as the tradition for families to drive through has been around since 1995! So get there early and if there is a wait it will definitely be worth it! No one will be shout Ba Humbug here because there is too much love poured into the appearance of each home. You can feel the warmth from the comfort of your car making your heart grow three sizes!
Homes will have many handmade decorations that are fun for all ages! The community is buzzing with Christmas cheer and smiling ear to ear as families from all over come to marvel at the hard work put into Christmas Ranch. Old Man Christmas himself can be seen so make sure to have your list ready for him!
Downtown Holiday Stroll
While Austin is known for keeping it weird, your Christmas traditions can live on at the Downtown Holiday Stroll. Downtown Austin is the perfect hub for shopping and the shop owners really get into the holiday spirit! The window displays are out of this world and will captivate the hearts of every Grinch. Austinites and visitors alike gather to walk the streets to start the most wonderful time of the year.
There is a tree-mendous tree lighting that takes place in the heart of downtown. Live music is featured in the Austin city way along with caroling. The artisan market is a unique place to pick a gift! As you stroll, you can chow down on local eats. Christmas in Texas will never be the same after surrounding yourself with the artistry of Austin.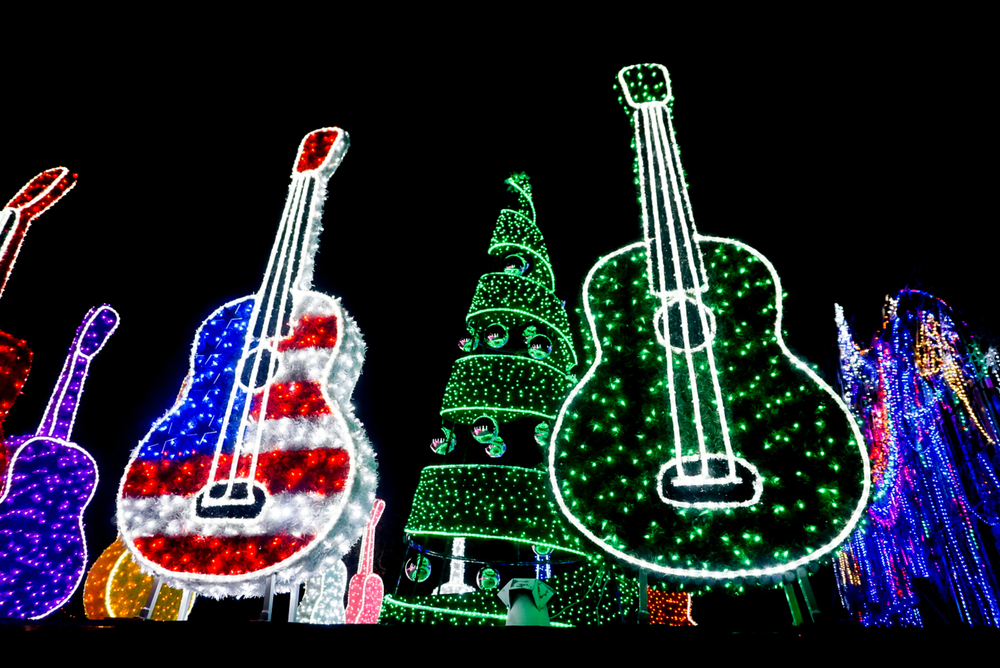 Zoo Lights
The Houston Zoo is a staple for any visitor and the Zoo Lights are a must-see! Tap into your wild side as you walk through the decorated animal exhibits. Lions, tigers, and bears will all get to see the festivities of the holidays along with you. It is an excellent place for a date or night out with the family.
Snap pictures for your Christmas cards at the ice throne or with Santa at his workshop! Animals made of lights come to life on your path. There is a tunnel of lights that is 125 feet long! The mesmerizing light shows around the Reflecting Pool are a show stopper. When you visit the Zoo Lights you will understand why Christmas in Texas is so spectacular.
Holiday In The Garden
Maybe the beach isn't your first thought for a Christmas destination, however, Holiday In The Garden is an amazingly festive place to visit. Located on Galveston Island, Texas, there is an abundance of holiday spirit in Moody Gardens. Over two million lights will keep your path lit as you stroll and take in the scenery of Christmas along Galveston Bay. It is one of the cutest beach towns in Texas for a reason!
Star the Dancing Tree of Light is just one of the many displays that will put a smile on your face. If not the lights, then the food will! Snack on smores, hot cocoa, and more during your visit. Creating memories is made easy when an Ice Land is formed by skilled carvers. From sculptures to slides, there is only laughter and joy brought to you. Bring a jacket and gloves because it is chilly!
After the excitement of seeing the lights and ice, simmer down with a 3-D movie. A holiday film will be featured and fun will be had! For an even more leisurely event, you may find yourself on the Evening Cruise. Here you will see Christmas in Texas in a whole new light!
Santa's Wonderland
Is it beginning to look a lot like Christmas? Well, at Santa's Wonderland it will be abundantly clear. There is no end to the festivities that await you in College Station, Texas when you visit Santa's Wonderland. Even if you think you may be on the naughty list, you can appreciate the immense spirit of Christmas in Texas when you visit this slice of the North Pole.
There is a hayride and carriage ride tour to lavish in the dazzling light displays. When you partake in riding in a carriage, you will get a first-class seat and hot cocoa to go with your views. It seems Santa has a home away from home! Santa's New Cottage is a darling spot to meet Mr. Clause in his Texan get-up. Inside the cottage, there is a huge gingerbread display! Everything really is bigger in Texas. The Gingerbread Lane is all edible and remarkably made.
If you or your little companions haven't made your list for Santa, you will have your chance before you leave Santa's Wonderland. It is a great way to rest after a few laps on the ice rink or tries at the Haybale Maze! Try your speed on the Toboggan Chute! The tunnel of snow is made for Frostbite's Toboggan Chute. This attraction is a crowd-pleaser, especially to local Texans who don't see much snow!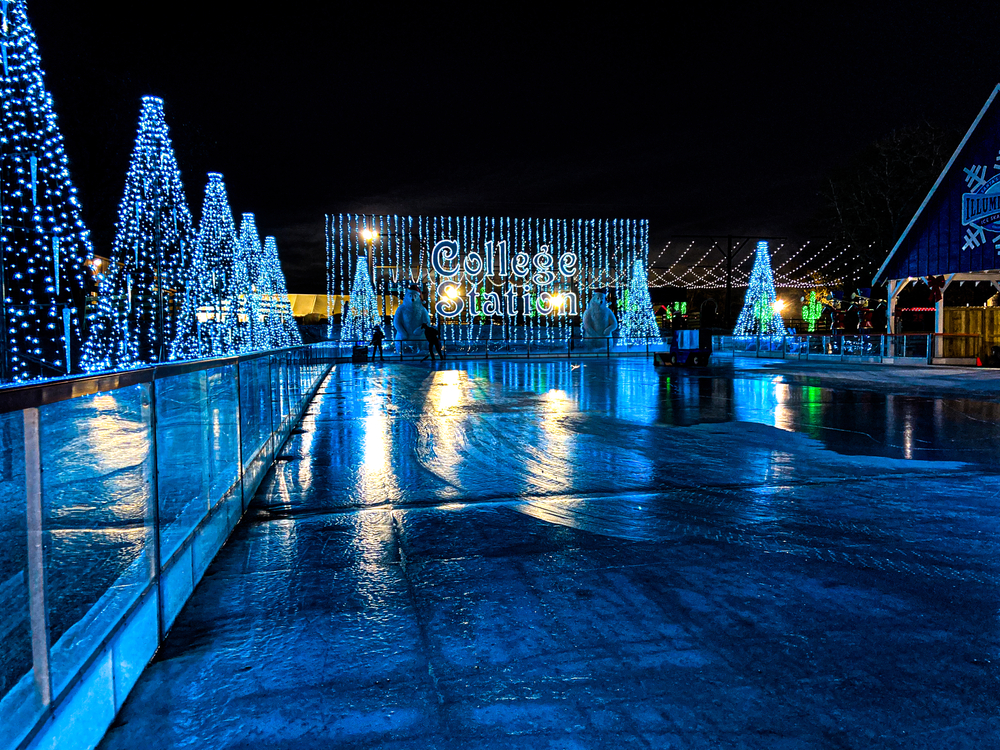 Sugar Land Holiday Lights
Craving a sweet Christmas escape? Sugar Land Holiday Lights will be a treat for all who take a stroll through the Constellation Field in Sugar Land, Texas. Covered in more than 3 million glimmering lights, the field offers an enchanting scene at every turn! With 8 themed areas to evoke the imagination, this is one stop you will want to make! Christmas in Texas has a whole lot of heart that illuminates in each perfectly assembled display.
Concessions are available along with the occasional food trucks make Santa's cookies seem old school! Movie nights are available throughout the season to help complete a night of Christmas joy. Ugly Sweater nights are a fun affair for the whole family to get in the holiday spirit! There are nights where dogs can join in on the tour! The pictures captured of your fur baby will be the highlight of your next Christmas Card without a doubt. Don't forget to snap a photo with the man, the myth, the legend, Santa Clause!