Planning to visit one of the sunflower fields in Texas? If yes, then check out our list of some of the best texas sunflower fields where you can enjoy a sunny day with beautiful scenery. Imagine being surrounded by these bright and sunny flowers and taking some fun photographs with your friends/family.
Sunflower has become one of the major crops in Texas due to its increasing popularity which is why it is quite easy to find a sunflower farm in Texas for a visit. The environmental conditions and the drier soil of Texas combined with the sunny climate make it a popular place to grow these beauties.
A lot of the sunflower farms allow the visitors to see the sunflowers, pick them up, and even click photographs with them. They also offer additional activities to indulge in and have a cafe on the premises that is stocked with the local produce. Many of these sunflower farms are just a short drive from the cities in North Central Texas such as Dallas, Fort Worth, and so on.
Here is everything you need to know about the sunflower fields in Texas and the best places to see them.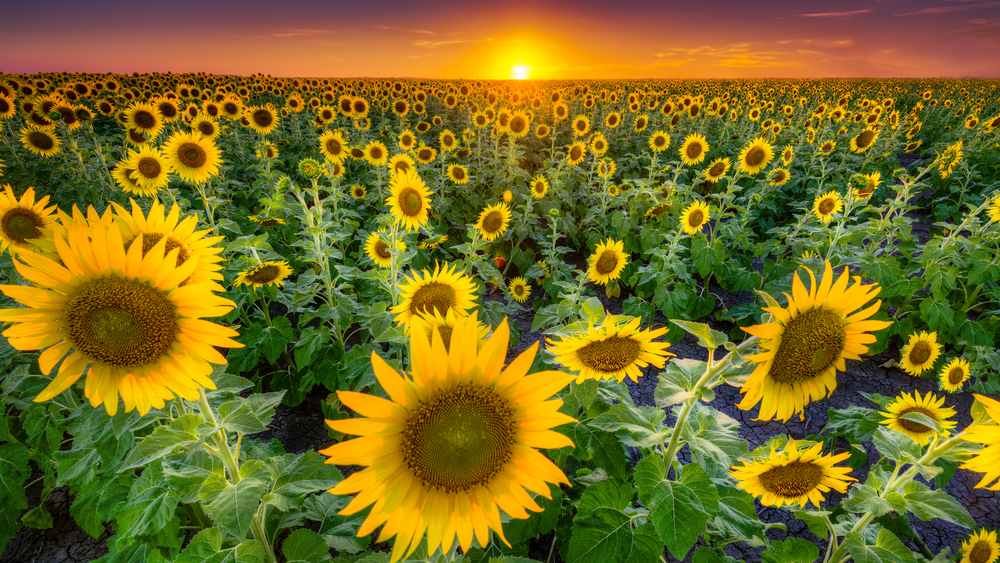 When Is The Best Time To Visit Sunflower Fields In Texas
Luckily, you can find sunflower fields in Texas in all three seasons – fall, autumn, and summer. But whether you can pick them or not depends on when you are visiting. Sunflowers tend to mature before the Texas heat increases so you can pick them up and get them home before the sun gets too hot.
Spring is a great time to visit a sunflower farm in Texas as you can see other wildflowers as well such as bluebonnets. If you plan a visit during the fall to these farms, then you can enjoy other activities such as pumpkin picking, corn mazes, and so on.
But the best time to visit the Texas sunflower fields is in summer, between May and June. The weather is hot and dry, perfect for the sunflowers to bloom before the sun scorches these fields. Visiting them is truly one of the best things to do in Texas!
Tips For Visiting Texas Sunflower Fields
Now, it is not as simple as choosing a sunflower farm in Texas and driving to it. We have mentioned a few tips below to keep in mind for an amazing experience on your trip.
First and foremost, bring and use sunscreen at regular intervals if you don't want to suffer from painful sunburns. Texas sun can be harsh and a good sunscreen lotion can protect you from it. Don't forget to wear a sunhat and sunglasses to block out the sun rays.
Another important thing to remember is that you should wear closed-toe shoes as they will help you avoid getting dirty and act as a barrier against insect bites too. Make sure you keep yourself hydrated as the sun can be pretty hot and draining during the day.
Are you planning to cut a few sunflowers and bring them home? Then do carry a cooler or a wide-mouth vase to keep the sunflower cuttings safe. Pack allergy medications or a lotion if you have any insect or air-related allergies.
Most importantly, check with the farm owner whether you can pick the flowers or not and what is the entry fee there. Carry cash with you as many farms don't accept cards or other transactional methods.
Prettiest Sunflower Fields In Texas
Wild Berry Farm
If you are looking for sunflower fields in Mckinney Texas, then visit Wild Berry Farm that is a 1-hour drive from the town. Located in Sadler town, Wild Berry Farm started planting sunflowers in 2016 and has expanded the crop since then.
Although one can see sunflowers on this farm in the spring, summer, and fall seasons, the best time to visit is mid-June. Make sure you check in first when you arrive at the farm for the bloom.
For a nominal fee, you can take stunning Instagram shots amidst the sunflowers at this farm! Also, the visitors are allowed to cut the flowers and take the stem home, for a price of course. So, make sure you pack a pair of good shears and a container to keep the sunflowers.
They also grow other varieties of fruits and flowers that can be quite as beautiful to look at as the sunflower flowers. When visiting, do check out the Farm Café where they offer fresh produce from their farms.
The farm is owned and operated by a family. As a result, Wild Berry is one of the most family-friendly sunflower fields in Texas to visit.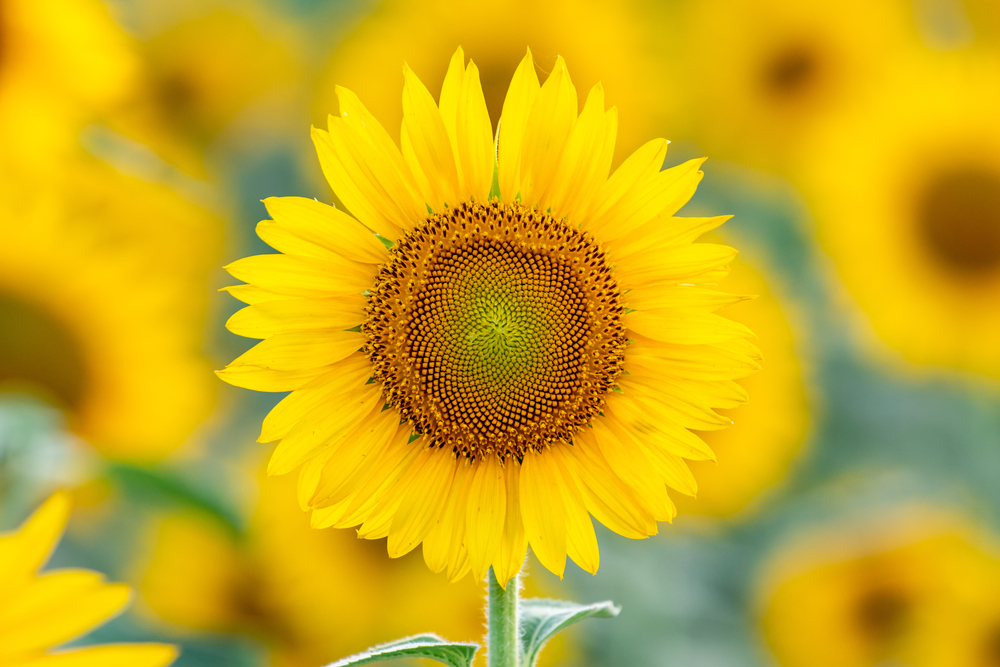 Mainstay Farm
Started in 1989, Mainstay Farm is a family-owned farm that is a 20-minute drive from Fort Worth. Known as the 'Biggest Backyard in Texas', this farm is a must-visit when it comes to exploring the best sunflower fields in Texas.
Mainstay features fall sunflower blooms so, plan your visit between September and October. Besides the sunflowers, there are many fun activities to do here. Listen to live music, marvel at a giant pumpkin house, shop in the Haymarket or go on giant slides, there are over 30 attractions to enjoy.
Trust me, this is one of the best sunflower fields near Fort Worth that can be a great place to enjoy festivities throughout the year.
Lone Star Family Farm
Located at a 2-hour drive from Dallas, Lone Star Family Farm is one of the top Texas sunflower fields to visit in this region. This farm was founded in 2013 and initially started as a pumpkin patch and now has become a great place to see sunflowers in the bloom season.
Enjoy the large, beautiful sunflowers that bloom in the fall season while you enjoy fall activities like corn cannon, giant slides, roping competitions, and more at the farm. Get lost in the giant or the mini corn maze and have fun with your whole family here.
While you cannot pick the sunflowers on this farm, you can walk around the trails and take dozens of photographs. Overall, this is certainly one of the most fun sunflower fields near Dallas to enjoy a picnic with your family or friends.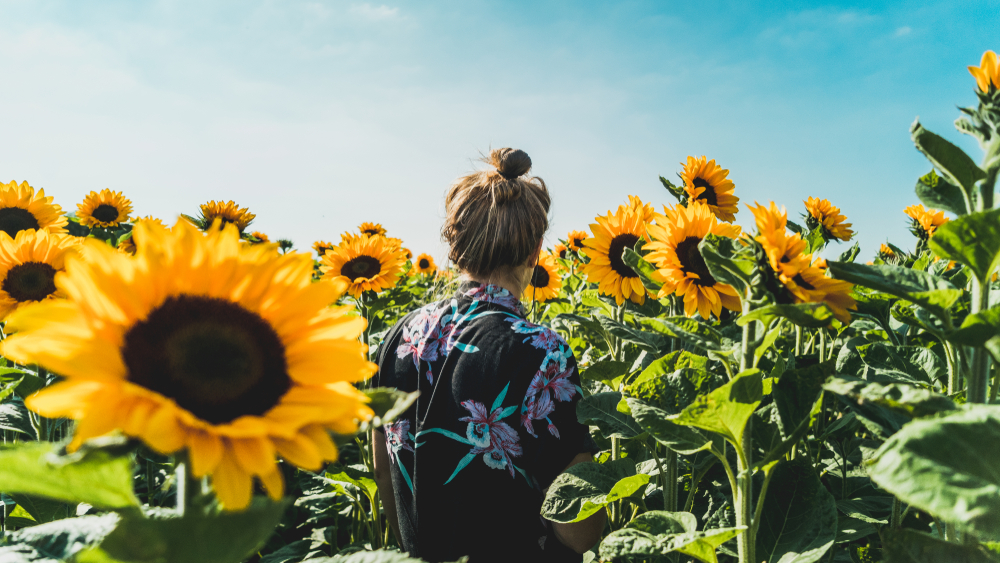 Wildseed Farms
The largest wildflower farm in the United States, Wildseed Farms is over 200 acres with several walking trails to enjoy. The farm is home to one of the top sunflower fields in Texas as it grows a wide range of sunflowers including the Sunspot, the Maya Sunflower, the Lemon Beauty, and so on.
Plan a visit to this farm in late summer when the sunflowers are in bloom and great for taking photographs. You can even buy the sunflower seeds here to grow a crop at home. After you have had your fill of the sunflowers, grab a drink or snack at the on-site Biergarten and winery for an amazing experience.
Wildseed Farms is one of the top sunflower fields near San Antonio that is free to enter and open year-round. So, do plan a trip here to witness the riot of colors that are clearly visible on this farm.
Froberg's Farm
Looking for sunflower fields in Houston for a fun day trip? If yes, then visit Froberg's Farm that is a 30-minute drive from Houston.
Froberg's Farm started as a strawberry farm and are now famous for their 5-acres sunflower trail. Visitors can enjoy the trail when the sunflowers are blooming in the summer and fall seasons.
The farm is open throughout the year but the fall festival in October is a good time to attend as you can pick some stunning sunflowers at the time. The festival features a pumpkin patch, corn maze, and plenty of family-friendly activities to keep you entertained.
The best thing about this sunflower farm in Texas is that it lets you pick fresh produce to take home. From blackberries to a variety of citrus fruits, to sunflowers, you can buy a lot of things at this farm. Also, don't forget to try the onsite bakery which serves homemade pies, jelly, and preserves made from fresh produce.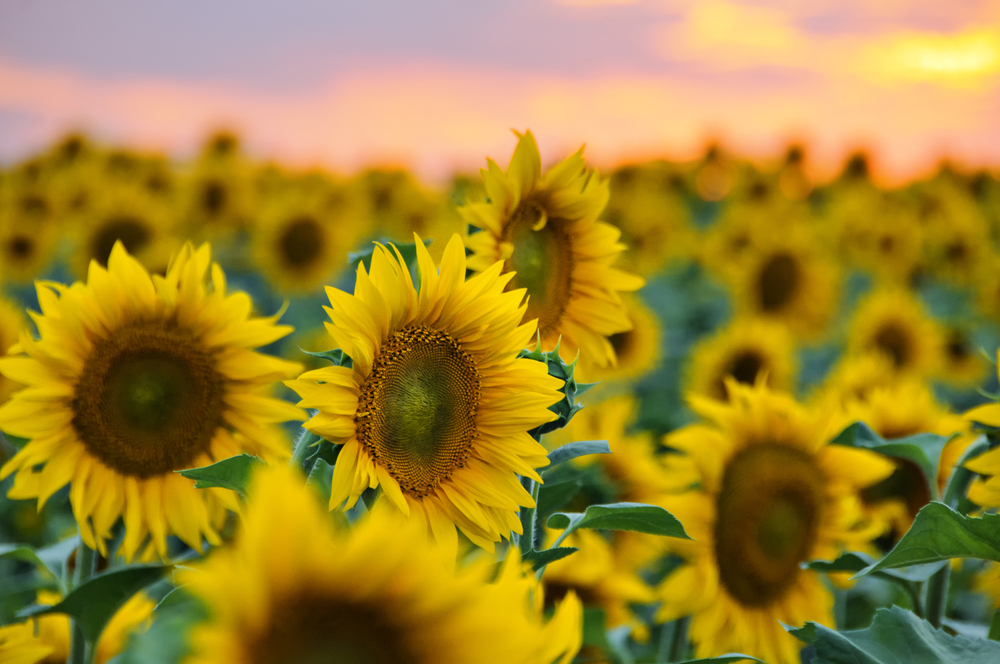 P-6 Farms
P-6 Farms is one of the top public sunflower fields in Houston where you can stroll through the flower patches and take some amazing photos with the sunflower blooms. Located in Montgomery, this sunflower farm is a 30-minute drive from Houston and makes for a great picnic spot.
The farm boasts of a variety of sunflowers including the traditional bright yellow sunflowers along with dark red and orange varieties. Plus, you can pick and take the sunflowers home for a fee. There are several other activities to enjoy at P-6 Farms such as hunting through the pumpkin patch, wandering around the corn maze, enjoying hayrides, games, and so on.
One thing to remember about this farm is that this is one of the few sunflower fields in Texas where professional photography is not allowed, you can take personal pictures here though!
Dewberry Farm
With 25 different varieties of sunflowers growing on 4 acres of land, Dewberry Farm is one of the largest sunflower fields in Texas. It is located close to Houston city and is a great place to see sunflowers from May to June.
Every year, they hold a Sunflower Festival in May where you can see sunflowers ranging from yellow to red colors bloom magnificently. You are welcome to pick a flower for a fee and take lots of pictures amidst the flower bloom.
Additionally, there are lots of activities to enjoy here including carnival games, gemstone mining, corn maze, pumpkin patch, and more. They also have a Ferris wheel and a carousel on the property for the guests to enjoy year-round.
If you are looking for sunflower fields in Houston, then visit Dewberry Farm for a fun day trip.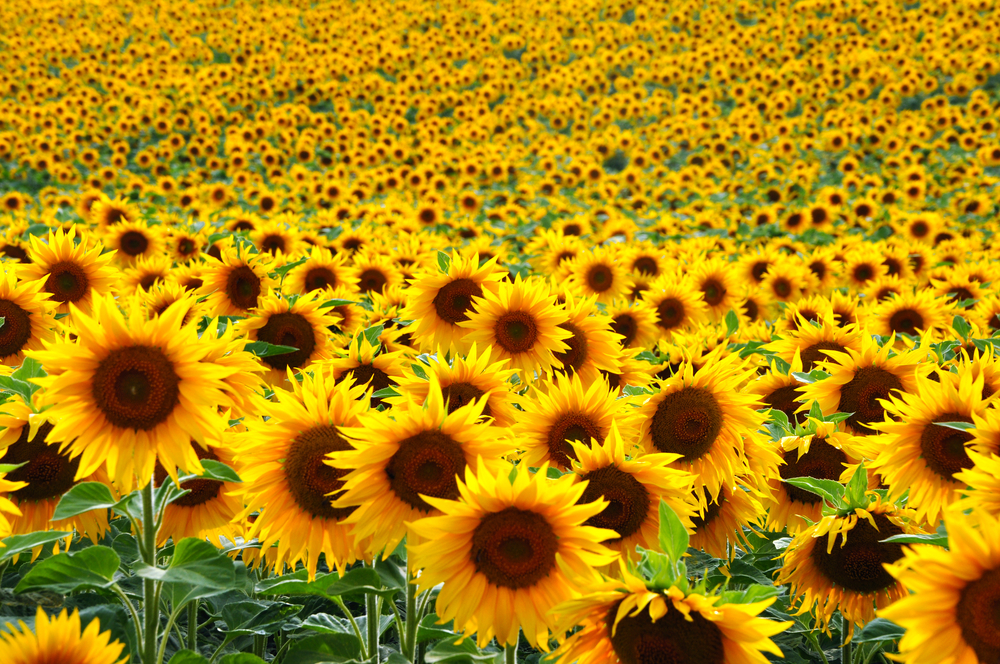 Yesterland Farm
Head to Yesterland Farm in Canton, Texas which is one of the best sunflower fields near Dallas.
Visit their Sunflower Days Festival, held in September, when you can see the gorgeous sunflowers and indulge in fun activities during the fall season. Enjoy a ride through the corn maze, listen to live music, family-friendly photo-ops, and do more here. The best part about this festival is the vintage rides that include Ferris wheels, rollercoasters, and so on.
There is just so much to do at Yesterland Farm! They are actually new to this and planted their first sunflower patch in 2020. However, they have clearly impressed the crowds with their sunflower crop.
So, if you have been meaning to visit one of the sunflower fields in Texas for a while, then this is it!
Robinson's Family Farm
Planning to visit sunflower fields near Fort Worth? Check out Robinson Family Farm in Texas that boasts of sunflower blooms that stand at a height of five to six feet.
The farm hosts fun family-friendly events throughout the year since it is a family-operated farm. Summer Sunflower Fest, held on the weekends in June is particularly a hit for seeing the sunflowers and clicking amazing family pictures.
The best thing about this sunflower farm in Texas is that there are lots of activities to do here besides sunflower picking.
This is one of the sunflower fields in Texas to visit with your family. You can go to the pumpkin patch, kids can stroll around the corn maze, or you can play fun yard games with your entire family, there is something available for every age.
Sweat Eats Fruit Farm
Located in the quaint town of Georgetown, Sweet Eats Fruit Farm is one of the best sunflower fields near San Antonio that you can visit.
The Sweet Eats Fruit Farm Festival, held in June, is an annual sunflower festival that was started in 2020. It is the perfect time to visit and marvel at the 6.5 acres of sunflower blooms. What is interesting about this festival is that you don't see just the classic yellow sunflowers but witness over 35 varieties of sunflowers.
That's not all, this sunflower farm in Texas is a paradise for photographers! You don't need special permission to take the photos, just pay for the general admission pass. Get amazing shots with sunflowers in the 'No Pick' zones throughout these sunflower fields in Texas.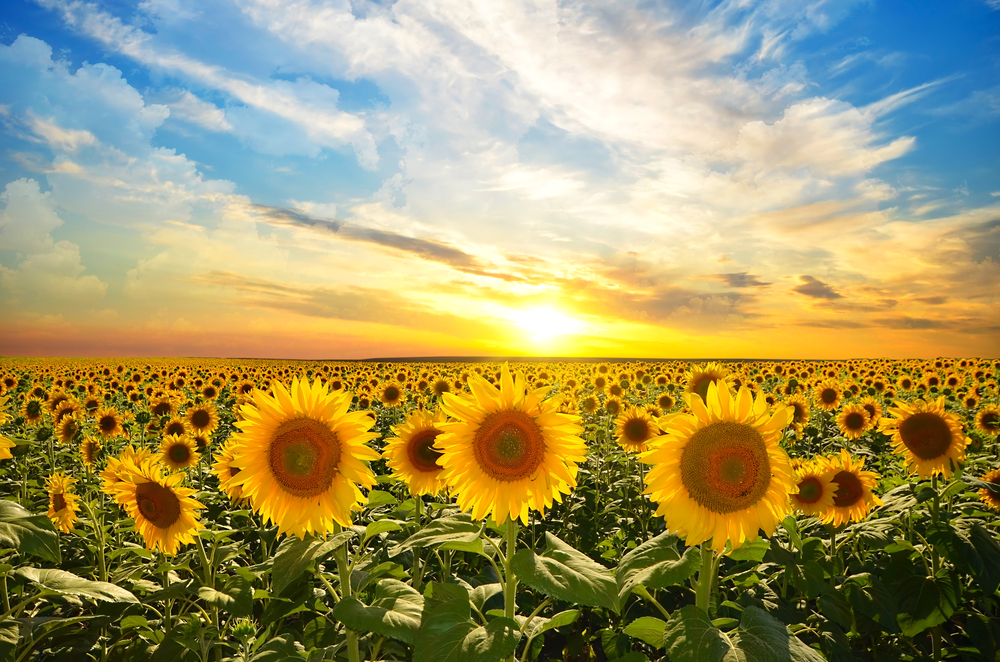 There are plenty of Texas sunflower fields for you to explore apart from the ones that we mentioned above. This can be a great opportunity to take some kickass photos and spend time with your family and friends. We hope you enjoy a tour of these amazing sunflower fields in Texas!