If you're wondering where to hop into a kayak to go for a paddle, this list will help you locate some unique places to go kayaking in Texas.
The great variety of lakes, rivers, and shorelines in Texas offer many great opportunities to kayak for all levels of experience. There are plenty of options for beginners and those looking for a relaxing paddling experience, and just as many for experienced paddlers looking for more excitement and adventure.
Kayaking in Texas brings you close to nature and can give you an eye-level view of all kinds of wildlife and habitat throughout the state. Take insights from your kayak that you cannot see from any other vantage point. Kayaking is one of many fun things to do in Texas whether you are on a weekend getaway or you're road-tripping your way across the state and would like to pause for a relaxing paddle with a kayak rental.
Take precautions like draining all the water from your kayaks to help prevent the spread of invasive species of plants and animals including water hyacinth and the zebra mussel. Make sure your kayaks are dry and free of mud before visiting a different lake or body of water.
If you're ready to explore some of the best places to kayak in Texas, keep reading!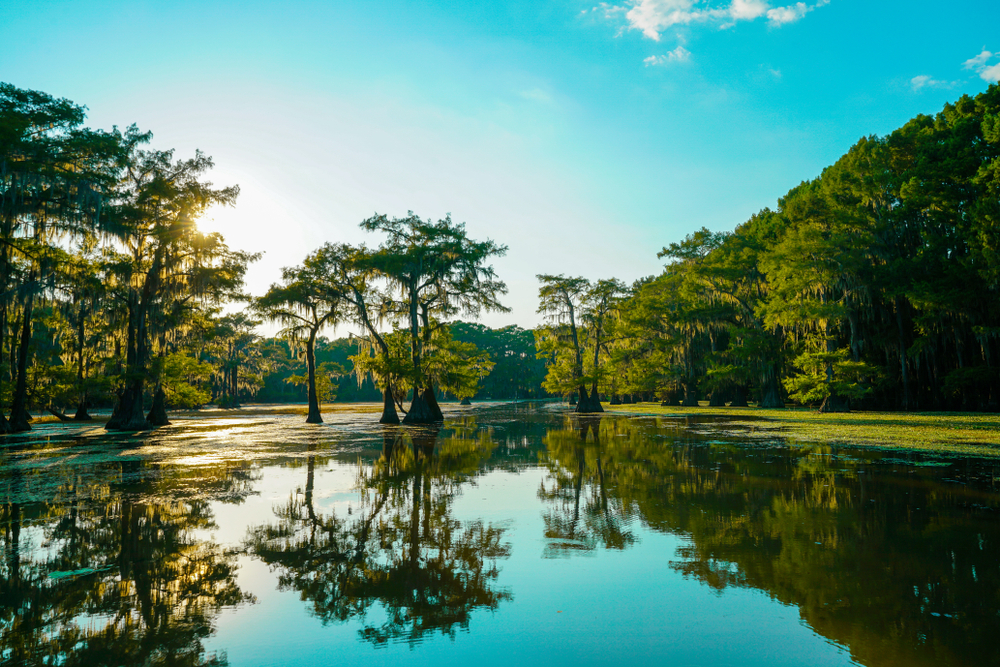 15 Unique Place to go Kayaking in Texas
Lady Bird Lake Paddling Trail
The Lady Bird Lake Paddling Trail near the Congress Avenue Bridge is one of the best places to kayak in downtown Austin because of a very special evening event. Visitors gather to see some uncommon urban wildlife – bats! Bats play a critical role in the ecosystems they live in. Species of bats are often insectivorous, meaning they eat bugs (including mosquitoes!) and other species are pollinators.
You can get an even better view of these flying mammals from the water while kayaking. Be prepared for a spectacular early evening show on the water.
Approximately 1.5 million insect-eating Mexican free-tail bats live in the colony under the bridge. To see them, you must visit between the months of March and October, with the best viewing in August, because they migrate south during the colder months.
The bats leave their roost 30-60 minutes before sunset, so be ready with your kayak in the water to see this unique sight.
The bats are only one stop on the 11-mile Lady Bird Lake Paddling Trail. With the skyline visible for most of the trail, you'll be able to get acquainted with Austin as you kayak. Don't miss kayaking around Red Bud Isle, a popular island on the paddling trail. No motorized boats are allowed on Lady Bird Lake, so you'll enjoy the freedom to explore at your own speed. Cast a line, and you might even get a nibble from a 30-pound common carp!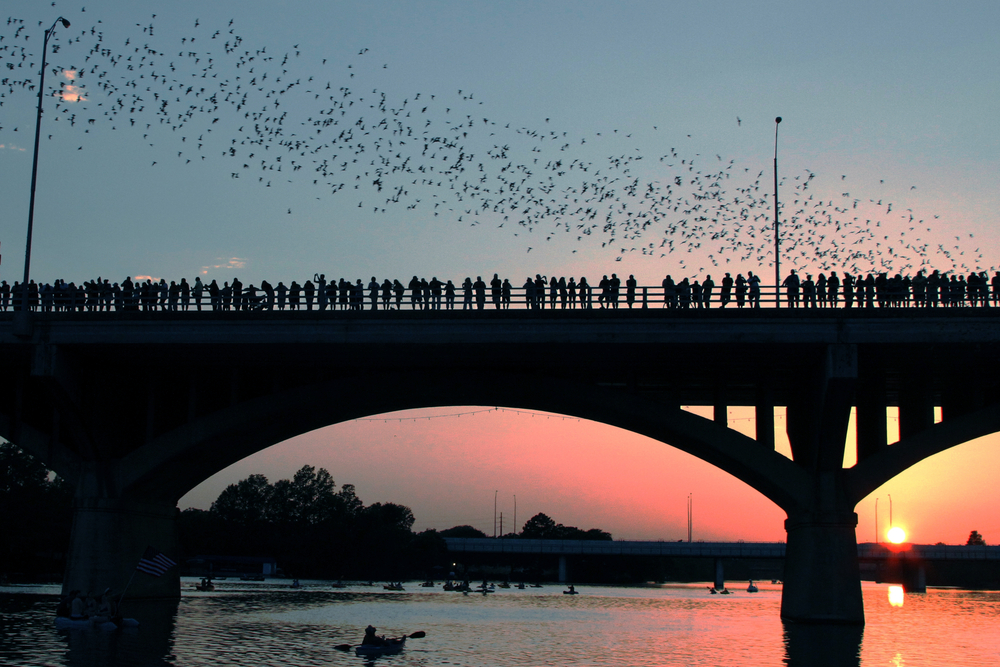 Caddo Lake
Caddo lake has a paddling trail that winds through cypress swamps. It is a 7.6-mile trip that won't disappoint! Visit Carter's Chute Paddling Trail expecting to spend around 3-4 hours on the water. Trail markers will guide your way if you look out for golden rectangular signs with an arrow and a paddle.
Caddo Lake will provide you with all the majestic beauty of bald cypress trees in their full glory. Marvel at their unusual roots lifting out of the water and admire their beautiful reddish bark. Caddo Lake contains the quintessential southern cypress swamp experience and gives a great window into kayaking in Texas.
In addition to the scenic natural views and the possibility of spotting wildlife, you will paddle beneath the locally known Goat Island Bridge before reaching the marked turnaround.
Bass, crappie, pickerel, and panfish are some of the numerous species of fish caught on Lake Caddo. If you're interested, enjoy fishing from your kayak.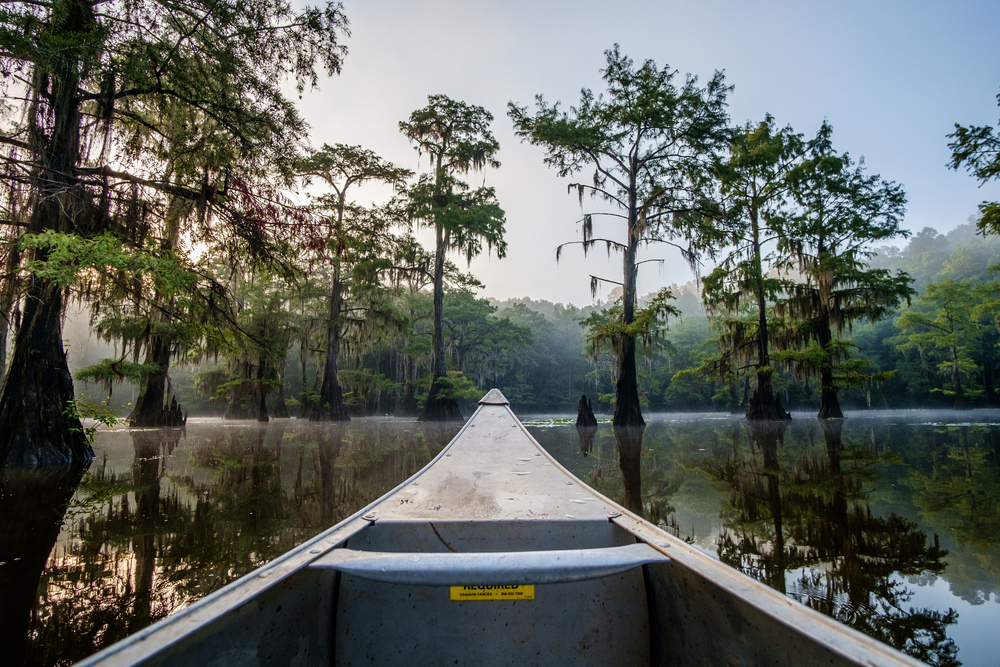 Lake Conroe
If you're looking to go kayaking in Houston, Lake Conroe is conveniently close! It is about an hour from the center of Houston. Kayak rentals are available on the northern side of this 21,000-acre lake. Since it is a reservoir, water quality is usually very good. With almost 160 miles of shoreline, there is a lot to discover here.
Lake Conroe is also a popular fishing spot among sport-fishermen. Fish for channel catfish, bluegill, and several varieties of bass. Get that bait and tackle ready!
This 21-mile long lake provides plenty of interesting sights for kayakers to enjoy. Part of the lake rests within Sam Houston National Forest. See the East Texas Piney Woods ecosystem from the water. There are also so many things to do in Conroe so you should visit for a weekend!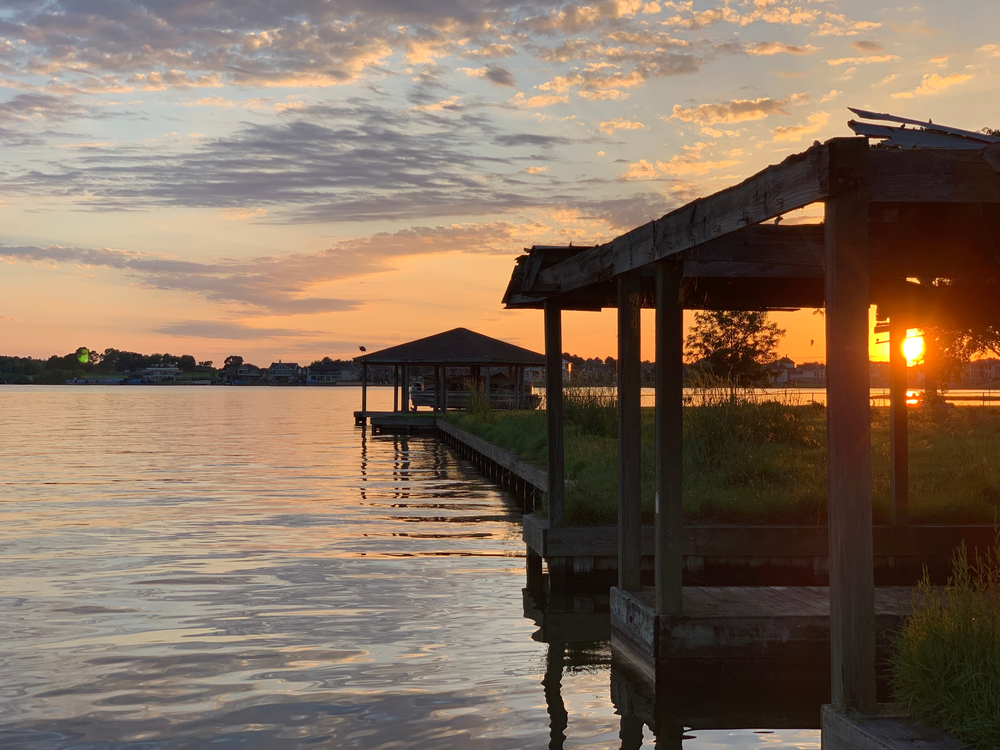 Padre Island National Seashore
Padre Island National Seashore protects a long strip of land that separates the Laguna Madre, a rare lagoon saltier than the ocean, from the Gulf of Mexico. There are kayaking opportunities on both sides of the National Seashore and it is truly one of the best beaches in Texas!
Experienced kayakers may be interested in the fishing opportunities on the open ocean, or kayak within the Laguna Madre at any experience level. The gentle waters of the lagoon have an average depth of 3.3 feet, so the Laguna is perfect for exploring via kayak!
The lagoon is home to countless small islands where wildlife thrives. Over 380 species of birds have been spotted at Padre Island, with some species nesting here and others stopping here on migrations, so it is a fabulous bird watching spot! From your kayak, get a fantastic view of birds like brown pelicans on these otherwise unreachable islands, but remember to keep your distance and respect the wildlife.
If birdwatching and kayaking in Texas are for you, you must visit Padre Island!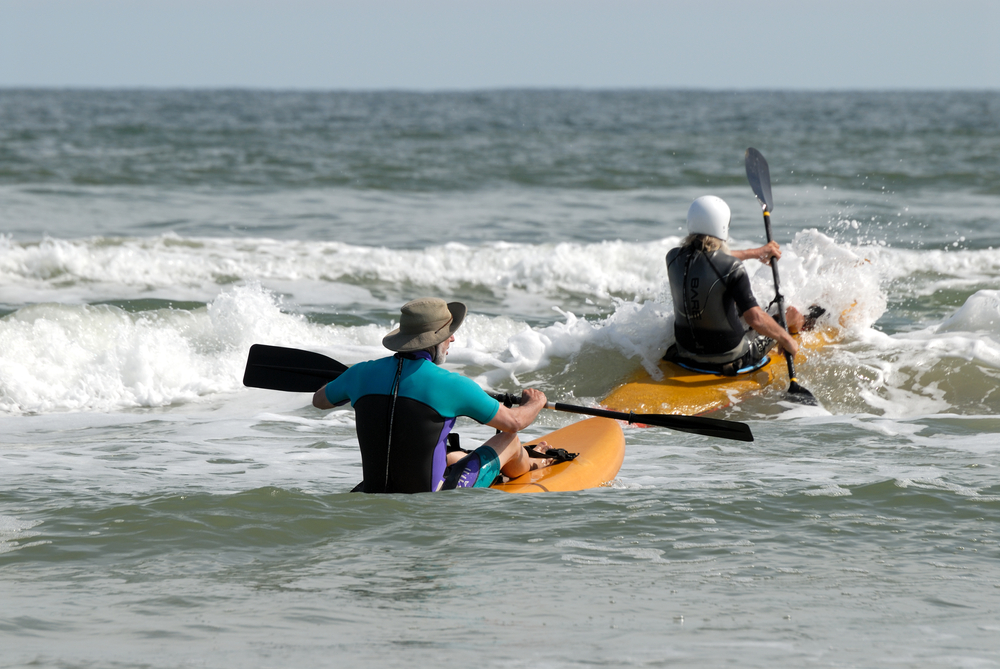 Cherokee Neches Paddling Trail
Located right outside of Jacksonville, TX the Cherokee Neches Paddling Trail is part of the Neches River National Wildlife Refuge. It is a 6.6-mile trail with various conditions along the way including still pools and small riffles. If you're looking for some variety when kayaking in Texas, this might be the paddling trail for you to check out!
Watch for snags and carefully navigate around them. This river is not controlled by any manmade dams, so check weather conditions and be cautious of rainfall-runoff that could create high flows.
As you kayak, look for birdlife in the oak trees growing along the banks, or fish for channel catfish and alligator gar. Texas Parks and Wildlife recommends using light lines, plastic worms, spinnerbaits, and jigs to fish this area. River otters, beavers, and turtles are regular visitors, and every now and then, an alligator is spotted here.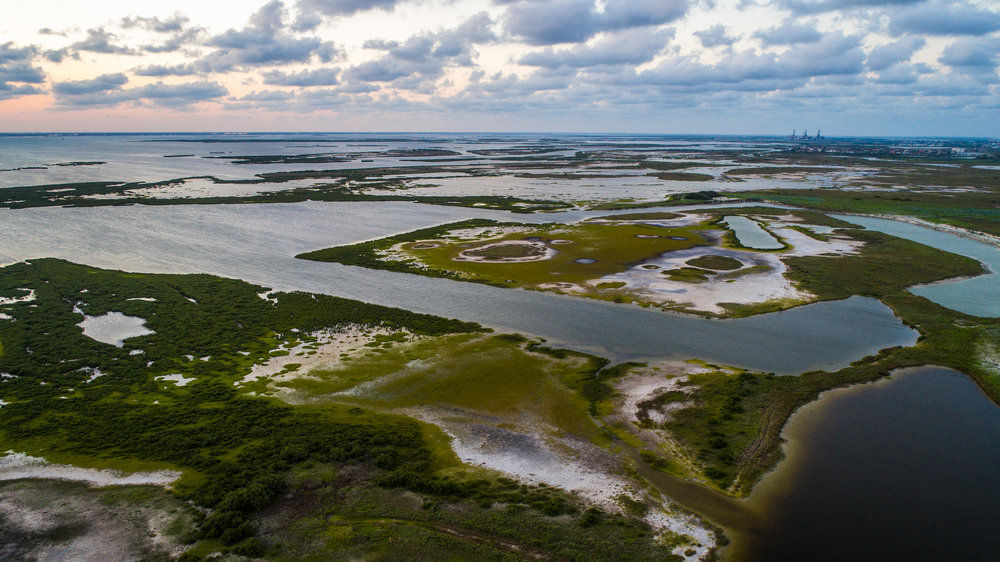 Beaver Pond Paddling Trail
Just north of the Dallas/Fort Worth Metroplex, you can find a small but special treat: the Beaver Pond Paddling Trail. The trail has interpretive signage at 12 different stops. It is a very short loop, only 1 mile, and is great for beginning kayakers and children.
If paddling quietly, you increase your chances of seeing green herons and wading birds, beavers, opossums, bullfrogs, and green tree frogs. Fishing is not allowed. This short trail is a great snapshot of kayaking in Texas if you're ready to get your feet wet for the first time.
There is an entry fee of $5.00 per vehicle. Much of the trail is shaded and cool on warm days. Enjoy the shade under willow thickets and beautiful water lilies in the open areas. This is truly one of the best day trips from Dallas!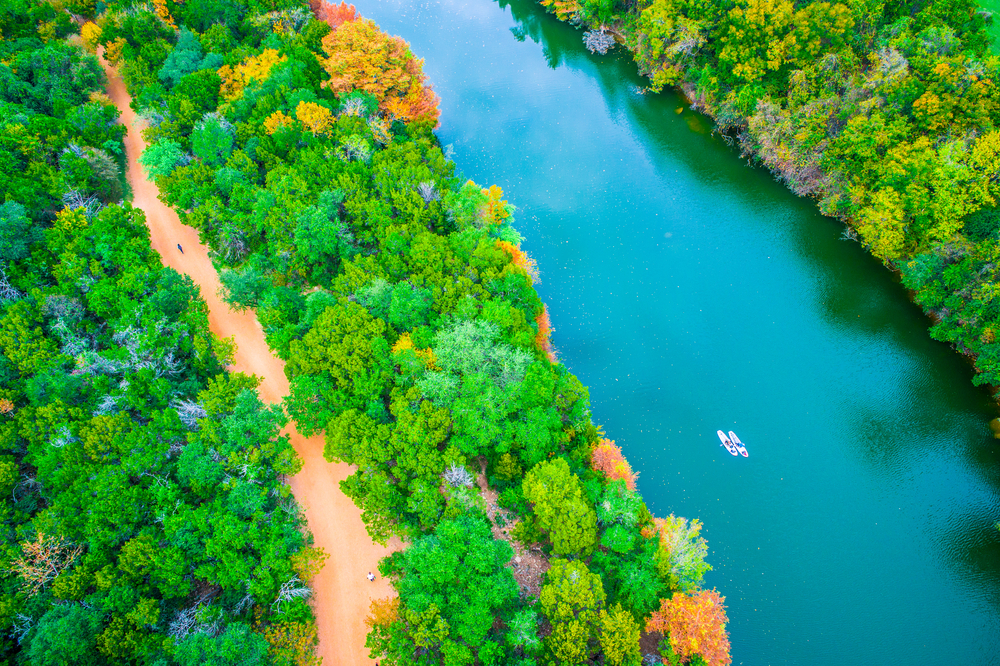 Mission Reach Paddling Trail
This paddling trail is 8 miles long and carries you through the mission region of San Antonio. Get unique views of this historic region from your kayak! The trail even passes through one of the best national parks in Texas, San Antonio Missions National Historic Park. Get an unusual glimpse into the National Historic Park which most visitors do not see.
During times of low water, there are more than 30 chutes that allow you to pass. The chutes create short riffles. Expect high water flow for the 72 hours following any rainfall. Kayaking in San Antonio is an ideal way to incorporate an outdoor adventure into your trip itinerary.
Keep your eyes peeled for egrets, herons, and double-crested cormorants. The trip will take between 3 and 5 hours. Fish for sunfish and largemouth bass as you float past miles of hiking and biking trails. Native plant species abound on the banks thanks to a large restoration project. You might even see some wildflowers depending on when you visit!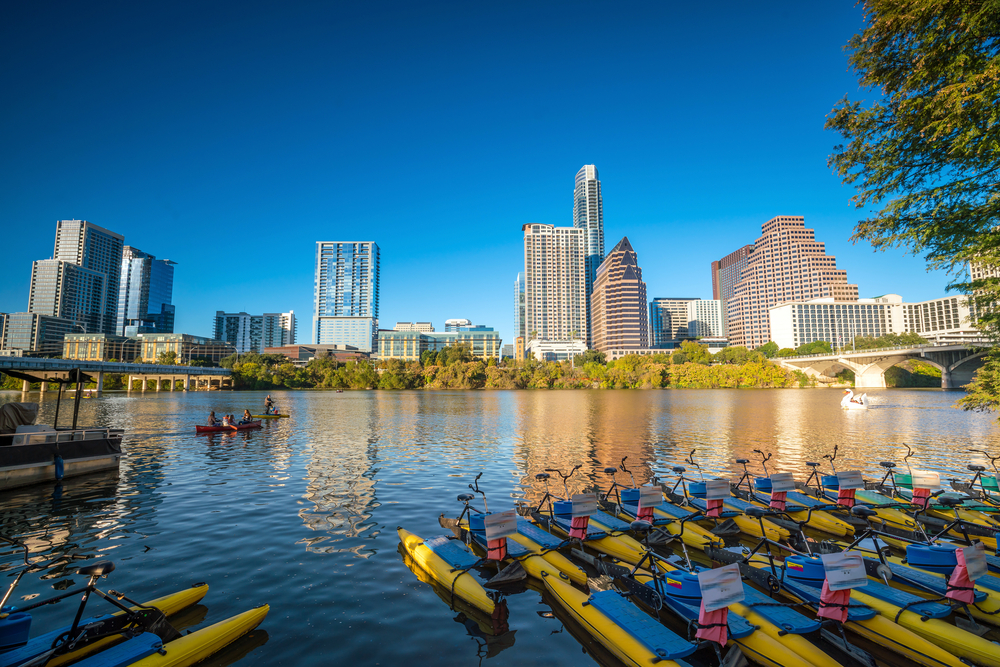 Kayaking in Houston
Take the Buffalo Bayou Paddling Trail to experience Houston from the water. This 26-mile trail travels through the heart of the city. The trail is too long for a one-day trip, but it is broken up into smaller segments that are doable in 1.5-4 hours.
You'll get views of the city that you can't get anywhere else while kayaking in Houston. With 10 different access points, you can customize your trip to which areas of the Buffalo Bayou you'd like to see. A bayou is a slow-moving watercourse, and they're often swampy. Houston was built around several and you'll be able to see some of the banks of sand, red clay, cliffs, and sandstone the water has carved its way through in addition to the modern structures like the bridges and roadways that keep Houston moving.
There is not much elevation change so there are not many riffles. But do not put your kayak in during turbulent conditions after storms. The water is not swimmable and bring hand sanitizer as this is a very urban river. This trail provides some great urban kayaking in Texas!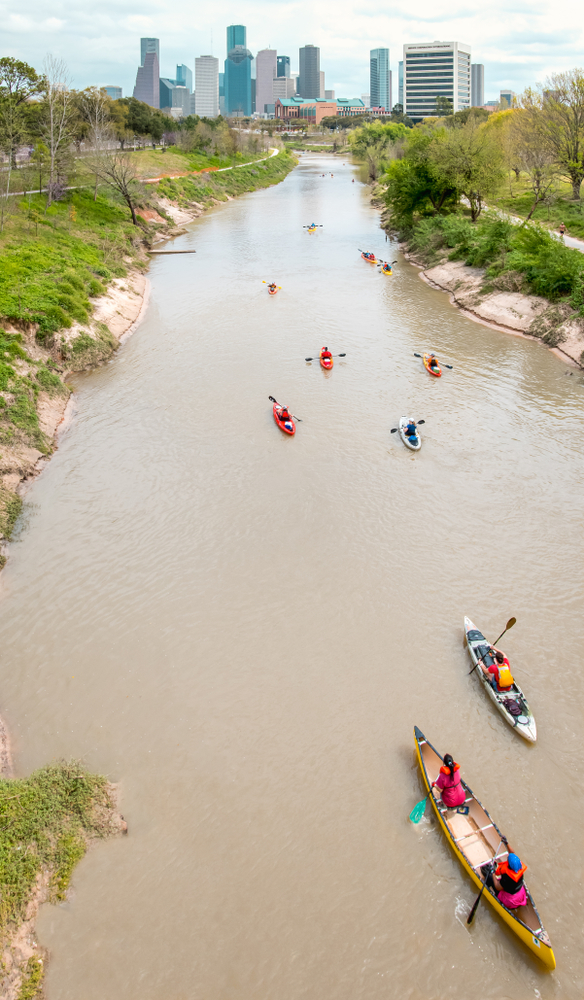 Victoria Paddling Trail
Also on the Gulf Coast, you can escape to the Victoria Paddling Trail for some fantastic kayaking in Texas. This trail follows the Guadalupe River and slowly meanders past beautiful low river banks. The 25-mile long trail is broken up into four sections which can range anywhere from 1 hour to 6 hours depending on the kind of excursion you'd prefer. There are 5 different access points along this paddling route where you can drop in or hop out.
Look for sandbars to stop for rest or to quietly watch for native birds. Migratory birds love to stop at the Guadalupe River on their travels. Visitors have spotted bald eagles, ospreys, kingfishers, and more. Armadillos also frequent the areas near the river.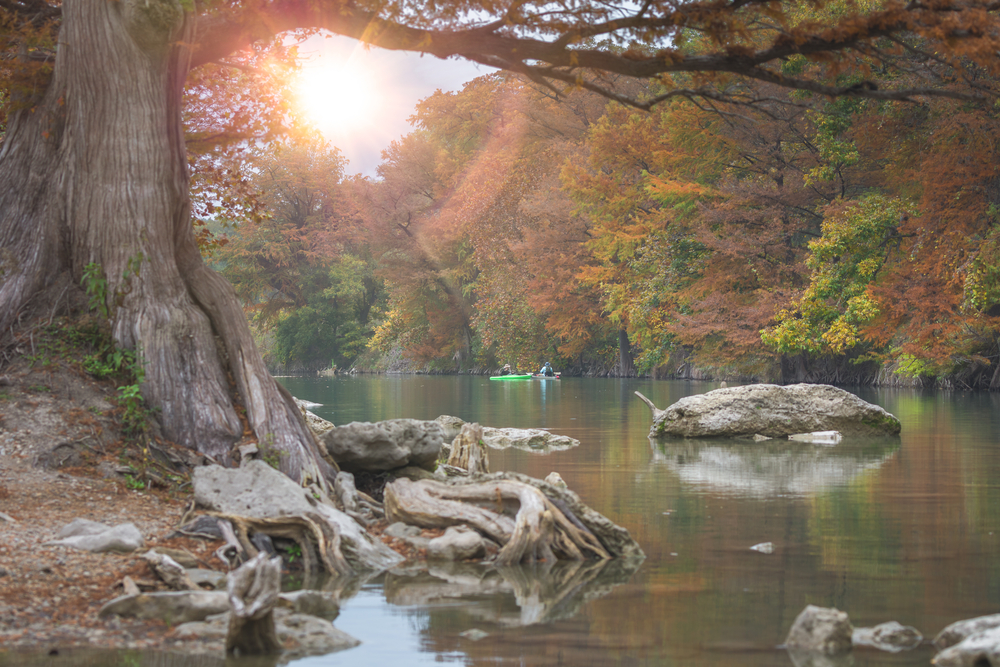 Nichol's Landing Paddling Trail
If you're looking for some excitement in Texas Hill Country, try kayaking the Nichol's Landing Paddling Trail on the Upper Guadalupe River.
This river provides some rapids and areas of fast water between longer stretches of calm waters. Experienced kayakers will know to watch out for and avoid hazards in these fast water runs.
This trip can take between 3 and 6 hours to travel the 10 miles, varying with flow rates. You'll see the rugged cliffs and boulders of Hill Country on this adventure kayaking in Texas. Look for interesting limestone shelves on and bluffs along the banks.
This trail is also known for the mature trees lining the banks in some stretches. In particular, keep an eye out for big bald cypress trees. The chance of seeing livestock enjoying the freshwater creates another point of interest.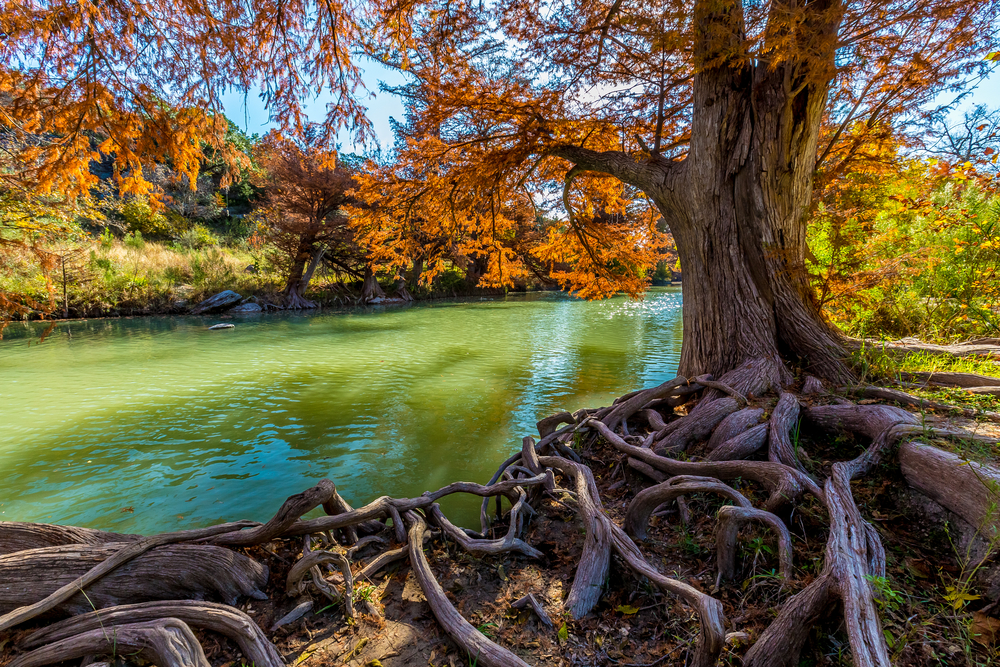 Pecan Bayou Paddling Trail
The Pecan Bayou Paddling Trail provides some peaceful kayaking in Texas. It is slow-moving water located upstream from a dam. The boat ramp is in the middle of the trail so it can be paddled either as a complete loop (about 7.2 miles) or two different directions – upriver (3.2 miles) or downriver (4 miles.
Located about 150 miles from Fort Worth, the Pecan Bayou is in the middle of Hill Country. An orchard once surrounded the bayou and you can still see the 100-year-old pecan trees dotting the banks of the bayou. Owls and woodpeckers are commonly sighted. Birdlife is a big draw at this bayou.
Mineola BigFoot Paddling Trail
A wonderful spot to drop your kayak in the water is the Mineola Bigfoot Paddling Trail along the Sabine River in east Texas. With 11.9 miles of a paddling trail, this is a fantastic location to kayak in Texas. If you're looking for a trip where you can kayak to a campsite, this is the one for you!
In the middle of the trail is the Mineola Nature Preserve Campsite. There is a fire ring and 6 picnic tables as well as locations for tents. It's a great spot for a picnic lunch and rest or an overnight stay! Imagine rolling into your sleeping bag and stargazing after a day of kayaking.
Trip times are usually between 6 and 8 hours. Do not visit this trail during times of low water as submerged snags and logs can become more hazardous with low water conditions. High water conditions are also best to be avoided. There are 3 large logs stretching across the river to be aware of. The flow of water is controlled by the water released from upstream lakes and dams and is heavily influenced by rainfall events. Check conditions before kayaking.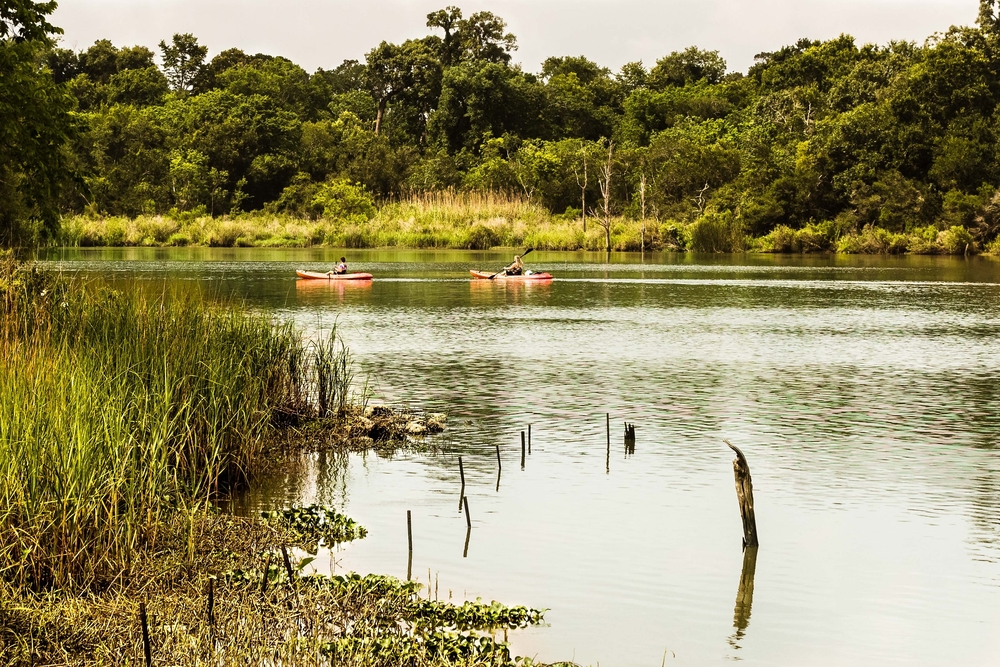 Bosque Bluffs and Brazos Bridges Paddling Trails
If you're looking for kayaking in Waco, these two trails that share a boat ramp are perfectly situated in downtown. The Bosque River connects to Brazos Lake, so choose either one to explore! Spend 1-3 hours kayaking per trail. These are great trails for every skill level including beginners.
Fishing and watching for wildlife, like armadillos on riverbanks and turtles warming their shells in the sun, will keep you engaged with these paddling trails. Try for bass, smallmouth buffalo, carp, crappie, and three different types of catfish.
Paddle beneath several bridges on the Brazos Bridges Trail and enjoy being surrounded by nature on the banks. It's a great place to get outdoors and enjoy the water.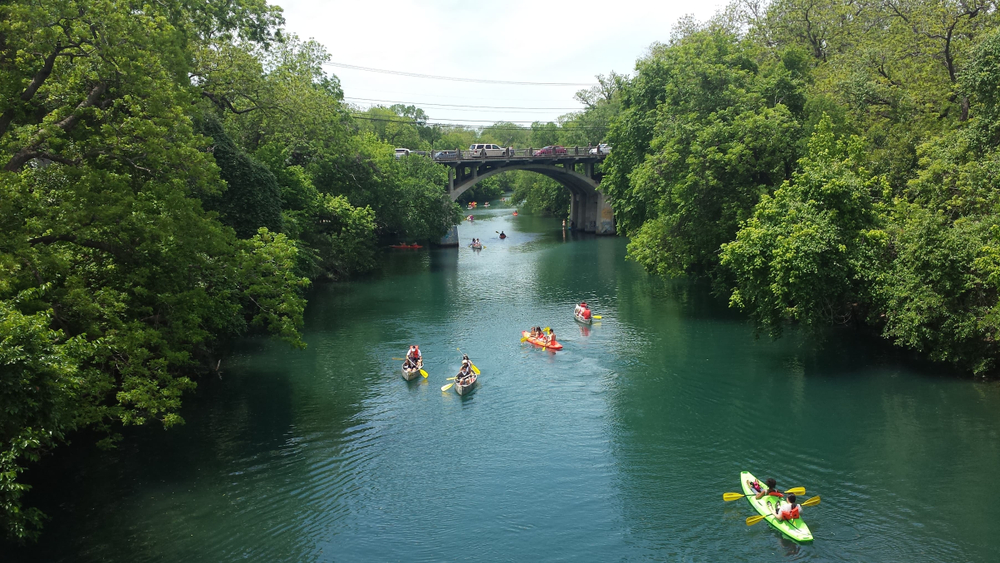 Fort Worth Nature Center & Refuge Paddling Trail
Fort Worth Nature Center protects 3600 acres and is known for its 20 miles of hiking trails, fossils, and resident bison herd. Lesser known is the 7-mile paddling loop within the reserve. This hidden treasure will delight all visitors looking for kayaking in Dallas/Fort Worth.
The Nature Center & Refuge is located only 10 miles from downtown Fort Worth. Make a reservation and pay your entry fee online. There are two launch points located in the reserve. The loop will take 2-3 hours and takes you on the Trinity River. This site is known to be excellent kayaking all year round.
American alligators are commonly spotted by kayakers! Enjoy paddling past abundant water plant life such as cattails, arrowhead, pondweed, water willow, and bulrushes. Keep an eye out for beavers, deer, snakes, turtles, raccoons, and more! If you're looking to get outdoors, get away from a busy urban center, and put a kayak in the water, the Fort Worth Nature Center & Refuge is ideal.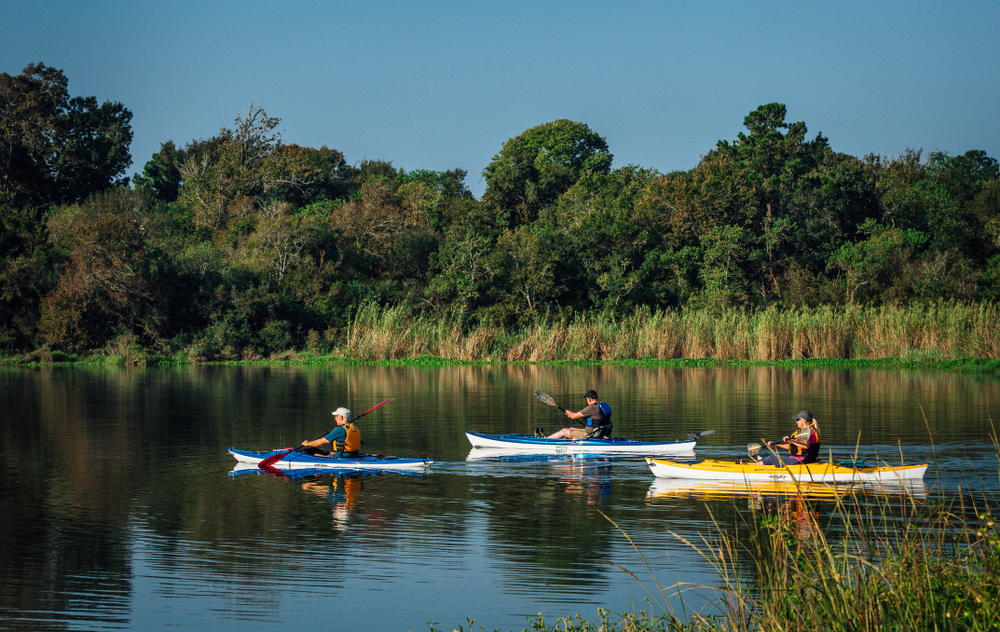 Armand Bayou
Kayaking the Armand Bayou Paddling Trail is a great way to catch a glimpse of an alligator! The Armand Bayou is right in Pasadena within the greater Houston area. Located within a preserve, the paddling trail shows you coastal flatland forest as well as tallgrass prairie.
This special habitat allows both freshwater and saltwater fishing opportunities with both fresh and saltwater species living here. Stop at the Armand Bayou Nature Center for information and educational experiences.
The serene Armand Bayou is perfect for kayaking in Texas. Abundant birdlife, including spoonbills, will keep you interested as you kayak. Paddle as far as you like, or as little as you like. This trail can be done in variable sections depending on how much kayaking you'd like to do.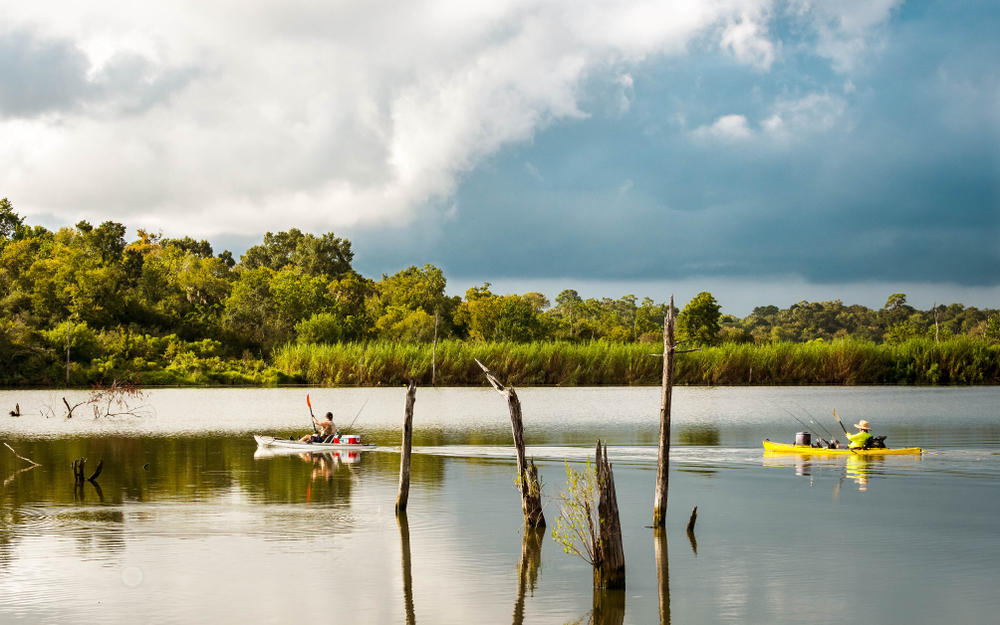 Kayaking in Texas provides so many great opportunities to enjoy nature and get an up-close look at plants and animals of all kinds. Since Texas is such a big state, there are so many different locations where you can drop a kayak in the water and spend the afternoon paddling.
See bayous and cypress swamps, rivers with steep cliffs, urban centers, or nature preserves. The choice is yours when it comes to kayaking in Texas! Happy paddling!