Happen to be traveling to Houston during the holidays? Houston, we have no problem here! Christmas in Houston is one of the best times of the year, so look no further as we share with you 12 of the most festive ways to celebrate in this wondrous town. It is truly one of the best places for Christmas in Texas!
From cute shops, to ice skating, witnessing gorgeous lights and even experiencing winter wonderlands, Christmas in Houston is magical. We are sure you won't be disappointed. This is the most wonderful time of the year, after all! So pack your bags, memorize your carols, and get ready to experience Christmas in Houston!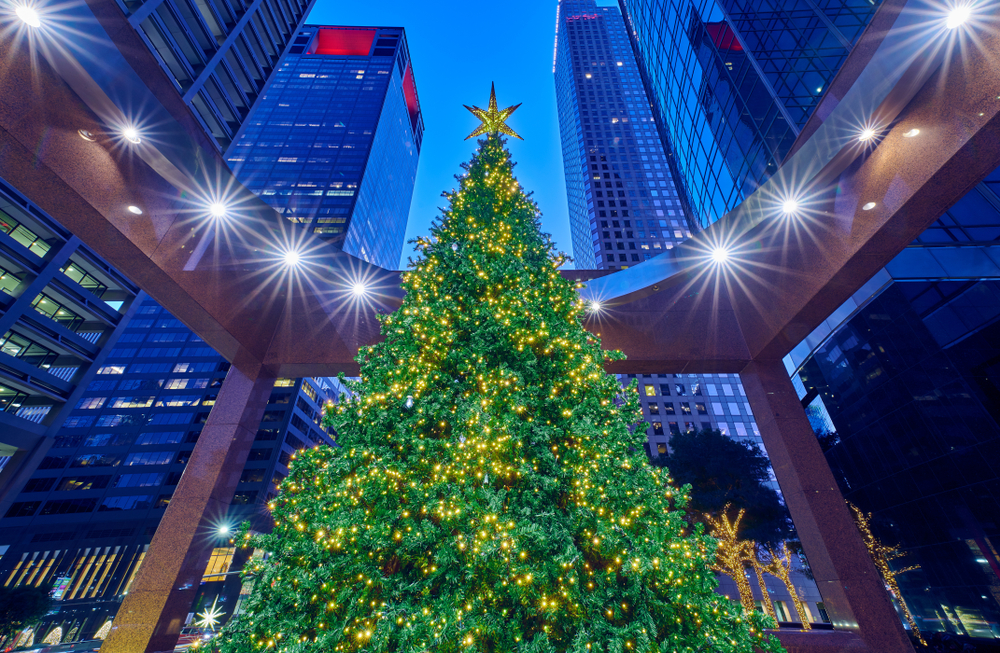 Is Christmas a Good Time to Visit Houston?
Well, for a short answer, yes! Christmas in Houston is wonderful. There are tons of family friendly things to do, romantic Christmas dates you can take, and more.
From ice skating to lots of lights, traditional ballets and the town decorating City Hall, we promise there are great ways to celebrate Christmas in Houston.
So if you decide to travel this holiday season, consider going to Houston! This city is packed with adventures, prepared with wonderful holiday weather, and will give you a lifetime of memories.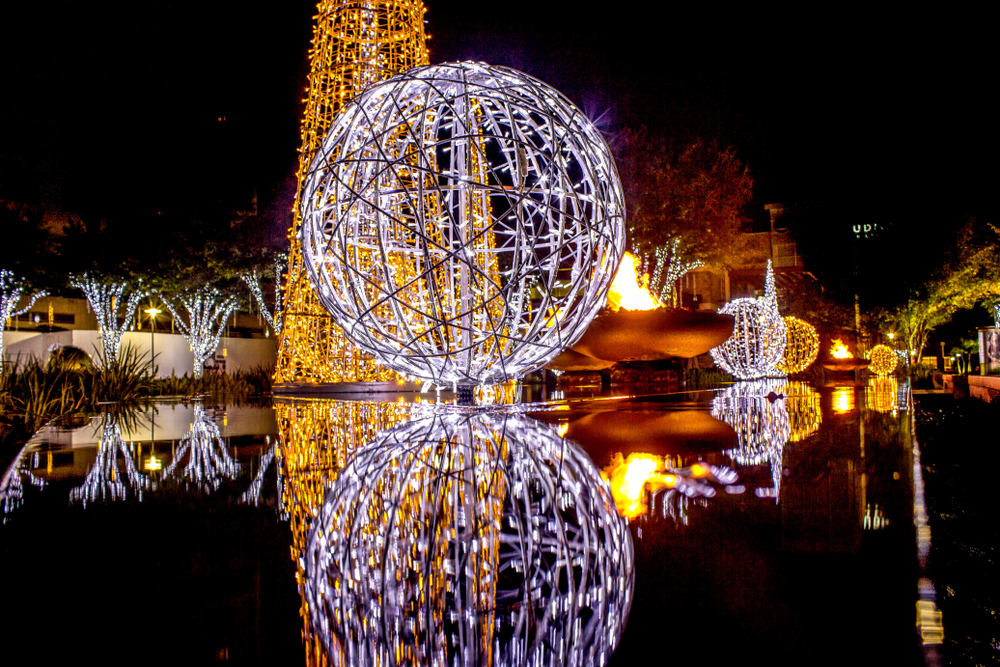 Houston Weather in December
What weather should you expect in December in Houston? In most years, Houston's average temperature is between 61 and 68 degrees at its highest, and between 41 and 49 degrees at its lowest. There is typically no rain fall either!
This is cold and chilly, but what better weather for Christmas time? Splurge on some hot chocolate and cute winter coats, and make sure to pack some pants and a warm layer!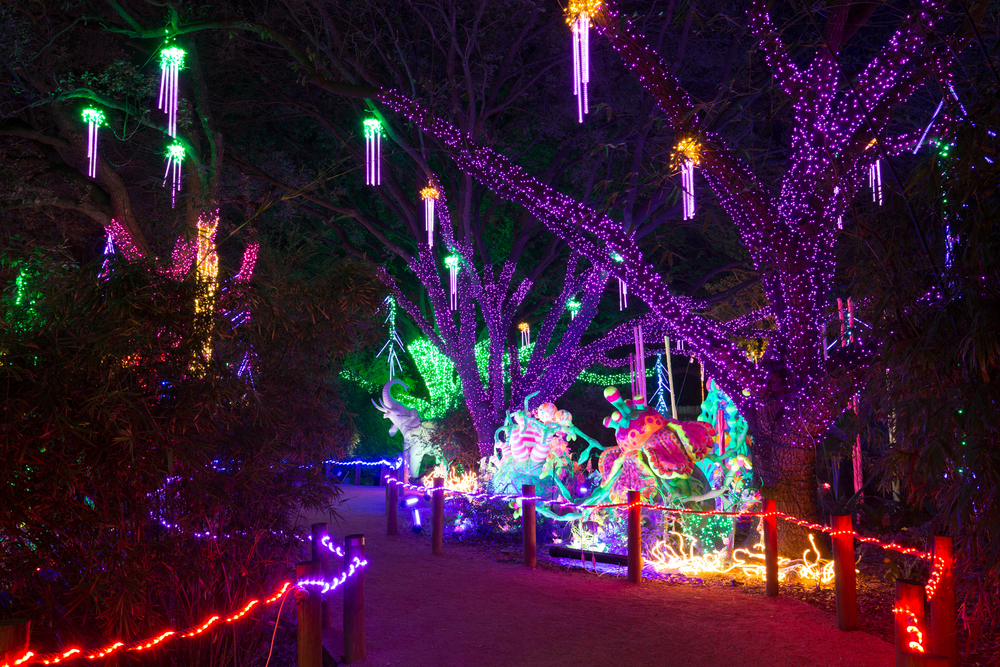 Does it Snow in Houston?
Don't keep your hopes too high with snow in Houston! If you are looking for freshly packed, white snow this Christmas, you may consider traveling somewhere else because snow is not always guaranteed in Houston.
Snow in Houston does happen though! For example, it snowed 94 times one year in Houston! Because the temperatures don't often drop below freezing, we don't always have a winter wonderland, but that doesn't mean this location isn't dry and cool and perfect for the holidays. Come celebrate Christmas in Houston and find out for yourself!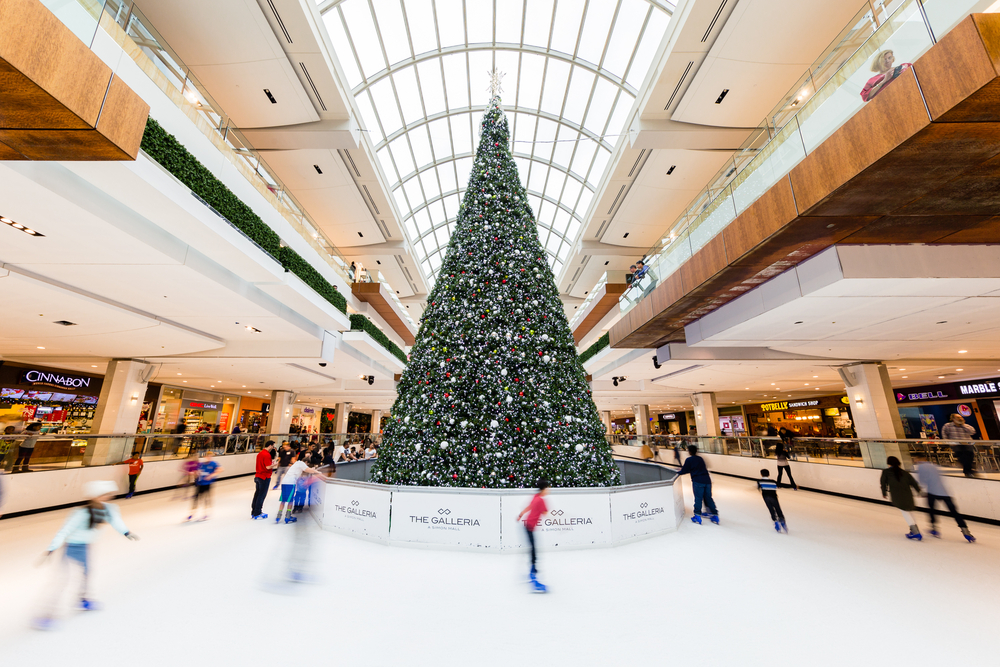 Best Christmas Things to Do in Houston!
Visit the Winter Wonderland in Houston
Winter is coming and Texas wants you to celebrate it! Take a stroll down Candy Lane or hop on the Polar Express. This Winter Wonderland extravaganza features your favorite characters, like Jack Skellington and the Grinch!
From unique photo opportunities, to strolling through different holiday themed villages, this spectacle features dazzling lights, holiday music, and a cocktail bar!
You can also enjoy the nightclub experience during happy hour if you are up for it! This is truly one of the most unique ways to celebrate Christmas in Houston, as this is a spectacle like no other! Enjoy the polar express, The Nightmare Before Christmas, a few drinks, lights, and just celebrate!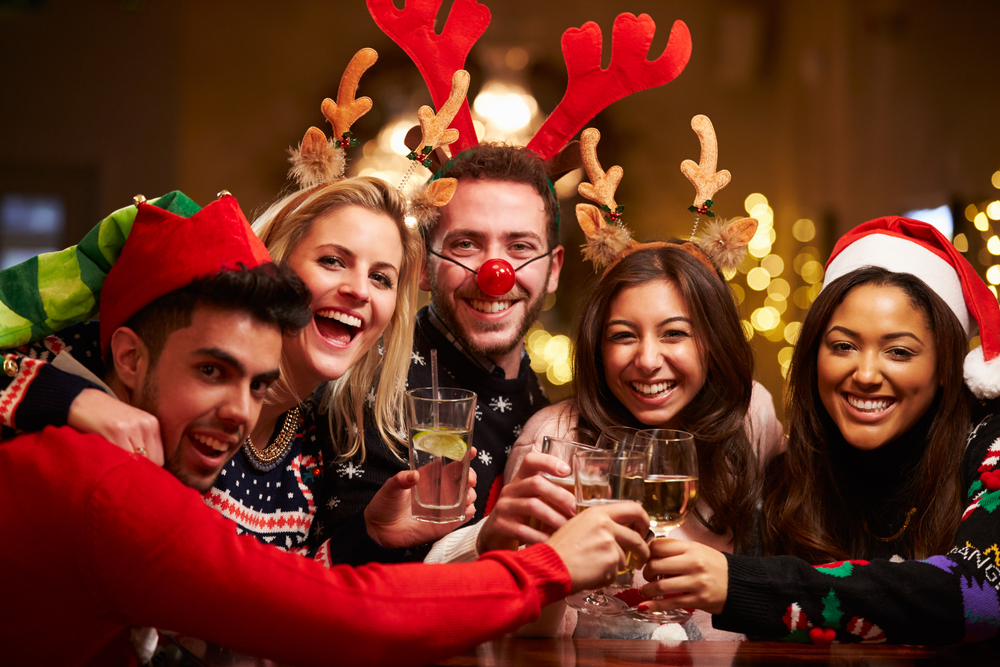 Stop by Christmas Stores in Houston, Specifically Christmas Rocks!
Is there a better way to get in the holiday spirit than to immerse yourself with all things Christmas? Christmas in Houston only gets better when you realize there are multiple Christmas stores you can browse through!
Christmas rocks is one of them! This store is open year round and is perfect for looking at decor, collectibles, and gifts. The have an easy shopping experience and are a full service Christmas store.
This store sits below and law office, is open weekdays and on Saturdays. Locals and tourists say that it is more than a store– it is a destination that helps make Christmas in Houston. So stop by and explore the gifts, gallery and decor!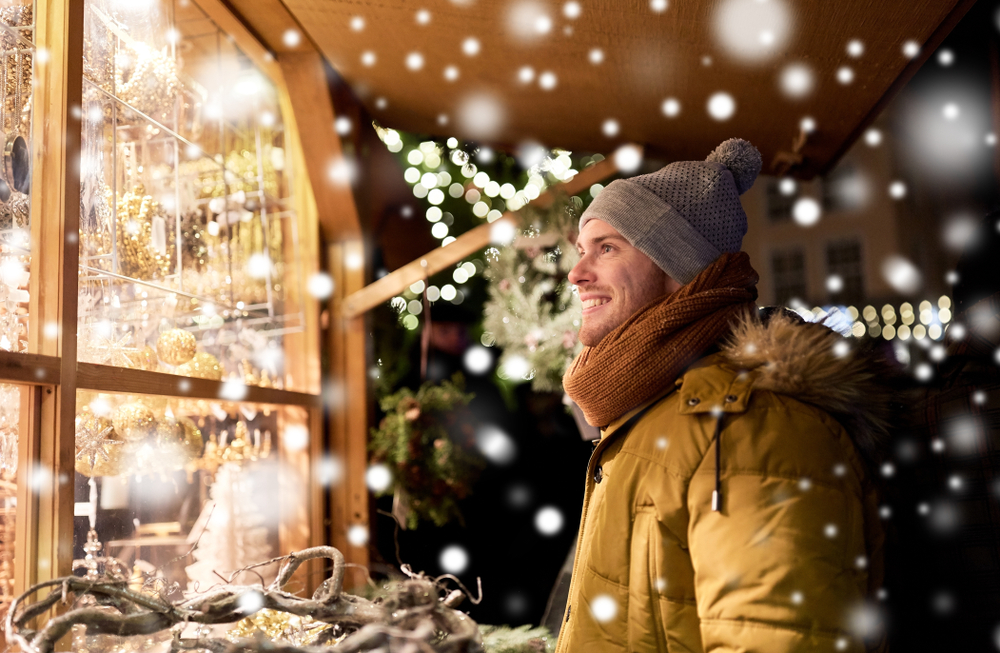 Start Family Tradition at the Old Time Christmas Tree Farm
What is Christmas without a Christmas tree? Don't worry having Christmas in Houston does not mean you have to give up your tree! At the Old Time Christmas Tree Farm you get to choose and cut your own fresh tree. This tree is Texas grown and some of the most beautiful in the area!
But if cutting a tree isn't your thing, this farm also offers pre-cut fir and spruce trees. Browse the selections they offer and see if you can find the perfect fit! Being continently located in Spring, Texas (just a few minutes of Houston) makes this a worthy destination!
And if you don't have anywhere to put a cut tree, you and your family are also welcome to just come visit the farm! You can purchase wreaths, take a train ride through the fields, and even let the kids get their energy out on a giant slide and bounce house.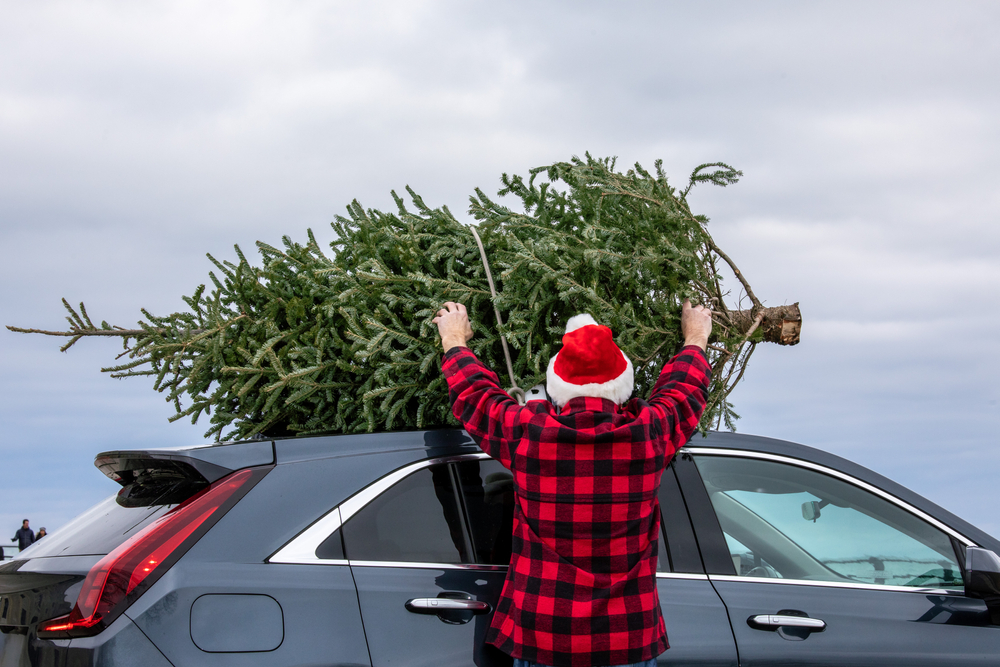 Walk through Decorator's Warehouse
If you're looking to get inspired for Christmas in Houston, look no further than the Decorator's Warehouse. This massive warehouse is famous for its best sellers like ornaments, cookie smelling sprays, giant bells, craft ideas and more.
Whether you decide to shop in bundles (who says theming your tree takes too much time? not with Decorator's Warehouse!), look through collections and find fresh fall ideas in between their decorations tutorials, this is a craft-mans heaven!
With the mission to "Have the best Christmas ever!" customers are so happy with their experiences and services at the DW. This warehouse has been recognized for years as the Christmas store throughout Texas, so make sure to go to this unparalleled warehouse to top off your Christmas in Houston celebration!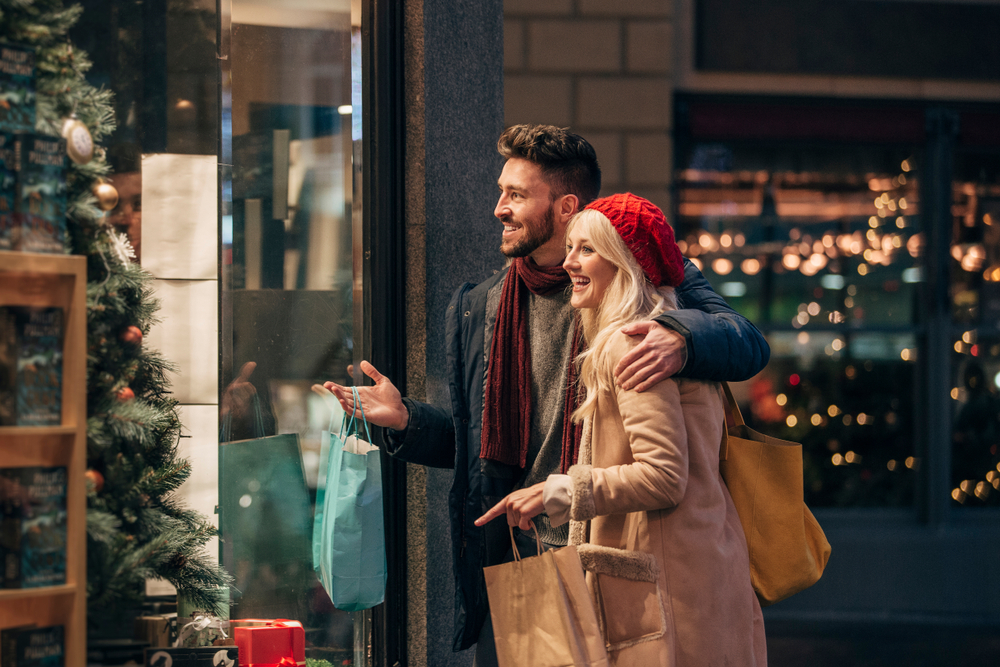 Explore Craftex, a Christmas Store With So Much!
Craftex is famous for its unique gifts that are attractive and A plus quality. People flock to this home decor store to explore the designer supplies and quality products.
With seasonal holiday decorations, many people love visiting during their Christmas in Houston time, as the store introduces new products with a flared style. With these products always changing, you are bound to find something new and the store recommends visiting regularly.
This is the largest store for holiday supplies and is a part of Craftex Wholesale Distributors. They frequently update their website and inventory, so always make sure to stay tuned and visit when you can as you will love to explore the options of ribbons, books, and even the massive show rooms they have! It's like stepping into a Christmas world, and who wouldn't want to spend Christmas in Houston that way?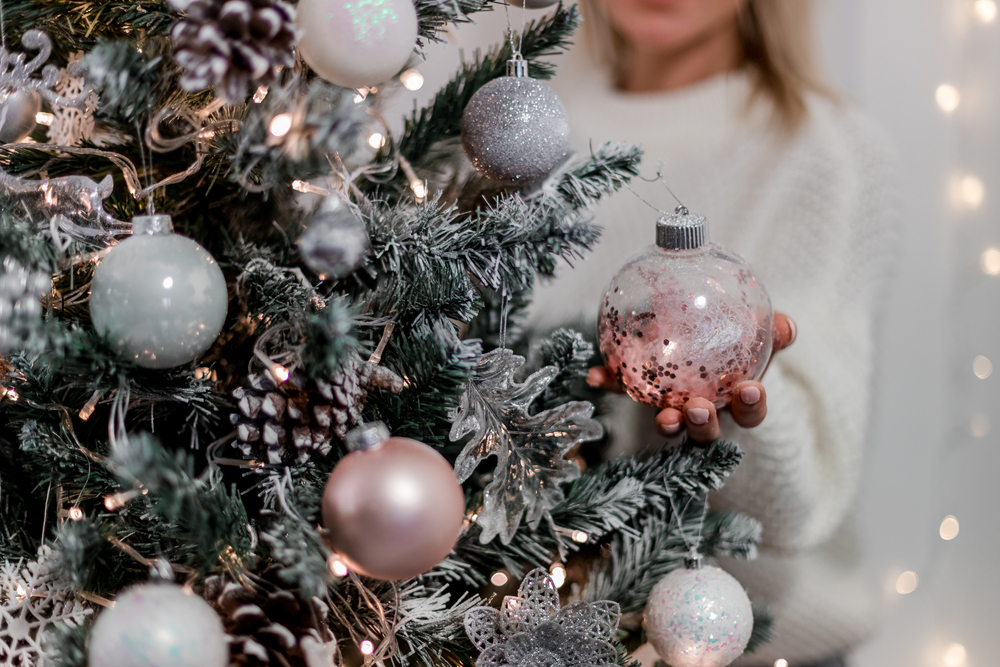 Go Ice Skating at the Discovery Green Winter
In downtown Houston, Discover Green is where people love to gather and engage with the community. This park is beautiful and is home to a variety of different events including Earth Day mural painting, kayak rental, fitness in the park with yoga, jazzy Sundays and even recycling events.
During the holiday season of course, they make sure to make you feel Christmas in Houston as they offer ice skating! This family fun adventure is perfect for everyone.
The ice rink is open-air and the surrounding area is meant for a immersive Christmas in Houston experience. From mural kiosks, to live music, the chance to snack and skate with coco, and more, this is something you don't want to miss!
This is truly one of the best things to do in Houston At Night!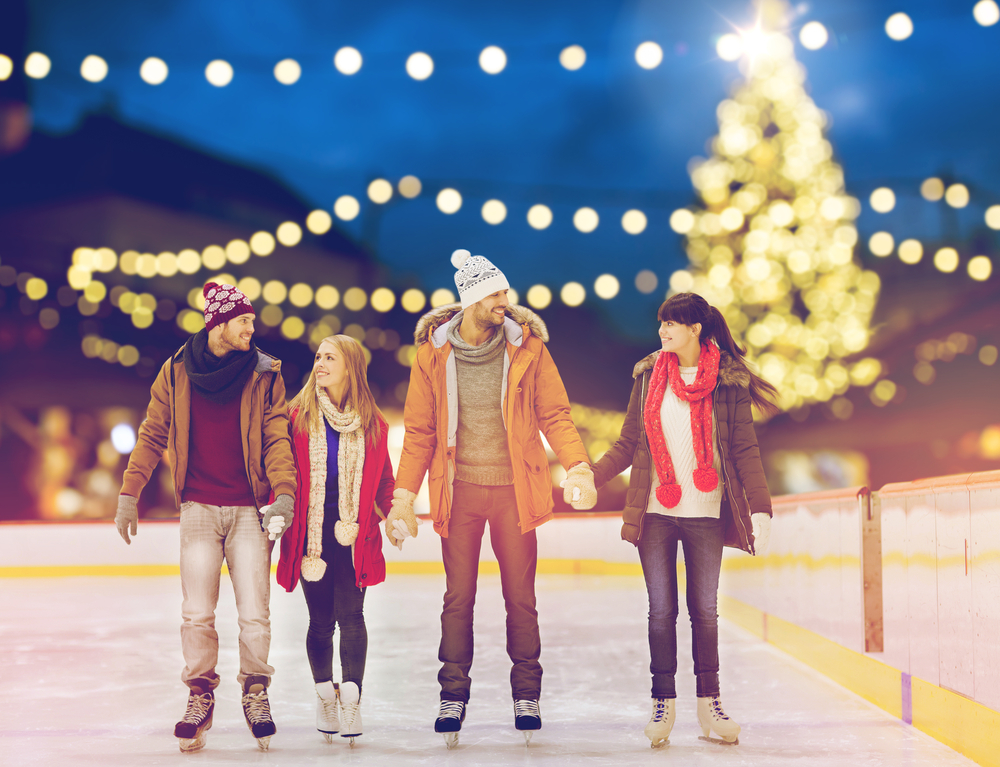 Walk Through Zoo Lights At the Houston Zoo
What is Christmas without Christmas lights? Stroll through the famous Houston Zoo grounds and take sight of the season. Take a walk through the 125 foot long tunnel of light, or even see dragons come to life in a dramatic display.
Families alike will love the chance to interact with the Zoo Light, see some animals, visit with Santa, and even get a selfie on a giant ice throne. This unique event is perfect for celebrating Christmas in Houston!
So make sure to get your fill of Christmas lights when you are celebrating, and remember it won't hurt to stop and see a few giraffes while you're there too! And if you're interested, the Zoo also offers VIP guides and tours! What a wonderful Christmas in Houston event to attend.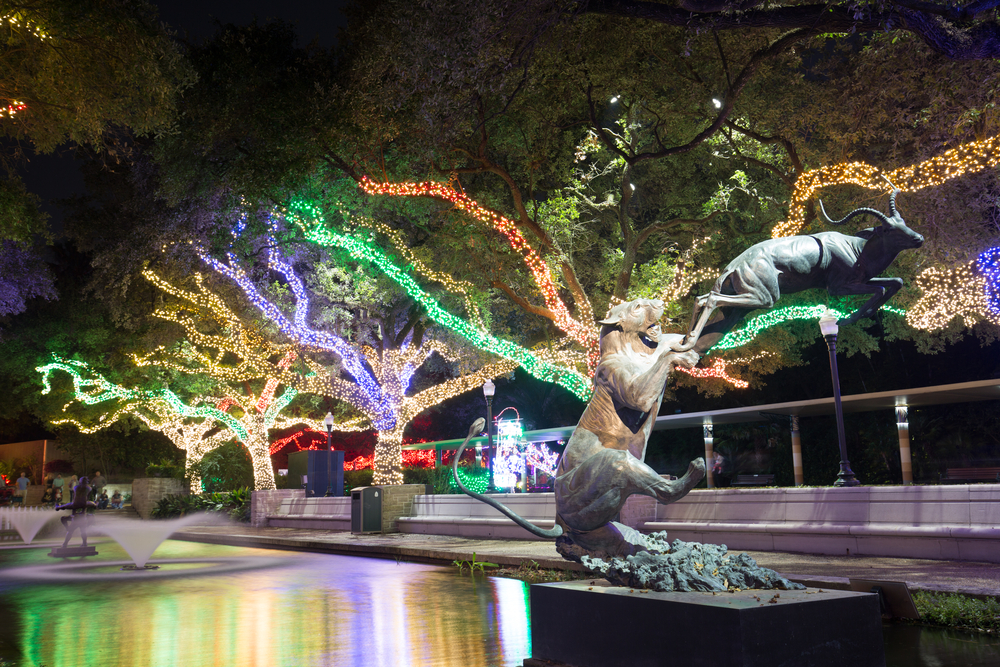 Take a Christmas Train Ride at Victory Camp
Although Victory Camp isn't directly in Houston, we add it to the list of things to do in Houston because it is such a fun thing to do for Christmas in Houston, even if it is technically in Alvin (which is only 25 miles away and totally worth the drive!).
The Christmas Train is a unique holiday experience that is unlike anything else you can experience in Houston during the holiday season. Here, your family can enjoy an old-fashioned train ride while exploring and experiencing hundreds of thousands of Christmas lights and displays.
These open air coaches bring an air of the holiday spirit making this a wonderful thing to do for Christmas in Houston! Between the thousands of light, the amazing food that features hot coco, pizza, cookies, popcorn and more, this is a fair priced experience (only $12!) that you do not want to miss! This is the perfect thing to add to your Weekend in Houston Itinerary!
Explore the Jingle on the Boardwalk Event
Kemah Boardwalk is famous for its fun activities that feature rides, games, shopping, live entertainment, restaurants and more. But during the holiday season, you want to make sure to visit this Boardwalk, especially for the Jingle on The Boardwalk event! It is a must do for Christmas in Houston.
This event welcomes the Christmas season with Santa, holiday music, movies, toy drives, parades and more. It is packed with family fun and is even open on Christmas Day itself! This year you can experience the 60th annual Christmas Boat Parade, and get VIP passes to have fun all weekend.
And if you're sticking around for the rides and fun after Christmas Day, don't miss out on the family celebration of ringing in the new year with fireworks! So pack up and get the kids read for a full day of adventure to celebrate on a boardwalk, blending the water with the holidays in a perfect way. This truly represents Christmas in Houston!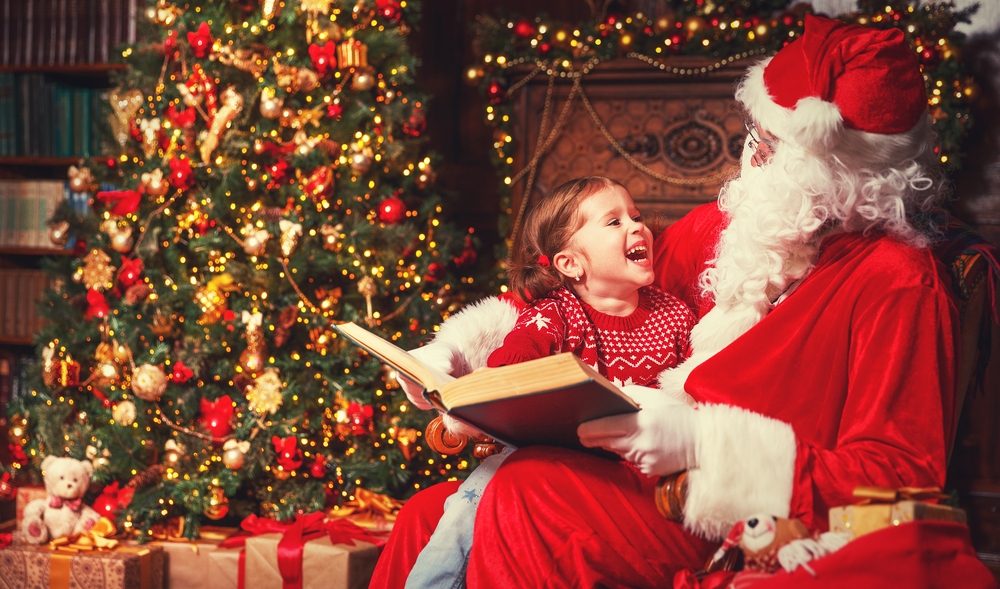 Rudolph's Light Show is Immersive and Fun for all Ages
Rudolph's light show, also known as Dasher's light show, allows you to experience Christmas from the comfort of your car! If you are looking for something to do one evening while celebrating Christmas in Houston, this is the thing to do!
This light show lasts approximately 15 minutes and lets you drive through a tunnel and display of lights that cover over seven acres of land. You can really embrace the Christmas spirit with this first ever drive-thru light show in the Houston area.
So get up and close and personally with these displays and be captivated by the lights. We promise you won't regret driving through this event, as it truly makes Christmas in Houston something you cannot forget. The 1 million lights and classic music sync together and make for a fantastic time.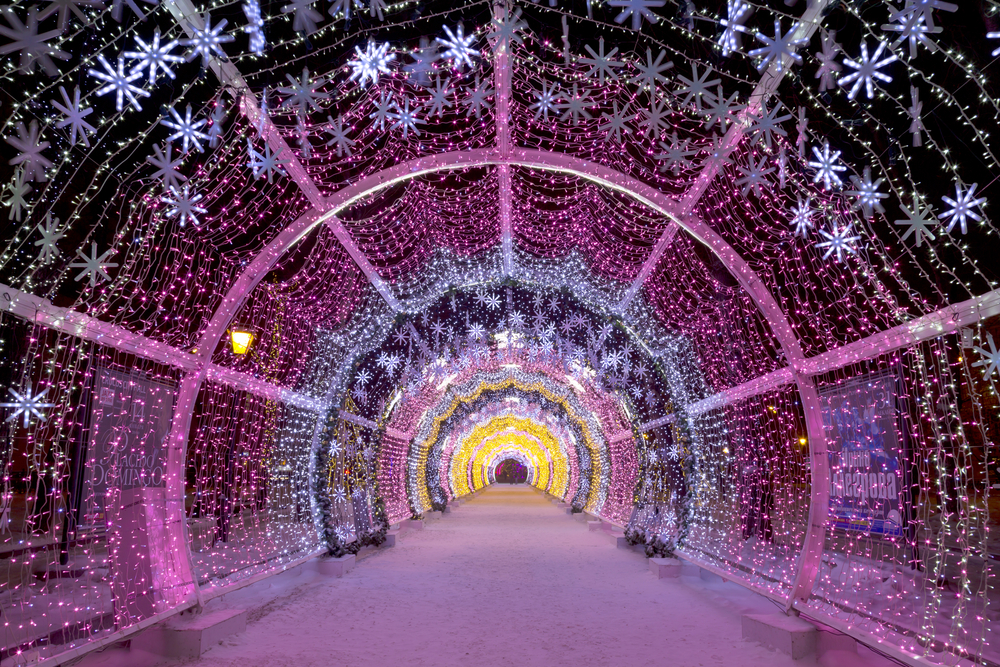 Go See A Christmas Carol Performance
What is Christmas without a Christmas Carol Classic? If you are going to be celebrating Christmas in Houston, make sure to check out the Alley Theatre in Houston, which is putting on the classic show of a Christmas Carol.
From evening weekday performances, to weekend matinees and even Saturday night shows, this is something you don't want to miss! Hubbard Stage ensure they put on a fantastic show, one that has been going on for over 25 years!
To follow along in this production, make sure to secure your tickets and watch this adaptation of a timeless show that really can help you get in the Holiday Spirit. Celebrate a date night, or even bring the whole family: the show is unique and intimate and will have you blown away with the set, acting, and more.
Shop at the Nutcracker Market
Many tourists love to say that the Houston Ballet Nutcracker Market is not just a shopping stop, but an experience. This year the market is celebrating its 40th anniversary with over 150 merchants showcasing unique seasonal items like gourmet food, home decor, and nutcrackers of course!
This nonprofit is a huge event and is four days long. You can purchase general admission for one day, or you can purchase an early bird admission that lets you have fun for all four days!
While here you can shop, eat, and even witness special events like a Saks Fifth Avenue Fashion Show before stopping by at a Preview Party or Luncheon. And don't forget to join the Market Raffle if you're feeling lucky! This is one of the largest and coolest things you can do for Christmas in Houston, and it is something you don't want to miss because you can get the coolest souvenirs!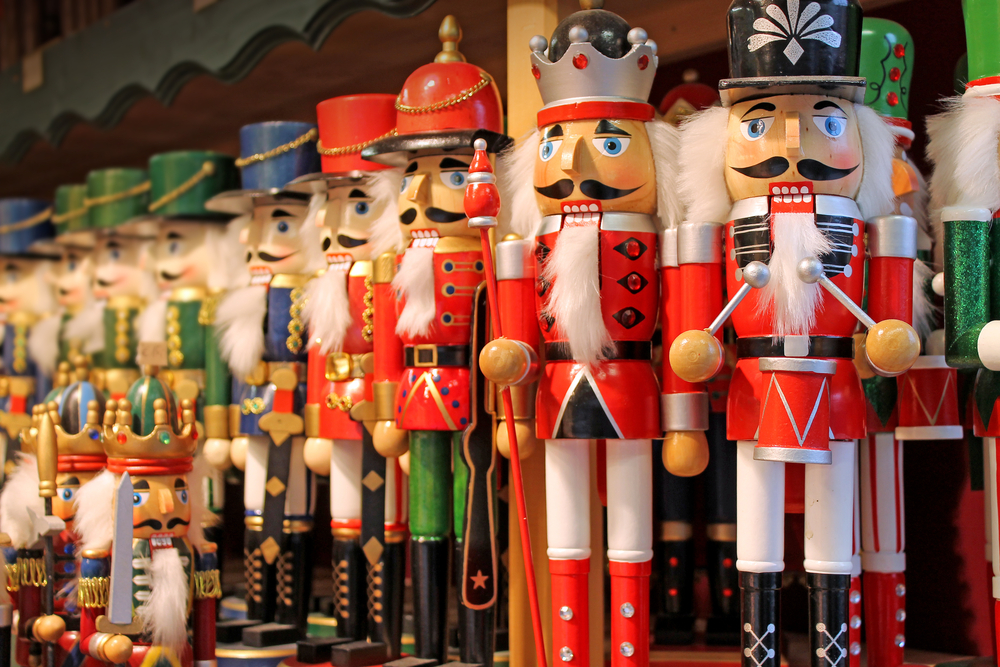 So there you have it. Christmas in Houston doesn't always mean snow, but that doesn't mean that you cannot enjoy the holiday season in Texas! Christmas in Houston is filled to the brim with wonderful activities, breathtaking lights, great shows, huge markets and stores to shop at, and more. Pick what sounds most interesting to you to make some memories. But most importantly, have a Merry Christmas!