Bluebonnets in Texas are so beautiful, they're the official state flower! You can often see them growing on the side of the road, in fields, and even on river banks! They're among many wildflowers that call Texas home.
If you're looking to find bluebonnets in Texas, there are more than a few places that you can go to see them. Take your pick between scenic drives, walks through botanical gardens, and even a quick swim in the river.
If you're looking for a great photo op, just want to take a scenic drive, or want to admire the blooms, we've got you covered. Discover all about Texas bluebonnets, where they grow, and everything else you should know!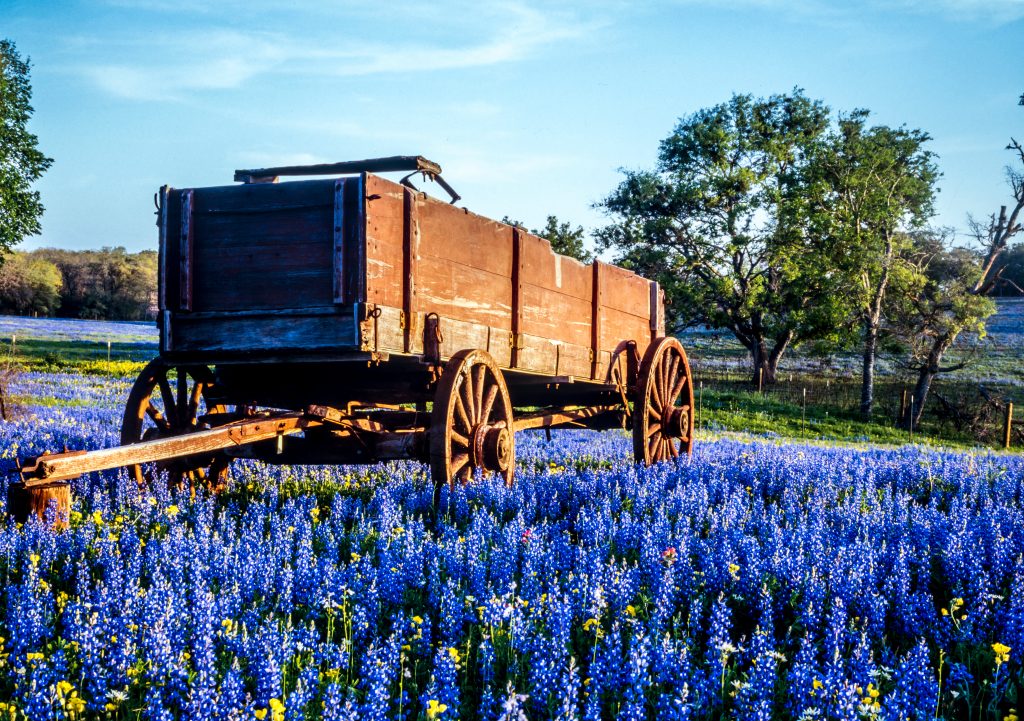 What Are Texas Bluebonnets?
Bluebonnets are the state flower of Texas! They beat out the prickly pear cactus as well as the cotton boll for the title. Marked by their beautiful, tall blossoms, they are incredibly popular in the Lone Star State.
While bluebonnets are primarily blue, other colors have been found in the wild. Crossbreeding and mutations have created white, pink, and a maroon "Alamo Fire" variation of colors.
Texans disagree about the scent of the blossoms. Some people say they give off no discernable scent at all. Others swear that Texas bluebonnets give off a "sickly sweet" smell.
Bluebonnets are annuals, which means they blossom once a year. They are incredibly difficult to grow in captivity because the seeds have adapted to the rocky, alkaline soils of Texas Hill Country. Strong and resilient, they thrive in disturbed, poor soil, and even drought.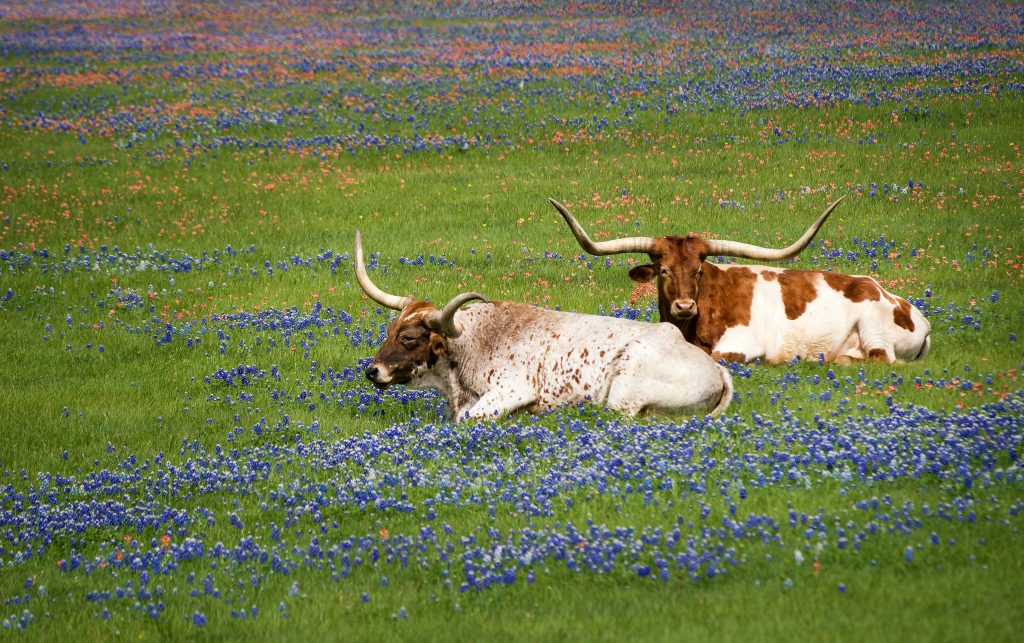 When Is The Best Time To See Bluebonnets In Texas?
Bluebonnets are annuals, which means they blossom once a year. When the blossoms occur depends on a lot of factors, ranging from weather, soil quality, and especially when the fields are mowed.
If a Texas winter is mild, they may start blooming as early as late February or March. Generally, though, early April will be your best bet to head out to the fields and start looking for them!
Keep in mind that bluebonnets' blossoms don't last long. They only bloom for a few weeks. Then they are replaced with other flowers. Generally speaking, they will be gone by early May!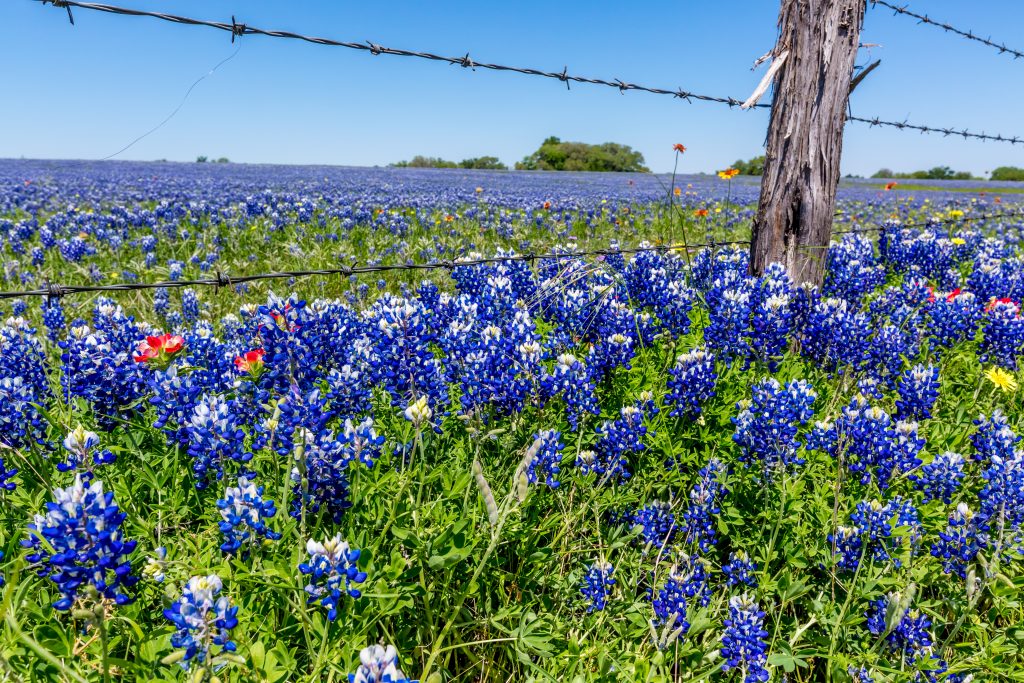 Can You Pick Texas Bluebonnets?
According to the Texas Department of Public Safety, there are no laws that prohibit picking bluebonnets in Texas. This doesn't mean you should, however.
Many of the bluebonnets in Texas you see growing on the side of the road won't reseed if they are picked or trampled. As a result, the Texas Department of Transportation heavily discourages taking pictures among the blossoms.
While it's not illegal to pick bluebonnets in Texas, it is very much illegal to trespass on private property to see them or take a picture with them. In that case, you can be prosecuted to the full extent of the law.
If you see bluebonnets in a Texas State Park, definitely do not pick them. Collecting park plants, animals, or rocks is a Class C misdemeanor punishable by a fine of up to $500!
Additionally, the bluebonnet blossoms are toxic to humans and animals. It's wise to leave the flowers along, especially so all Texans can enjoy them for the elusive time they're with us!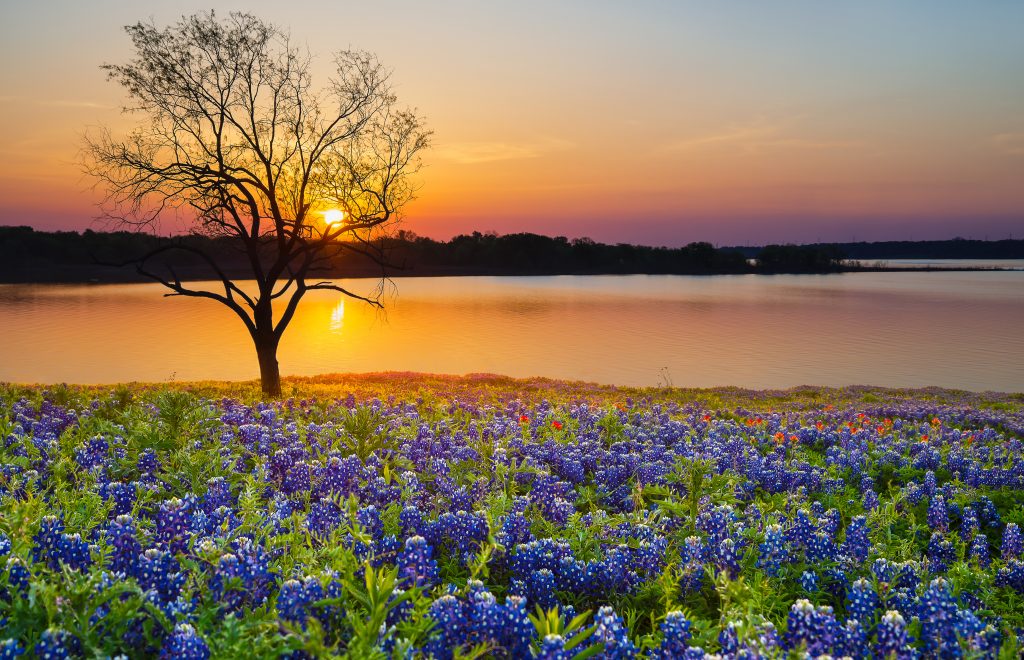 10 Best Places To See Bluebonnets In Texas
Mahomet
To the north of Liberty Hill, you'll find a small town named Mahomet. With only a few roads and fewer buildings, it's the perfect place for bluebonnets in Texas to flourish!
On the south side of FM 243, the main road in Mahomet, you can find a large bluebonnet field just to the west of the center of town. If you check the historic Mahomet church, its grounds are also covered by wildflowers including bluebonnets.
Locals tell us that this area tends to bloom later in the year than the rest of Texas. Your best bet for seeing these Texas bluebonnets is to venture out to Mahomet in mid-April!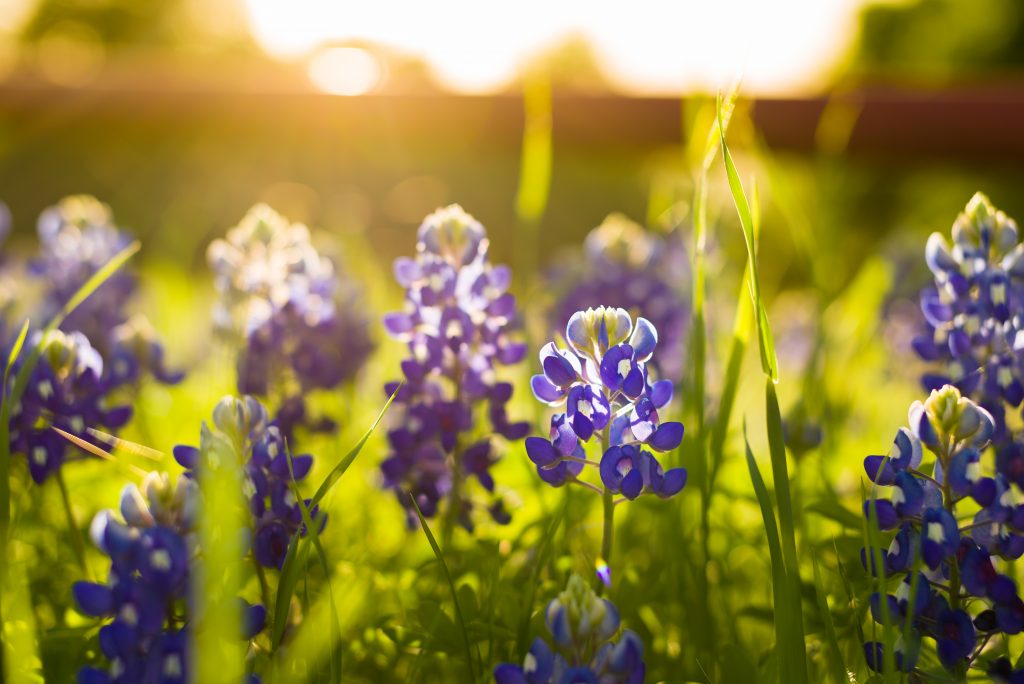 Marble Falls
Just to the northwest of Austin, you'll find a small town called Marble Falls. With a number of captivating areas, this is a perfect spot to see bluebonnets in Texas in addition to a number of other wildflowers.
Make sure to check out the Bluebonnet House, surrounded by the blooms in April. One of the most photographed houses in the Lone Star State, this is the most picturesque setting!
After spending a day searching for the bluebonnet fields, you'll probably need some grub. Catch a hearty meal and delicious piece of pie at the aptly named Bluebonnet Cafe in Marble Falls!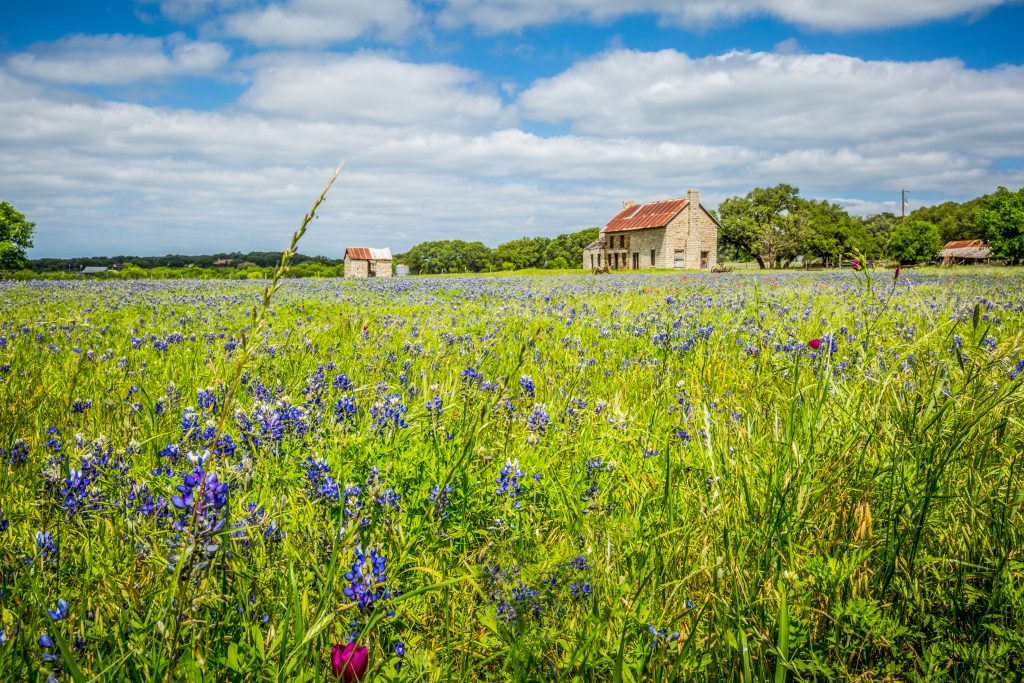 Willow City Loop
Willow City is a small unincorporated town with only a population of 100. It's also home to the iconic 13-mile scenic trail known as the Willow City Loop.
Perfect for seeing bluebonnets in Texas, the Willow City Loop makes a perfect southern road trip. You'll see bluebonnets popping up between boulders and across the rivers. You'll know you're nearing the end of the drive when you see the Mexican white poppies.
To get the full experience, stop at Harry's on the Loop. Only open in the spring to accommodate bluebonnet hunters, stop in for a bite to eat and a cold beer.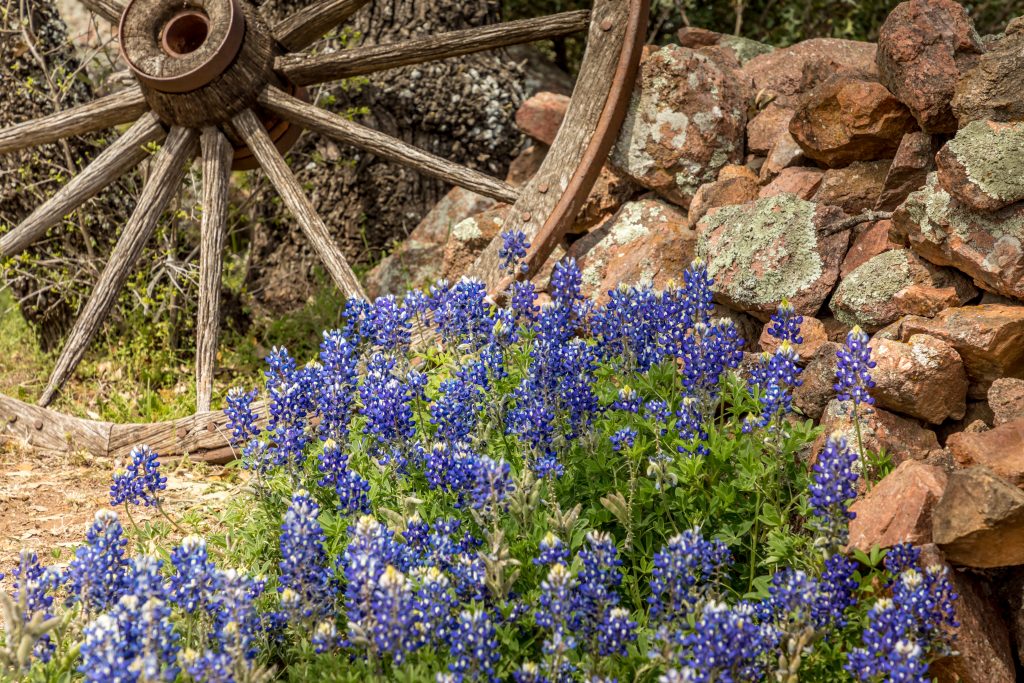 Burnet
Certainly, the best place to see bluebonnets in Texas would be the official Bluebonnet Capital of Texas! That small city would be Burnet, pronounced "burn it."
Burnet hosts the annual Bluebonnet Festival, going strong for 38 years! Here you can see two eight-foot-tall bluebonnets at the Visitor's Center. There's also live music, a carnival, food, races of all kinds, and lots and lots of shopping.
Additionally, if you head west out of Burnet on HWY 29 towards the Buchanan Dam, you'll find the Bluebonnet Dance Hall and Tavern. Now abandoned, there's always a lovely patch of wildflowers with many bluebonnets!
Brenham
If you don't want to stray too far of the beaten path to see bluebonnets in Texas, then consider heading to Brenham! With safe public parking spaces, you won't find a better place to see the blooms easily!
Look behind the Walmart, La Quinta Inn, and Home Depot on Wood-Ridge Blvd. You can also see them near Las Fuentes Restaurant and Knights Inn. Check out the Church of Christ, and also between the local Dollar Tree and Whataburger.
You can also check the "Wildflower Watch" blog which constantly updates the stage of the blooms, so you know exactly when to visit. Brenham is also the home of Blue Bell ice cream, so make sure to grab a scoop before you leave!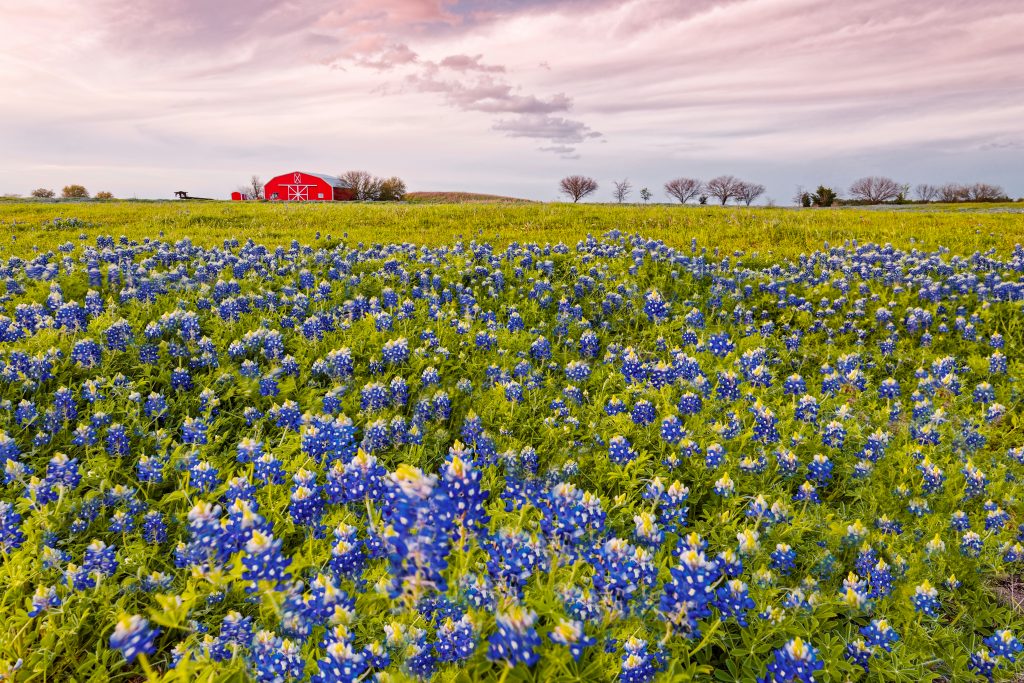 Ennis Bluebonnet Trails
While Burnet may be the "Bluebonnet Capital," Ennis is the "Official Bluebonnet City in Texas. Just south of Dallas, here you can see bluebonnets in Texas along the Official Texas Bluebonnet Trail.
The oldest bluebonnet trail in Texas, the trails span more than 40 miles and are sponsored by the Ennis Garden Club. They act as dedicated wildflower scouts to update you on the timing of the blossoms.
Check the Ennis Convention and Visitors Bureau to see the current best spot to enjoy the beloved bluebonnets. In Ennis, bluebonnet blooms usually peak around the third week of April, but always check because it varies from year to year.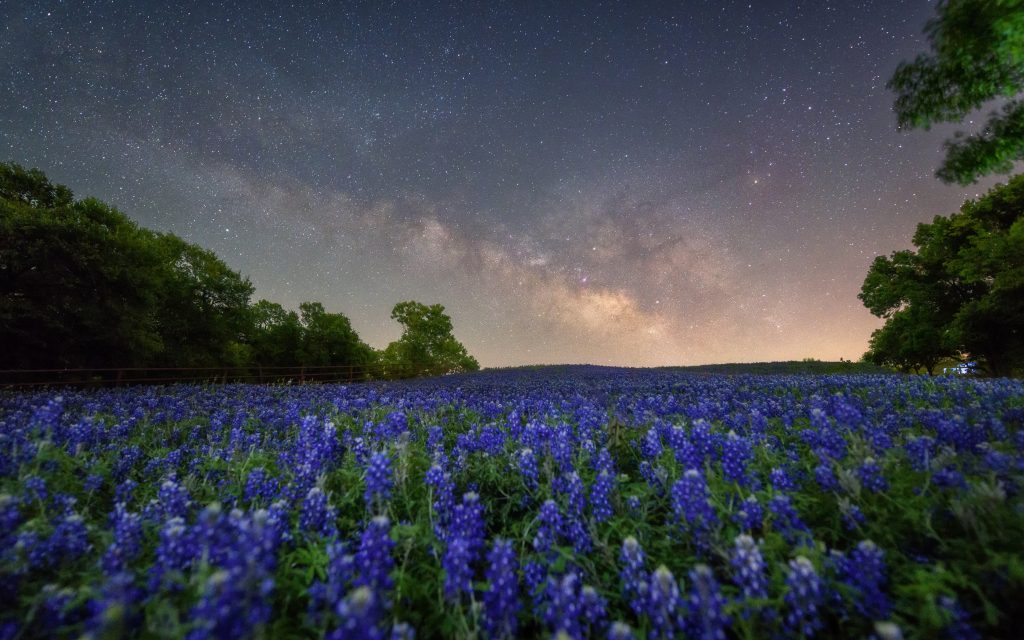 San Antonio Botanical Garden
The safest way to see bluebonnets in Texas without harming them is to head to the San Antonio Botanical Garden. On the northeast side of the city, you'll find a number of trails with the wildflowers.
The trails in San Antonio Botanical Garden recreate the different biomes in Texas. The wildflower garden has many bluebonnets, in addition to other wildflowers and cactus.
Knowing that the demand for photo ops is high, the architects designed this garden in a way that you can take Instagram-worthy photos! You can get a number of gorgeous shots without trampling the plants or walking too far!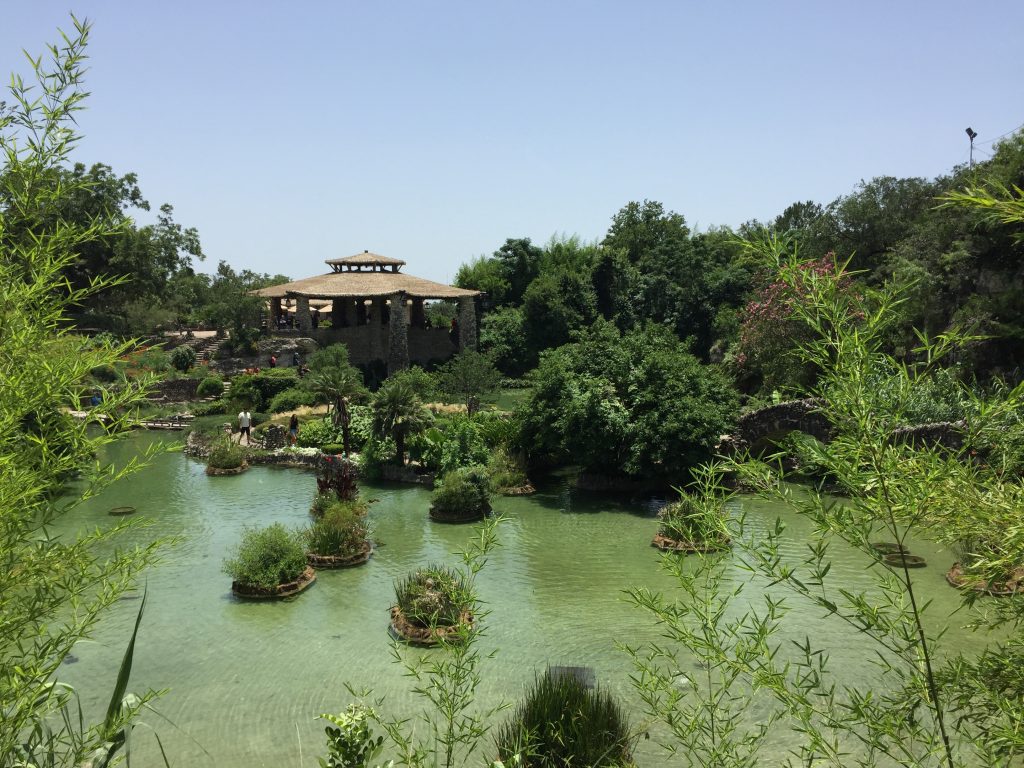 Llano
This leg of your bluebonnets in Texas journey is best done after driving the Willow City Loop. Continue out of Willow City on Highway 16 until you get to Llano!
About a 13-mile drive, the surrounding area is filled with wildflowers. Keep in mind, this land is private, so don't risk trespassing to get a picture! If the weather is on your side, take a side trip to climb to the top of Enchanted Rock.
Continue driving on Highway 29 from Llano, and you'll pass on to Burnet which also has multiple bluebonnet fields. Then you can even drive up to Lake Buchanan!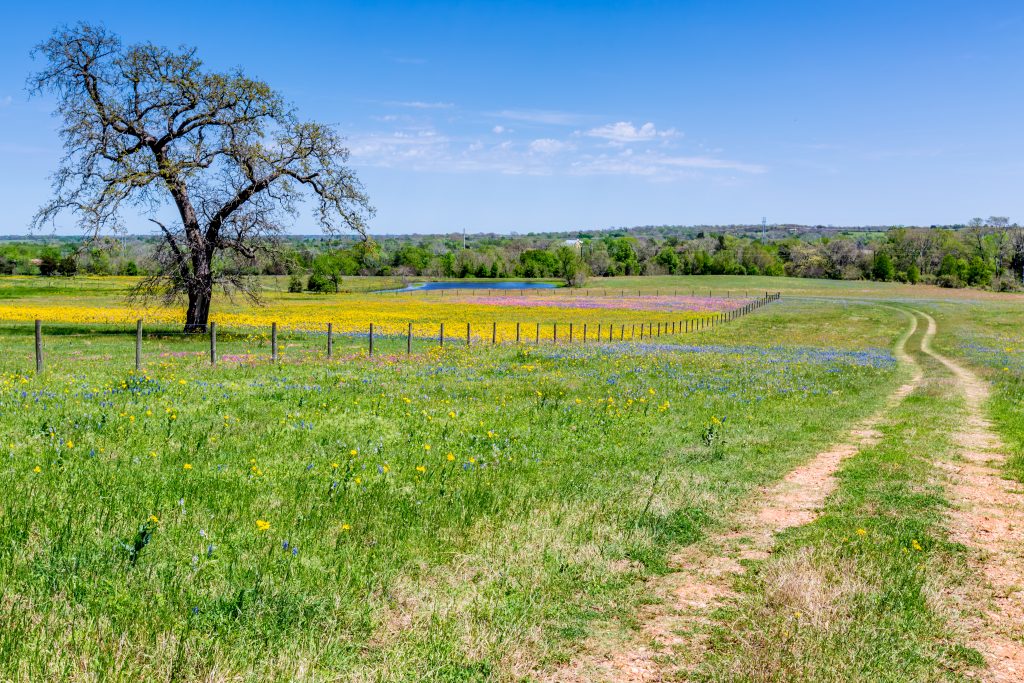 Lady Bird Johnson Wildflower Center
Founded by former First Lady Lady Bird Johnson and actress Helen Hayes in 1982, the Lady Bird Johnson Wildflower Center is another safe way to see bluebonnets in Texas!
Now located in South Austin, the National Wildflower Center is the perfect place to start your wildflower adventure. With labeled displays, you can actually about the other beautiful flowers you see on your scenic drives, not just the bluebonnets.
The Wildflower Center tries to capture the experience of driving through one of Texas' bluebonnet fields. Trails wind through the flowers in the gardens so that you can get that beautiful picture without harming the blooms!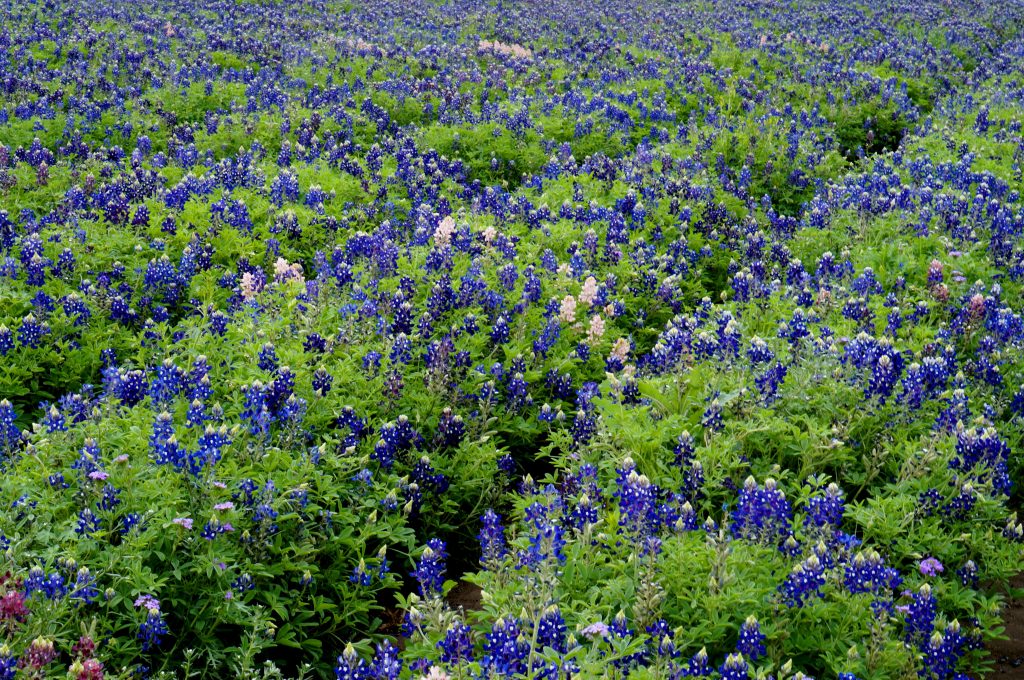 Kingsland
You can find Kingsland, one of the best places to see bluebonnets in Texas, on the banks of the Colorado River and Lake LBJ. With a slogan like "Where the rivers flow and the bluebonnets grow," you know you're bound to see some good blooms!
If you head to the abandoned Kingsland Train Station, you can carefully walk along the railroad tracks. The bluebonnets, known for growing in hazardous conditions, have taken over the land and grow through the tracks.
You can also see wildflowers along the road and fields surround The Slab, a pink granite formation on the Llano River. While people swim here, you can see wildflowers flanking the water's edge. Also, check Hoover's Valley Chapel and Cemetery for even more wildflowers!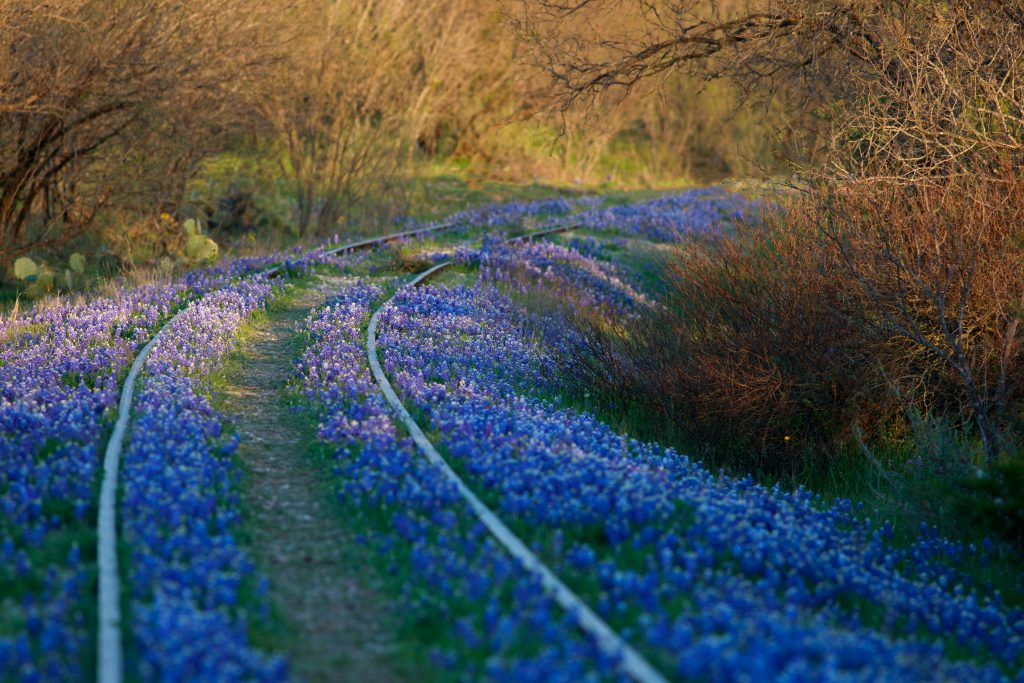 Texas is plentiful in wildflowers, but their beauty remains elusive. When you go to see their beautiful splendor, make sure to always be respectful!
Never trample the flowers, pick them, or let your pets run through them. Leave them be so other Texans can enjoy them for years to come. Sometimes the most precious beauty is that which is untouched.