Are you looking for the best places to visit in San Antonio. You have come to the right place. In this article we will walk you through San Antonio tourist attractions, sightseeing in San Antonio and activities in San Antonio .
If you haven't been on a San Antonio vacation yet you are in for a real treat. It's a city steeped in history and manages to effortlessly combine this with modern attractions, incredible dining and some amazing outdoor space.
Whatever you like doing San Antonio has it, from caves, to hikes to one of the most known historic sites, it makes a great place for a weekend getaway.
This city takes its culture, history and local communities seriously celebrating the diverse population. There is a thriving downtown area , so much history and vibrancy about this city that is hard to describe.
There are so many places to visit in San Antonio It's often hard to know what to choose. In this list we have included a range of places to go in San Antonio that will suit most people but this list is by no mean exhaustive.
San Antonio is also a very charming and pretty city that prides itself in offering visitors a little bit of everything. We know you will love it here.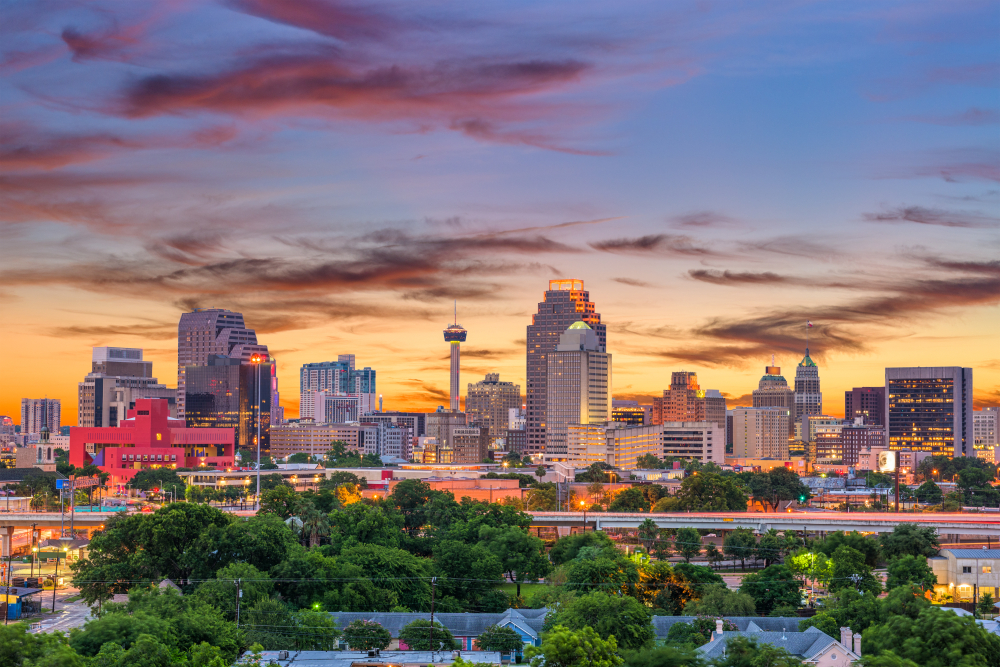 15 Best Places To Visit In San Antonio (+ Unique Vacation Spots)
The Alamo
No vacation in San Antonio is complete without a trip to the Alamo. it's one of the best places to visit in San Antonio . The Alamo is not only a place to learn about history but a 4.2 acre complex with lots to do.
Centrally located in the downtown area on Alamo Plaza it's also easy to get to. Once there you will find a interactive exhibits, tours and demonstrations. You will experience and learn more about frontier life in Texas's early days.
It was the first mission in San Antonio founded in 1718 and served as a stop off between East Texas and Mexico. It's probably better known for 13 days in 1836 when 200 held the Alamo from invasion from 2,500 of General Santa Anna's troops from Mexico.
Today you get to experience not only the history but the Alamo gardens in the compound, It's simply one of the San Antonio tourist attractions you can't miss.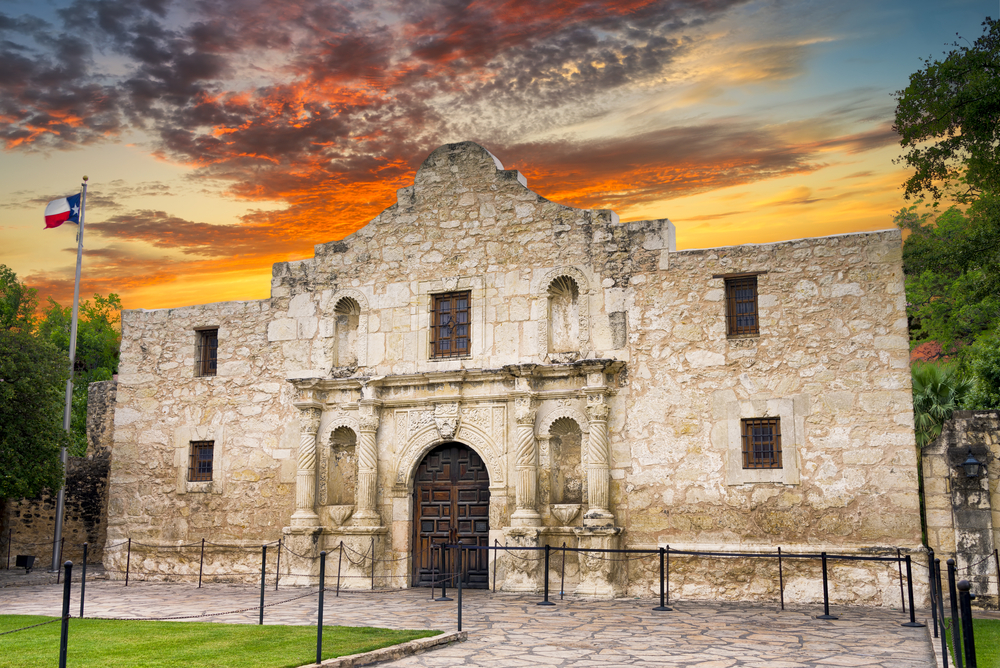 San Antonio Riverwalk
If you are looking for places to go in San Antonio at night then the Riverwalk might be perfect. A 14 mile urban waterway, Riverwalk is where it is all happening. Also called Paseo del Rio it's a mecca of sightseeing, shopping, dining and drinking.
The Riverwalk is also the largest urban Ecosystem in the nation. You can explore it by foot along the walkways or jump aboard a river barge to get a different perspective.
It's in a central downtown location with some many attractions nearby making it a great place to grab a bite to eat in between sightseeing.
If we had to recommend one thing in San Antonio it would be this. We feel you really get the vibe of the area on the Riverwalk. It's also just a beautiful location with so much to see do and explore.
This is definitely one of the fun places to go in San Antonio that all ages can enjoy. Make sure to check out our list of the Best Things To Do On The San Antonio Riverwalk, complete with a guide and tips!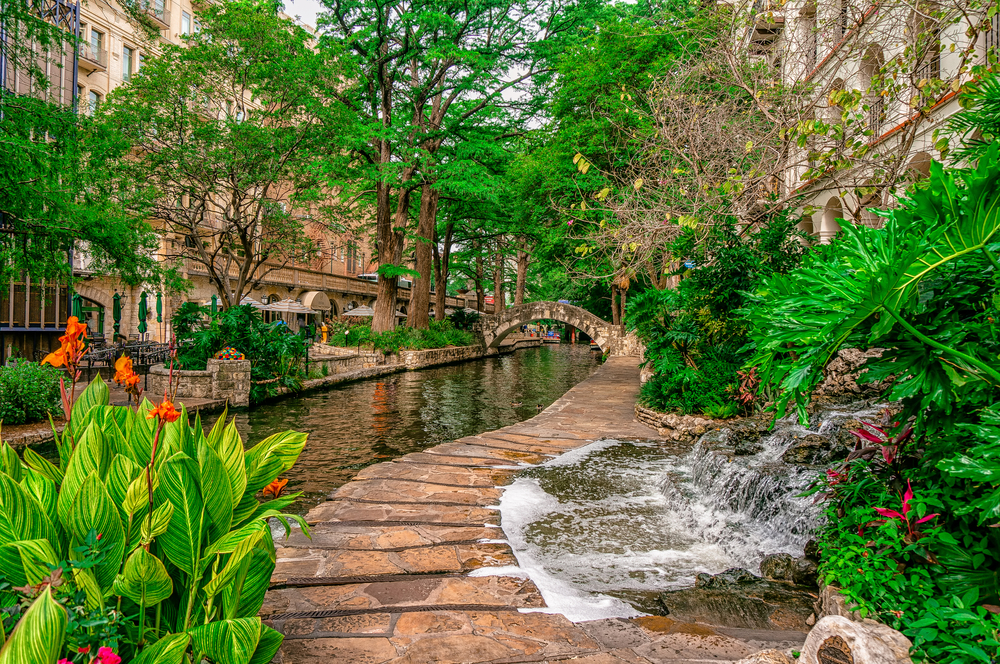 San Pedro Creek Culture Park
Located on the west side of downtown this park combines public art, architectural design, local craft, and historic preservation. It's a living and breathing space that is beautiful.
This park is often referred to as beauty with a purpose. It's a space that combines the creeks natural beauty, the colourful history of the location and the identity of the communities around it.
This is an urban space that really does have something for everyone. Art, nature and community just mix effortlessly here creating something quite special.
This is one of the most beautiful places in San Antonio and if you can we highly recommend a visit.
The San Antonio Mission Trail
When it comes to trails in San Antonio there are many to choose from. The most famous is the Riverwalk which is a 15 miles trail system.
While many enjoy the Riverwalk what most people don't know is that eight miles of the Riverwalk is the San Antonio Mission Trail.
It's a perfect hike that combines history with incredible views and you get to visit most of the missions in the area. The trail is also home to lots of plants, animal habitats and aquatic habitats so there is always something to see.
And the best bit is that the trail is stroller, wheelchair and kid friendly. Dogs are allowed but must be kept on a leash. One of the activities in San Antonio that is well worth taking part in.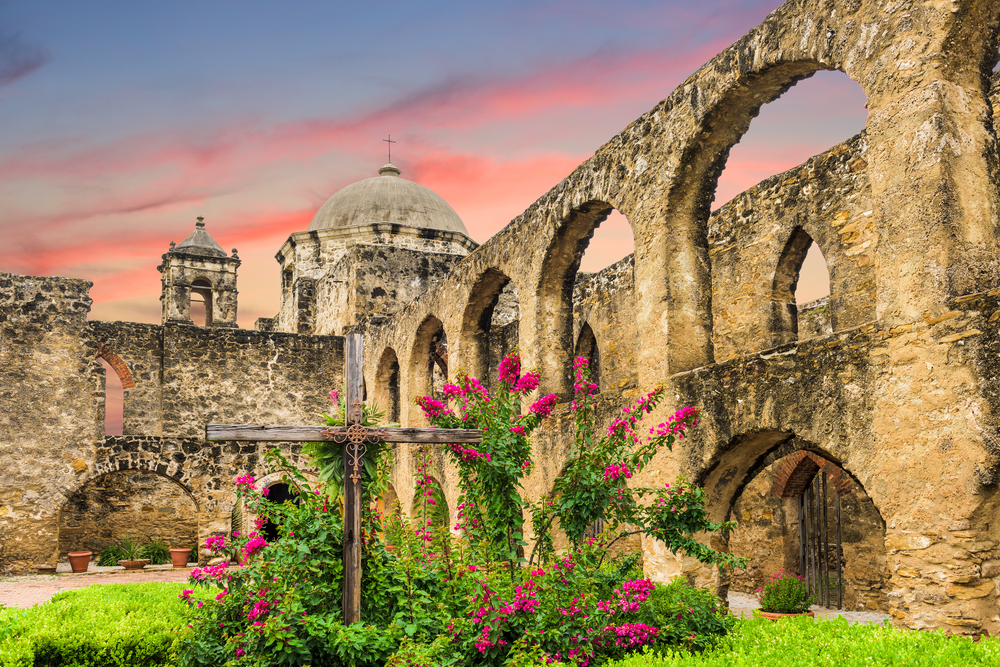 Six Flags Fiesta
If you love a good theme park then San Antonio can also deliver there too. With over 18 thrill rides the Six Flags Fiesta offers plenty to get your adrenaline pumping.
A San Antonio attractions for adults and children alike with something for all ages.
The area around here is dubbed the thrill capital of South Texas, one visit and you will be hooked. There is also plenty to do for the smaller children too.
This makes a great family day out and is one of the best places to visit in San Antonio particular if you have teenagers.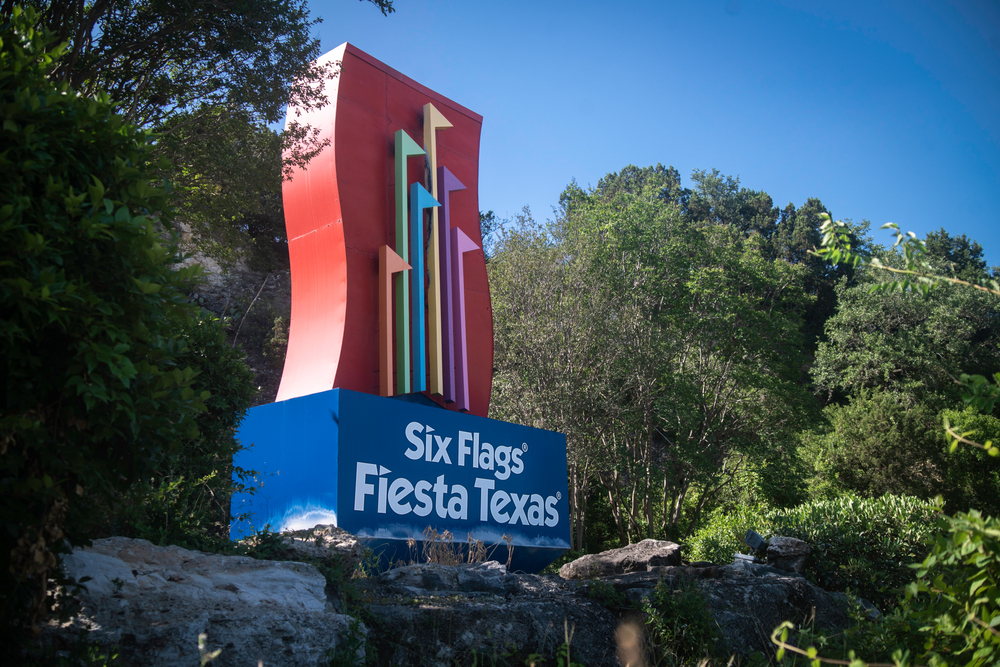 The Tower Of The Americas
Whenever we go to a city we love to get a view of the city from a nearby mountain or vantage paint. San Antonio doesn't really have an mountains but it does have an observation tower.
The Tower of the Americas is at Hemisfair Park is an impressive 750 feet tall. The views are spectacular particularly if you eat in the Chart House revolving restaurant right at the top.
There is a lot to do here other than admire the view and we highly recommend the 4D Theatre Ride. One of the fun places to go in San Antonio which everyone can enjoy.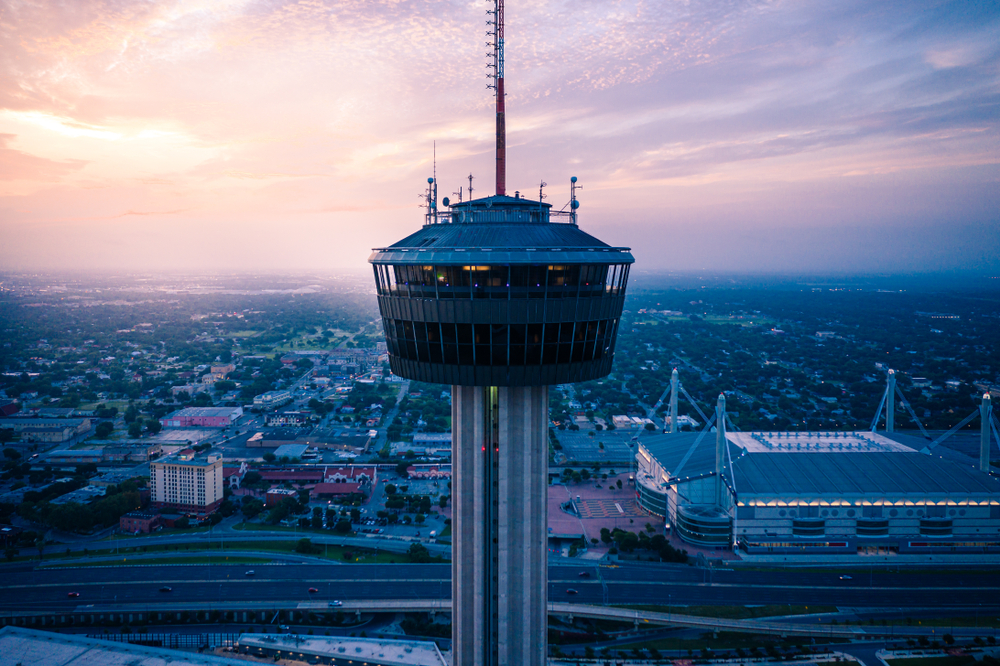 McAllister Park
San Antonio is a city of parks and there are a lot to choose from all offering something unique and different from the next.
McAllister Park is one of the largest with over 800 ares to explore. Located between Jones Maltsberger and Wetmore Roads it's a great place to get away from it all for a while.
There are over four miles of trails, several bike trails, 125 picnic units, an exercise area and of course all the amenities you could want. It's one of the best places to visit in San Antonio if you just want to get away from the hustle and bustle of the city for a while.
Eat at Casa Rio
While there are many restaurants in the San Antonio we think a trip to Casa Rio is a must. The restaurants serves some of the best Tex Mex in the area.
You will have seen this restaurant already, if you have seen a picture of colourful umbrellas in San Antonio changes are it was Casa Rio.
The views from the patio are stunning, the live Mariachi band exquisite and the food is even better.
Its also one of the oldest restaurants in Texas so its steeped in history too. Expect all the unusual Tex Mex dishes and choose which one suits your mood it's all good.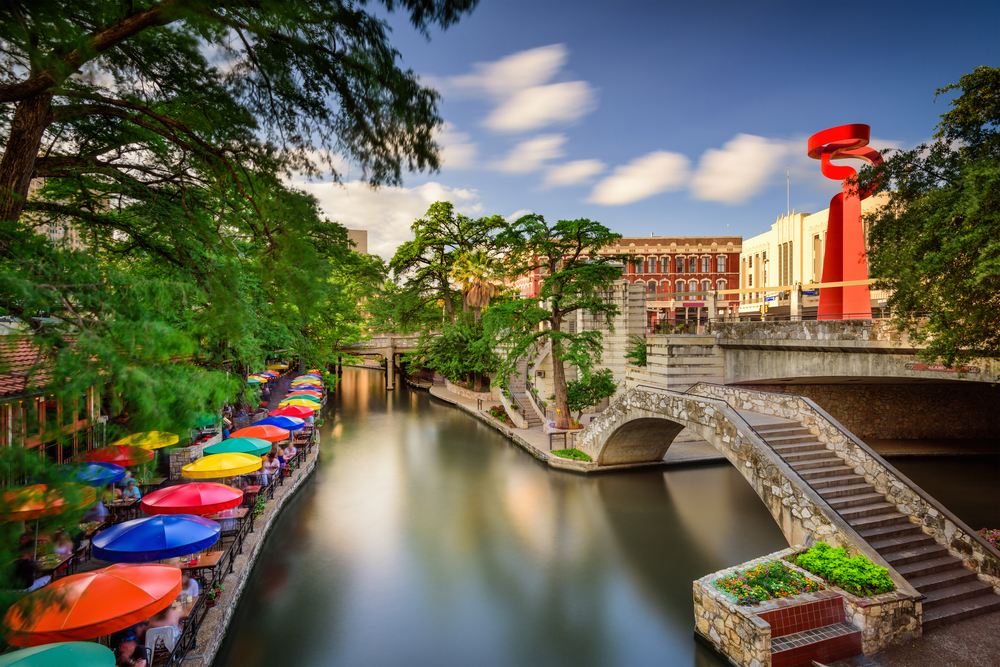 Natural Bridge Caverns
Natural Bridge Caverns is one of the most extensive cave systems in the area and one of the largest in Texas. So if you like caves this is the one to visit.
It's one of the best places to visit near San Antonio.
Expect to see all the cave usual's such as stalactites, stalagmites and other ancient formation. It's also a welcome relief from the Texan heat at a constant 70 degrees year round.
The tour takes you down 180 feet below ground and the caverns and formations are lit by atmospheric lighting making it all the more beautiful.
Your San Antonio vacation has to include a trip here it really is an amazing sight.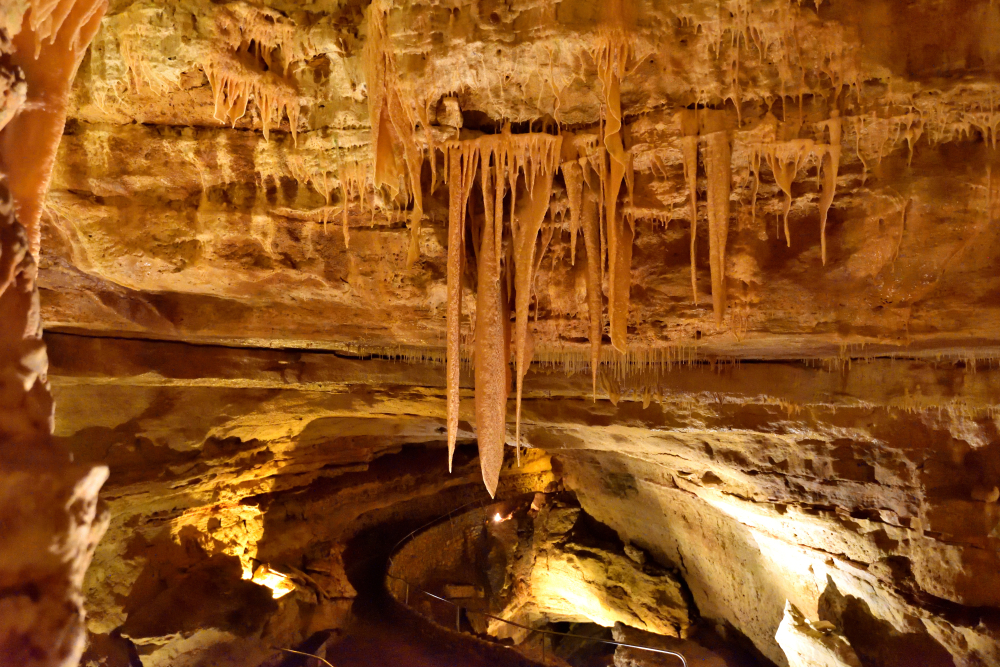 Japanese Tea Garden
If you need to get away from it all then yes San Antonio can also deliver with a Japanese Tea Garden. This lush beautiful space feels like a little oasis in an often none stop city.
Entrance is free and you will be greeted by lush foliage, florals, stone bridges, ponds and a 60 foot waterfall.
The gardens dates back to 1919 and has been renovated throughout the years to the beautiful space you find today. It's one of the the best places to visit in San Antonio to just get away from it all.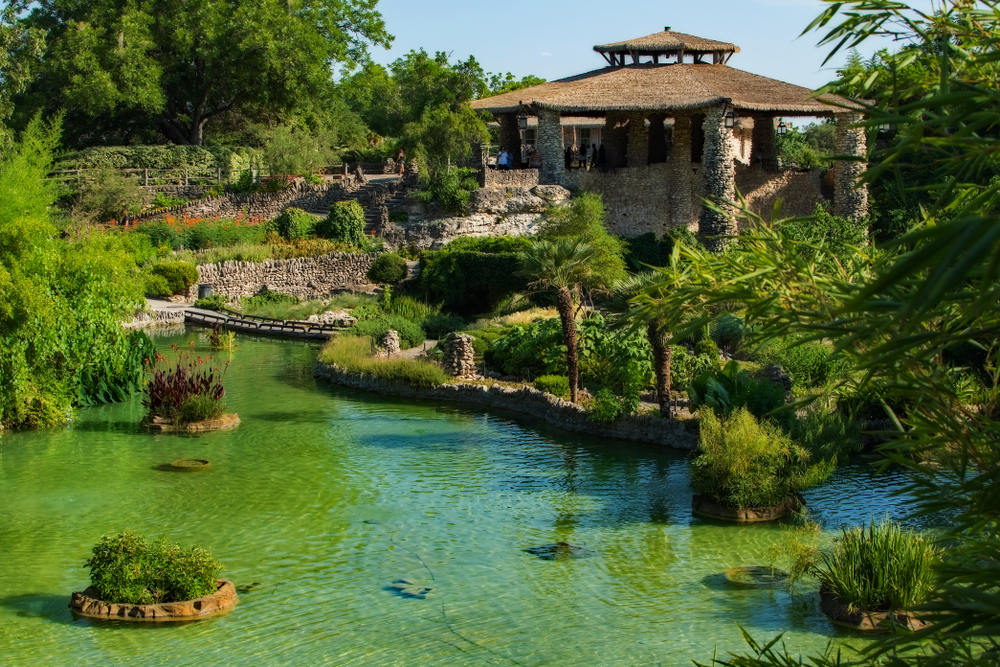 The Grotto
While San Antonio may be known for its river and waterfalls there are a few in the area that are well worth a visit.
The falls in the area are a mixture of man made and natural and we wanted to take you to one of the more artistic and interesting waterfalls in the area.
The Grotto was created by a local artist and really is a beautiful site. The water cascades over a man made feature that resembles a face.
The best thing is you can walk behind it and get a whole different feel. It is one of the places to go in San Antonio at night as the falls are all lit up and look beautiful.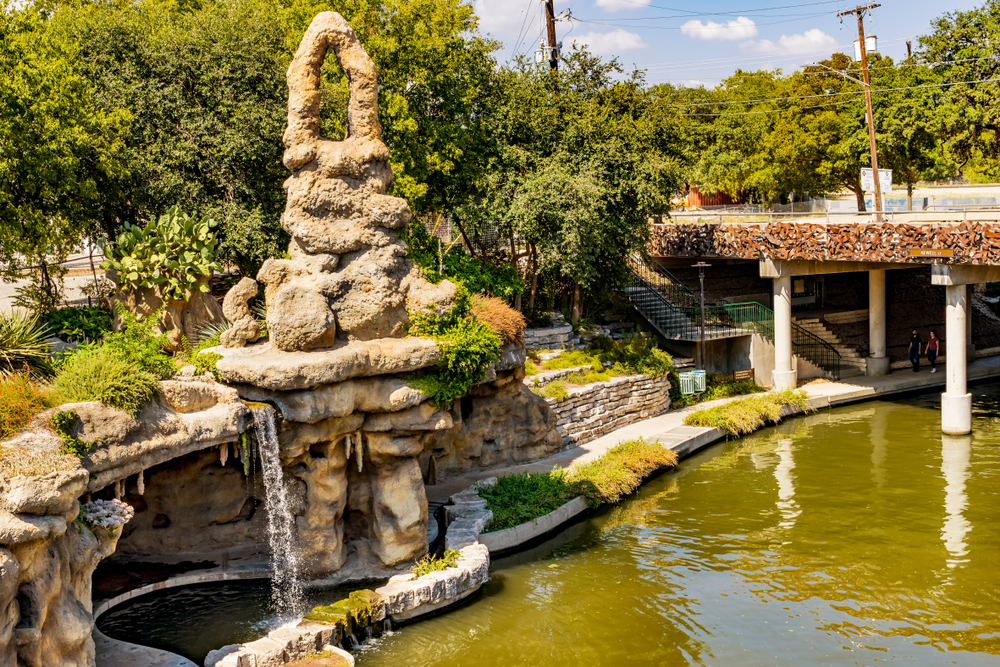 San Antonio Missions Natural Historic Park
Where park meets history and culture. Designated a National Historic Park and a UNESCO World Heritage Site this is one of the places to go in San Antonio that is a must.
The park preserves four out of five of the Spanish Missions in San Antonio. These missions where built as outposts by the Spanish settlers from the 17th century to spread Christianity.
The missions in the park are Mission Concepción, Mission San Jose, Mission San Juan, and Mission Espada. The best know mission The Alamo is not park of the park and is in downtown San Antonio.
A visit here is a great way to experience some of the history of the area. This is one of the best places to go sightseeing in San Antonio.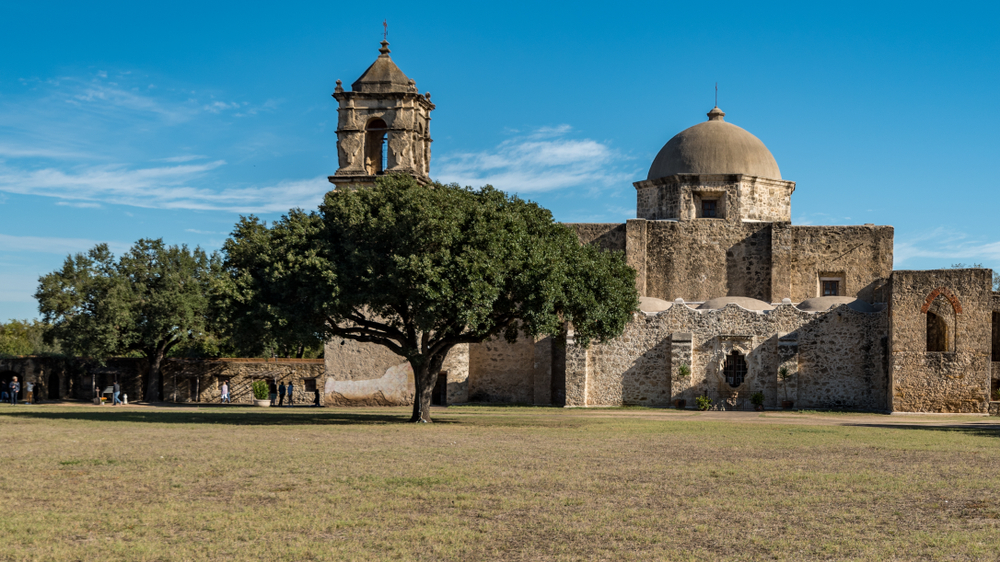 Mcnay Art Museum
With all the history around San Antonio modern art can seem a somewhat juxtaposition. However this city has always been a place where art is part of the culture as much as its history.
Mcnay Art Museum was the first museum of modern art in Texas and its collection now includes somewhere in the region of 22,000 items. The range includes Medieval and Renaissance art, 19th- through 21st- century European and American paintings, sculptures, and a lot more.
Also notable is Jeanne and Irving Mathews Collection of Art Glass, and the Art of New Mexico. When it comes to different types of art this place is jam packed.
If you want to see a different side to San Antonio then I suggest a visit here might be perfect.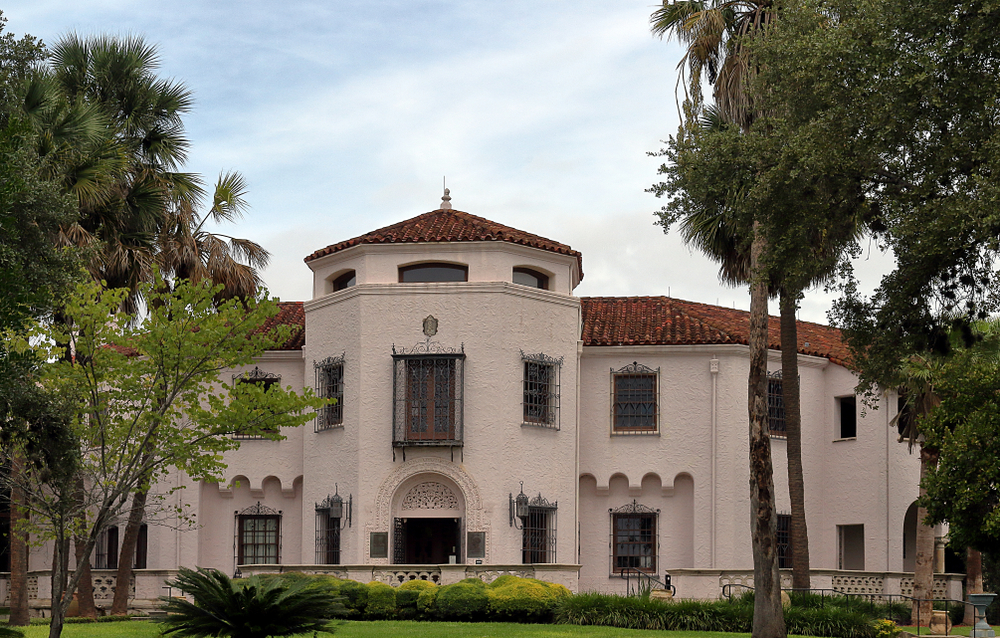 Aztec Theatre
A cherished and historic landmark the Aztec Theatre is somewhat of a hidden gem which is well worth a visit.
Considered a Mesoamerican architectural work of art the theatre has many columns reliefs and artifcacts in this style.
It opened in 1926 and was then one of the most decorative movie theatres in the county. It is still an entertainment venue today hosting many events.
They often run theatre tours so check if there is anything available when you are there or catch a live show. At the very least take a walk by it it is one of the most beautiful places in San Antonio .
It's located at the corner of Commerce St. and St. Mary's St and you can't miss it.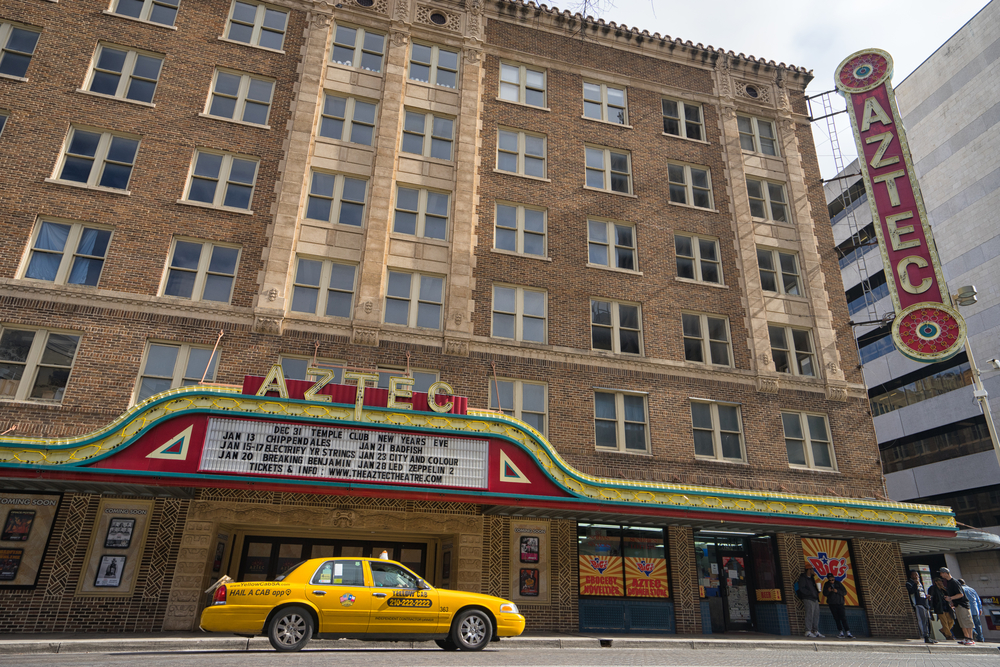 San Fernando Cathedral
San Fernando Cathedral is one of the oldest cathedrals in the U.S.A. It was built in 1873 and is just so beautiful.
The interior is stunning and the remains of some of the Alamo defenders are displayed, the history here is palpable.
And as if that wasn't enough there is also an incredible light show here most evenings. If you can go and watch the light show we highly recommend it.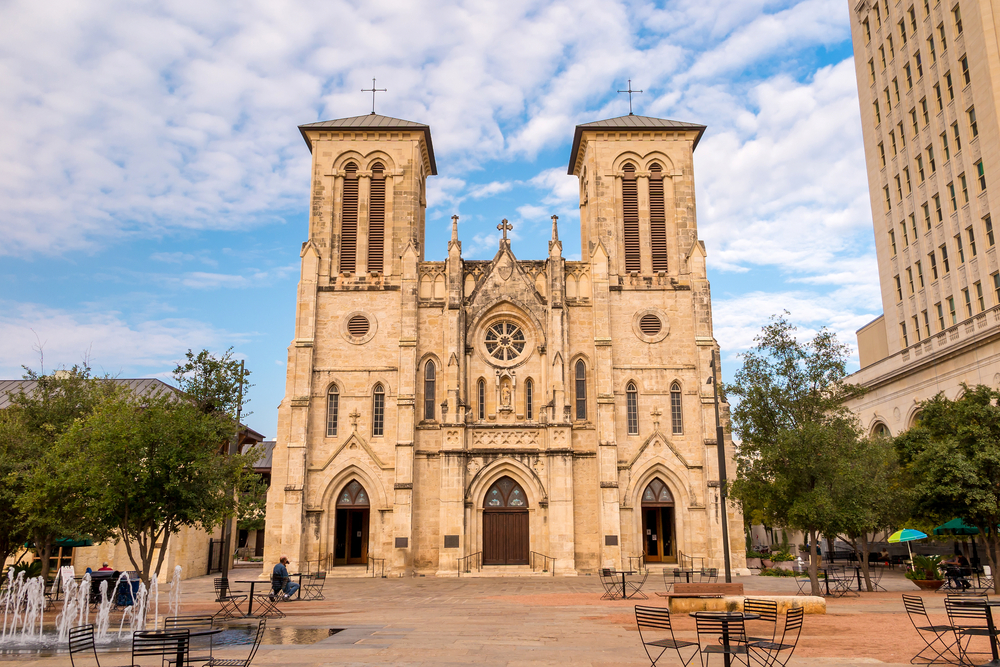 As you can see when it comes to places to visit in San Antonio there are so many different things to choose from. Whichever of these attractions you visit we know you will have a great time.
Enjoy your vacation in San Antonio and come back and let us know what you think are the best places to visit in San Antonio.