Are you driving from Dallas to San Antonio and looking for some useful tips and things to do? Then you've come to the right place! The Dallas to San Antonio drive is used by all sorts of travelers from business trips to lovers retreats, family vacationers to solo getaways. With such a wide array of offerings, it's no surprise that the route is taken by so many!
Texas has a plethora of destinations from cute small towns to bustling big cities and everything in between. Each big city has it's own personality and things its known for. Dallas is home to the Dallas Cowboys football team and the nation's largest art district among many other things. San Antonio is home to the beautiful River Walk, The Alamo, and so much more. If visiting one, you have to visit the other and do a San Antonio to Dallas road trip!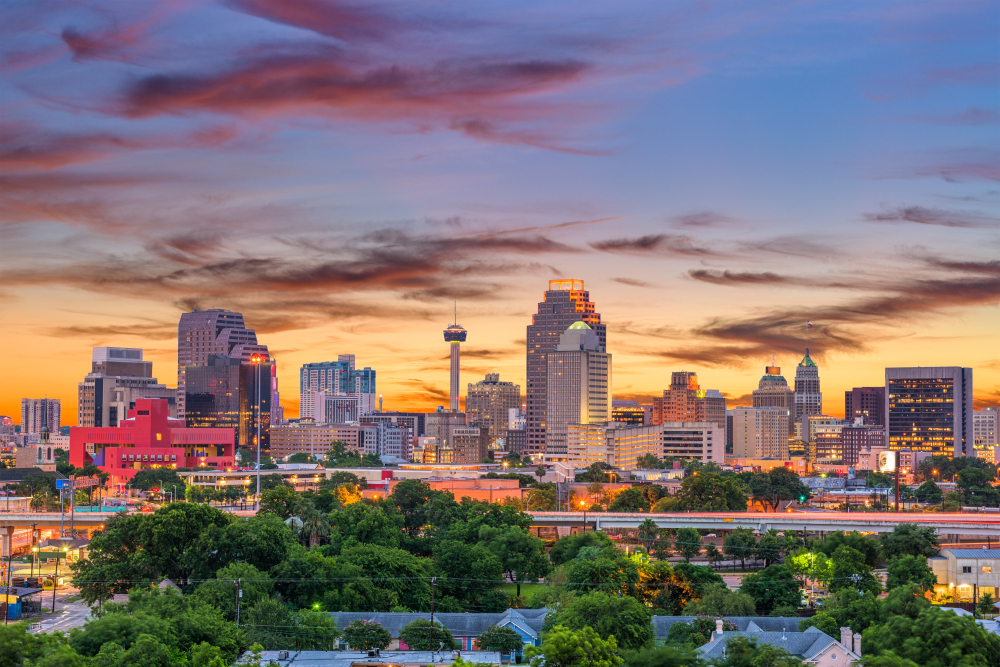 How far is it from San Antonio to Dallas?
The shortest distance from Dallas to San Antonio is about 275 miles (445 kilometers) by way of Interstate 35 with San Antonio being south of Dallas. Depending on the detours to sites or towns you decide to visit, the drive can be longer.
A lot of Texas is what people imagine – desert. Thankfully for travelers, that means towns, attractions, and things to see usually stay pretty close to the interstate! The Dallas to San Antonio road trip becomes packed with plenty to see fairly close to the interstate and not adding a ton of milage to the trip!
How Long Does It Take to Drive From San Antonio to Dallas?
If you're in one city and thinking about visiting the other, the first question you ask is "What is the San Antonio to Dallas drive time?" The quickest route between these two cities is four hours on Interstate 35 with no traffic! Of course, if you make stops you would need to add the additional drive time to and from the destination, as well as time spent at the stop.
You could also turn the Dallas to San Antonio road trip into a multi-day trip if you wanted to spend a half day or even a full day in one of the cities along the way. Austin is about a third of the way on your San Antonio to Dallas drive and Waco is about two-thirds of the way! Both cities are great locations with plenty of places to stay, plenty to do, and plenty to eat!
What to expect on the Dallas to San Antonio drive
At first glance, this may seem like a boring drive across the Texan desert with not much to look at, but rest assured, that couldn't be farther from the truth! This drive will be more green than western Texas and the cities in between will be more consistent than other areas in Texas.
You have the option of staying on Interstate-35 (I-35) or venturing off and taking the backroads to explore more of what Central Texas has to offer. Either way, you will be plenty entertained and can make the San Antonio to Dallas drive whatever kind of trip you want it to be.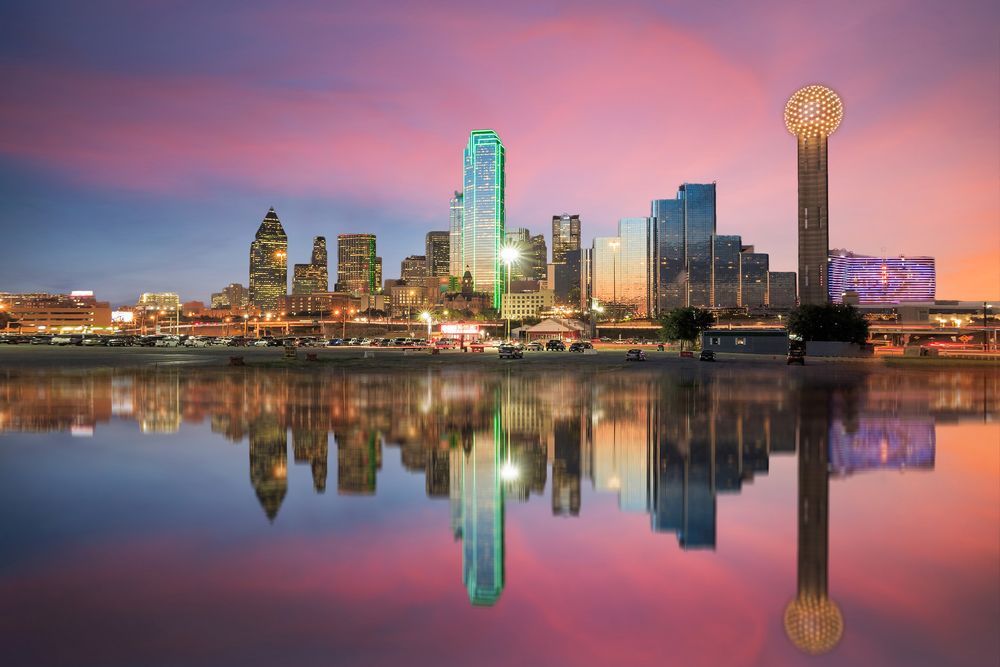 Tips for driving from Dallas to San Antonio
Below you will find some tips and tricks that can come in handy on your drive from Dallas to San Antonio or your drive from San Antonio to Dallas. There isn't much distance between these two cities and these tips will help you best utilize the time so you don't miss a thing!
You Don't Have to Stick to the Interstate / I-35
The interstate will be the quickest drive from Dallas to San Antonio, but it is by no means the only route. There are plenty of backroads that will take you to the same destination. Some call the backroads the scenic route because it affords the opportunity to see more of the beautiful state of Texas and you never know what you may discover!
Throughout this area of Texas, there are Farm to Market roads that lead to county roads which connect to interstates. The Farm to Market roads will give you a peek at Texas agriculture and ranching! You never know when you might see a farm stand or some livestock! It's impossible to regret taking the scenic drive from Dallas to San Antonio!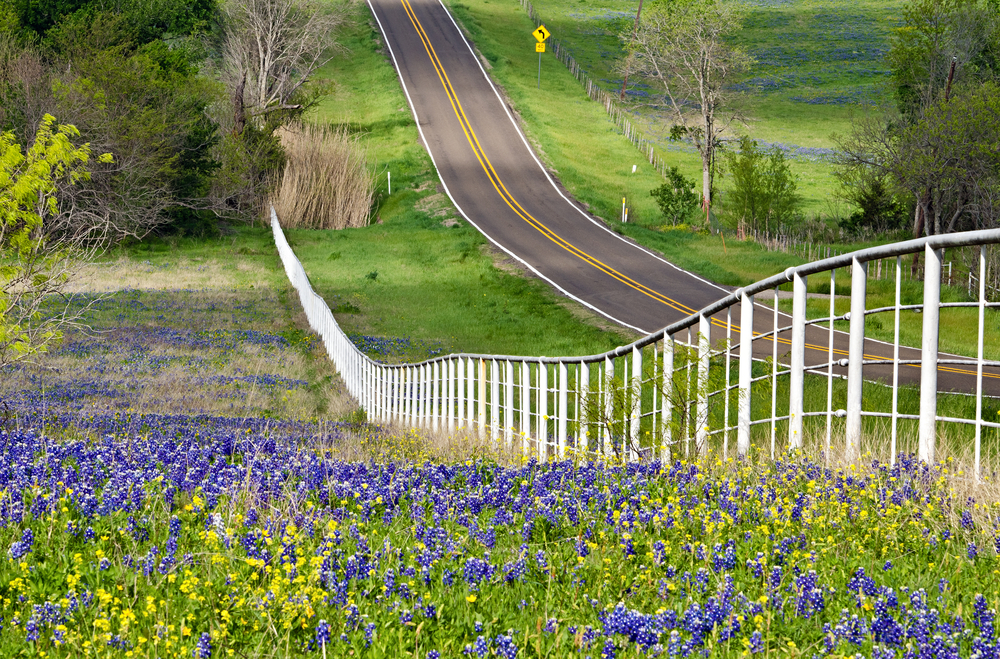 Try to Avoid Rush Hour on the Drive from Dallas to San Antonio
Dallas is a fairly large city with a population of 1.3 million people and San Antonio eclipses with 1.5 million people which means rush hour is a time that you should avoid driving during if possible! Pull off the road, get some coffee or dinner, explore the location, and wait for traffic to clear! These time slots provide a perfect window to get out and stretch your legs!
Rush hour in bigger cities is usually from 7:00-9:00 in the morning and 4:00-6:00 in the evenings, Monday through Friday. Thankfully those times are perfect to take a break from driving for breakfast or dinner. By eliminating traffic, it will make the San Antonio to Dallas drive much more enjoyable!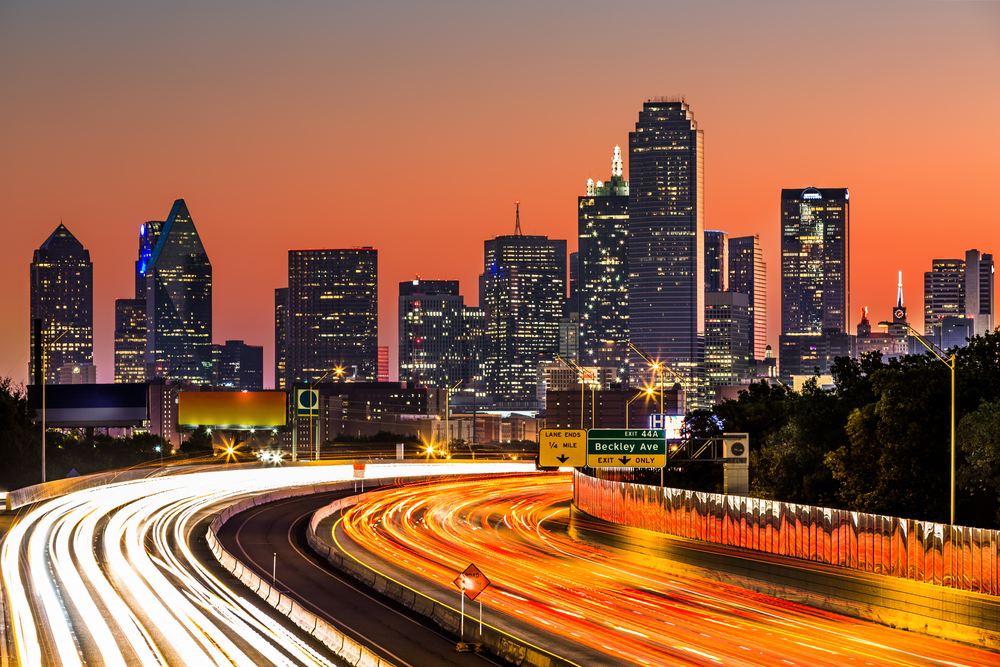 Leave Time on Your Schedule for Stopping and Exploring
All successful roadtrips require two things: a place to go and places to stop. When planning your drive, it's important to plan for stops. There are three ways to plan for a road trip.
The first way is to not plan at all! Put in your end destination and then see what peaks your interest while you are driving. This is by far the most spontaneous way to do the Dallas to San Antonio drive! The benefit to this way is that you never know what could be coming up on the road and it makes for an exciting Dallas to San Antonio road trip.
The second way is to research ahead of time and find a handful of things, locations, or activities that you might want to do. When the day comes or as you're driving, make the choice on which of your pre-researched things appeal to you that day! The advantage to this type of roadtrip is that you have an idea of what your options are and can decide definitively in the moment rather than pre-planning and then not being as excited when the time comes.
The third way is probably the most common and what we think of when planning a trip. By researching all the things to do between San Antion and Dallas, you can select the things that appeal to you, budget time for each location or activity, and plan your route precisely.
No matter which way you decide to plan your San Antonio to Dallas drive, it is sure to be a success!
Pack a Lunch or Plan to Stop Somewhere Tasty
One of the greatest aspects of traveling is the opportunity to try "new to you" foods! Whether you decide to pack a lunch or find a great local restaurant, the opportunity to discover a new food is exciting!
If you decide to pack a lunch, finding a fun deli with sandwiches or to-go salads can be a great way to stay on the road and avoid the lunch traffic at popular spots! You could also find a grocery store that you don't have back home to see what fun and different things are available!
Conversely, if you decide to pull off and find somewhere tasty for lunch, it provides the chance to try new food, stretch your legs, and use the bathroom! One of the eternal struggles of road trips or a long drive is the access to restrooms! If you have someone in the car with you, they can research upcoming restaurants. If you're traveling solo, finding a cute town and driving till you see somewhere appealing works just as well!
When driving from San Antonio to Dallas, depending on the route, and how long you plan to spend on the road, you can definitely fit in two or three meals!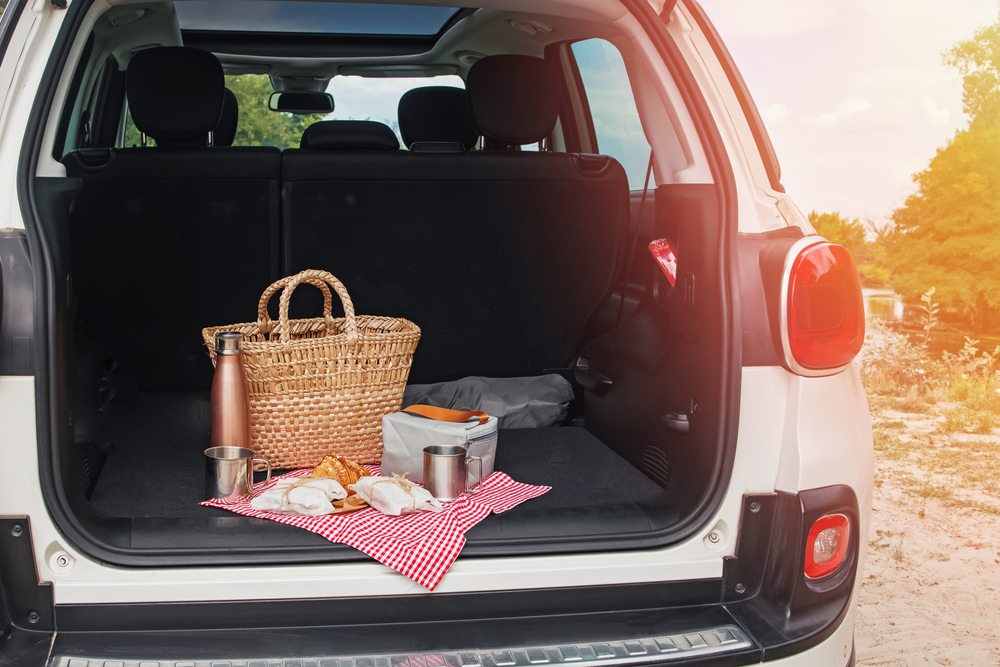 Fill Up on Gas at the Beginning of Your Trip so You Don't Have to Stop
This is probably the most practical tip we have for your Dallas to San Antonio drive. Starting your drive with a full tank of gas will eliminate excess stops at gas stations and inflated prices if you are close to empty in a very small town. A full tank of gas also will provide security of resources if you get lost and ensure you don't end up on the side of the road!
With a full tank of gas, you will have the freedom to make extra stops if you find additional appealing things to do between Dallas and San Antonio! When the practical things are taken care of, you can focus more on the fun things!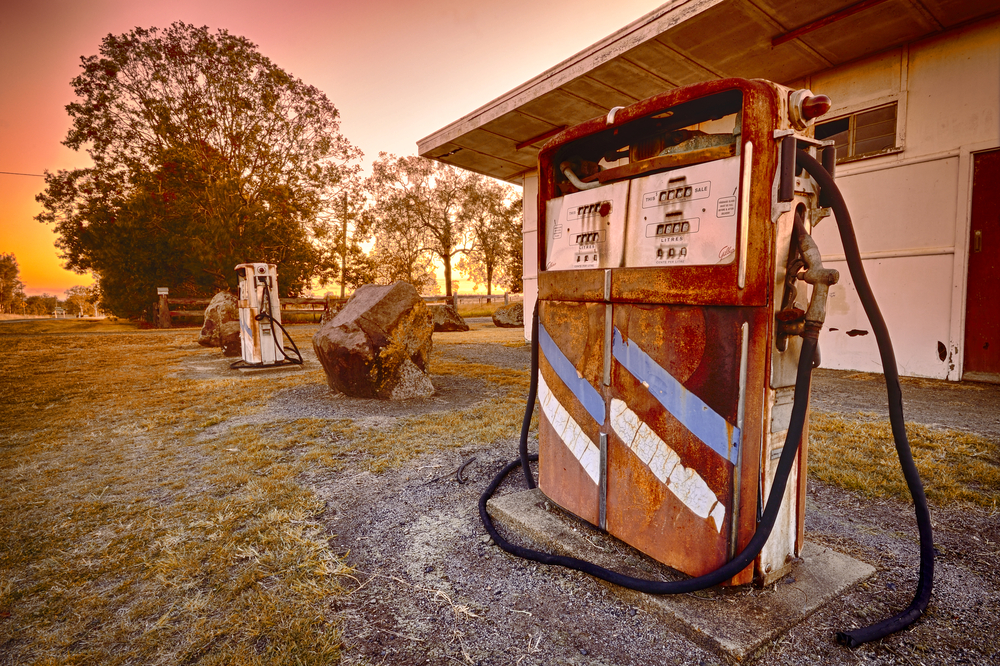 Best things to see between Dallas and San Antonio
Natural Bridge Caverns
About 35 minutes north of San Antonio, you will find the wonder that is Natural Bridge Caverns. Discovered in 1960 by four students from St. Mary's University in San Antonio, Natural Bridge Caverns is over two miles of caverns formed one drop of limestone filled water at a time. The first half mile of the caverns is developed for visitors, with the goals of cavern preservation and guest comfort!
The Natural Bridge Caverns are one of the most education and fascinating things to see between Dallas and San Antonio! There are five tour options from family friendly walking the first half mile, to the adventurer wanting more guided exploration! Natural Bridge Caverns will be the story you take home!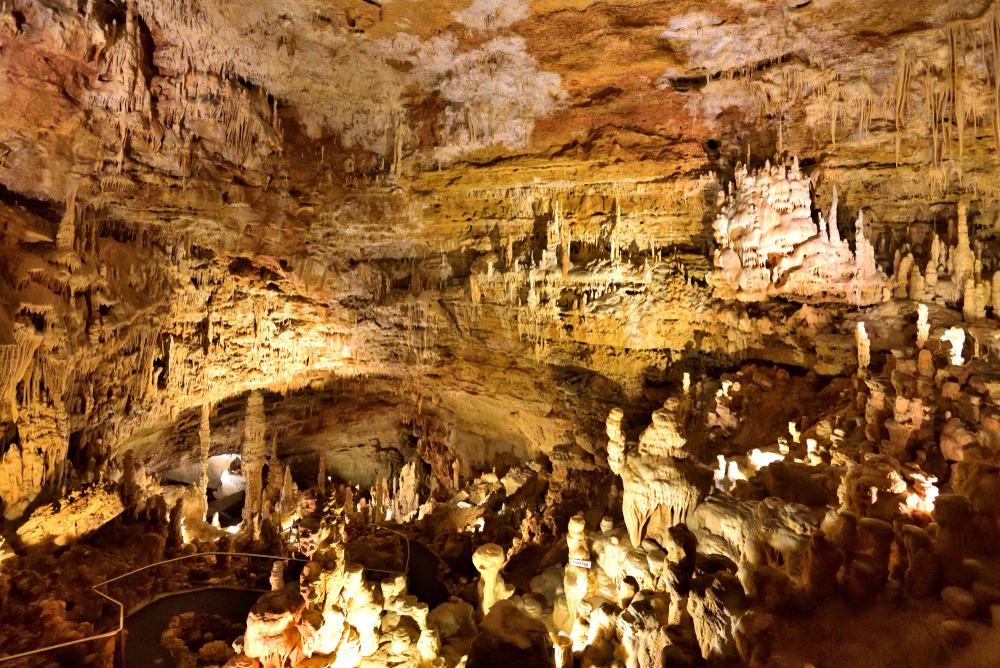 New Braunfels
A 35 minute straight shot up I-35 from San Antonio will land you at New Braunfels which is a must see when driving from Dallas to San Antonio! Founded in 1845, New Braunfels is a town known for its German Heritage! From numerous festivals, to antique shops and boutiques, New Braunfels is a unique stop on the San Antonio to Dallas road trip!
If you're not interested in German Heritage, not a problem. New Braunfels also has an auction house, unique high-end goods that give back, craft stores, markets, restaurants, and so much more. Their downtown is perfect for a stroll to stretch your legs!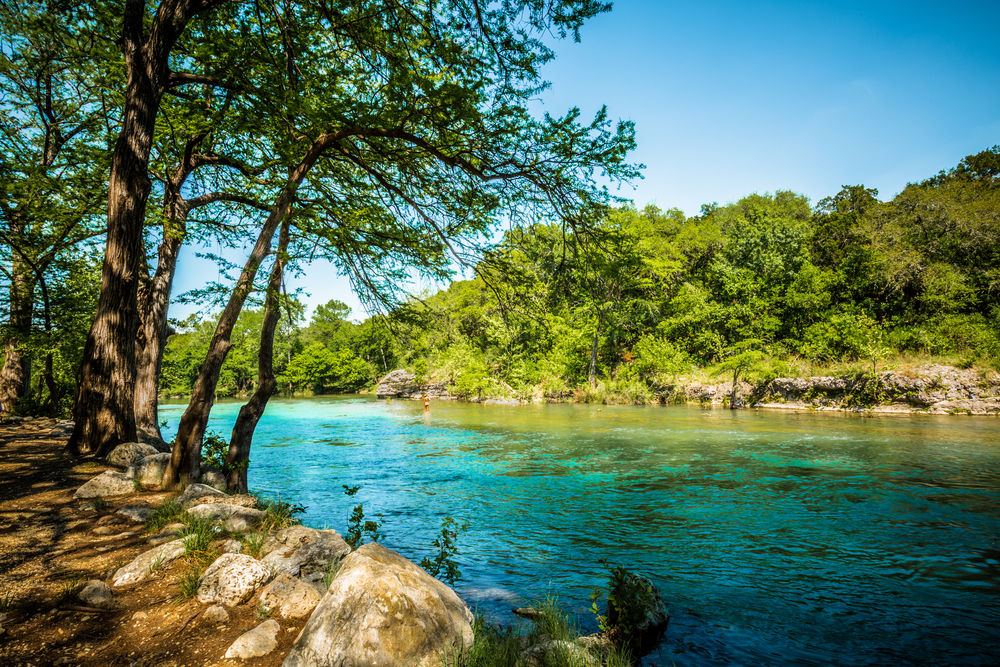 San Marcos
San Marcos is a quaint little town about 50 minutes north of San Antonio and a fun stop on your San Antonio to Dallas drive! Outdoor enthusiasts will find plenty to do from floating down the San Marcos river to hiking, biking, birding, or fishing in their many outdoor parks. One of their most picture worthy outdoor activities is floating the river in glass bottom boats!
For those looking for some indoor fun, there are numerous museums, historic sites, and art galleries. Scattered throughout the city are mermaid statues and murals. Their restaurants are numerous and delicious and the night life is so good, you'll be out too late!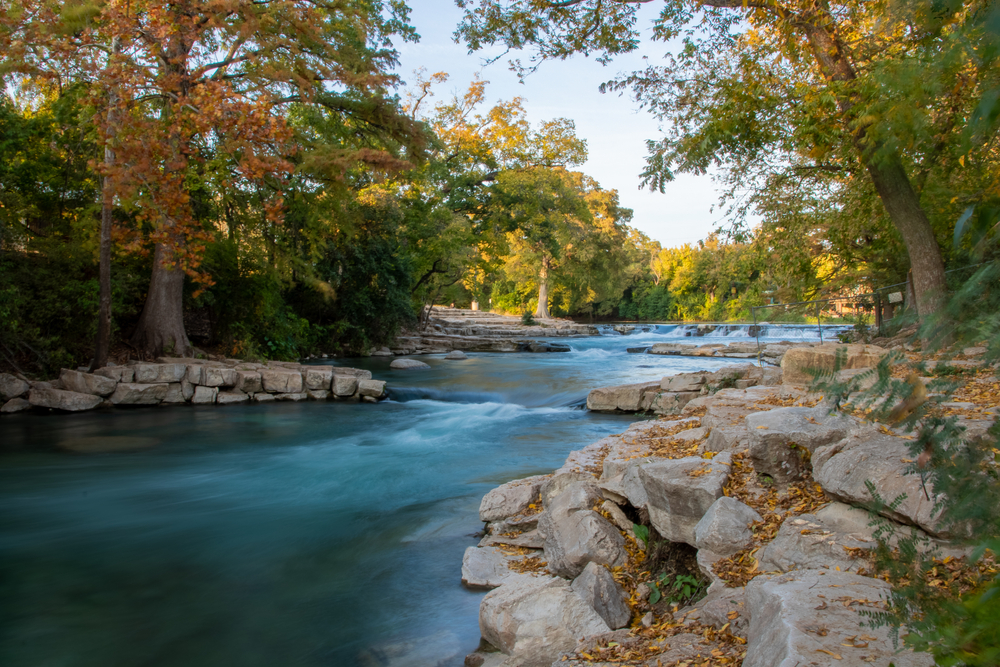 Blue Hole Regional Park
Blue Hole Regional Park is located an hour from San Antonio, about 45 miles north on I-35 and then 16 miles west off the interstate which provides a chance to see some of Texas' beautiful backroads. This natural swimming hole is surrounded by over a hundred acres of undeveloped woods and meadows making it a stunning stop on your scenic drive from Dallas to San Antonio!
Made into a park in 2005, Blue Hole now includes a community center, basketball court, four miles of trails for hiking, a sand volleyball court, playscape, and amphitheater! If you are needing a break from the car or want to swim in one of Texas' many swimming holes, Blue Hole Regional Park is the perfect place!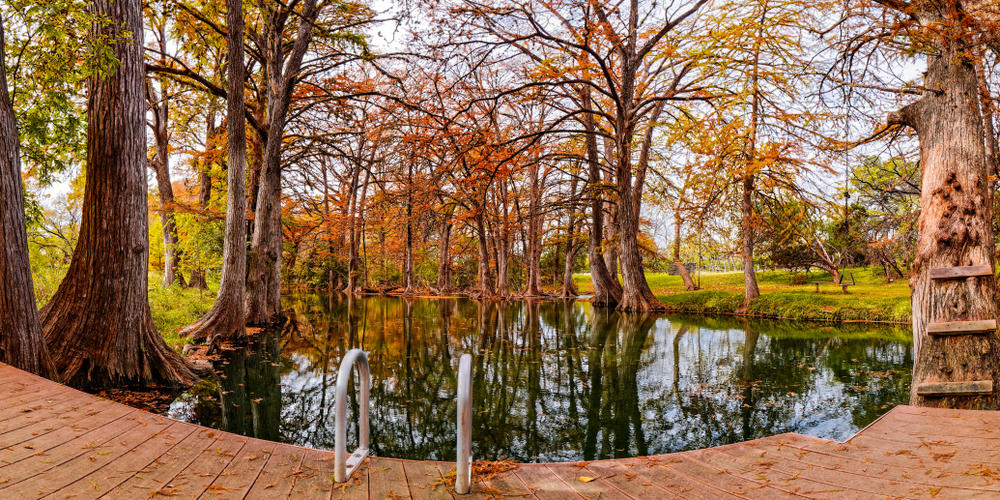 Jacob's Well Natural Area
About halfway between San Antonio and Austin, and 20 miles off Interstate-35 is Jacob's Well Natural Area. If visiting during the off season, Jacob's Well is free to explore! From May 1 – September 30, there is an entrance fee as it is swim season! At a little over 80 acres, Jacob's Well is an artesian spring and the second largest underground cave in Texas!
The main cavern is over 4,000 feet long and the deepest part is over 140 feet! During the off season, free tours are offered to explain the history, geography, the aquifer system, flora, and fauna of the area! This is an experience you won't want to miss on your Dallas to San Antonio drive!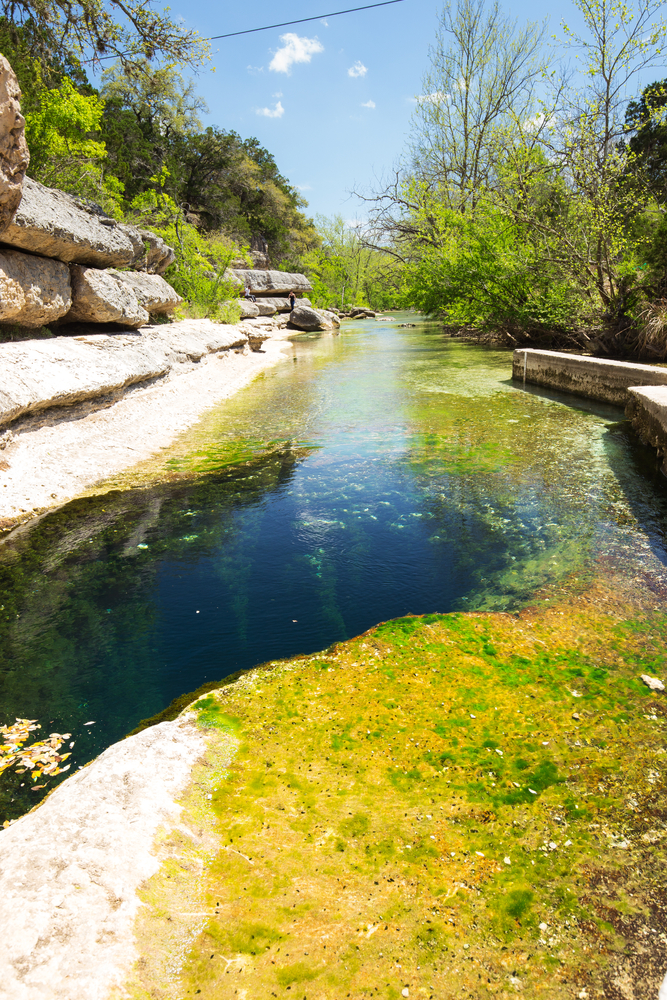 Lockhart
Lockhart is a beautiful and historic town in Texas Hill Country. Located an hour and fifteen minutes north, you will find plenty to do in Lockhart! Most notably, Lockhart is the BBQ Capital of Texas! No small feat as the whole state is known for their bbq. Their four BBQ joints bring in 5,000 people per week!
For those looking to shop, there are a handful of antique shops and over fifteen specialty shops located in their downtown. There is plenty of hiking, fishing, and birding if you are wanting to spend time outside. You can also check out the filming locations for What's Eating Gilbert Grape, Transformers: Age of Extinction, and Secondhand Lions.
When driving from Dallas to San Antonio, Lockhart is a fascinating stop to make!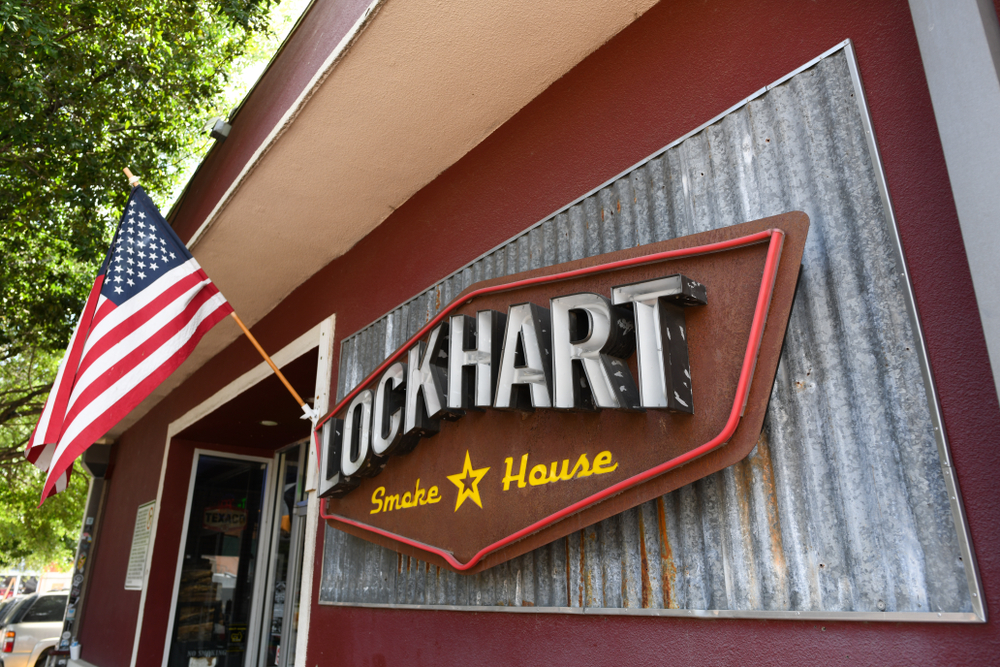 Georgetown
Georgetown is 30 minutes north of Austin and boasts having the Most Beautiful Town Square in Texas! With a population of 71,000 people, it's enough of a city to offer a little bit of everything!
There are plenty of breweries, but Georgetown also offers a handful of wineries! Downtown Georgetown offers historic buildings and the Daytripper World Headquarters as well as splash pads and natural swimming holes. There is a thriving night life and also plenty of kid-friendly activities for the whole family. There is any kind of food imaginable throughout the city.
Perhaps the most unique tour in Georgetown is Inner Space Cavern which is a living cave housing formations that have been growing for 80,000 years! On the drive from San Antonio to Dallas, this is something you definitely can not miss!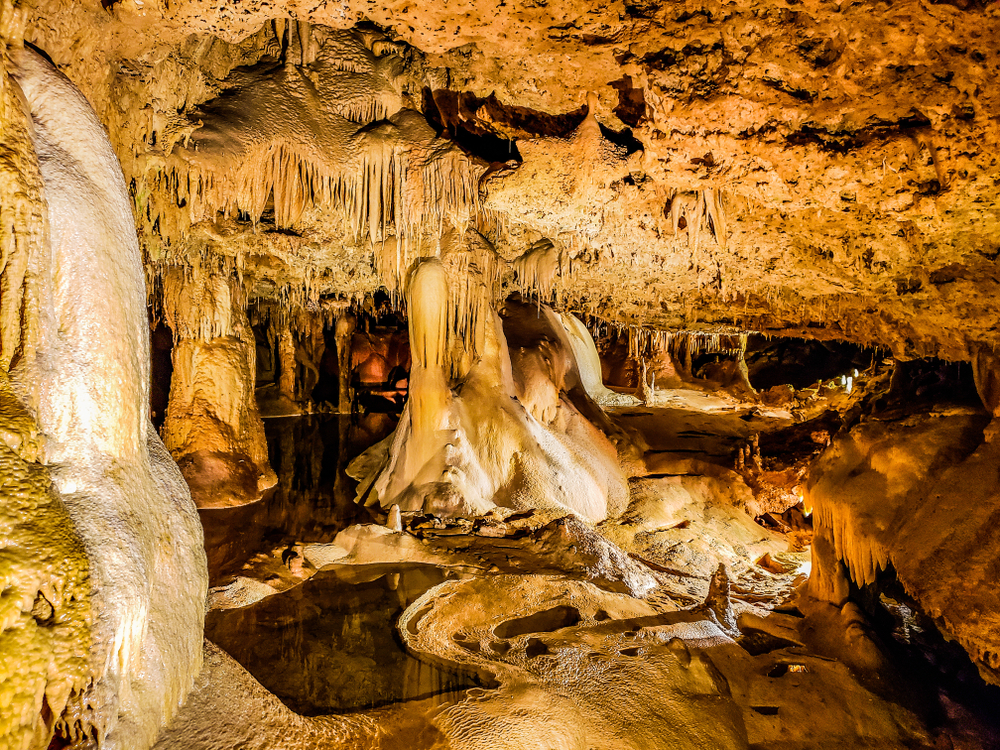 Chalk Ridge Falls Park
Chalk Ridge Falls Park is two hours north of San Antonio and a beautiful place to spend an afternoon hiking! The trail through the park is about five miles long. The first part is paved, but eventually becomes a bit rocky.
Chalk Ridge Falls Park boasts a waterfall called Chalk Ridge Falls, a boardwalk to allow easier traversing of parts of the trail, a cable suspension bridge to cross the creek, plenty of spots to wade into the river, bluffs with breathtaking overlooks, and some parts of the trail provide ample tree cover and shade.
The distance from San Antonio to Dallas is not extreme by any means, and being able to get outside in nature and walk around for a bit might be the perfect start to a great road trip!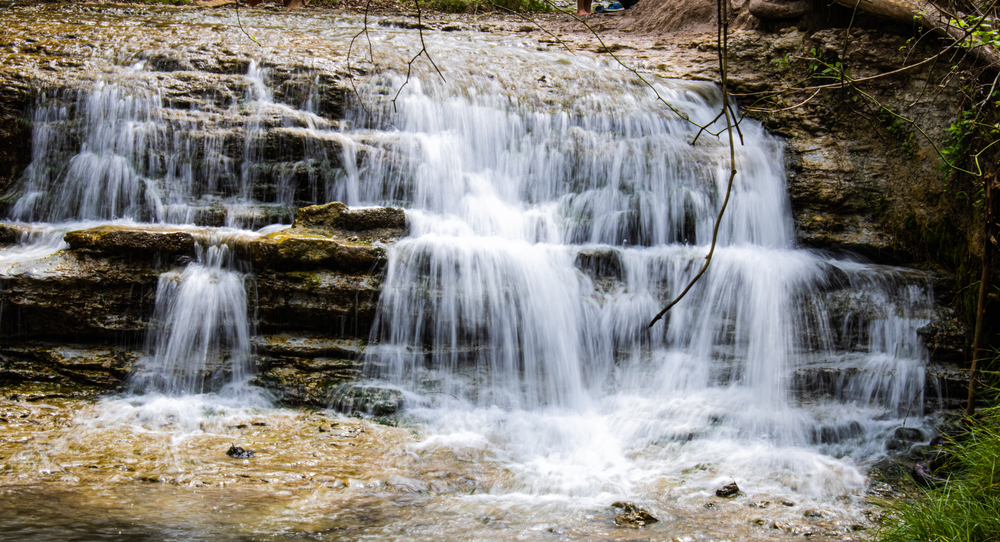 Waco
Waco is about two hours south when driving from Dallas to San Antonio. Founded in 1849 by the Huaco native peoples, Waco now boasts a population of 135,000 people!
There is so much to do in Waco you could really spend several days and still not see it all. The Magnolia Trail is a popular activity for fans of Chip and Joanna Gaines. Baylor University for those looking to tour one of Texas' historic colleges. Cameron Park Zoo and the Bill and Eva Williams Bear Habitat if you're an animal lover. There are city parks and arboretums. Distilleries and breweries. A deluge of restaurants and coffee shops! Perhaps the most interesting attraction in Waco is the Dr Pepper Museum & Free Enterprise Institute!
Waco truly is one of the best stops you can make on your drive from San Antonio to Dallas!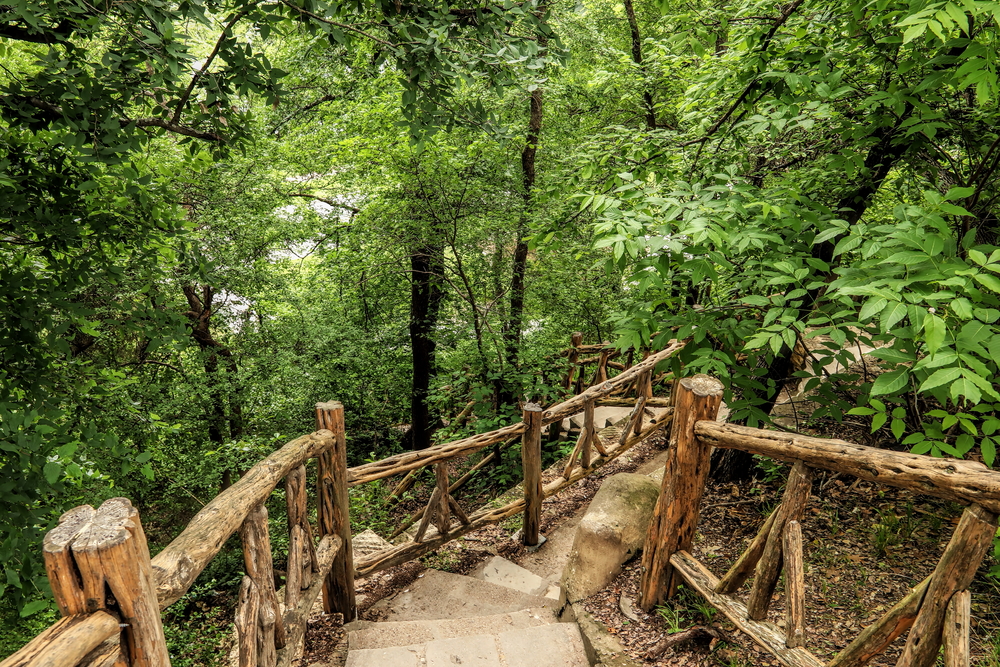 West
West, Texas is a small town an hour and 20 minutes south of Dallas along I-35. You can also take US-67 to I-35 for a slightly longer route at an hour and 25 minutes.
West has interesting things to do between Dallas and San Antonio as another historical town with a population of less than 3000 people. Settled in the 1880's, it is so named because a railway station was built on land owned by Thomas West. The rail station brought in commerce and Mr. West was acting postmaster and proprietor of the general store as well as owned a hotel, furniture store, and a bank.
The area has a heavy Czech and German influence because many immigrants settled in West opening stores and restaurants, sharing their culture. The Czech continued their cultural custom of having large families and by the 1920's they made up a majority of the town.
Due to this rich history, visitors now can enjoy Czech bakeries selling Kolaches, Czech gift shops and Czech antique stores. Walking through downtown you will undoubtedly hear people speaking Czech in the streets! With such a rich Czech culture, it is no wonder that West, Texas is known as the "Czech Heritage Capital of Texas".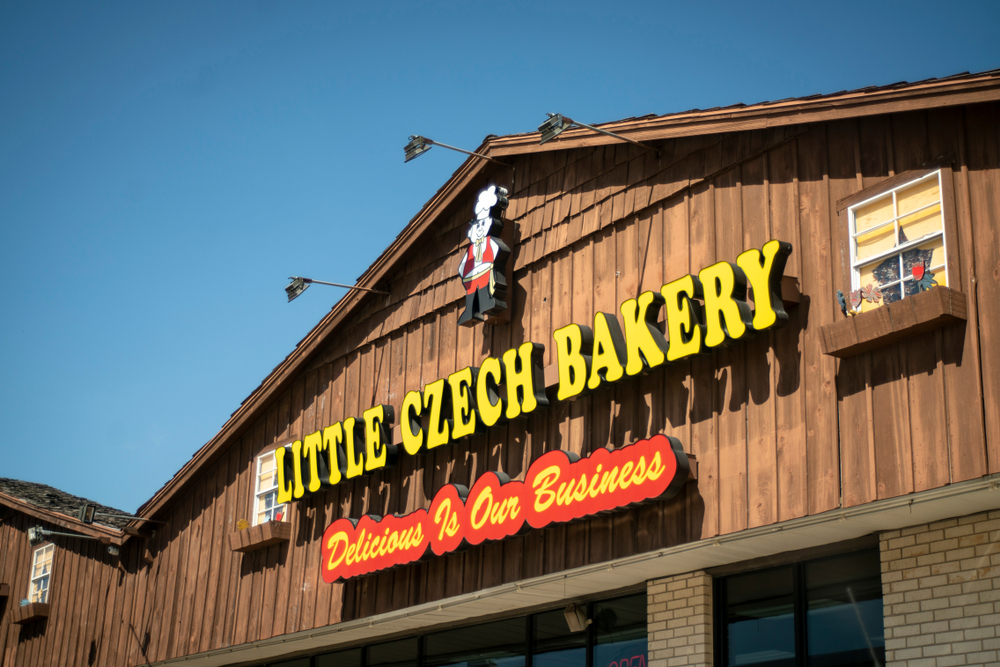 Waxahachie
Waxahachie was settled in 1850 and made prosperous and successful by the cotton industry. Taking I-35, the drive from Dallas to Waxahachie is 40 minutes. You can also take I-45 and cut over on FM (Farm to Market road) 878 and that route takes about 45 minutes.
Not far outside of Dallas, this is a must see because it is a historic town with a wide array of festivals throughout the year! In April there is the Crossroads of Texas Film and Music Festival, in June the Gingerbread Trail, in July the Crape Myrtle Festival because the streets are lined with blooming Crape Myrtle flowers! The year finishes with the Texas Country Reporter Festival in October, a World War II reenactment in November, and numerous Christmas activities in the December.
If your visit doesn't coincide with one of their festivals, it is not a problem! The town has plenty to see and do. From city parks, murals, historic homes and buildings, live music, breweries, a handful of salons and spas, and even a Waxahachie Haunted History Tour!
When driving from Dallas to San Antonio, Waxahachie is a perfect stop!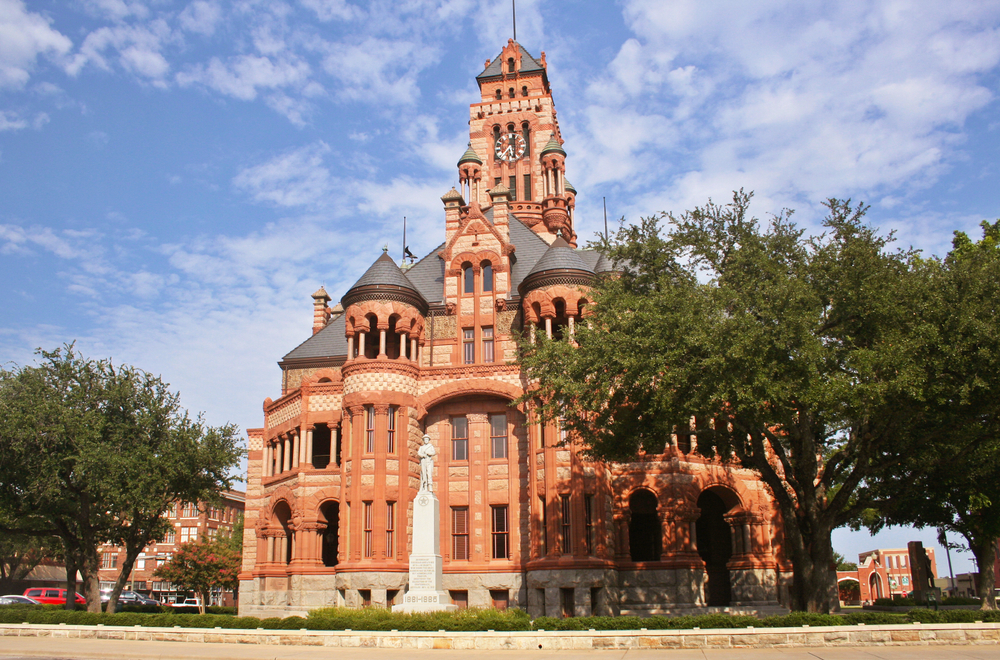 Bluebonnet Trail
About 30 minutes north of Dallas four miles off I-75 in a town called Ennis is Bluebonnet Trail. There are over 40 miles of mapped driving trails through fields of Bluebonnets, the Texas State Flower! Although this location is north of Dallas, while Austin is South, it is definitely worth the detour!
The trails are open during the month of April while the flowers are in bloom and it is a must see! The driving trails are publicly owned, but the land is private property so all signs must be obeyed!
There is a plethora of lore around why Bluebonnets became the Texas State Flower, but the reason they got their name is undisputed. The flower looks much like a women's sunbonnet, worn to protect their face and neck from the heat of the Texas sun. Since the distance from Austin to Dallas is less than a half day's drive, the quick drive up to Bluebonnet Trail is a beautiful diversion!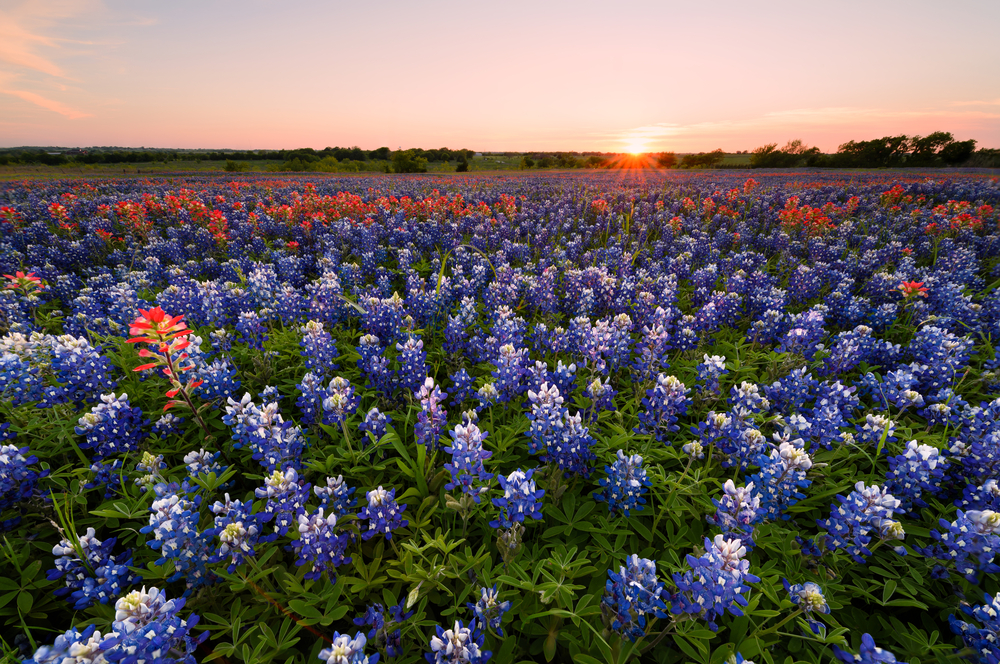 Outlet Malls for Shopping Along the Way
Any vacation implies there is going to be at least a little shopping! And the San Antonio to Dallas road trip takes you by a handful of outlet malls where you are sure to find everything you need (or anything you may want)!
Starting in San Marcos are the San Marcos Premium Outlets, just outside of Austin are the Round Rock Premium Outlets, and Dallas has the Allen Premium Outlets plus a handful more along your drive. Each outlet mall will have your standard mall stores like Abercrombie and Calvin Klein, but they will also have luxury shopping like Burberry and Coach.
The beauty of an outlet mall when you're traveling in a group is that it's a great place for the group to either shop together or split up and get some solo time while everyone is still close by!