If you are looking for adventure and some of the best caving in Texas, you have come to the right place! This list includes some of the most awesome caverns in Texas. From Del Rio to San Antonio to Austin, Texas is full of unique, wonderous caverns!
With caverns featuring spectacular helictites, pre-historic fossils, and wildlife, these caverns in Texas will not disappoint. From Cascade Caverns with their Cascade Cavern Salamanders to a 40-foot waterfall at West Cave, the beauty of these Texas caves are beyond compare.
Many of these Texas caverns also feature nature preserves with beautiful landscapes and are also full of history with Mastadon and Saber-toothed Tiger fossils! Several have their own camping grounds for accommodations as well. You won't want to miss out on these great experiences, so jump in the car and find your inner spelunker exploring these awesome caverns in Texas!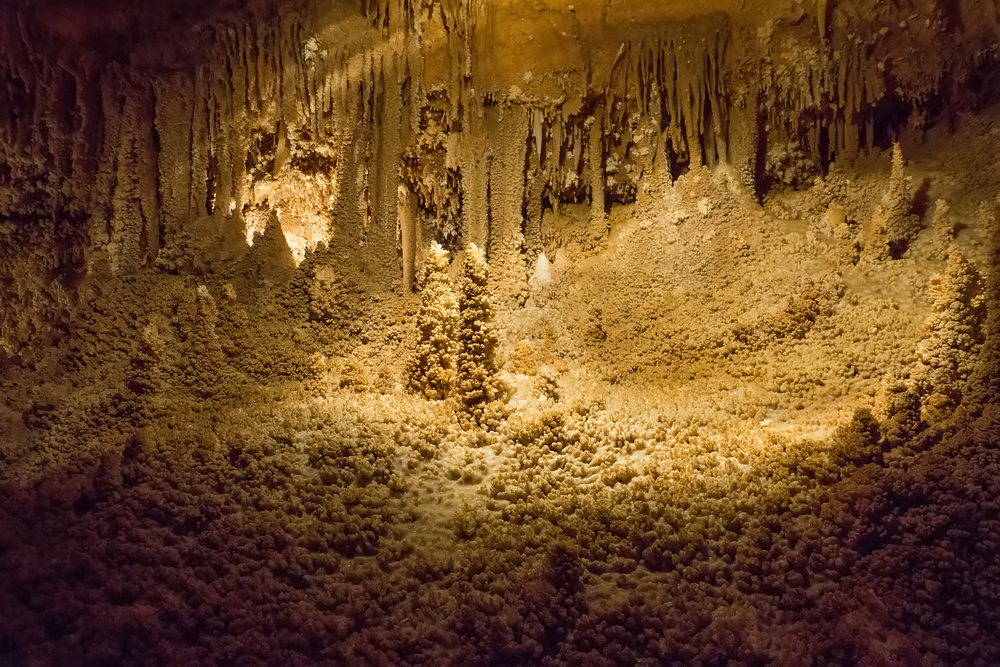 7 Natural Caves And Caverns in Texas You Must Visit
Cascade Caverns
Located just north of San Antonio and a bit south of Boerne. Texas is one of the best caverns in Texas, Cascade Caverns! It has been open to the public since 1932 making it somewhat of a historical site as well. Not only is Cascade Caverns a beautiful cavern to explore, but it is also scientifically interesting.
Cascade Caverns is one of the most biologically diverse caverns in Texas. It is home to a lot of unique species, such as Tri-color Bats, Cave Crickets, and Leopard Frogs. These Texas caverns are also home to the Cascade Cavern Salamander! This salamander can only be found at Cascade Caverns. These Texas caves are also home to several fossils, including Mastadon and Saber Tooth Tiger fossils.
Visitors can choose from a variety of tours at Cascade Caverns to best fit their needs. There are daily tours, lasting 45 minutes to an hour that takes groups through the caverns to enjoy the beautiful stalactites. If you are feeling a little more adventurous you can take the evening Flashlight Tour that takes place at night and lasts about 1.5 hours. The Salamanders are likely to make an appearance during the Flashlight Tours.
Cascade Caverns also offers campgrounds and an RV park for those looking to stay the night. While onsite, there are 2 nature trails to explore. You can also dig for fossils and gems as well which is especially fun for kids! Those staying at the campgrounds or RV park have access to BBQ grills, picnic tables, and free wifi.
Cascade Caverns are in Texas Hill Country which has a ton of other awesome things to check out these things to do in Texas Hill Country. It is located just off of I-10 West just north of San Antonio. Cascade Caverns is definitely a unique place to visit and one of the neatest Texas caverns.
Deep Cave
If you are looking for a rugged caving experience, Deep Cave is the cave for you! Deep Cave is about 100 meters deep and around 2 kilometers long making it one of the most awesome caverns in Texas.
It is located at the Deep and Punkin Caves Nature Preserves which s also home to Punkin Cave. Deep Cave has unique areas including the Forest of Columns, the Miller Time area, and the Helictite Room. There is an active mapping project going on for Deep Cave and you can participate in a few of the surveying trips throughout the year.
Exploring one of the best caves in Texas, Deep Cave does require a lot of climbing and a good bit of crawling so it is for those prepared and physically able to do this. However, no rope work is needed to explore Deep Cave. A trip through Deep Cave usually lasts anywhere from 3 to 6 hours. Information on when survey trips are available is sent through the Texas Caver email list. Also to visit Deep Cave, groups must have a Texas Cave Management Association certified Trip Leader, and those wishing to stay on-site require a certified Expedition Leader due to limit damage to the cave and for safety.
The nature preserve is also beautiful to explore and home to lots of wildlife such as Golden Check Warblers and Pinion Pines. If you are staying at the Deep and Punkin Caves Nature Preserve there is a field house along with some campsites. However, visitors are recommended to bring their own potable water as it is not always available on site There is a shower building along with a desiccating E-Loo toilet on site.
Deep Cave is located in Edwards County about 30 miles north of Del Rio and 35 miles west of Rock Springs, Texas. This truly adventurous caving experience is what makes Deep Cave one of the best caves in Texas!
Natural Bridge Caverns
If you are looking for an all-day cavern experience, look no further than the Natural Bridge Caverns! Natural Bridge Caverns are located between New Braunfels and San Antonio and are one of the coolest caverns in Texas!
First discovered in 1960 by 4 college students, Natural Bridge Caverns has become one of the most popular caves in Texas. The Natural Bridge Caverns consist of 2 miles of cavern passages underneath a 60-foot natural limestone bridge. It is full of both science and history!
Visitors can learn about the different limestone layers in the caverns that date back to the Cretaceous period! The first half-mile of passages has been developed for easy access and touring. The Natural Bridge Caverns are one of the largest caverns in Texas!
There are several tours to choose from that suit a range of adventures. Visitors can take the Discovery Tour which consists of the first half-mile of the caverns on a trail. If you are looking for a bit more adventure, you can partake in the Adventure Tour which takes you off-trail into the undeveloped parts of the caverns. Those going on the Adventure Tour should prepare to crawl through some small spaces and get a bit muddy! Natural Bridge Caverns also offers private VIP tours that can be customized as well. During the summer, visitors can also enjoy the Bracken Bat Flight Packages which showcase the 20 million Mexican Free-tailed Bats that call Bracken cave home, which is close to the Natural Bridge Caverns.
Natural Bridge Caverns also offers several attractions at the surface including the Twisted Trails Zip Rails and Ropes course which features a rope and zipline course 60 feet above the ground! If you have little ones accompanying you they will enjoy the Twisted Trails Tykes course which is specially designed for kids under 4 feet tall with platforms less than 3 feet off the ground! There is also an awesome outdoor maze, dining, and shopping at Natural Bridge Cavern.
These magnificent caverns in Texas are located about 30 minutes north of San Antonio off of I-35 at exit 175. You won't want to miss these awesome Texas caverns!
Wonder World Cave
Wonder World Cave is a one-of-a-kind cavern in San Marcos, Texas. It is the only commercially operated dry-formed cave in the United States. The fact that is a dry-formed cave, as in it was not created by water erosion like most caves, makes Wonder World Cave one of the best caverns in Texas!
The Wonder World Cave was created by the earthquake that formed the Balcones Fault Line. This fault line can actually be seen on the ceiling of Wonder World Cave making it truly unique. This cave was originally discovered in 1893 but became a tourist attraction in 1903 which is why it is known as one of the first show caves in Texas.
Not only is the Balcones Fault Line visible to visitors, but the Wonder World Cave is also home to a myriad of fossilized prehistoric life throughout the many layers of rock in the cave. All the wonders of Wonder World Cave can be seen on the guided tour that is about 1 mile long.
There are steep stairs going both up and down on the tour so it is recommended that anyone who has a leg, hip, or heart issue or who is recovering from related surgeries avoid the tour or speak with their doctor prior to visiting. However, the path is well lit and there is seating located along the tour as well.
Wonder World Cave also boasts an amusement park located onsite featuring a wildlife park, petting zoo, gem mining, arcade, and an observation tower. Visitors won't be disappointed by all that Wonder World Cave has to offer. You won't want to miss these awesome San Marcos caverns!
Caverns of Sonora
The Caverns of Sonora are known as the most beautiful caverns in Texas! The founder of the National Speleological Society said that it was "the most indescribably beautiful cave in the world, its beauty cannot be exaggerated, not even by a Texan." Now, who would want to miss out on such beauty?!
These Texas caves are known for their wonderful calcite crystal formations, especially the high abundance of helictites. Helictites are formations that are curvy and angular and often seem to have grown in zero gravity conditions. The Caverns of Sonora were formed between 1.5 and 5 million years ago.
Visitors can experience these caverns in Texas through a few different style tours. You can take the Crystal Palace Tour which takes you 155 feet below the surface on a 2-mile walking tour. This tour takes you through highly decorated passages and lasts about an hour and 45 minutes long. The Discovery Challenge Tour is for those a little more adventurous as it takes you through off-trail passageways and involves repelling 50 feet down into what is called the Devil's Pit. The Discovery Challenge Tour lasts about 4 hours and all equipment is provided. For the photographers out there, the Photography TOur is just for you. It features an unhurried photo walk-through of some of the beautifully decorated caverns and participants can bring their tripods in as well!
Those stopping by these Texas caves can spend the night at the campsite and RV park located at the Caverns of Sonora. These one-of-a-kind caverns in Texas are located in Sonora, Texas which is northwest of San Antonio.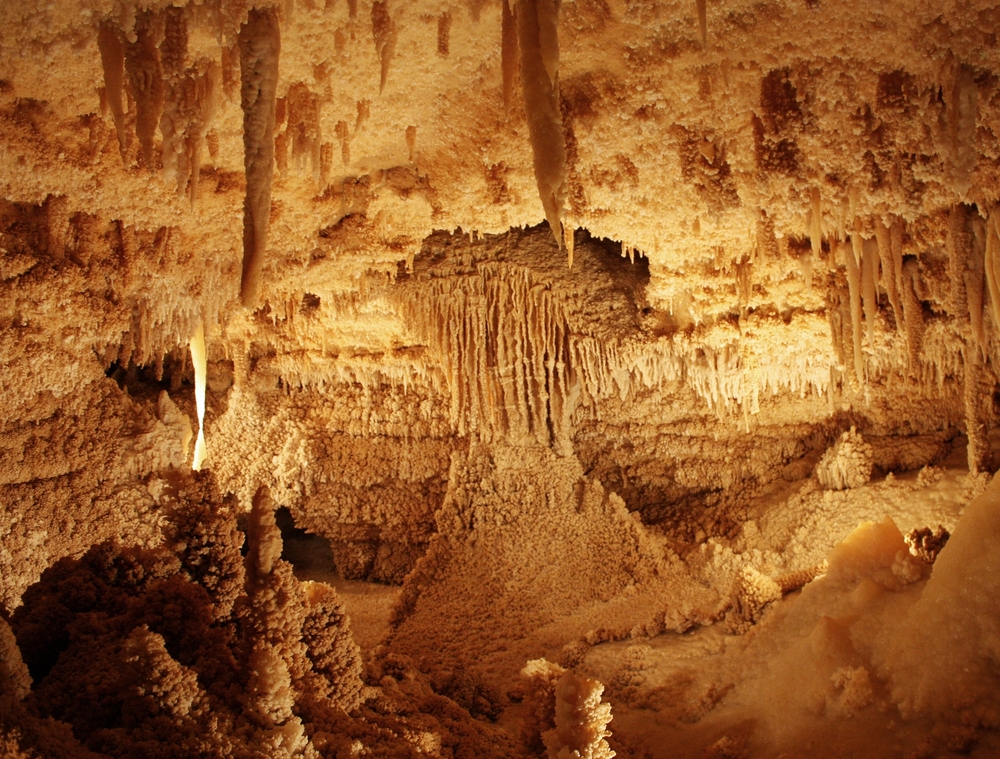 Inner Space Cavern
One of the best caves near Dallas is Inner Space Cavern. It is located about 170 miles from Dallas near Georgetown, Texas. This cave in Texas is estimated to be 20 to 25 million years old but wasn't discovered until 1963 by the Texas Highway Department core drilling team.
Inner Space Cavern is special in its fossils of prehistoric Ice Age animals. Fossils of a baby mammoth, giant sloth, and saber-toothed tiger have all been found in the cavern. There are just over 1.2 miles of passages open to the public for exploration.
Visitors can partake in three different tours depending on their interests and abilities. The Adventure Tour is perfect for all ages and abilities. It lasts an hour to an hour and 15 minutes and takes place on a paved trail through the most decorated rooms of the cavern. The Hidden Passages Tour is for those at an intermediate level and ages 7 and up. This tour takes guests on an undeveloped trail to explore the more rugged, intimate parts of the cave featuring more delicate formations, and lasts about an hour and a half.
If your inner spelunker is looking for the best caving in Texas, you will want to check out the Wild Cave Tour. This is an advanced tour recommended for those 13 and older. This adventurous tour lasts about 4 hours and involves hiking, climbing, and crawling through a maze of passages and chambers in the Inner Space Cavern.
You can find Inner Space Cavern, one of the best caves in Texas, just off of IH-35 off exit 295. It is on the outer edge of Texas Hill Country. You won't want to miss out on Inner Space Cavern, one of the neatest caverns in Texas!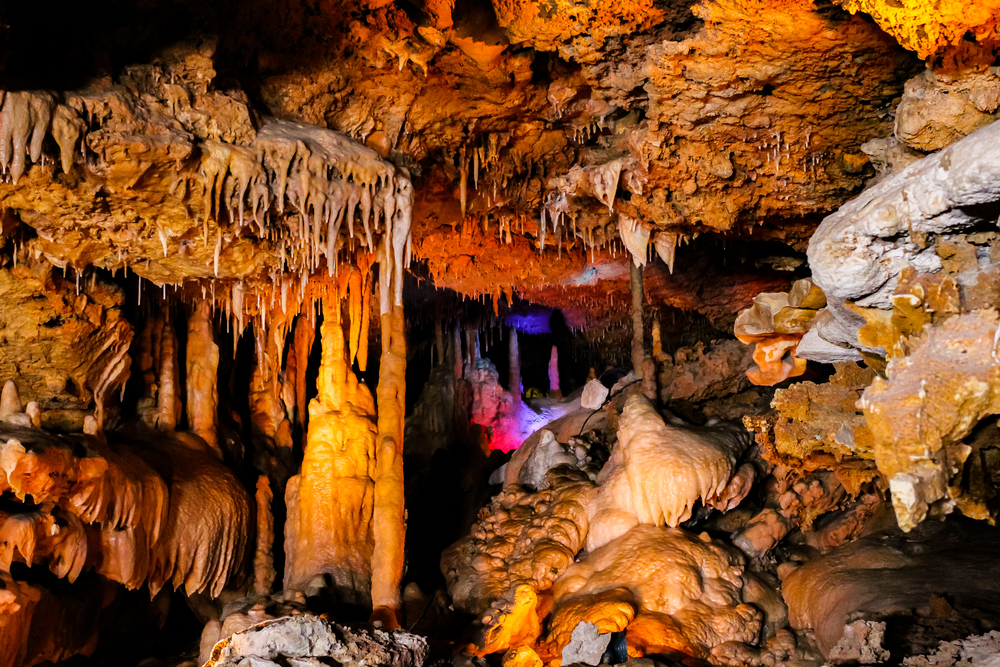 Westcave Outdoor Discover Center
If you are looking for caves in Texas that have a lot of extras to experience, then Westcave is one of the best Texas caves for you! It is part of the Westcave Outdoor Discovery Center which features a ton of awesome natural beauty.
To experience the cave, visitors should take the Walk Through the Grotto Tour which is about an hour and 15 minutes long. It starts in the savanna, leads you through a limestone crevice, down a 100-foot staircase into a breathtaking canyon full of lush greenery. At the head of the canyon is a magnificent 40-foot waterfall that feeds the pool of the grotto along with a 1 chamber room cave. This tour allows for plenty of time to take in the beautiful sites and experience the cave!
There are also hiking trails in the Uplands of the Westcave Outdoor Discovery Center that take you through Live Oak and Ashe Juniper savannas. Visitors can also enjoy birdwatching and relaxing in the pollinator garden.
Westcave is located about 45 minutes from downtown Austin in southwest Travis County. It is also only a 5-minute drive from Hamilton Pool Preserve, home to one of the best waterfalls in Texas! You will definitely want to visit Westcave, one of the best caves in Texas!