Are you searching for Galveston hotels on the beach? You have come to the right place. We have you covered with a detailed and thorough list of the best hotels to escape to!
One of the most visited states, Texas is an attractive destination that has something to offer everyone. The bright lights of the city, serene Hill Country, and innumerable opportunities for adventure draw guests into this amazing place.
Galveston is one of the most beloved cities in Texas. It is an island city located on the Gulf Coast of Texas. A popular tourist attraction, it is known for amusement rides, attractions, piers, museums, and restaurants.
Surrounded by beaches, Galveston is an outdoor lover's paradise. Whether you crave adventure or desire to listen to the waves as you read a bestseller, you will find what you are looking for!
When it comes to places to stay in Galveston, there are a plethora of options. Looking to be close to the main attractions, or is having a great pool your top priority? Are you traveling with business partners, or are you bringing family or a significant other along?
This extensive list provides a number of hotel recommendations that fit a variety of needs. Get ready to see where to stay in Galveston on the beach!
Click here to view activities in Galveston you must try!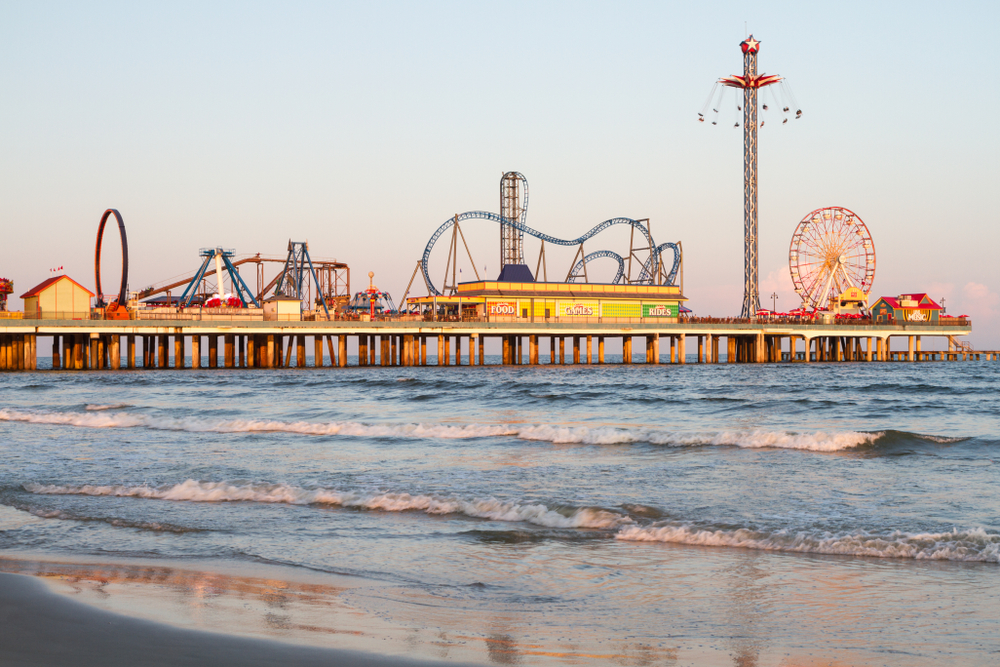 14 Best Galveston Hotels On The Beach To Escape To
Holiday Inn Resort: Galveston-On The Beach
The Holiday Inn Resort is one of the more popular Galveston hotels on the beach. Boasting gorgeous views of the Gulf, this resort has the perfect patio and swimming pool where guests can easily enjoy the scenery. Whether visiting for business or leisure, there is something here for everyone to enjoy.
Located in a convenient area, guests can walk to the convention center, the popular 61st Street Fishing Pier, the famous and beloved Galveston Island Historic Pleasure Pier, museums, restaurants, and more!
For those visiting for business, there is a business center, a large conference space, and meeting rooms.
Families love this hotel as it offers free cribs, a children's pool, a playground, an arcade room, and connecting rooms. The free wifi is a plus!
You can get rooms looking over the pool or beach. The rooms include all the amenities you would expect and you have the opportunity to enjoy breakfast in bed by ordering room service. This is definitely one of best hotels in Galveston on the beach.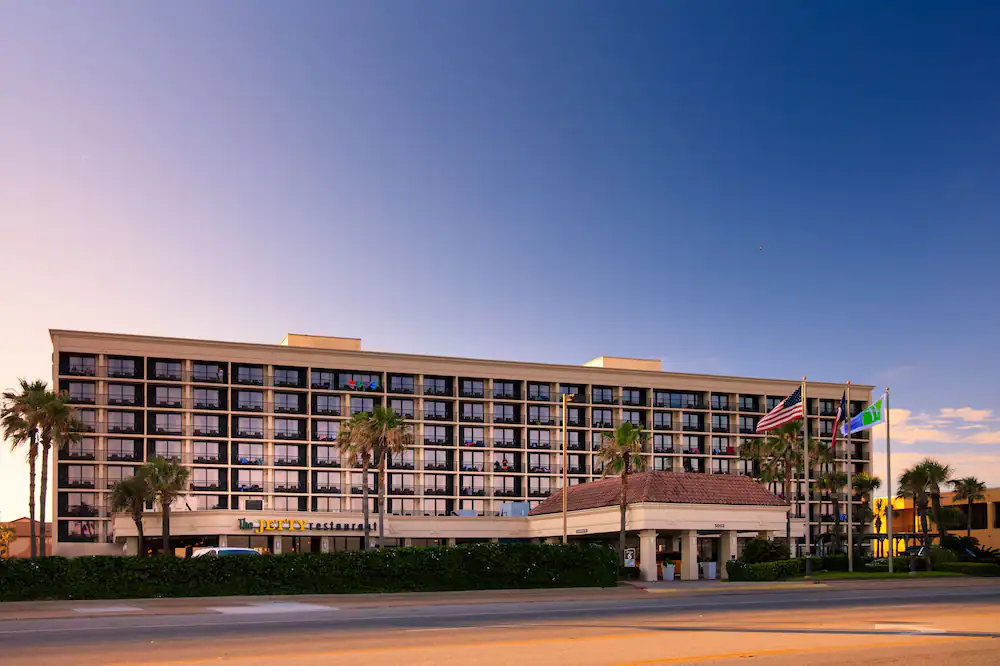 Beachfront Palms Hotel
Located in the heart of the city, this hotel is close to several popular attractions. The breathtaking views along with the location make the Beachfront Palms Hotel one of the most sought-after Galveston hotels on the beach.
Enjoy the complimentary breakfast before you begin your adventures. You have the beach, Galveston Schlitterbahn Waterpark, Moody Gardens, Galveston Island Historic Pleasure Pier, and Grand 1894 Opera House at your fingertips!
Don't feel like driving and want to stay close to the hotel? Biking, hiking, and even skydiving are available to enjoy. In addition, there is a picnic area and terrace for visitors to utilize.
Amenities include an elevator, laundry facilities, free wifi, coffee and tea in the commons area, and more!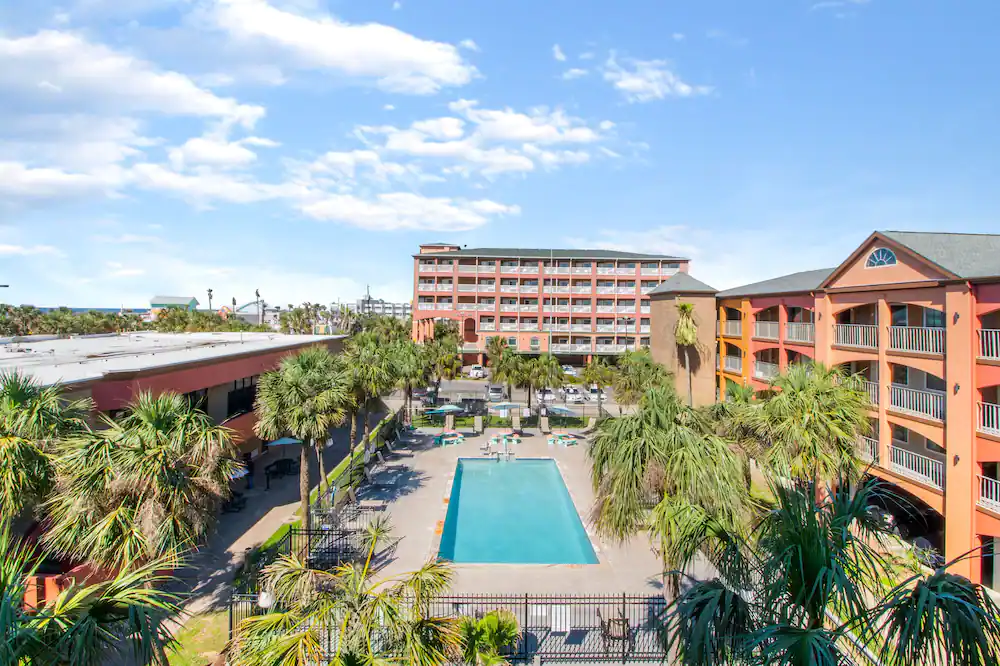 Quality Inn & Suites Beachfront
Quality Inn and Suited Beachfront offers complimentary breakfast, an indoor pool, and rooms with private balconies! Out of the many Galveston hotels on the beach, couples in particular really like this location.
The hotel is less than 1.2 mi from Galveston Convention Center and is within driving distance of Moody Gardens, the Schlitterbahn Water Park, and the Strand National Historic Landmark District.
Guest rooms include coffee makers, microwaves, and compact refrigerators. A desk and dining area along with a separate seating area are also included. Guests will find a hairdryer and complimentary toiletries in the bathroom.
The front desk is staffed 24-hours a day for anything that guests may need. Additionally, there is a fitness center, business center, and laundry facility on-site. You are sure to enjoy this lodging in Galveston.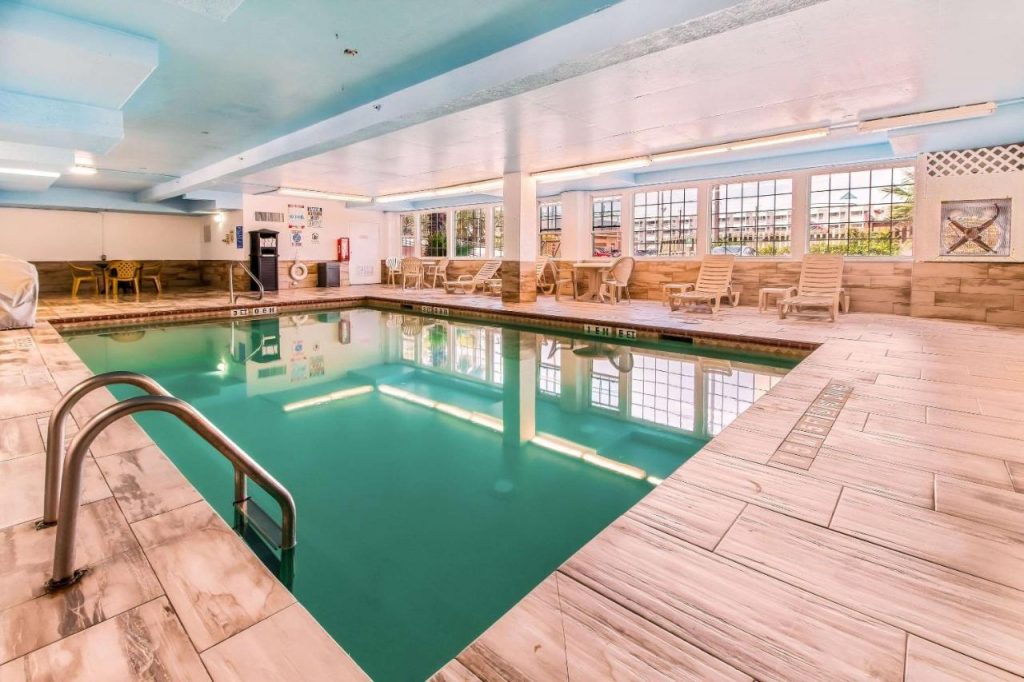 Commodore on the Beach
The Commodore is another Galveston hotel on the beach. The hotel is walkable, convenient, and offers easy parking.
Wondering what's around the property? The Galveston Seawall, Historic Pleasure Pier, and Strand Historic District are only minutes away!
Amenities include smoke-free guest rooms, wifi, housekeeping, complimentary toiletries, a hairdryer, and blackout drapes. The U-shaped pool is a guest favorite!
Golfing, kayaking, sailing, surfing, and waterskiing are nearby and just steps away from the Commodore.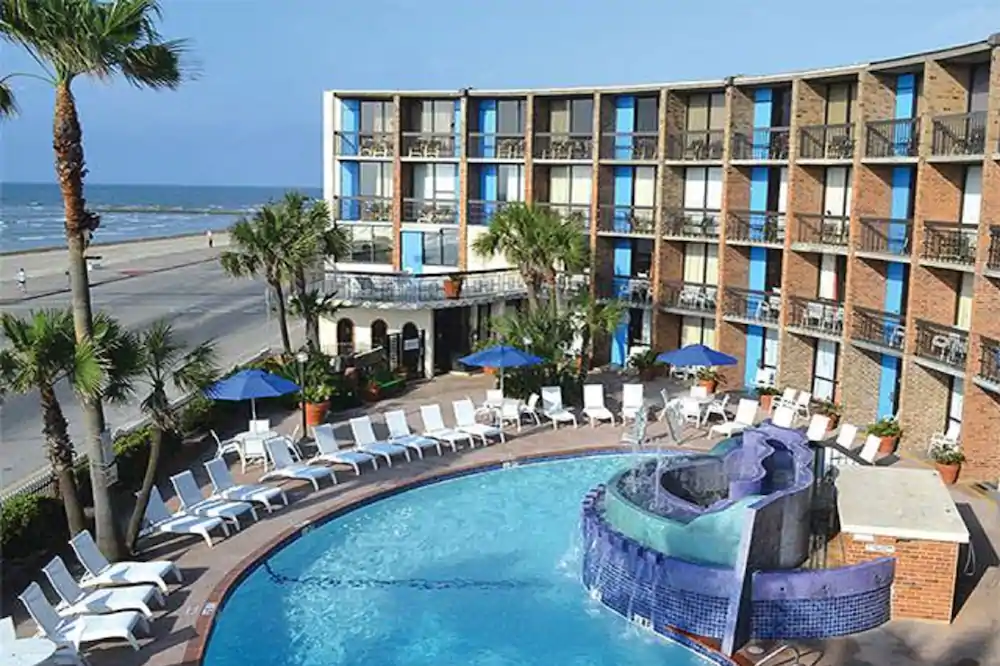 La Quinta Inn by Wyndham Galveston East Beach
Merely steps away from the Gulf, this hotel offers rooms with complimentary wifi, and flat-screen televisions An outdoor pool with views of the water makes this property one of the most popular Galveston hotels on the beach.
A savory breakfast of waffles, muffins, and fruit is provided each morning for guests. Laundry facilities and a 24-hour reception desk are also provided for visitor convenience.
Tea and coffee facilities are provided in each room. A hairdryer and iron are also provided.
Galveston Country Club, one of the top attractions, is a quick drive from the property. There are also a number of beaches within walking distance; Seawall Urban Park, Porretto Beach, and Stewart Beach offer several activities and spaces to relax in the sun. Enjoy one of the most convenient Galveston hotels with direct beach access!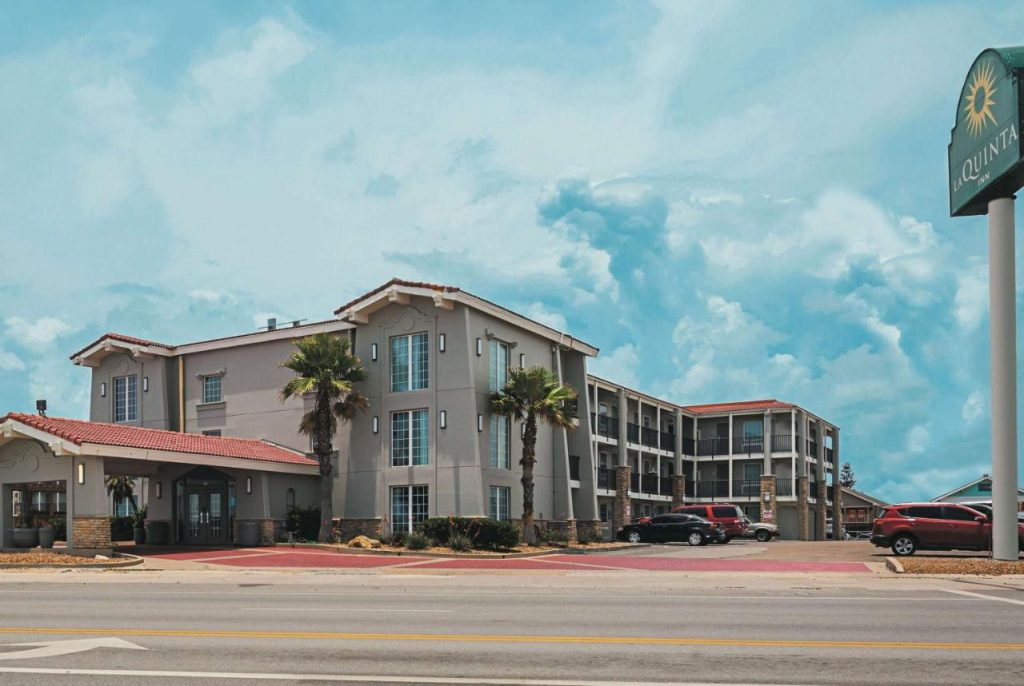 Comfort Inn & Suites Beachfront
The exterior and lobby of the Comfort Inn & Suites Beachfront are some of the best of the Galveston hotels on the beach!
The location of this property is what makes it even more desirable. In addition to being located on the beach, several attractions are within walking distance. You can go spend your entire trip in Galveston without having to use your car.
Both the Galveston Fishing Pier and 61st Street Pier are within walking distance. Moody Gardens, Magic Carpet Golf, and Fort Crockett are also within walking distance. You will never run out of things to do!
Amenities include free wifi, 24-hour front desk services, complimentary breakfast, and luggage storage.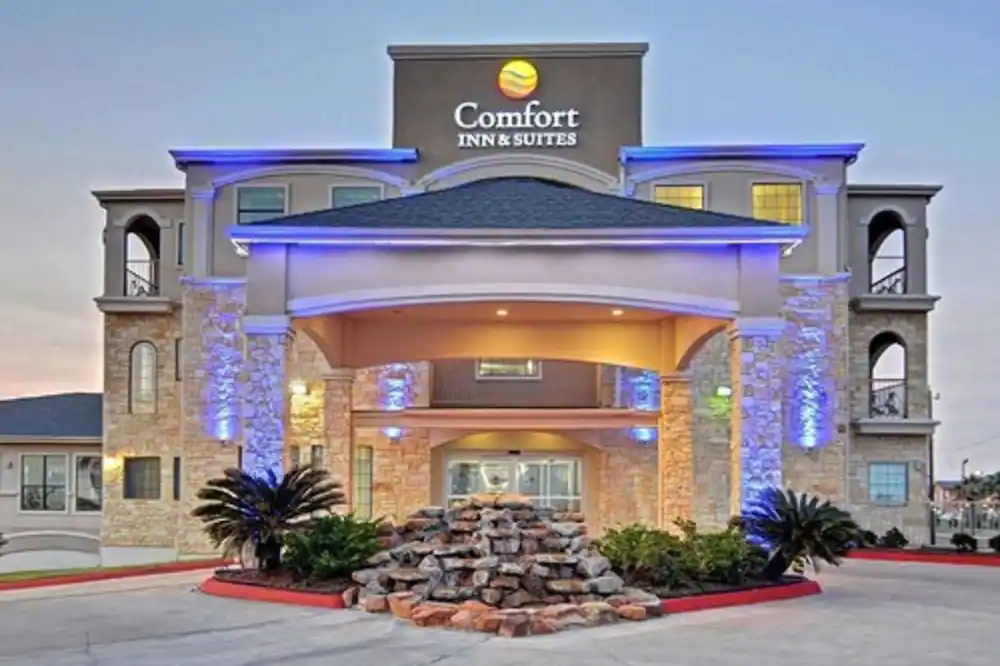 Gaido's Seaside Inn
Gaido's Seaside Inn is located close to the Galveston Seal Wall and the popular Gaido's Seafood Restaurant making is one of the popular family hotels on the beach in Galveston Island.
This beachfront property offers free wifi and a complimentary breakfast that includes an assortment of pancakes, fresh fruit, breakfast tacos, and more!
A flat-screen cable TV is available in every room. Be sure to book a room with a beautiful view of the ocean.
The expansive swimming pool is a favorite of the guests. It features fountains and a waterfall. Stop by the poolside bar to order your favorite cocktail. Then relax in the hot tub to finish off your day.
Just like the other Galveston hotels on the beach, Gaido's Seaside Inn is close to several attractions like the Big Reef Nature Park and The Grand 1894 Opera House. You'll enjoy one of the top Galveston Island hotels!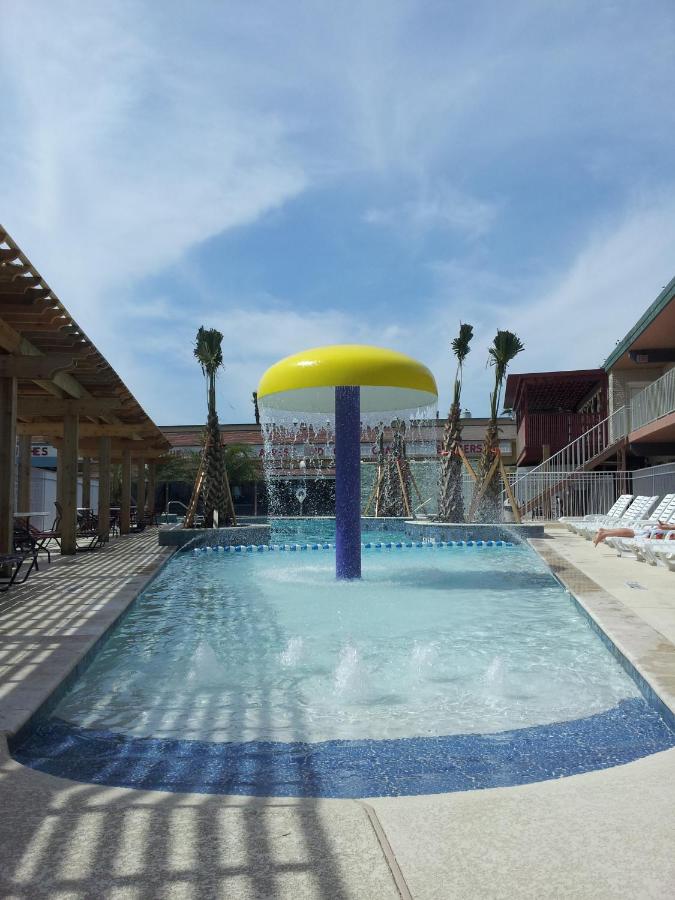 Clarion Pointe
This hotel overlooks the beautiful Gulf in the historic town of Clarion Pointe. With an on-site bar, restaurant, and outdoor, pool, this property is one of the best Galveston hotels on the beach.
Free wifi access and a flat-screen TV are included in every room, and each room has a work desk that is equipped with a coffee maker.
Oasis is the name of Clarion Pointe's on-site, casual restaurant. Guests are able to dine in for breakfast and dinner. Be sure to visit the Oasis Bar for your favorite cocktails.
If you aren't up to patronizing the restaurant or snack shop, order room service. You are sure to enjoy one of their many dining options.
A fitness center and business center are open 24 hours a day for your use. In addition, desk services are available 24/7.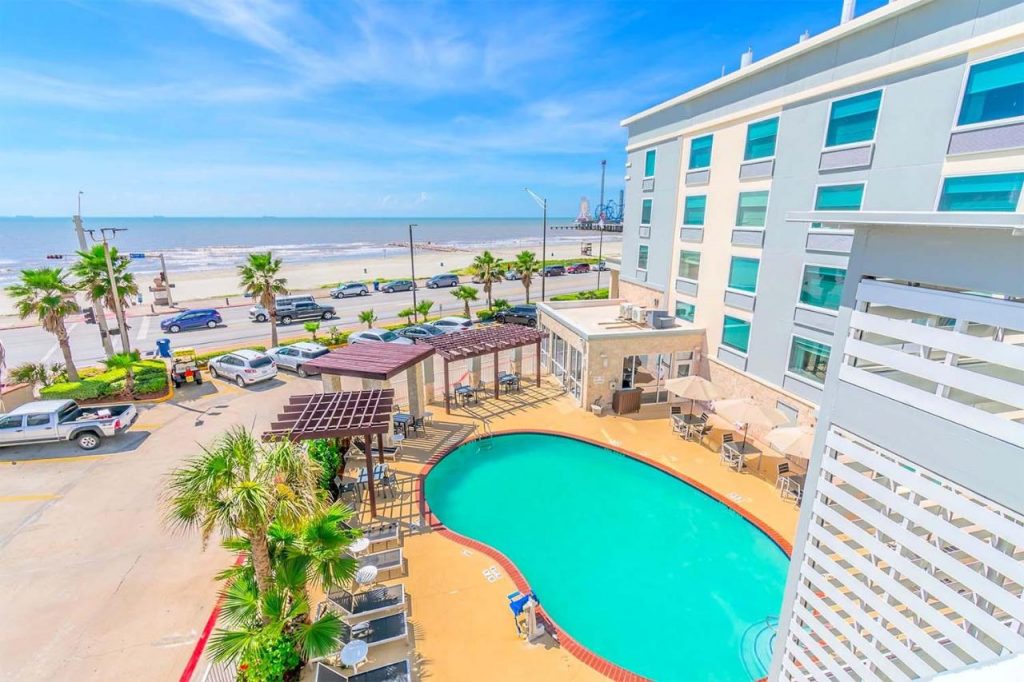 Hilton Galveston Island Resort
This charming hotel is surrounded by tropical landscapes. You are sure to have an unforgettable stay while enjoying the atmosphere, outdoor pool area, and views of the Gulf.
Every room includes a flat-screen television, coffee maker, and compact refrigerator. Bathrobes and slippers are also included for guests.
In the evenings, order room service while relaxing in the seating area in each room. If you desire views of the Gulf, be sure to book a room with a balcony overlooking the ocean.
Offering great accommodations in Galveston, the hotel has free wifi, a fitness center, and a business center are available for guests to use. A 24-hour front desk, concierge services, and a gift shop are also provided.
Check out the Palm Court restaurant, which is open all day and serves Caribbean-inspired inspired dishes. Guests are sure to enjoy light dining and drinks at the Coconuts Bar and Grill or the Lobby bar.
Whether visiting for pleasure or leisure, guests are sure to enjoy one of the best Galveston hotels on the beach.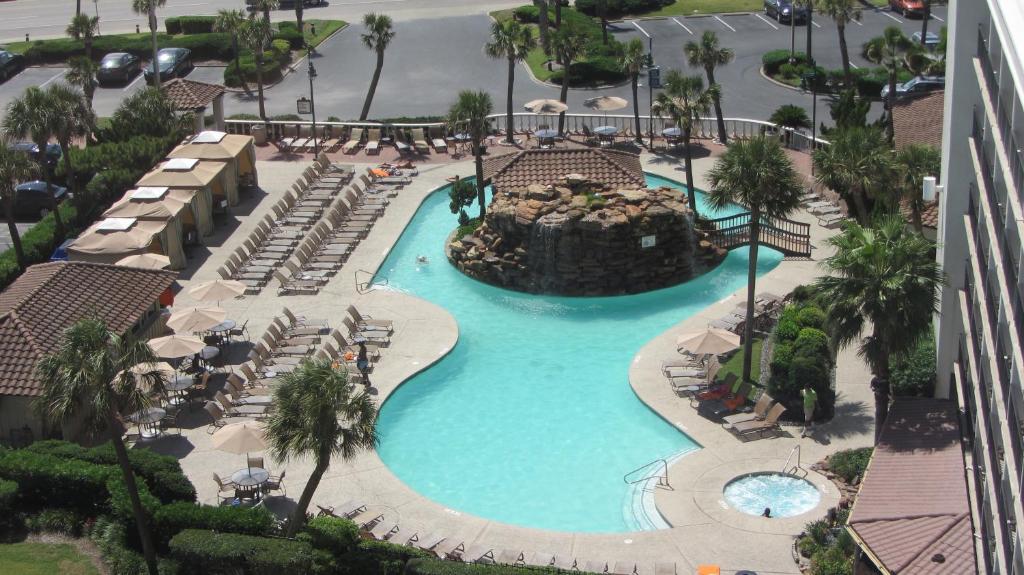 The San Luis Resort, Spa & Conference Center
The San Luis Resort is another one of the Galveston hotels on the beach that boasts a tropical atmosphere. The pool area alone makes this property one of the most desired on the island!
There is much to do without even having to leave the resort. Offering three restaurants, a coffee shop, a bar, and a lounge, visitors are sure to enjoy their time on the property.
Looking for a way to relax? A full-service spa is available for guests. There are also two outdoor pool areas for guests to patronize.
You will feel at home in the guest rooms that offer comfortable furniture, premium TV channels, and free toiletries.
Call all adventure lovers! Scuba diving, parasailing, snorkeling, and more are only steps away from the resort. Of the many beachfront Galveston hotels, the San Luis Resort has so much to offer.
Check the Prices on Hotels.com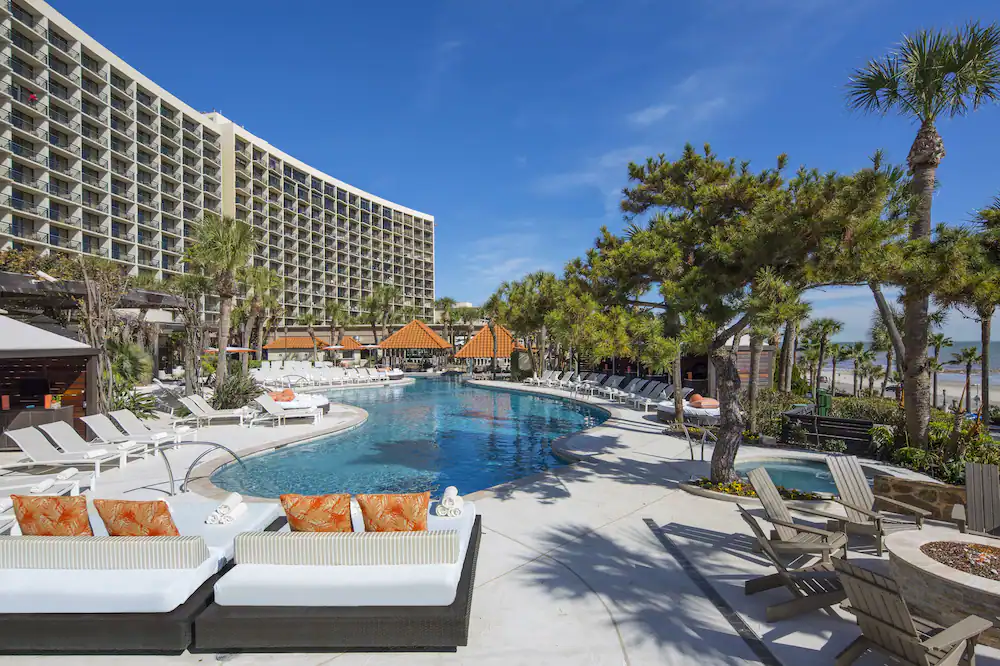 Four Seasons on the Gulf
Located adjacent to the beach, Four Seasons on the Gulf is another Galveston hotel on the beach that is perfect for couples.
The colorful hotel is known for its exterior finish and offers a spacious outdoor pool and free WiFi.
A separate living area with a television, fully equipped kitchen, and bathroom are included in your accommodations. Guests are sure to enjoy the views of the Gulf from their rooms.
Restaurants and attractions are at your fingertips. Moody Gardens is a quick drive from the property. Schlitterbahn Galveston Island Waterpark is also only 4 miles away.
Want to enjoy a day at the hotel? A picnic area, outdoor furniture, terrace, BBQ pit, and patio are available for your leisure!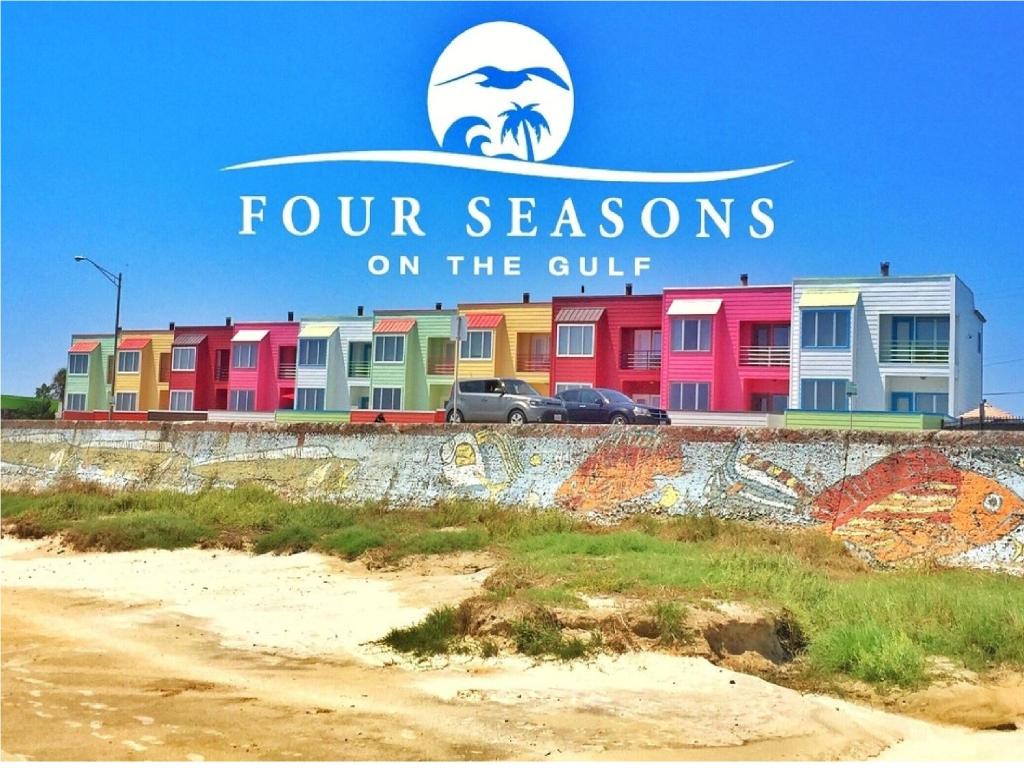 Casa Del Mar Beachfront Suites Onsite Team
Within walking distance of the beach, Casa Del Mar is one of the more popular Galveston hotels on the beach because each suite offers a private balcony with scenic views of the Gulf.
Located on Galveston Island within walking distance of the beach, Casa Del Mar Beachfront Suites offer a kitchen and free WiFi. Two outdoor pools are located on-site. The Galveston Pleasure Pier is just a 6-minute drive away.
Each guest room is equipped with a satellite TV, a microwave, and a fridge. A sofa bed is provided in the living area, and kitchenware is included.
Guests can access on-site BBQ facilities, and laundry facilities are also available.
Schlitterbahn Waterpark and Moody Gardens are within a 10-minute drive, and the Galveston Island Convention Center is less than 0.9 mi away. This is certainly one of the popular beach hotels in Galveston.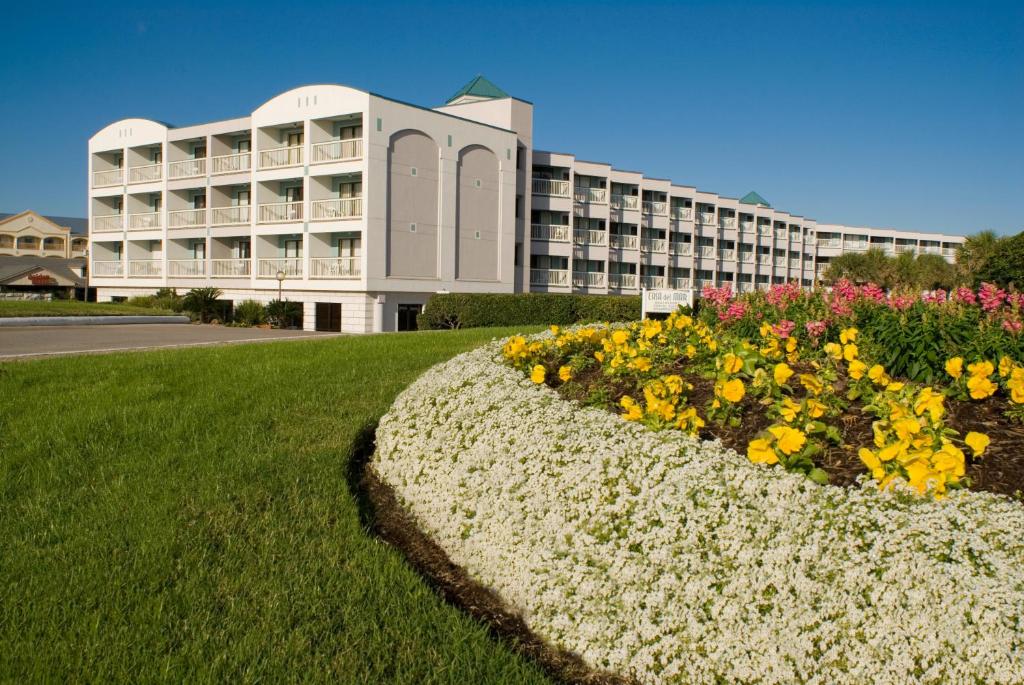 Galveston Beach Hotel
The Galveston Beach Hotel boasts an outdoor swimming pool, fitness center, and a shared lounge. Only 200 feet from the Seawall Urban Park, this 3-star hotel is a great choice for those that want to get away for a quick weekend.
Every room has a desk, a flat-screen TV, a private bathroom, bed linen, and towels. The guest rooms at Galveston Beach Hotel also feature air conditioning and a wardrobe. Family rooms are available upon request.
Enjoy the complimentary continental breakfast every morning of your stay. You have several options for dinner. From seafood to Cajun food, to Mexican cuisine, there is something for everyone's tastebuds.
Moody Gardens is 1.4 miles from Galveston Beach Hotel, and Pleasure Pier is 4.3 miles from the property. The nearest airport is William P. Hobby Airport, which is 37 miles from the hotel.
You are sure to enjoy your stay at one of the Galveston hotels on the beach!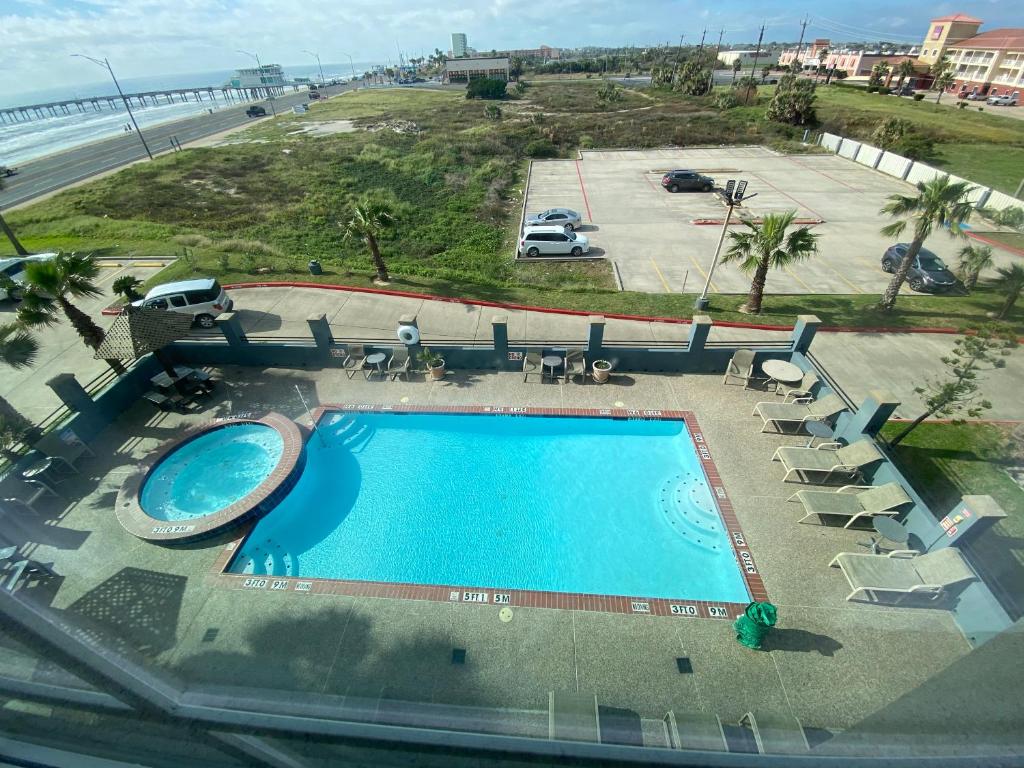 Hotel Galvez & Spa
Located near the Galveston Seawall, Hotel Galvez & Spa is a 4-star hotel that boasts palm trees, a picturesque property, and one of the most beautiful architecture on the island. Guests are sure to enjoy one of the most luxurious Galveston hotels on the beach.
There are a number of activities and amenities for guests to enjoy on the property. There is an outdoor pool that can only be described as majestic at nighttime. Guests can rent private pool cabanas to enjoy.
Additionally, guests have the option to enjoy the day at the hotel's spa. Offering a steam room and sauna, visitors are sure to relax and have a carefree stay. You don't even need to leave the property to enjoy all of these amenities.
For your convenience, the following is also available: concierge services, bellhop services, luggage storage, a hair salon, and wedding services.
Make sure to check out the restaurant and bars the hotel has to offer. In addition to the bar and lounge, there are is both a poolside bar and a swim-up bar. You'll never tire of things to do at one of the best Galveston beach resorts!