Did you know that there are waterfalls in Austin? Normally when planning a trip to the Live Music Capital of the World, you're thinking live music and since it's Texas, you're probably thinking barbecue. But who can pass up a waterfall? Especially some of the best Austin waterfalls!
Austin is an amazing city for solo travelers, partners, families, bachelor/bachelorette parties (move over Nashville), the historians, the foodies, the gardeners. But Austin does not get enough credit with the nature lovers!
The Austin hiking trails with waterfalls range from easy stroll to strenuous hike and there really is something for every level of adventurer. Not to mention, Texas gets hot, so a quick drive to a waterfall with a swimming hole is just what you need to to cool down.
Texas has a reputation for being dry and more akin to a desert and that's true for a lot of West Texas. In East Texas, where Austin is located, it's a gorgeous green year round. The hiking trails in Austin with waterfalls are a must see!
This list will give you the best waterfalls in Austin with some bonus waterfalls near Austin!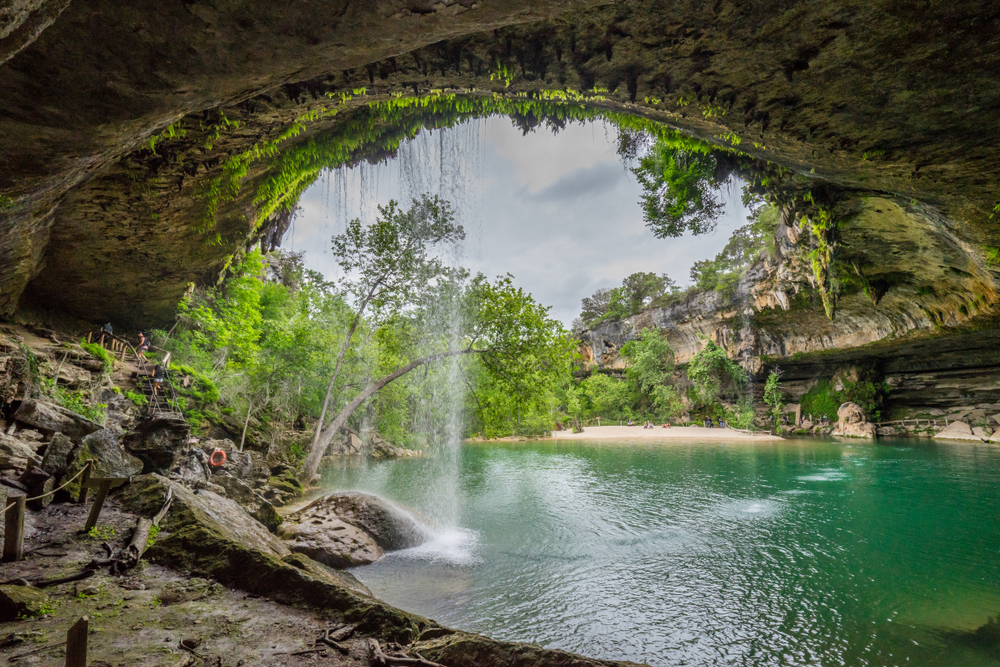 10 Best Waterfalls In Austin You Must See (And Nearby!)
Sculpture Falls
Sculpture Falls is one of the most well known waterfalls in Austin as part of the Barton Creek Greenbelt located about 7 miles west of Austin's city center. The 4.2 mile loop is used by hikers, mountain bikers, and trail runners. Along the trail you will see limestone cliffs and huge wild oaks!
The loop gets a fair amount of traffic year round with Summer obviously being its busiest season, but areas can flood during the rain so please bring appropriate footwear (or a couple extra towels). We recommend that you also bring a bathing suit because there are three popular swimming holes along the hike!
The waterfall itself is about a mile in and is known as a block style waterfall in that it is multiple streams of water separated by rock formations. Some of these rock formations create natural slides and small pools at the top of the waterfall to relax in.
Below the falls, there is a swimming hole that is of substantiative size to spread out from other groups. The water is perfect temperature for diving right in — approximately 70 degrees Fahrenheit (21 Celsius) in the summer.
Sculpture Falls is one of the most popular waterfalls near Austin!
Twin Falls
Twin Falls is also part of the Barton Creek Greenbelt, only a 15 minute drive from Austin. This easy hike is 3.2 miles out and back (not a loop) and is accessible for all levels. The trail is dog friendly, but the pups must be leashed at all times.
The trail leading to Twin Falls is used mainly by walkers, hikers, and runners and is not as appealing to the mountain bikers due to the small elevation gain of only 124 feet, but for those looking for an easy hike to a beautiful waterfall — this one is for you.
The top of Twin Falls is a stream that is perfect for getting your feet wet and cooling off with some sections deep enough for swimming. The pool below the falls is deep enough for you to jump off. There is plenty of room to swim, even during the high season. As far as waterfalls in Austin, Twin Falls is an easy choice.
Twin Falls is one of the more all around Austin hiking trails with waterfalls and a great way to spend the day!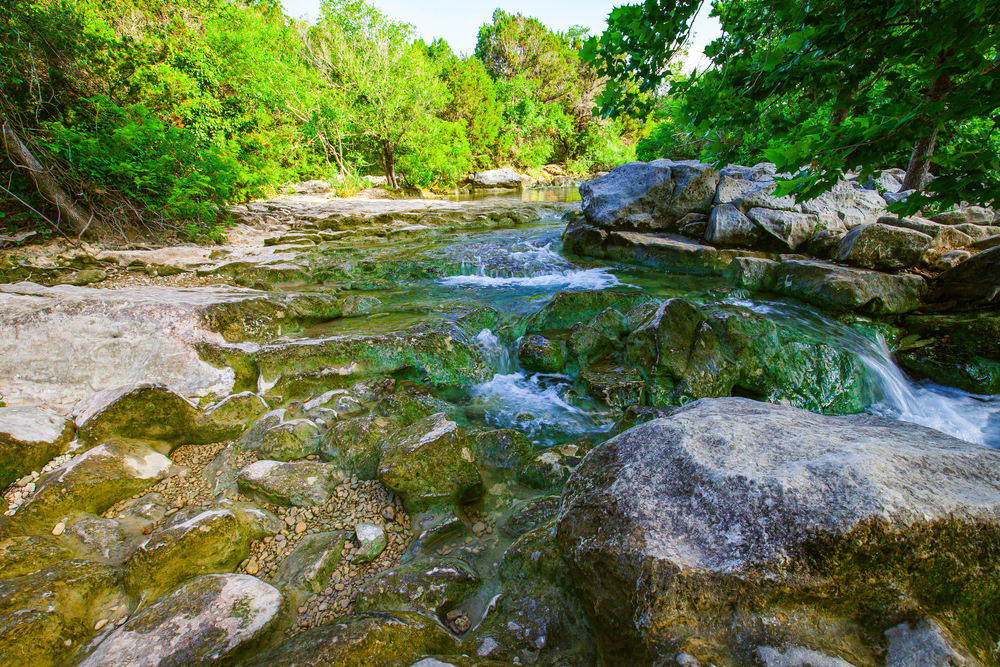 St. Edwards Park
St. Edwards Park is divided into a park and is also part of Balcones Canyonland Preserve with a handful of trails throughout. The BCP was created in 1996 to protect 8 endangered species, including two songbirds. Because it is part of a nature preserve, it tends to be less busy! The trails range from 0.8 miles to 2.7 miles and are all categorized as easy for those of us looking for easy hiking trails in Austin with waterfalls!
The trails that run along the creek provide scenic places to stop and rest, beautiful wildflower fields, and shallow areas to wade into Bull Creek. Birdwatchers have plenty to spot up in the trees and in the bushes along the trails.
The main creek trail is two miles out and back. Along the trail you will see a good amount of smaller waterfalls that give you the perfect waterfall soundtrack! There are plenty of places to sit down and enjoy the scenery from rock ledges to small sandy beaches.
Further down the trail, there is a larger waterfall, surrounded by greenery. Near the large waterfall, there is a swimming hole with depth varying year round. The water is clear enough to see fish and even turtles swimming around!
Only 20 minutes from city center, the waterfalls in St. Edwards Park are some of the most serene waterfalls in Austin.
Hamilton Falls
If you can only make it to one of the waterfalls near Austin, Hamilton Falls is the one to pick! Hamilton Falls is located in Hamilton Pool Preserve approximately 30 miles west of Austin and it is breathtaking! The preserve protects a plethora of native birds, plants, fish, and animals.
Hamilton Pool Preserve is a historic swimming hole and even in the dry season maintains its water level. Depending on the season and rainfall that year, the 50 foot waterfall can be gushing or trickling, but it is magnificent either way!
Although reservations are required and there is a cash fee, swimming is not guaranteed due to safety concerns with falling rocks or high bacteria levels. The hike to the swimming hole and waterfall is a quarter mile and the terrain is strenuous, but it is so worth it!
Even if swimming is not available when you visit, spending an afternoon by the beautiful blue water with the waterfall in the background is a great way to pass some time. If swimming is available, it is one of the most beautiful places to cool off in Texas! Hamilton Falls is one of the most sought after waterfalls in Austin!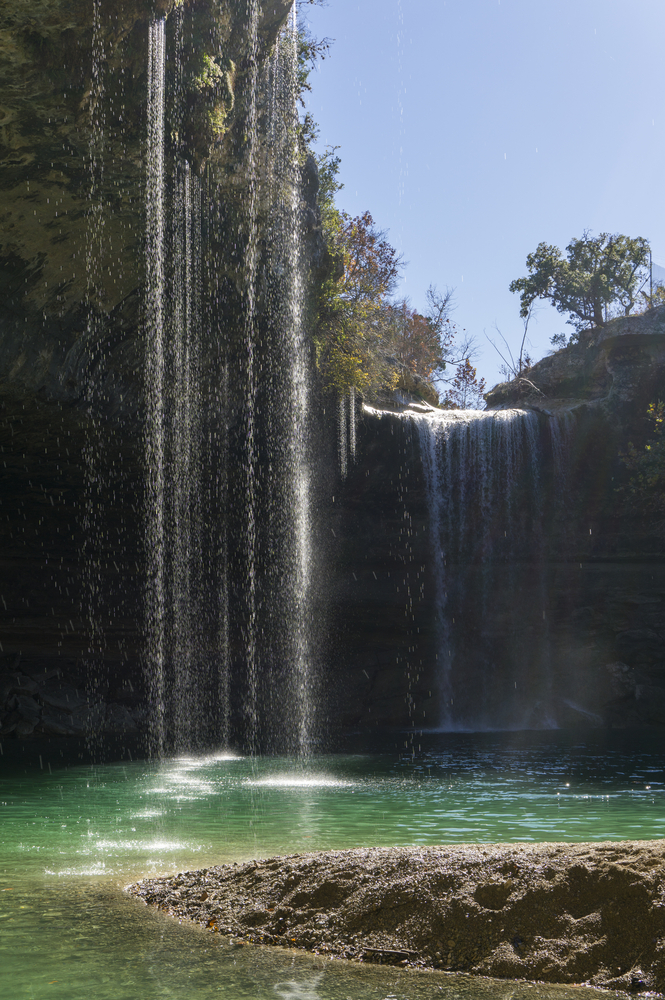 Lower McKinney Falls
Lower McKinney Falls are within McKinney Falls State Park located 15 minutes south of Austin city center, but still within Austin city limits. This state park has something for everyone: fishing, hiking, mountain biking, camping, bouldering, picnicking, even geocaching. Lower McKinney Falls is one of the most convenient Austin hiking trails with waterfalls!
McKinney Falls State Park is named after Thomas McKinney who was a businessman. and horse rancher. What remains of his house can be seen in the park still today.
McKinney Falls State Park has a $6 entrance fee per adult and children 12 years and under are free. It is recommended to make reservations as they do close due to capacity quite often. Their busy season is March through November, but especially May through September.
The walk from the Lower McKinney Falls parking lot to the falls themselves is about a quarter mile across a limestone bedrock and another sloped limestone field.
The Lower Falls is where water from Onion Creek drops over a 15 foot limestone bench to a swimming hole down below! The water can be considered warm and Austinites will tell you to go a day or two after it rains and the water will be perfectly refreshing! Lower McKinney Falls is one of the top waterfalls in Austin!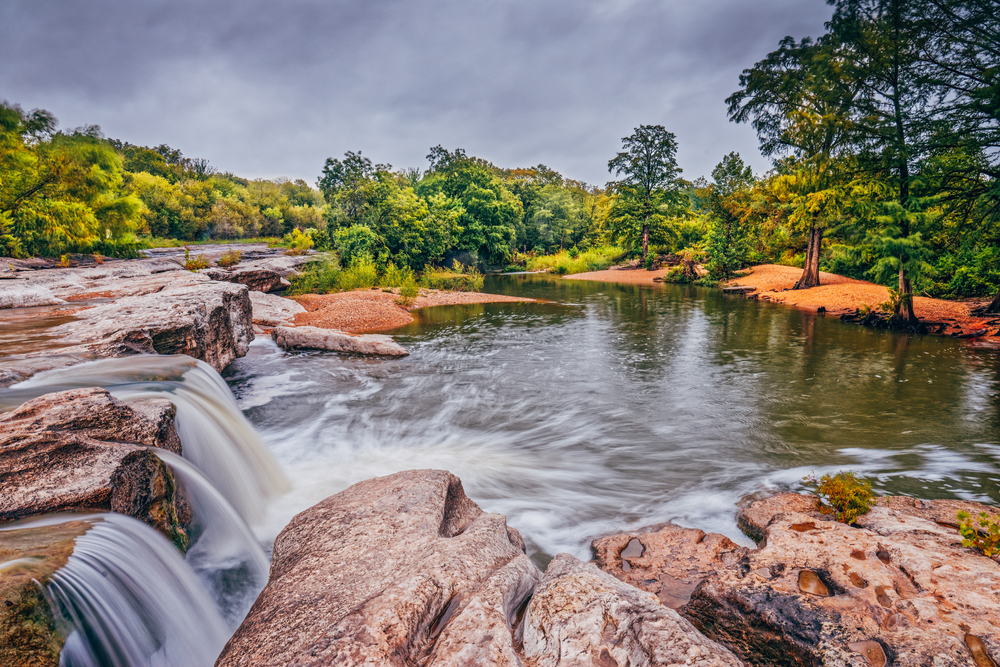 Upper McKinney Falls
Upper McKinney Falls are also located in the McKinney Falls State Park! The 1 mile distance from the Upper Falls to the Lower Falls makes these must see waterfalls in Austin!
There is a mile long trail connecting Upper McKinney Falls to Lower McKinney Falls. If you are there for the swimming and not for the hiking (or you have little ones with you) there is a parking lot designated for Upper McKinney Falls and from there it's less than a quarter mile walk to the Falls.
From the Upper Falls you can rest in the shade of the cypress trees along the banks or see the ancient volcanic rock formations.
If you are looking for a deeper swimming hole, the Upper falls are for you. There are areas to wade in, but the Upper falls are deeper and you can jump off the falls, just be careful because the rocks under the water are uneven. Large rocks along the bottom of the swimming hole allow for places to stand up in the deeper sections.
This is one of the easiest hiking trails in Austin with waterfalls!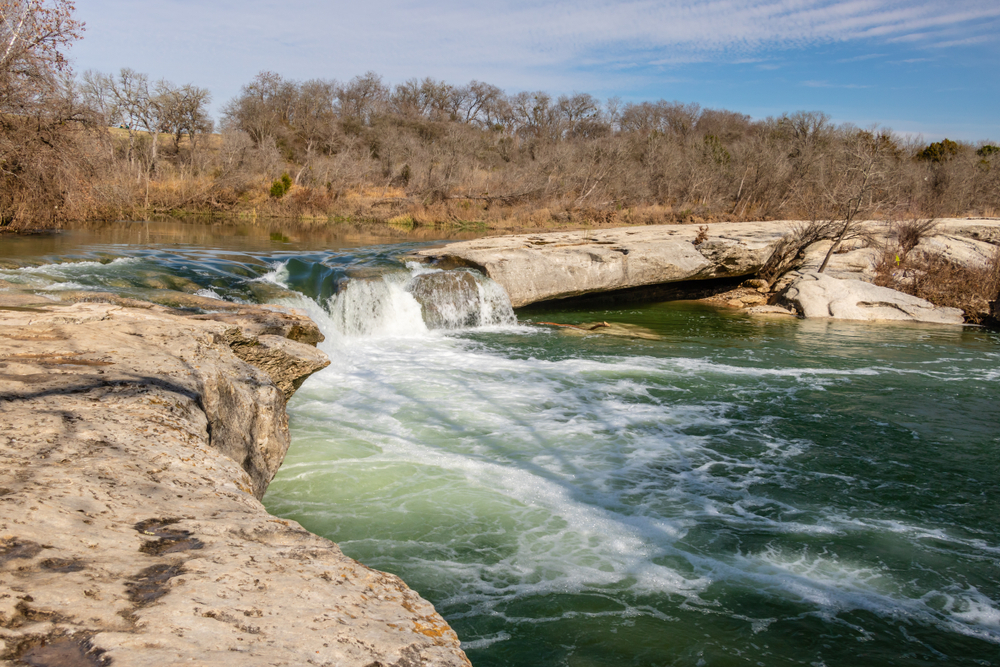 Link Falls at Bull Creek
Link Falls at Bull Creek is the biggest waterfall on the Bull Creek North to South trail. The trail is almost 4 miles long, out and back, and is really busy because the falls are some of the most consistent waterfalls in Austin!
Link Falls is located about 13 miles north of Austin city center and is heavily visited by hikers, trail runners, and mountain bikers. The trail can be muddy and overgrown and requires you to cross the stream several times, so proper footwear is a must!
There are many places both on the trail and once you get to the Falls where you can swim or just wade into the water. Most of the waterfalls along the trail are ledge falls. Link Falls is also a ledge fall, but it is the biggest one and has a swimming hole! This trail is dog friendly, so if you're going during busy season expect lots of pups!
The location and the consistency of Link Falls makes this one of the best Austin waterfalls!
Krause Springs
Krause Springs is located 45 minutes northwest of Austin in the Hill Country of Texas! Founded in 1955, Krause Springs is on the National Registry of Historical sites and is one of the most popular swimming spots in Texas, with a handful of some of the most beautiful waterfalls in Austin!
Krause Springs is open 9am to 8pm, from mid February through October. The 115 acre property is most well known for it's natural and manmade swimming pools, but it also boasts campgrounds, a butterfly garden and 32 springs the feed into the pools. Those springs also cover the property in beautiful waterfalls.
Because the pools are fed by the springs, the water level stays constant and the temperature is consistent at 68 degrees. There is no stagnant water and it's always safe to swim. After heavy rainfall, the pools drain beautifully into Lake Travis.
The Krause Springs waterfalls near Austin do not get as much attention because it is privately owned, but the entrance fee is only $9 per person and the property is not only beautiful, but the waterfalls are magnificent. It's a must see whether you're an Austinite or just on vacation!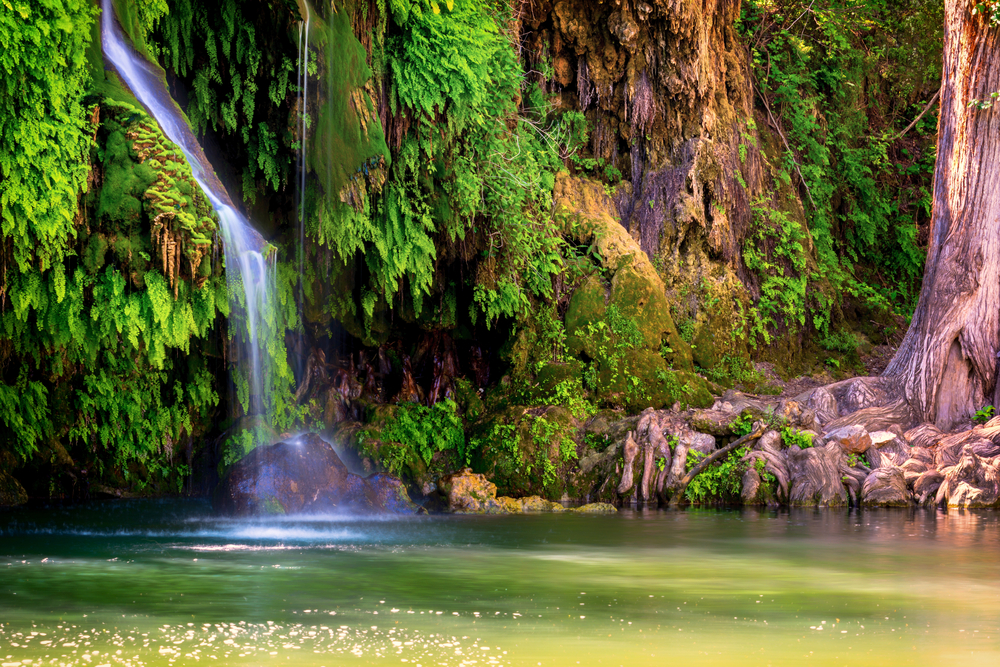 Pedernales Falls
Pedernales Falls is within the Pedernales Falls State Park, located 30 miles west of Austin. Pedernales has everything you could want in a State Park: camping, hiking, fishing, swimming, geocaching, birdwatching, horseback riding, mountain biking, and even tubing.
For the most part, the Pedernales River is tranquil, but the area can have flash floods. If you notice the water rising rapidly or getting muddy, you must evacuate the river immediately. For this reason, they do not allow swimming at the Pedernales Falls, but you can still enjoy the view.
This state park has a hike for everyone. The Twin Falls Nature Trail is only a half mile. The Pedernales Falls Trail System is a 2 mile hike that gives a beautiful scenic view of one of the best waterfalls near Austin. There is even a 10 mile hike titled the Juniper Ridge Trail that showcases many areas of the park.
Even though its a little bit of a drive from Austin, these falls have definitely earned the title of one of the best waterfalls in Austin.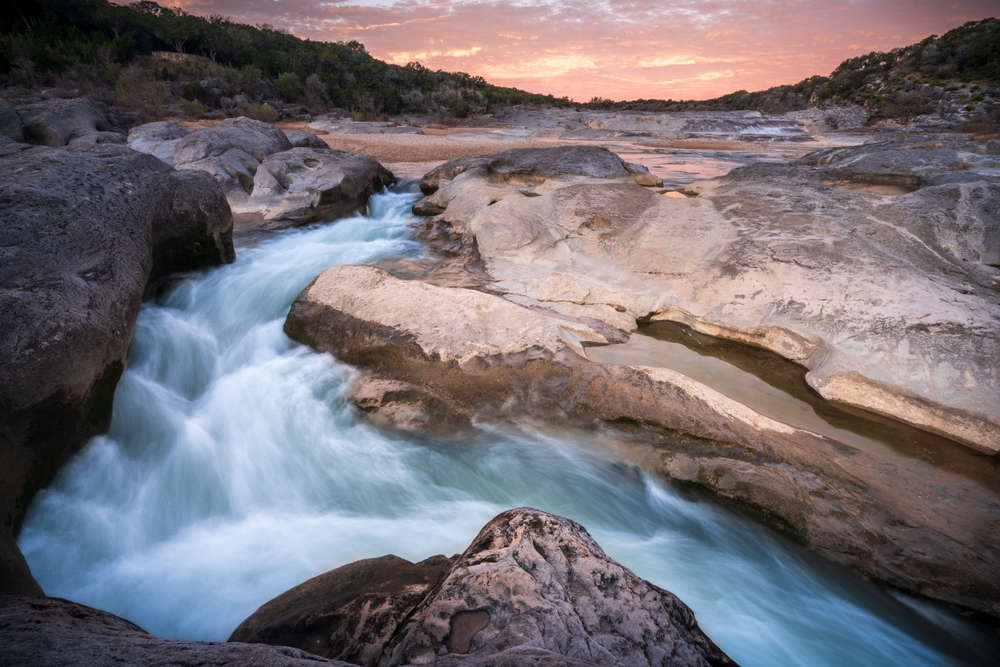 Gorman Falls
Gorman Falls is two hours from Austin, but it needed to be included in the best waterfalls in Austin because it is absolutely gorgeous and it would make for a nice drive to grab a fun coffee and enjoy East Texas.
Located within Colorado Bend State Park, Gorman Falls is about two hours northwest of Austin. Colorado Bend State Park has 35 miles of hiking and mountain biking trails as well as the option to camp overnight! Advanced reservations to the state park are recommended during the Summer as they will close if they reach maximum capacity. There is a $6 entrance fee and for day users, there is a self service station at the entrance.
The hike to the 70 foot spring fed Gorman Waterfall is 3 miles out and back of rocky terrain so wear proper footwear and bring plenty of drinking water! There is also very little shade in areas along the trail, so sunscreen is recommended as well! Dogs are allowed in the state park and on the trails, but must be leashed at all times!
The special thing about Gorman Falls is that its living waterfall meaning it expands over time and is now at over 600 feet wide. This is due to the carbon dioxide running through the limestone deposits that are so prevalent throughout East Texas. It truly is a site to behold and one of the most picturesque waterfalls near Austin.