Are you looking for the most amazing day trips from Austin? This guide has the best Austin day trips that are worth the effort!
The city of Austin, Texas is filled with fantastic things to do, including activities for nature lovers, music aficionados, and history buffs. There really is no shortage of things to do in this amazing city.
But sometimes you simply want to escape the city for a little bit. Luckily, there are some great day trips from Austin. Choose between visiting a Texan small town, exploring the beautiful natural landscapes nearby, and even spending time at another one of the state's large cities. Which day trips from Austin will you choose to take on?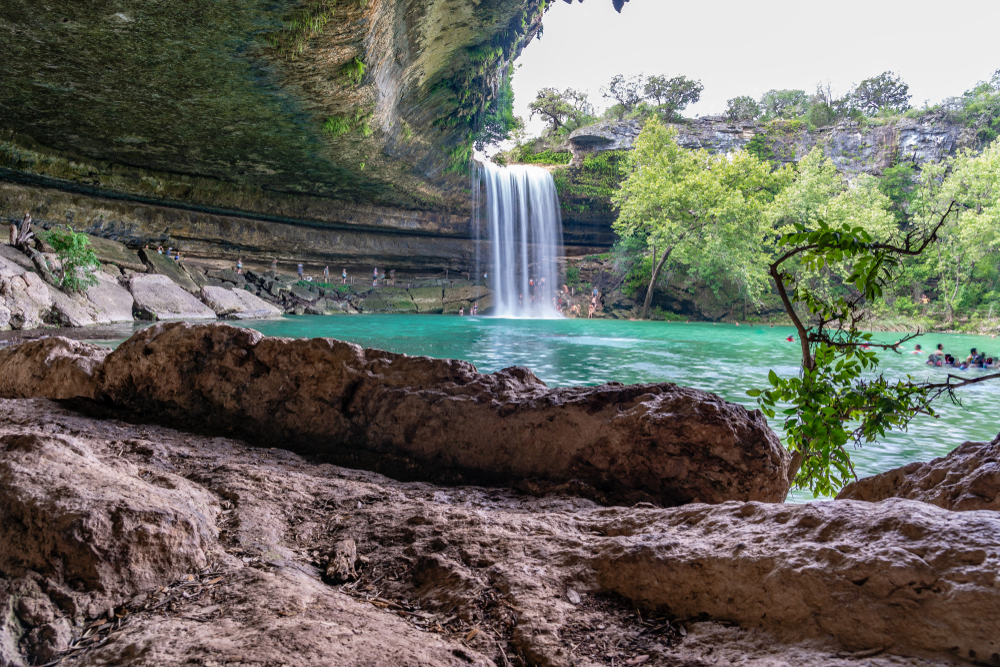 17 Best Day Trips From Austin Worth The Effort
Austin Day Trips Within 1 Hour
Hamilton Pool Preserve
Due to its proximity to Austin, Hamilton Pool Preserve is not only one of the best day trips from Austin, but it is also a fantastic stop on a Texas road trip. This natural swimming hole features brilliant blue water, a cool cave, and a fifty-foot waterfall. In other words, it's a great place to cool down and just enjoy nature.
If you would prefer to stay out of the water, don't worry! There are things for you to do at Hamilton Pool Preserve as well. Enjoy a meal at one of the many picnic tables, tackle one of the few hiking trails, and keep an eye out for wild birds.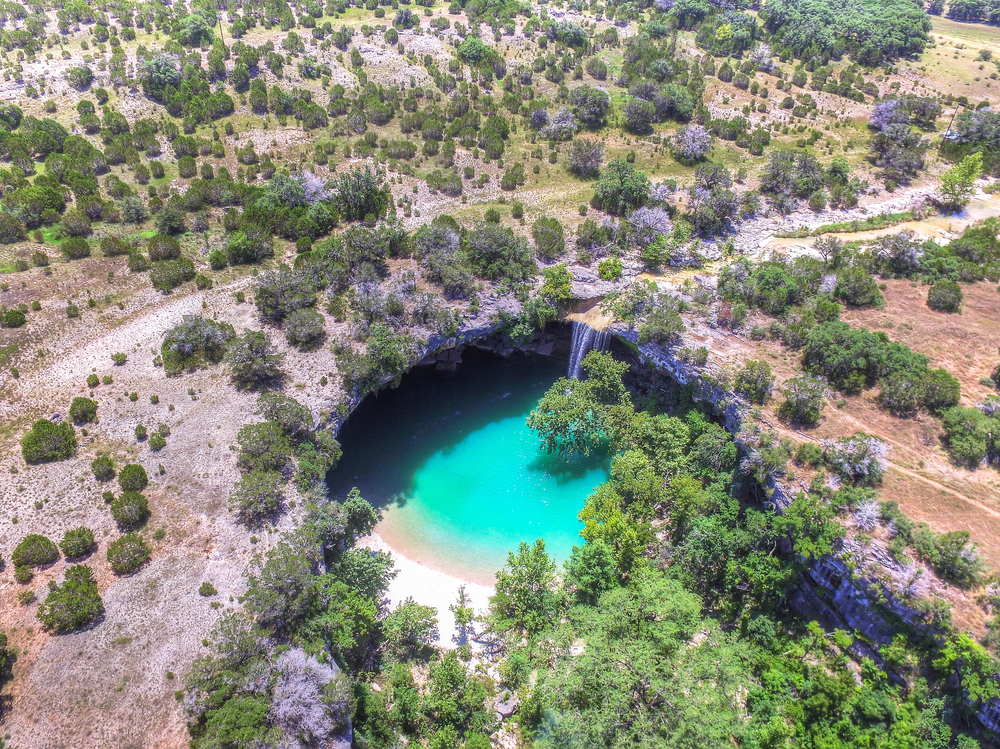 Blue Hole Regional Park
Situated just 45 minutes outside of Austin, Blue Hole Regional Park is another fantastic nature-focused getaway. As a matter of fact, it's so popular that is often listed as one of the top swimming holes in the entire state!
While the brilliantly blue swimming hole is obviously the highlight of Blue Hole Regional Park, there is much more to do in this 126-acre park. Go for a hike, test out your sand volleyball skills, play a pick-up game of basketball, or simply enjoy a nice picnic.
It is important to note that you can only swim at the Blue Hole Regional Park swimming hole during the designated swimming season, which is from May to September. If you are spending a weekend in Austin, this is the place to visit on your day trip!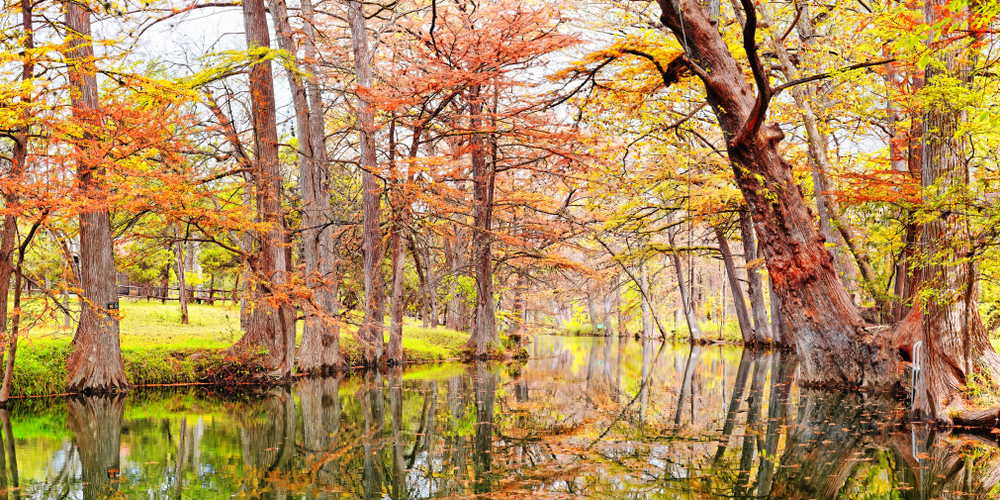 Krause Springs
So far, all of the day trips from Austin on this list feature a swimming hole, and we're not ready to end that streak just yet. Krause Springs is a lovely swimming hole about 50 minutes outside of Austin in the town of Spicewood. This spring is actually a collection of 32 springs in Texas, a manmade pool, and a natural pool. In other words, you'll have your pick of swimming spots to choose from.
As with many of the other Texas swimming holes, there's more to do than just swim. But instead of hiking and bird watching, Krause Springs is more well-known for its camping. So if you'd like to spend more than just one day at this swimming hole, you can certainly spend the night and turn your getaway into a weekend trip.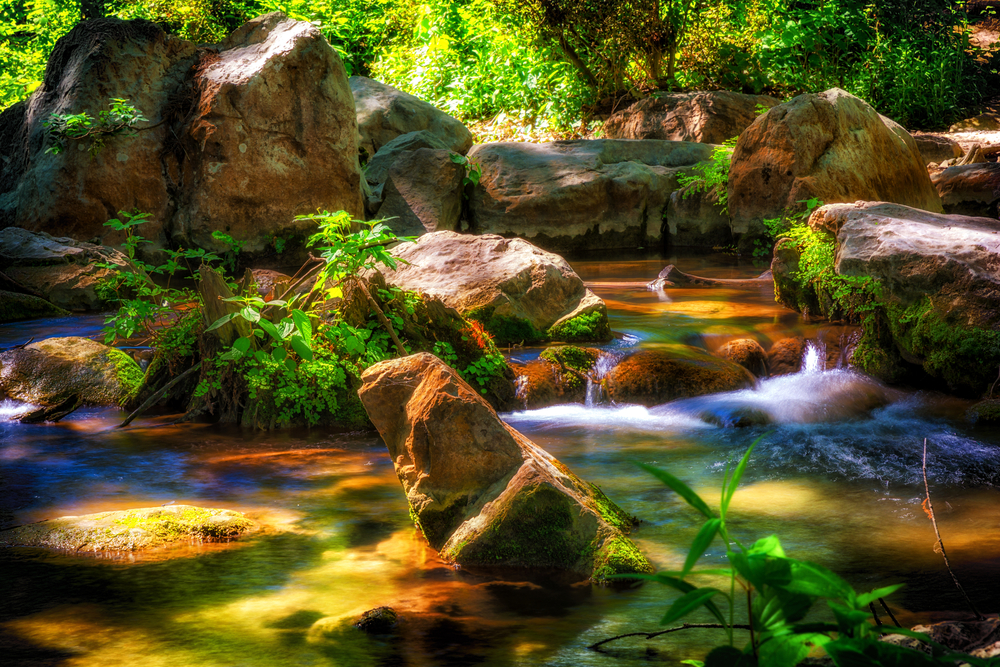 McKinney Falls State Park
The highlights of McKinney Falls State Park are the two waterfalls on the property: the upper and lower falls of Onion Creek. These 20-foot waterfalls serve as the primary draw for this Austin day trip.
While the waterfalls may bring you to McKinney Falls State Park, you may find yourself staying a bit longer for some of the other things that the park has to offer. History buffs might find themselves learning more about the park itself, as it is part of the El Camino Real de los Tejas National Historic Trails. Animal lovers might stay for glimpses of fox squirrels, turtles, armadillos, and white-tailed deer. And overall natural lovers may stay for the nine miles of hiking trails. It is one of the best places to see waterfalls in Texas!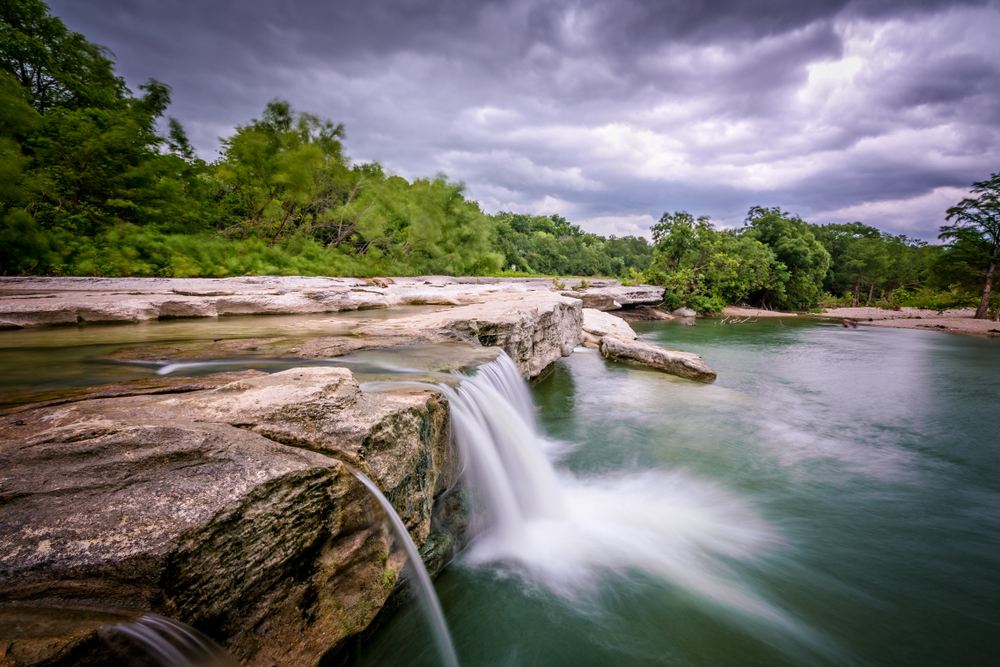 Bastrop State Park
Clearly, many of the closest day trips from Austin revolve around nature, which is perfect for escaping the hustle and bustle of the city. Bastrop State Park is no exception to this rule.
Situated in the town of the same name, the biggest draw of Bastrop State Park is the Lost Pines. The Lost Pines are a loblolly pine woodland that is estimated to be 18,000 years old. In order to survive for so long, these massive pine trees have learned to adapt, surviving on less water and clay-like sand. In other words, the Lost Pines are unlike any other pine trees in the world.
While the Lost Pines will likely take up a large chunk of your day at Bastrop State Park excursion, don't forget to make time for the rest of the activities that this park has to offer. Fish in Lake Mina, hike the seven miles of trails and even extend your trip to accommodate a night at a historic cabin.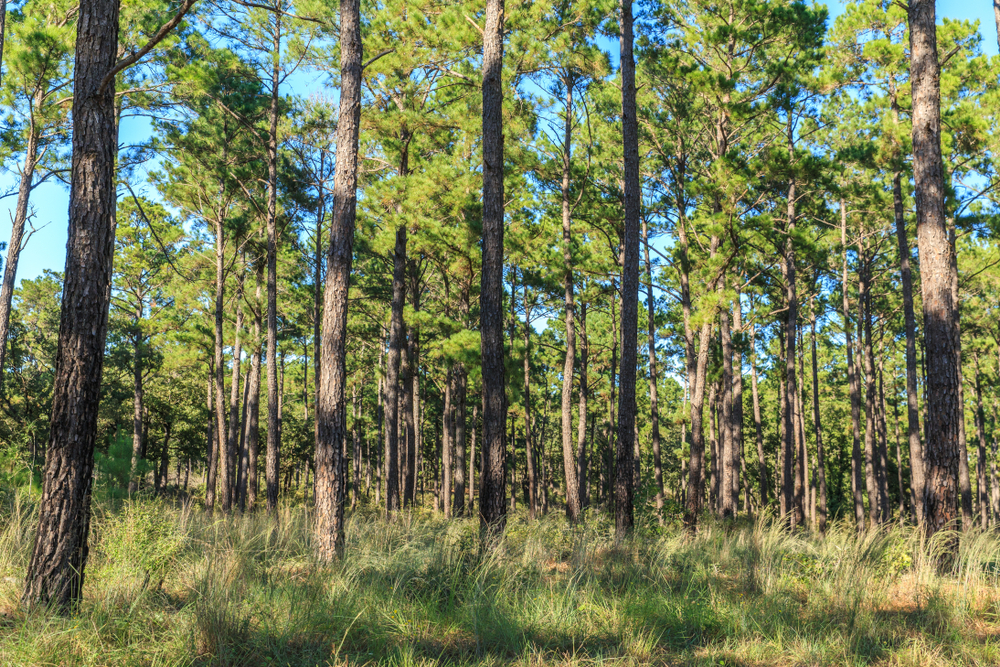 Lake Travis
Put simply, Lake Travis is a lake on the Colorado River in Central Texas. Put not-so-simply, Lake Travis is a community filled with places to stay and things to do, all surrounding a 64-mile-long lake.
It is truly one of the prettiest lakes in Texas you shouldn't miss!
As can be expected, most of the activities in and around Lake Travis involve the water. Go kayaking, try your hand at wakeboarding, rent a party boat, head to a nearby water park, or even zip line over the lake. As for non-water-related activities, grab a beer from a craft brewery, listen to fabulous live music, and do a little shopping.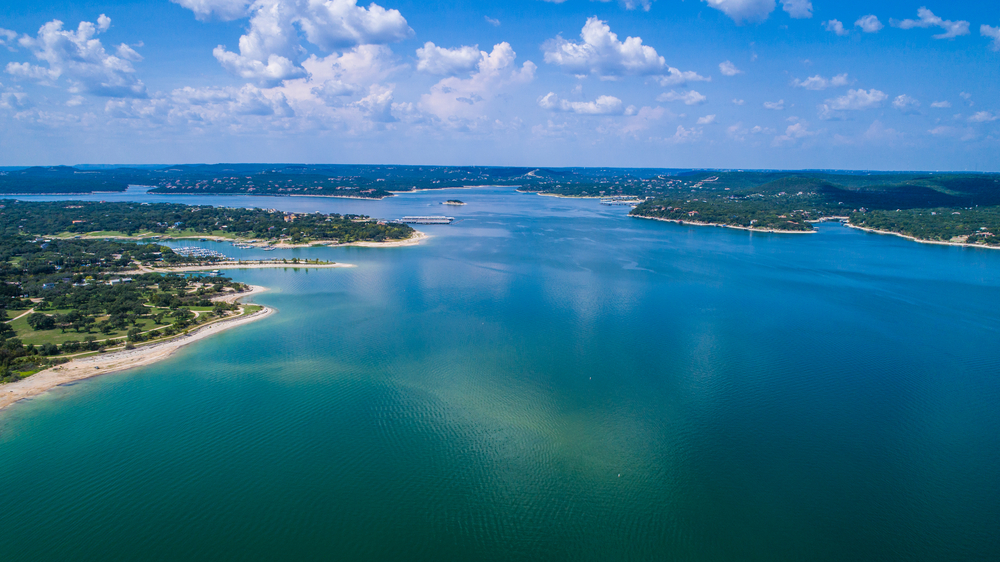 Dripping Springs
Despite its water-inspired name, Dripping Springs is not a spring, lake, river, or swimming hole, like the rest of the nearby day, trips from Austin are. Rather, Dripping Springs is a town filled with ranch parks, distilleries and wineries, and live music.
The most popular ranch parks are Reimers Ranch and Charro Ranch Park., where you can do everything from horseback riding to rock climbing. As for the distilleries and wineries, enjoy just about every type of alcohol, including beer, wine, vodka, bourbon, rum, and gin. And for live music, head to any of the town's bars, pubs, or restaurants.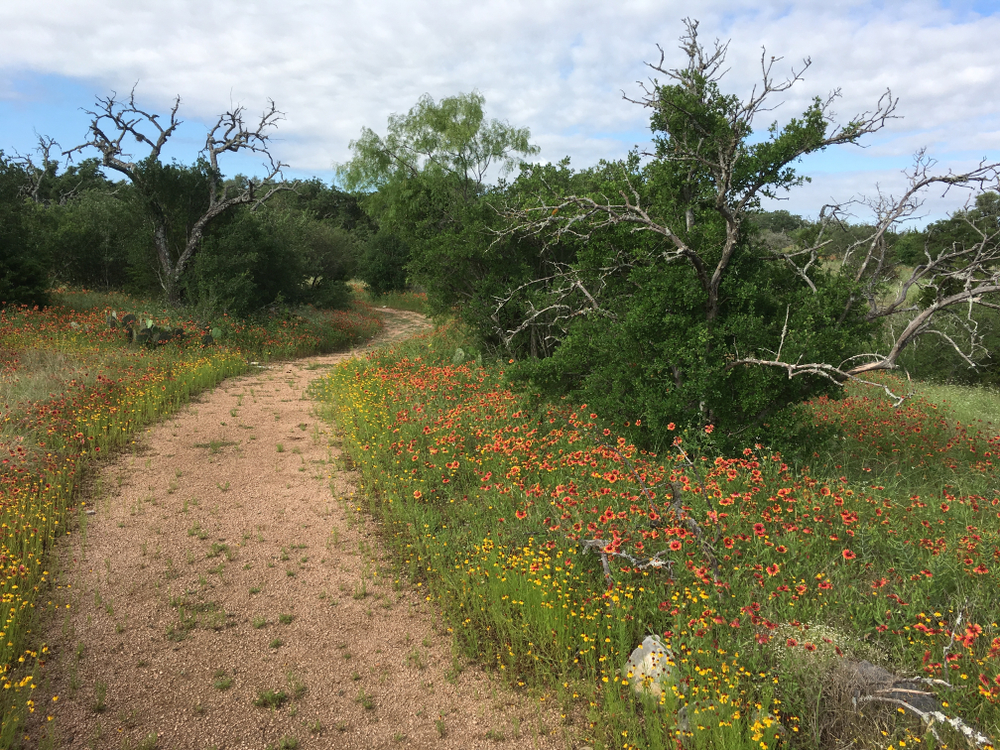 Marble Falls
Like Dripping Springs, Marble Falls is another small town with a water-inspired name. That said, unlike Dripping Springs, one of the most popular things to do in Marble Falls is water-based: Lake Marble Falls. You can enjoy just about any water activity on this lake, including kayaking, jet skiing, swimming, and fishing.
If you'd prefer to stay dry, Marble Falls has other activities as well. Stroll around the shops on Main Street, enjoy a beer at one of the many microbreweries, and go fruit or veggie picking at Sweet Berry Farm.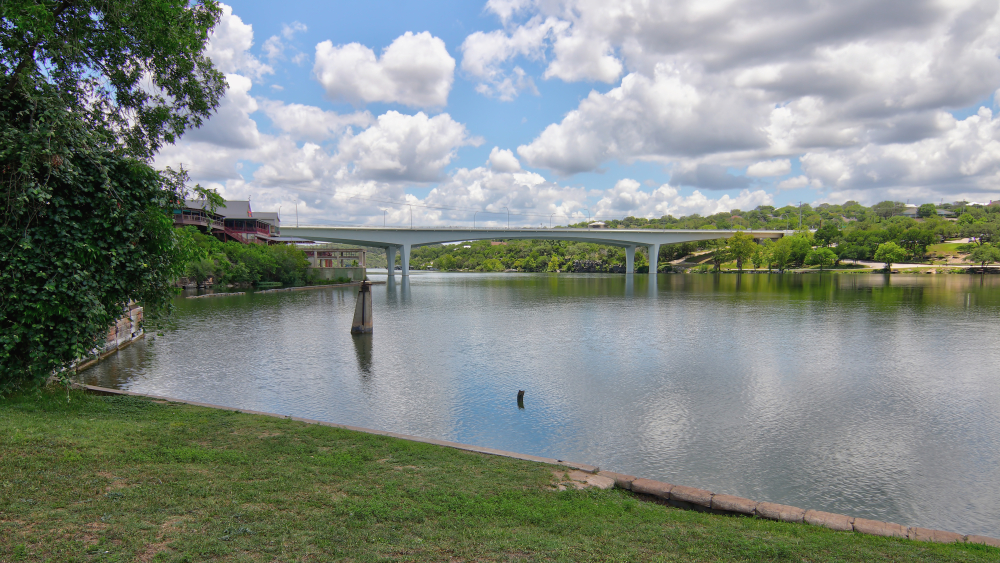 Austin Day Trips Under 2 Hours
San Antonio
As the second-largest city in Texas, San Antonio is packed with activities, making it one of the best day trips from Austin. By far the most popular attraction in this city is the Alamo. In 1836, the Alamo ingrained its name in history by becoming the location of the pivotal Battle of the Alamo during the Texas Revolution. Less than a year later, the Texans won their independence.
But there's more to San Antonio than the Alamo. Head underground to explore the Natural Bridge Caverns, wander along the San Antonio River Walk, pay a visit to the Cathedral of San Fernando, and admire the pieces at the San Antonio Museum of Art. It is one of the best missions in Texas!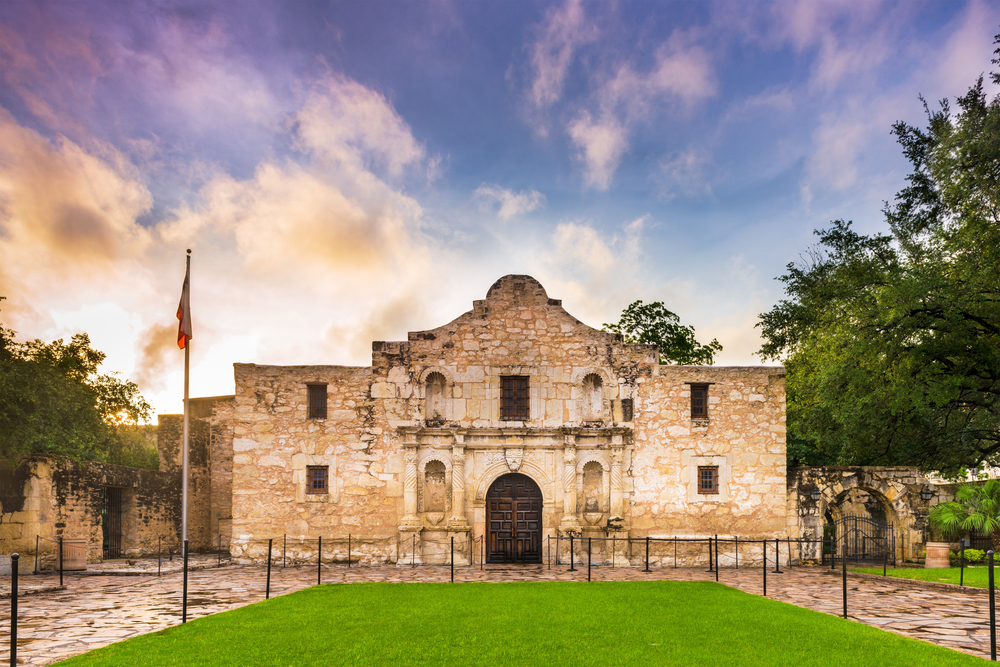 Enchanted Rock State Natural Area
The so-called "enchanted rock" at Enchanted Rock State Natural Area is a pink granite mountain about an hour and a half from Austin. Situated in the town of Fredericksburg, Enchanted Rock is one of the most popular things to see in the area.
It's really no surprise that hiking and rock climbing are the two most popular activities at Enchanted Rock State Natural Area. With 11 miles of hiking trails and dozens of different climbing routes, this spot is an adventure lover's dream! It is truly one of the best things to do in Fredericksburg!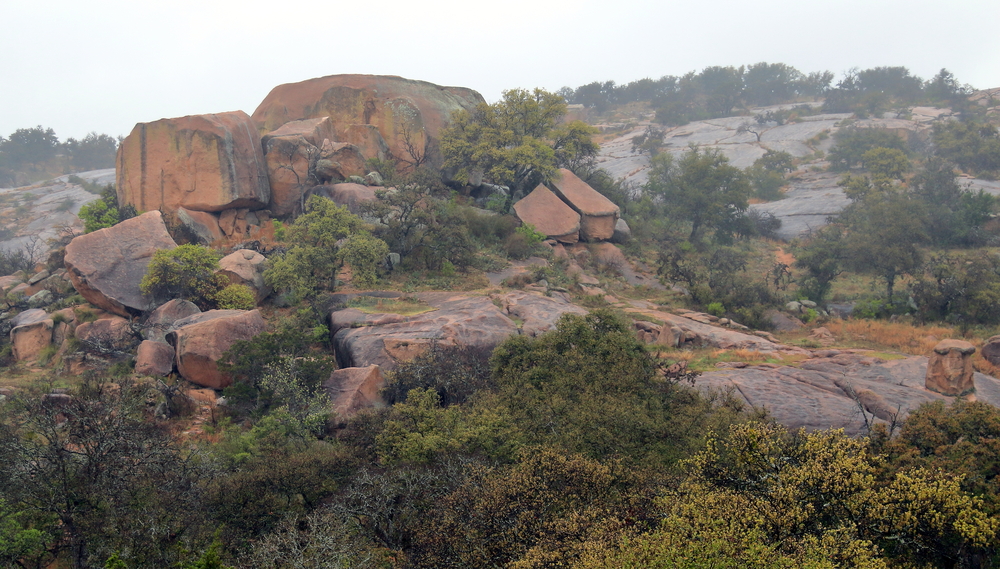 Waco
To non-Texans, Waco isn't really known as a tourist destination, let alone a place that's worth a day trip from Austin. It's more well-known as the location of the Branch Davidian siege or as the home of Baylor University. But there's so much more to Waco than that.
If you're a non-Texan with some idea of what to do in Waco, Magnolia Market is probably at the top of your list. Why? Thanks to the explosively popular HGTV show, Fixer Upper, this home décor market is now all the rage. After all, the stars of Fixer Upper, Chip, and Joanna Gaines get basically all of their home décor materials from Magnolia Market.
Other than that, you can also pop by the Dr. Pepper Museum, visit the Waco Mammoths National Monument, and visit one of the city's many distilleries.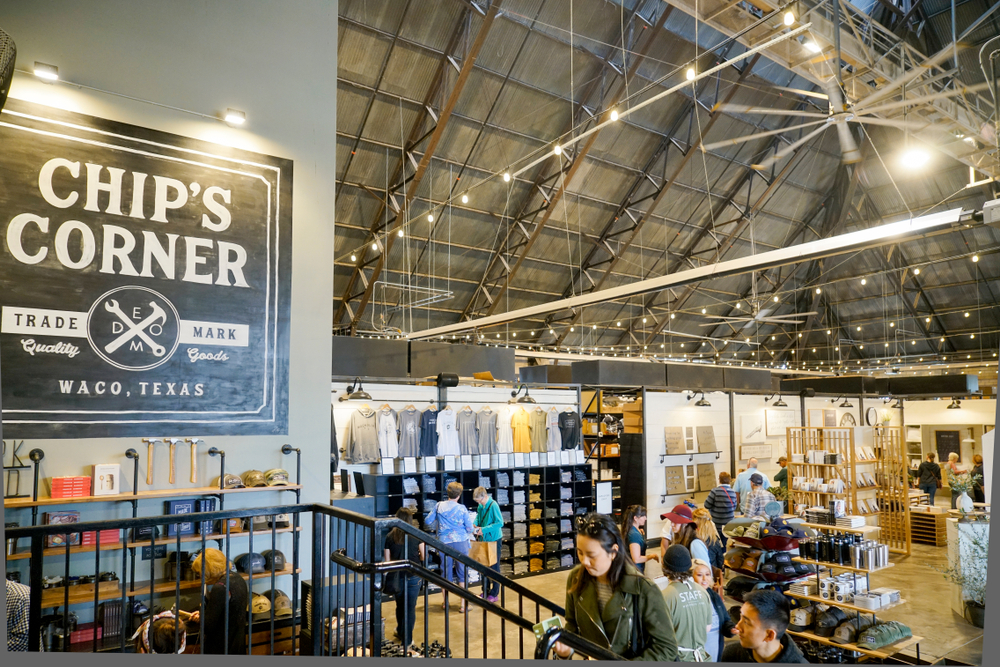 Fredericksburg
While most of the day trips from Austin on this list have been nature-focused stops, Fredericksburg is a little different. While it does have its fair share of nature, Fredericksburg is a popular Austin day trip because of its small-town feel.
While in Fredericksburg, take the time to fully savor everything you do. Slowly stroll through the town, stop to smell the flowers and Wildseed Farms, and savor the fresh-picked, sweet peaches from one of the town's many vineyards. If you need a longer break from the big city of Austin, there are tons of cabins, cottages, and bed & breakfasts for you to stay at. There are so many things to do in Fredericksburg you shouldn't miss!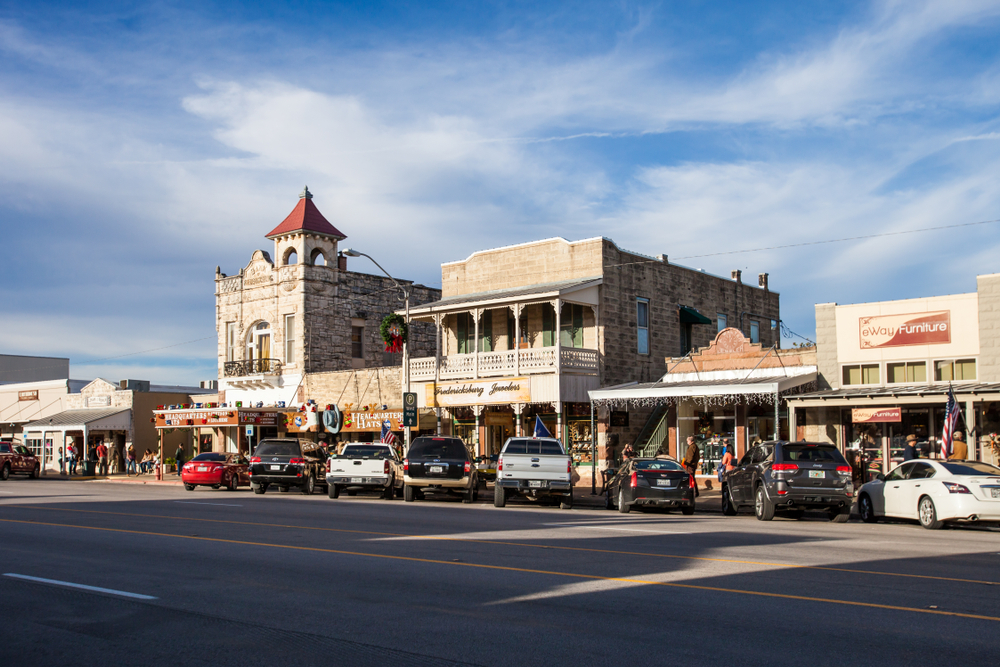 Luckenbach
Paying a visit to Luckenbach, Texas is like stepping into an old Western movie. With worn wooden storefronts, country music streaming out into the streets, a functioning saloon, and cowboy hats galore, Luckenbach is definitely one-of-a-kind.
To fully experience the Old West vibe of Luckenbach, there are a few things that you must add to your list of things to do. Most of these things can be done at the Luckenbach Texas General Store, Bar, and Dance Hall: shop for a souvenir, grab a beer and do a little dancing. And if there's one more thing you should do in Luckenbach, it's listening to some live country music.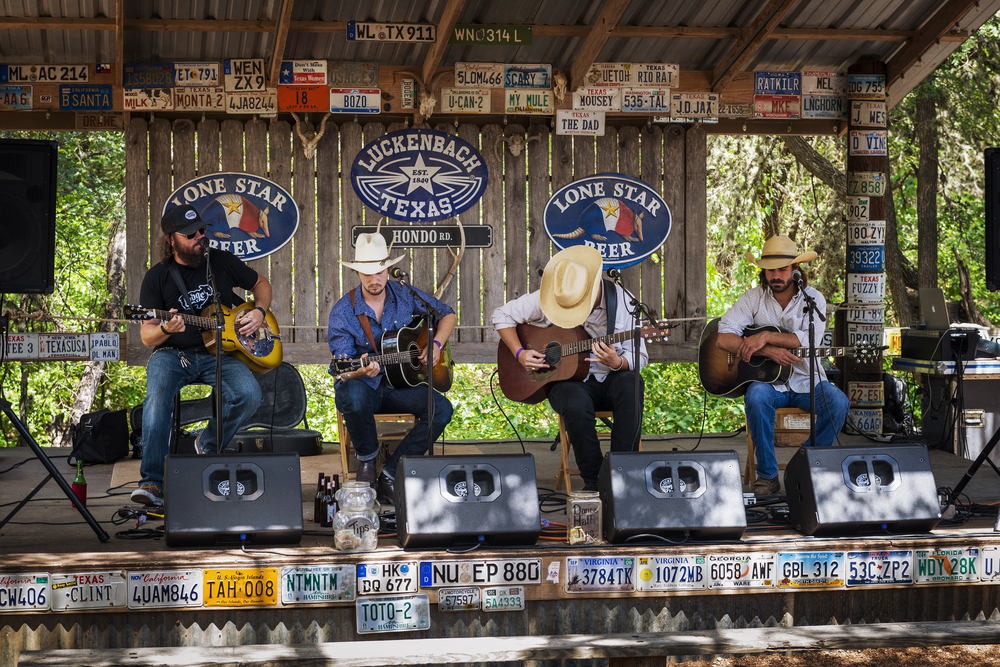 Canyon Lake
Canyon Lake is a small Texas community with a surprising number of things to do. First and foremost, there's the lake which the city is named after. Canyon Lake (the lake) is a great place for kayaking, stand-up paddleboarding, fishing, and picnicking. There are many amazing things to do in Canyon Lake too!
Canyon Lake (the community) also has other attractions. Lace on your hiking boots and tackle the Guadalupe Park Trail, wind your way along the beautiful River Road, listen to live music at the outdoor Whitewater Amphitheater, and take a tour of the Canyon Lake Gorge.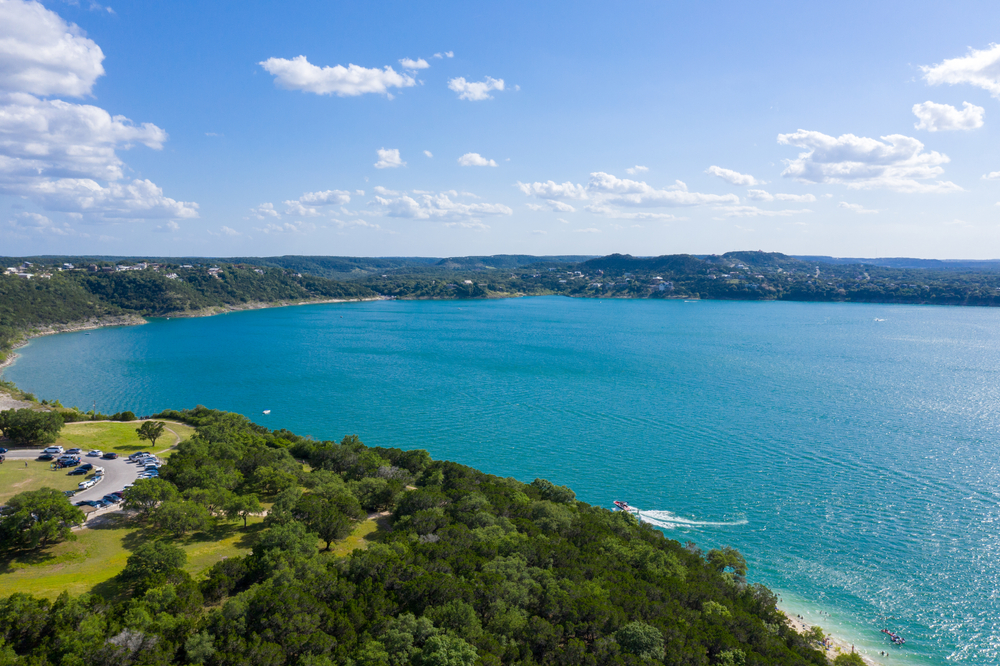 Austin Day Trips Over 2 Hours
Houston
As the biggest city in the entire state of Texas – where everything is already bigger – there is so much to do in Houston. There's something for everyone in this giant Texas city.
While many of the most advertised things to do in Houston are great museums, including the Museum of Natural Science and the Health Museum, there is so much more to Houston. Take a tour of the miles of underground tunnels below the city, find your inner astronaut at the Space Center Houston, or catch a baseball game at Minute Maid Park.
Considering the sheer number and size of everything to do in Houston, be sure to pick your favorites for your day trips from Austin. If there's simply too much that you want to see in Houston, make it one of your weekend getaways from Austin instead.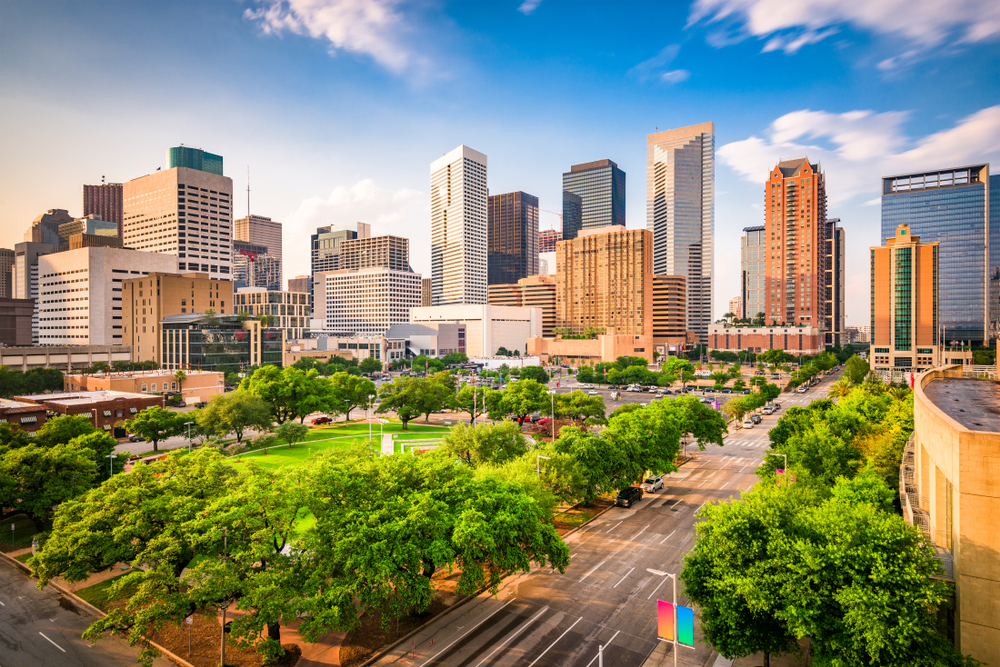 Dallas
Dallas is a fun combination of traditional cowboy and modern business, and these two aspects of the city are present in exciting ways.
The Dallas Cattle Drive sculptures are a great example of this contrast that has melded together. Visitors often pretend to be cowboys herding this huge drove of steel cattle. Besides this lovely sculpture, you can also go horseback riding skills at the Texas Horse Park, wander the gardens at the Dallas Arboretum, and see the landmark of Dealey Plaza.
Honestly, there's so much you can do in Dallas that you could expand your day trip from Austin to become one of the most amazing weekend getaways from Austin if you would like.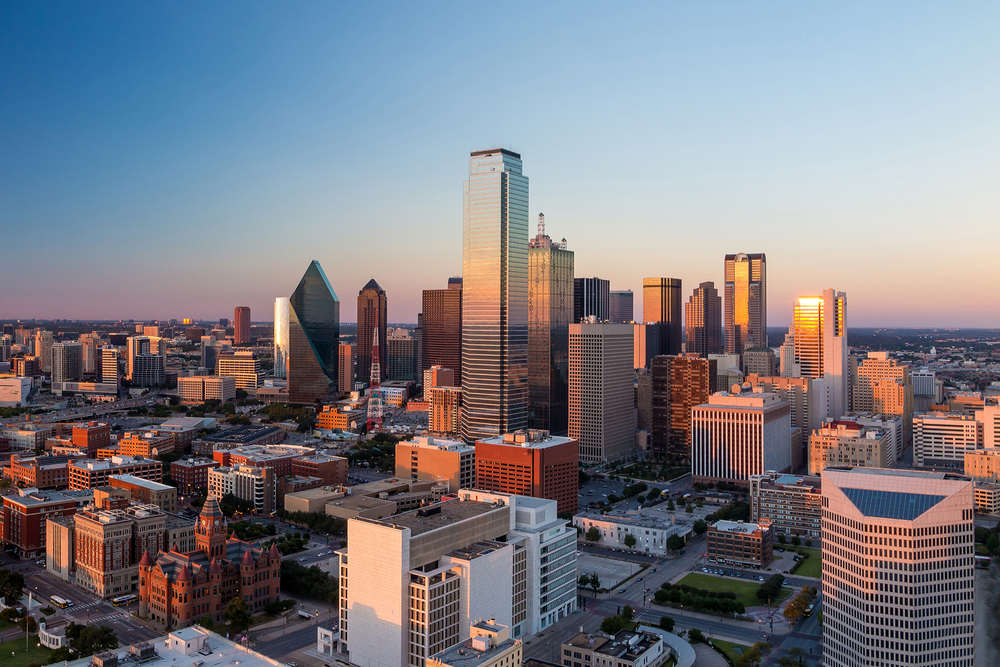 Fort Worth
Often overshadowed by its much larger neighbor, Dallas, Fort Worth doesn't get the recognition that it deserves. Filled with just about anything and everything cowboy-related, Fort Worth is different from any of the other day trips from Austin.
While in Fort Worth, be sure to get your fair share of cowboy-related activities at the Fort Worth Stockyards. Once a historic cattle district, it is now the place to go for rodeos, shootout shows, and country music concerts. If you'd like to take a break from all-things-cowboy, relax at the Fort Worth water gardens, stop and smell the roses at the Fort Worth Botanic Gardens, and enjoy the liveliness of Sundance Square.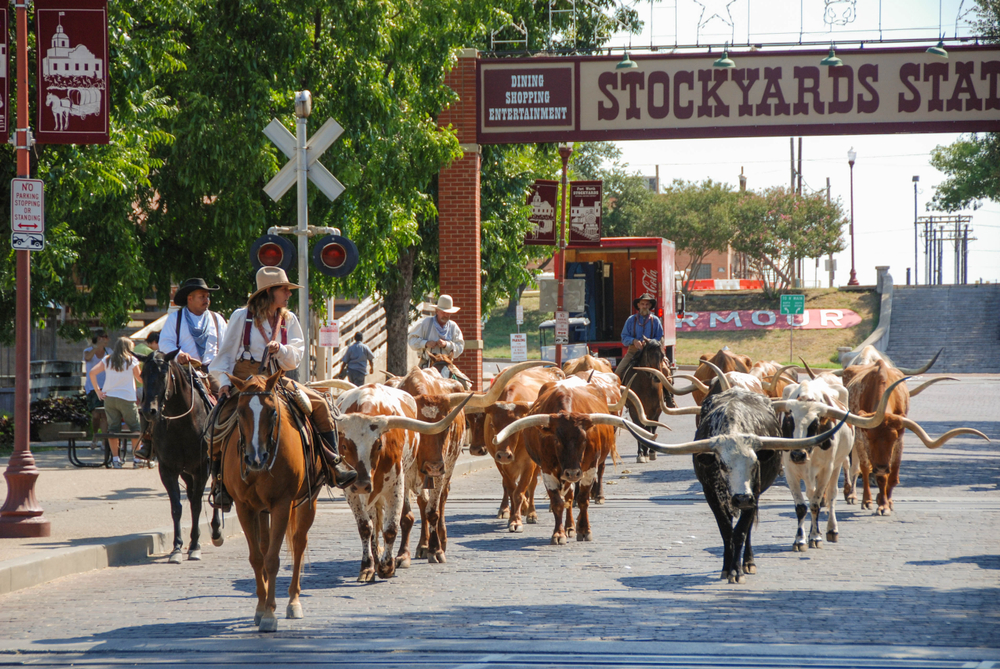 As you can tell, there are so many amazing day trips from Austin. You can do just about anything you'd like, from swimming through turquoise springs to taking in the largest cities in Texas. So pick a couple of these fantastic Austin day trips and begin your adventure! If you have any questions, feel free to ask them in the comments below!