Are you looking for a list of the best restaurants in New Braunfels to try? We have you covered with the best places to eat in this Texas town.
New Braunfels is a small town, known for being on two rivers between Austin and San Antonio. Originally settles in the 1800's by German, you can see the German influence in not only the food but the architecture especially in the Gruene Historical district. Known for outdoor activities, like boating, fishing, rafting , tubing, vineyards and more you are sure to work up an appetites.
From traditional German restaurants and biergartens perfect for outdoor dining in the summer, to sushi and steakhouses, to modern American cuisine, Tex-Mex and barbecue, there is something for everyone to try here. Start your day with a delicious breakfast, or stop in downtown for a casual lunch. There are plenty of restaurants in New Braunfels to try whether visiting of the day, weekend or spending a week.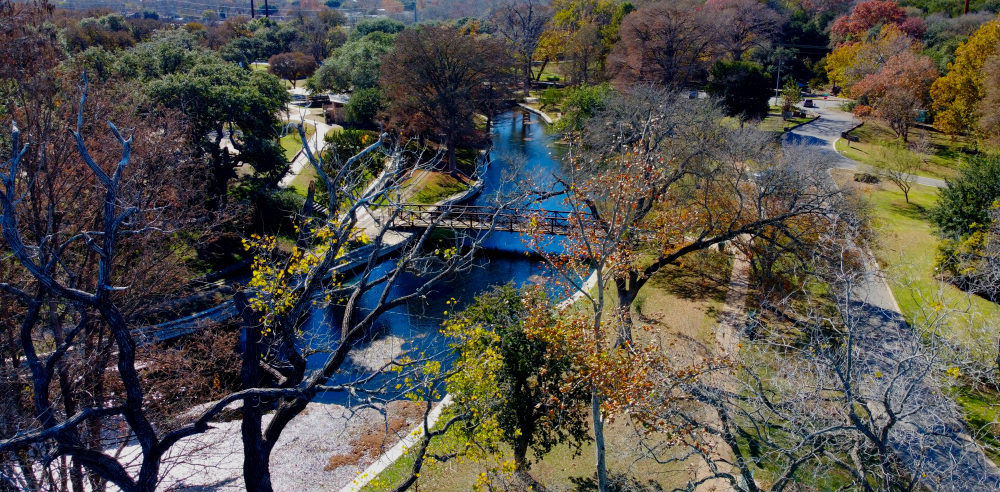 15 Best Restaurants In New Braunfels You Must Try
Bonzai
Bonzai is a Japanese steak and sushi restaurant in New Braunfels, Texas. This is the place to come for a hibachi style meal with entertaining chefs and flavor dishes, along with a wide variety of made in house rolls. Come in between 2 to 4 pm, on weekdays for 10% discount during happy hour! Open daily at 11 am, serving both lunch and dinner.
This is a great choice for those looking for lunch spots, as they offer a daily lunch special that includes hibachi vegetables, fried rice and soup, alongside hibachi lunch portions, and a sushi lunch special.
Hibachi dinners include vegetables, fried rice, shrimp appetizer, clear soup and salad. With your selection of proteins such as chicken, scallops, filet mignon, steak, or a combo of any two. For vegetarians they also have a separate set-up with vegetables, fried rice, soup and salad.
Why not order one of the house rolls to start. Try the ahi tower rolls, the Bali roll – a California roll topped with salmon and kiwi, Green Crystal riceless roll with spicy tuna, crab, avocado and shrimp wrapped in cucumber. Or try New Braunfels roll with teriyaki steak, cream cheese and avocado, or the Texas Roll with ried crawfish, jalepeno mango and avocado.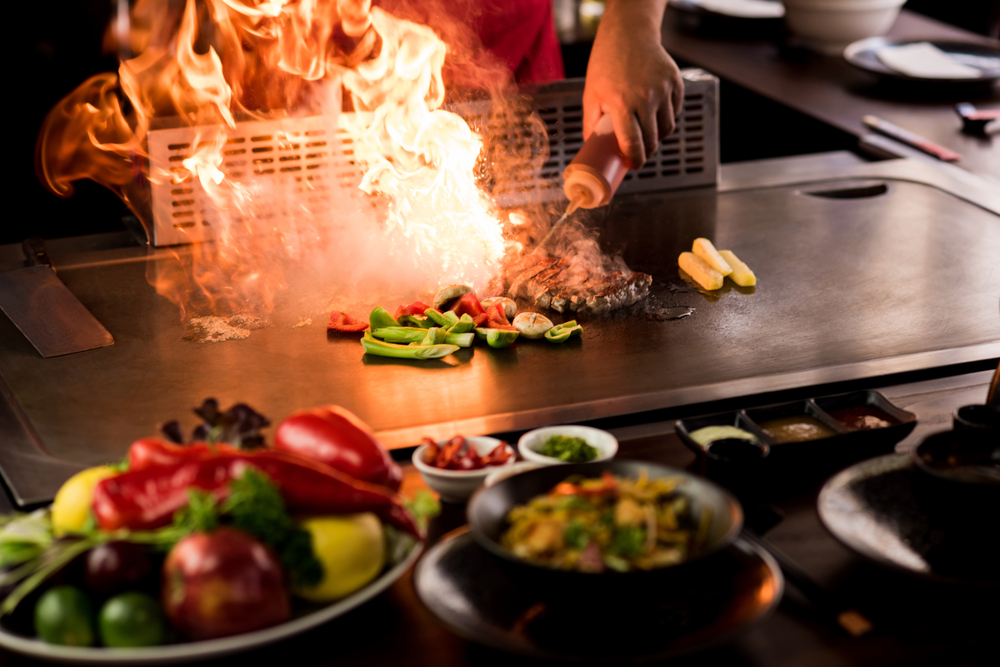 Adobe Cafe
If you are looking for Mexican food in New Braunfels, head to Adobe Cafe. This local restaurant offers the best Tex-Mex in the area, and even features a drive thru for those wanting to eat or drink at home. Open for both lunch and dinner, as well as a happy hour from 3 to 6 pm on Weekdays. The motto here is "food is life" and everything is made fresh and to order.
To start your meal, why not order the Fiesta Queso served with guacamole and salsa, the fajitas nachos, or the fried avocados. All the signature dishes here are served with the highest quality of Angus beef and wild American shrimp. Try the Sizzling fajitas for 1 or 2, the chicken fried steak, grilled tacos platter with corn, refried beans and stuffed with pork carnitas or beef fajitas, or the vegan friendly charbroiled season veggies served over turmeric rice and black beans.
Mexican specialties include he skirt steak tampiquena with sautéed poblano peppers with charro beans and rice, Adobe Chalupas, and Carne Guisada top round beef tips served over a sauce with rice and beans.
Las Palapas
Las Palapas is another one of the Mexican places to eat in New Braunfels. This family run restaurant serves up dishes from the owners mom and father while merging Texas flavors with traditional dishes. They are open for breakfast, lunch and dinner!
Breakfast here is served all day. Choose between platers like Huevos a la Mexican or Rancheros. Or weekend favors like barbacoa tacos, honeycomb menudo. Lunch and dinner plates are all served with homemade tortillas, beans, rice, or vegetables. From fajitas, tacos, flautas, enchiladas the menu features all he traditional Mexican dishes.
Come for one of the specials, on Monday and Wednesday the menu features 1 menu item at 1981 prices from $0.69 to taco Tuesday, or drive through breakfast tacos for only $0.40.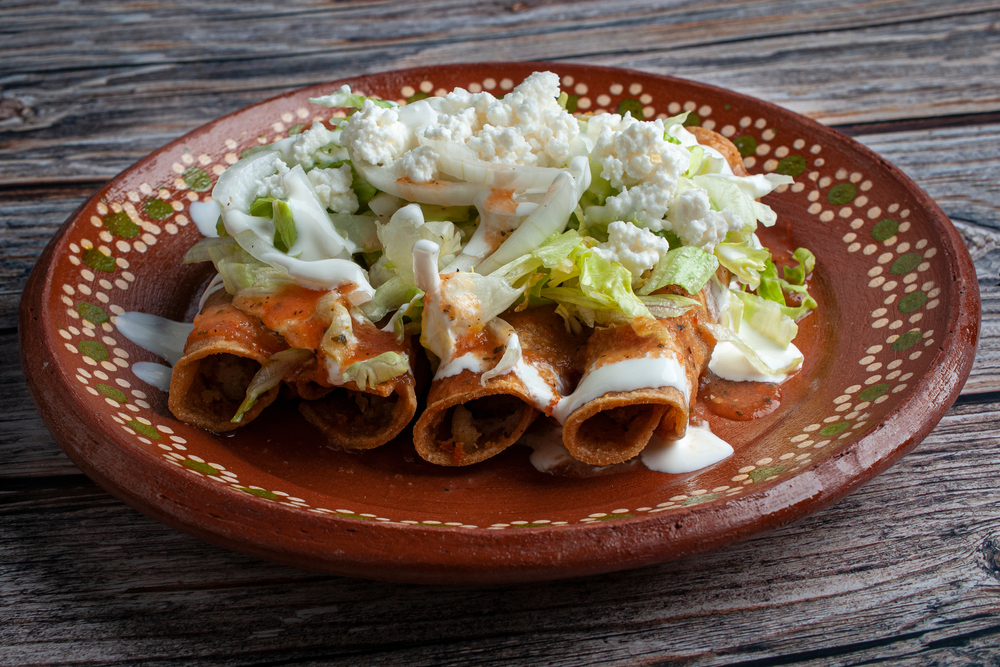 Huisache Grill
If you are looking for great lunch options, come by for one of the daily lunch speicals at Huisache Grill. The specials are served until 3:30 pm or until they sell out, except Monday when the restaurant is closed. They are located in downtown New Braunfels, and have expanded several times since first opening in 1994.
On the menu you will find appetizers such as fried brie with a raspberry chipotle sauce, fried oysters, charcuterie board and shrimp cakes. There is a large selection of salads, so why not try the three salad sampler with waldorf salad, shrimp Louis and a fresh spinach salad. Sandwiches are served with soup or salad and include a grilled pork, charbroiled lamb, or a turkey sandwich.
Main courses range from a pan fried trout, salmon served three ways, a mixed grill skewer of beef, quail, shrimp and chicken, a penne pasta grill, charbroiled chicken Yucatan, and a pecan dusted pork tenderloins. Save room for one of the handmade desserts like Southern Pecan Pie Cheesecake, warm apple crisp or a creme brûlée.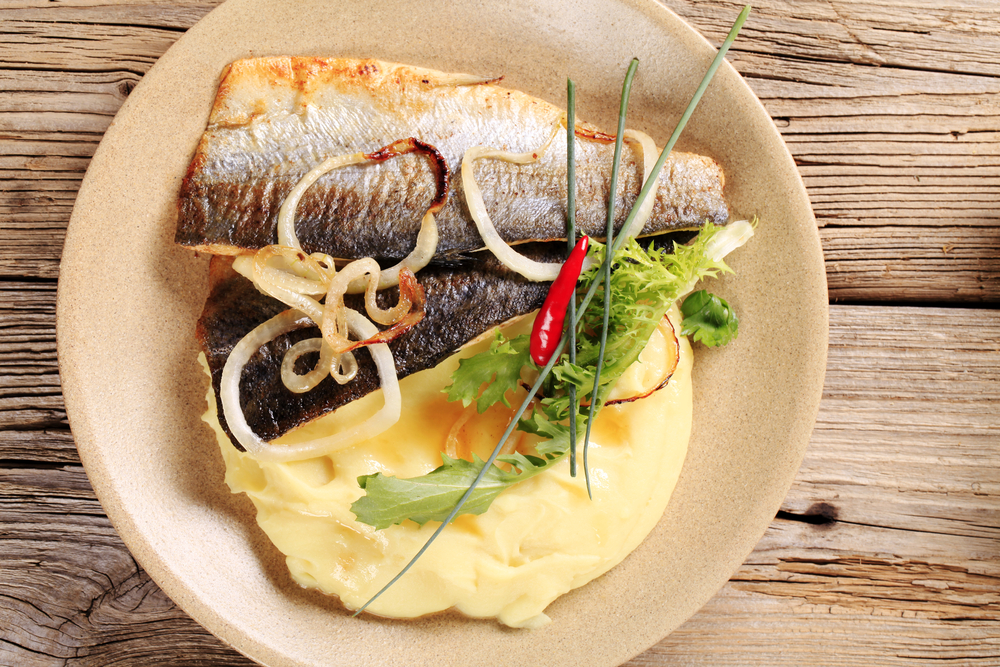 Buttermilk Cafe
Buttermilk Cafe is one of the restaurants in New Braunfels open for breakfast from 7 am to 2 pm, daily expect for Tuesdays. Chef Carol serves comfort food with an upscale twist.
Choose from breakfast classics include Cafe breakfast with eggs, choice of meat, and country gravy and biscuits, a create your own omelet, pork carnitas tacos, shirred eggs with heavy cream and topped with bacon and tomatoes. Griddle favorites include buttermilk pancakes, waffles, grilled banana bread, chicken snd waffles and French toast.
Lunch at Buttermilk cafe includes hot lunches with three sides such as meatloaf, country fried steak, savory beef tops, chicken and dumplings, and roasted herb chicken. Or choose from creole shrimp over jalapeño cheese grits, or grilled Gulf shrimp.
Alpine Haus
Alpine Haus is one of the local family owned German restaurants in New Braunfels, Texas. The restaurant prides itself on serving the freshest ingredients in old world German recipes that are made to order. They are open Monday to Thursday from 11am to 2 pm, and 5 pm to 9 pm. And Friday to Sunday all day.
As with German tradition start with a Vorspeisen starters from Alpine region meant to share. From fried brie cheese in toasted almonds, to sausage sampler with German mustard and fresh soup of the day. Entrees or Hauptgerichte are served with German bread and soup or salad. Choose from Schnitzels with pork, chicken or veal each made to order served in a variety of styles.
The Alpine Haus specialities include Rinder Rouladen a think steak stuffed with pickles and bacon served with German potato dumplings and red cabbage, Sauerbraten marinated roast beef, and a sausage platter. Weekday lunch includes sandwich choices from schnitzel, sausage, Black Forest ham or a rueben. Ask about one of the homemade daily desserts like Alpine delight or apple strudel.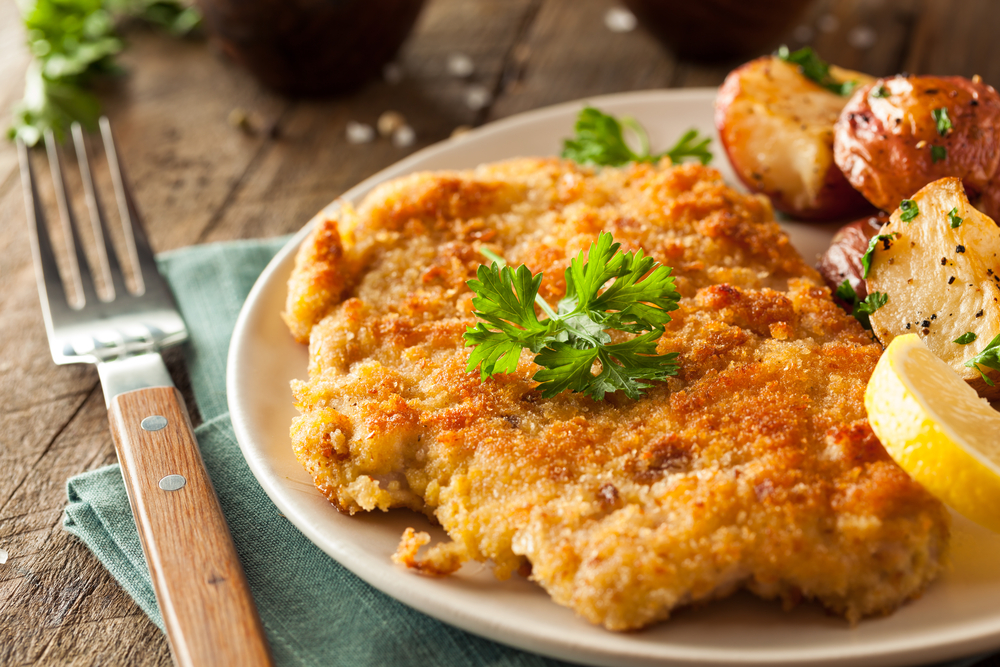 Gristmill
The Gritsmill is one of the best restaurants in New Braunfels, for those wanting a true Texas dining experience overlooking the Guadalupe river. Since 1977 they have been known for serving fresh fish, steak and chicken using the freshest ingredients with a large bar menu. There is live music in the gardens Friday though Sunday.
All steaks are served topped with the signature Austin Hoffbrau lemon butter sauce. Choose from top sirloin, ribeye, or bacon wrapped filet. Or try the Guadalupe chopped steak with spicy queso and fresh avocado,and, and Gruene polish sausage served with one of the homemade sides.
Fish dishes include fresh catch of the day, fried shrimp, bronze catfish with cajun seasoning, burgers, Chicken Acapulco or Tomatillo style.
Leave room for one of the famous desserts like Hill Country strawberry shortcake, ML fudge pie, apple crumb cake, German chocolate cake, Jack Daniel's Pecan pie or a root beer float. And pair your meal with a signature house margarita, Bloody Mary or a large selection of wines.
Krause's House
Krause's House is a lively German biergarten with one of the largest selections of local craft brews from around Texas. Since 1938, the menu features traditional German dishes with a Texas flair. Hang out in the gardens while enjoying a stein of your favorite beer from around Texas or one of the German styles.
The lunch and dinner menu at Krause's include a wild game sausage sampler, Bavarian pretzel or chicharrones with beer cheese. Family platters can serve your whole group. The Munich platter includes chicken schnitzel, sausage, potatoes, sauerkraut and cabbage. German entrees include roasted chicken, Texas schnitzel with jalapeño gravy and green beans or traditional Wiener schnitzel, German meatballs or chicken fried steak.
However, the speciality dish is the slow roasted whole hog's head that needs to be ordered 72 hours prior to reservation. Served family style with all the sides.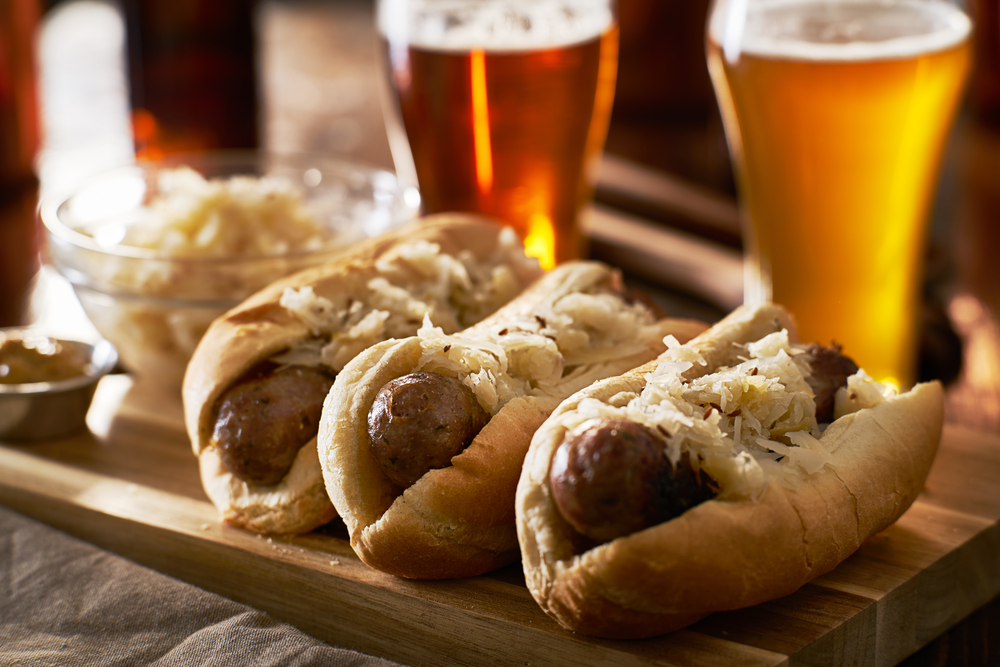 New York Pizza Pub
Since 2009, New York Pizza Pub has been serving pizza to the New Braunfels area. As the name suggests, they serve traditional New York Style thin crust pizza alongside other Italian favorites, wings, and more.
Homemade Italian favorites on the menu include family size bake ziti, lasagna alongside meatball subs and calzones. Pizzas are design your own style, with a gluten free crust and whole wheat crust options. Toppings include pepperoni, sausage, mushrooms, onions, black olives, jalapeños, pineapple and more.
Or go for of the house speciality pies like the Cooper with white wine garlic sauce with artichokes and sun dried tomatoes, the Bacon Cheeseburger, Garlic Veggie, Six cheese pizza,Gnarly Surfer Dude with pineapple, ham and bacon or the Butcher Shop with pepperoni, Sausage, ham, and bacon.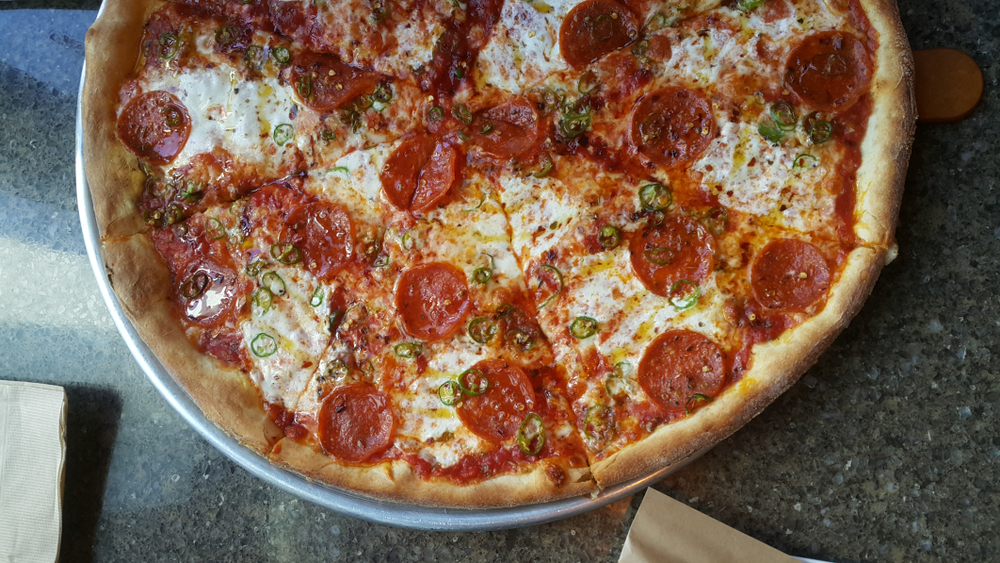 Ask Pho NB
If you are looking for some of the best Vietnamese Pho in New Braunfals, head to Ask Pho NB! Located in a strip mall, order traditional Vietnamese favorites like pot stickers, spring rolls, soups, Banh Mi sandwiches, and a large selection of noodle soup.
Choose from a wide variety of Pho a traditional Vietnamese noodle and broth soup served with bean sprouts, basil, and lime. Choose your type of broth from chicken, seafood and beef served with noodles, types of beef, shrimp, chicken and more. They also serve signature dishes like chicken and veggies, Vietnamese vermicelli, and more.
Black's Barbecue
Black's Barbecue is the oldest family owned Texas restaurant. For over 4 generations, the Black Family has served barbecue with their homemade sauces, pit smoked meats, and family rubs. Every Thursday is live music pint night.
Choose from beef brisket, pork spare ribs, turkey breast, barbecue chicken, beef brisket and pork belly, and homemade sausage that has been made the same way for the last 80 years. Have it served on a sandwich with bbq sauce, onions and pickles, or on a plate with sides. From cole slaw, green beans, pinto beans, potato salad and Mac and cheese. Finish with peach or pecan cobbler or the house banana pudding.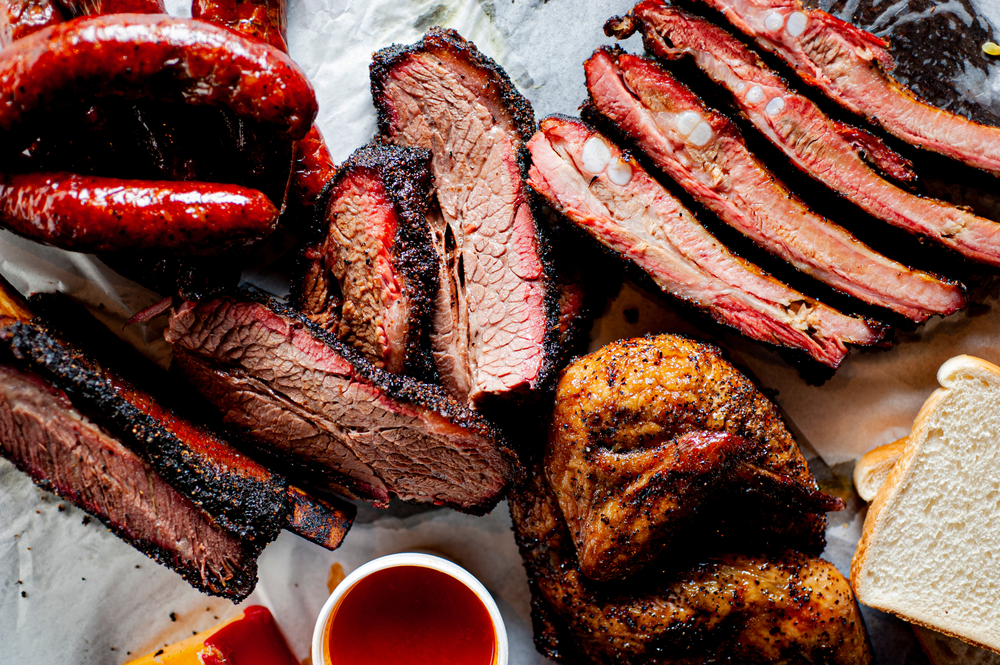 Taipei Express
Taipei Express is one of the Chinese restaurants in New Braunfels. This counter service restaurant serves up delicious and fresh Chinese cuisine alongside boba teas and mocha ice cream. They are open daily from 11 am to 8:30 pm, and serve lunch from 11 am to 3 pm.
Lunch and Taipei style specials include veggie delight with tofu, General Tso's chicken, black pepper steak, orange and sweet and sour chicken, beef and broccoli, and shrimp and vegetables. Alongside classic Chinese dishes like brides rice, noodle dishes, and soups such as Hot and Sour, Egg drop, and wonton soup.
Or try one of the family style meals, where you can choose two entrees and one large side item, or three regular entrees and two large sides each served with chicken fried rice. Try one of the bubble teas and mocha Japanese rice cake ice cream for dessert.
Myron's Prime Steakhouse
Since 2003, Myron's Steakhouse has been names one of the best places to eat in New Braunfels. Myron's features a large outdoor bar, a wine room and Modern Texas decor while serving USDA prime steaks, Chicago prime beef and a large selection of wines. Only open for dinner, and a Wine Down Happy Hour is between 4 and 6 pm.
The beef here is dry aged for 14 days, then wet aged for 28 days to tenderize and enhance the flavor. Entrees include large filet, ribeye, Kansas Strip, Bone in Filet and Ribeye, a rack of lamb, or seafood specialties like Australian or Maine Lobster, King Crab, scallops and a catch of the day.
As with traditional steakhouses sides are order separate and offer sautéed or creamed spinach, stuffed tomatoes, steamed asparagus or mushrooms, jalapeño Mac and cheese, and potatoes served baked roasted, shoestring or steak fried and scalloped potatoes.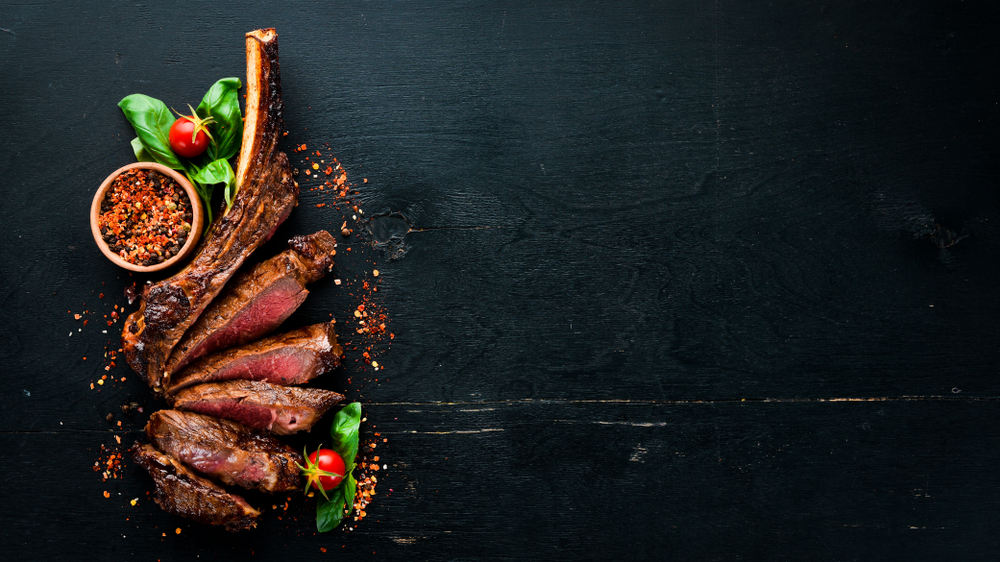 Musk and Fusk
Musk and Fusk should be on your list of where to eat in New Braunfels, if looking for restaurants in downtown New Braunfels. This craft beer and burger place offers live music in the courtyard, alongside craft brews from around Texas. Every week they post a weekly special to the website that is for dine in or carry out.
On the menu choose from crab cakes, Mac and cheese, fried green tomatoes, dips like pimento cheese and fussy five with street corn and salsa. The loaded tater tots or fries are customer favorites from poutine, to truffle, to Carolina pulled pork. You will also find burgers like the Spicy Juicy Lucy with pimento cheese and jalapeño bacon that are hand pressed daily, sandwiches like Carolina BBQ or buffalo chicken club, and tacos like tempura fried shrimp or fried chicken.
Noli's Vite
Noli's Vite is one of the Italian restaurants in New Braunfels serving up innovative and authentic Italian recipes. If you are in the mood for pizza, call ahead to order a pie.
Start with the Noli's Variety Mix with calamari, fried cheese and shrimp with marinara sauce, slicked Italian sausage in a sherry wine sauce , or bruschetta with tomatoes artichokes and garlic. Pasta favorites include spaghetti with meatballs or Italian sausage, and fettuccini Alfredo.
Home baked dishes include pasta sampler with lasagna, cannelloni and manicotti, eggplant parmigania, tortellini Michaelangelo in a white wine Alfredo sauce, Sausage Arrabbiata, Chicken Cacciatore or Tetrzini, Noli's Sautéed chicken with sun dried tomatoes and capers, Frutti de mare, and Veal marsala.