Are you looking for the prettiest islands in Texas to escape to? You have come to the right place. We have done the hard work for you and compiled this list of the best islands in Texas for your next vacation.
Ocean views as far as the eye can see, stretches of sandy beaches and warm Texan weather all add to the appeal of an island escape.
The Lone Star State may not immediately come to mind when planning an island vacation, however, you can find some of the prettiest islands in Texas.
Not only does our list cover the prettiest islands in Texas, but we are also confident that you'll find more than just beauty on any of these islands.
Whether you're looking to participate in watersports, horseback riding, or just want to relax while soaking in the sun and island views, you'll find what you're looking for on our list.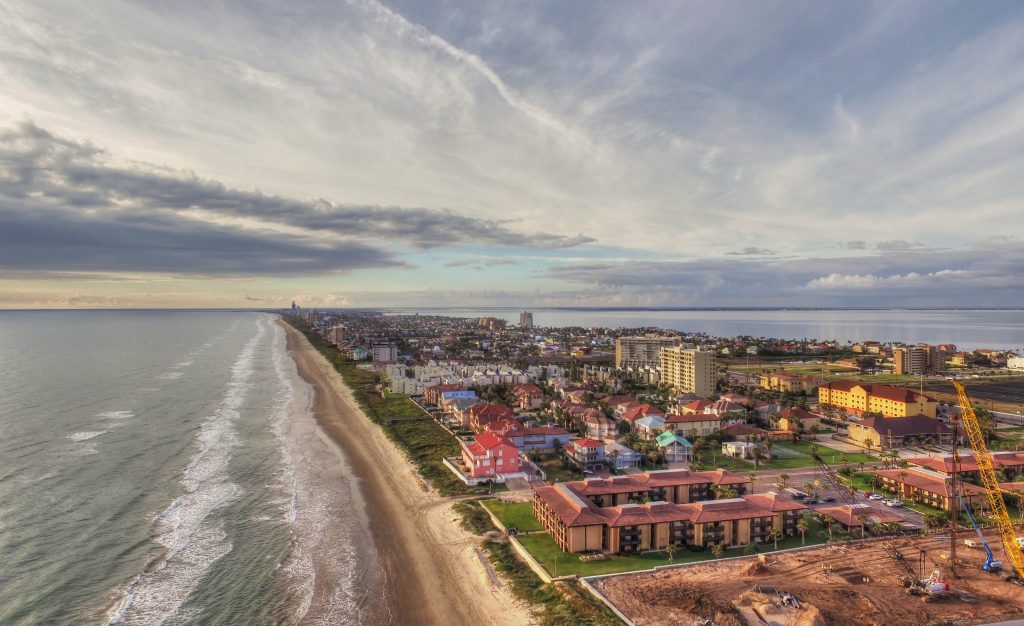 10 Prettiest Islands In Texas To Escape To
Galveston Island
Did you know that barrier islands can be found off the coast of Texas? Galveston is one of them. Located about 50 miles from Houston, you can find this 32-mile stretch of paradise.
Visit Galveston Island State Park to take in some of the prettiest island views in Texas. Since this is a State Park, it's very well taken care of.
Whether you are swimming, fishing, kayaking, or camping, you can guarantee a pristine and peaceful environment for your vacation on this protected island in Texas.
Looking for more lively island action? Partake on a ghost tour, peruse the downtown shops or treat yourself to some eye candy and soak in the historic architecture and art scene.
Throughout the year, many festivals are held here including the Galveston Greek Festival, Galveston Island Shrimp Festival, and the Lone Star Rally.
Quick note: Make sure to note that Galveston and Galveston Island are not the same locations.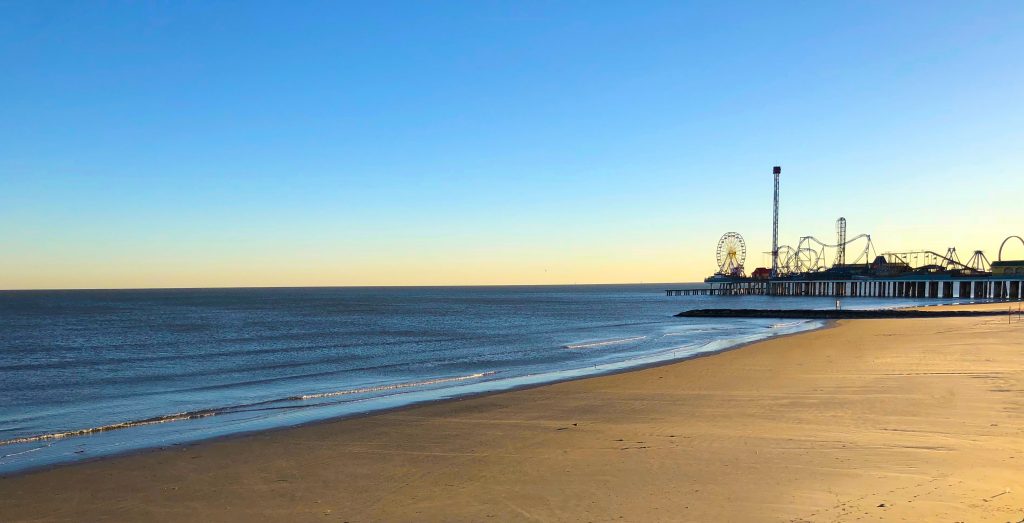 Mustang Island
Another one of the beautiful barrier islands in Texas is Mustang Island. This island is located about 177 miles from Houston in the Gulf of Mexico.
Mustang Island is only 18 miles long, but you'll find plenty of beauty and fun-packed onto this tiny island.
Start your vacation off exploring Mustang Island State Park. This is the perfect spot to take a picnic, enjoy a paddle through over 20 miles of trails and end your night at one of their nearly 100 campsites for a true island vacation experience.
For more unique experiences on Mustang Island, book a charter tour and try your hand at fishing or skydive to experience the island from a truly once-in-a-lifetime view.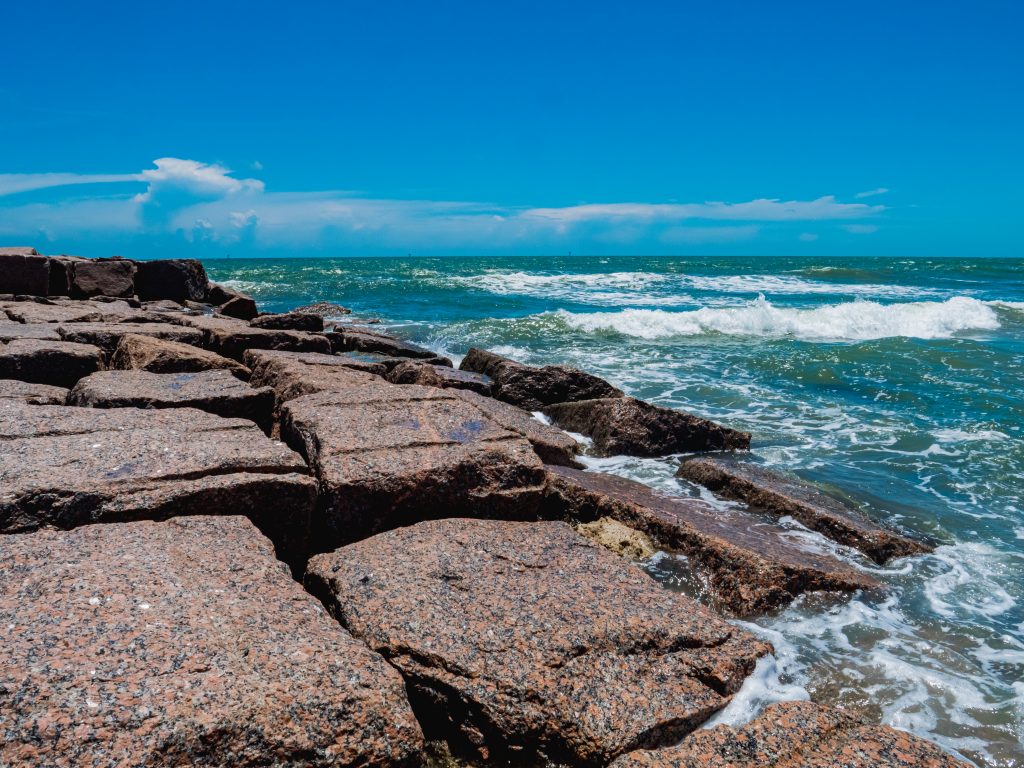 Padre Island
If you find yourself in the southeast coastal region of Texas, check out Padre Island. Padre is actually the largest barrier island in the world, measuring about 113 miles in length. So it's no surprise that there is a lot to do and see here.
This island in Texas is well known for its white sandy beaches. Even the most endangered species of sea turtles, the Kemps Ripley, chooses these 266 miles of the seashore as their nesting spot each year.
Because of this, the area is protected as part of the Padre Island National seashore. We recommend you try to schedule your trip around one of their sea turtle releases as it's a sight not to be missed!
This national seashore is actually between the Gulf of Mexico and one of the few hypersaline lagoons in the world, Laguna Madre. Laguna Madre is a must-stop you definitely want to check out for its uniqueness and beauty.
If you're seeking to explore more than the water during your Texas island vacation, Padre Island has you covered there as well. On this pretty island, you will find opportunities to partake in the usual outdoor adventure and water activities, but also dense marshlands to explore, waterfowl hunting, beach driving, and windsurfing.
You will love your time spent on Padre Island.
South Padre Island
Sitting in the warm gulf waters, just south of Padre Island, is South Padre Island. This resort town is super tiny, with less than 4 miles of surface area, and will take you about 6 hours to get to from Houston.
South Padre Island might be one of the best islands in Texas for families. The calm waters are perfect for enjoying water activities such as swimming, kayaking, or boogie boarding.
Despite its tiny size, there are several nature conservation and ocean rehabilitation centers on Padre Island offering tours, learning opportunities, and view tanks.
If you're interested in sea turtles, check out Sea Turtle Inc. This rehabilitation center specializes in rescuing sea turtles, nursing them back to health, and then releasing them back into the wild.
Sea Turtle Inc. offers the opportunity to view the turtle hospital along with daily turtle feedings, presentations, and fun educational programs for both adults and children.
At any given time you will find sea turtles still in the rehabilitation phase as well as a few long-term residents not able to be released.
South Padre Island Birding and Nature Center is also the site of an alligator sanctuary, a 5-story observation tower, interactive exhibits, and a 3300-foot boardwalk perfect for birdwatching right on the beach.
In addition to sea turtles, birds, and alligators, you can also learn about dolphins at the South Padre Island Dolphin Research & Sealife Nature Center.
Although the center does NOT have any dolphins in captivity, they do offer educational tour boat cruises where you can view wild dolphins in their natural habitat.
On land, enjoy an educational sea life center showcasing ocean life complete with touch tanks and aquariums for an immersive hands-on experience.
How fun does that sound? While you are at it, make sure to check out the Best Restaurants In South Padre Island!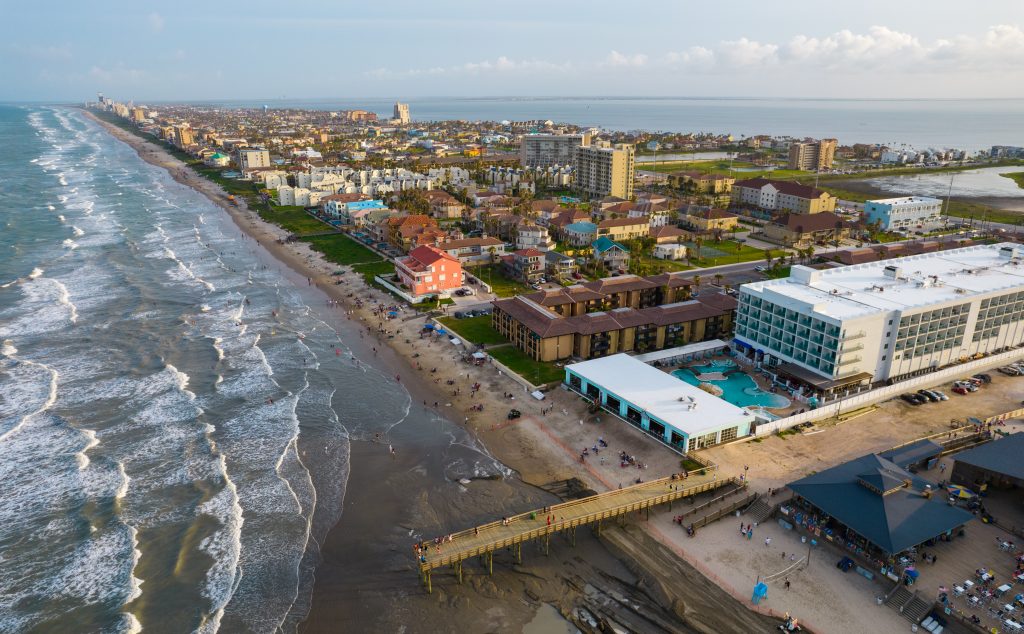 Matagorda Island
Matagorda Island is a long thin island located about seven miles south of Port O'Connor. What makes this island in Texas so unique is that there are no ferry services available. You must take a private charter or personal boat to the island.
Once you're there you will find just one thing missing. Cars! No motorized vehicles are allowed on Matagorda Island. What a unique experience!
Despite the unique transportation circumstances, there are still a variety of activities to partake in on Matagorda Island. Since the island is so long and thin, there is plenty of coastline to set up your beach towel and umbrella for the day and enjoy free beach camping at night.
If you're in the mood for adventure, walk to the top of the Matagorda Island Lighthouse, choose from numerous land or water activities to partake in at Matagorda Island State Park and Wildlife Management Area, or rent kayaks from Matagorda Adventure Company.
San Jose Island
If you're looking to escape the hustle and bustle of the mainland and want even more peace and quiet than the atmosphere of Matagorda, check out San Jose Island. This 21 by 5-mile wide island is nearly 10 hours away from Houston and totally worth the trip.
San Jose Island is mostly privately owned, conserved for nature, and basically deserted. If the term 'no crowds' appeals to you, this is the best island in Texas for your vacation.
Hop on over to San Jose to enjoy sea shelling that won't be picked over, quiet golden beaches, and hundreds of species of fish and birds.
Nicknamed the fishing capital of Texas, you will find some of the best fishing experiences in Texas on San Jose Island. Let out your reel and try to snag dinner for the night. Some popular fish of the area are redfish, flounder, and speckled trout.
Before heading out, make sure you bring everything you will need during your stay. There are not many amenities or shops, if any, to be found on San Jose Island. Another aspect that adds to its appeal!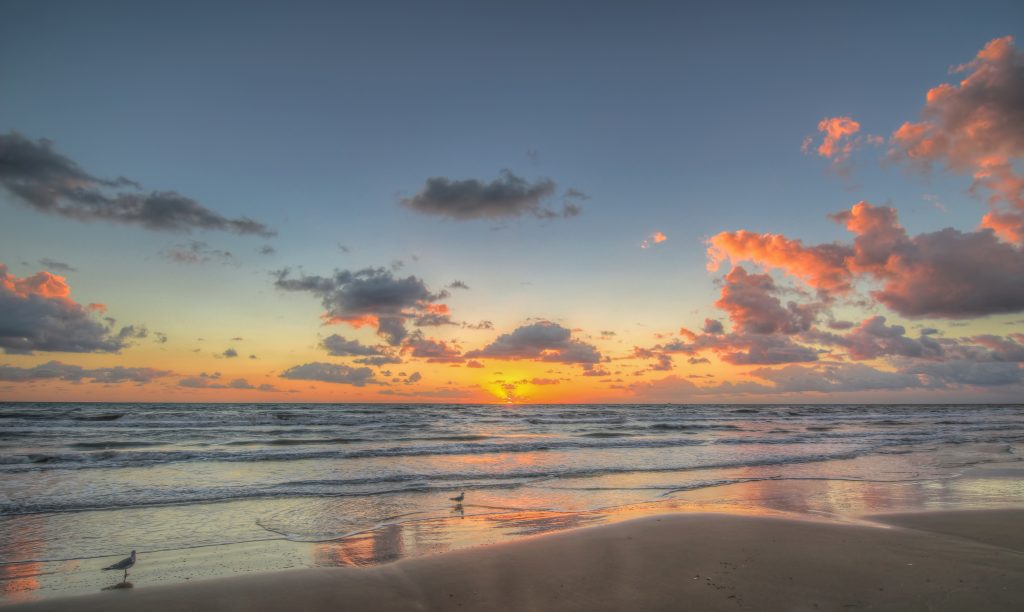 Follet's Island
Bordering Christmas Bay, just over an hour's drive from Houston, you will find 113-mile long Follet's Island. With 13 miles of free public beaches, this is a popular island in Texas for a quick and easy trip into paradise.
Enjoy the free beach camping, fishing, horseback riding or bring your leashed pet along.
Follet Island is rich in history and home to Fort Velasco, which was built by Mexican soldiers in 1832 and remains intact on Surfside Beach on Follet Island.
You can even tour the original house of Follet's Island's settlers and namesake for four floors of rich Texan history.
Brazos Island
You will find some of the bluest waters of all the islands in Texas surrounding Brazos Island. Brazos Island, also known as Brazos Santiago Island, is located just south of South Padre Island and almost six hours from Houston.
Brazos has a rich historical background with many battles being fought here. However, a devastating hurricane destroyed most of the historical buildings and the military's port on the island.
Have no fear, the island is still one of the prettiest islands in Texas. The fact that much of it still remains undeveloped lends to its island charm.
Head out to Brazos Island State Park, the perfect place to swim, camp, or explore the 217 acres of preserved natural habitat.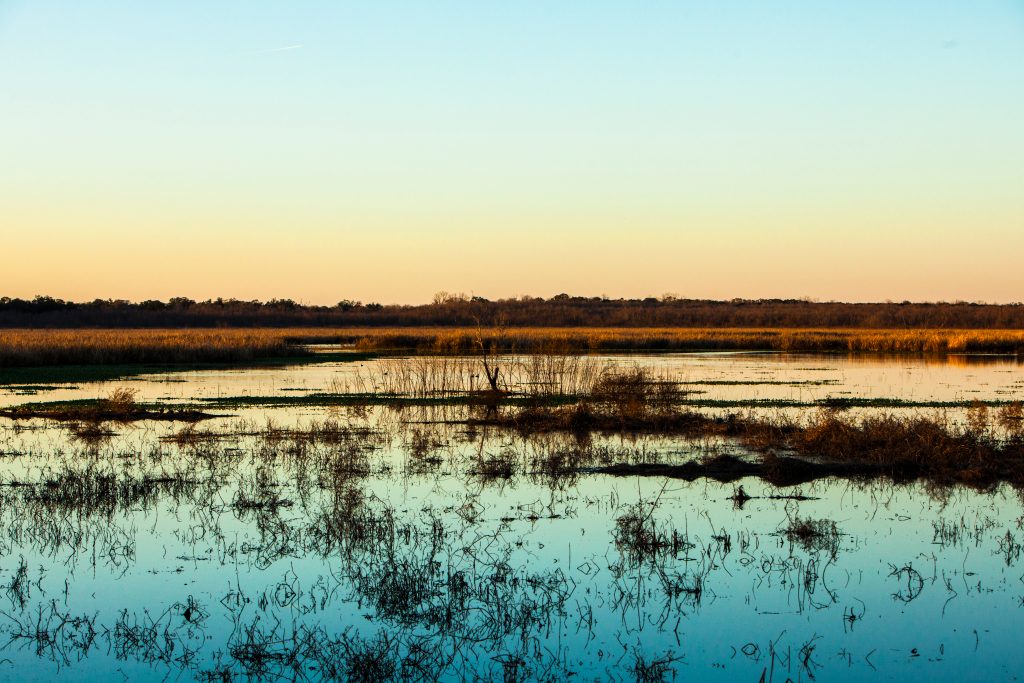 Pelican Island
Pelican Island started off as a marsh area and was turned into a 5.4 square-foot island as part of the city of Galveston.
Visit Pelican Island if you are looking to learn more about the state's naval history. Now, many of the Islands in Texas were founded by soldiers, saw bloody battles, and made fantastic spots for military forts and ports, but Pelican Island is where you will find the American Undersea Warfare Cent, also known as the Galveston Naval Center.
This naval center is especially unique because you can view both a destroyer and a submarine up-close and personal! In addition to tours and exhibits, the Galveston Naval Center also allows for sleepovers abord the USS Stewart! If you really want to know how it felt to be a soldier, here's the perfect opportunity without enlisting.
Ward Island
About four hours from Houston is a small, triangular-shaped island named Ward Island. Ward Island is one of the most uninhabited islands in Texas and also rich in militia history.
Although the island is mostly utilized by A and M's Corpus Christi, visitors are still allowed and often take up the opportunity to enjoy this island's peace and beauty.
The most popular activities enjoyed by visitors of Ward Island are biking, hiking and fishing.
And there you have it: A list of the prettiest islands in Texas to make your next escape to. As you can see, these islands offer all you could ever want to experience.
From amenities-free experiences to parasailing, art exhibits, and watersports to naval ship sleepovers you can really do it all.
Go out and explore the Lone Star State and its beautiful diverse islands for a truly memorable experience with beauty as far as the eye can see.
Looking for more beauty and fun under the Texan fun? Check out more Things to do in Texas with Kids, Prettiest Swimming Holes in Texas, Prettiest Beaches in Texas, or the Best Waterfalls In Texas.