Are you looking for the best lakes in Austin? If so, you have come to the right place! We have curated the best lakes in and around one of Texas' most popular cities! Known for it's quirky personality, amazing food, and live music, Austin is the place to be!
There is nothing quite like a lake day! From a warm day spent on the shores, to hot days spent in the water, the lake is the perfect place to go when you do not know where else to go! Sometimes our bodies just want to be outside and no matter the weather, the lake is always the perfect place to go.
This article will have both popularized lakes with lots to do and more low key lakes if you are looking for some solitude. All lakes, no matter where you are, have beautiful displays of flora and fauna. There is always something to look at! The beautiful lakes in Austin provide the perfect backdrop!
Grab your swimsuit, pack a cooler, grab a book or a boat and come spend the day on the lake! Austin area lakes should not be missed!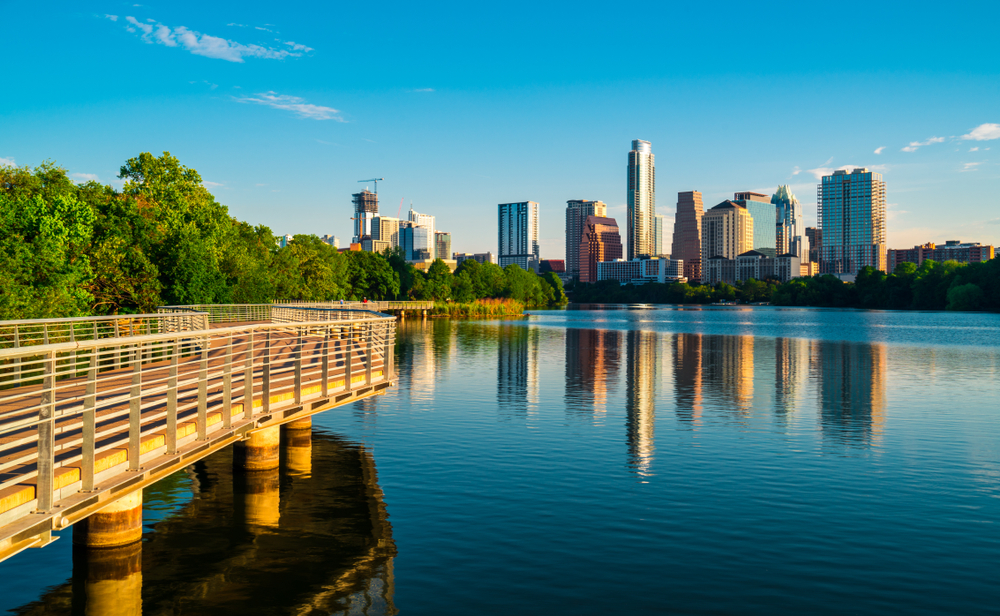 9 Best Lakes In Austin (And Nearby!) You Must Visit
Lake Austin
Formerly known as Lake MacDonald, Lake Austin is one of the best lakes in Austin! Technically a water reservoir on the Colorado River in Austin, the lake is used for flood control, electrical power generation, and most importantly for us — recreaction!
Since most of the shoreline is privately owned, bank fishing is limited. There is a great spot at Emma Long Park and another one in Fritz Hughes Park near the Mansfield Dam. Lake Austin is one of the best Austin area lakes for fishing because there are largemouth bass, grass carp, bluegill, blue catfish, and white crappie!
Motorized boat traffic is allowed in Lake Austin and there are two wonderful concrete boat ramps for public use. If you do not have a boat of your own, you can rent a motorized boats, including pontoons! Lake Austin is popular is water-skiers and pontoon full of people having a great time!
Another great thing about Lake Austin is the number of restaurants that have docks along the lake! After a long day in the sun, cruising right up to dinner is such a treat! If you have a few days, you can camp among the giant cypress trees at Emma Long Metropolitan Park!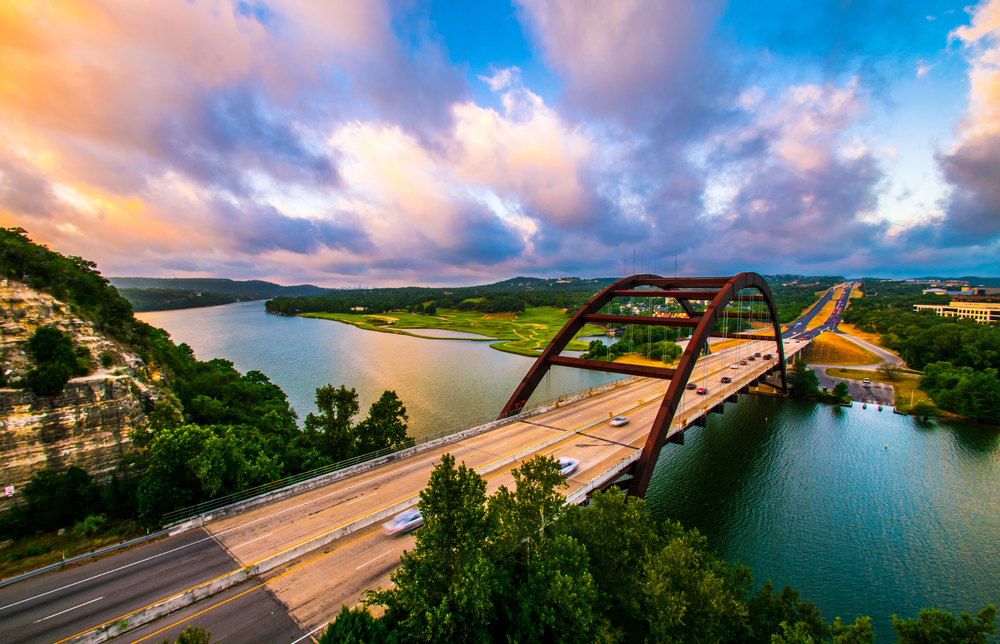 Lake Travis
Lake Travis is one of the most adventurous lakes near Austin because of it's immense depths! Reaching 210 feet in some areas, Lake Travis is one of the few where visitors can SCUBA dive! Located Northwest of downtown, Lake Travis is also a reservoir of the Colorado River.
As Austin's largest lake, you will always find people boating, water skiing, and fishing! There are also plenty of sail boats, houseboats, party barges, racing boats, and even luxury watercrafts. Closer to the shore and within its countless coves, many people spend their day canoeing or kayaking! Did we mention all of this equipment is available to rent from many of the suppliers along Lake Travis!
The parks surrounding Lake Travis should be on the list as well! Windy Point and Hippie Hollow are some of the most popular parks to visit, but there are numerous along the shoreline that each offer their own unique views. Some offer lakeside campsites or meadows and some offer cliffs that provide stunning views overlooking the lake!
For the more adventurous in your group, you can zipline over the lake! Ziplining may be the most interesting way to experience the water! Lake Travis really is one of the best lakes near Austin!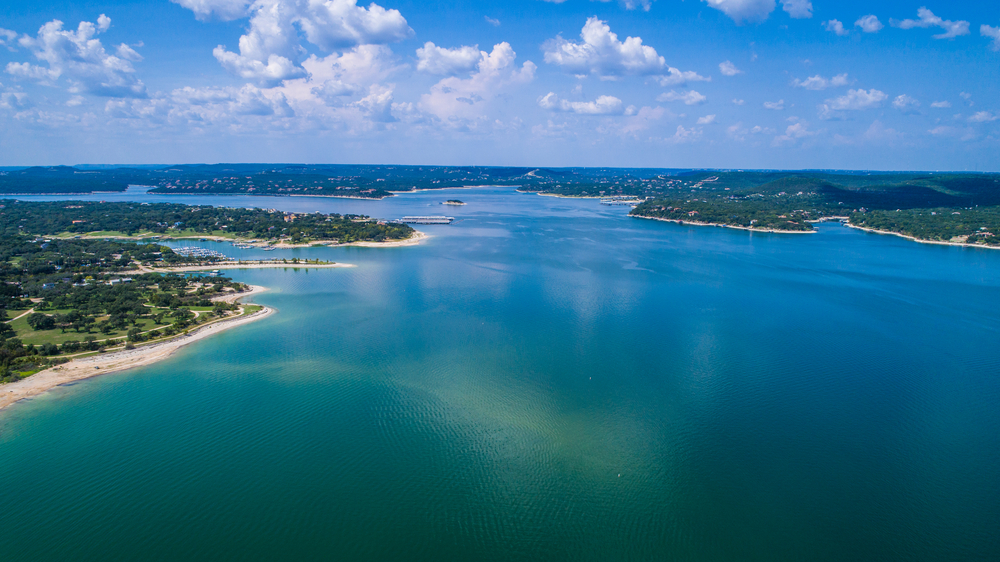 Lady Bird Lake
Lady Bird Lake is one of the best lakes in Austin for relaxing because it does not allow motorized boats! Known to the locals as Town Lake, Lady Bird Lake is the third lake that makes up the reservoir system in the Colorado River surrounding Austin!
Because there are no motorized boats, this is a popular spot of flat water paddlers such as canoes, kayaks, and even paddle board yoga which is a favorite activity for locals. All of this equipment is available for rent from vendors around the lake!
With eleven miles of lakeside trails and eight official access points, Lady Bird Lake has lots of places to both enter and exit the lake. You can enter at Festival Beach, for example, and exit for a picnic in the cypress-lined Red Bud Isle. Red Bud Isle is also an off-leash dog park if you brought your pup with you!
Although swimming is not allowed in Lady Bird Lake, if you take the fork heading west it will lead to Barton Springs, a popular natural spring! Nearby Barton Springs Road will also lead to Zilker Park where the Botanical Gardens transport you to a flora oasis! Please visit Lady Bird Lake, one of the most beautiful lakes in Austin!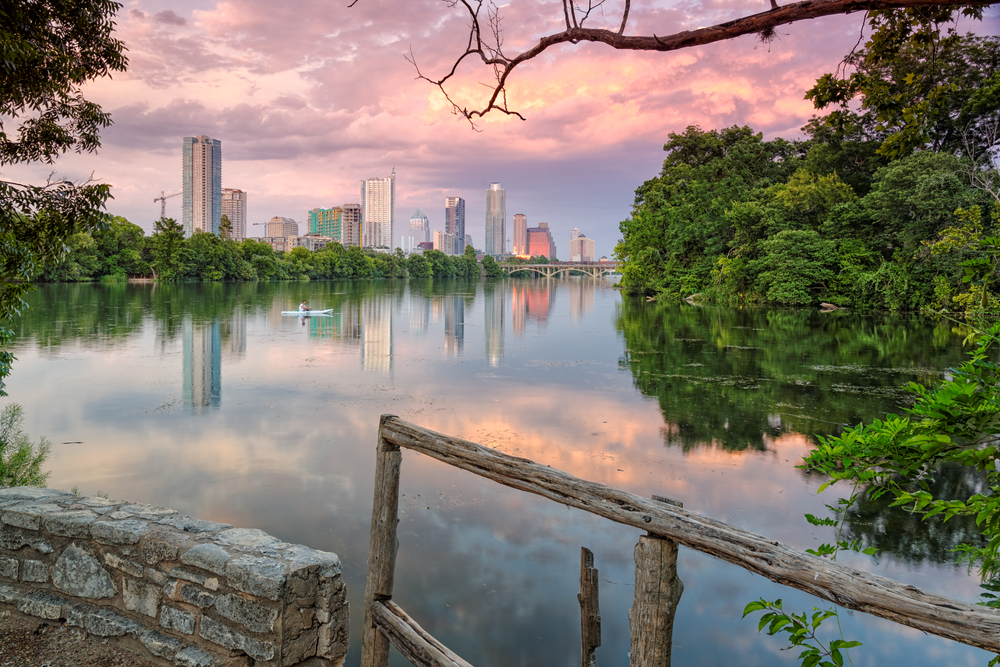 Lake Marble Falls
An hour outside of Austin is Lake Marble Falls, one of the best lakes in Austin to swim! Lakeside Park has a lovely grassy lawn and a sandy beach like entrance to the lake! Additionally there are several splash pools that are perfect for kiddos!
Also a reservoir on the Colorado River, Lake Marble Falls is located in the beautiful Texas Hill Country. Formed in 1951, the lake was formed with the purpose of aquatic recreation and for generating hydroelectric power. At almost six miles long, the lake is very popular with water-skiers!
One of the unique things about Lake Marble Falls is that it does have waterfalls at the bottom of the lake. Oftentimes, in the input and output of a lake is either a river or a dam, but Lake Marble Falls actually has falls!
Located between Lake Travis and Lake LBJ along the Colorado River, Lake Marble Falls maintains a constant water level. Largemouth bass, catfish, and sunfish are the most popular fish that people catch in Lake Marble Falls!
Lake Marble Falls is one of the best lakes near Austin for fishing and swimming!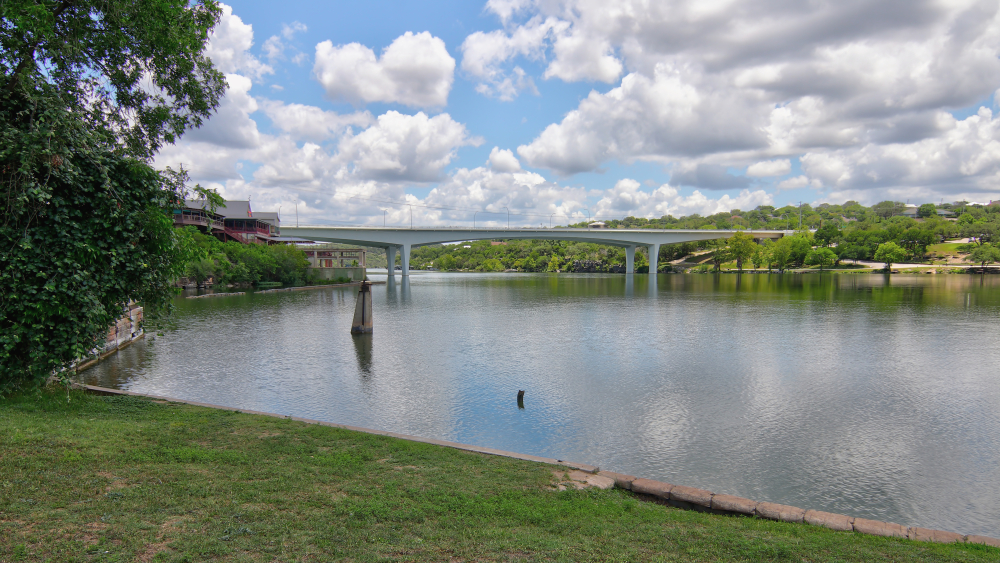 Lake Georgetown
For one of the best lakes near Austin, Lake Georgetown has to be on the list! A reservoir along the San Gabriel River, this lake is perfect for outdoor enthusiasts! Created by the Army Corps of Engineers in 1979, the lake provides a source of drinking water and provides flood control for the nearby city of Georgetown.
This 1200 acre lake provides plenty of space for boating, skiing, and fishing. With four separate camping areas, almost twenty miles of hiking trails, and a wildlife preserve, Lake Georgetown has so much to offer! The fishing in Lake Georgetown is some of the best along this section of the San Gabriel River. With largemouth bass, flathead, and channel cat!
For RVers, nearby Jim Hogg park has hookups and restrooms with showers. If you are looking to have a more lowkey experience (or do not own an RV), Tejas Park offers primitive camping! Advance reservations are required for entrance to all Lake Georgetown Parks!
Whether you are camping for the weekend, spending the day kayaking, or just laying out on the shore reading a good book, Lake Georgetown is one of the best lakes around Austin!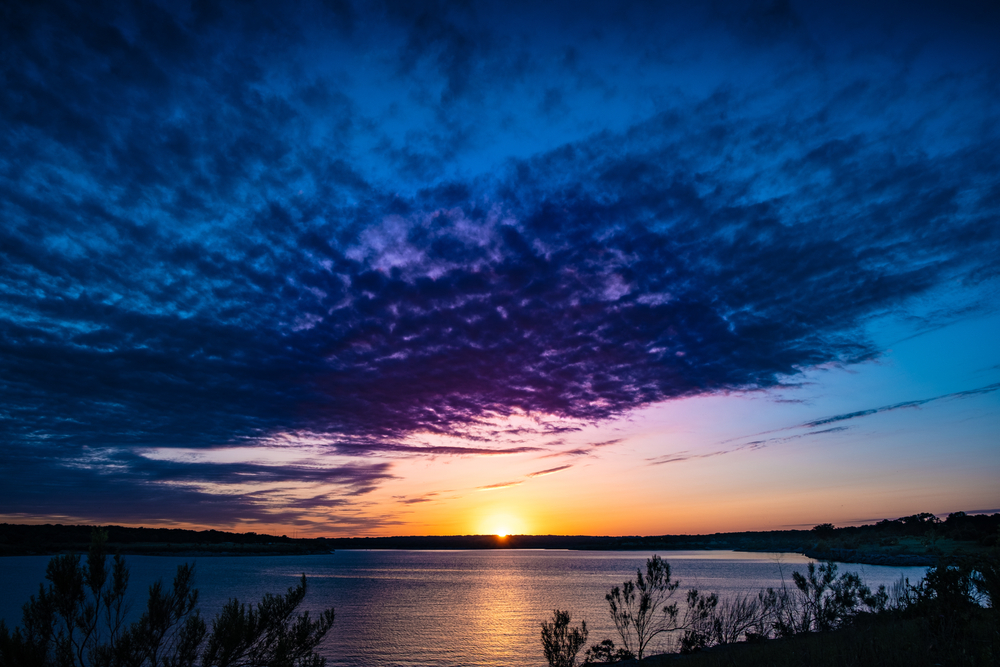 Lake Pflugerville
Lake Pflugerville is one of the best lakes in Austin to swim! If you are looking for an easy day trip from Austin, Lake Pflugerville is the place to pick! With fishing, swimming, canoeing, kayaking, and wind surfing, there is plenty to keep you and your group busy!
With a mean depth of ten feet and a max depth of 36 feet, Lake Pflugerville is on the shallower side. Constructed in 2006, this reservoir on the lower Colorado River is fairly new, but it has already earned a spot as a favorite for locals! The adjacent Lake Pflugerville Park completed in 2010 is the cherry on top!
Although its main purpose is to provide water to locals, recreational activities abound! With a three mile long hiking trail (that doubles as a bike trail) there is plenty to do inside and outside of the water! As host to the Lake Pflugerville triathlon, you have the option to do all three: run, bike, and swim!
Only thirty minutes outside of Austin, this is the perfect spot for a lake day! Pack a picnic, bring the sunscreen and some towels, and spend the day enjoying one of the greatest Austin area lakes!
Lake Walter E. Long
Lake Walter E. Long is one of the best lakes in Austin for sports! Only 25 minutes away and open from 8am to 7pm, this lake is perfect for all your outdoor activities. At 1200 acres, there is plenty of room for everyone!
Different than the previous reservoirs, Lake Walter E. Long is a power plant cooling reservoir along Decker Creek. Managed by the City of Austin, the lake provides water for turbines used in the production of electricity! The lake is also used as a training spot for United States soldiers to conduct airborne and water rescue drills.
Renowned by the local fishing community this lake offers both abundance and variety for fishermen! With populations of both large mouth bass and hybrid stripe bass. The lake is known to be the location for fishing tournaments!
Many people come to spend the day boating, jet skiing or swimming! On land there are picnic areas, grills, walking and biking trails! Notably there are also a couple of sand volleyball courts! Lake Walter E. Long Metropolitan Park offers playgrounds and restrooms as well!
Lake Walter E. Long is one of the best lakes in Austin!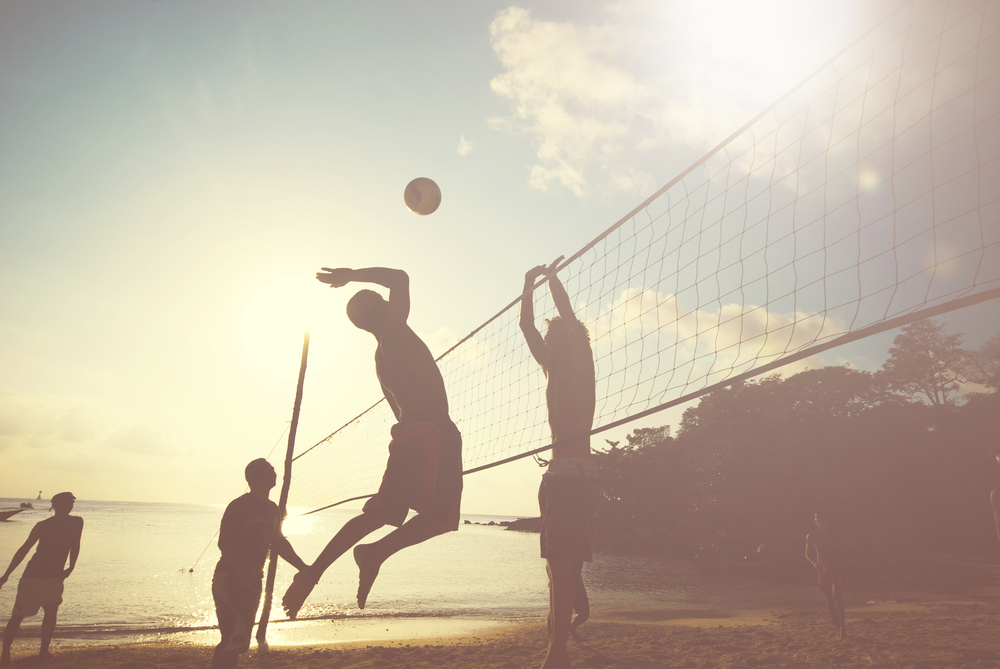 Lake Kyle
Lake Kyle is the one of the most relaxing lakes in Austin! Located less than 30 minutes from Austin, Lake Kyle has all the makings of a great day on the water! Located in the town of Kyle, which is one of the fastest growing cities in Texas.
Although you are not allowed to swim in Lake Kyle, there is still plenty to do! The four Nature Trails, using four different types of terrain, totaling four miles (lots of fours!) means that there will be something for everyone. The trails have different color post markers to keep you on the right one!
There are also boat ramps and fishing piers for those that want to try their luck fishing in Lake Kyle! The catfish prefer worms and shrimp, whereas the bass seem to favor the plastic worms and action lures! As Texas heats up for the summer, the fish tend to find the shade too! A shady bank will bring you more catches! Lookout for posted signage about whether you can fish, catch and release, or not fish at all!
Because Lake Kyle is a calmer lake, you are more likely to see wildlife in the area around the lake. Lake Kyle is one of the best lakes near Austin for a more low key experience!
Lake Lyndon B. Johnson
More commonly known as Lake LBJ, Lake Lyndon B. Johnson is one of the best lakes near Austin! A reservoir on the Colorado River in Texas Hill Country, Lake LBJ is a little further at 45 miles outside of Austin, but it's worth the drive!
With its consistent water level, Lake LBJ is a popular destination for weekenders looking to boat, wakeboard, water ski, sail, fish, and so much more! Since it does get busy with boats, they recommend swimming in the coves and sandy beaches along the lake for your safety. But once you find a safe spot, it really is one of the best lakes in Austin to swim!
Being one of the larger lakes, Lake Lyndon B. Johnson is popular with the boaters. Whether you have powerboat, sailboat, yacht, pontoon boat, there is room for you at Lake LBJ. There are also a handful of yacht clubs to choose from. With both rental agencies and sales agencies surrounding the lake, you could be a temporarily or permanently live that lake life!
For a longer trip, there are cabins and vacation homes surrounding the lake for rent. Lake Lyndon B. Johnson is one of the best lakes near Austin for a boating adventure!