Planning a trip down south and looking for one of the cutest cottages in Texas to enjoy your stay? We've done the work for you and have found the best that Texas has to offer!
Many know Texas for its large cities and sweeping countryside. Throughout the state, there are numerous enchanting cottages that offer something for everyone!
There are cottages on beaches, on lakes, just outside the cities, and on the countryside. We have taken the time to find the best that VRBO has to offer so that you can focus on planning your time there.
Our list covers a range of prices to suit both the budget traveler and the luxury-seeking sightseer. Whether you are looking for something for a romantic getaway or vacation with the family, we have something for you.
There are several adventures to be had in Texas. Let us help you choose one of these charming cottages to ensure that you enjoy your stay!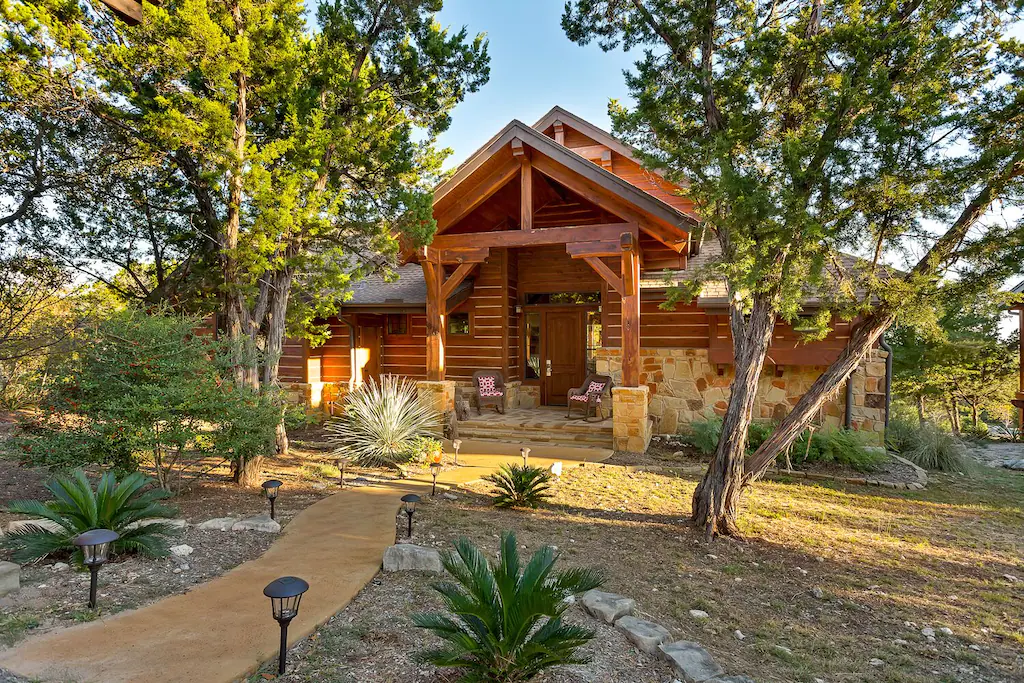 15 Cutest Cottages in Texas
Birdhouse Cottage
This country-style cottage is one of many lake cottages in Texas and boasts a relaxing atmosphere.
Birdhouse Cottage is a 1 bedroom, 1 bathroom cottage with a full-size bed and sleeper sofa. In addition, the cottage has a smart TV with all major streaming services, a kitchenette, and a standing shower with two sinks.
The lake just steps away from the cottage. Guests can enjoy the covered deck, take the kayak out for a cruise, or play on the lily pad. The lake is also excellent for fishing and swimming.
Guests also have access to a cornhole game, a ladder ball, and a giant Jenga. Perfect for family time!
Pace Bend Park and El Gaucho Winery are only a few miles away! The Texas Hill Country Galleria is just 15 minutes away and filled with shopping and restaurants. There's also lakeside dining at the Lighthouse Restaurant that is only 5 minutes from the property.
Looking for more room? There are three additional cottages to rent for larger families or gatherings. Visitors are sure to enjoy these cottages in Texas!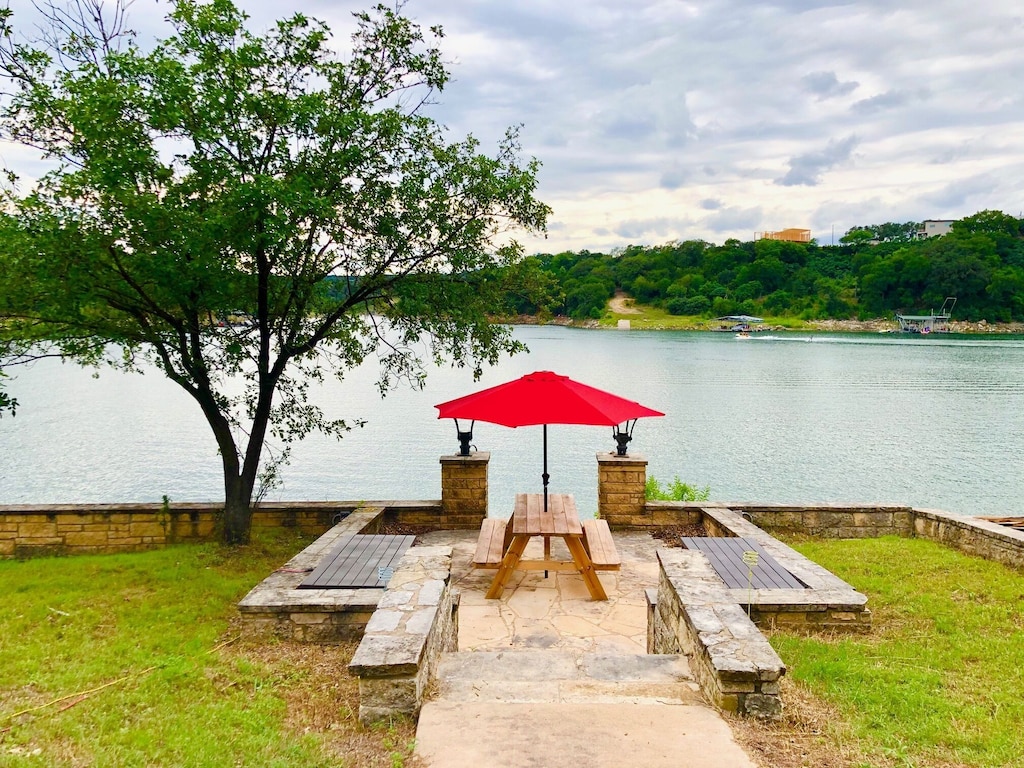 Rustic Western
This newly built guesthouse is one of the cottages in Texas that has an Old Key West feel. Sleeping up to 3 people, there is 1 bedroom and 1 bathroom.
Enjoy the large covered porch and watch the quail and other wildlife on the property. Guests also have access to view the livestock on the property.
After a long day, relax around the charming fire pit or soak in the hot tub under the stars.
For those that love to grill, there is a gas grill available. You can even barbecue over the fire pit.
Although located in rural Texas, the cottage is only minutes from downtown! Guests have quick and easy access to restaurants and shopping.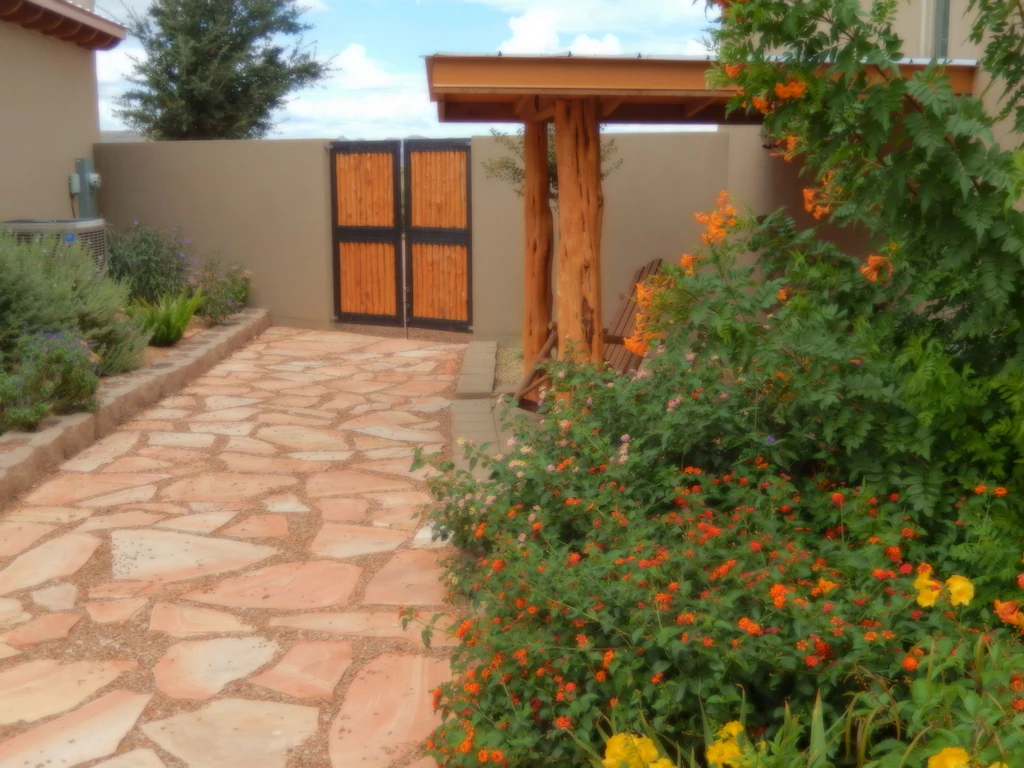 Waterfront Cottage
The Waterfront Cottage is a two-story cabin that sits on three lots of grass that is only feet from a beautiful sandy beach! Featuring 1 bedroom and 2 bathrooms, this cottage sleeps up to 6 people.
There are plenty of activities for guests to enjoy. Outside, there is a covered porch and a deck for guests to enjoy. A hammock for relaxing, a gas grill, two kayaks, and a pedal boat are also provided.
There are a number of restaurants available within a short drive. There is also a large grocery store that is only 5 minutes away.
This property is located between Huntsville and Livingston which means numerous antique shops in both directions!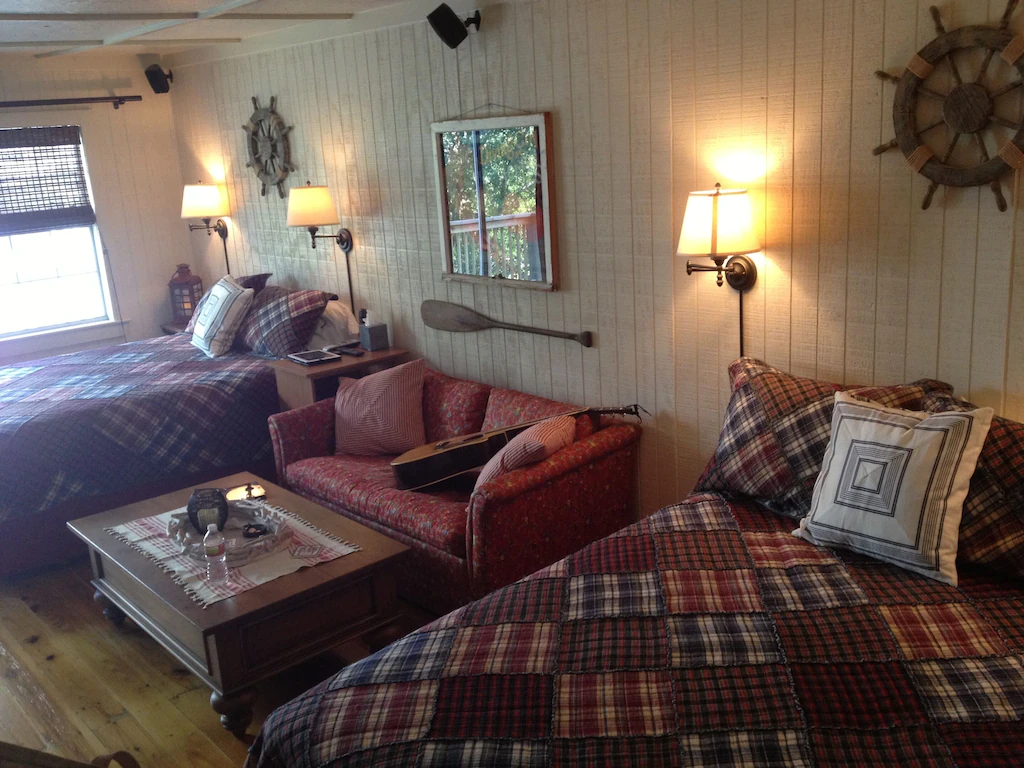 Firefly Cottage
Looking for one of the larger cottages in Texas? The Firefly Cottage located in Lake Granbury, Texas, easily sleeps 8 people! It's perfect for a romantic getaway or a relaxing vacation with loved ones.
The 3 bedroom, 2 bathroom home is a waterfront property in a private, gated community. It features a large deck that overlooks the serene lake that is perfect for fishing and jet skiing.
There are a number of activities guests can enjoy. The covered deck easily accommodates 15-20 people for parties and gatherings. The fire pit and grill are perfect for gatherings. In addition, there is a rope swing and paddle boat. Be sure to enjoy the charming sunsets from the wrap-around porch.
In addition to the private boat dock, there is also a private marina and cafe in the harbor to launch a boat for free.
Like other lake cottages in Texas, this rental is located right outside the city so guests have numerous ways to enjoy their stay. There's hiking, biking, swimming, shopping, golfing, and shopping. You are your guests are sure to have an amazing time!
SeaOats
One of the high-end cottages in Texas, the quintessential SeaOats is perfect for a romantic getaway!
The rental is the epitome of comfort and luxury and boasts high-end finishes, red oak flooring, Texas pink granite, and stainless steel appliances.
No children are allowed. So this is the perfect place for couples to get away and rejuvenate!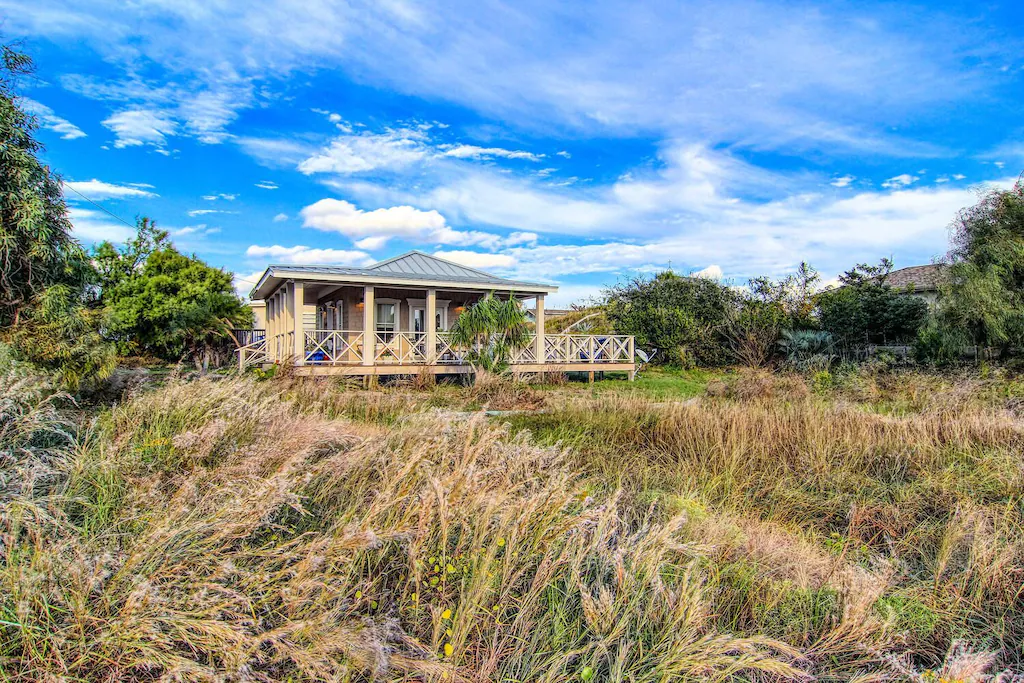 Romantic Getaway for Two
Have you and your plus one been looking to enjoy one of the beach cottages in Texas? This rental located in Surfside Beach, Texas, is definitely what you are looking for!
The cottage has high ceilings, lots of windows, and luxurious fixtures.
Only a short walk to the beach, this property has unobstructed water views. Relax on the deck and enjoy the serene views.
Another bonus: you will have a bottle of wine waiting for you upon your arrival!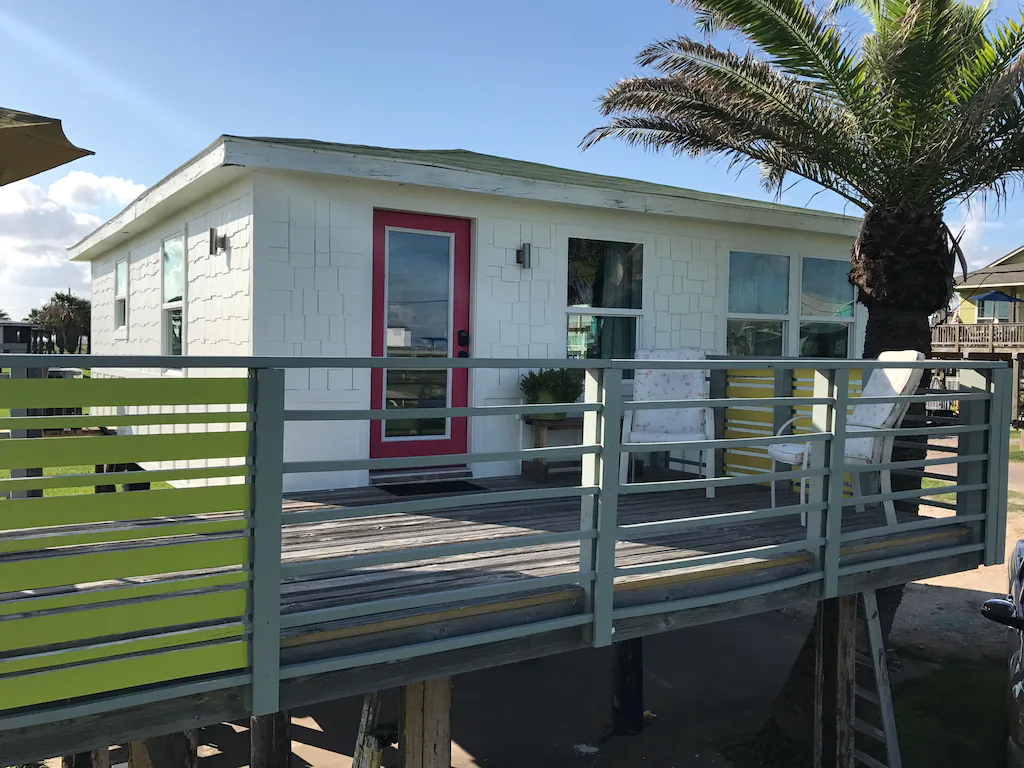 Fishing Cottage
The Fishing Cottage is perfect for our budget-friendly friends that are looking to spend much of their time outdoors.
Located on the gorgeous Arroyo Colorado River, this rental is one of the cottages in Texas that is a part of the intercostals waterway.
A favorite of the guests that have visited is watching the sunset from the back porch. Lights align the porch, neon lights align the dock, and the view of the water, while the sun goes down, is priceless.
There is a dock that is perfect for fishing tarpon, redfish, snook, and trout. It's also perfect for sightseeing. Be sure to keep a lookout for the dolphins that travel through!
Guests can also travel by boat to the Bay in 10 minutes and to South Padre Island in less than an hour. If you do not have a boat, the owners happily provide contact information for professional fishing guides.
Since the cottage is located close to the Laguna Madre, there is plenty to do.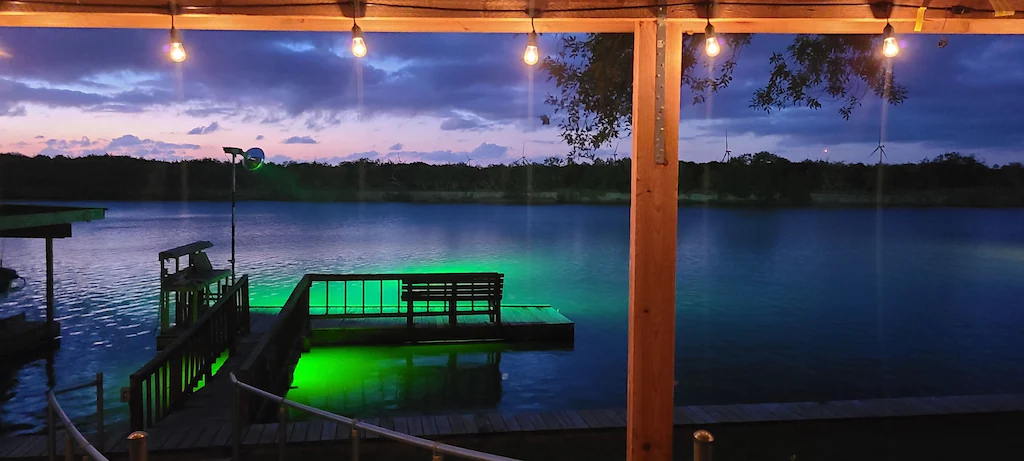 The Pineapple Cottage
As one of the cutest cottages in Texas, the Pineapple Cottage is described as being synonymous with Southern hospitality.
This cottage is located in the beautiful and serene neighborhood of San Jacinto. With 2 bedrooms and 2 bathrooms, this rental sleeps up to 7 people comfortably.
The beach is located only 3 blocks away! An off-road wagon is provided to help you transport the assortment of beach gear, accessories, and chairs that are also provided. When you return from the beach, wash off using the outdoor shower.
On days when guests want to chill at the house, a charcoal grill, blender, and Bluetooth speaker are available for enjoyment!
Looking for additional space? There are additional Texas beach cottages next door for you to rent!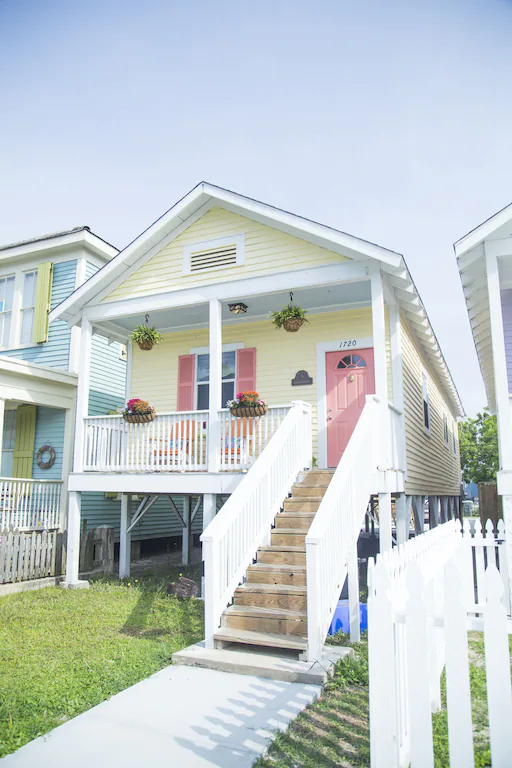 Guadalupe Lazy Days Riverfront TreeTop Cottage
Looking for the perfect cottage that offers nonstop fun and adventures? Look no further! One of these cottages in Texas is the way to go. The Guadalupe Riverfront is perfect for you.
Located in Center Point Texas, the cottage can sleep up to 6 guests. You can book up to 4 of these cottages making them perfect for holidays, reunions, and relaxing retreats!
The treehouses share a common deck and are located next to the river. Swimming, tubing, and kayaking are within steps of your accommodations. You also have access to an extensive river trail!
Schreiner State Park is located nearby where you can enjoy nature, take a walk, or wind down from a day of swimming.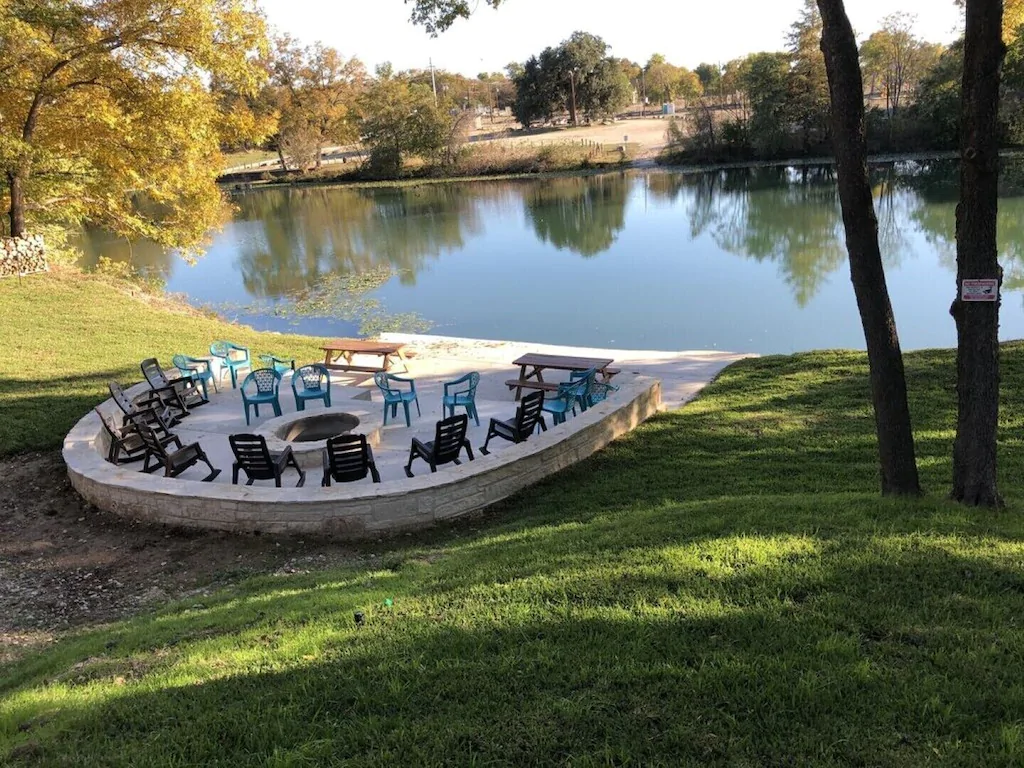 Beautiful Cottage with Awesome Hill Country View
This captivating rental is one of the cottages in Texas that boasts a breathtaking view of the Hill Country.
Sleeping up to 8 people with 3 bedrooms and 2 bathrooms, this cottage has a rustic Texas-style furnishing. There is a beautiful, grand fireplace, spacious living area, and kitchen.
Guests can use the hiking trails that are available right outside the backdoor! Walking to the Lake Front beach is also a guest favorite.
Furthermore, a restaurant, swimming pool, spa, volleyball area, and fitness center are available for guests in the neighborhood.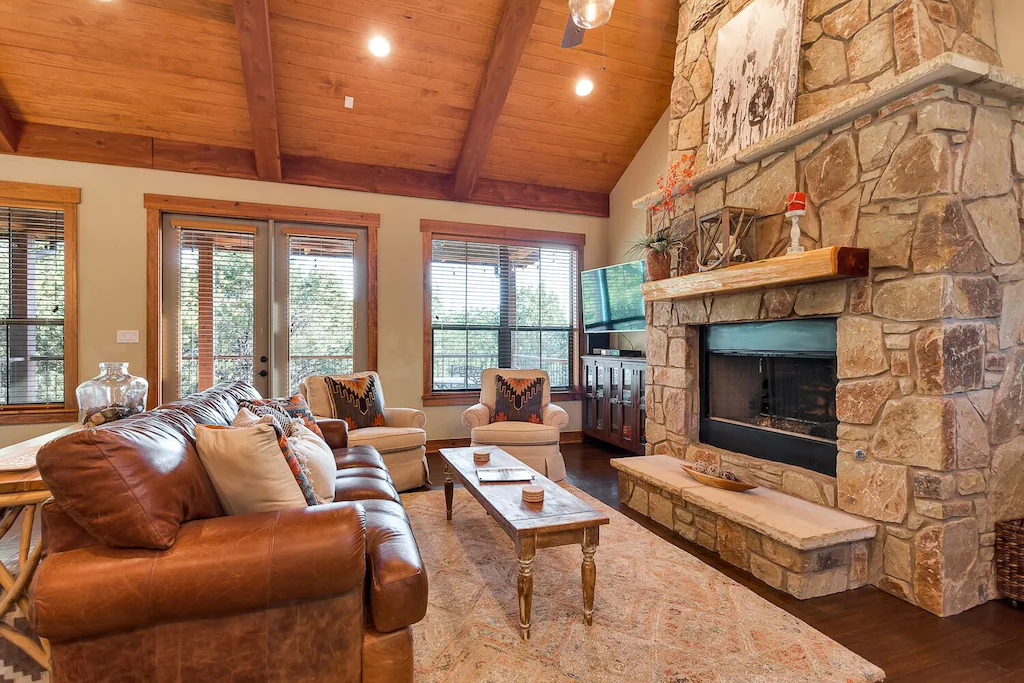 Comfort Cottage with Patio
Spend your days at the Bent Oak Cottage relaxing on the sunny patio! And spend your nights telling stories and making memories around the fire pit.
With 4 beds and 3 full baths, this rental sleeps up to 7 people comfortably. Key features include a fully equipped kitchen, washer and dryer, outdoor grill, large windows, free Wifi, 4 flat-screen TVs, and ample parking.
This charming cottage is one of the cottages in Texas that is located in the beloved Hill Country. So pack your outdoor gear to enjoy the outdoor patio area, hunting, glamping, and fishing.
Guests are in walking distance of historical downtown with access to an antique mall, restaurants, and wineries. The town has numerous festivals throughout the year that are family-friendly and packed with fun. Be sure to look up activities for when you visit!
Another bonus: San Antonio and Dallas are only 1-2 hours away! A day trip to one or both of these cities is also an option.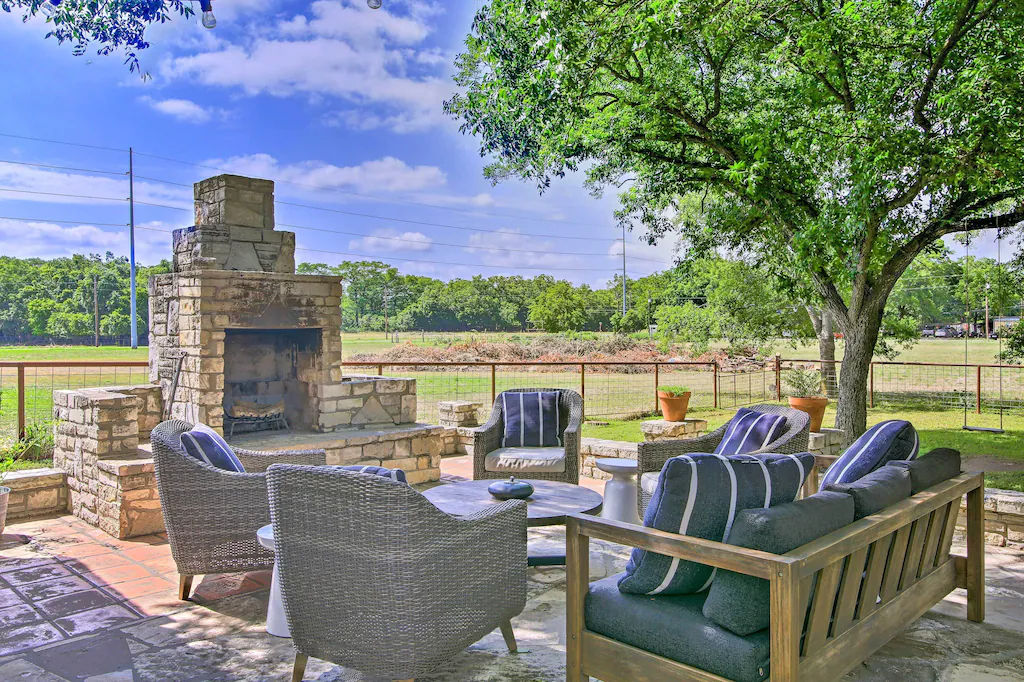 Rustic Cottage with Hill Country View
As one of the pet-friendly cottages in Texas, this rustic cottage at Hollows Resort is perfect for families and animal lovers!
This home offers 3 bedrooms and 2 bathrooms. Some of the amenities are deluxe linens, a wood fireplace, a playpen and baby bed, a fully equipped kitchen, Wifi, and more!
Enjoy incomparable views of the Hill Country from the covered balcony or the outside entertainment area that include a grill and fire pit.
A restaurant, large fire pit, entertainment area, swimming pool, spa, volleyball area, and fitness center are available for guests in the neighborhood.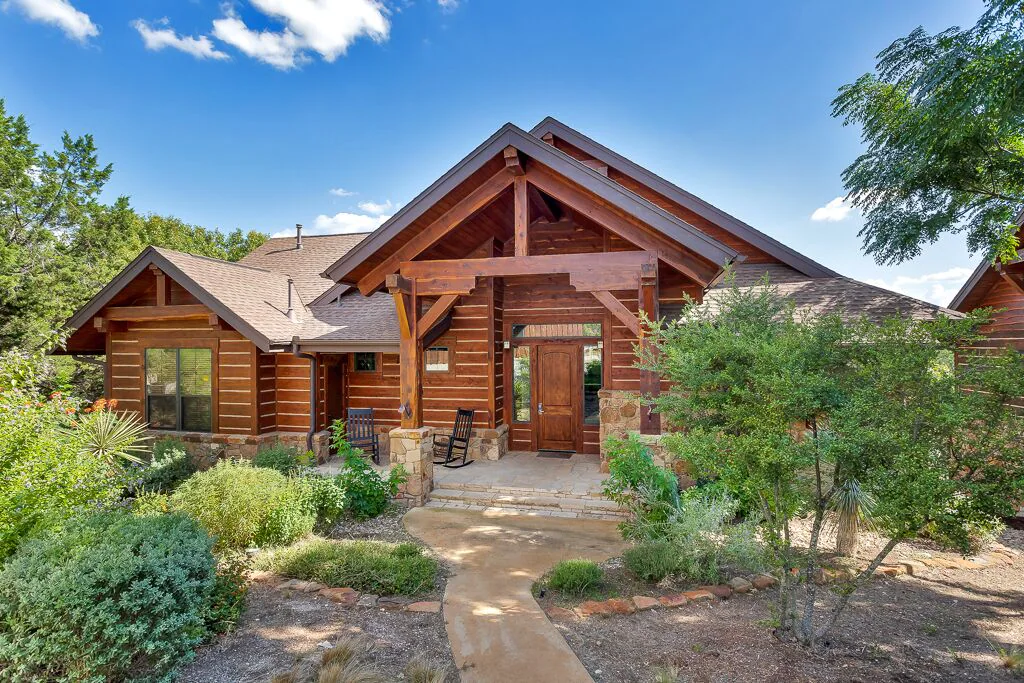 Luxury Cottage
Looking for a grand stay? This Luxury Cottage is another one of the cottages in Texas that is located at Hollows Resort.
Recently redecorated, this cottage in the woods has 3 bedrooms, a guest suite above the garage, and 5 baths. It is ideal for a family getaway!
The home offers a large living area and full kitchen that is perfect for entertaining and enjoyment.
Relax on the oversized covered porch that as ample seating and views of the forest. Enjoy the fire pit deck with large seating furniture and a stainless gas grill.
Take a walk on the hiking trail that is right outside your door. You are sure to relish in the views!
Later, guests can spend time together at the Resort Beach Club Grill restaurant, 2 swimming pools, 2 spa/hot tubs, play volleyball, walk to the Lake Front beach, or workout at the fitness center.
The Texas cottages on Hollows Resort are sure to offer something for everyone!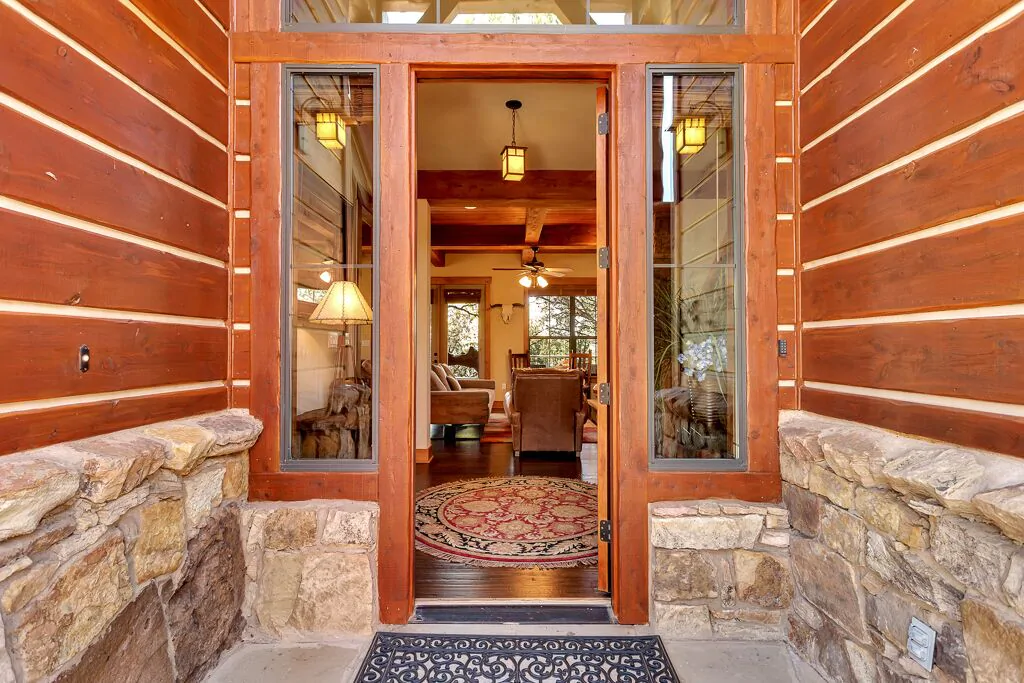 Charming Costal Cottage
Are you a lover of beach cottages in Texas? Only 5 blocks from the beach, the Charming Costal Cottage is perfect for those that want to experience the beautiful, historic district of Galveston!
With 2 bedrooms and 2 bathrooms, this rental sleeps up to 6 people. For those that love the outdoors, there is a covered front porch, back porch with outdoor furniture, a bar with seating, a patio with a fire pit, gas grill, private yard, and tropical landscaping.
Indoors guests will find a fully equipped kitchen, dining area, spacious living area, and top-of-the-line amenities.
The location of this cottage is one of its biggest perks. Enjoy your favorite beach activities at one of the numerous beaches that are within 5 miles of the property.
The city of Galveston also boasts several attractions for visitors to enjoy. Visit the Galveston Island Historic Pleasure Pier or the Ocean Star Offshore Drilling Rig and Museum. The popular Schlitterbahn Waterpark is a must for those that love adventure!
Shopping, restaurants, bars, parks, kid-friendly activities, and museums are at your fingertips. Enjoy one of the best-known cottages in Texas for its location.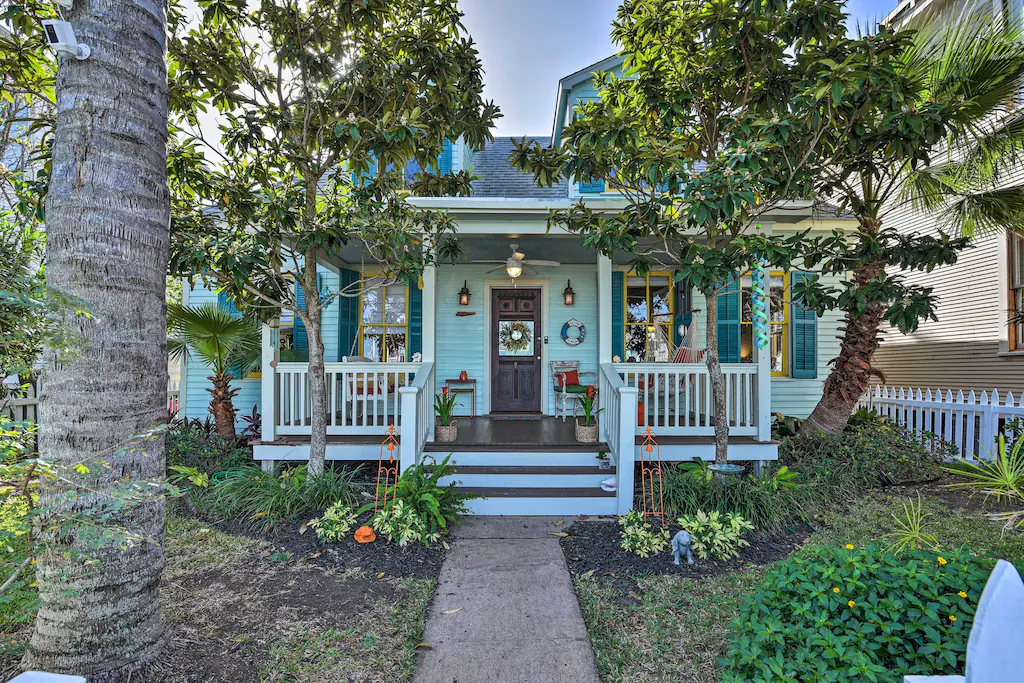 Charming Country Cottage
Old-fashioned charm meets modern-day amenities in this Country Cottage. Complete with 2 bedrooms and 1 bathroom, this home sleeps up to 4 people.
The renovated bungalow boasts bright living spaces, a private yard, and the perfect location. It's only steps away from mom-and-pop shops, year-round festivals, and authentic, Texas restaurants.
Houston is only 33 miles away. Spend the day visiting the Downtown Aquarium, The Children's Museum of Houston, Houston Zoo, Minute Maid Park, and much more!