If you are looking for the most fun and unique things to do in El Paso, Texas, look no further!
El Paso is found on the far western side of the state right on the border with Mexico. This is a lively city rich in Mexican culture and history. If you are planning a trip to El Paso, you are in for a great time!
From beautiful, natural parks to amazing architecture to a large dose of art and culture, El Paso really has everything you need for a fantastic Texas vacation.
Whether you are visiting as a family, for a couple's getaway, or a friends' weekend, you are sure to make lasting memories! Make sure to charge your camera battering to capture every moment and lather on the sunscreen to avoid a burn in this desert city.
Now, get ready to write the best El Paso itinerary including some of these great El Paso attractions!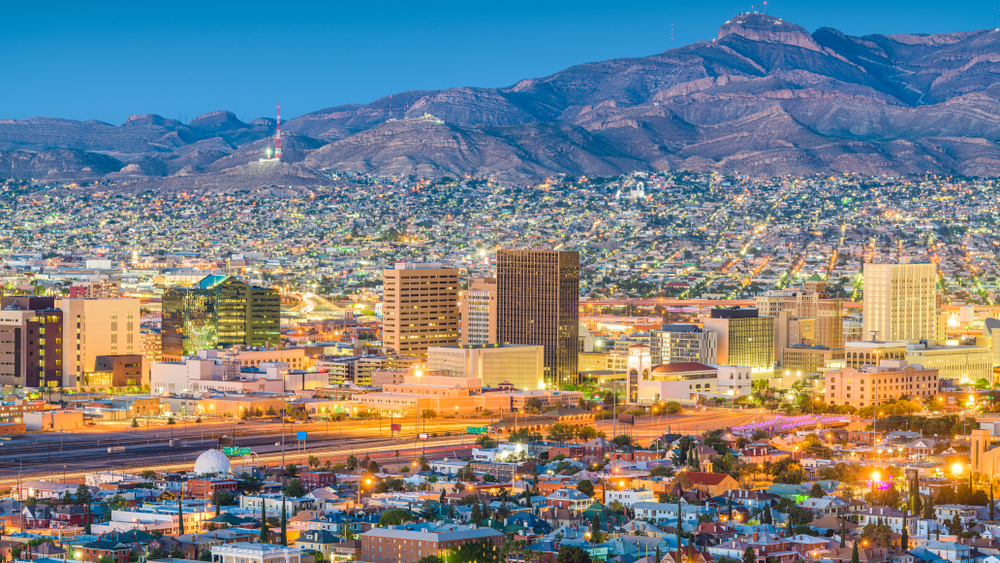 15 Best Things To Do In El Paso You Shouldn't Miss
Get Inspired at the El Paso Museum of Art
The El Paso Museum of Art is one of the best things to do in El Paso for art lovers. Admission is free (with a recommended donation) so it is also a budget-friendly attraction.
There are over seven thousand pieces from many time periods and countries. No matter what kind of art style you enjoy, you will find something to inspire you. Paintings, photographs, sculptures, and more fill the halls.
Kids will enjoy this museum as well since there are interactive activities and classes where they can make their own art. Even adults can get in on the fun with their own workshops and classes.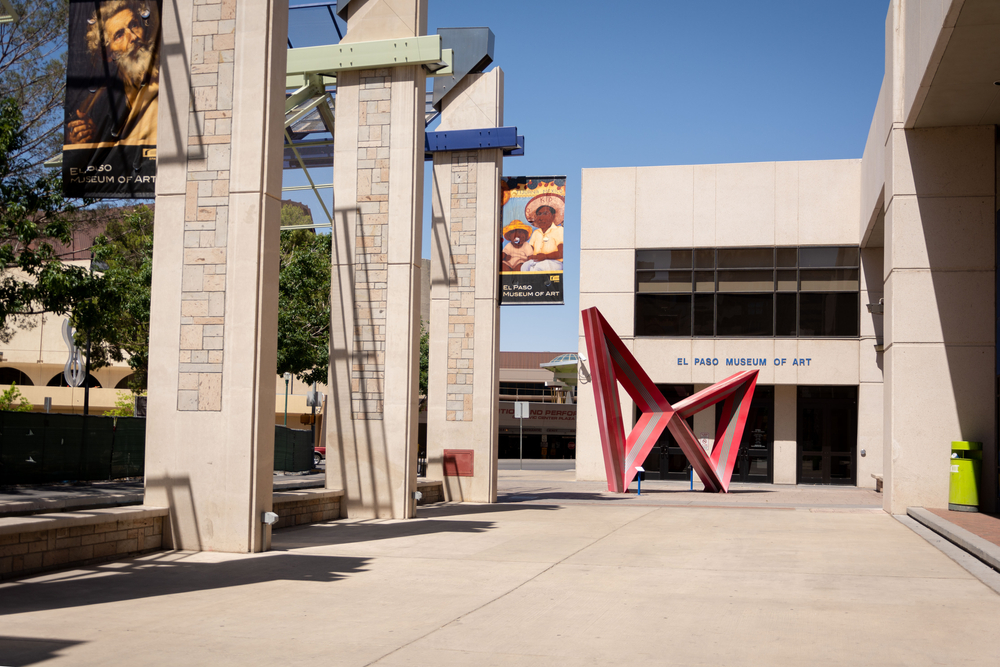 Hike in Franklin Mountains State Park
If the mountains are calling, then you must go to the Franklin Mountains State Park. This nature area is only a short drive from the city and with over 27,000 acres to explore, you can easily spend a day here in the great outdoors.
There are over one hundred miles of hiking and mountain biking trails with scenic views. Stay safe and prepared for the desert environment by wearing good hiking shoes, wearing sunscreen, and packing plenty of water. Stay on the designated trails to protect the flora and fauna.
If you are into rock climbing, bring your equipment to McKelligon Canyon or Sneed's Cory. Anyone who likes roughing it will want to bring a tent to the simple campsites. This is also a great place for bird watching.
Learn at the El Paso Museum of History
Another great museum in El Paso is the El Paso Museum of History. This museum is dedicated to preserving the region's multinational history. If you really want to learn about the culture and unique perspective of El Paso, Texas, then you need to make a stop at this museum.
The extensive museum has over ten thousand artifacts that cover over a thousand years of regional history. The Changing Pass: People, Land & Memory is a cool exhibit that walks you through the entire history of the city starting with Indigenous settlers.
This El Paso attraction will interest visitors of all ages. There are cool, interactive displays and fun workshops. There are also rotating exhibits so you can come back again and again.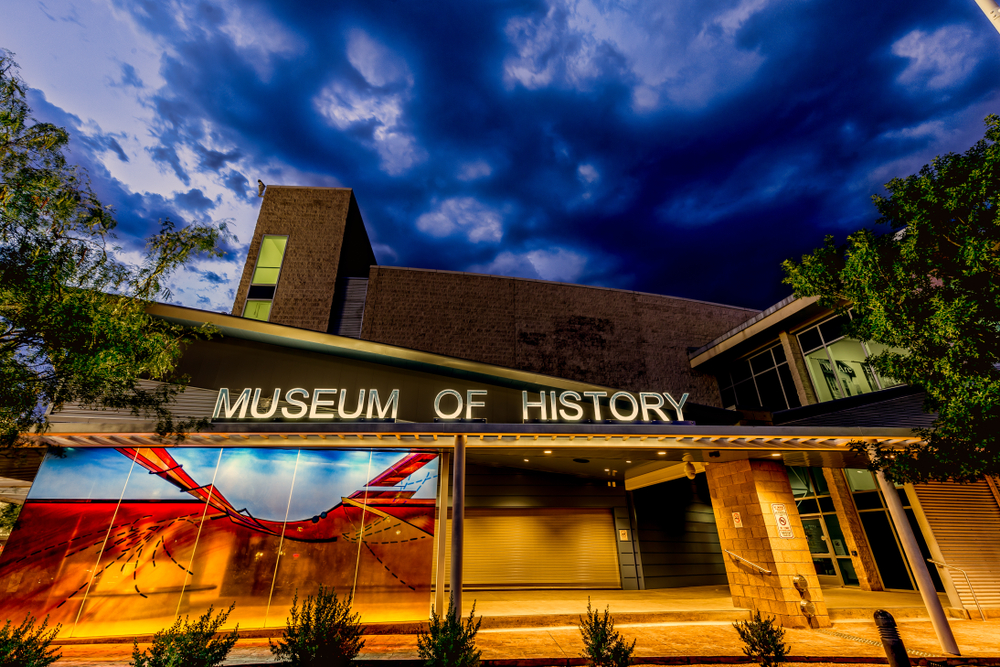 Visit the Magoffin Home State Historic Site
The Magoffin Home was built in 1875 and is on the National Register of Historic Places. Take a tour of the large and grand home and see where the multicultural Magoffin family lived and helped with American expansion.
The Magoffins lived in this home for over a hundred years! Family members were an integral part of history in the area. They served during the Mexican–American War, the American Civil War, the Spanish–American War, and both World Wars.
The rooms are still furnished with some of the original, Victorian furniture and decor. This home is also a great example of Territorial style architecture.
Become Awed by the Ysleta Mission
If you love beautiful buildings, you need to visit the Ysleta Mission. This is both one of the prettiest Spanish missions in Texas and one of the best things to do in El Paso.
Dating back to 1682, the Ysleta Mission is the oldest mission in Texas. It was built by Tigua Indians and is now a historic landmark. You can also visit the nearby Tigua Indian Cultural Center for more history.
If you visit El Paso in July, you can enjoy the annual Ysleta Mission Festival. This three-day event celebrates the culture of the El Paso valley with food, music, and art.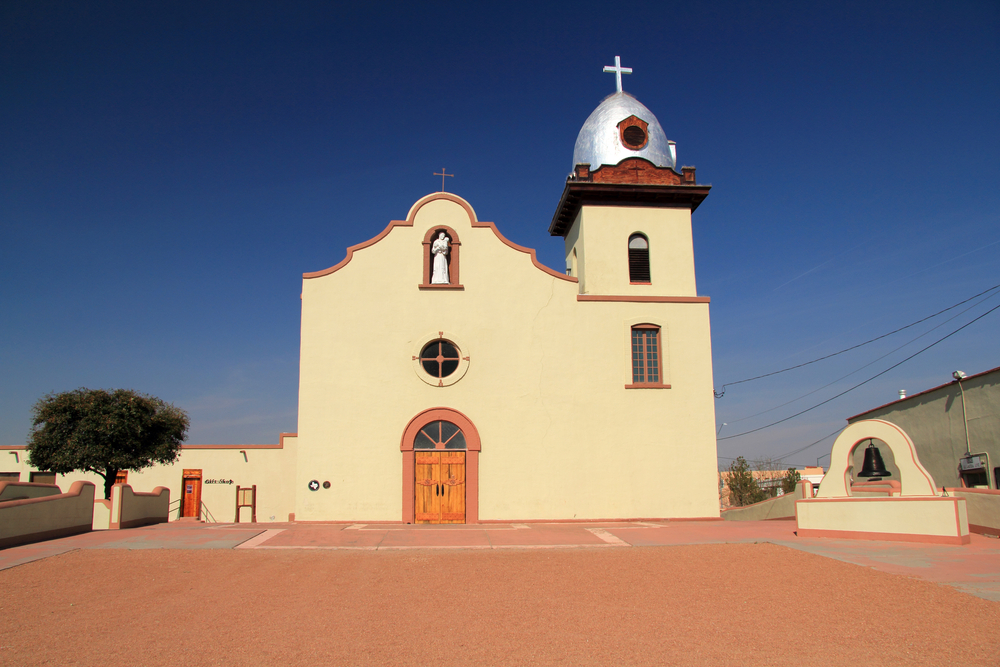 Have Thrills at the Western Playland Amusement Park
Western Playland Amusement Park is twenty-five acres is thrills and excitement. There are rides for all ages, including classics like a merry-go-round and bumper cars. The Tsunami roller coaster ends with an epic seventy-foot tidal wave, perfect for cooling off on a hot day.
You can either pay by the ride or pay for a day pass based on the height of the person. Taller people have access to the more thrilling rides. This park is technically just over the border in New Mexico, but it is very close to El Paso.
No outside food is allowed in, but you will have no trouble getting something to eat at the food stands. Options include American classics like hamburgers, nachos, and hot dogs. Just be careful not to eat before hopping on the tilt-a-whirl!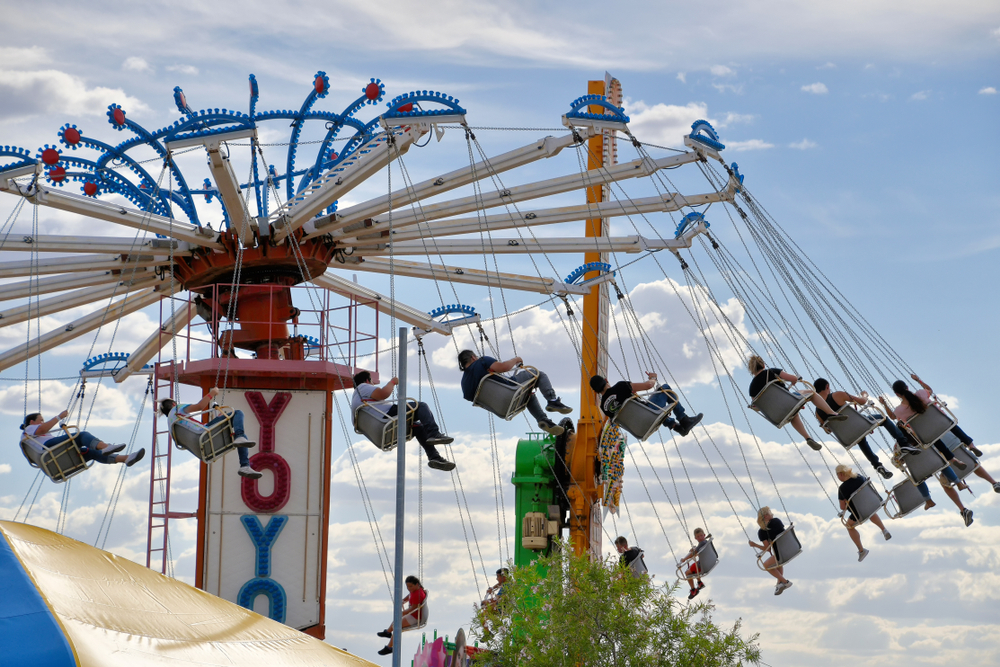 Photograph the San Elizario Chapel
The San Elizario Chapel is another church on the Mission Trail. It is found a few miles south of El Paso. It is next to the San Elceario Chapel and the Old El Paso County Jail Museum so you get three cool, old buildings all in one place.
The original church was built in the late 1780s, but the one standing there today dates back to 1877. If you are looking for historic and beautiful places near El Paso, Texas, to photograph, then you have to visit this Spanish mission.
You will love the stark white color, the round archways, and the olden-trimmed pillars. It is an active parish, so be respectful of that if you come to do a photoshoot.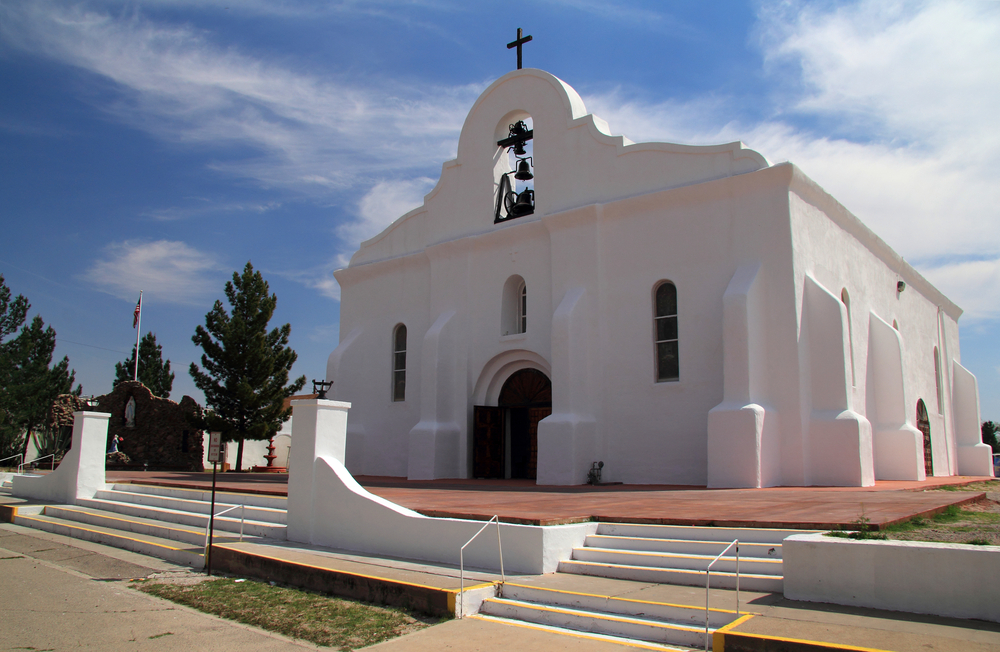 See a Show at the Plaza Theatre
The Plaza Theatre is a staple in downtown El Paso. This photogenic building opened in 1930 and was refurbished in 2006. The theatre is absolutely gorgeous inside and out with its Spanish Colonial Revival style.
The front looks like a Spanish Mission. Inside, you will find mosaic tiled floors, wrought iron banisters, painted ceilings, and intricate details everywhere.
Come to the theatre to see a Broadway show, concert, or another cool event. At night, the marquee is lit up with beautiful colors. This is definitely one of the best Instagram spots in El Paso.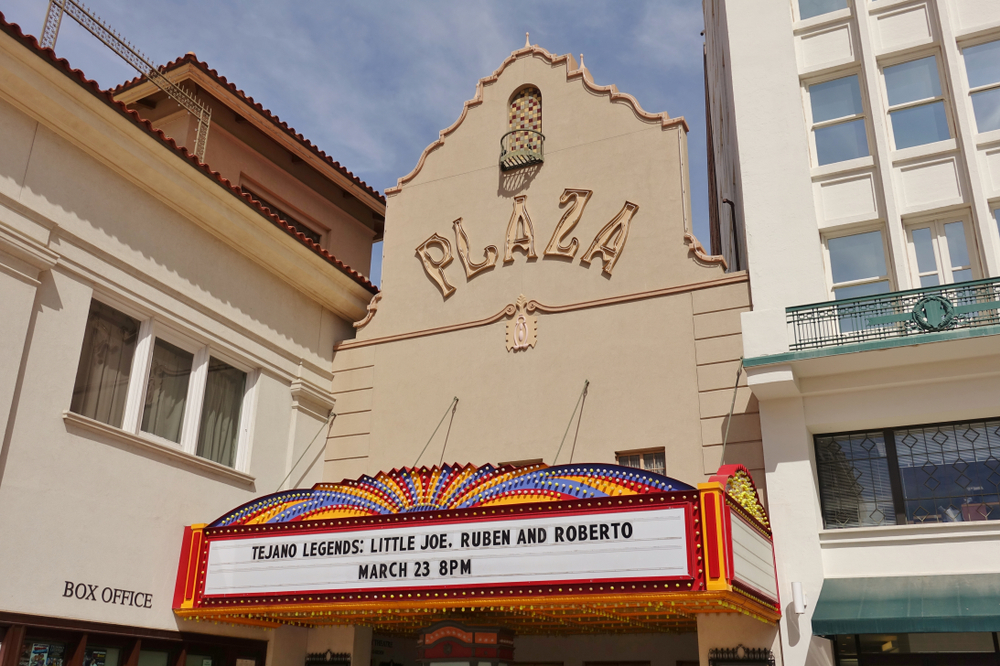 Discover the Unique Sugar House
Speaking of cool Instagram spots, you need to drop by the super unique Sugar House, or Casa de Azucar. In 1973, Rufino Loya took it upon himself to create an art piece for his wife after he retired.
For twenty-five years, he slowly and intricately carved and chiseled the concrete around his home. Parts of the art piece are painted pink and blue. The carvings show off religious, Mexican, and nature themes.
This is such a unique and gorgeous artwork. It is for sure one of the best things to do in El Paso if you love discovering one-of-a-kind wonders while traveling.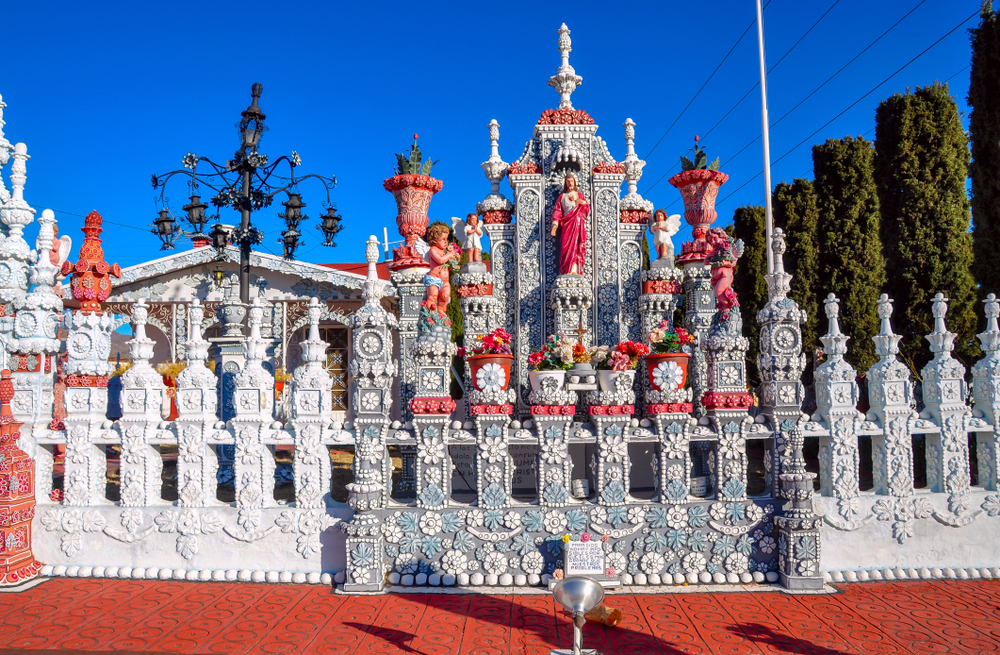 Explore Hueco Tanks State Park
If you want to visit another one of the best outdoor attractions in El Paso, then head to Hueco Tanks State Park. Along with its jaw-dropping nature, this area is historically significant.
As far back as 6000 BC, people came here to collect water from the natural "Tanks" made from rock basins. Pictographs help to date the use of the tanks. There are over three thousand drawings in the area from many different cultures.
To protect the area, access is limited to a certain number of people each day. Make sure to reserve your spot a couple of months in advance! You can do a self-guided tour, but a guided tour will teach you more about the state park.
Along with the tanks, this is a great place to see wildlife. As you hike or camp, you might catch sight of eagles, bobcats, foxes, or reptiles.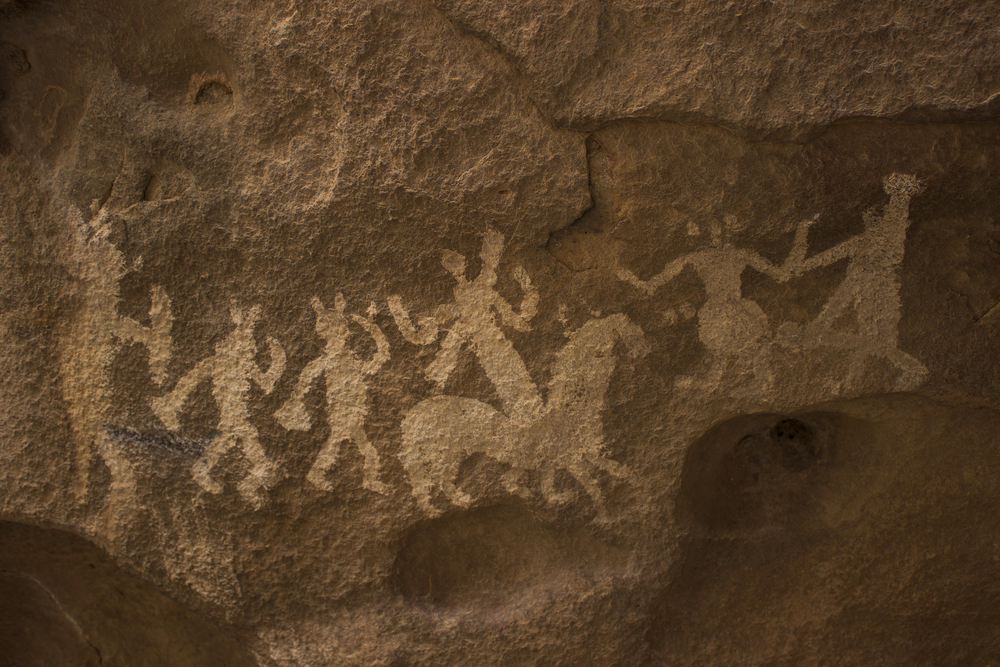 Stroll the El Paso Municipal Rose Garden
The El Paso Municipal Rose Garden opened in 1959 and has grown to be four acres. This is a beautiful and romantic place in El Paso to take a stroll. The fragrant smell of the flowers and pretty colors create a peaceful atmosphere.
There are an outstanding 320 varieties of roses on almost 1,500 individual bushes. The plants are all cared for by volunteers. There are seasonal events, including some for children.
There are plenty of benches to sit and admire the flowers as well as trees to cast shade. The garden also features a koi pond and a waterfall. This is the perfect cheap date idea since admission is free.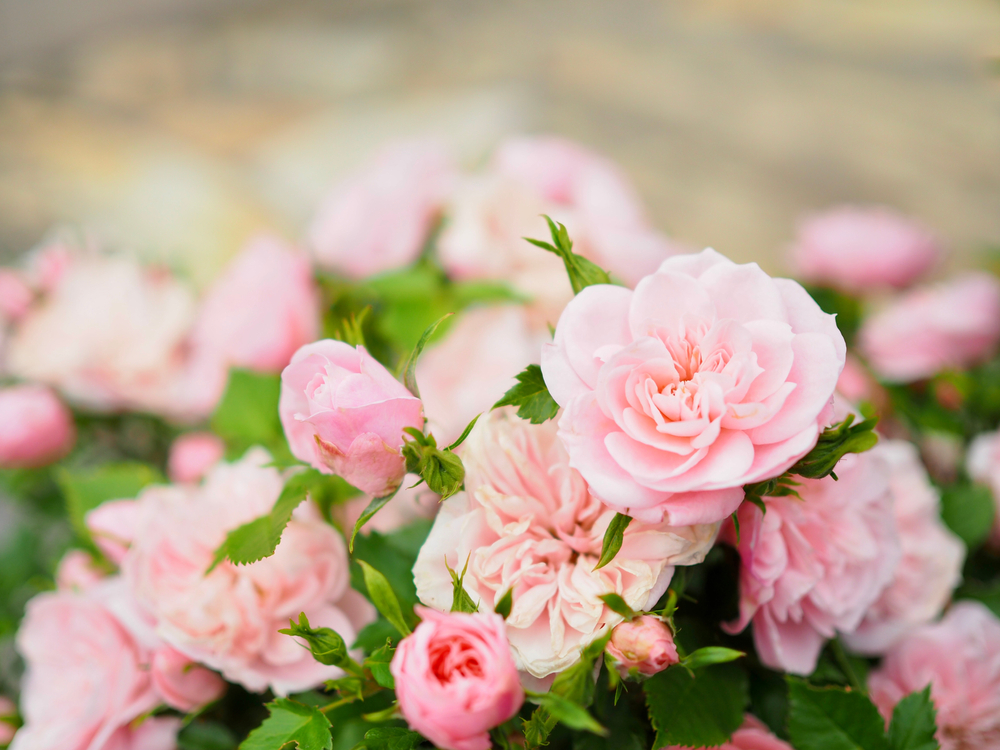 Admire Keystone Heritage Park and Desert Botanical Gardens
If you want to visit another of the gardens in El Paso, then you should check out the Keystone Heritage Park and Desert Botanical Gardens. The gardens are dedicated to the Chihuahuan Desert and are full of a variety of native plants.
If you are a fan of the desert aesthetic, then you will love this park. You will see cacti, yucca, mesquite trees, creosote bushes, and so much more!
There is all a wetlands area which attracts a ton of birds. If you are a bird watcher, you 100% need to add the Keystone Heritage Park to your bucket list. There are over two hundred species of birds that call this place home including some rare species.
Another cool section of the park is the Archeological Site. In the 1970s, purely by accident, a 4,500-year-old village was discovered. This is one of the largest and oldest manmade structures in the U.S. Southwest.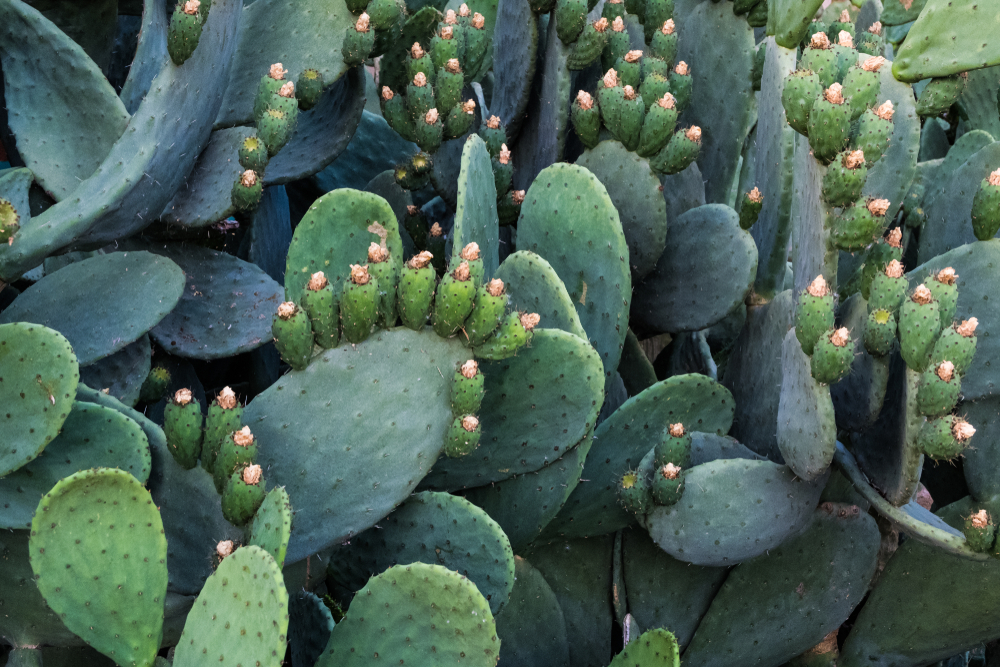 Celebrate Dia De Los Muertos
Since El Paso, Texas, is found right on the border and the city's culture is so interwoven with Mexican heritage, it makes sense that the city hosts a fantastic Dia De Los Muertos, or Day of the Dead, celebration.
While this Hispanic holiday is closely linked to Halloween, it is so much more culturally significant. It is a time to remember and honor the dead.
The city of El Paso and many of the museums come together to put on a top-notch, annual event. There are live performances, craft workshops, and a community altar. The parade is awesome and features floats, performers, and giant marionettes.
The El Paso Streetcar will have themed rides. Celebrating Dia De Los Muertos is easily one of the best things to do in El Paso in late October.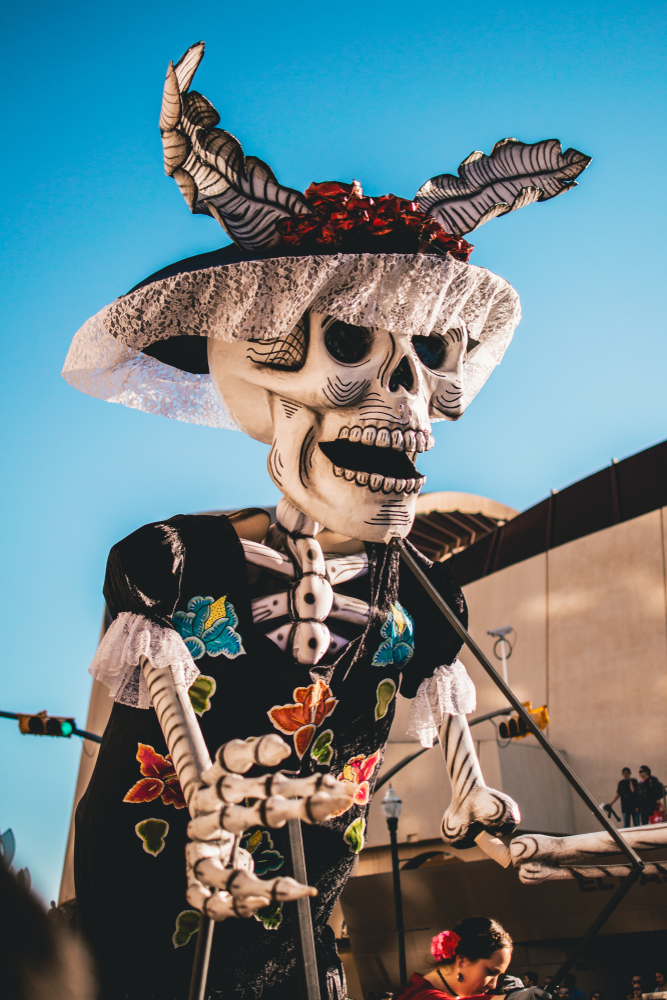 Shop the Downtown Art and Farmers' Market
El Paso's Downtown Art and Farmers' Market is a great place to spend a Saturday morning. Both locals and tourists like to peruse the stalls for handmade crafts and freshly grown produce.
If you are staying in a rental home where you are able to cook, you can pick up some ingredients to make a delicious homemade meal. Even just "window" shopping would be fun.
This is a lively place ideal for soaking in the fun atmosphere of the city. There are often times live music as well. You can spend a little money by shopping small and supporting the local economy.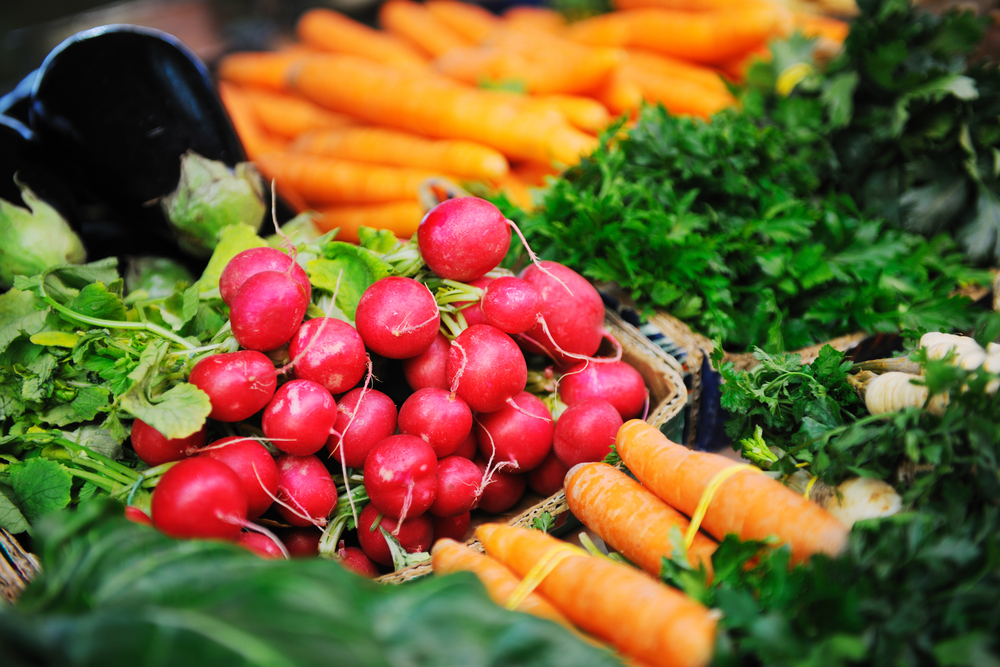 Relax at San Jacinto Plaza
Pack a picnic and head downtown to San Jacinto Plaza. The centerpiece of this park is a fiberglass sculpture of alligators by Luis Jiménez. The sculpture honors the live alligators who once lived in a pond in this same spot in the 1950s and '60s. Eventually, the mistreated animals were removed and taken to the El Paso Zoo.
Today, the plaza is a great place to bring the kids for some outside time. There are paths and bridges to walk as well as a cafe to grab a snack.
If you feel like playing a game, there is an area for ping-pong and also chess tables. You don't want to miss out on this El Paso attraction since it is not very touristy, and you will feel like a local.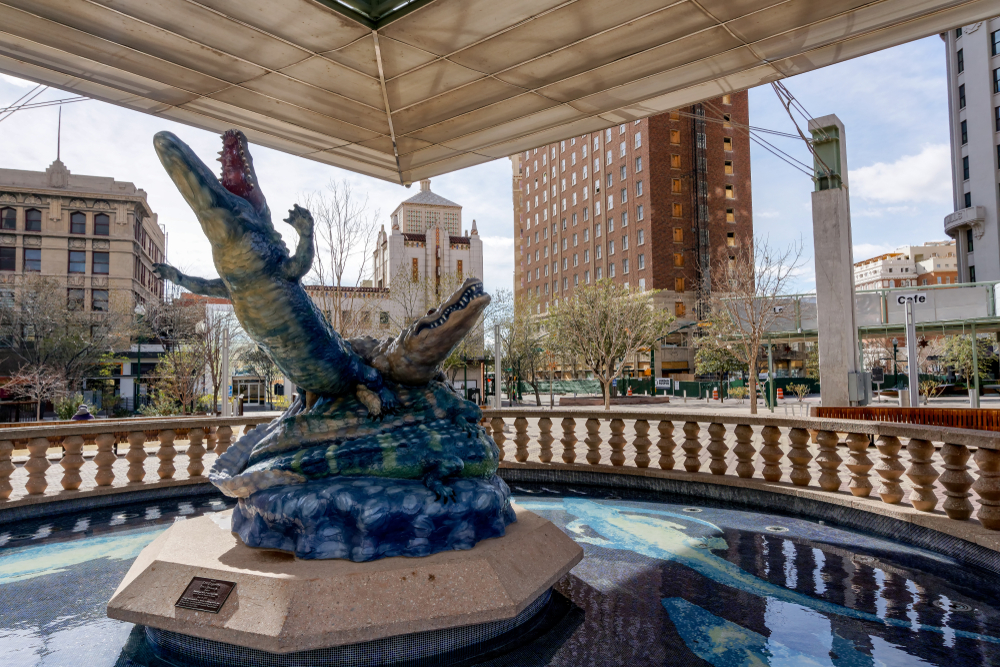 El Paso is a beautiful, historic, and culturally rich city in Western Texas. If this city is not on your bucket list yet, why not?!
There are so many cool things to do in El Paso no matter your age or interests. There are pretty, nature parks, interesting museums, and amazing architecture. You can enjoy great meals and shopping experiences.