Are you looking for the best and most unique places for glamping in Texas? Then look no further! From treehouses and tents to yurts and off-the-grid cabins, you'll find the best of the best Texas glamping here!
Glamping is the beautiful crossroads of glamor and camping. It's for those of us who want to escape to nature but also value a comfortable bed. Whether you're looking for a fun family vacay, a romantic getaway, or an adventure with friends, glamping is quickly becoming a popular respite for people across the country, and especially in Texas.
The Lone Star state is full of unusual places to glamp. The best part is that you can find a glamping spot anywhere within Texas' diverse natural settings. Rivers, canyons, deserts, oceans, there is a glamp spot for them all!
Glamping is such a fun and flexible way to vacation, especially when you're on a road trip (check out our perfect road trip itinerary!). Once you try it out, you won't want to stop! Now let's check out the best glamping in Texas!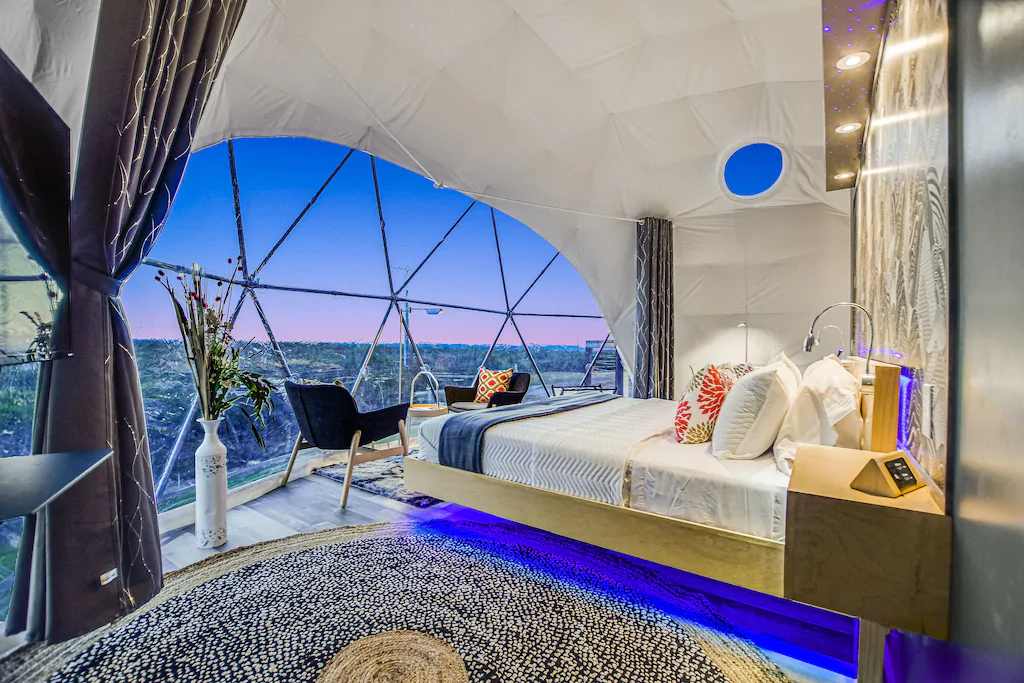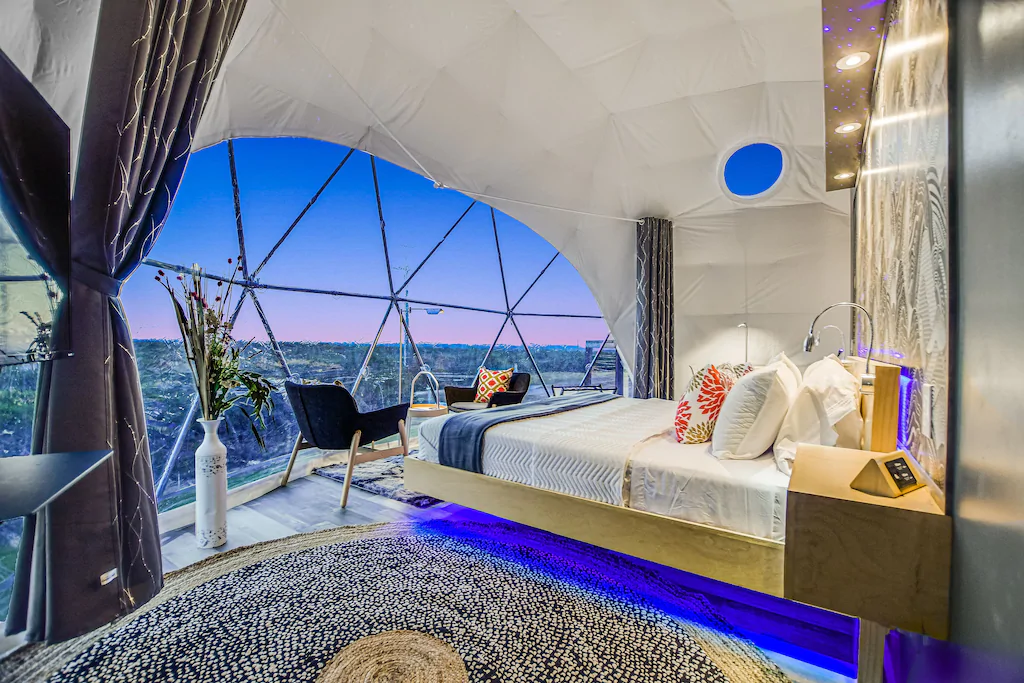 15 Coolest Places For Glamping In Texas
Luxurious Riverside Safari Tent
Resort meets camping in this amazing luxury camping in Texas!
Located on Wahwahtaysee Resort, you'll have over 100 acres to explore during your stay here. Hike your day away on the beautiful trails. The lazy San Marcos River runs right outside your safari style tent, giving it an air of relaxation.
The inside of the tent is absolutely stunning. The kitchen is small but gorgeous. This spot prides itself on being well stocked with anything you might need, so don't worry about forgetting something at home! We love the outdoor showers. They beautifully match privacy and relaxation! Up to four can stay here.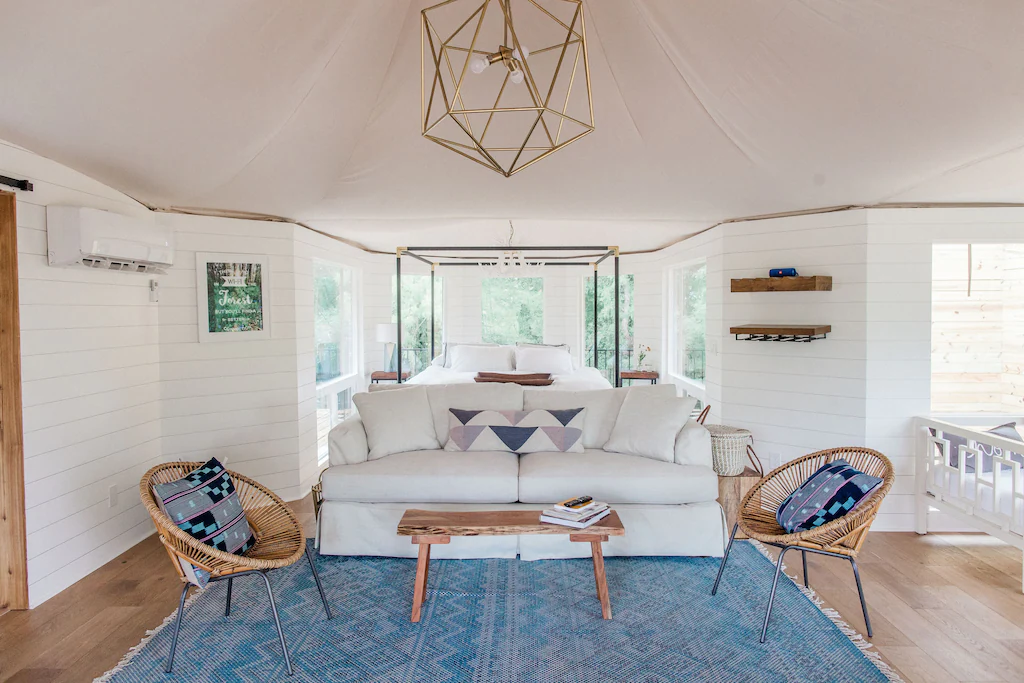 The Secluded Agave Yurt
Find secluded tranquility at the Agave, one of the top yurts in Texas! It's on the Reserve on Greenleaf which is a 200 acre property. Though this spot in not far outside of Bastrop, it feels like a complete retreat from the stress of modern life.
The yurt itself is super quaint with simple finishes inspired by nature. A bed, a small kitchen area, and a bathroom complete this simple space. The amenities are something special. Miles of hiking trails, a huge soaking hot tub, a nice grilling arbor, and a beautiful fire pit. You can even rent kayaks to take on the lake or on the lake!
Unwind and find nature at one of the top Texas glamping spots!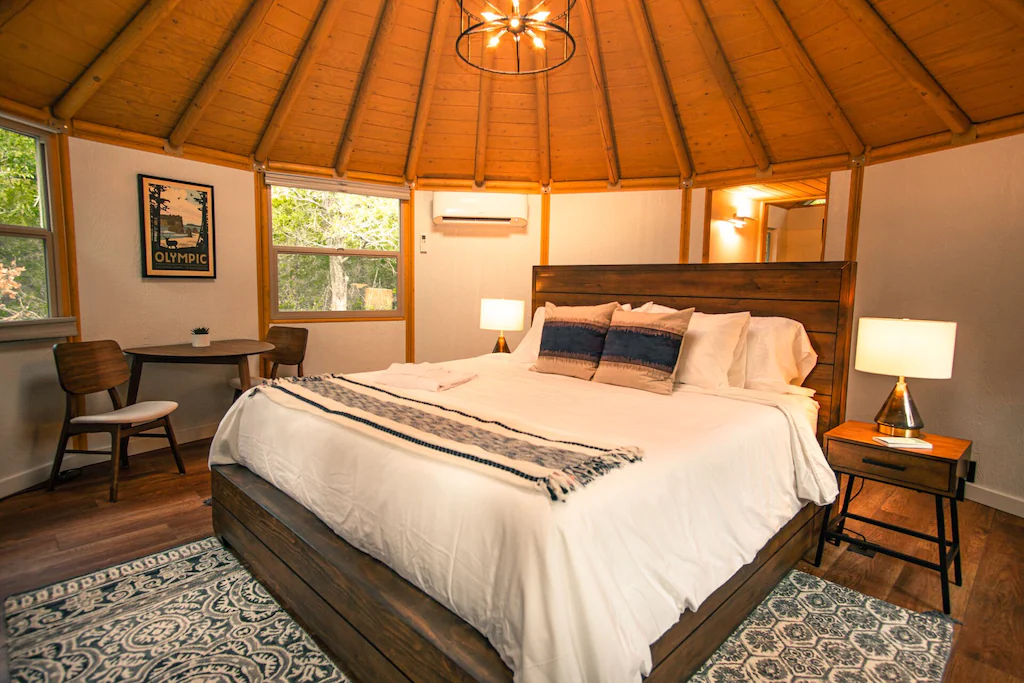 Retro Airstream Escape
The Daisy is the perfect vacation for those looking for something a little more unique! It's fashioned from a renovated Airstream RV and is brimming with nostalgic vibes. This Wimberly glamping spot is the cutest little thing you'll ever see!
It's surrounded by Hill Country, meaning it's great for a little nature fix. It comes with 10 acres and Smith Creek access. It's also only 3 miles away from downtown Wimberly!
The Daisy itself has been fixed up with the most romantic touches. Imagine a night in the hot tube lit by the beautiful mood lighting. Relax in the hammock with a book, or roast a more by the fire pit. The inside is inspired by the 1950s. You'll feel right at home here at some of the best glamping near Wimberly!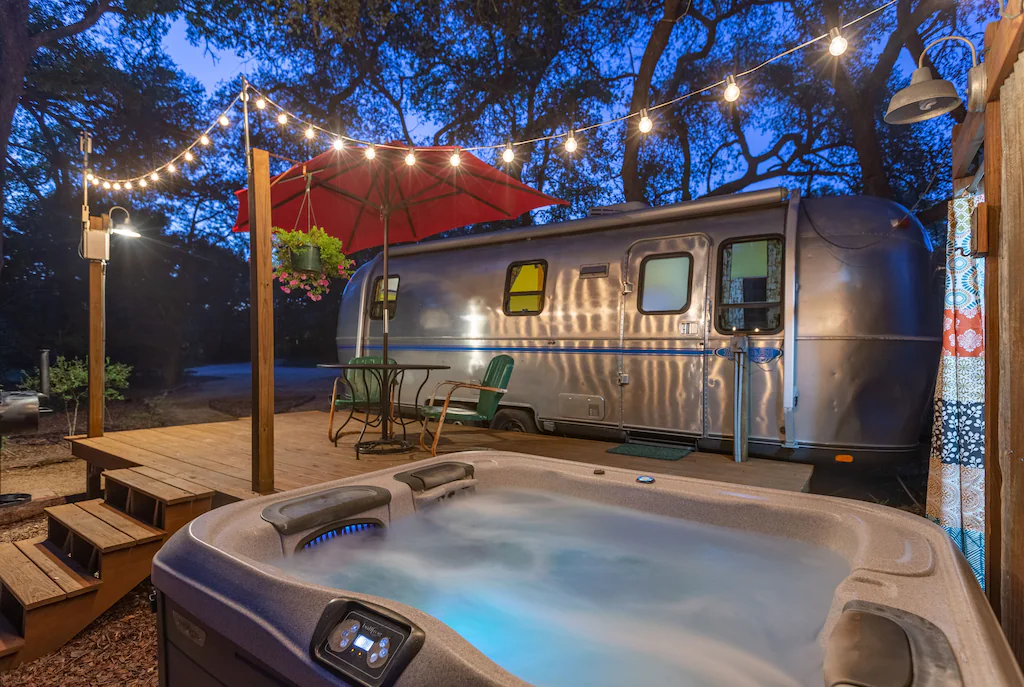 Romantic Bubble in Hill Country
This gorgeous bubble pod is for the lovers out there! You won't find anything more romantic or unique than these eco-pods nestled into the hills. It's the best glamping in Texas Hill Country!
This spot comes with a private hot tub for use inset on a lovely large deck. Imagine soaking in the hot tub and star gazing after a fun-filled day. There are also shared grilled, hammocks, and fire pit. The inside is spectacular! It's way bigger and more airy than it looks from the outside. The king-sized bed overlooks views of the countryside. It's the star of the show!
This spot is also really close to everything you might want from an awesome vacation. Hiking trails, lakes, wineries, and golfing ranges are within easy reach!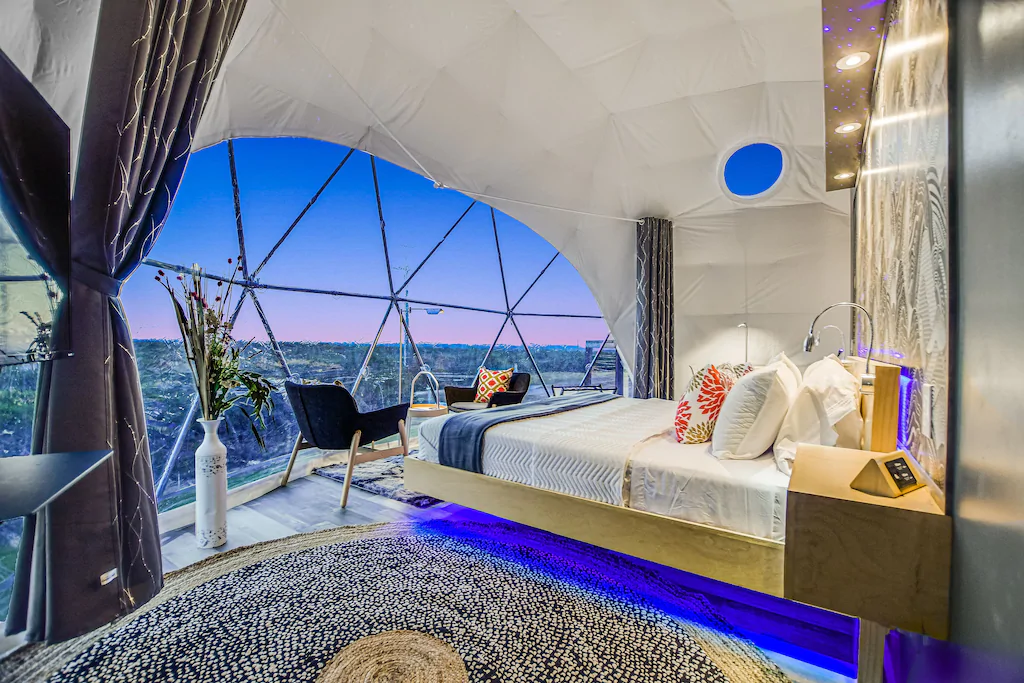 The Arrowhead Tipi Resort
Feel history come alive at the Arrowhead! You won't find anything like this anywhere else!
This is the top teepee camping in Texas! The tipi itself is modeled after an "authentic Sioux-style". On the outside is some beautiful, hand-painted imagery. The inside is so comfortably decorated. It's definitely somewhere you'd want to relax with its bohemian touches. The bathhouse is lovely and rustic chic.
There's plenty of outdoor area to stretch out in, including a fire pit and picnic grounds. There's fishing access on the property, and it's very close to Lake Tawakoni! This great glamping near Dallas meshes modern convenience with natural beauty flawlessly!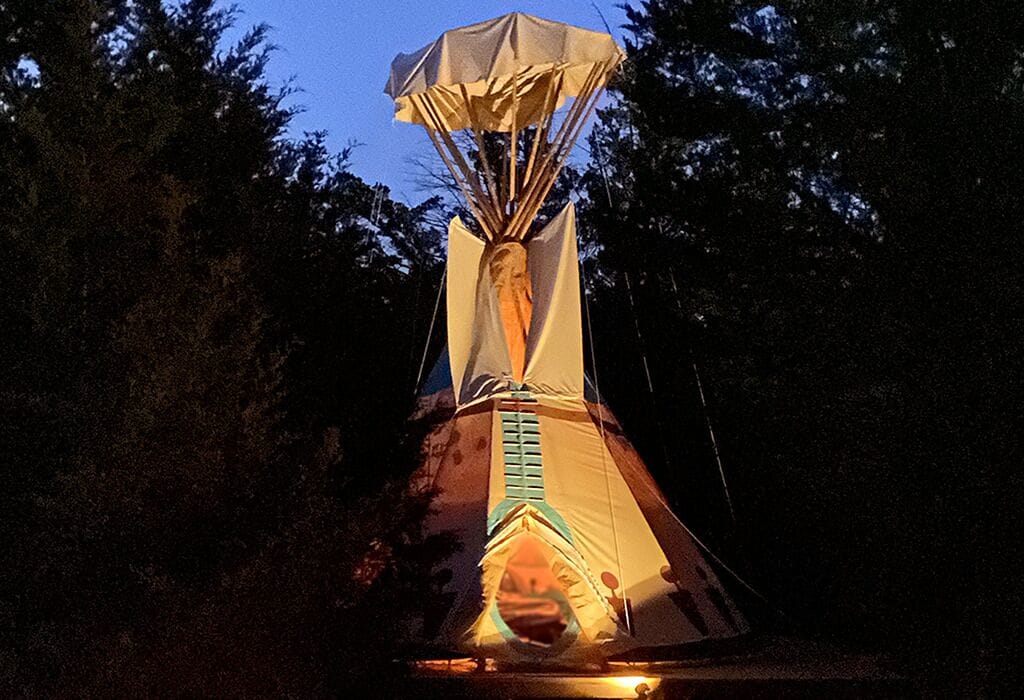 Lake Grapevine Escape
Get the feel of leaving town without leaving the Dallas area at this beautiful getaway, one of the best yurts in Texas!
Bohemian chic is the best way to describe this hidden sanctuary. You'll feel right at home with its natural wood accents and mood lighting. It's spacious, airy, and beyond comfortable in this hideaway!
There's a lot of fun things to do onsite that are super kid-friendly. Soak in the beautiful nature, play a round of cornhole or croquet, grill, gather around the firepit, or take the short walk down to Lake Grapevine! Since it can sleep up to 6, why not bring the family? It's some of the best glamping near Dallas!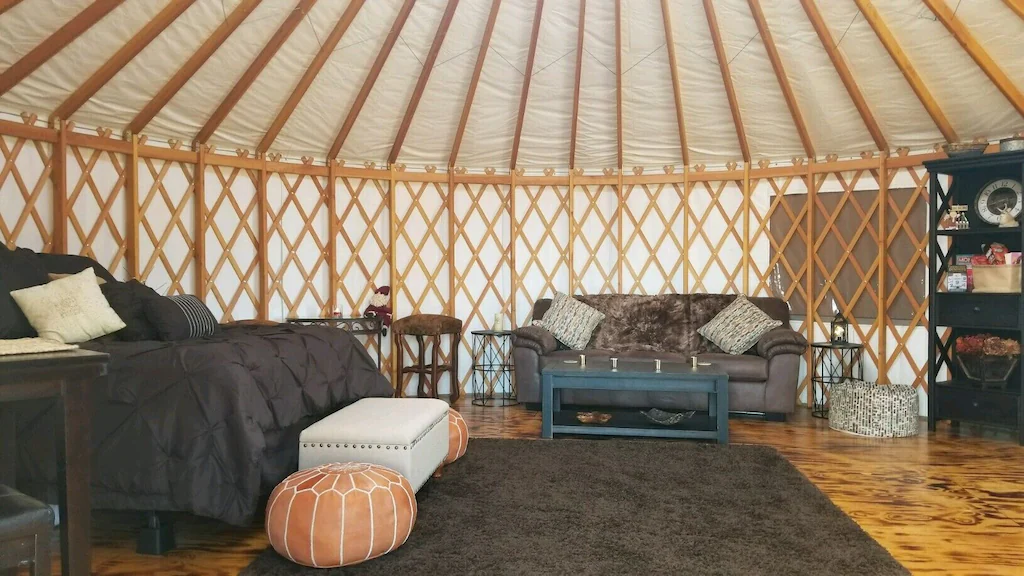 Tranquil Treehouse By The River
Escape into the trees at one of the best treehouses in Texas, the Cardinal Casita! This spot is something special! Each treehouse is custom-built, with a large deck to enjoy. Once inside, you'll find everything you need to be comfortable, including a small kitchen and wi-fi.
Get outside and stroll over to the Guadalupe River. Rent a boat, take a picnic, roast some smores, or relax on a hammock all day! There's a lot to visit nearby, like Canyon Lake and the historic city of New Braunfels. Though this would be a romantic getaway for two, it can sleep up to 8, so feel free to bring the whole gang!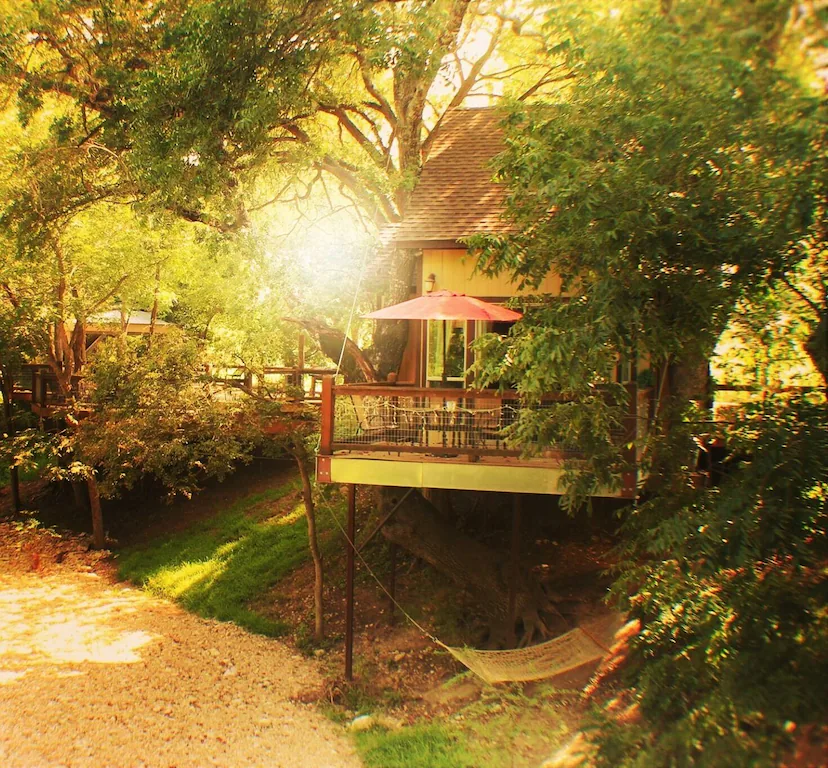 Sundancer Safari Tent
This luxury tent has gotten a lot of attention, and we think you'll see why! From the Travel Channel Online to the Fort Worth Star Telegram, everyone is singing its praises as the top glamping in central Texas!
Located on a 300 acre ranch, you'll feel at one with nature here. While you're here, make sure to stop by the ranch and choose your own farm fresh eggs! This tent is set into the forest along Comanche Creek. Find serenity at the cute waterfall nearby.
The details of this tent are what make it special. The bathroom is just so luxurious! Plus, check out the Japanese soaker tub! It's one of the few you can find in the United States and is fire-wood heated! Up to 4 guests can enjoy this gem.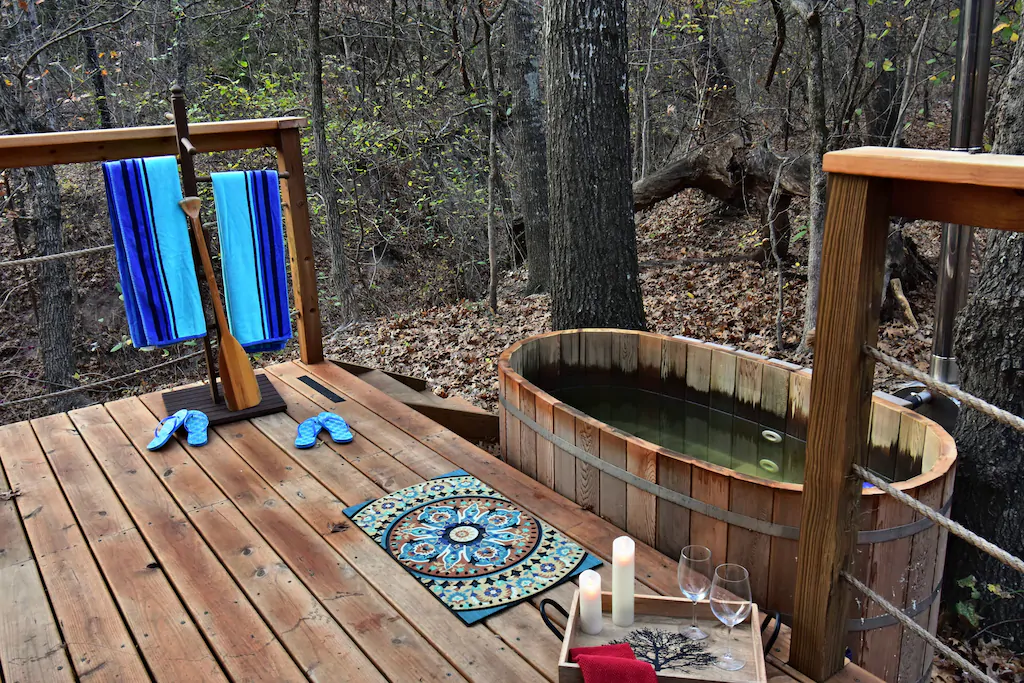 The Treehouse at Lost Pines
Have you ever wanted to feel like you just stepped into a fairytale? Fall in love with the whimsy of the Hobbit's Nest Treehouse!
The first thing you'll notice is just how unique and cute this glamping near Austin is! The bright door and circular windows just scream fun! Soar among the trees with beautiful sightlines of the surrounding 42 acre property. It's heavily forested and feels so magical! It even overlooks a lily pond filled with frogs. Fall asleep to the sounds of nature.
If you want to get out and about, this treehouse is super close to the Bastrop State Park as well as the Colorado River. Take a jaunt to the Sherwood Forest Faire while you're here and step into history! This has to be one of our favorite treehouses in Texas!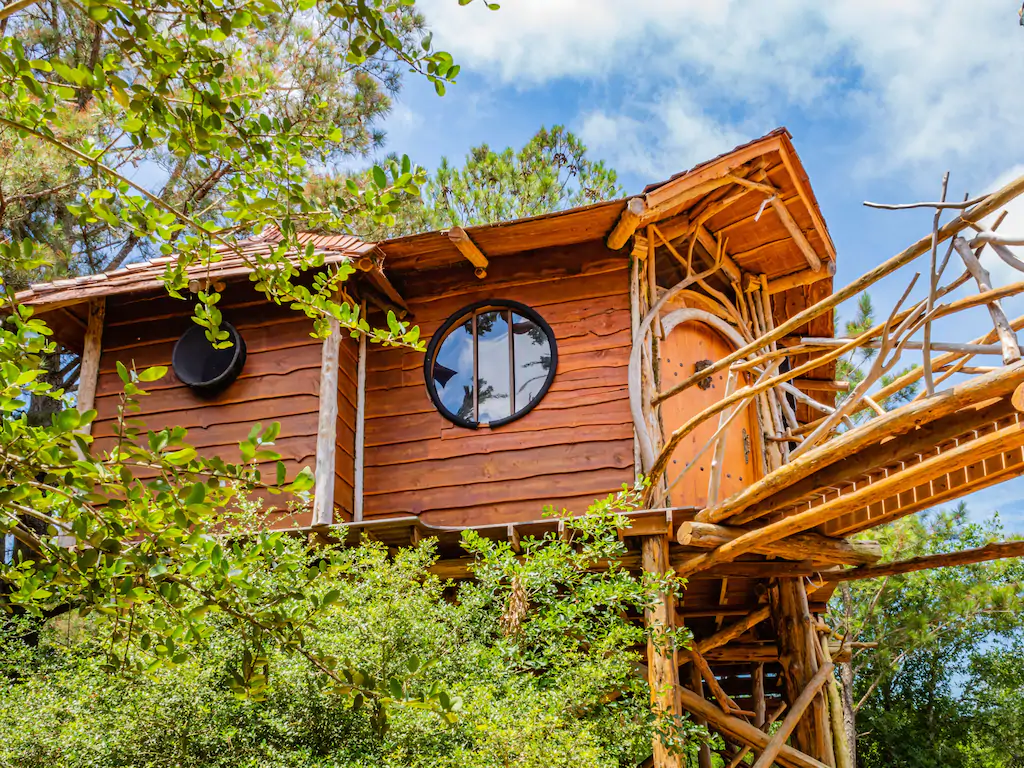 Big Bend Lodge at Ten Bits Ranch
If you want a Wild West Texas experience, then you have to check this place out!
This unique, 550 acre property has an old West style town theme, and this one is styled after an old gun shop. From the outside, it looks like it came straight out of a Wild West movie! There are other stylized buildings that complete the town, including a bank, a hattery, and a general store. It's definitely one of the coolest spots for camping in Texas with cabins.
It's only 20 minutes out from the authentic Terlingua Ghost Town as well as Big Bend National Park. You can find other adventures nearby, like white water rafting, horse back tours, and scenic flights.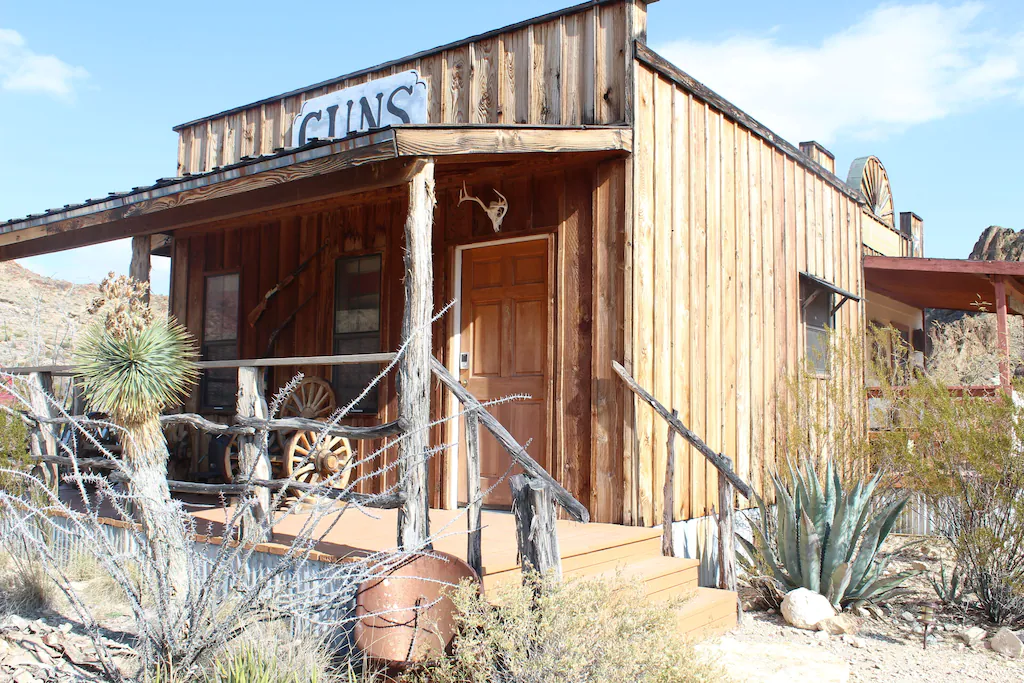 Cedar Grove Cabin
Why sacrifice comfort while camping? At the Cedar Grove Cabin you'll find some of the best glamping near San Antonio! A stay at Cedar Grove Cabin includes a delicious and hearty breakfast from the gourmet hostess herself. People can't stop raving about it!
Nature is up front and center here. Bird watching and star gazing are some of the best things to do during your stay. The inside is super cozy too with a nice sized bed and comfortable pillows throughout. You'll find yourself relaxed in no time. Unwind at this quaint getaway!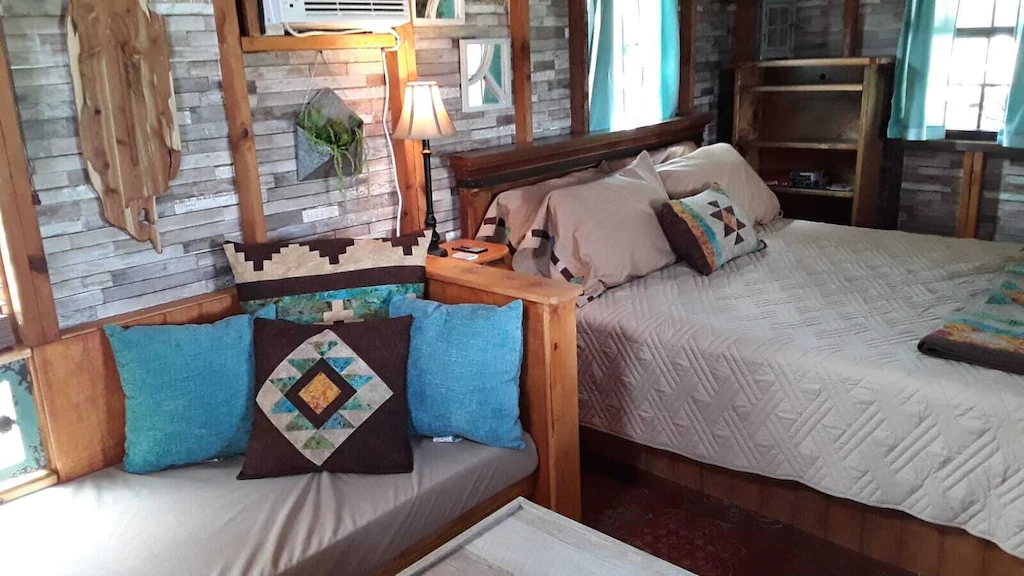 Birdseye Perch Treehouse Cabin
Treehouse meets cabin at the Birdseye Perch, one of the top glamping cabins in Texas! The first thing you might notice here are the beautiful and old cypress trees that surround the property. A one hundred foot bridge takes you over the creek to the gorgeous and private Birdseye Perch.
The interior farmhouse style finishes all the look, with relaxing sage green touches throughout. The huge windows blur nature and treehouse, with some awesome views of the Guadalupe River in store for you. Tubing in the river is one of the most fun activities to do while staying here! Up to 8 can stay here.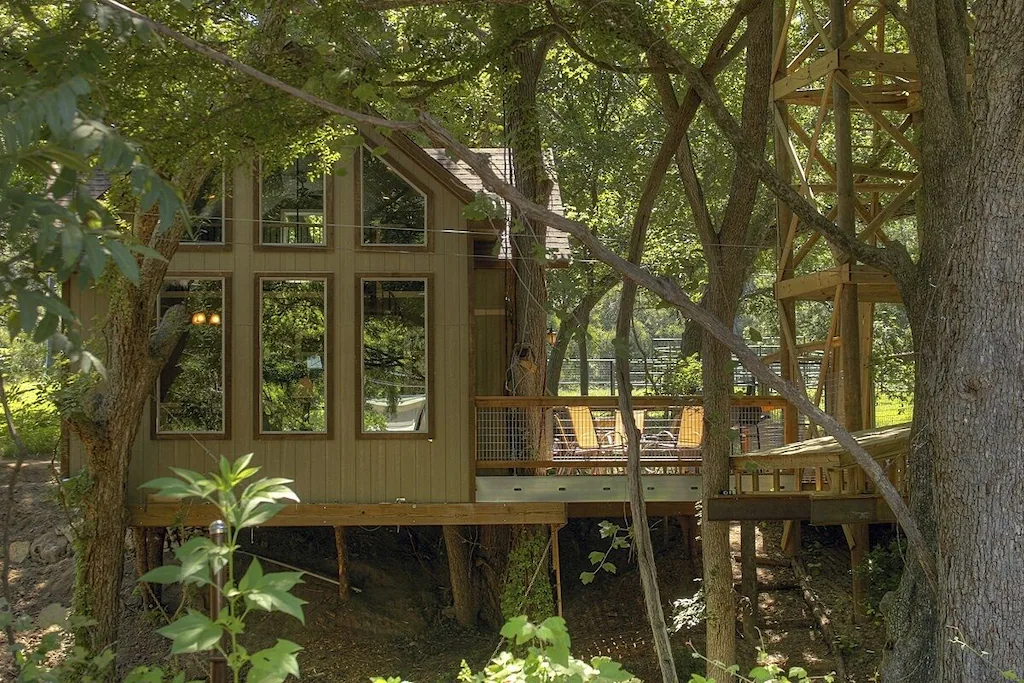 Rustic Cabin On 110 Acres
Unplug at this cozy cabin surrounded by deer, birds, and cattle. We love this glamping in Texas for its change of pace. This cabin is truly in the Texas countryside. Hiking, fishing, and biking are some of the favorite activities in these parts! Plus 36 holes of disc golf!
Something to know is that this cabin doesn't have a kitchen. Try your hand at cooking over an open fire and really get into the camping mood! The cabin can sleep 6 but you are welcome to bring tents to set up more people on the property. It's a top pick for glamping cabins in Texas!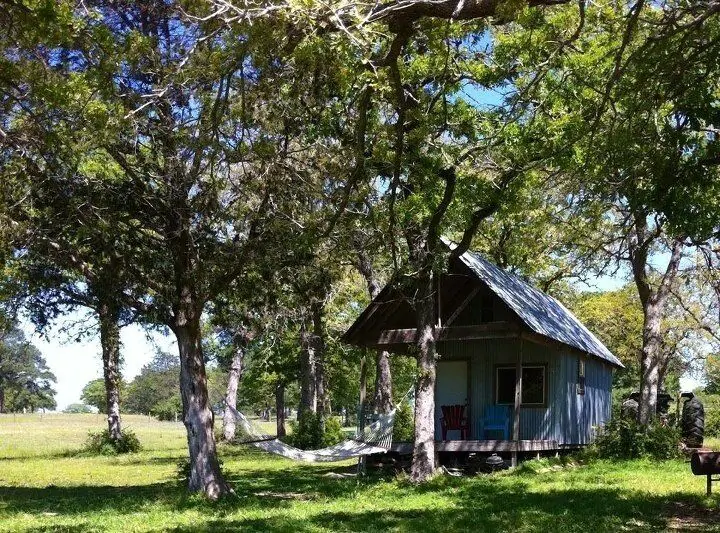 Lighthouse Mini Cabin
Find all that you need in this lovely mini cabin! This super modern cabin is an excellent spot for glamping near Palo Duro Canyon! Despite its 170 sq ft size, the inside is so chic. Grey wood and light modern touches makes it a relaxing basecamp for your adventures. Plus it has a kitchen for your convenience! The views of the sunset on the patio can't be beat.
It's located right next to the Palo Duro Canyon State Park entrance. If you didn't know, Palo Duro Canyon State Park is the second largest canyon in the United States. You won't want to miss hiking here! Feeling adventurous? Try the ziplining right on sight of this mini cabin.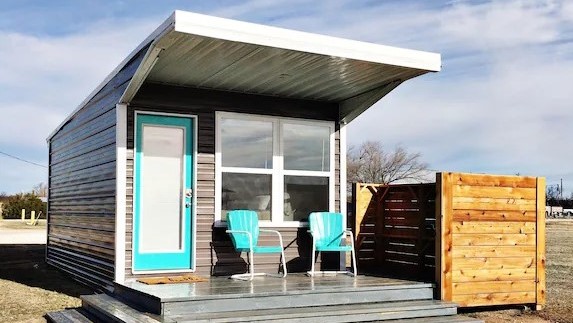 The Schoolhouse At Music Springs
In Hawkins, Texas is this adorable little cottage inspired by traditional one room schoolhouses! This is a super romantic getaway for two. It's tucked into the piney woods and is the perfect place to disconnect. Peace and quiet can be found here!
Take advantage of the shared amenities, like the fire pit and even the ping pong table! Get out and check out the fun nearby activities, like the Tiger Creek Wildlife Refuge, the Daffodil Garden, and the Mineola Nature Preserve! It has everything you need for some great Texas glamping!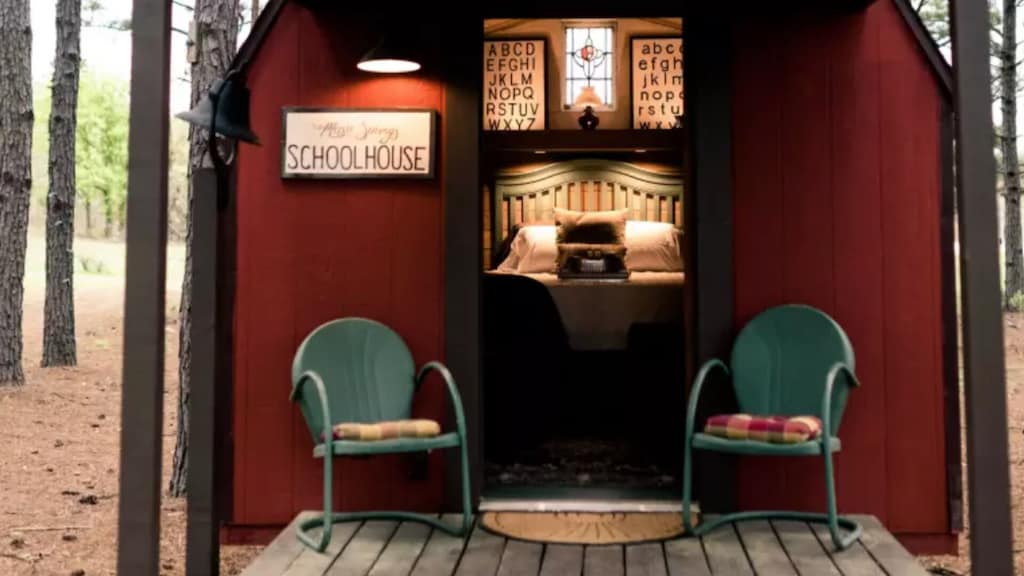 Now that you've seen some of the best glamping in Texas, we hope that you try out this fun way of camping! If this has piqued your curiosity about where to stay in Texas, check out our list to best vacation rentals in Texas! Happy travels!