Are you searching for the best vacation rentals in Texas?! Well, how perfect is that? We have been looking all over the Lone Star State and finally narrowed down our list to only the most amazing places to stay in Texas!
Texas is a great place to visit any time of the year. There are many popular attractions found throughout including The Alamo, Big Bend National Park, San Antonio River Walk, and Space Center Houston.
Our list has a little something for everyone as we always make sure to include affordable, moderate and luxury properties. We will let you know what to expect regarding location, size, vibe, and nearby entertainment for these vacation rentals in Texas!
We really love Austin because it is unique, filled with art, and there are plenty of areas to enjoy nature! If you choose to make Austin your home base, here is our epic 3 day itinerary for Austin.
If you are planning a long trip, but you are not quite sure where to start, you should check out this Perfect Texas Road Trip Itinerary! Okay, what do you say we dive into exploring all of these fantastic Airbnbs in Texas!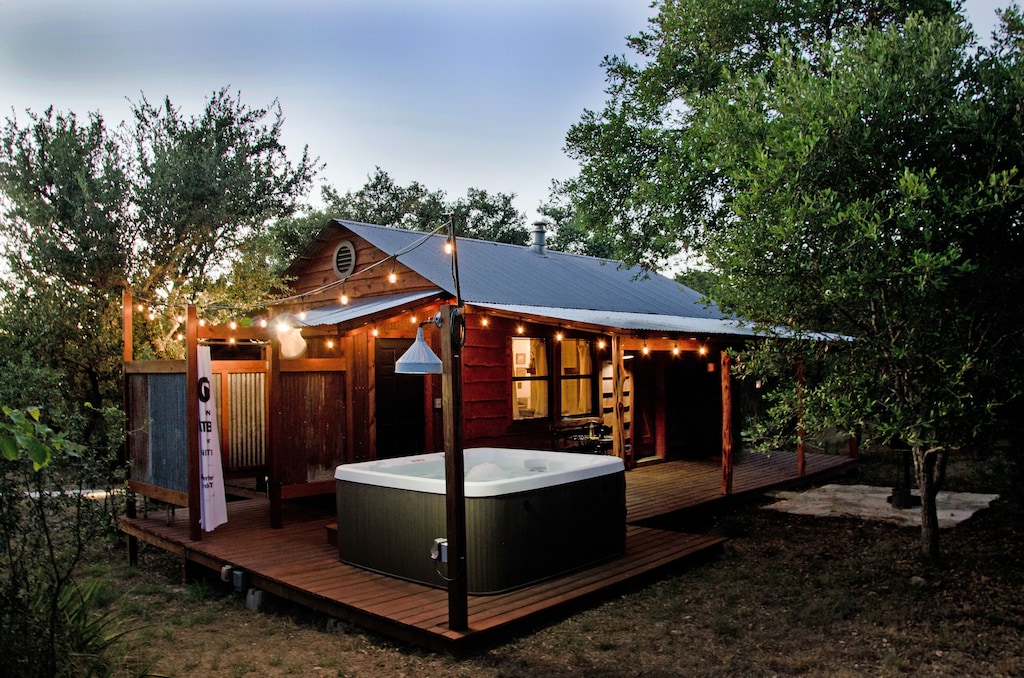 14 Best Vacation Rentals In Texas
Austin Luxury Near Barton Springs
Okay, so our first stop is in Austin, to see this stunning luxury home. This vacation rental in Texas is an absolute treasure, with indoor-outdoor living and stylish finishes. The home's proximity to Barton Springs Pool takes it to a whole new level.
Have you heard of Barton Springs Pool? This natural spring-fed pool takes up three acres of Zilker's Park. The underground spring feeding the pool means it is strikingly blue and holds constant at 68-70 degrees Fahrenheit year-round. This property is 379 steps away from this epic natural pool.
Because the temperature of the pool is always the same, Barton Springs Pool is open year-round. There are ample paddleboard and kayak rentals within walking distance of the property, or you can just come swim and relax by the blue water. Because it is located in Zilker Metropolitan Park access to the pool is free. The park also has miles of hiking trails and lots of special events that you should check out.
This luxury home is very large, so you can definitely bring your friends and family to Barton Springs with you! The luxury retreat can accommodate up to 10 guests with 8 beds in 5 bedrooms, and 4 bathrooms.
The vibe is a luxury hotel cabana all the way! The interior design is elegant and the outdoor deck space is phenomenal. You're sure to have an unforgettable time at this Texas vacation rental!
>>>Check Rates: VRBO.com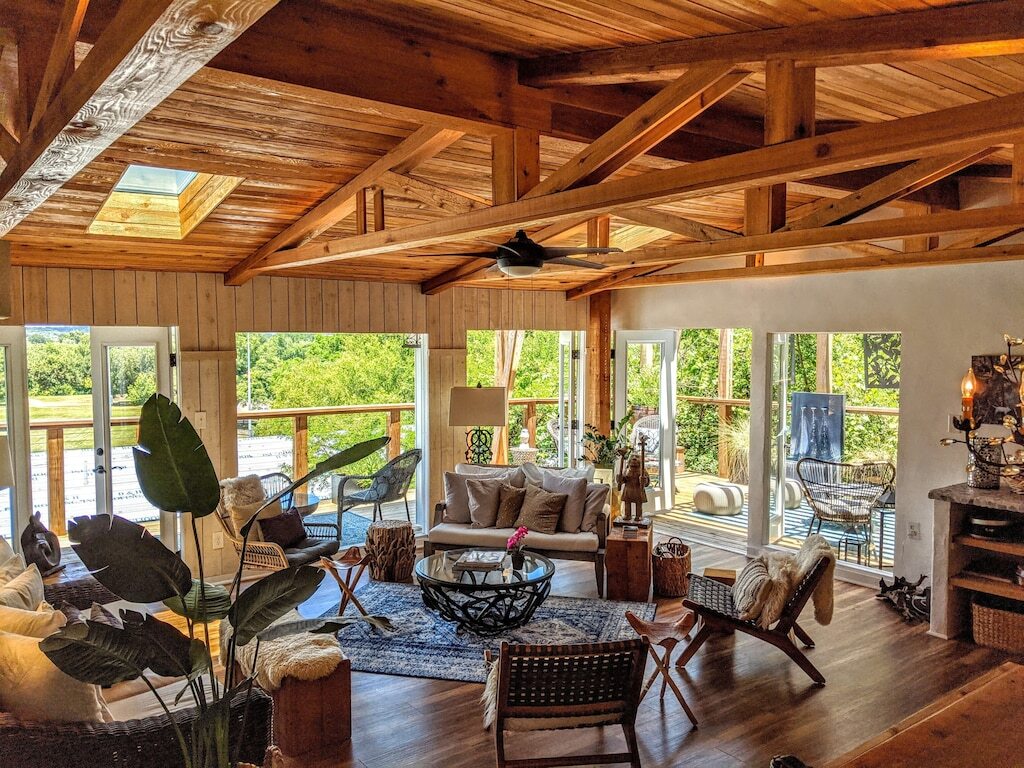 Handcrafted Dallas Treehouse
Who doesn't love a treehouse? Staying in a treehouse in Texas is a great way to disconnect from the busy city life! Now, this Handcrafted Dallas Treehouse is truly worth checking out because it has such a special ambiance.
The decor is a mix of warm and rustic with a world traveler retreat vibe. Picture going on adventures all over the world and then coming here to unwind at your secluded home base.
The Texas treehouse is moderately priced and can accommodate up to 4 guests with 2 bedrooms, 2 beds, and 2 baths. Other amenities include a kitchen, living room, dining table, patio deck with seating, indoor fireplace, jetted bathtub, and a footbridge with pond. It is truly one of the prettiest vacation rentals in Texas on this list.
Don't miss out on this extremely sophisticated treehouse; this is one of the Airbnbs in Texas that you must see all of the listing photos! Local attractions include the Dallas Arboretum, Dallas Museum of Art, the Dallas Zoo, and the Reunion Tower. Click here to check out our other articles about Dallas to plan your epic trip.
>>>Check Rates: VRBO.com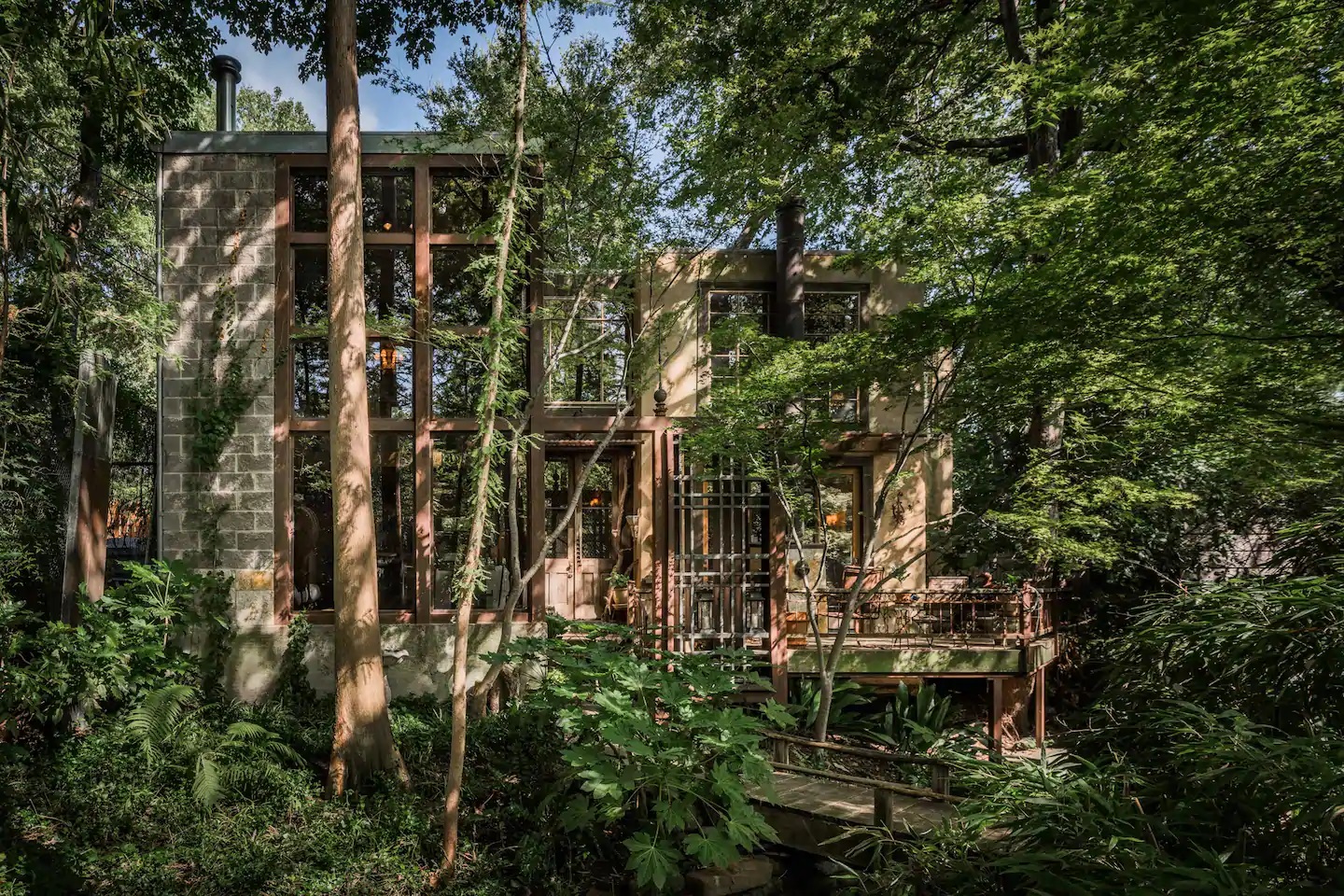 The Stillwater House
The Stillwater House is one of the vacation rentals in Texas that proves that not everything is bigger in Texas! Though it may be a tiny house, it brings big comfort and surprising amenities.
The decor is clean and crisp with lots of neutral tones. The Stillwater House is extremely affordable and can accommodate up to 2 guests with 1 bedroom, 1 bed, and 1 bath.
Amenities include a kitchen, seating area, small workspace, and dining bar with window seating. Now, the real highlight is the rooftop deck with lounge chairs that is perfect for relaxing evenings at one of the best vacation rentals in Texas!
Located in Waco, it is only 12 minutes from Downtown and Magnolia Market. Other nearby attractions include the Cameron Park Zoo, Texas Ranger Hall of Fame and Museum, and the Waco Mammoth National Monument.
>>>Check Rates: VRBO.com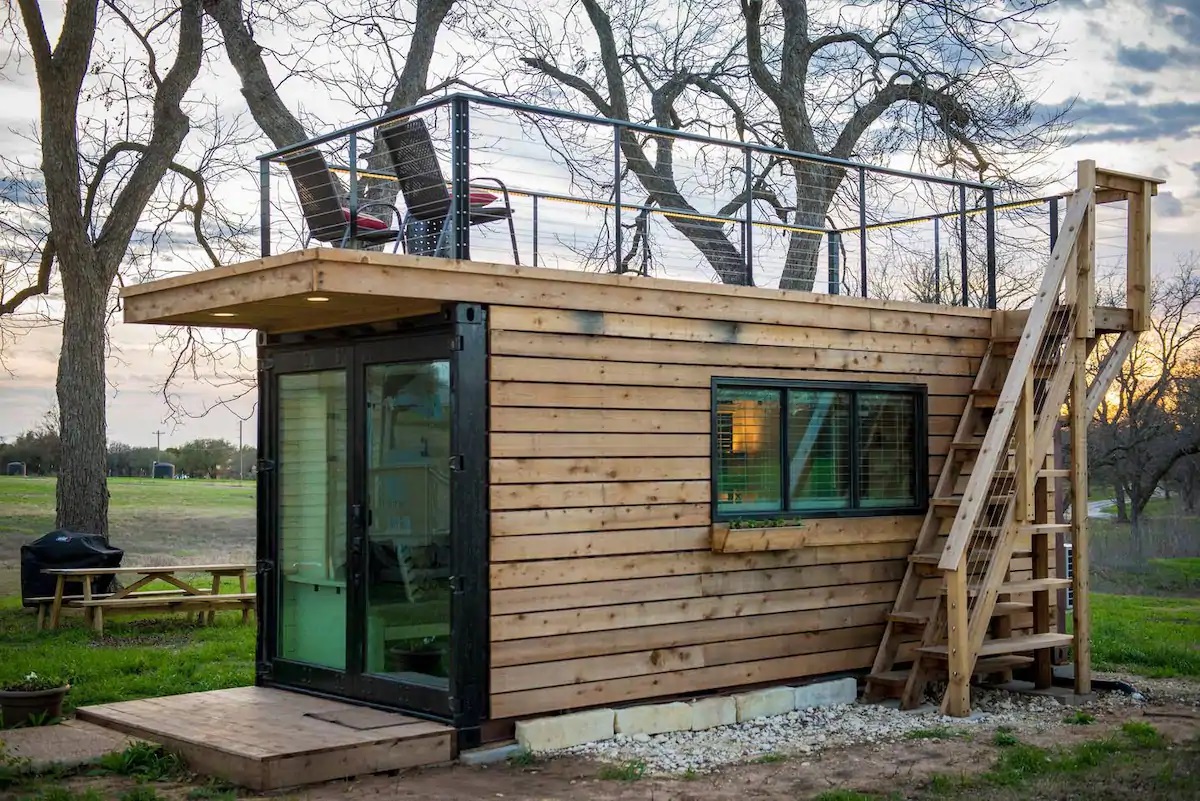 Hill Country Casita
Next, we have the Hill Country Casita which is located in Hondo and can accommodate up to 2 guests with 1 bedroom, 1 bed, and 1 bath. The casita is affordable and has a very cozy country garden house vibe with a gorgeous patio.
Staying at this Airbnb in Texas would be perfect for a romantic couples getaway or just as great for a single traveler looking to clear their mind. The hosts encourage guests to view the many on-site animals including the Longhorns, goats, and beautiful Blackbuck Antelope.
Amenities include a small refrigerator, microwave, 2 burner hot plate, gas fire-pit, coffee maker, toaster oven, gas grill, and personal splash pool. Some of the nearby attractions include the South Texas Maize, Deep Creek Depot, and the MainStreet Mercantile store.
>>>Check Rates: Airbnb.com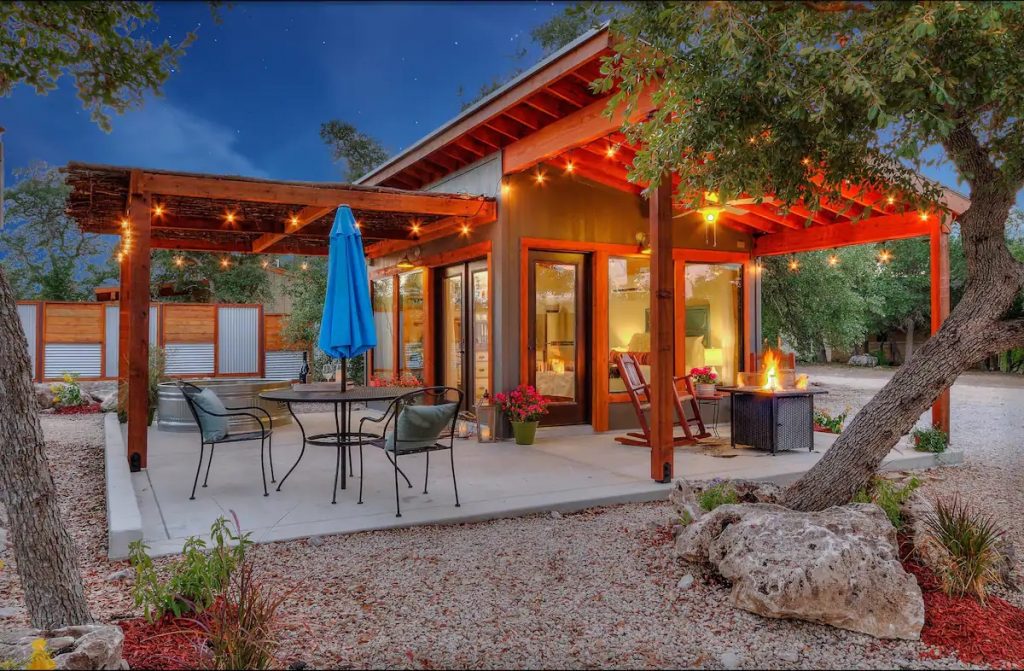 Hobbit's Nest Treehouse
If you are looking to escape the city and your adult responsibilities, this is the best vacation rental in Texas for you! Childlike whimsy and wonder abound when staying in this beautiful hobbit-style treehouse.
Lord of the Rings fans will appreciate all the subtle fandom touches, while non-fans will love all the beautiful live edge wood and dreamy four-poster bed. There is no wifi here, so it's a great place to escape and reconnect with loved ones over books and board games.
The Hobbit Treehouse has one queen-sized bed. Two additional cots and a tent can be provided so if you want to have a party of 4 visit this lovely spot. The toilet and beautiful outdoor shower are located at the base of the treehouse vacation rental in Texas.
Reviews describe this place as very quiet and the perfect place to unwind in nature. It is less than an hour's drive away from Austin if you want to stay somewhere secluded but head into the city for activities. Other things to check out while you're in the area include Lake Bastrop and the Lost Pines Golf Club.
>>>Check Rates: VRBO.com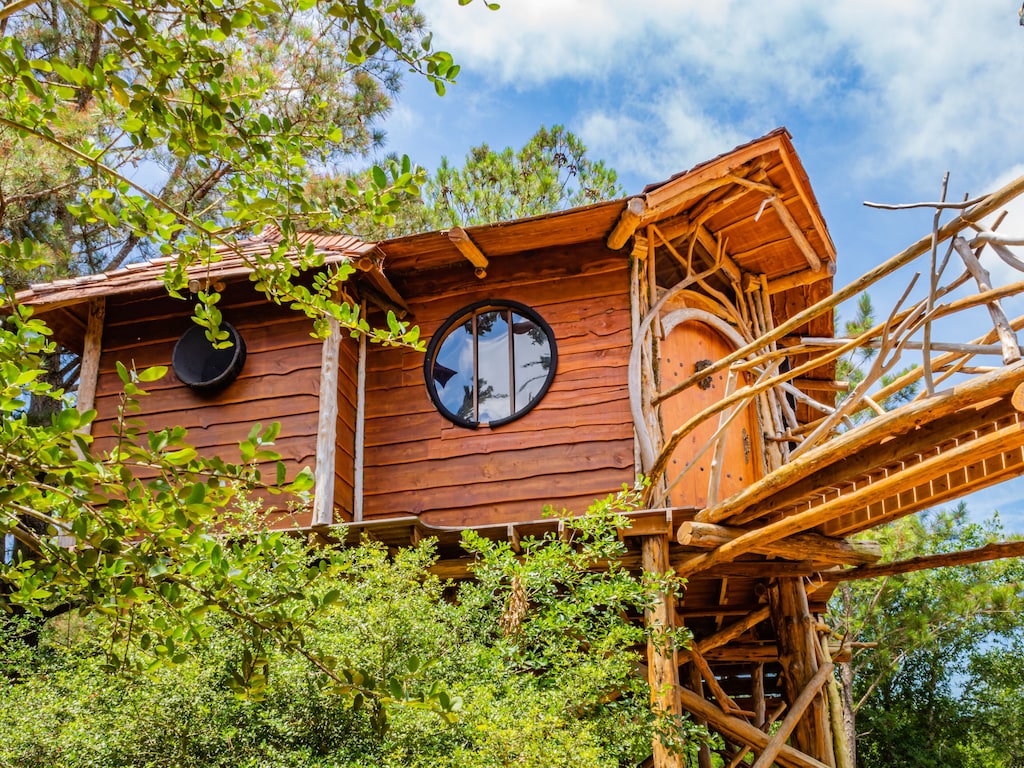 Riverstone Cottage
This sweet stone cottage was built in 1939. It overlooks Blanco State Park. It boasts panoramic river views and is surrounded by lots of beautiful old-growth trees.
You can walk to the river & Blanco State Park through the backyard of the cottage. The main cottage has two bedrooms and one bath, and there is one bath and a large bedroom with multiple beds accessed by an outdoor staircase. This charming property can sleep 8.
This cabin offers true Texas indoor/outdoor living with an outdoor kitchen and bar as well as lots of outdoor furniture and hammocks. Everyone is sure to have a fun time visiting the State Park and having starlit outdoor dinners at the end of the day.
Nearby entertainment includes the Blanco State Park, the Blanco Pioneer Museum, and the Buggy Barn Museum. This Texas vacation rental is a dream come true!
>>>Check Rates: VRBO.com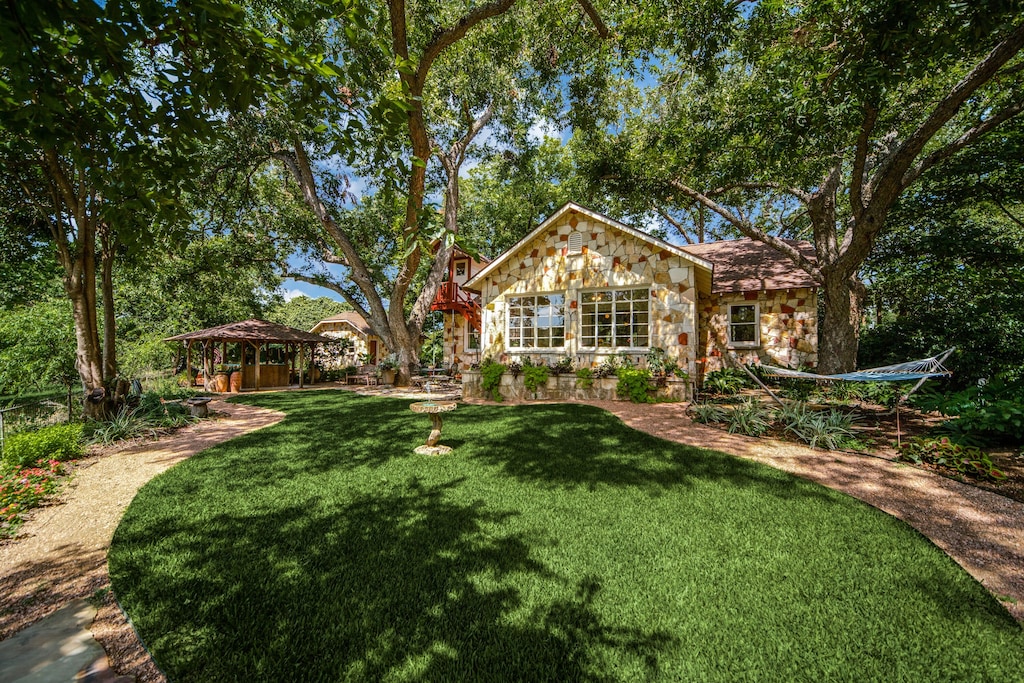 1920's Vintage Caboose
So, have you been waiting for something that is truly quirky and unique as one of your vacation rentals in Texas? Well, may we present to you the 1920's Vintage Caboose located on Lake Limestone!
The caboose has been fully restored to become modern while also taking great care to honor the historic masterpiece. Not only is it a fabulous place to stay, but it also makes for a wonderful backdrop for family photos!
Surprisingly, the caboose VRBO in Texas can accommodate up to 5 guests with 1 bedroom, 3 beds, and 1 bath. Amenities include a full kitchen, a large outdoor deck with seating, and an outdoor fire pit with seating.
Nearby entertainment includes fishing, horseback riding, and Fort Boggy State Park. Also, conveniently only 1 hour from Waco.
>>>Check Rates: VRBO.com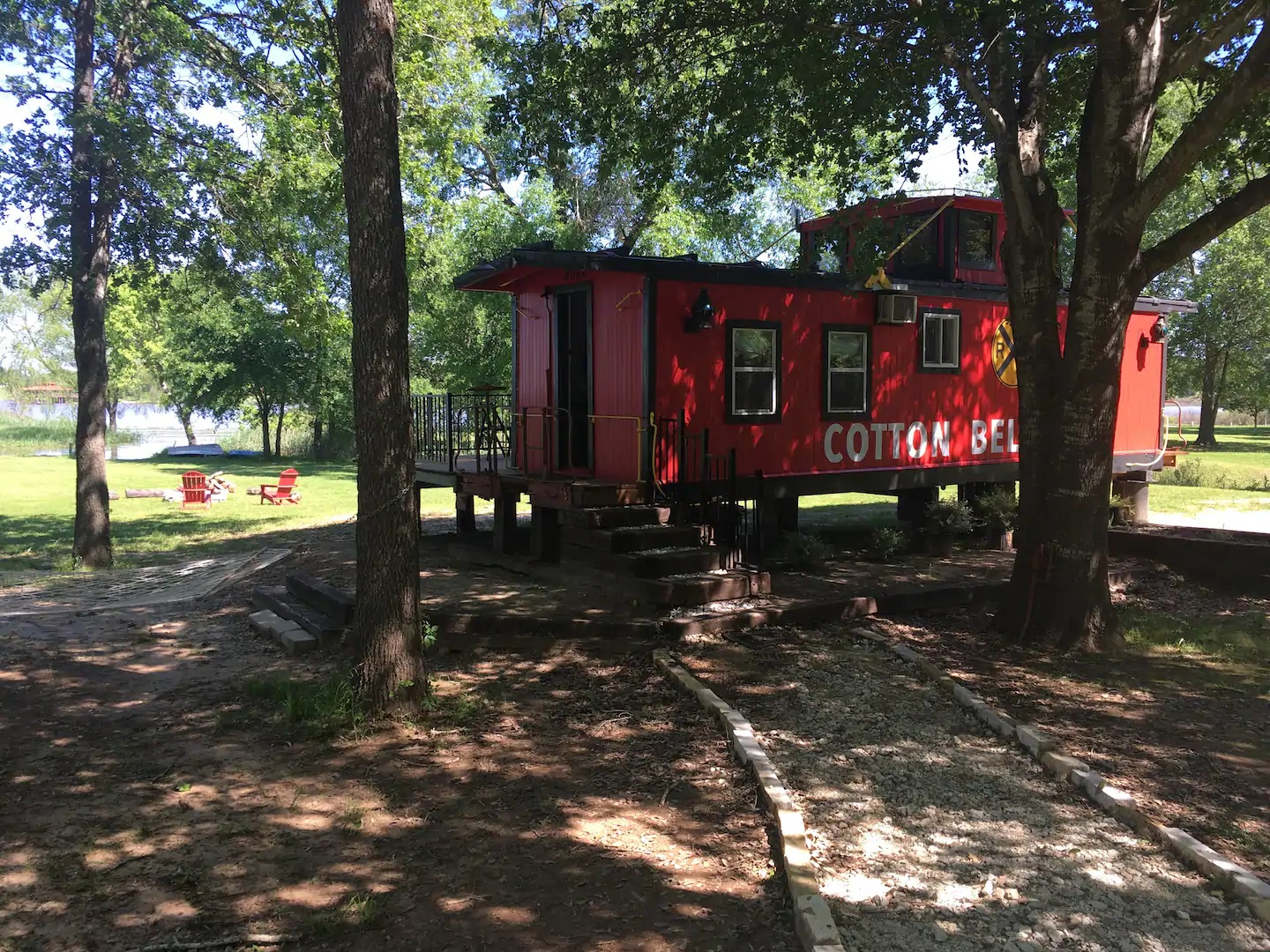 Grit & Grace – Super Luxe Cowboy Villa
Searching for the luxury version of the country life? Well, look no further because we have found the Grit & Grace Super Luxe Cowboy Villa!
Partake in the Hollywood and designer version of what cowboy life is like on a dude ranch. Get to feel like a cowboy, ranch hand, or cowgirl without ever getting your hands dirty at this VRBO in Texas!
Located only 25 minutes from Downtown Austin on 8 acres, this cowboy villa is large and spacious enough for large events. In rugged ranch chic fashion, it can accommodate up to 15 guests with 5 bedrooms and 4 baths. Fun fact, this property was commissioned by American singer-songwriter, Sam Beam from Iron + Wine, as his Austin home.
Amenities include a large kitchen with breakfast bar, dining room, living room, wood-burning fireplace, a swimming pool, hot tub, and slide. There is also an outdoor kitchen, barbecue, fire pit, dining with seating for 12, and a screened-in porch at this VRBO in Texas.
Local attractions include McKinney Falls State Park, Lake Austin, and the Barton Creek Greenbelt.
>>>Check Rates: VRBO.com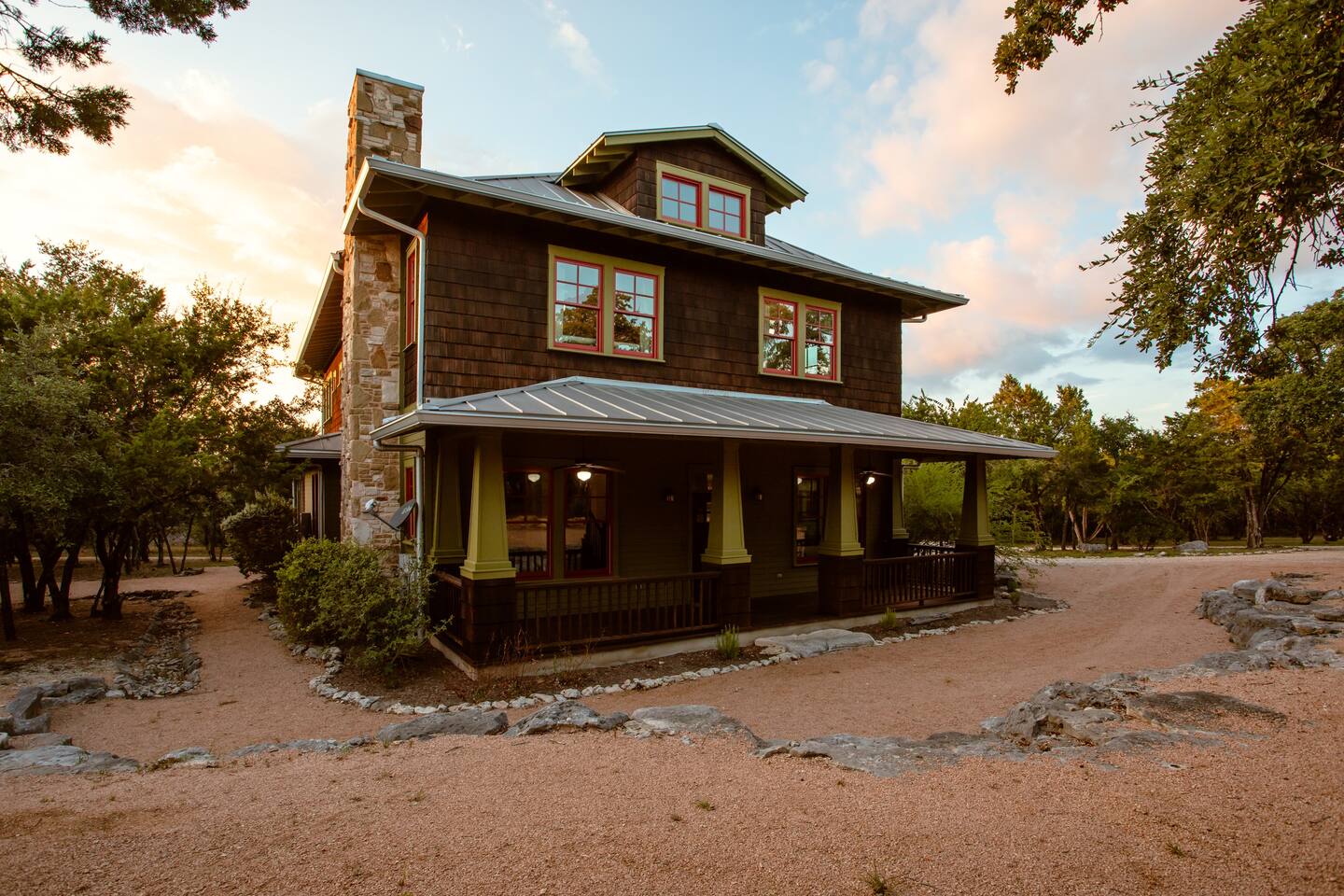 Vintage Airstream
Texas glamping at its finest! This VRBO in Blanco is a reasonably priced romantic getaway for 2.
The decor is a beautiful rustic vintage vibe. There is even a vintage record player and old records! The designer thoughtfully placed a screened-in outdoor kitchen and a bathhouse outside of the airstream so that the inside feels spacious and calm. The bathhouse features a regular toilet and shower. There is also an outdoor shower you can try out!
The airstream is "off the grid" so there will be no cell service or wifi, just time to connect with nature and each other. The property has lots of beautiful old growth trees and outdoor furniture, encouraging you to relax under the wide Texas sky. The airstream is placed on a property with lots of trails so you can go for hikes right from your front door.
Things to see nearby include Blanco State Park, Lyndon B. Johnson State Park, and the Rain Bird Gallery.
>>>Check Rates: VRBO.com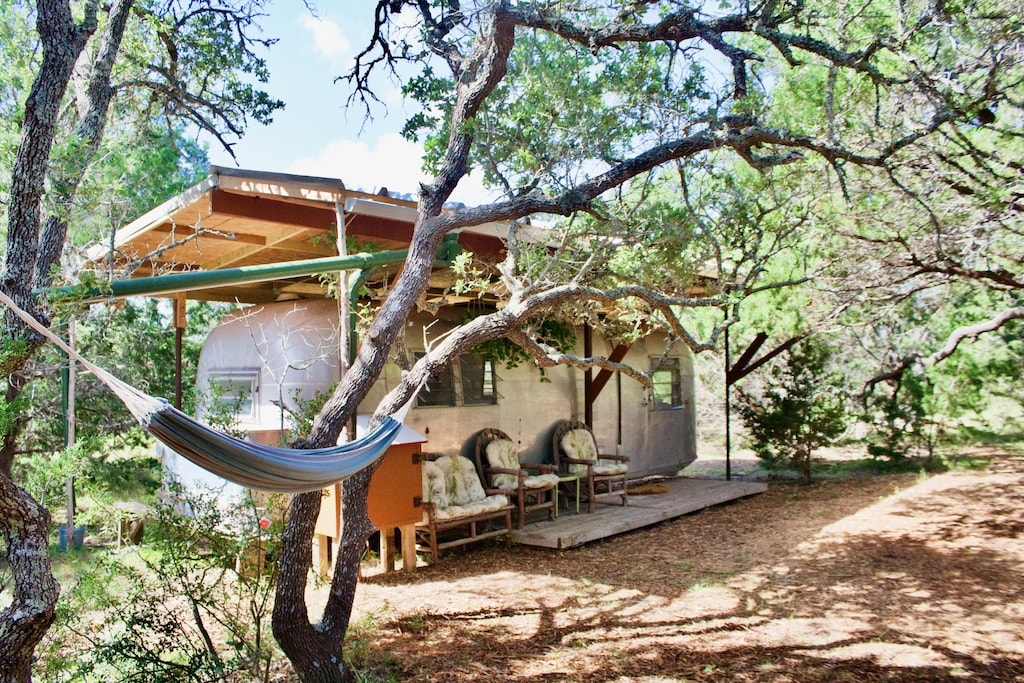 Artist Ranchette
This is the Texas VRBO for you if you are looking for something artistic and groovy! It is located a 1/2 block from the trendy Bishop Arts District of Dallas. The hosts of this VRBO are creatives who own a shop in Bishop Arts and keep the house stocked with their quirky, beautiful antique, and artsy finds.
This popular Dallas neighborhood is extremely walkable and has those fun electric scooters available so you can zip all over Bishop Arts District, taking in all the amazing shops and restaurants. If you want to venture outside of Bishop Arts District, click here to read more about what we recommend in Dallas.
This stylish ranchette has two bedrooms and one bathroom. It can sleep, 4 guests. The huge backyard is a truly special part of this vacation rental. It boasts a spacious patio with a table for four, a firepit, a hot tub, and a vintage airstream! This is one of the best vacation rentals in Texas. You're going to have a good time at this groovy ranchette!
>>>Check Rates: VRBO.com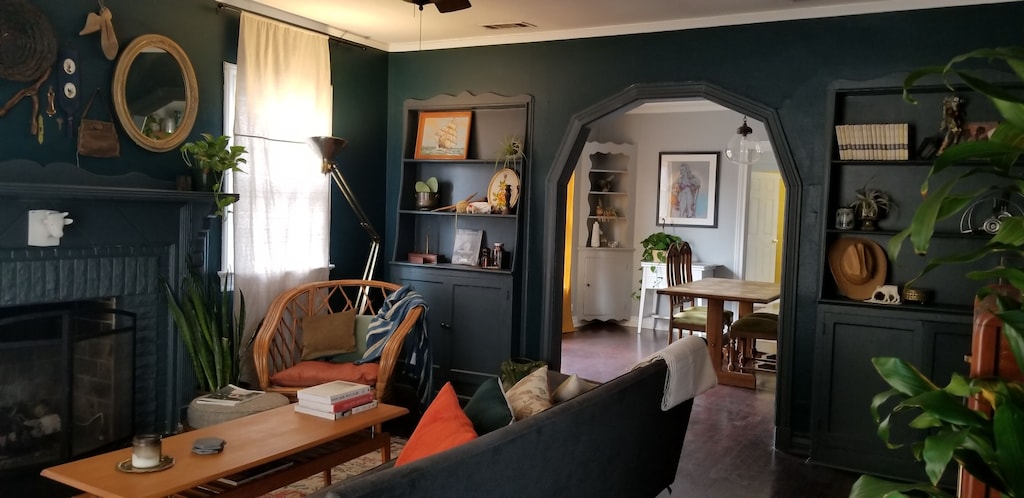 The Moonshiner
The Moonshiner is located just outside of Austin and it has the coolest theme! It is an affordable cabin and features a Prohibition Era theme with a steampunk twist at this VRBO in Texas!
A local craftsman hand-built almost every part of the cabin including most of the furniture and all the light fixtures. You will most definitely feel swept away to the era of jazz and moonshine.
The cabin can accommodate up to 2 guests with 1 bedroom, 1 bed, and 1 bath. It would make such a cute start to a honeymoon or anniversary trip!
Exciting local attractions include Wimberley Zipline Adventures, Jacobs Well, and Blue Hole Regional Park near this vacation rental in Texas!
>>>Check Rates: VRBO.com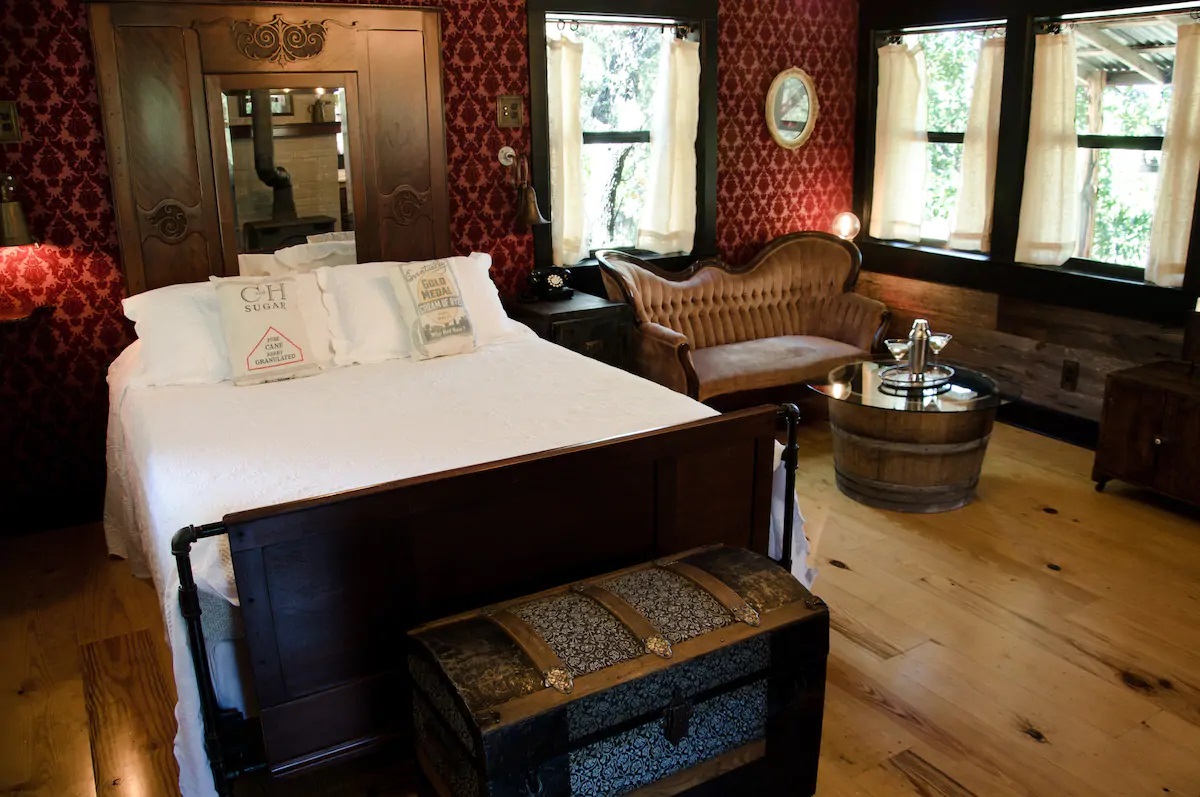 Kettle House Galveston
Now, we head on over to the coastline to view the Kettle House Galveston. The newly renovated 1960's Airbnb in Texas was featured on HGTV and is located only 8 mins from the beach and 12 mins from the historic Strand.
It was originally built as a steel storage tank, so it has a ton of character and unique architectural elements that include a spiral staircase, a large wrap-around deck, and angular walls at one of the prettiest Airbnbs in Texas.
The decor has a very modern feel with plenty of warmth and cozy beach vibes. The Kettle House is moderately priced and can accommodate up to 6 guests with 2 bedrooms, 3 beds, and 1 bath.
Some of the fun nearby entertainment includes Galveston Island Historic Pleasure Pier, Moody Gardens, and the Schlitterbahn Water Park at this Texas Airbnb!
>>>Check Rates: Airbnb.com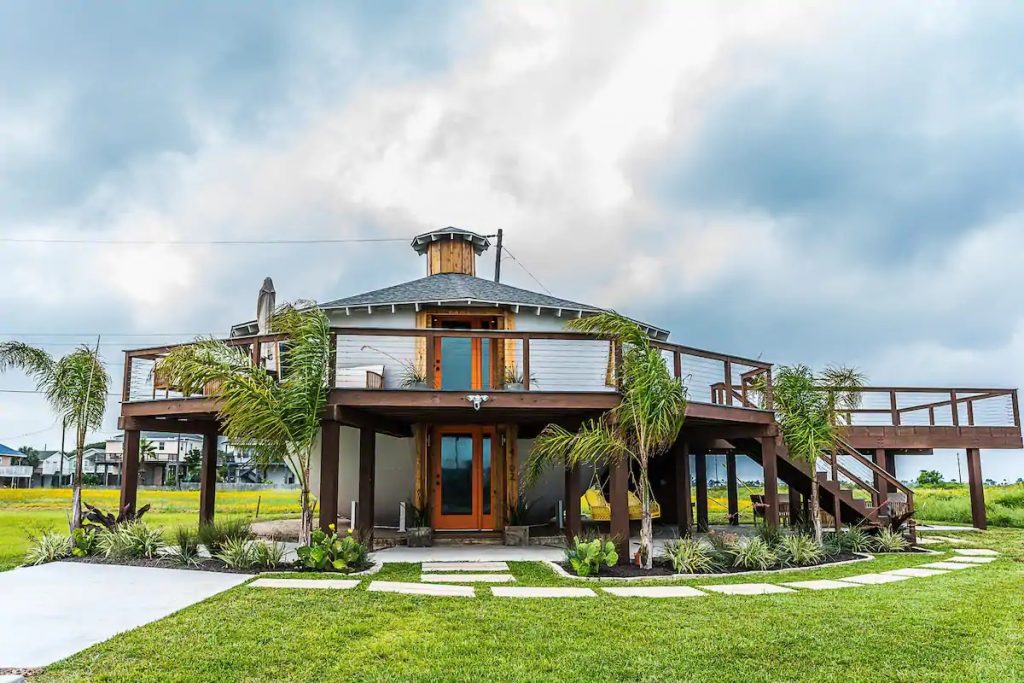 Mid Century Modern Condo
Okay, let's check out this marvelous Mid Century Modern Condo that is located in the Energy Corridor which is close to Houston.
You will never guess that this is the one of the most affordable Airbnbs in Texas! Every detail in this condo is gorgeous! It is extremely well organized, stylish, and sophisticated.
The condo can accommodate up to 2 guests with 1 bedroom, 1 bed, and 1 bath. Other amenities include a fully stocked kitchen, coffee bar, and full-sized washer and dryer units.
Local attractions include Typhoon Texas Waterpark, Memorial Park, and the BAPS Shri Swaminarayan Mandir Hindu Temple which are right near this Airbnb in Texas.
>>>Check Rates: Airbnb.com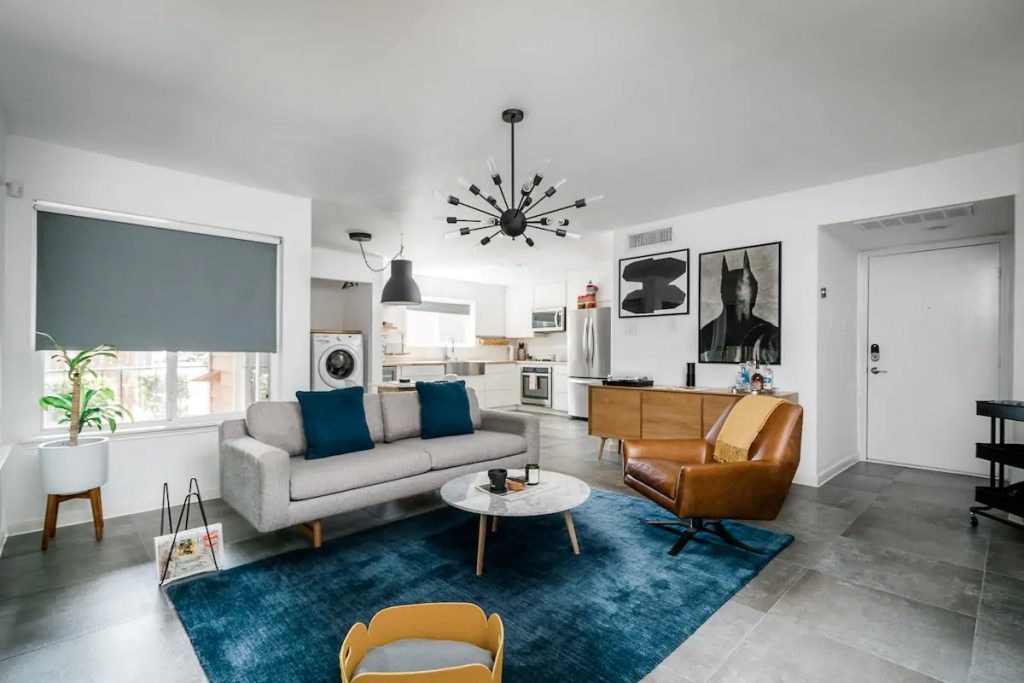 Blue Sky Estate
So, we thought we'd go all out on this last stop. The Blue Sky Estate is one of the VRBOs in Texas that masterfully executes top-of-the-line luxury.
The ambiance is elegant and provides a private resort-style vibe. The estate is located in Austin and can accommodate up to 10 guests with 4 bedrooms, 5 beds, and 4.5 baths.
Some of the outdoor highlights include a swimming pool oasis with a cascading waterfall, a full-service outdoor kitchen with a bar, and a trampoline.
The indoor highlights include a formal dining room with a modern golden chandelier, a striking window formation focal point in the living room, and a marble and glass fireplace.
Conveniently located close to the Zilker Metropolitan Park, Congress Avenue Bridge, Downtown Austin, and Mount Bonnell. Click here to check out some of our other Austin recommendations.
>>>Check Rates: VRBO.com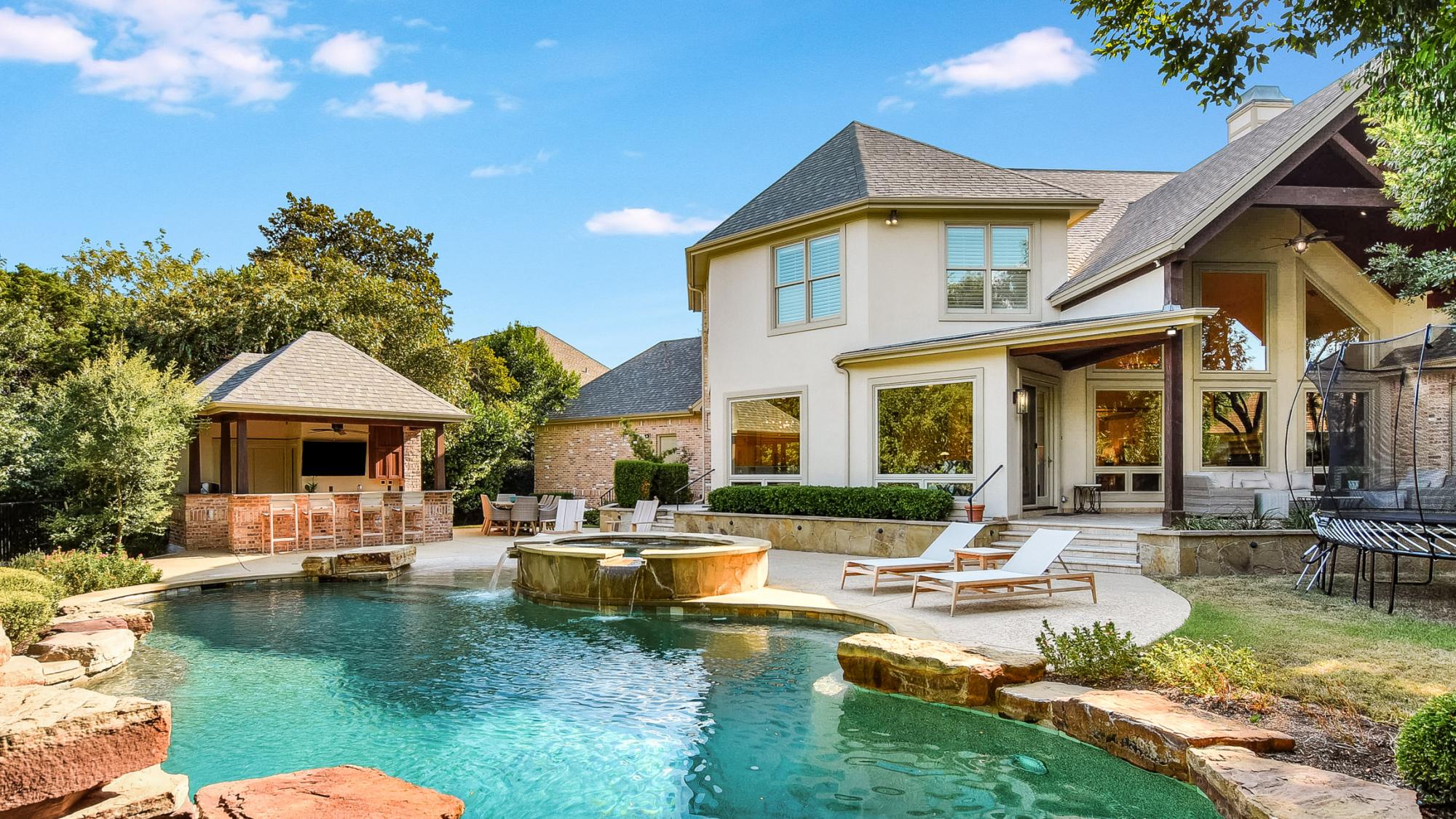 Well, we hope you have enjoyed checking out all of these fantastic vacation rentals in Texas. As you can see there are so many different styles, locations, and price points. So, it all depends on what speaks to you! You really can't go wrong with any one of these amazing accommodations.