Are you looking for the best Texas Gulf Coast Beaches but not sure where to start? You have come to the right place. The gulf of Mexico beaches in Texas are a pleasant surprise of blue water and oftentimes white sand. The Texas Gulf Coast has over 350 miles of gorgeous coastline!
The great state of Texas really does have it all! Austin is a weird little corner known for its live music venues and historical sites such as the state capitol. Houston is more innovative as its known for space exploration and the energy industry. Dallas is a cultural epicenter of the south with opera, ballet, and musicals. Water parks, amusement parks, and so much more brings people to San Antonio.
People come from all over for the beaches along the Texas coast! At the beach, you are able to lounge in the sun, go in the water, play beach volleyball, build sand castles and so much more. In addition, there is an abundance of wild life, island beach options, and so much delicious food!
The coastline stretching from South Padre Island and the Rio Grande Valley to Beaumont and the Louisiana border. There is plenty of room to spread out and find the beach that perfectly fits the trip you want! From family beach trips to a romantic place to watch the sunrise, these are the best gulf beaches in Texas.
While you are at it, make sure to check out the Best Restaurants In South Padre Island!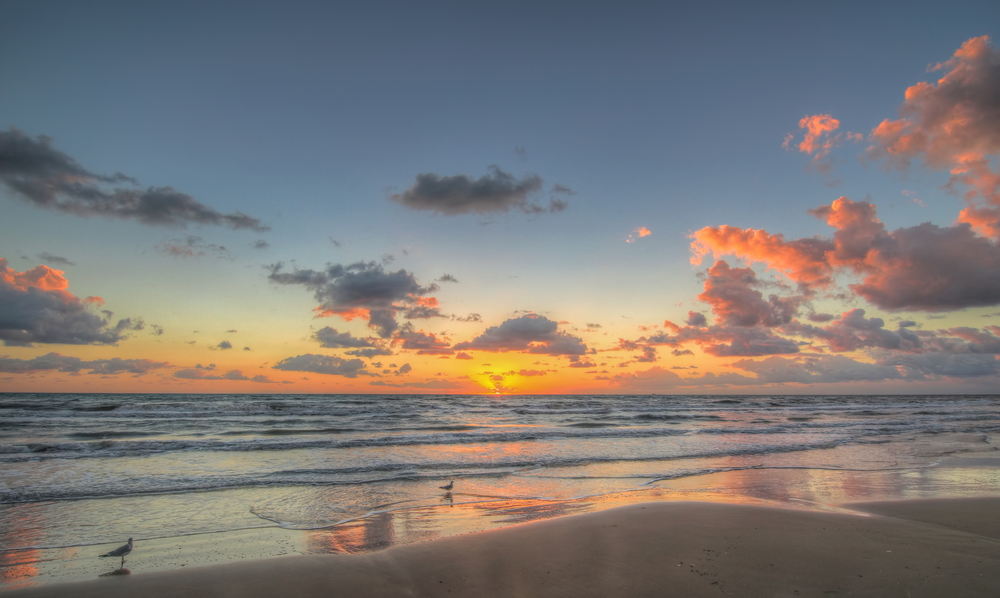 10 Best Texas Gulf Coast Beaches You Must Visit
Boca Chica
Boca Chica is located just north of the Mexico border along the Rio Grande. If you are looking for a very lowkey classic beach setting, Boca Chica is one of the best beaches along the Texas coast!
The beach is named Boca Chica in reference to the modest flow of the Rio Grande. In droughts, the mouth of the river will disappear! Locals spend many hours relaxing on the beach and fishing for delicious fish.
Throughout the 1920's and 30's, this area housed the successful Del Mar Resort! The resort had day use cabins for rent and a bathhouse and ballroom. Sadly, many of these structures were destroyed in the hurricane of 1933. Although they did rebuild, the buildings ended up being a Coast Guard base during World War II.
Now Boca Chica is one of the best gulf beaches in Texas! With surfing, swimming, snorkeling, or just lounging in the sun, Boca Chica is just what you need! Remember to pack in any equipment or food you might want! This beach's minimal offerings keep the crowds away!

Padre Balli Park
Padre Balli Park is located in the Coast Guard town of Corpus Christi! Open all year, this RV park has paved spots with water and electric hookups and a dump station! There is also an area for tent camping! Padre Balli Park is one of the best Texas ocean beaches!
Padre Balli Park has some fun amenities that you don't find at every public beach. A beach campfire with s'mores and the waves crashing behind you is a fun experience that is available! You can also drive onto the beach (with the proper permit)! That will definitely make hauling firewood, surfboards, and an ice chest much easier!
The lighted fishing pier is the perfect place to catch your dinner! But if nothing is biting, there is also a concession area available! Showers, first aid, and most importantly, bathrooms are all available as well!
When visiting, make sure to bring some bug spray! The mosquitos can disrupt a trip. Padre Balli Park is one of the best Texas ocean beaches and a must visit if you're in Corpus!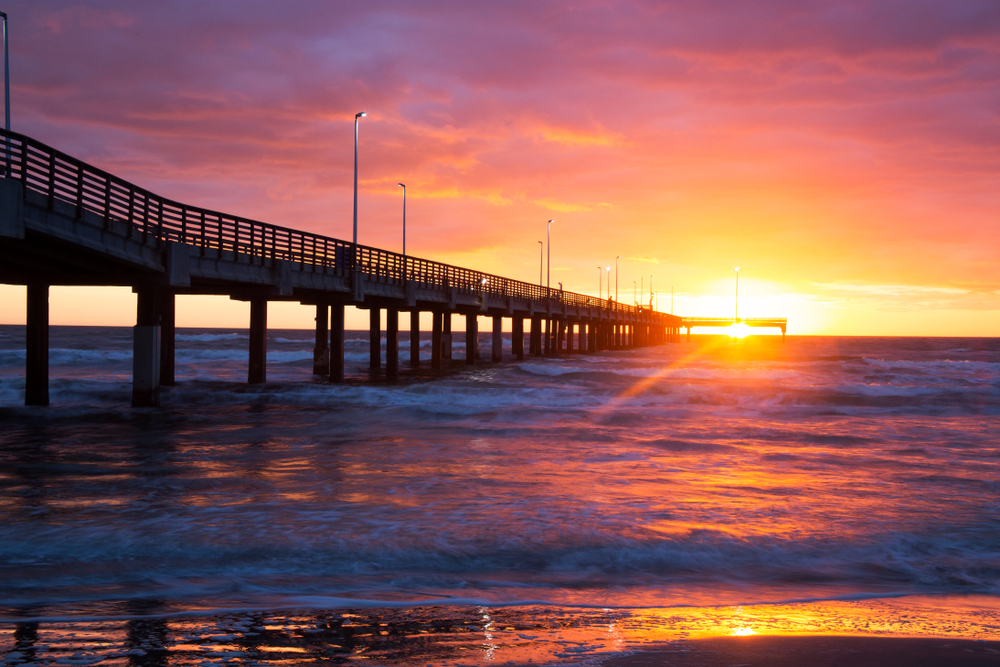 Surfside Beach
Surfside Beach is one of the greatest Texas gulf beaches if you are looking to surf, wind surf, kayak, or fish. The deeper water contributes to a more powerful current for these activities. Visitors can swim in the gulf as well or spend the day lounging on the beach!
Surfside Beach allows horseback riding during the off season. For the summer months, driving on the beach is allowed with a permit! However, all terrain vehicles such as dune buggies or 4-wheelers are never allowed. There are boat ramps available for those wanting to do some deeper sea fishing!
This beach has its fair share of wildlife — some friendly and some not! Many come to Surfside Beach for the birdwatching and to walk the Butterfly trail. During certain times of the year, many monarch butterflies are around. Snakes can hide in the dunes, so take extra caution when walking through.
The town Surfside Beach has a plethora of dining and lodging options if you wanted to take advantage of one of the best vacation spots on the Texas coast! Many of the restaurants and hotels are beachside with gorgeous views of the water to make this an idyllic retreat!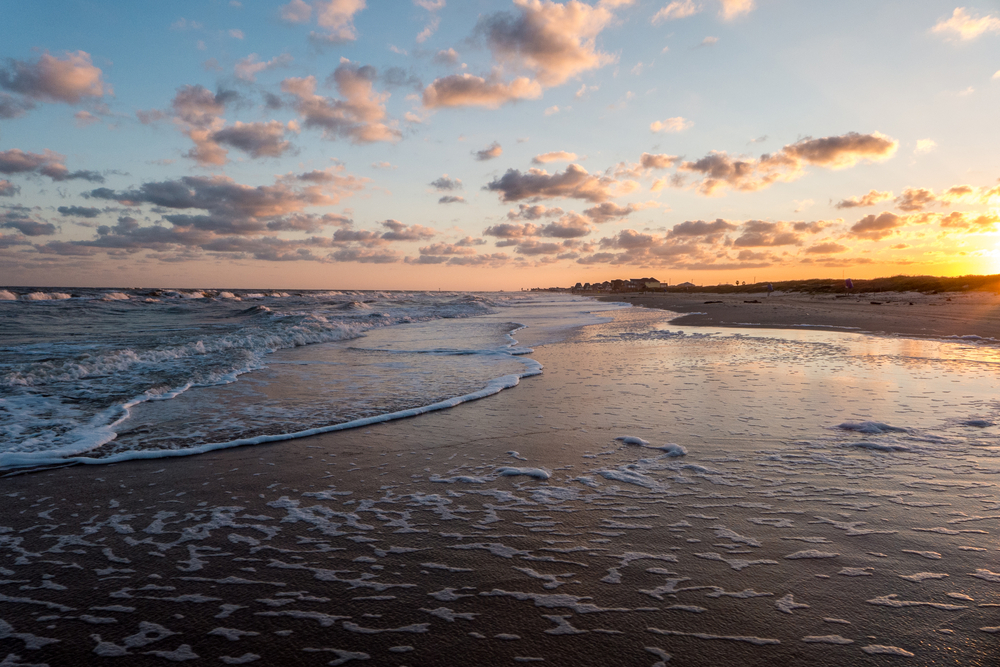 Crystal Beach
Crystal Beach is located on the Bolivar Peninsula just outside of Houston and is one of the best Texas coast vacations for families! The whole peninsula stretches 27 miles and Crystal Beach is at the center of it! Whether you're there for the day, or for a vacation, Crystal Beach has it all!
Along the whole 27 miles, vehicles can drive straight onto the beach with the beach parking permit! Vehicular beach access definitely makes it easier to bring chairs, firewood, coolers, and surfboards! For some extra fun, Crystal Beach hosts fireworks on both 4th of July and New Years Eve!
Families and friends spend the day looking for seashells, shark teeth, and sea glass! You can surf, body surf, boogie board, and swim in the gulf! If you're there for lunch, bring a bbq and make your favorite summer foods!
Crystal Beach has plenty of restaurants from steak to seafood, burgers to pizza! If you're there for the night, the hotels will take great care of you and your loved ones. This destination has everything you need in a small area. Meet up with friends or carpool down together! Crystal Beach is one of the best Texas Gulf Coast beaches for groups!
Rockport Beach
Rockport Beach is one of the cleanest gulf of Mexico beaches in Texas! Known as Texas' first Blue Wave Beach, it is one of only four in the whole state! A Blue Wave Beach is a certified clean beach that focuses on the protection of human health and the environment. As such, Rockport Beach is tested twice a week by the Environmental Proctection Agency to measure bacteria levels in the water.
Scattered around Rockport Beach are 65 individual picnic areas for you and your group to enjoy! There is no open flames allowed one the beach, but each picnic area has a BBQ grill for your use. There is also a playground for children that is available to use when the beach is open. Beach and playground hours are 6am to 11pm.
If you are looking to go fishing, there is an 800 foot pier at the North end of the beach for your use! For those that are trying to get further out in the water, sail boats, sail boards, and other wind powered craft are allowed. There is a boat ramp for your convenience! In this area, motorized craft are not permitted which allows for more classic beach sounds!
Rockport Beach is one of the cleanest beaches along the Texas coast!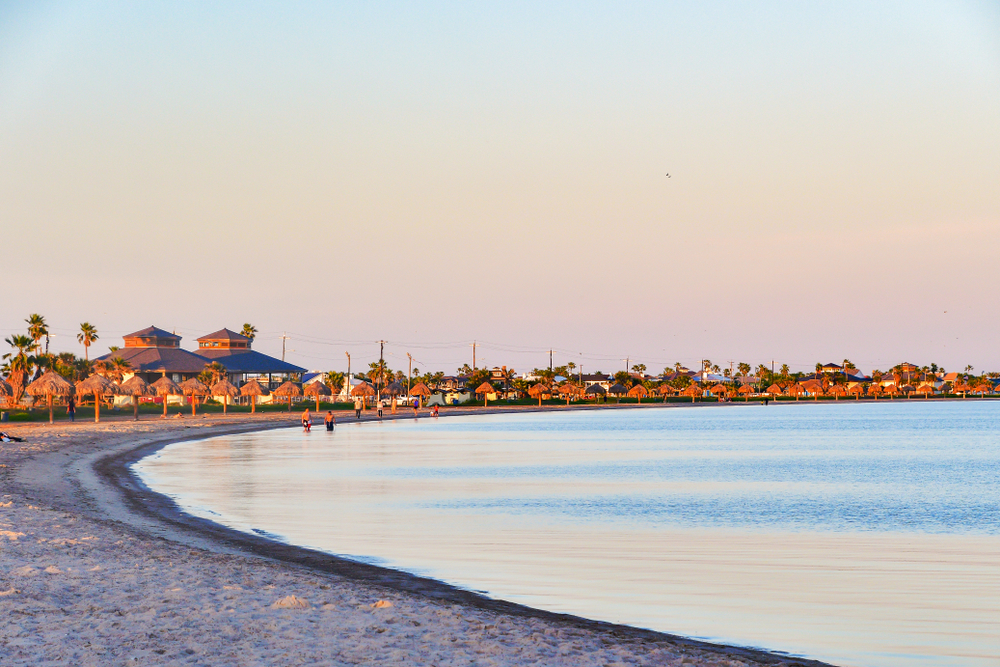 Magnolia Beach
Magnolia Beach is located about halfway between Corpus Christi and Houston in the Matagorda Bay. The nice thing about a bay versus the wide open gulf is that a lot of times the waves are calmer for snorkeling and the chance of unwanted marine life is smaller! Magnolia Beach is one of the best Texas Gulf coast beaches for campers!
The hard packed sand along the mile and half beach makes it safe to drive your RV as close as 15 feet from the water! If you don't have an RV, you can camp in your car or there are basic campsites for tent camping! With flush toilets and showers, it is a wonderful place to camp and fall asleep to the sound of the waves crashing.
Because of it's location on the bay, the sunrises and sunsets are picturesque. Both the Colorado and Lavaca Rivers flow directly into the bay making the water in this area less salty! There is only one small store in the area, so it's best to bring everything with you. The town of Port Lavaca is 20 minutes away if you find you're in need of anything more substantial!
Magnolia Beach is one of the best Texas gulf coast beaches!
Malaquite Beach
Located on Padre Island near Corpus Christi is the beautiful Malaquite Beach! Although it is part of a campground, Malaquite Beach is one of the most secluded Texas Gulf Coast beaches! Perfect for families, a solo trip, or a trip with your significant other, Malaquite Beach is the perfect choice.
Unlike some of the other beaches on this list, you cannot drive on Malaquite. Although that makes some things more difficult, such as hauling all your stuff across the sand, there are plenty of benefits. Beaches that don't allow vehicular traffic tend to be less busy and much quieter. Often an afternoon at Malaquite Beach feels like your own private beach because not many people go there!
Malaquite Beach and it's bathrooms are known for being clean and accessible! You can also camp in the area making this a great destination. During the Kite Fest, the steady wind with no gusts makes this a popular place with the locals to fly kites. Malaquite Beach is one of the best kept secrets when it comes to Texas gulf beaches!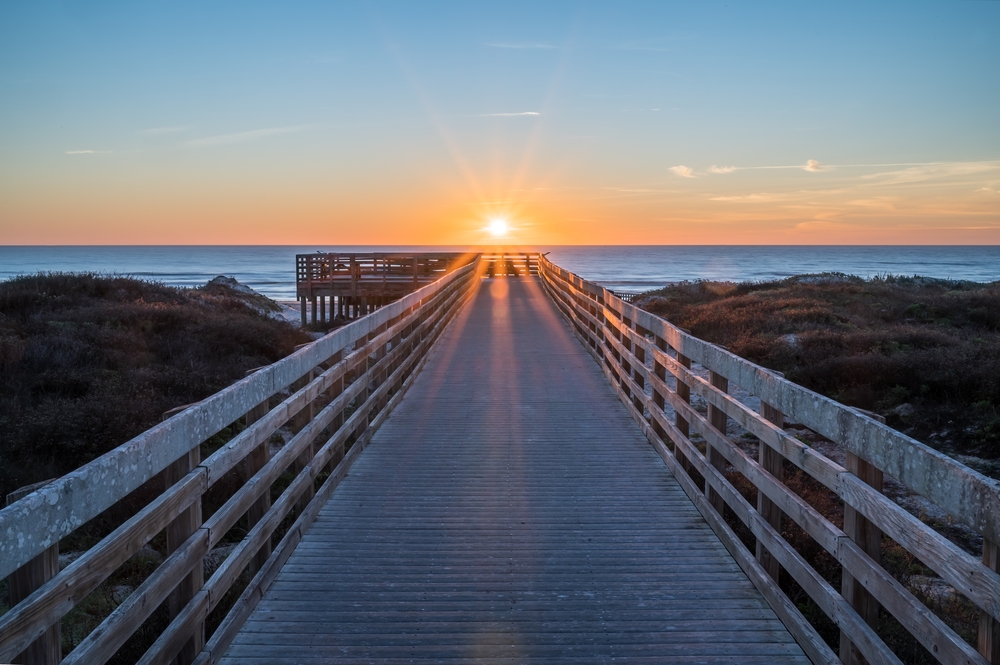 Port Aransas
Port Aransas beach is located in the town of Port Aransas on Mustang Island near Corpus Christi! With its location on the gulf side of the island, Port Aransas is one of the most entertaining Texas coast vacations! The entirety of the beach area is 18 miles, but it gets pretty full with vacationers looking to have a good time!
The Port Aransas Beach is located directly in front of the resorts. If you are staying in one of the resorts, a beach day is incredibly convenient! The water is warm and the beach is wide open! There is also the option to get a permit to have a 3×3 fire on the beach.
With lots of lifeguards on duty, this is a pretty safe beach for your little ones as well! There is plenty of space for swimming, boogie boarding, and body surfing! The surrounding town provides plenty more activities for you and your family! Port Aransas is one of the best Texas Gulf Coast beaches!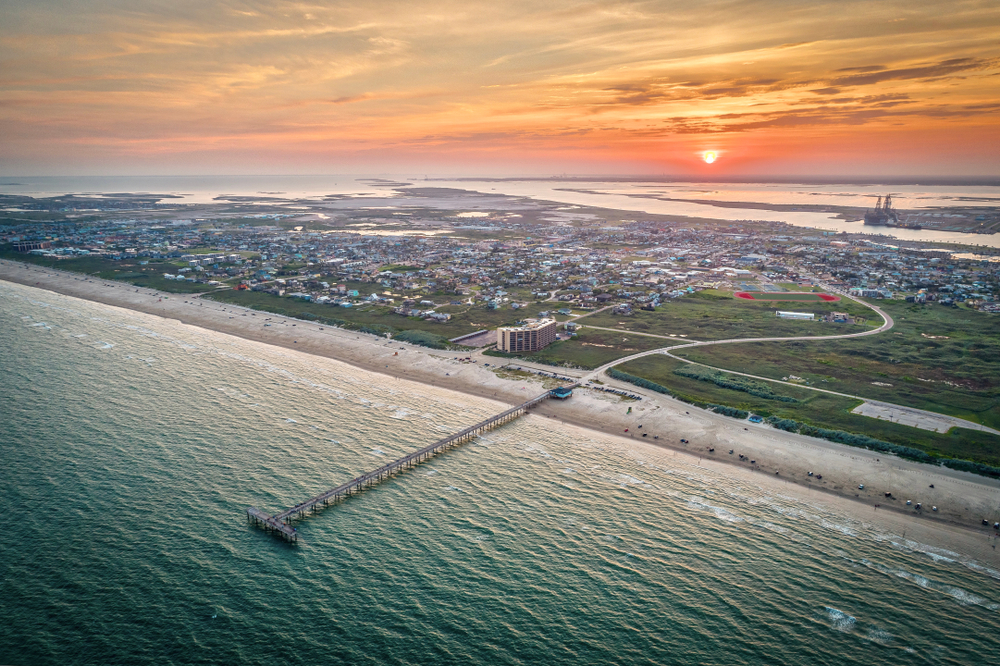 Sunny Beach
Many of the beaches in and around Galveston have the reputation of being less than clean and full of partiers. However, Sunny Beach is the exception to that rule! Pretty clean in comparison, and far less crowded, Sunny Beach is one of the best gulf coast beaches in Texas!
The beach being less crowded is partly due to the fact that it is several miles from the Seawall. The closer you are to the Seawall, the less waves you will experience so Sunny Beach is a bit wavier than some of the beaches in Galveston. With no amenities directly on the beach, Galveston city center is only 10 minutes away so you are close to anything you may need!
Sunny Beach is best for simpler activities versus extreme water sports. Many visitors to Sunny Beach spend their time sunbathing, swimming, looking for seashells, building sand castles, or walking along the beach. Since it is a hard packed drive on beach, you could just grab some dinner and enjoy the sunset from the comfort of your vehicle parked on the beach.
If you want to turn the trip into one of your Texas coast vacations, Galveston hotels will offer the perfect stay. From family trips to romantic getaways, one of the hotels will have you covered!
Whitecap Beach
Whitecap Beach is another beautiful beach located near Corpus Christi! If you are looking for one of the best beaches along the Texas coast, look no further than Whitecap!
This beach has a little bit of everything that you are looking for. You can drive onto the beach, making it convenient if you're hauling a lot of things. Whitecap Beach is can get crowded on the weekend during summer, but you will have plenty of room to spread out! Most notably, the water here is a lot more clear making for a beautiful place to hunt for seashells! Or spend a couple minutes watching the sand and water move below your feet.
Whitecap Beach is one of the most clear Texas gulf coast beaches and a must see if you're in the Corpus area!