Galveston is an island city just off the Gulf Coast of Texas and is a wonderful place to visit! This beautiful city is known for its gardens, restaurants, historic pier, state parks, and more. You know there are plenty of things to do in Galveston!
Many of these Galveston attractions bring tourists to the city, encouraging them to explore and interact with Galveston's coastal vibes. From kayak launches, trails, fishing spots, beaches, and even giant glass pyramid attractions, you won't be bored! Add anything your heart desires to your Galveston bucket list.
So pack a bag, get a list going, and start checking off all things in Galveston you want to do!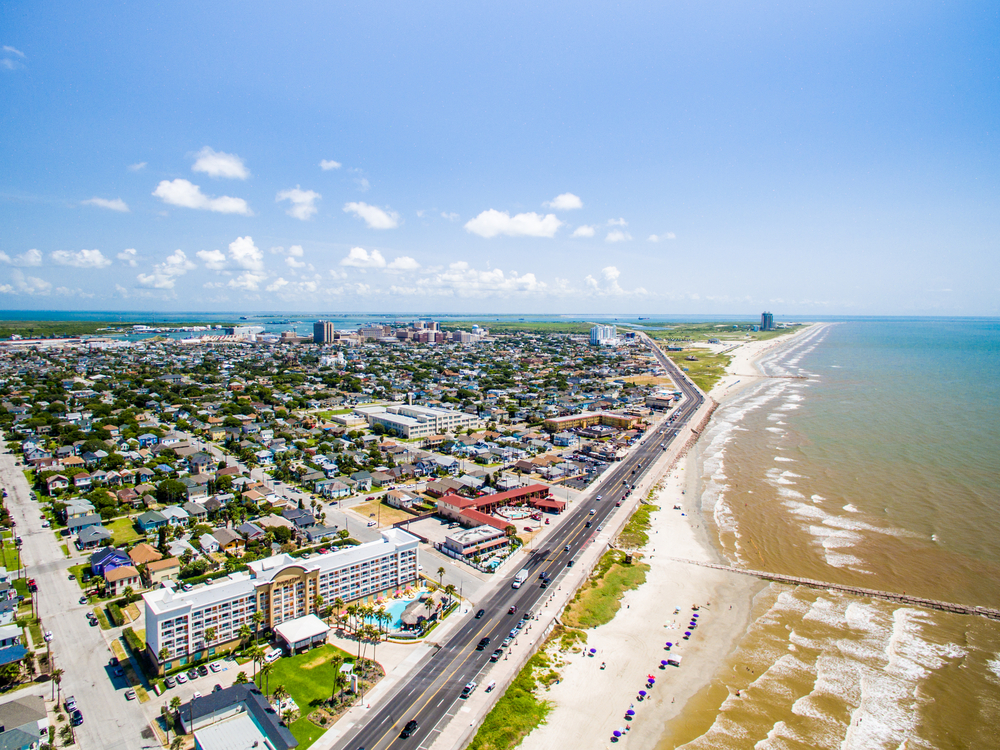 Visit the Moody Gardens
The Moody Gardens are a fantastic educational destination that opened in 1986. We love adding this to our things to do in Galveston as this non-profit destination features a golf course, hotel, and uses nature to educate and excite visitors. They thrive off of conservation and wildlife.
The Moody Gardens feature three main pyramid attractions. First is the Aquarium Pyramid that holds many specifies of fish and other marine animals. Then there is the Rainforest Pyramid, which contains tropical plants and animals. And lastly there is the Discovery Pyramid, which focuses on science-oriented exhibits and activities.
But whether you decide to tour these pyramids or spend some time relaxing on the Palm Beach landscape at the Moody Gardens, we promise you will enjoy every second of this place! With mini water parks, a ride film theatre, and other complex attractions, this is one of the best things to do in Galveston for anyone of all ages!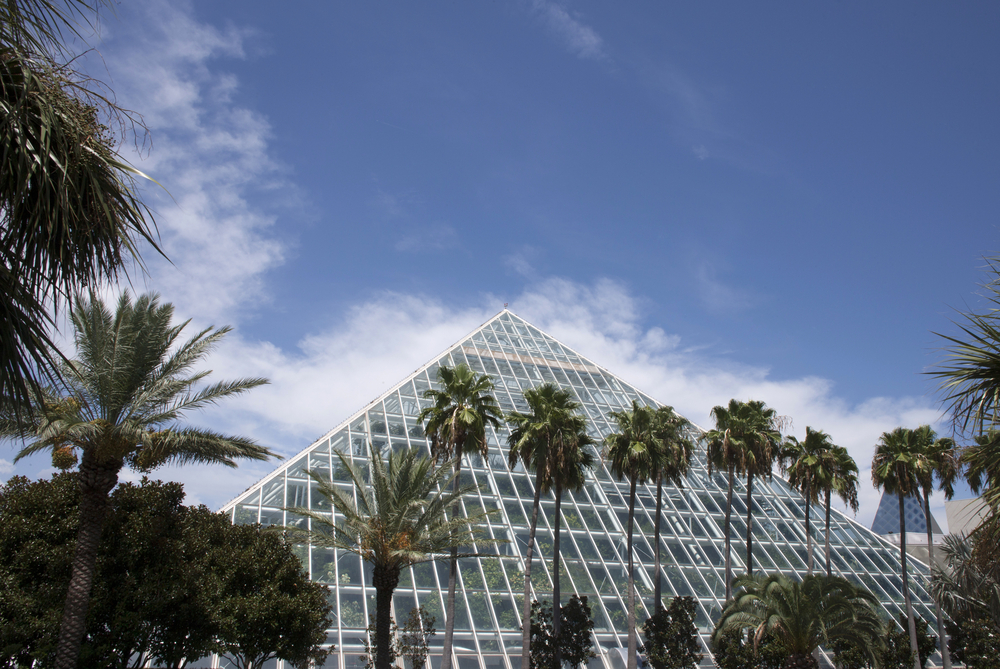 Walk the Galveston Island Pleasure Pier
If you're looking for lots of adventure, make sure to add the Galveston Island Pleasure Pier to your list of things to do in Galveston! Tis historic pier is family-oriented and features midway games, food venues and retail shops.
There is truly no other Gulf Coast destination other than this Galveston pier! This is one of the few spots in the world that features rides that go over the water! Here you can soar over the Gulf of Mexico on the Texas Star Flyer or relax on the Ferris wheel.
In total there are 16 rides here and more than enough shops and restaurants to enjoy while exploring this fantastic spot. With ride and game tickets starting at four dollars, you are bound to have a fun and fairly inexpensive night! Make sure to add this to your list of things to do in Galveston! As you can see, it is located directly on one of the best beaches in Texas!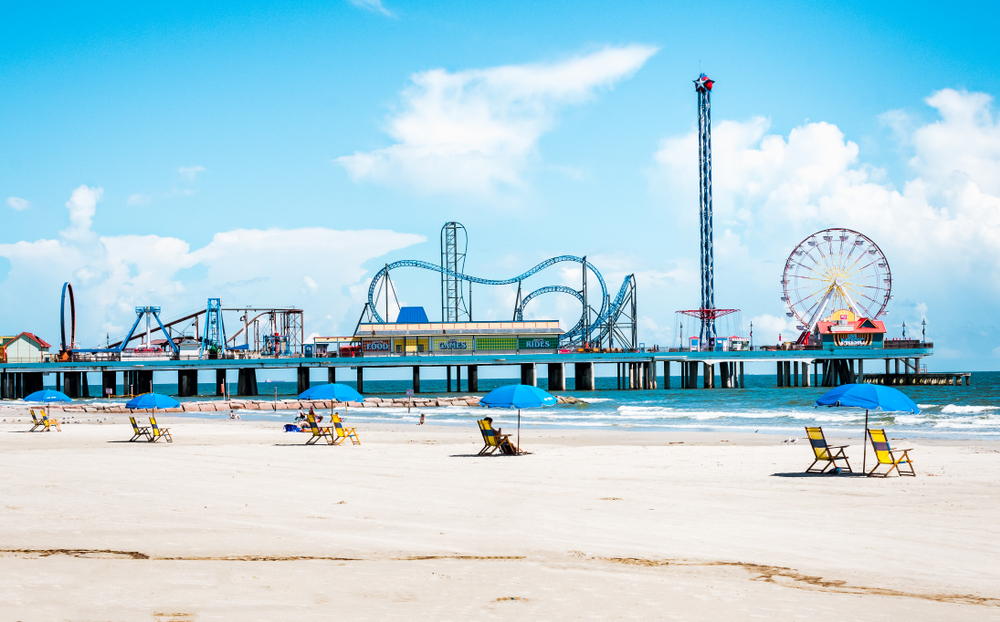 Tour Moody Mansion
Looking for specific places to visit in Galveston? Add Moody Mansion to your list! This 28,000 square foot historic home features 20 rooms and tours that provide insight to a powerful Texas family.
Moody Mansion has been listed as one of the most famous historic houses in the nation, so why wouldn't you add it to your things to do in Galveston list? This home has been considered a landmark since 1967 and was completed in 1985.
Restored and just as beautiful as it ever was, this four-story home is perfect for you to relax, and walk through and observe. With fantastic interior design and architecture, you don't want to miss the historic Moody Mansion! It is truly one of the cutest beach towns in Texas!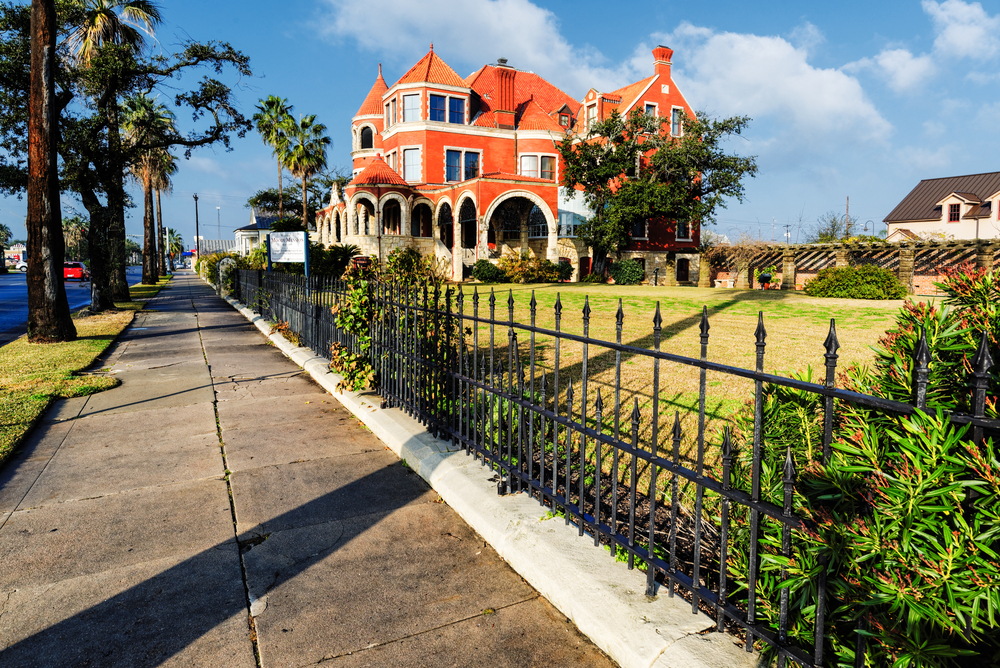 Experience Schlitterbahn's Waterpark Galveston
If you're looking for heart-pounding fun, add Schlitterbahn's Waterpark to your list of things to do in Galveston! This is the largest collection of fast, thrilling attractions in Texas!
From rivers to wave pools, or the opportunity to lounge in the sun, there are so many options for all friends and family who visit! So whether you decide to do fast and tall waterslide or you are absorbing some rays, this is the place to be.
From over 33 attractions and famous outside areas, the water playgrounds and spots to relax really do call your name. For just 50$ you can go and enjoy yourself with a fun-filled day in the water!
Explore the 1892 Bishop's Palace
If you are a sucker for historic architecture and want to feel like you stepped back in time, go visit the Bishop's Palace! This Palace, also known as Gresham's Castle, is a Victorian-style house that offers a variety of tours.
While looking for things to do in Galveston, look at Bishop's place! This historic landmark offers basement to attic tours– locations that are typically off limits! Go take a walk through the 19,082 square feet of this home.
We promise you won't be disappointed with the ornate exterior and interior design. This gorgeous castle was built by 1893 and it's stone composition that sits across the Sacred Heart Church. Walk through the halls and remember that this home once served as a home for the bishop. It is no worth over 5.5 million dollars!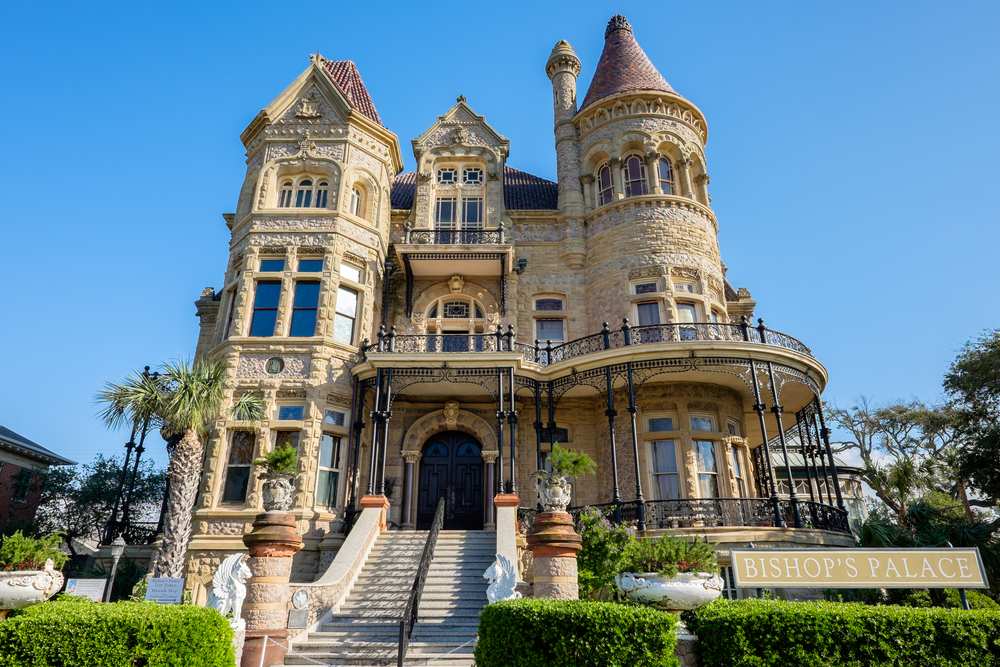 Galveston Island State Park
Located in western Galveston, this state park encourages you to forge your own path or follow the trails already set for you. Famous for the outdoor adventures this park offers, there are activities for every coast lover.
Stroll the beac, splash in the waves, fish, or practice photography on local birds: whichever you decide to do, this is one of the best things to do in Galveston because of its connection to nature.
And if you decide to stay awhile, grab a cabin or even camp out! These are great lounging options if you get tired from the four miles or trails or just stop by fro local ranger events (make sure to check the websites calendars for updates on their special programs!).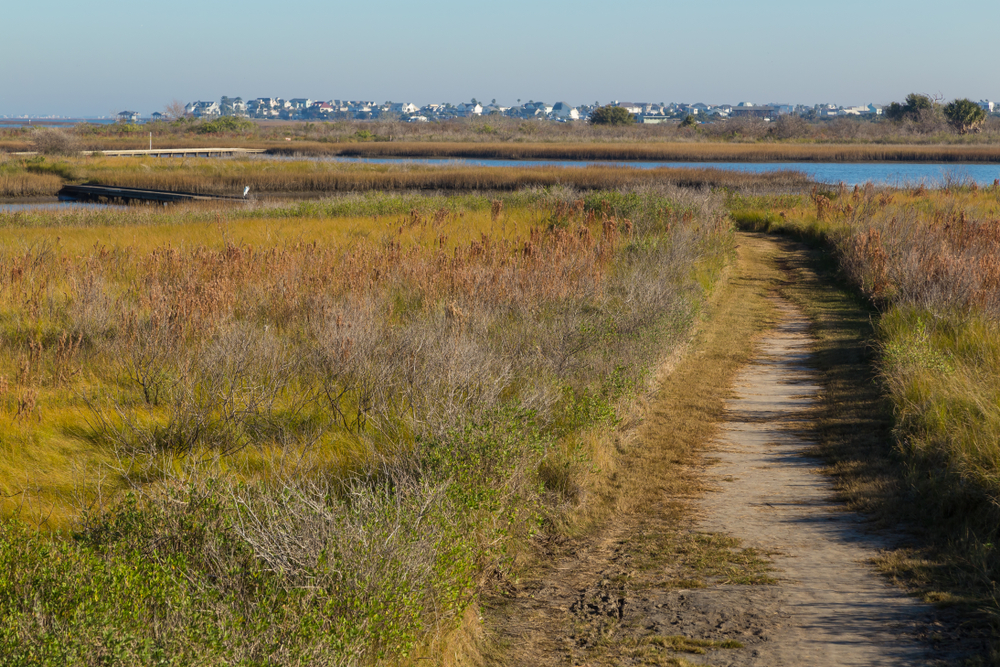 Geek Out at The Bryan Museum
If you are a history buff, you must add the Bran Museum to your list of things to do in Galveston! This museum opened in 2015 and currently houses the Bryant Collection. This collection features the largest collection of historical artifacts, documents and artwork that is related to Texas and the American West.
This museum's collection spans over 12,000 years with pieces ranging from ancient Native America artifacts to art from the 21st century. There are over 70,000 items in total here, so make sure to plan accordingly for time to see everything!
And enjoy things beyond the collection too! This museum is a huge community partner, so if you are in town for the concerts, featured events in printmaking or writing, or new projects, stop by and enjoy!
Relax on Babe's Beach
Babe's beach is considered the must-see beach on Galveston Island, so add it to your things to do in Galveston! This beach is arguably the best beach around because of its unique feature.
From fantastic activities to the historic seawall, you can enjoy walks, strolls, or morning jogs alongside sunsets and sunrises. And better yet? This beach is across the street from a popular neighborhood!
This means you can enjoy a day in the sun and water before going and enjoying restaurants, bars, gift shops, and maybe even a tattoo at a local parlor!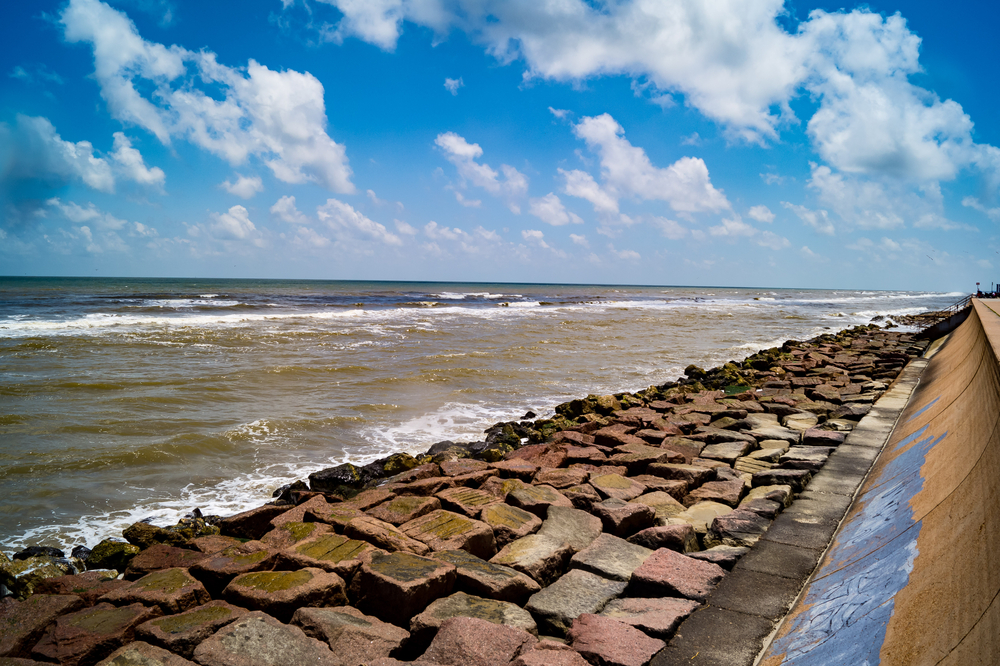 Step Back in Time at the Strand Historic District
If you love to explore old architecture, you must add the Strand to your list of things to do in Galveston! This is one of the best Galveston tourist attractions! The strand is a district that consists of Victorian-era buildings that survived the Great Storm of 1900.
Today, the Strand houses countless restaurants, cafes, galleries, antique store and more. If you want the full Strand you can explore restored warehouses and more. This place is perfect for sightseeing and shopping.
Between eclectic stores to traditional restaurants, you won't be disappointed! Stop and watch taffy being made or pause at the Pier 21 theatre to watch "The Great Storm," a film on the 1900 hurricane that hit Galveston. There is so much to do!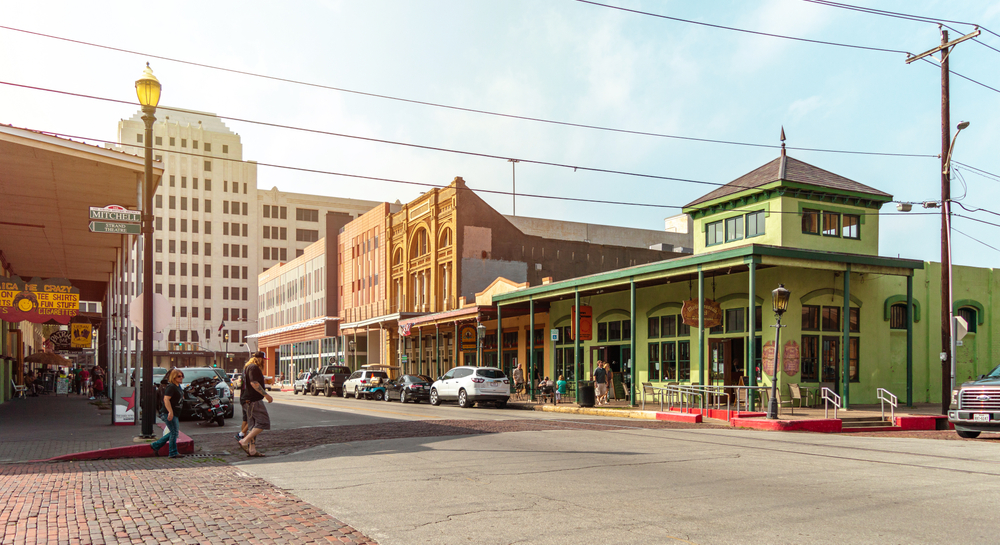 Celebrate the Arts at the Grand 1894 Opera House
If you haven't noticed, Galveston is famous for its old structures. This includes the restored Victorian theater that has withstood multiple hurricane! Each year this opera houses hosts a full line up of theatre performances.
From kids shows to musical performances, this Opera House is the official opera house of Texas! So consider peeking in to see the structure, or maybe even buy a ticket to a show!
In the main auditorium has three levels of seating, but one of the coolest parts is that the wall inside the main entrance is home to a plaque that shows the level of high water mark from a hurricane that swept through in 2008.
Go to the Ocean Star Offshore Drilling Rig and Museum
Because Galveston is a coastal city, the port is home to many rigs and supply vessels. Historically, the town has been involved in the Gulf of Mexico's bustling oil and gas industry.
This museum offers a great opportunity for tourists to dive into these businesses! And the coolest part? It is on an actual oil rig! This is one of the coolest things to do in Galveston! This rig is the Ocean Star, which was built in 1969.
When touring, you get to visit the pipe deck, and engage with interactive displays that show the processes of exploration and extraction. Enjoy seeing all the large equipment and wells!
Go to One more Museum– The Texas Seaport Museum!
If you are in Galveston, you must go visit Elissa. Elissa is a tall ship that was built in 1877 and is considered one of the finest restored vessels in the US. She is even still put to sea regularly!
Saved from a scrap yard, her story is told inside the Texas Seaport Museum itself. Here you can also learn more about the history of the Port of Galveston. Today, Elissa is one of three ships in her kind to still actively sail and welcome over 40,000 visitors.
She is the official Tall Ship of Texas, a National Historic Landmark, and a great symbol of this coasts historic beginnings. So stop by the seaport, pay some respects, and learn more about the history. We promise it is so interesting and worth to add to your list of things to do in Galveston.
Search for the Tree Sculptures
In 2008 hurricane Ike flooded and damaged huge portions of Galveston in a tidal surge. During this, many trees were uprooted, and Galveston's tree canopies were lost and destroyed.
However, years later, artists have brought life to mother nature. What was once destroyed is now beautiful again– these tree sculptures that artists are sculpting out of damaged oaks are one of the most unique things you can see in Galveston.
Whimsical sculptures now– like the Angel Cradling Bunny or Birds of Galveston– line neighborhood streets and shade local homes. They are tucked int the corners of gardens and sit nestled inside yards. Take a self tour and try to find them: we promise you won't be disappointed.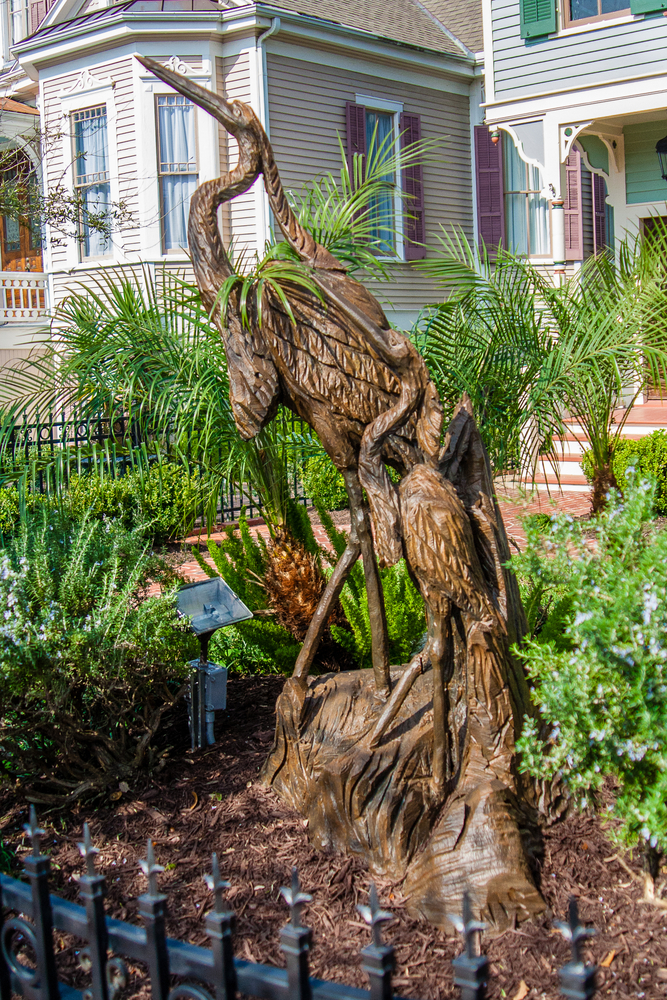 Visit the Old City Cemetery
At 200 years old, Galveston's Old City Cemetery is claimed to be haunted. It is the region's earliest burial ground and tourists claim it is one of the most unnerving locations of the coastal island.
From mausoleums and nineteenth-century tombs, it is no surprise visitors think this place is haunted. There has even been stories of pirates, madames, murderesses and even cannibals who are buried here.
If you are interested in enjoying something spooky, add this to your things to do in Galveston! But be respectful, of course. Tour yourself or book a haunting tour: see what lives above or below the Old City Cemetery.
Stop by St. Mary's Cathedral Basilica
Across the street from the Bishop's Palace, this Roman Catholic church is famous in Galveston for being the island's primary cathedral. Since being built in 1847, this church has weathered many hurricanes but still stands tall.
Over time though this church has had to been revitalized to become operational. It is now once again at full service, meaning all repair and restoration was successful. With its multicultural members, this church welcomes many, supporting social justice and praying in over 14 languages.
So whether you just want to walk through the church's gorgeous doors or actually attend a service, this may be something to add to your things to do in Galveston! Take part in any social or pastoral services when visiting!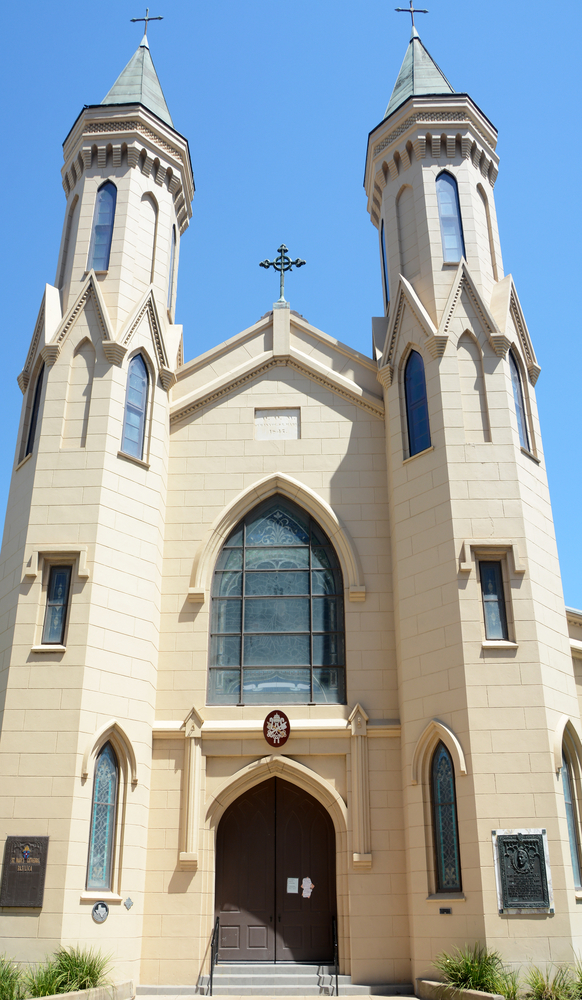 So there you have it,15 of the best things to do Galveston. From countless museums to historic homes and gorgeous architecture to a million outdoor activities, there is so much to do on this Coastal island. There are many Galveston tourist attractions and we promise it is worth seeing all of them if you have the time! Enjoy!