Are you traveling and looking for where to stay in Dallas? If so, you've come to the right place! This city is truly underrated. Between being a great spot for sports, having a fantastic foodie scene, and having some rich history, this is a place you can probably spend forever in.
In all honesty, Dallas is huge (everything is bigger in Texas, after all!). This means there are tons of places to stay in Dallas as well.
And, when you consider it, there are also so many places to consider when looking for where to stay near Dallas too! So whether you are a fan of history, ready for some culture, or traveling with your family, we have got you covered. Here is where to stay in Dallas!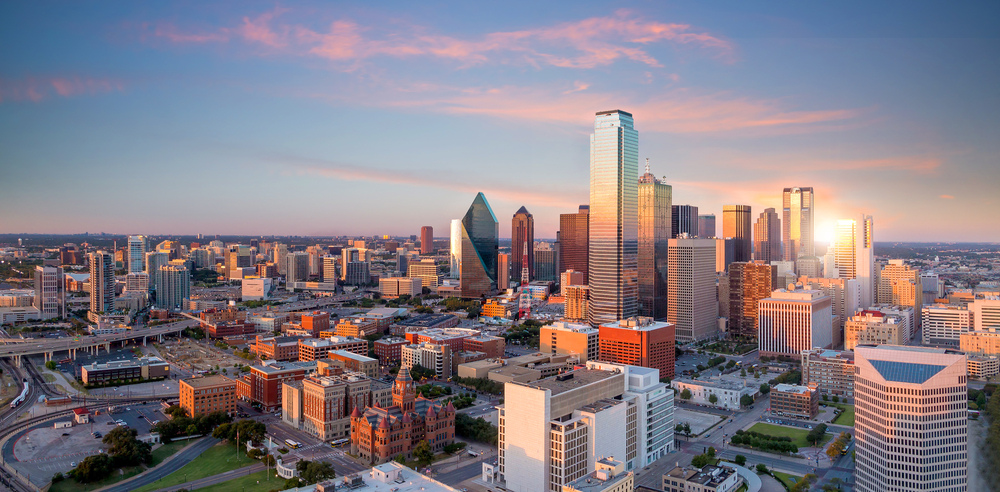 Understanding Dallas Neighborhoods
What you really need to know about Dallas is that this large city thrives. It is very urban, cosmopolitan, busy and always growing!! Booming in Northern Texas, this once corporate city has now grown to include new cultures and must-sees. Now that skyscrapers are growing upward, neighborhoods are spreading around the city center as well.
When considering Dallas accommodations, you really need to know the neighborhoods. From downtown, to Bishop Arts, Uptown, Knox-Henderson and even Deep Ellum, your options are endless.
So pick your stay: you can choose to within walking distance of everything downtown, or enjoy music in Deep Ellum. Find your best fit! The best thing about Dallas and its neighborhoods is there are so many cool places to stay in Dallas.
And there are so many things to do around the city too! You won't be disappointed! We promise! Keep reading for some of the best neighborhoods in Dallas and their respective lodging!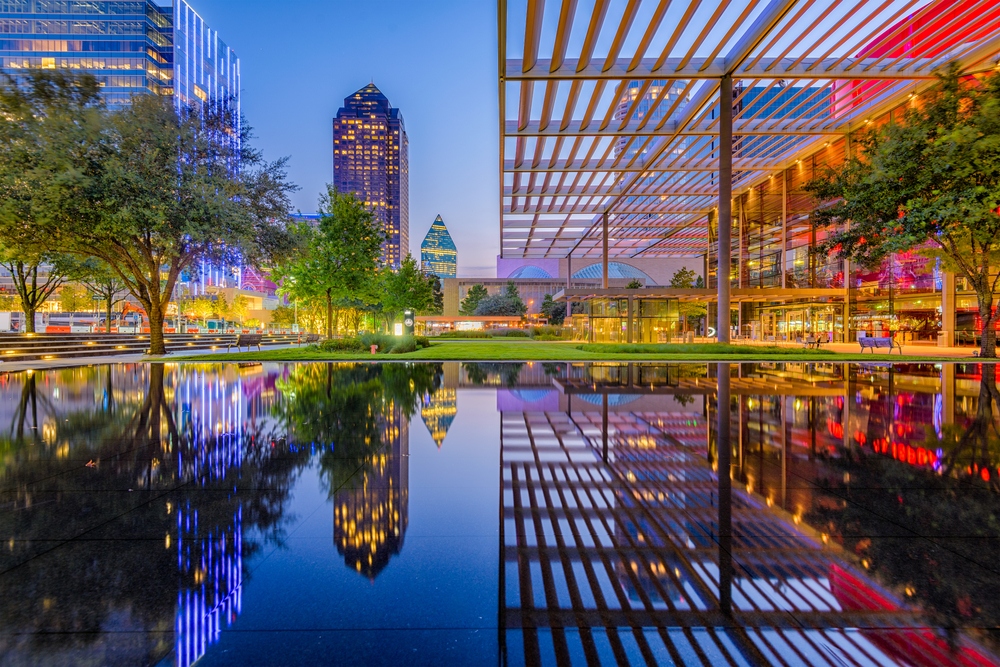 Downtown Dallas is Where to Stay for First Timers
If you are visiting the city for the first time, you've got to stay in Downtown! This is the best place for visitors because of its easy accessibility. You can walk anywhere! And being within walking distance of the city's best attractions is always great. Can you imagine just walking to the Dallas World Aquarium on your vacation?
Of all places to stay in downtown Dallas, your options are endless. So where to stay in Downtown Dallas is the ultimate question! From historic hotels that are ripe with the history of the city, to little bed and breakfasts, nothing is one size fits all. Overall, if you want to capture the essence of the city, Downtown is where to be. You'll love going to the Reunion Tower, exploring museums, visiting a farmer's market, and more!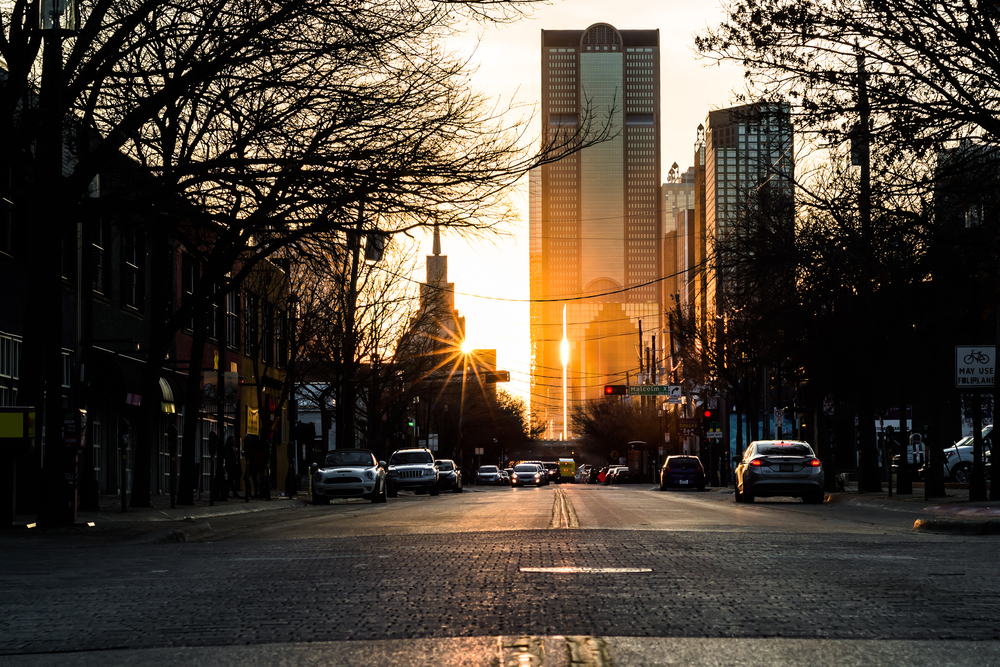 Best Places to Stay in Downtown Dallas
1. Hyatt Regency Dallas
When looking for where to stay in Dallas, this hotel is a fantastic option! The Hyatt Regency Dallas offers on-site dining and comfortable rooms. Guests can enjoy the 24-hour fitness center, the splash pool outside (which is perfect for hot, summer days!), and more.
A private bathroom, work desk, and flat-screen comes with each room booking. But better yet? Staying here lets you be less than a mile from the JFK Memorial and the Sixth Floor Museum at Dealey Plaza. The Dallas Museum of Art is also close by, so you are close to it all!
Check Rates: Booking.com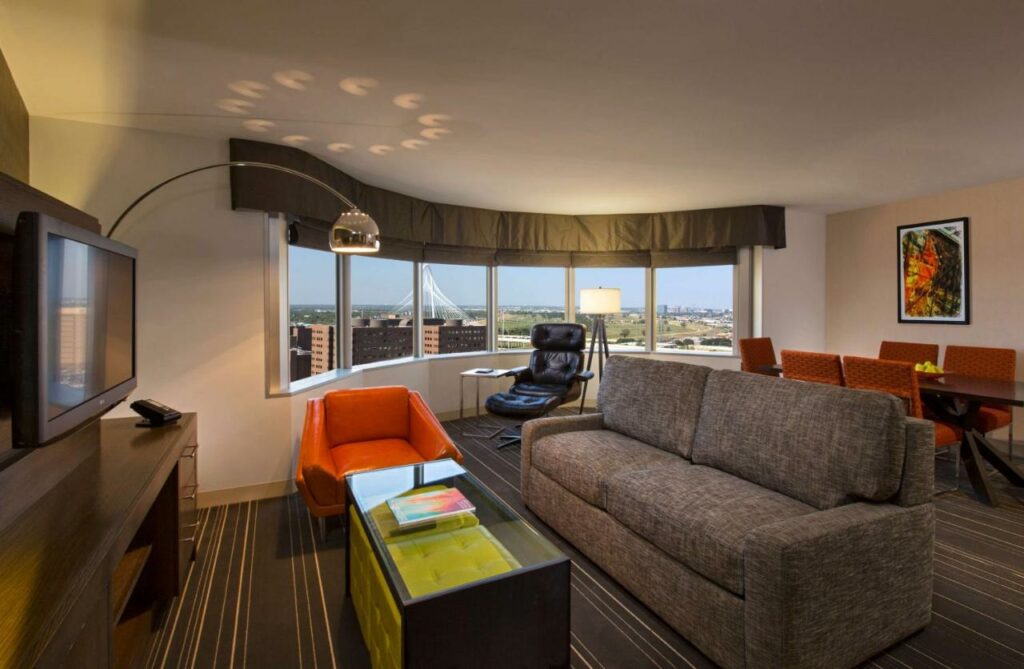 2. SpringHill Suites by Marriott Dallas Downtown/ West End
Wouldn't you love being just two blocks from the Dallas World Aquarium? SpringHill Suites by Marriott Dallas Downtown/West End is the place to stay then! It truly is one of the best hotels in downtown Dallas. Guest love the hot buffet breakfast that is served every day.
Guests also love the outdoor pool and fitness center. The huge rooms are also a plus– and if you are traveling with a larger group, family rooms are available! The 24-hour front desk staff is always helpful when deciding what to do or where to go downtown. And the Dallas Convention Center is less than one mile away, so you'll always have something to do. Make sure to check out their show calendars!
Check Rates: Booking.com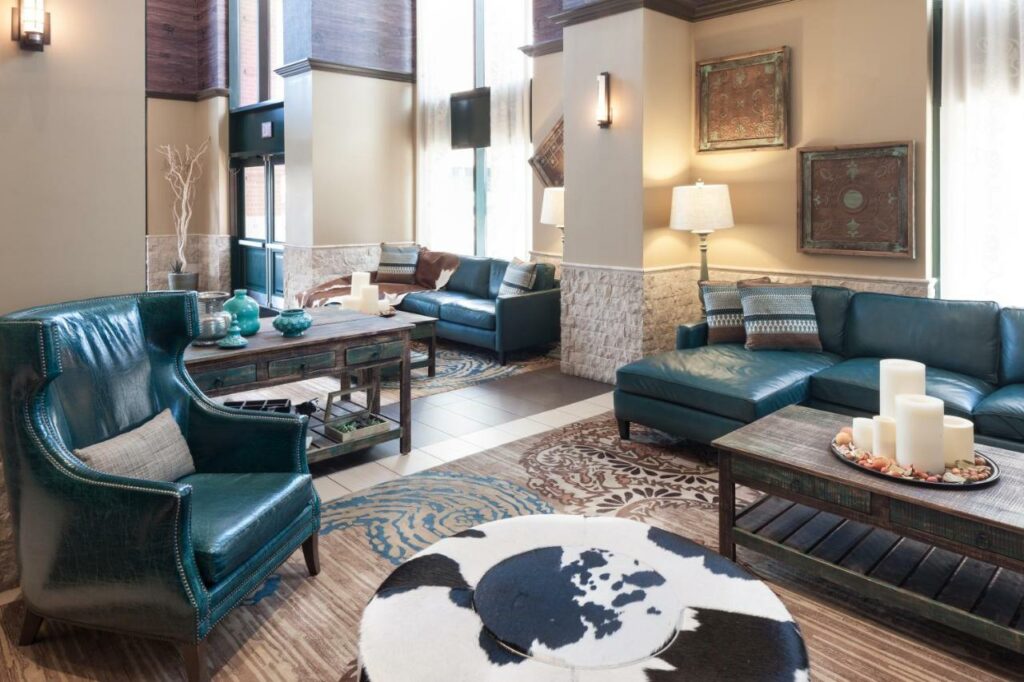 3. Abode Dallas- Downtown Convention Center
You don't always have to stay at a hotel! In fact, when booking Abode Dallas- Downtown Convention Center, you are booking a unit that may offer much more than a hotel can. Talk about Dallas accommodations! All units here feature a stunning terrace that looks out at the city. The view will have you excited to explore, but not wanting to leave.
In addition to this, you can book a unit that features a living room, kitchen, private bathroom, and more! If you're considering where to stay in Dallas with a big group, this may be it. The more space, the better. Guests really love the pool, free wifi, fitness center and close proximity: how could you not love being close to the aquarium, preforming arts center and more?
Check Rates: Booking.com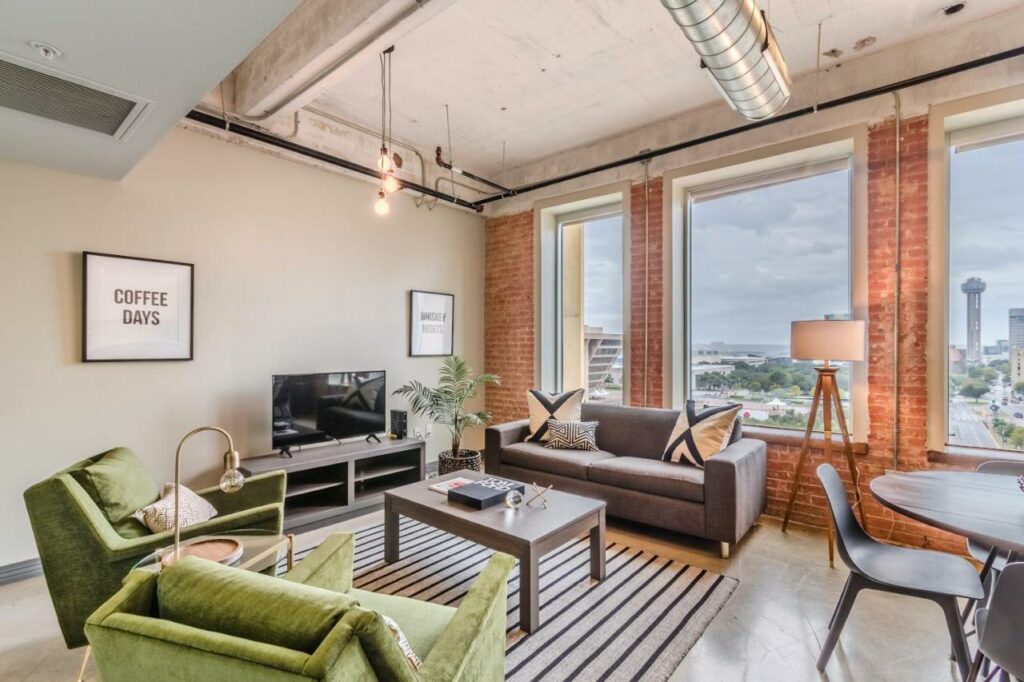 Bishop Arts District is the Coolest Place to Stay
Looking for cool places to stay in Dallas? Well, book a hotel in the Bishop Arts District! Trendy is the best way to describe this neighborhood. It is well known for its diverse nightlife, civic fashion, and iconic murals. The tone it sets for guests is unforgettable. It truly is the best part of Dallas to stay when you want something unique.
Bishop Arts is just a 10 minute drive south of Downtown, so this means you are also still close to all the opportunities downtown has to offer too! But overall, travelers who love exploring the vibrant social life of locals and huge cultural scenes will love Bishop Arts. You will never be bored with the speakeasies, old-styled theaters, thrift stores, and preforming arts centers!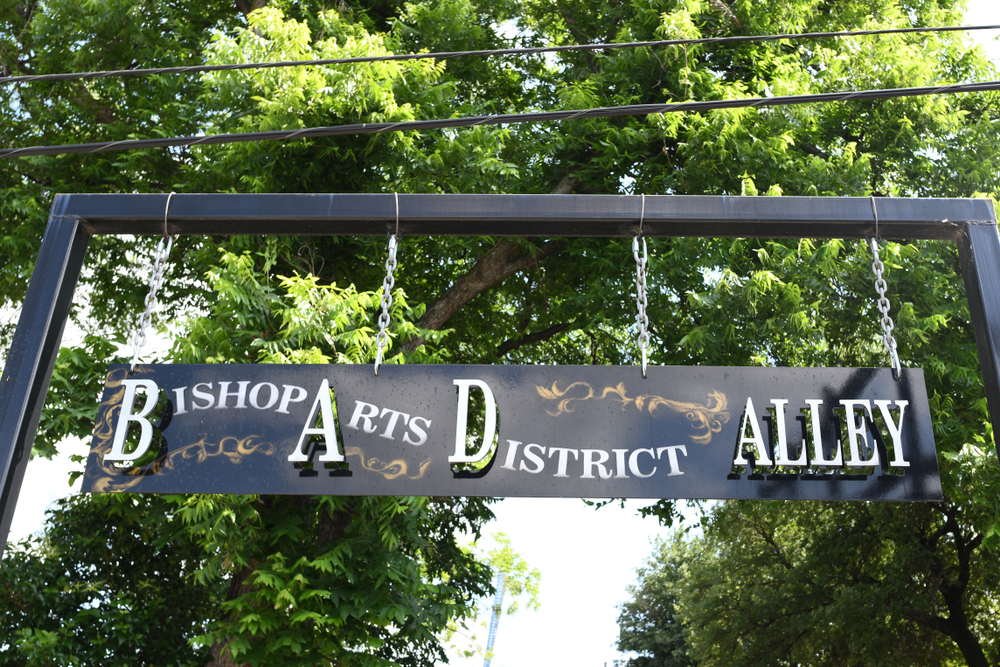 Best Places to Stay in Bishop Arts District
1. Bishop Arts Hotel
Would it be a hotel in Bishop Arts if it didn't have style? The Bishop Arts Hotel is so modernly designed! It is fun for all guests, and people love that the apartment-styled units will love it here. Between the free wifi, and free parking, and fantastic locations, this is the place to stay!
Some unites include flat-screen TVs, fully equipped kitchens, private bathrooms and more. And better yet? Those locations! We know we already mentioned it, but it really is true. You're only a 20 minute walk from the Dallas Zoo here. Plus the Sixth Floor Museum is only 2.3 miles away too!
Check Rates: Booking.com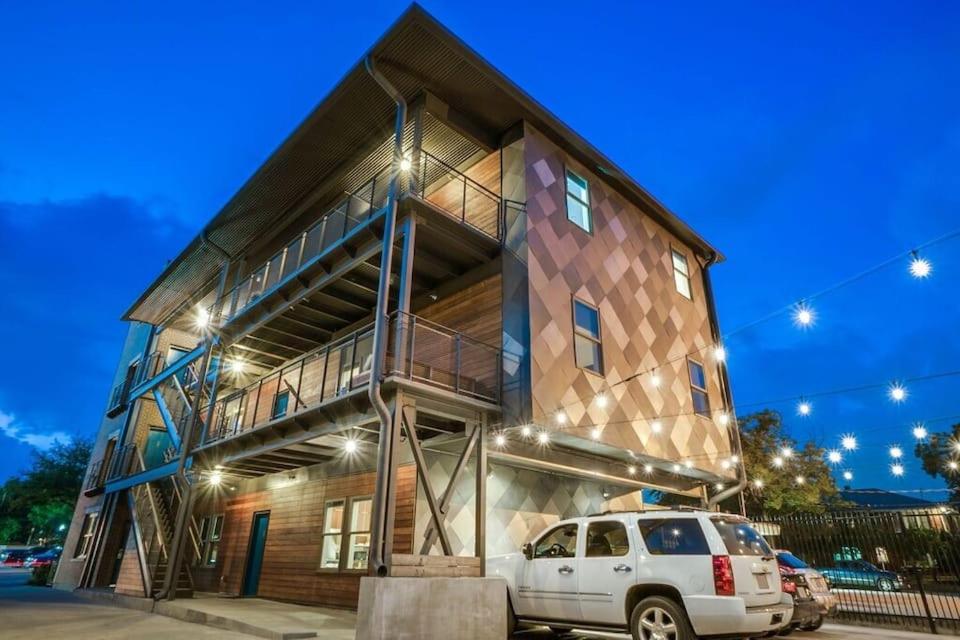 2. Embassy Suites Dallas- Market Center
Sometimes some of the best hotels to stay are are chains, and not stand alone, luxurious boutique hotels. The Embassy Suites closest to Bishop Arts will allow guests to stay nearby, save some money, and enjoy all the suites have to offer– which is a lot!
From a hot tub, to a sun deck, a gym, suites that are spacious and fully equipped, evening receptions and cooked-to order breakfasts, what can't you love about the Embassy Suites? And they're pet friendly! Check it out. Chain does not always mean bad. And you're still close to things like Fair Park!
Check Rates: Booking.com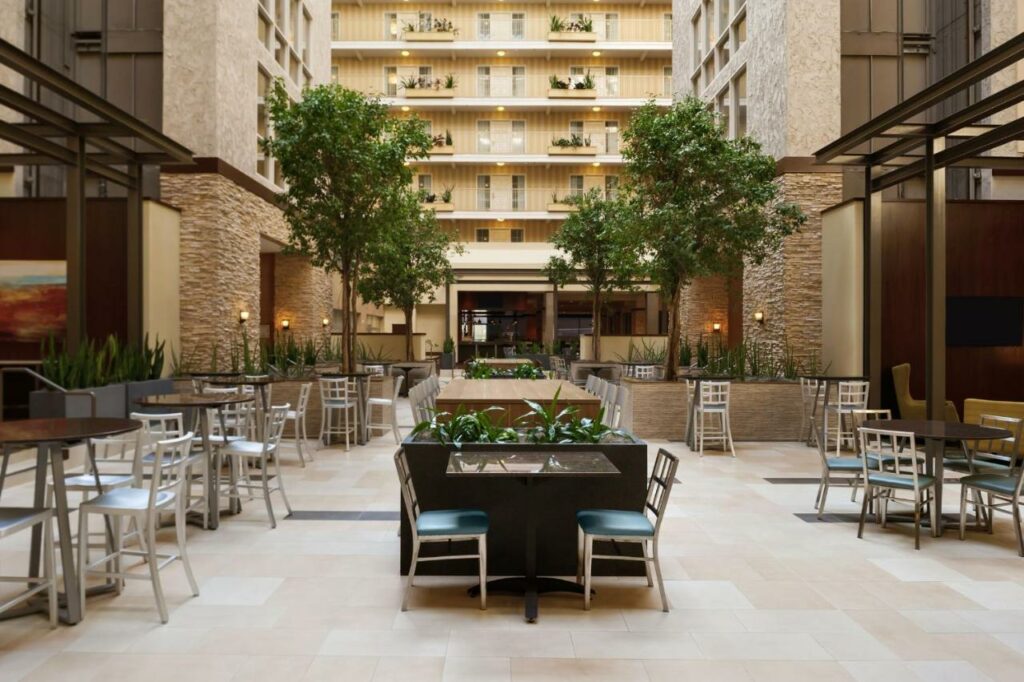 Uptown is the Best Area in Dallas for Families
Historical places are always fun to stay at! This older neighborhood is just 5 minutes north of downtown. And it is really recognizable due to its tree-lined streets, Victorian mansions, shopping centers, and more. It is super calm in nature, which means it is one of the better places to consider when looking for where to stay in Dallas with kids.
But despite it being quite, this perfect location has tons of lodging in Dallas options! McKinney Avenue, which is the central street of the neighborhood, is full of restaurants, boutiques, and more. Guests also seem to love the iconic trolley cars which can take you anywhere you want to go! Just be warned that while this is one of the best areas to stay in Dallas, it can also get a bit pricey. Turn up the upscale!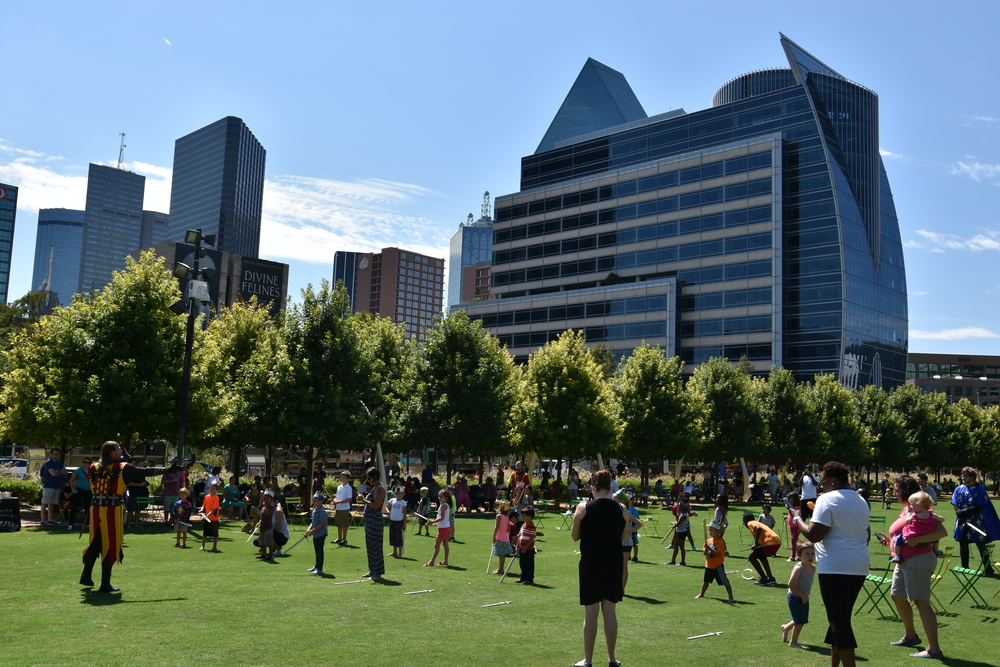 Best Places to Stay in Uptown Dallas
1. Le Meridien Dallas, the Stoneleigh
Looking for a luxury Art Deco hotel? Check out the Le Meridien Dallas, the Stoneleigh! This wonderful hotel is well known for its elegant ambiance. Here you will feel special: the red and brown colors are iconic, the mahogany furniture fit for queens, and the steakhouse on is to die for!
So whether you stay here and enjoy a prime cut of meat at Graze Restaurant, or if you go shopping at the nearby boutiques in the afternoon, you'll just love the area and the way you feel when you stay here. Sign up for shoe shining, and ask the 24-hour reception what to do around there! From staying on site for the pool, to touring the Uptown or chilling at Klyde Warren Park, you won't be board.
Check Rates: Booking.com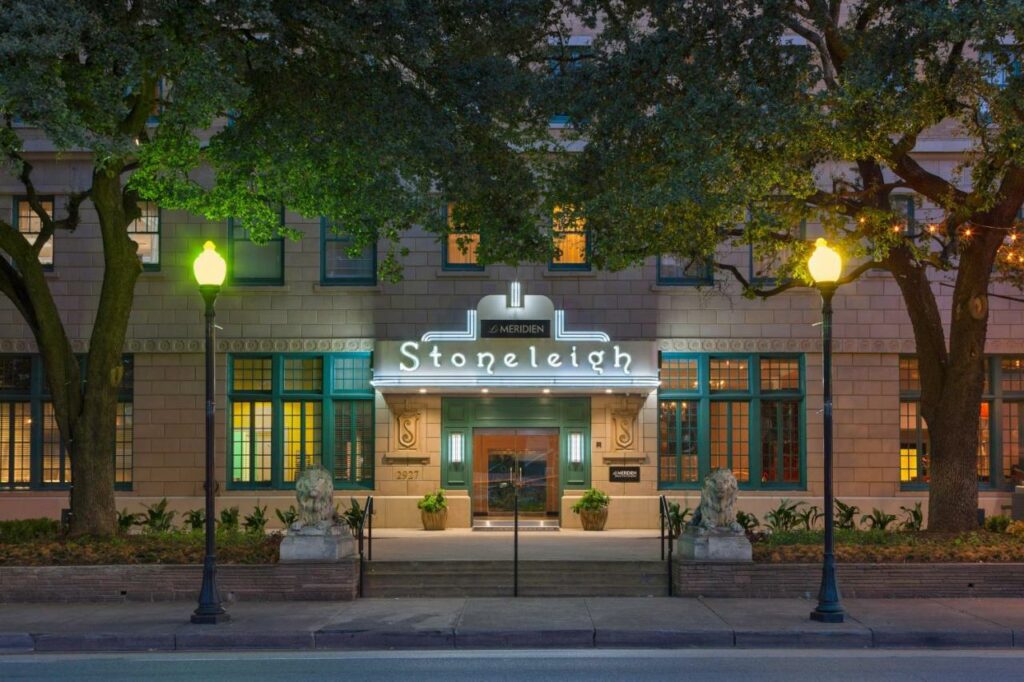 2. Hotel Crescent Court
We weren't lying when we said Uptown was great for luxury. Hotel Crescent Court is a part of that luxury! From a year-round outdoor pool, to a spa center, a stunning terrace and more, guests feel like they have traveled just for this place! It is one of the top Dallas accommodations!
Between the modern styling, private balconies, coffee machines, fitness center, and an onsite restaurant and bar, this is like a step away into a different location and time. Fresh Starbucks is brewed at the Crescent Gourmet every morning. Brunch is available at the Conservatory. Exercise classes are available. There is something for everyone! It is perfect for all guests– even those with families and kids!
Check Rates: Booking.com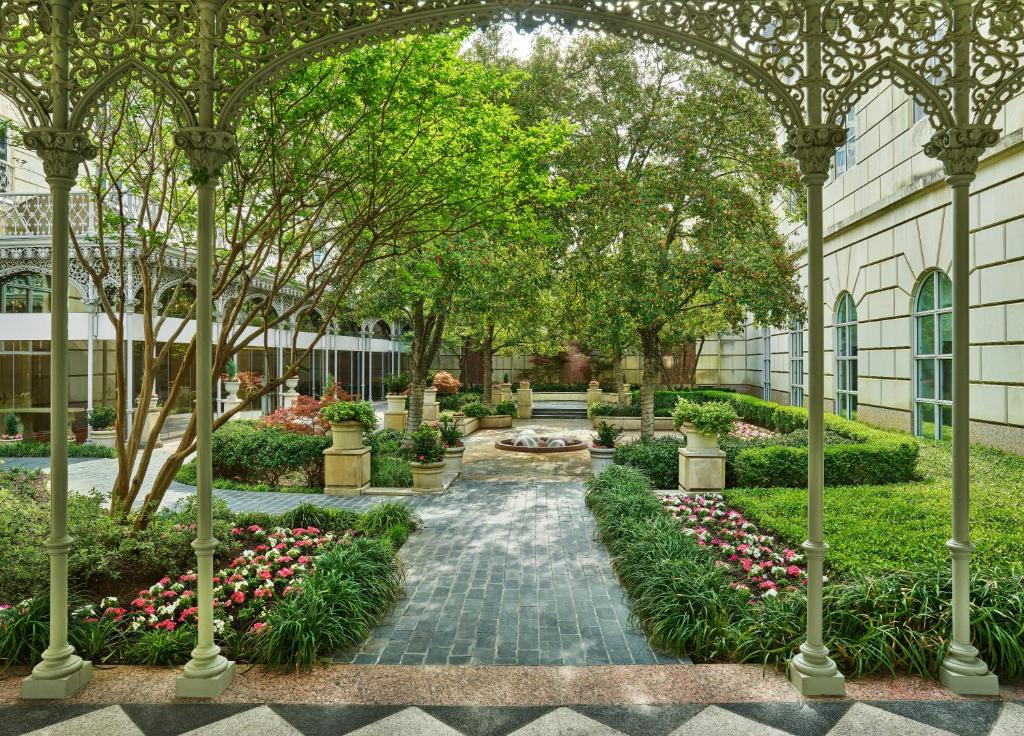 3. W Dallas- Victory
It shouldn't surprise you that Uptown is full of upscale boutique hotels too. W Dallas-Victory is one of them, but also one of the best! I mean, how can you beat a rooftop infinity-edge swimming pool? Guests love the stylish, modern, and spacious rooms and private bathrooms.
The boutique styles also never end! Enjoy the 3,000 square foot fitness center. Relax at the Bliss Spa. Or even enjoy Cook Hall, an American fare on site restaurant. And better yet? The Living Room Bar features the ability to indulge in speciality cocktails, beer, wine and live music.
Check Rates: Booking.com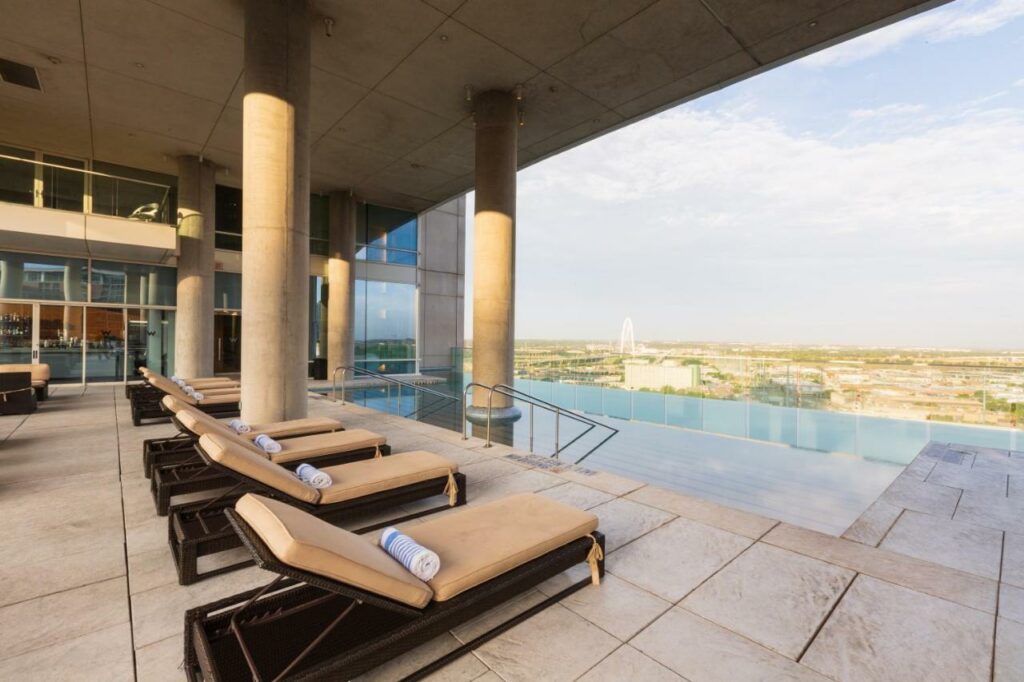 Knox-Henderson is the Best Area in Dallas for Nightlife
Choosing where to stay in Dallas for nightlife has never been easier! Knox-Henderson has all of the best options for those who want to get out, explore, and have fun! This neighborhood has been dubbed as Dallas' most vibrant area. There is not a block that does not have restaurants, pubs, and late-night cafes.
In fact, you will probably find some of the most iconic Tex-Mex restaurants here, so you know you have to at least check it out! Knox-Henderson is only 10 minutes from downtown, but it is a bit more calm than downtown itself (Which seems kind of ironic because of the nightlife). However, the pedestrian friendly elements of this neighborhood has often been compared to a European Street meaning it is lively, friendly, and safe!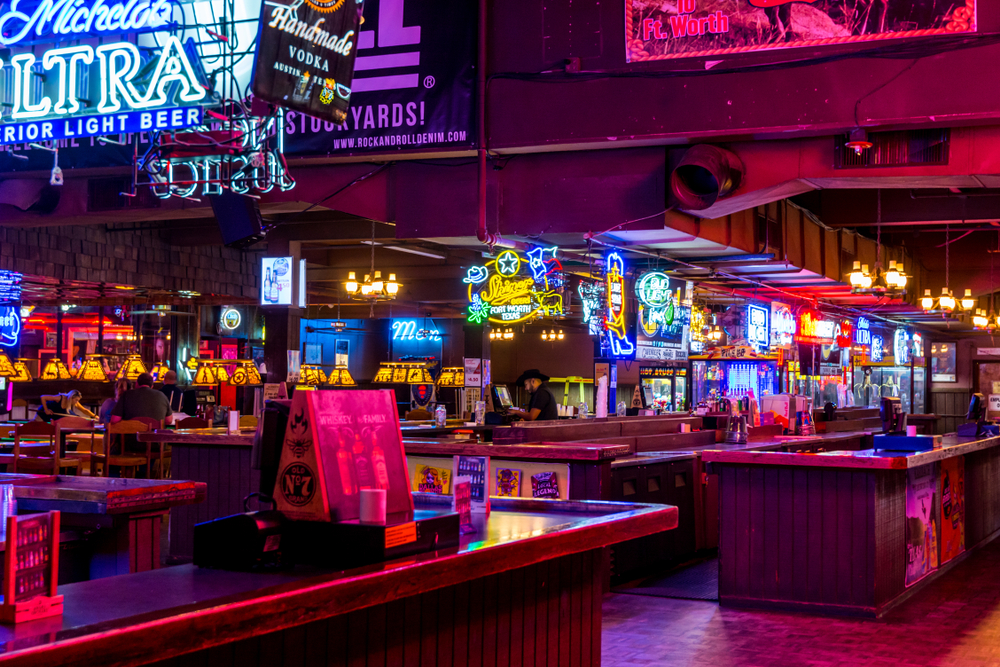 Best Hotels in Knox-Henderson
1. The Beeman Hotel
What we love most about the Beeman Hotel is that it encourages guests to travel sustainably! And we love helping the Earth! This hotel is super close to the Dallas Love Field airport, so it is easy to get to, but guests also love the indoor pool, and unique design of this hotel. All the modern furnishings are showcased in each room!
The rooms are spacious and feature a TV, coffee machine and free wifi. There is a restaurant on site– Seely's Mill– which serves both breakfast and dinner. But what people really, really love is the ease of getting to the shopping, dining and entertainment surrounding the Beeman. In fact, this hotel is only 1 mile away from Mockingbird Station. Talk about convenient! It is the best place to stay in Dallas, let alone Knox-Henderson!
Check Rates: Booking.com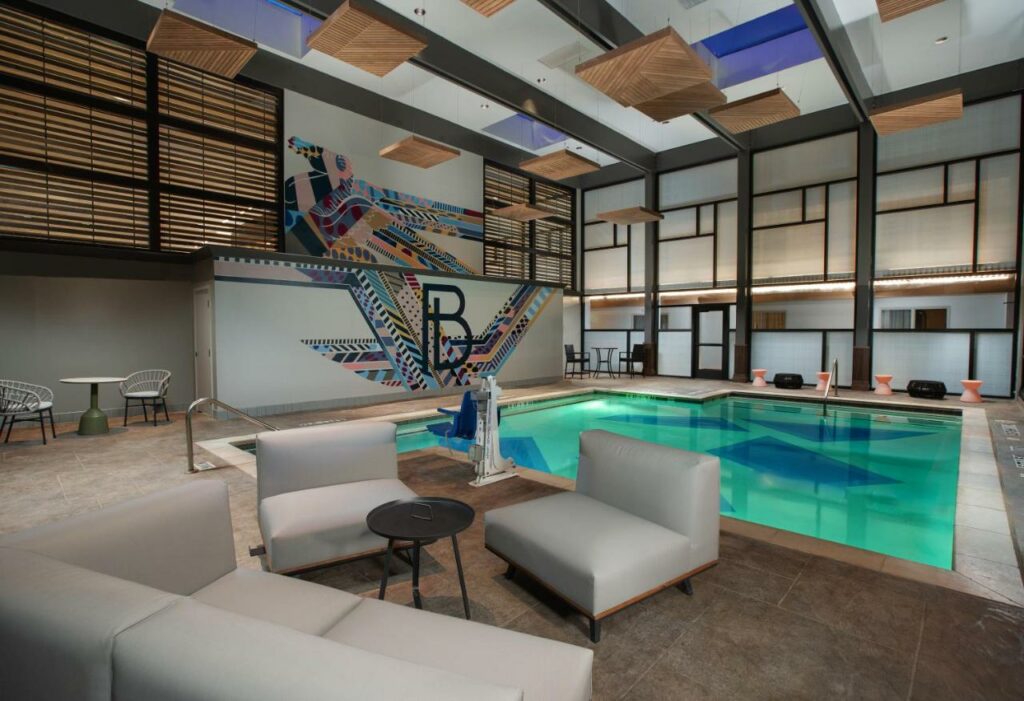 2. Lumen Hotel
All of the luxury hotels don't have to be in uptown! In fact, the Lumen Hotel is close to Knox-Henderson and makes your relaxing before or after your night out easy! Being a boutique hotel, the Lumen features on-site restaurants and bars, huge rooms, season pools, and more.
Guests love the Front Room Restaurant. It is perfect to enjoy the espresso bar here so you can wake up before heading out to enjoy the nightlife! Or maybe you'll need it in the morning! But no matter what, the evening wine receptions, cocktails, ability to read the newspaper in the lobby and overall tone of this place makes it one of the best hotels in Dallas.
Check Rates: Booking.com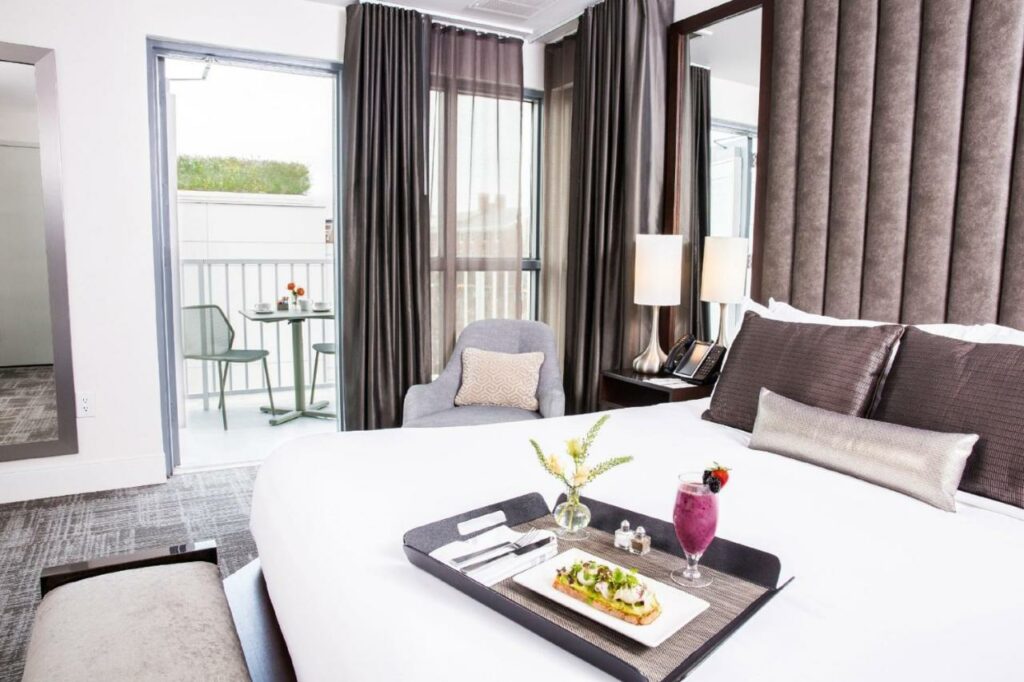 Deep Ellum is Where to Stay in Austin on a Budget
Just five minutes from Downtown Dallas– and to the east of that wonderful city center– Deep Ellum is well known for two things: affordability and music! This lively and bright neighborhood is truly one of the cool places to stay in Dallas, and also the more affordable.
Since the 1920s Deep Ellum has been a center for blues and jazz music. Now this hub is home to lie music of all varieties. The intricate street art and quirky galleries and festivals also bring artists and tourists to this neighborhood. It truly is creative! And best yet? Those neighborhood homes are fantastic hostels that you can rent to save some money on your lodging options.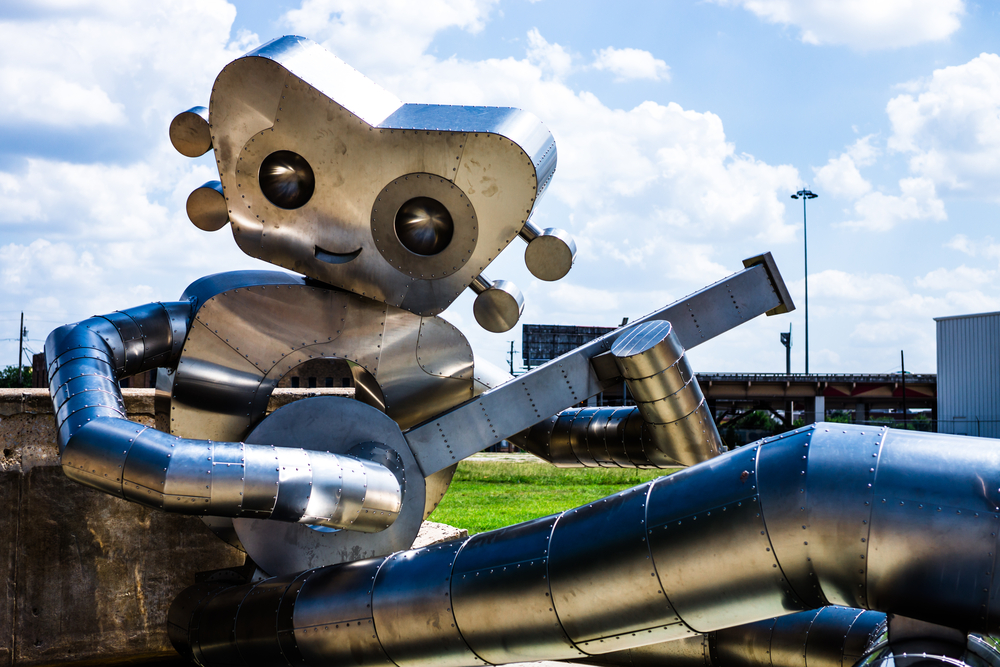 Best Deep Ellum Hotels
1. Kimpton– Pittman Hotel
Staying in Deep Ellum has never been fun or easier! The Kimpton- Pittman Hotel features a restaurant, free bikes, swimming pools, and a fitness center. Each room is conveniently furnished with desks, TVs, private bathrooms and more.
An a la carte breakfast is served every morning, and the perfect location lets guest go out and hike nearby, or take a bike out to visit murals and live music no matter what time of day! The pool and bar also keep visitors here, giving them a chance to relax between visiting the music filled neighborhood.
Check Rates: Booking.com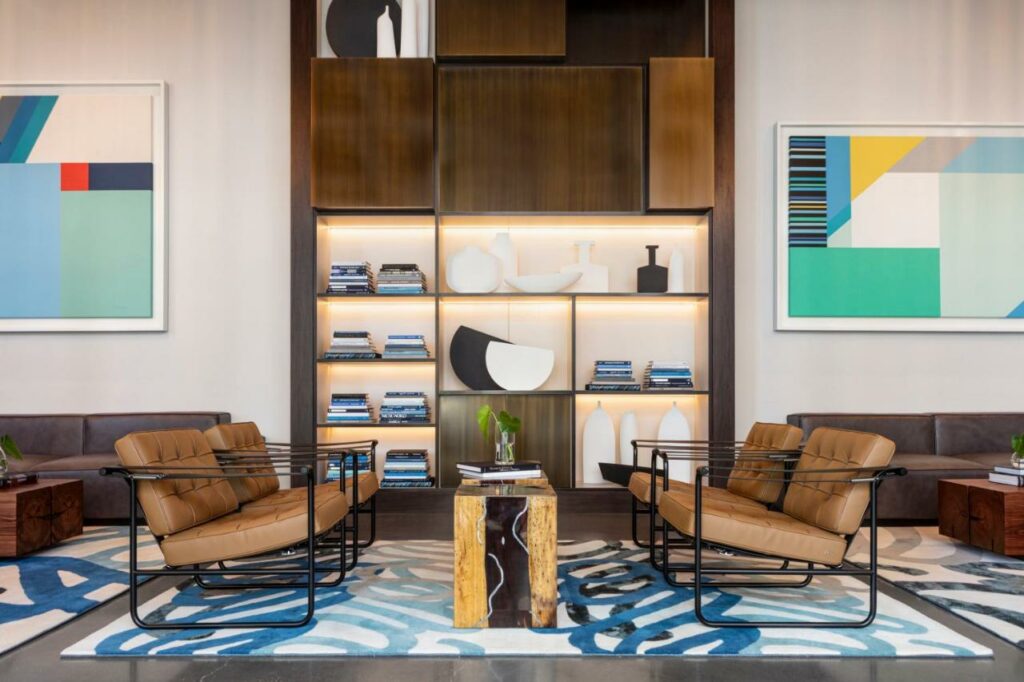 2. Continuum Homes- Dallas
We already mentioned how Deep Ellum is affordable, and that's because many people rent our their spaces for cheaper prices! You don't have to spend a lot on a hotel if you book places like the Continuum Homes-Dallas! With free parking, a great location, and units that feature a full kitchen, staying here is like renting a full home!
This place is also pet friendly And guests are encouraged to use the swimming pool on site as well as the fitness center! Its closeness can let you go explore Deep Ellum and the art and music, or you can even take a quick drive to Downtown. You're close to things like that John Fitzgerald Kennedy Memorial too!
Check Rates: Booking.com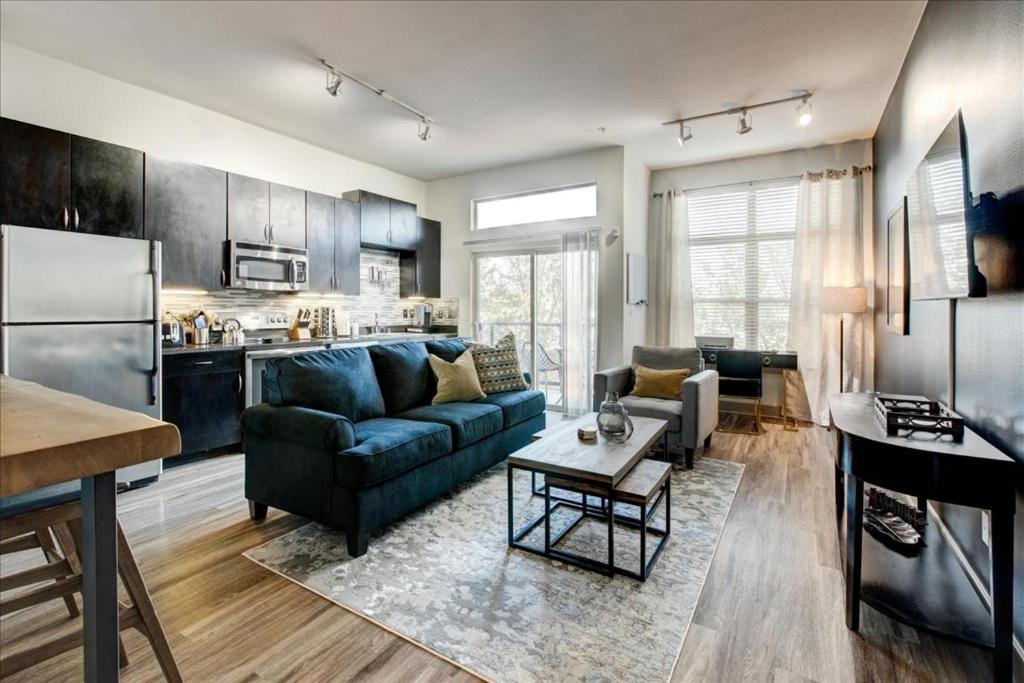 3. Luxurious 1BR CozySuites W/ Pool Gym Parking #166
Apartments are perfect for couple stays! This 1 bedroom is fully equipped with a kitchen, comfy beds, clean sheets and linens, and more. There is also free parking, a fitness center, and a pool. So, honestly, staying here is just as good as staying at a hotel! The Luxurious 1Br Cozy Suites W/ Pool Gym Parking may be your cheaper bet!
Be close to things like the Dallas Holocaust Museum, and also the chance to go tour the murals of art in Deep Ellum. You'll never be bored when you stay here, and you'll feel comfortable!
Check Rates: Booking.com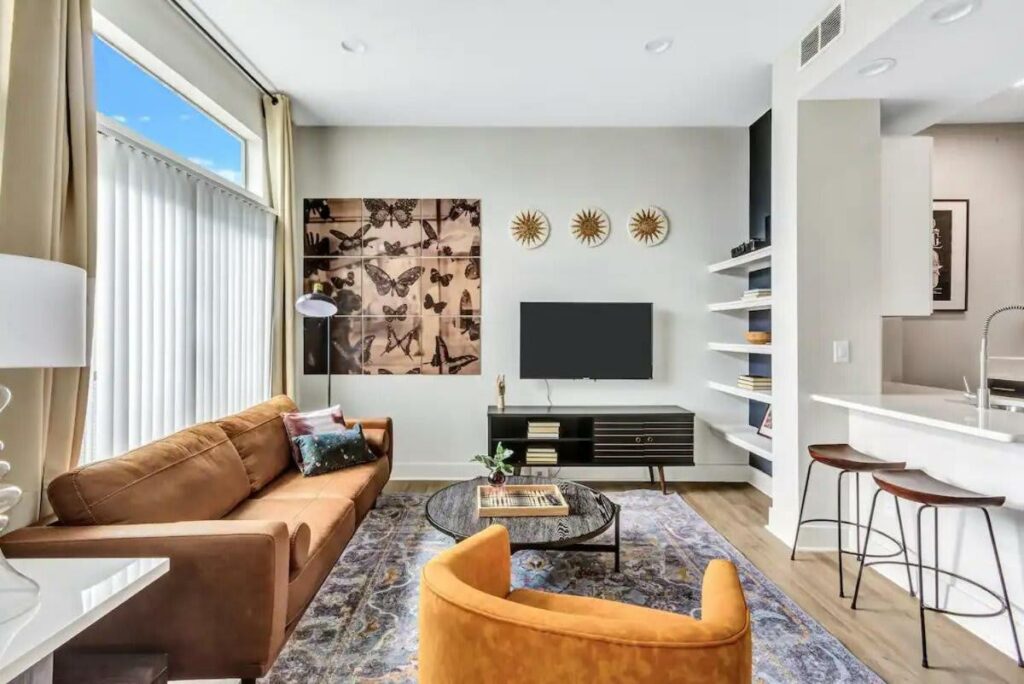 And there you have it folks! Where to stay in Dallas. From downtown for first timers, to Uptown for families, there are different neighborhoods for different needs. But no matter where you want to go, there are fantastic options. Just enjoy the city: Dallas is calling!