Are you planning a road through the historic route 66 in Texas? If yes, then we have prepared this perfect article for you to reach. In this guide, we have listed down all the amazing route 66 Texas attractions that you must stop and explore to make your road trip epic and memorable!
One of the most iconic highways that was established in 1926, route 66 runs from Chicago, Illinois to Santa Monica, California. Over the years, it has been known by several different names such as The Mother Road, Will Rogers Highway, the Main Street of America, and so on.
Thankfully, a small part of it exists in Texas as well. From unique attractions to charming cities in Texas, to iconic restaurants, there are many things to see along route 66 in Texas. In the recent years, I-40 has replaced the iconic route 66 Texas but there are still many pit stops that keep its spirit alive.
So, if you are planning to drive through the short but beautiful stretch of route 66 in Texas, here is everything you need to know. From why you must visit route 66 through Texas to what to see on this historic route, we have covered it all below.
What Is Historic Route 66?
If you are new to the country or have been living under a rock, let me introduce to you what Route 66 is. Sure, it is one of the best roadtrip destinations in the USA, but did you know that it was also one of the first U.S Highway systems to be commissioned?
Yes, that's right! Established in 1926, Route 66 ran from Illinois to California and passed through several states such as Missouri, Kansas, Texas, Oklahoma, New Texas, and Arizona.
Route 66 was quite popular among the travelers, especially in the 1930s, as many were traveling southwest to lead a better life.
Today, most of this iconic route has been replaced by the interstate system. But there are still parts of it that you can drive on and visit the small towns and unique sights found on it.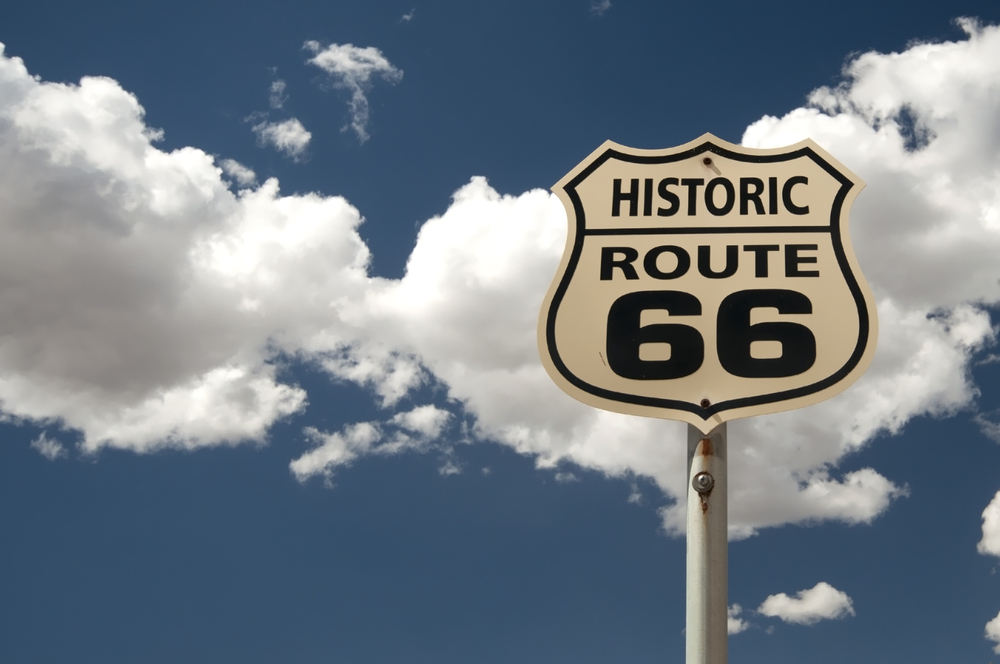 How Long Is The Texas Route 66 Drive?
Although the historic Route 66 in the USA is approximately 2,448 miles or 3,940 km long, there is only a short part of it available in Texas. Route 66 in Texas begins from Glenrio and ends at Shamrock, covering a total distance of 179 miles or 288 km.
This road cuts through the Texas Panhandle and has been mostly replaced by I-40. However, if you still plan to drive through the Route 66 Texas, then it will take approximately 2.5 hours without any stops.
With stops, you can spend anywhere between a couple of days to a week or two driving through the historic Route 66 in Texas.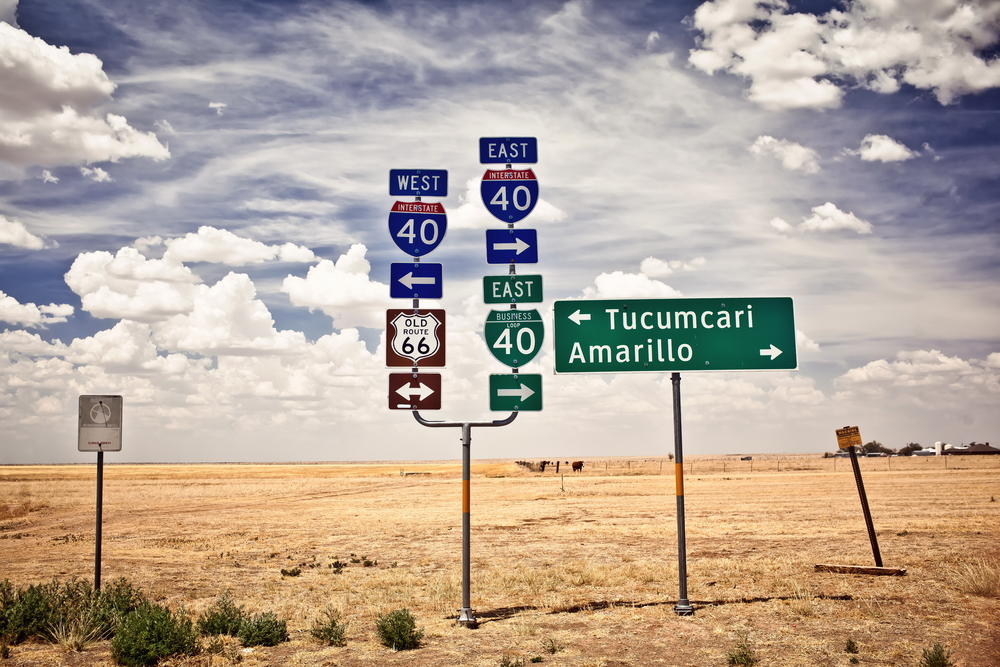 Can You Drive Route 66 In Texas?
Technically, Route 66 was decommissioned in 1985 and most of it has been removed or replaced by the U.S' interstate system. But if you wish to drive on Route 66 through Texas, it is still possible.
In Texas, I-40 serves this route and connects the quirky attractions and vibrant cities that made travelers fall in love with this road trip. Yes, you heard me right!
You can still drive on this popular highway, visit the unique Route 66 Texas attractions, stay in vintage motels, and dine at the American food joints.
Not sure how will you find Route 66 in Texas and drive on it? Don't worry.
Since it has become an American symbol, you will find signage denoting the Historic Route 66 throughout the way. There are a few maps that include Route 66 as a scenic highway to drive too.
However, since this road was decommissioned, you won't find these signs throughout the route. This might make it a little confusing to drive on the road. So, the best way to stick to this route is by using a good Route 66 guidebook for your road trip.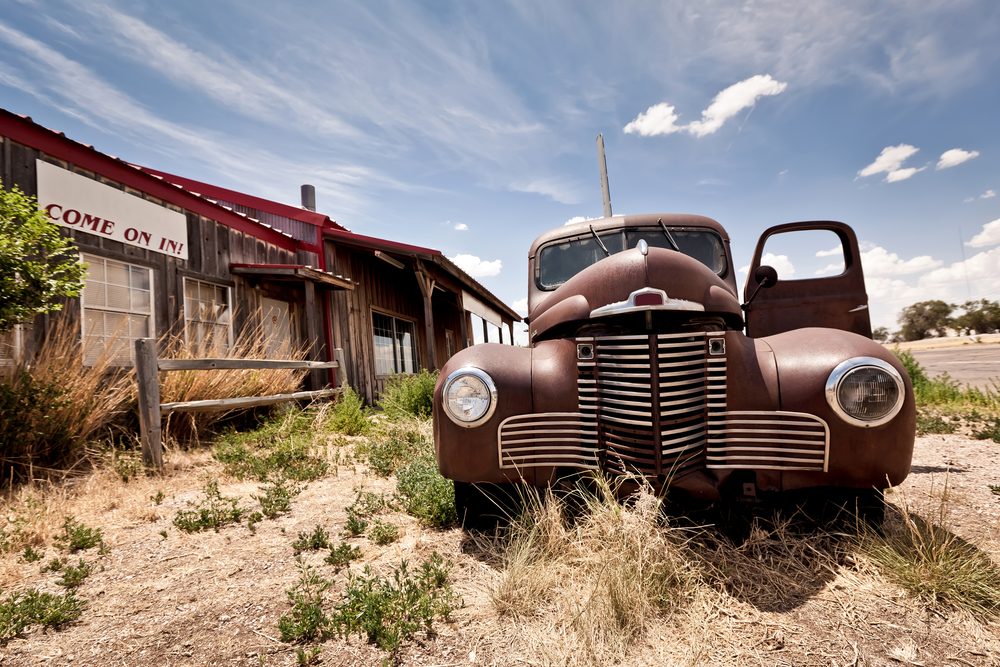 Best Texas Route 66 Attractions And Stops
Here are a few top attractions to visit on Route 66 in Texas along with a few nearby places that you could explore on your road trip.
Cadillac Ranch
One of the top Route 66 attractions in Texas, Cadillac Ranch is one of the most unique places to visit in Texas on your roadtrip.
Since 1970s, 10 Cadillacs have been half-buried from their frontend into the desert at a slightly tilted angle. Furthermore, the visible area of these cadillacs is covered in layers of spray paint, making it one of the top photo ops on Route 66.
This art installation has featured in several TV shows and music videos as well including 'Living in America' video by James Brown and 'Cars' movie. You can visit this attraction free of cost to take a closer look at these quirky cars and can even add your own graffiti to the cars.
Trust me, this is an iconic attraction on historic Route 66 that you cannot miss out on!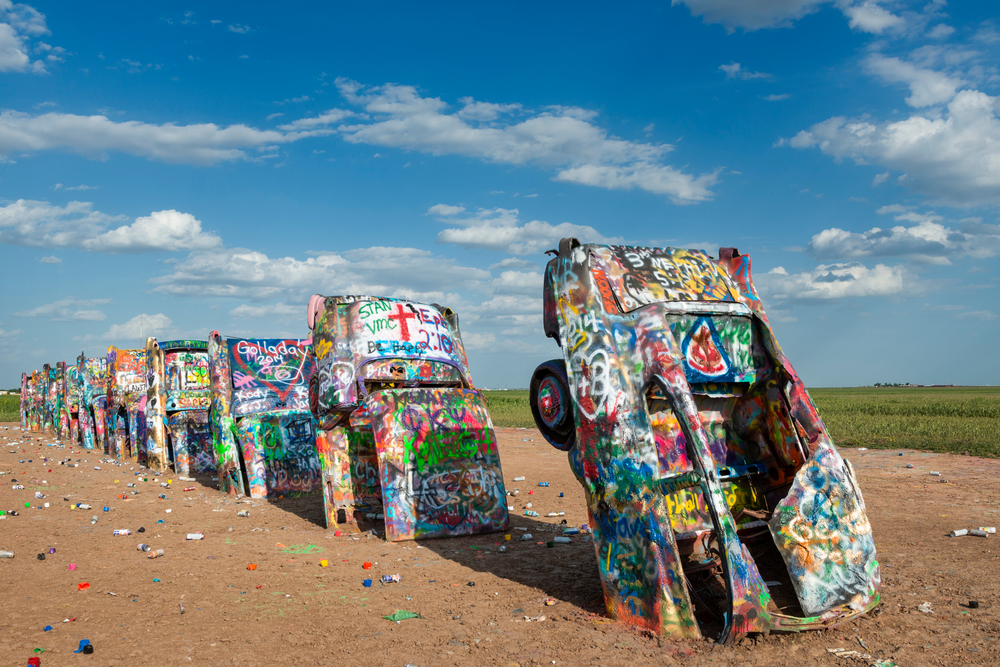 Explore Amarillo
One of the only preserved section of the original Route 66, Amarillo is one of the biggest towns to visit on your roadtrip.
Visitors can choose to spend a night here or a couple of days and explore all the amazing attractions and sights around here. It is the largest city in Texas and has something for all ages here.
From Palo Duro Canyon to Texas Air & Space Museum, to Amarillo Zoo, there is a lot to see around here. So, if you are planning a long drive through Route 66 in Texas, do make a stop at this big town.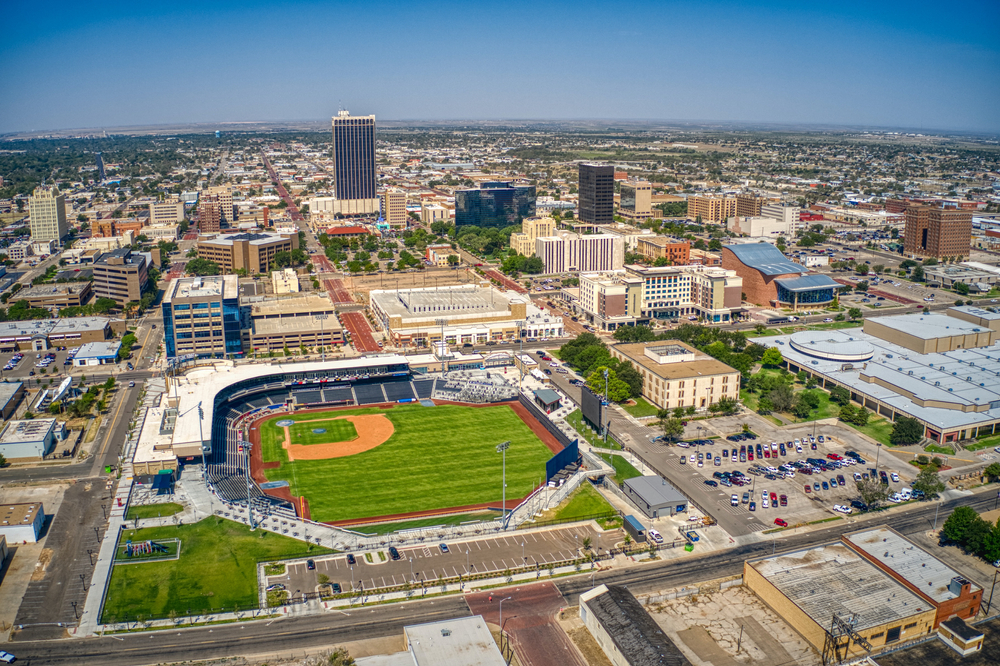 Palo Duro Canyon
Although Palo Duro Canyon isn't exactly on Route 66 in Texas, it is just a 30-minute detour from the road.
The Grand Canyon of Texas is the second-largest canyon in the country. It offers many amazing viewpoints and hiking trails for the visitors to explore. Hike to the Lighthouse formation for stunning views or enjoy mountain biking through these magnificent mountains.
Here, you can indulge in a lot of outdoor activities such as camping, horse riding, picnicking, and more. Trust me, a visit to this state park in Texas is definitely worth the short detour from the historic Route 66.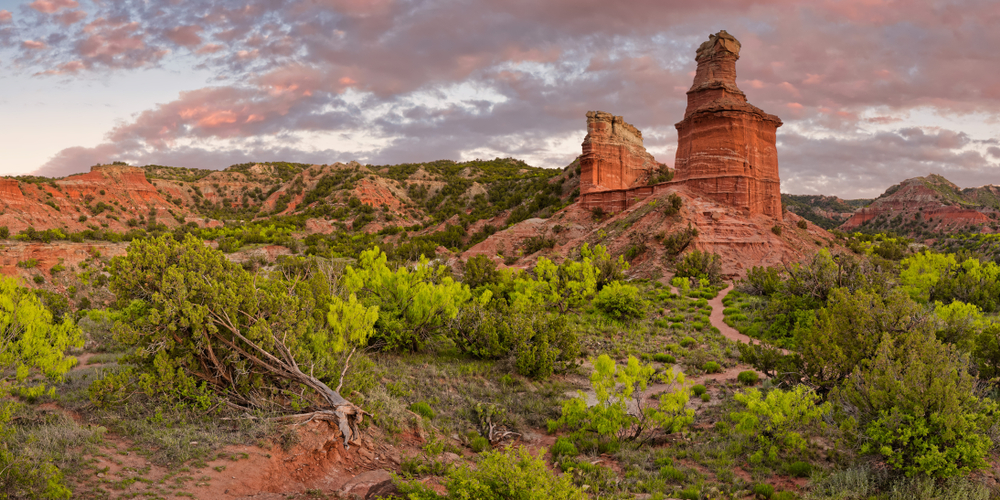 Route 66 Historic District in Amarillo
One of the top things to do along Route 66 in Texas is visit the Route 66 Historic District in Amarillo.
It is a 13-block district that features many amazing cafes, shops, restaurants, and more. The architecture of the buildings along with the street art in this district makes this place quite unique.
You will also find many amazing art galleries to visit here and several photo ops on this Route 66 attraction.
Floating Mesa Near Amarillo
If you are looking for quirky things to see along route 66 in texas, then don't forget the floating mesa near Amarillo.
The mesa is not actually floating and only give an appearance of doing so because of the white strip painted on its top. However, it is a sight to behold, making it a popular stop on Route 66.
The sad part about this attraction is that it is a little away from the road and is not accessible. So, if you wish to see this unique attraction, you need to bring binoculars with you.
Ozymandias On The Plains
Ozymandias on the Plains is another one of the top Route 66 attractions in Texas you must visit.
This statue of two evenly sized legs with giant socks might look damaged but are actually an ode to Percy Shelley's poem by the same name.
Built by Lightnin' McDuff, this sculpture has been vandalized several times over the years. The socks to the legs are a part of the vandalism but they add a certain charm to this sculpture.
Explore The Town Of Shamrock
Known for its classic Art deco architecture, one of the top things to do along Route 66 in Texas is explore Shamrock town.
One of the most famous Route 66 attractions to visit in this town is the Conoco Tower Station. This 100-foot Art Deco tower was built in 1936 and is lit by colorful LED lights. This gas station has been turned into a museum and is a great place to learn the history of the town and Route 66.
Beside this station, you will find the popular U-Drop Inn Cafe that has been turned into a gift shop and a visitor's center now. Spend a couple of hours in Shamrock to explore these famous Route 66 attractions on your drive.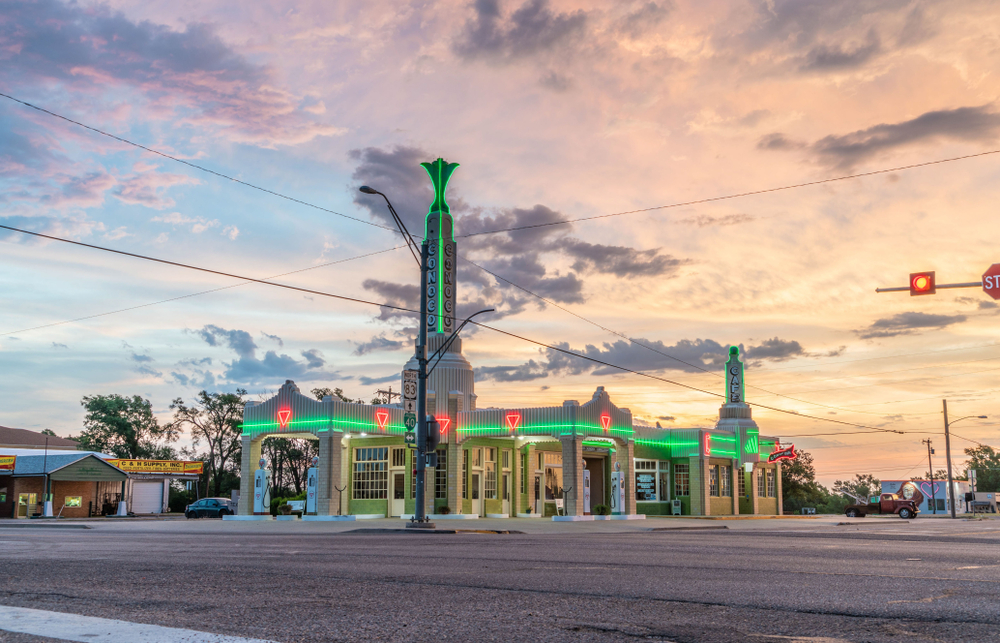 Big Texan Steak Ranch
Feeling hungry after the long drive?
Well, then what better place to stop and enjoy a Texan meal than the Big Texan Steak Ranch. This is a popular restaurant to visit in Amarillo on Route 66 that is known for its delicious steaks and the infamous steak challenge.
Take the challenge of eating a 72 oz. steak with fixings within an hour. If you win, you get the meal for free. But if you lose, then you have to pay $72 for the meal.
Even if you don't take the challenge, this is one of the best places to stop and enjoy a quick meal before you resume the drive.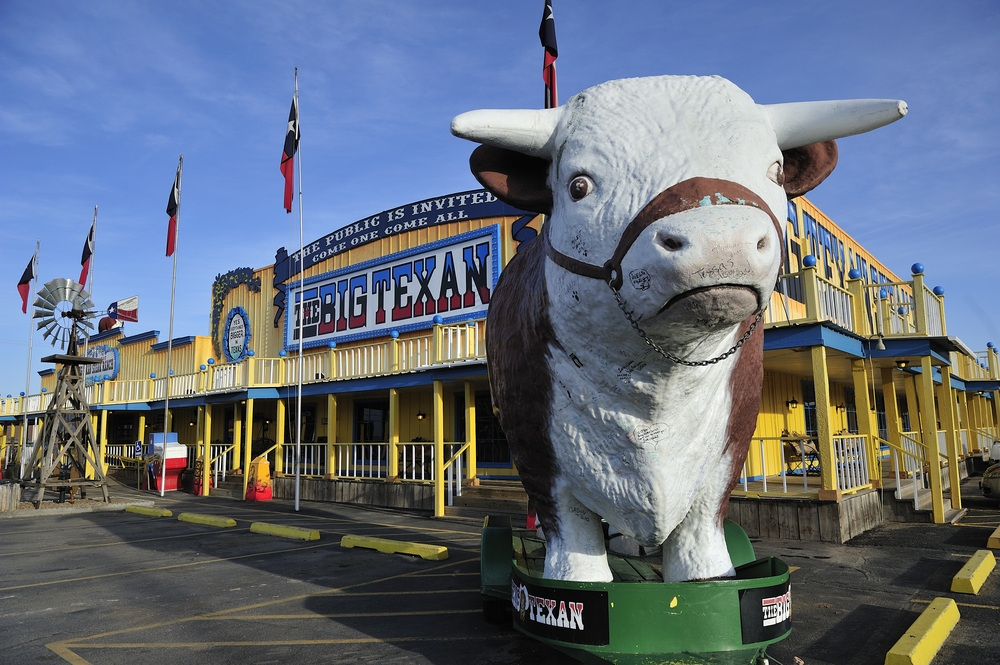 Visit Adrian
Another popular town to visit on Route 66 in Texas is Adrian. It is a famous stop for travelers as it happens to be the midway point on this historic road.
Basically, once you reach this town, you are at an equal distance from Chicago and Los Angeles. Make sure to visit the famous Midpoint Cafe in this town and the Texas Bar-B-Q if you are looking for epic Route 66 attractions to visit.
Apart from the cafes, you will also find other sights here such as three phillips station, Texas Flag Mural, 1930s garages, motels, and so on.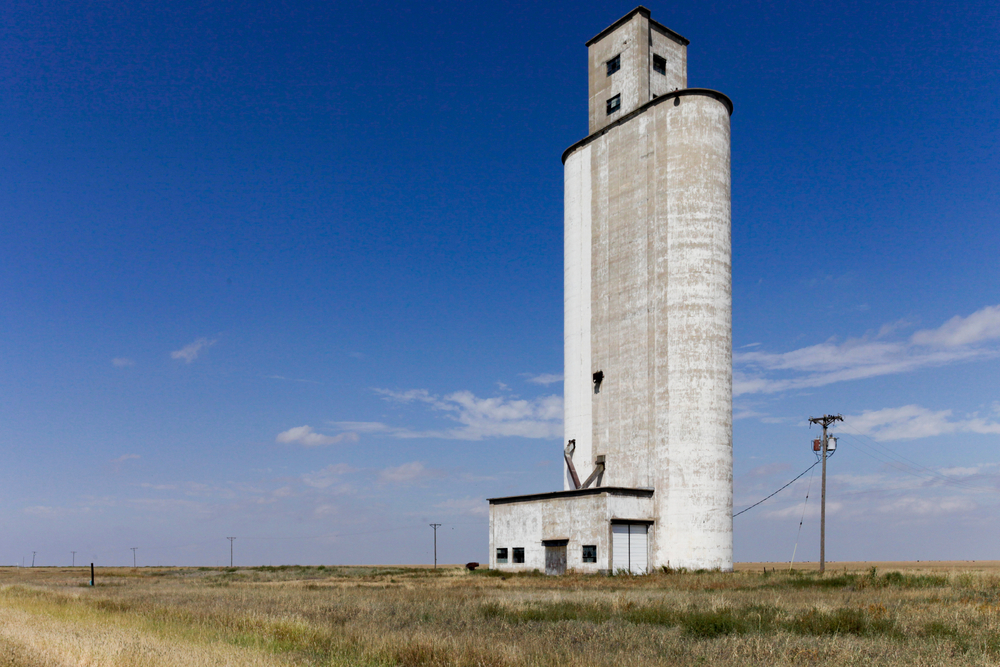 Eat At Midpoint Cafe
Of course, you cannot have a roadtrip without a food stop. So, one of the top things to do along Route 66 in Texas is eat at the famous Midpoint Cafe.
Built in 1928, Midpoint Cafe is located in Adrian, Texas and is the halfway point of Route 66. It has had many different names over the years but currently, it is known as being the midway point of this historic route.
This is one of the oldest restaurants still running on this road and has a fun slogan 'when you're here, you're halfway there'. Plan a stop at this cafe to eat some delicious pies or burgers here.
Apart from being a restaurant, this cafe also acts as a gift shop and an antique shop where you can buy souvenirs on your roadtrip.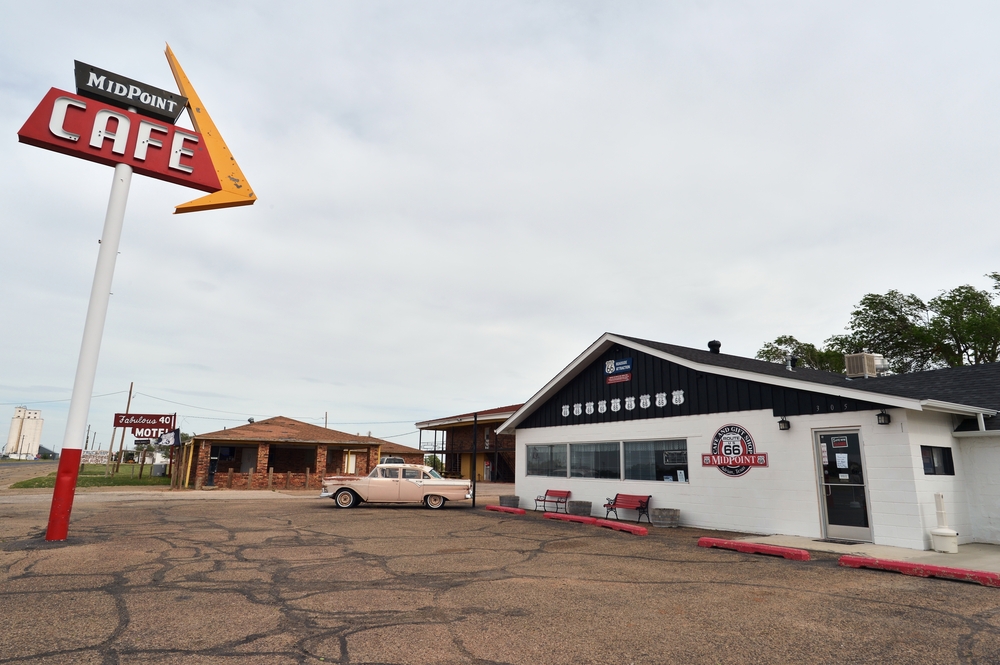 Explore Texola
If you are driving on the historic Route 66 in Texas, then you have to stop at Texola. This small town in Texas is location on the Oklahoma/Texas border and is great for a short pit stop.
This town has barely anyone living in it but once, it was a major stop for Route 66 travelers. Here, you can explore many unique attractions such as Magnolia Service Station, Texola Jail, and more.
Although there is not much to see around, you will find many Route 66 sights in this town including gas stations, motel ruins, route markers, and more. This is why it is important that you explore Texola OK on your Route 66 roadtrip through Texas.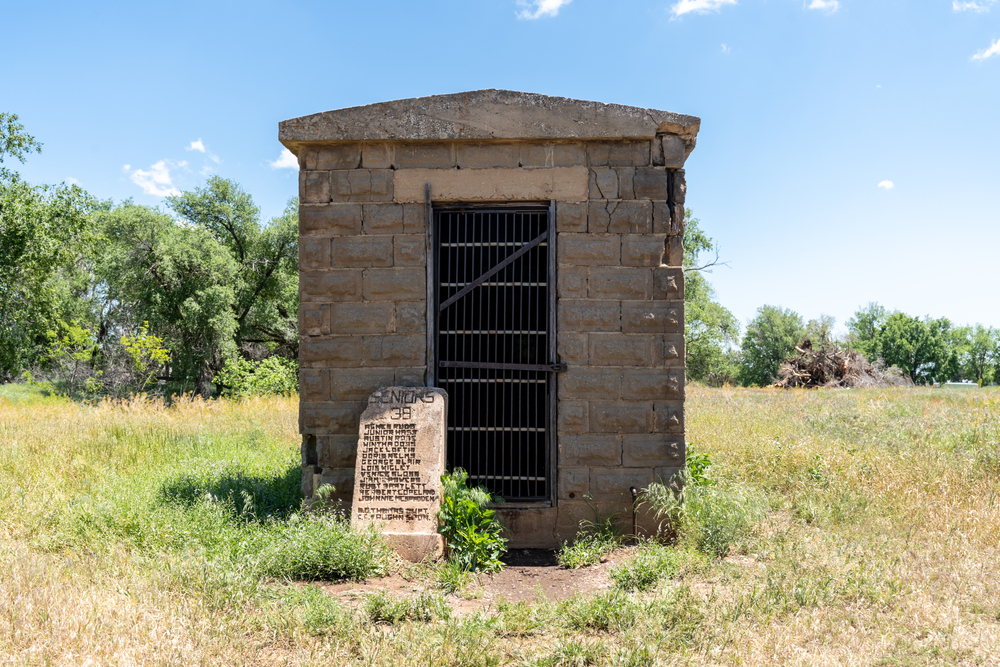 VW Slug Bug Ranch
An ode to Cadillac Ranch, VW Slug Bug Ranch is also one of the top things to see along route 66 in texas. This famous ranch lies close to its counterpart and features 5 Volkswagen Beetles half-buried nose-down in the ground.
Similar to the Cadillac Ranch, visitors can spray paint the vehicles for a little fun. Dating back to 2002, this is another great offbeat stop along Route 66 where you can walk around to stretch your legs on the road trip.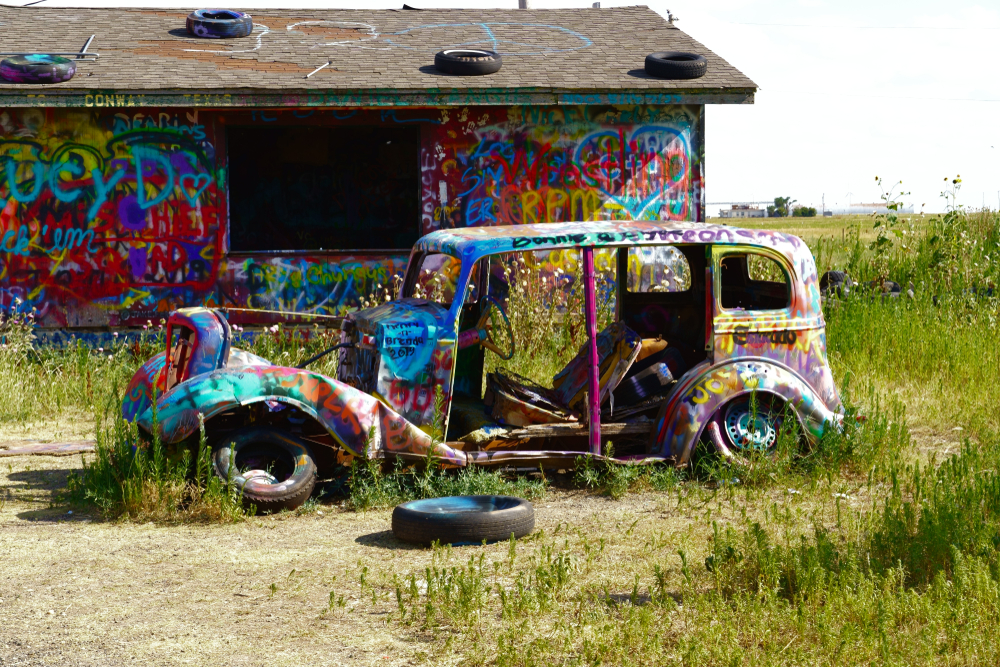 Combine City
Another great stop on the Route 66 is the Combine City in Amaraillo, Texas. This place is a short drive from Dallas and a good photo op for farm or vehicle enthusiasts.
While this is not as popular as Cadillac Ranch of VW Slug Bug Ranch, Combine City is a must-visit stop on this road. With 14 half-buried combine harvesters, this attraction created by Orville Ladehoff pays homage to Cadillac Ranch.
Sure, you can spray paint the vehicles like other ranches but you can take epic photographs here to share with your friends and family members.
Devil's Rope and Route 66 Museum
For history buffs, one of the top things to see along route 66 in texas is Devil's Rope and Route 66 Museum. Both these museums share the same building in McLean which makes it quite convenient to visit them.
Devil's Rope, a.k.a barbed wire, is the reason behind cattle ranch expansion in Texas. At Devil's Rope Museum, you will learn about the history and use of this item along with the numerous variations that you wouldn't have seen or known earlier.
A visit to the Route 66 Museum will take you through the history of this historic highway. There are over 700 artifacts from the route available in this museum.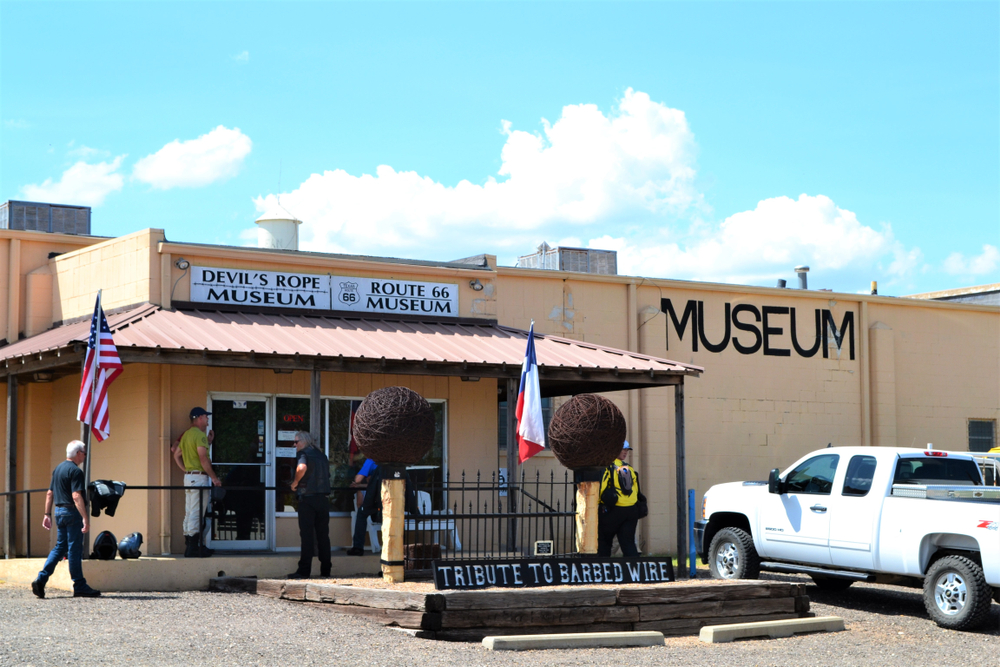 Leaning Water Tower
The Leaning Water Tower in Groom is one of the best Route 66 attractions in Texas to explore. It is the Texas' version of the Leaning Tower of Pisa and is a popular pit stop on the road.
The Britten Water Tower was originally build as Groom's water tank but it didn't meet the regulations. As a result, it was destined to be demolished. However, Ralph Britten bought it to use it as a signage for his truck stop and tourist information center.
Today, this serves as a great photo spot for the tourists driving along this famous road. It looks particularly charming around Christmas time when the citizens of Groom add a large colored star on top of it.