So you're looking for haunted places in Texas? Look no further, we have got you covered!
We all love a good scare every now and again, and even though 'Texas' may no be the first state that comes to mind when you think of haunted places (think Virginia or Alabama!) there is no end to the paranormal tales that come out of Texas. Some of the places mentioned in this list have even been featured on popular ghost hunting shows such as Ghost Adventures! If you love the paranormal, this is truly one of the best things to do in Texas that you shouldn't miss!
Whether you're looking for a haunted hotel for your next stay or want to get exploring in some of the most haunted places Texas has to offer, there will be something on this list for you!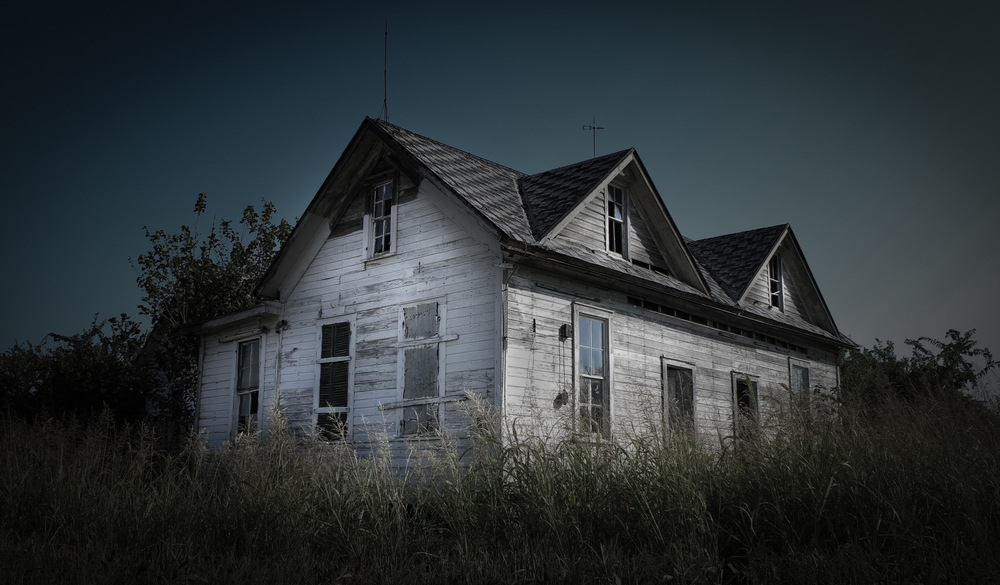 Baker Hotel
Situated in the small city of Mineral Wells lies the long-abandoned Baker Hotel. As of 2021, it is currently under development to be restored to its former glory which will take a few years to complete.
There is a lot of history at the Baker Hotel. It was built in the 1920s after the city's mineral water was starting to gain popularity. Despite opening after the stock market crash of 1929, the hotel was very successful throughout the 1930s and gained a reputation as a top-tier spa destination. However, the hotel's reputation began to slowly decline, and it closed its doors for the final time in 1972, and it has remained abandoned ever since.
Over the years, the Baker Hotel gained a reputation for being one of the most haunted places in Texas, and it has been haunted for a while! The first known sighting of the woman on the seventh floor dates back to the 1950s. She is thought to be the mistress of the hotel manager who and jumped to her death. The date she died isn't known, but the room she stayed in was a suite on the southeast corner of the seventh floor. Many people have reported smelling her perfume, hearing her high heels clink on the floor, and many men have reported being touched.
There have also been accounts of the hotel being haunted by a small child who is always accompanied by a shaggy dog. It is thought he stayed in the hotel during 1933 when his parents were seeking treatment for Leukemia.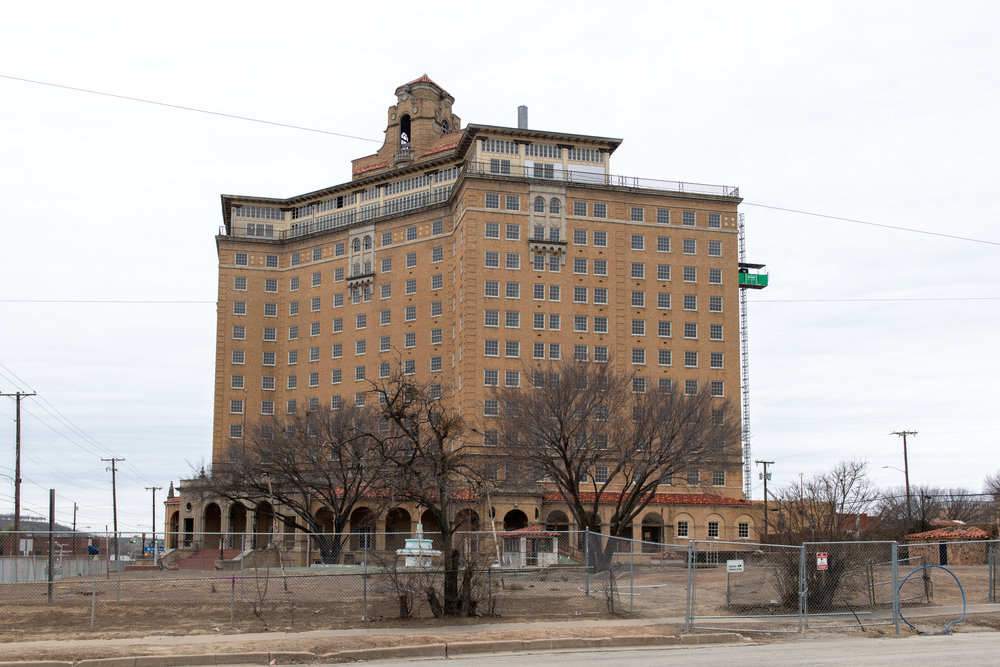 Elder Street Artist Lofts
Formerly the Jefferson Davis Hospital, once it was closed it was transformed into a haven for artists known as Elder Street Artist Lofts, and over the years it has gained a name for itself as one of the most haunted places in Houston.
The hauntings are said to be from the fact that it was built over an 1800s cemetery where around 3,000 Civil War and Yellow Fever Victims, as well as slaves, were buried. There was so much controversy about it being built that the basement was actually built above ground to try and dispel the controversy and to leaves the graves undisturbed. Even though many of the graves were relocated, it was later revealed that there had been no widespread removal of remains.
There have been reported sightings of ghostly figures believed to be past doctors and the feeling of being watched.
Arlington Music Hall
Arlington Music Hall is still a bustling music hall today and has been welcoming top country music performers since 1950.
Arlington Music Hall gets its reputation for being one of the most haunted places in Texas thanks to 'Fred', the ghost-in-residence who has his presence felt by owners and employees.
Ghostly footsteps are constantly heard across the stage, and countless employees have told the same story of lights turning themselves back on after being completely turned off.
Even the restaurant next door has had encounters with Fred when he walking into the restaurant saying he used to live there before disappearing!
The Arlington Music Hall has been subjected to a few paranormal investigations where they have captures voices on recordings, leading people to believe that there are more ghosts than just Fred who haunt the halls…
The Emily Morgan Hotel
If you know of haunted places in San Antonio, you most likely have heard of The Emily Morgan Hotel. It's become known as one of the most haunted hotels in America over the years!
It's almost like The Emily Morgan Hotel was born to be haunted. Built-in the gothic revival style, the hotel stands at 13 stories high – it even has gargoyles! Furthermore, it was built on the site where the Long Barracks of Almo took place in 1836.
The Emily Morgan was designed to be a Medical Arts Building, complete with a crematorium and a morgue. It was so huge that it could house hundreds of doctors and physicians and was known as one of the best hospitals for decades until its closure in 1976 when it became an office building. Just 10 years later, it became the Emily Morgan Hotel.
With such a history of bloodshed, it's no surprise that The Emily Morgan Hotel gained a reputation for being one of the most haunted places in Texas. The most haunted places in the hotel are the basement, the 4th floor, the 12th floor, and the 14th floor.
The basement was where the crematorium and the morgue were, so you can only imagine how creepy they are. Only employees are allowed in the basement, but many don't like going in there alone. Many have seen orbs, heard screams, disembodied voices, and have been greeted with the smell of burning flesh which was enough to make them feel nauseous.
Those looking to have a haunted experience during their stay are encouraged to book on the 7th floor as it is said to have the most activity. A number of staff and guests have seen the apparition of a bride, but nobody knows what her connection to the hotel is, or why she is stuck on the 7th floor. Many guests have checked out in the middle of the night after being awoken by a blood-curdling scream, seen her reflection in a mirror, or seen her walk through walls. Yikes!
The 12th and 14th floors were where the operating rooms were located when it has a hotel, and guests have reported a 'hospital' smell lingering in their rooms, the sounds of medical stretchers, and apparitions of doctors and nurses.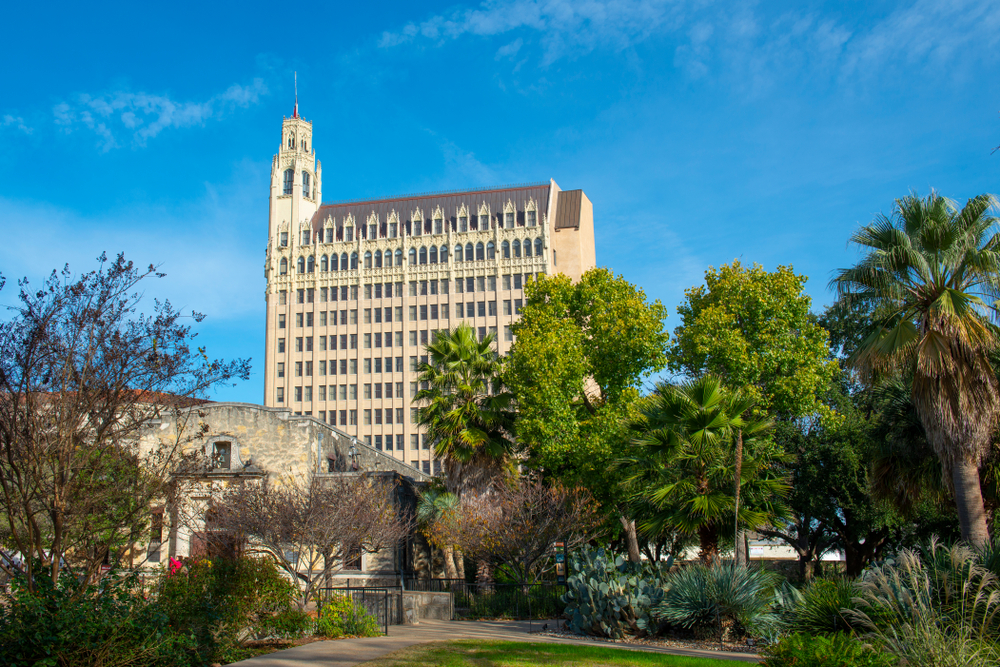 El Paso High School
The Ghosts of El Paso High School have made quite a name for themselves, so much so that El Pas High School is known as one of the most haunted places in Texas, but also one of the most haunted places in the south! El Paso High School is still operating as a school today so you can't go and explore it, but there are plenty of tales that are creepy enough to send shivers down your spine!
El Paso High School opened its doors in 1916 and is a pretty incredible building to look at with its architecture inspired by Greco-roman architecture. The building is so old that it has so much history, including being a temporary overflow morgue during the World Wars. This temporary morgue was in the basement, where blocked-off classrooms from the early 20th century have been found in pristine condition, and nobody knows why they were blocked off and left.
It is said that there is a lot of residual energy at El Paso High School, there have been reports of students hearing a pep rally or games going on when nothing was scheduled, as well as doors slamming and footsteps walking the halls.
Over the years, there have been many sightings of ghost school girls as well as strange mists in the halls. The most common ghost girl is thought to be a young girl that sadly committed suicide, who is frequently seen on the balcony and sometimes even jumping to her death.
But perhaps the most compelling piece of evidence is the infamous photo of the graduating class of 1985. Amongst the vow of teachers, there is a woman in a white dress who doesn't quite look like she belongs. But what is even creepier is the fact that nobody in the photo or from that class knows who she is!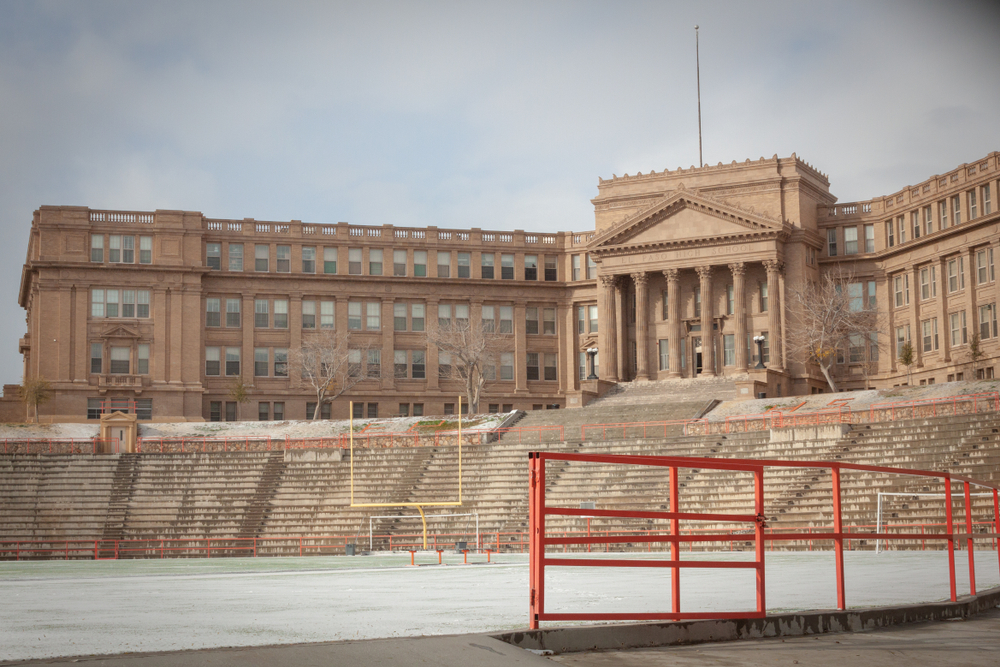 The Haunted Hotel
Okay, okay, The Haunted Hotel isn't technically one of the haunted places in Texas but is actually a haunted attraction. But it looks like so much fun that we just had to include it on our list! Plus, you are guaranteed to be scared here!
The Haunted Hotel is located in Beaumont, Texas, and has been voted one of the best-haunted houses in the nation by many different sources. It is a family tradition that has been going for generations, and has had guests leaving petrified for many years now!
You can 'meet' some of the people you may encounter by looking on The Haunted Hotel's website
The Millermore Mansion
The Millermore Mansion is Dallas' very own Amityville!
Having been relocated from its original location to Old City Park, the Millermore Mansion was originally constructed in 1861 making it as old as the civil war with ghost stories to last a lifetime! For that reason, it has become known as one of the most haunted places in Dallas and one of the best places in Texas to see an apparition.
The mansion was once home to wealthy plantation owners when it was first built in 1861, and saw a lot of death. William Brown Miller was the mansion's original owner and while living there, Miller married, divorced, and remarried three times, with two of his wives meeting a tragic end. His second wife, Minerva, died of illness, and Emma is said to have died in childbirth. The property soon fell into disrepair after it was abandoned, but has since been restored to its former 1861 glory thanks to the Founders Garden Club.
Nowadays, there is so much activity that goes on at The Millermore Mansion we are really not surprised that is it one of the most haunted places in Texas!
Many guests and staff have reported the feeling of being watched in the master bedroom and the nursery accompanied by sudden temperature drops even in the height of summer. Tour guides have reported hearing a baby's screams coming from the nursery and hearing the crib being dragged into the master bedroom. Once it was left in the master bedroom, the crying would stop.
There have been countless reports of footsteps and mysterious thuds that no one can explain. There has even been accounts of crows flying into the glass of the windows, and a ghostly apparition of a face appearing. Seriously creepy!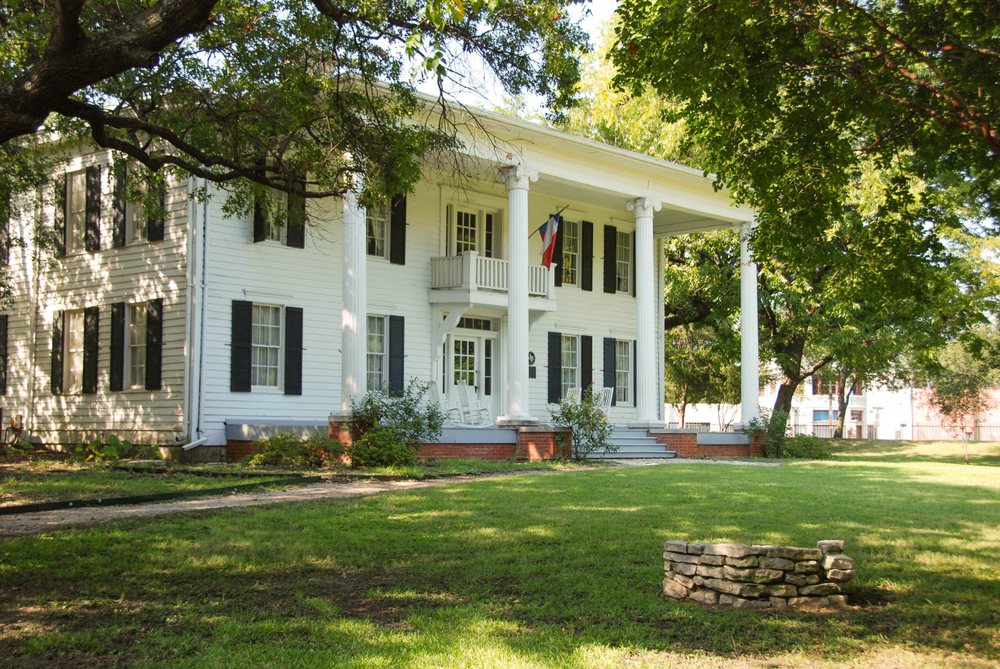 De Soto Hotel
Also located in El Paso, the De Soto Hotel has been the subject of many paranormal investigations, including the popular tv show Ghost Adventures. Situated in one of America's most haunted towns, it comes as no surprise that the De Soto Hotel is one of the most haunted places in Texas.
The De Soto Hotel has been around for more than 100 years, which is a pretty incredible fact on its own! The residents of El Paso tend to talk about El Paso in whispers and hushed tones, as it's said to give people the creeps just by looking at it!
It is said that there are 3 ghosts that haunt the grounds of the De Soto Hotel that have been documented by many different sources – but there could even be more here! The first ghost is known simply as 'The Shadow in the Doorway' who has been captured on video walking in the hotel's abandoned hallways.
The second spirit said to be at De Soto is significantly less creepy and has become known as 'Sara' who is thought to be more mischievous than malevolent. She is a playful spirit who can be found walking the hallways and has even been heard laughing and giggling. She appears to be drawn towards women who are the ones who have more experience with her.
However, something much darker is thought to be laying in wait down in the basement. Some say it is a restless spirit who cannot control their anger, while others believe that it is actually something demonic. People have reported being pinched, growled at, scratched, hit, and even bitten by whatever is down there… We think it would be a good idea to stay out of the basement if you choose to visit here!
Yorktown Memorial Hospital
Yorktown Memorial Hospital is notorious for paranormal activity, becoming infamous for being one of the most haunted places in south Texas!
The hospital was build in 1951 and was run by the Felician Sisters of the Roman Catholic Church and originally served as a rehabilitation center for drug and alcohol abuse sufferers. The hospital was abandoned in 1980, but it is said that many of the residents are still at the hospital today…
There have been reports of talking dolls, large black shadows with red, glowing eyes, tapping on glass, and there have been many different EVP voices have been captured by ghost hunters!
What is most interesting though is that the current owner of the building says that if he keeps the light on at the nurse's station, all activity ceases and things seem to be calm. But as soon as the light goes off, he starts experiencing activity!
Yorktown Memorial Hospital is private property, but you can take guided paranormal ghost tours here.
Old Alton Bridge/Goatman's Bridge
If you are into the paranormal, then it is likely that you have heard of Goatman's Bridge. Known formally as Old Alton Bridge, it is believed locally that the bridge is haunted by a half-man, half-goat figure, and the legend is truly terrifying as it is heartbreaking.
The legend goes that a black goat farmer named Oscar Washburn moved his family to a home just north of the bridge. A few years later, he became quite the success and was dubbed 'the Goatman' by the locals. But the success of a black man still wasn't accepted by many, and in 1938, Klansmen crossed the bridge and kidnapped Washburn. They hung from with a noose from the bridge, but when they threw him over the side, his body disappeared.
Locals will warn you that you shouldn't cross the bridge at night without your headlights on as you will be met on the other side by the Goatman. There have been reports of ghostly figures and strange lights in the surrounding woods, and people have reported being touched, having rocks thrown at them, and even pushed!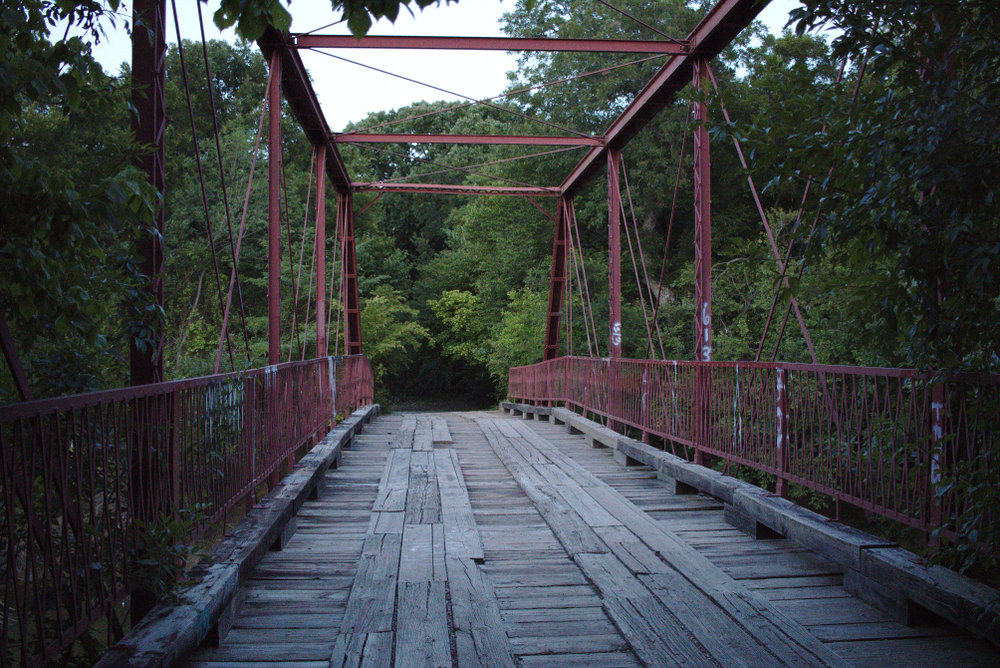 USS Lexington in Corpus Christi
Who would've thought that a ship would be one of the most haunted places in Texas!? And it is located in one of the best beach towns in Texas!
It turns out that the USS Lexington in Corpus Christi is just that! It's a decommissioned World War II Aircraft carrier and serves as a museum today, which we think is pretty cool! Texas has some really interesting museums that we think you would love – we have created a blog post with our favorites!
The USS Lexington is known for being haunted by, unsurprisingly, sailors. One is said to be called Charlie and is a super friendly man in a sailor's uniform that is more than happy to help lost guests find their way. There is also a sailor ghost in the engine room, who is often heard talking about how the turbines work before vanishing into thin air! There have also been sightings of ghostly figures and some guests have reported being touched too – so creepy!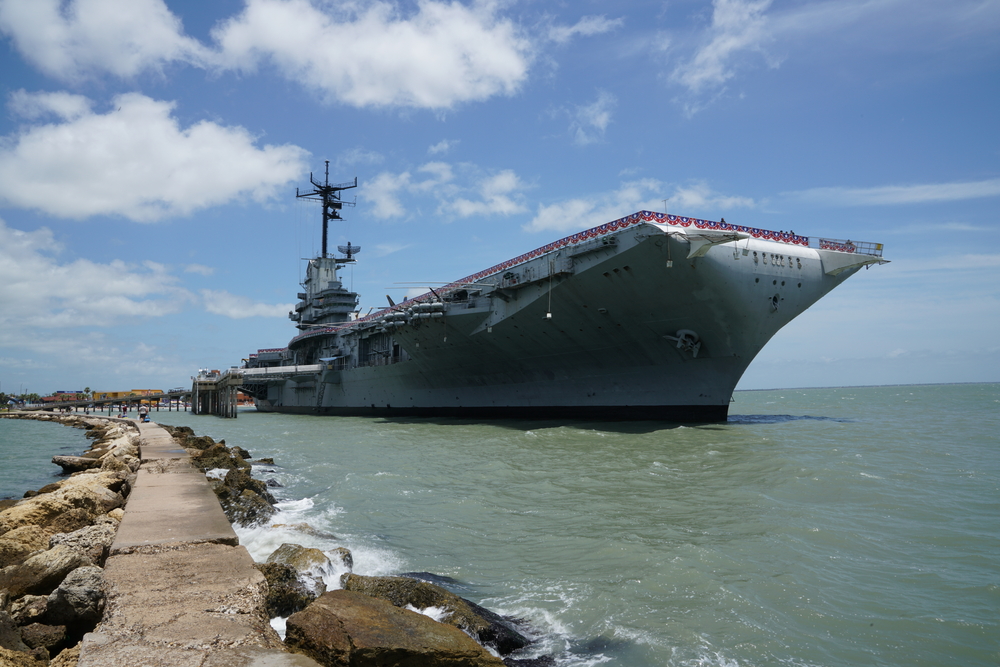 And that finishes our list of the most haunted places in Texas! We hope that you have found something interesting and somewhere you would like to visit next on your paranormal adventures!