Looking for where to stay in Austin? Well, you have come to the right place! Thankfully, there are so many amazing hotels, Airbnb, rentals, and bed and breakfasts to choose from in this beautiful city. And lucky for you, we have narrowed down the best ones for this guide!
People have been saying that Austin is a city on the rise. Over the years, Austin has gained and developed a strong music scene, become a hot spot for foodies, and really specified its funky vibe. It is one of the best places to travel to!
BUT! We also know that Austin is MASSIVE. Thus, when decided where to stay in Austin, the choices can be overwhelming. So sit back and relax: we have composed a list of the best places to stay in Austin and where to stay near Austin as well. This way, you can focus on experiencing this fun city and not stress about Austin accommodations!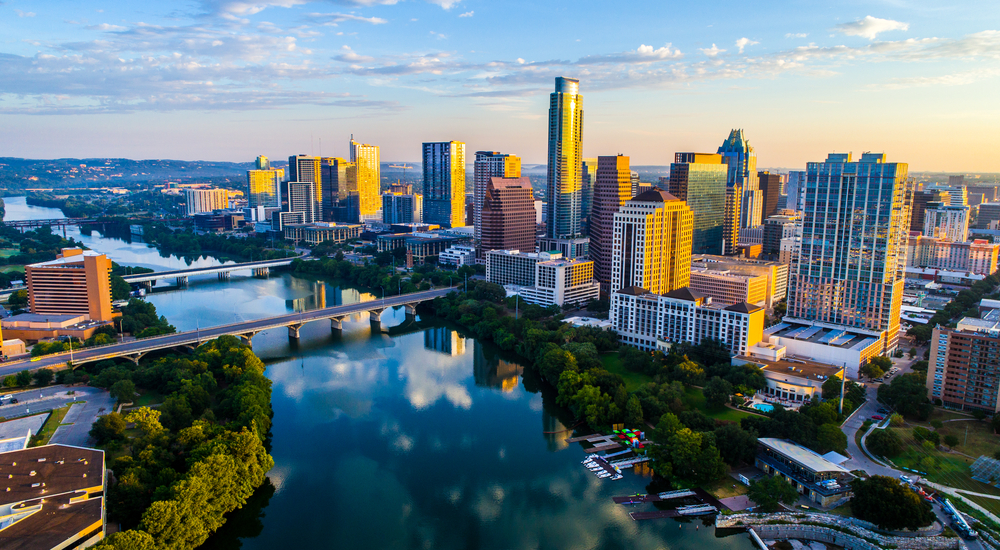 Understanding Austin Neighborhoods
Before you choose where to stay in Austin, you must learn all about the places to stay in Austin! Lodging in Austin has never been easier when you consider all of the wonderful neighborhoods that are at your finger tips.
For example, downtown is known for its architectural landmarks, whole East Austin is known for its artistic and up and coming vibe. For those interested in staying in SOCO, they'll get a great shopping experience there! And Zilker has wonderful greenery those outdoor lovers cannot miss. So no matter your preferences we promise there are tons of cool places to stay in Austin! Pick which best hotels and neighborhoods fit your needs and wants. This wonderful city has much to offer!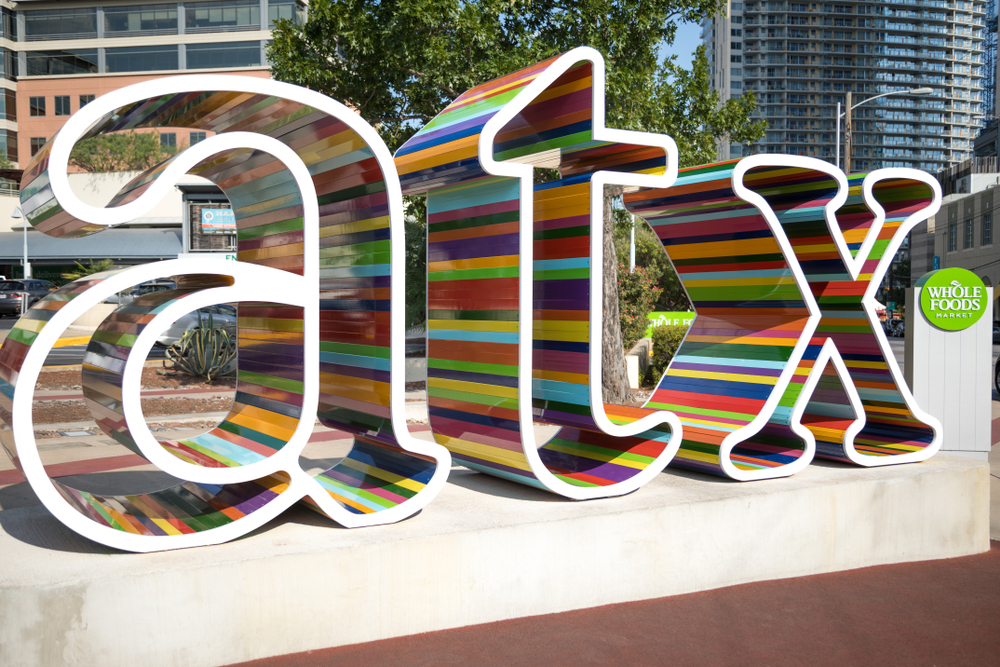 Downtown Austin is Where to Stay for First Timers
The heart of Austin is obviously downtown! This neighborhood is famous for iconic tourist spots. Imagining being close to the Texas State Capital when booking your Austin accommodations! How convenient! And on top of this, you can be close to places like the Paramount Theatre and the Frost Bank Tower.
Places to stay in downtown Austin are not far and few between because of how busy this district is. With the best activities right on your door step, we recommend first time visitors staying here: this way you can go visit fine-dining restaurants, an array of bars, galleries, and more. The ease of commuting allows first timers to really enjoy the area, so Downtown is at the top of our suggestions of where to stay! Plus those downtown night lights are to die for!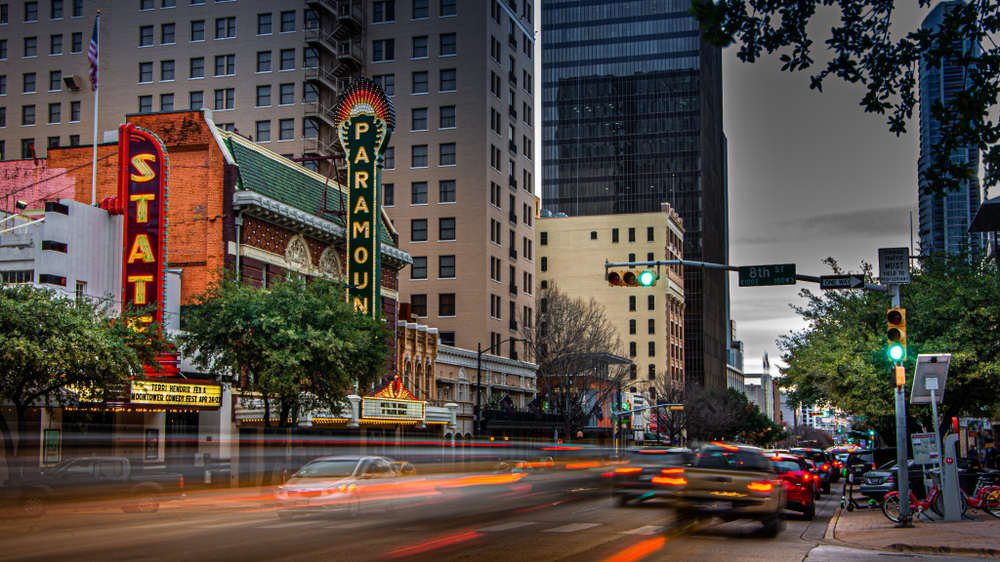 Best Places to Stay in Downtown Austin
The Stephen F Austin Royal Sonesta Hotel
Of all lodging options in Downtown, the Stephen F Austin Royal Sonesta Hotel is one of the best hotels in downtown Austin! Only steps from the State Capital building, this hotel is at a great location. You are only a brief walking distance from many attractions.
Guests here seem to love the spacious guest rooms and helpful staff on the concierge teams. Ask the services for anything about the Bob Bullock Texas State History Museum or Town Lake Hike– they will help you out!
Guests can enjoy all facilities here, including the indoor pool. The on-site dining is also well received by guests: so stop by for breakfast, lunch, and dinner at any time! Overall, this is one of the best hotels in downtown Austin. Heck, we think it is one of the top places to stay in Austin!
Check Rates: Booking.com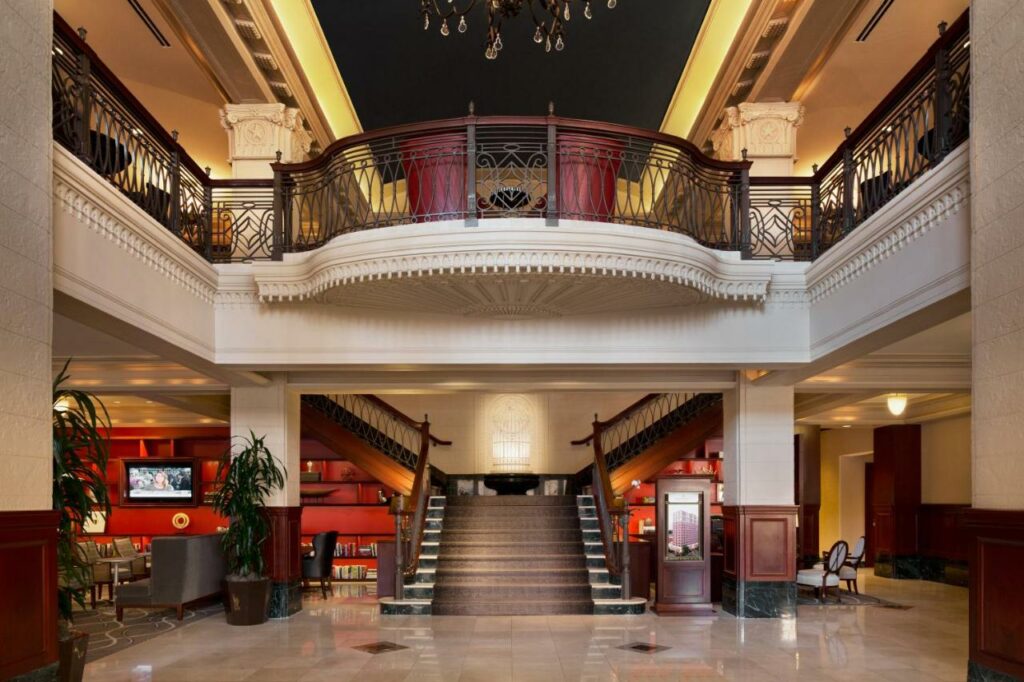 Hyatt House Austin/Downtown
Making the decision of where to stay in Austin shouldn't be hard. Thankfully with the Hyatt House Austin/Downtown it isn't! Between the outdoor swimming pool, free wifi, and close location to the Convention Center, this hotel is great for lodging in Austin.
The rooms at this hotel feature a variety of features, like huge televisions, coffee machines, sun terraces, and more. Guests enjoy the breakfast buffet here, as well as the on-site H Bar, where iconic appetizers and cocktails are served.
Staff is well informed here, so ask them about the nearby Frank Erwin Center and more. This truly is where to stay in Austin: and with a good price, don't worry about the best vacation rentals in Austin, just book a room here!
Check Rates: Booking.com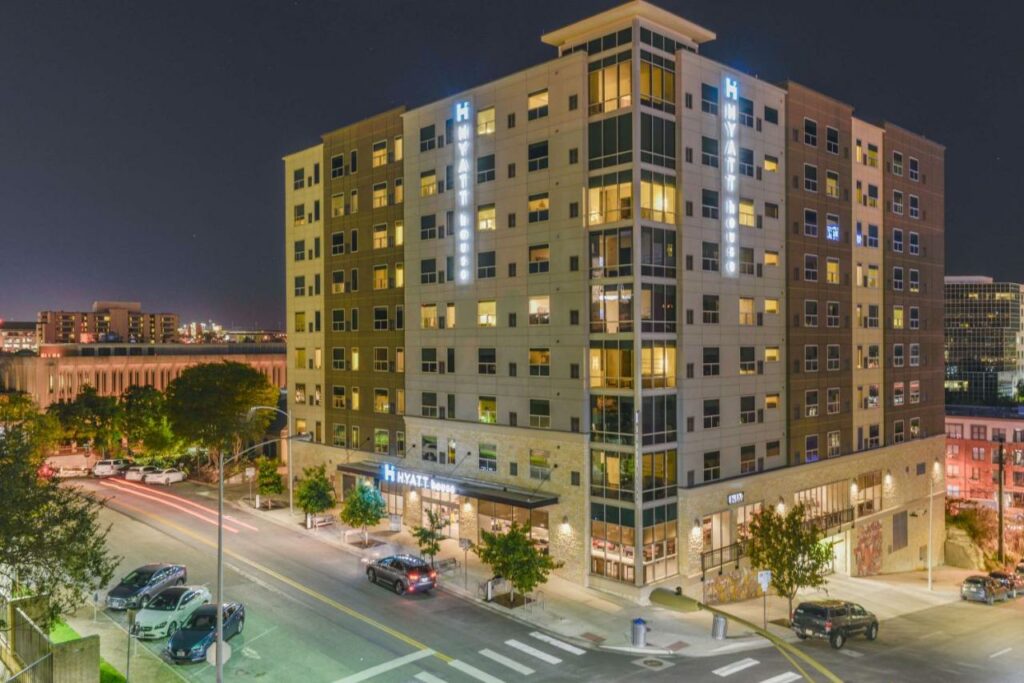 Hilton Garden Inn Austin University Capital District, Tx
Stay in the heart of Austin here at the Hilton Garden Inn Austin University. This wonderful lodging offers so much for its guests: the on-site restaurant, fitness center, bar, and shared lounge have guests enjoying their hotel as much as the city itself! You won't regret spending time on the grounds here.
The rooms are huge with fantastic furnishing and it is fully stocked. Stay here and be comfortable with the televisions, desks, private bathrooms and linens, and towels. Better yet? Buffets and breakfast options are always offered here.
Staff is also well versed on the tons of activities that are available in downtown Austin. So if you are looking for where to stay in Austin, look no further than the Hilton Garden Inn! And as always, never be afraid to ask questions: this four-star hotel is ready to make your stay as comfortable and fun-filled as possible!
Check Rates: Booking.com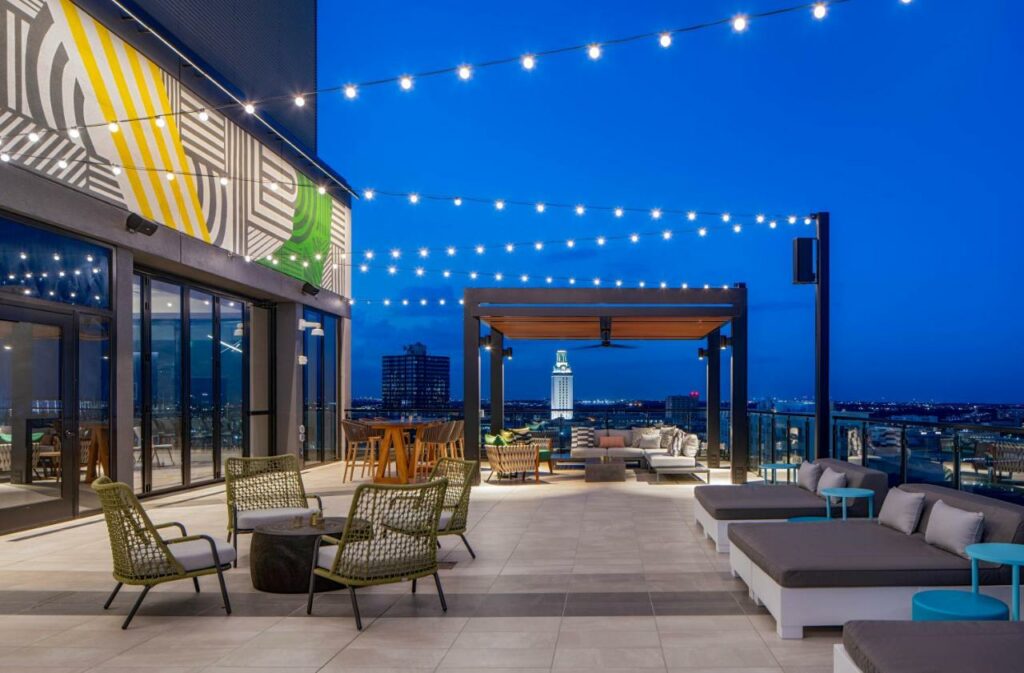 East Austin is the Coolest Place to Stay
Some of the best hotels in Austin happen to be in the neighborhood of East Austin. In fact, one of the best areas to stay in Austin is Easy Austin in general! East Austin happens to simply sit across the freeway from Downtown. This means you can get Downtown with ease too, which makes it a great place to stay if you want a variety of things to do.
Better yet, East Austin is well known for its artistic and eclectic essence. Here you can find some of the best art in the city: and who doesn't love a good gallery? On top of this, East Austin is famous for its street art and food trucks! So for those foodies and art lovers, this may be your area! It truly is the best part of Austin to stay for those who love cultural experiences.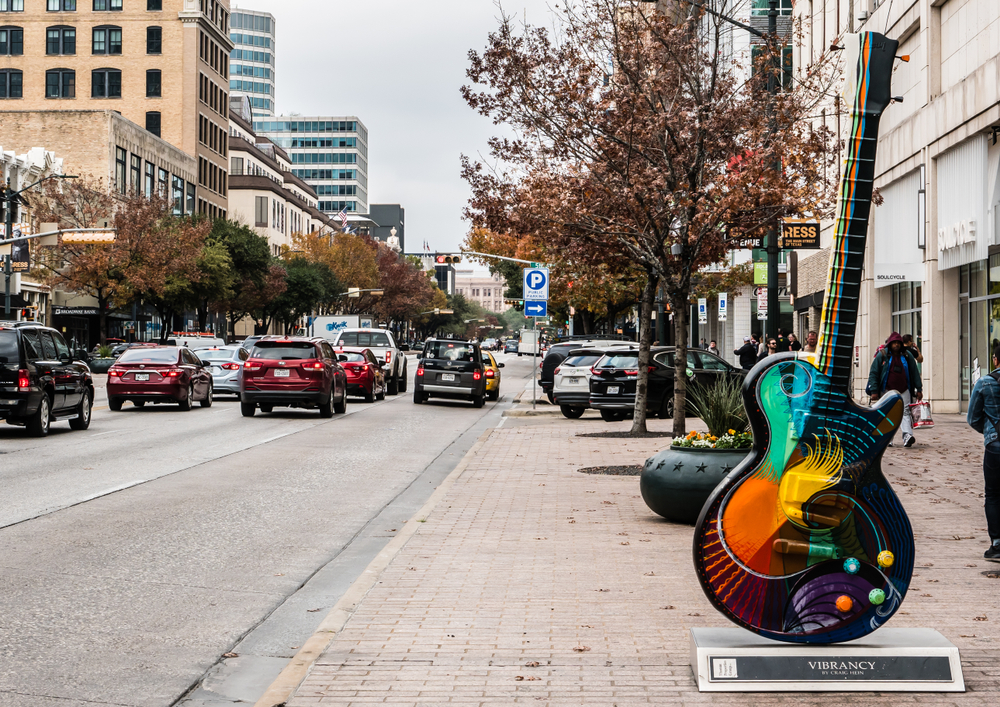 Best Places to Stay in East Austin
Sentral East Austin 1614
Booking vacation rentals in Austin has never been easier, especially with Sentral East Austin 1614! This wonderful rental is where to stay: its accommodations alone are fantastic to rent out. Guests really seem to love the year-round outdoor pool, shared lounge, and barbecue facilities.
Inside this lodging in Austin, there is also a spacious living room, kitchen, laundry room, and private bathrooms. These units are huge and perfect for when considering where to stay in Austin with kids: the more room the better, right?
Best yet, because you are in East Austin you are close to downtown and therefore you will be close to the Austin Convention Center, Frank Erwin Center, University of Texas, and more. So book a stay and have fun!
Check Rates: Booking.com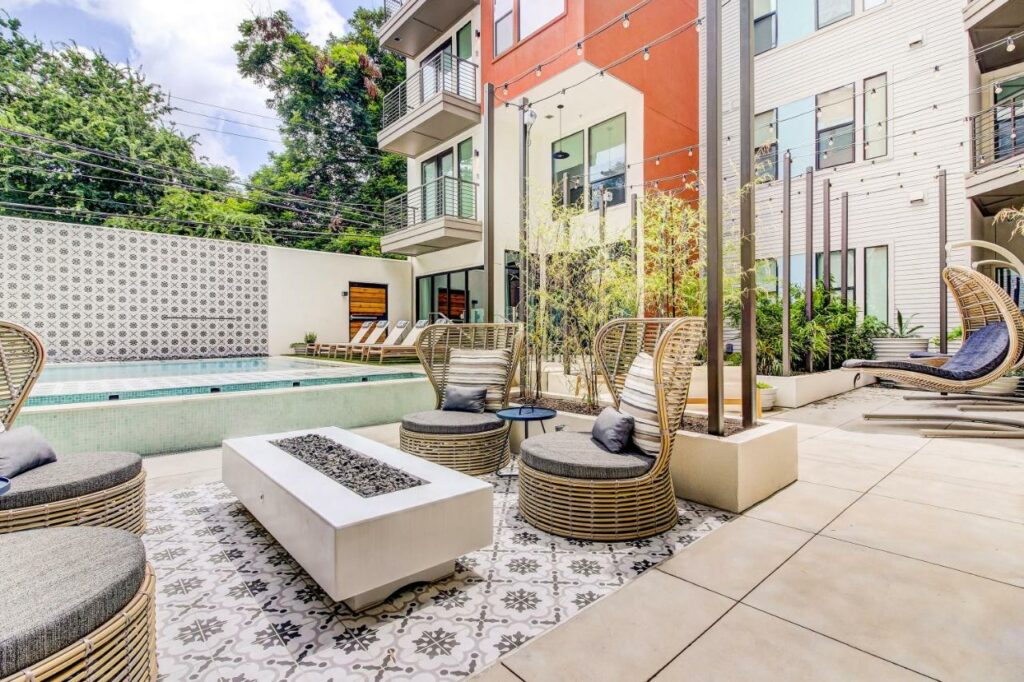 Chestnut Retreat
East Austin is full of unique and fun vibes. Chestnut Retreat just so happens to be a part of those fun and unique vibes! With this four-bedroom home, a rental this large is perfect for long weekends and stays with family! Plus, when you'll see that three bathrooms are available too, you'll realize you won't have to share.
This rental is close to a variety of popular points of interest. From the Texas Memorial Stadium to the Disch-Falk Field and the Lyndon Baines Johnson Library and Museum, you'll never be bored when staying here.
This property is also pet friendly, and fur babies will adore the patio out back. Between this and the free parking, this truly is a traveler's dream. So book your stay and relax in Austin at Chestnut Retreat!
Check Rates: Booking.com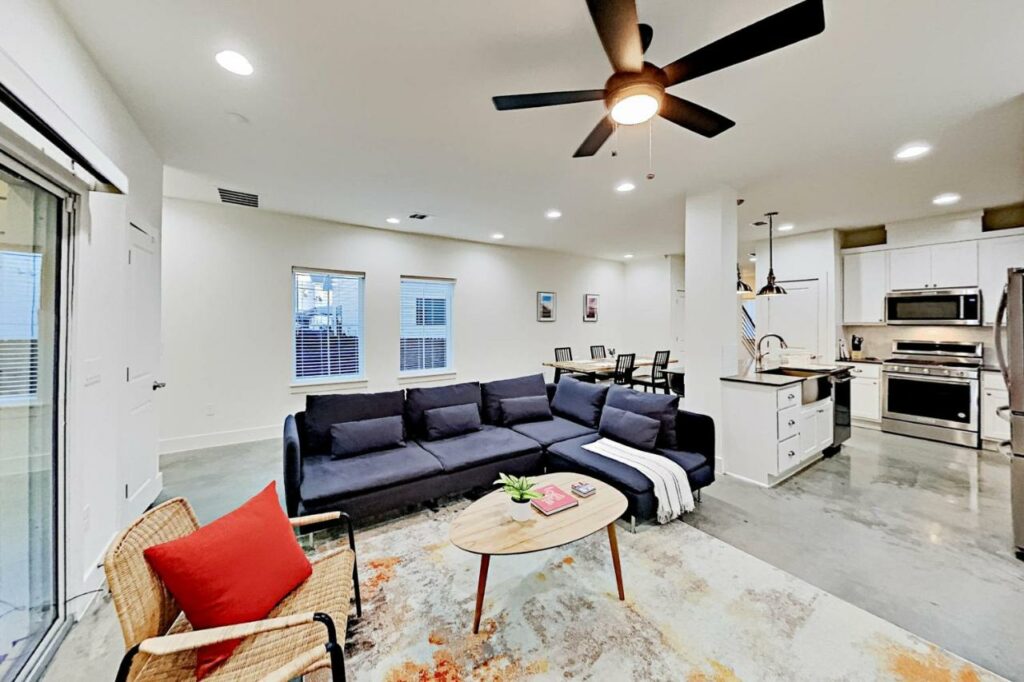 Zilker is the Best Area in Austin for Families
When going on a family vacation of course you want to treat your family to a nice and fun time. Traveling to Austin gives that opportunity, but so does staying in Zilker in particular. this is one of the best places to stay in Austin! Especially when traveling with partners, parents, and/or kids.
Zilker is located just southeast of Downtown Austin so it is close to everything. It is also across the Colorado River. so the nature ambiance is fantastic. The neighborhood in combination with the greenery gives this area the best balance of busy and calm. So bring your family, enjoy the outdoors at Zilker Metropolitan Park, and treat yourself to trendy cafes too!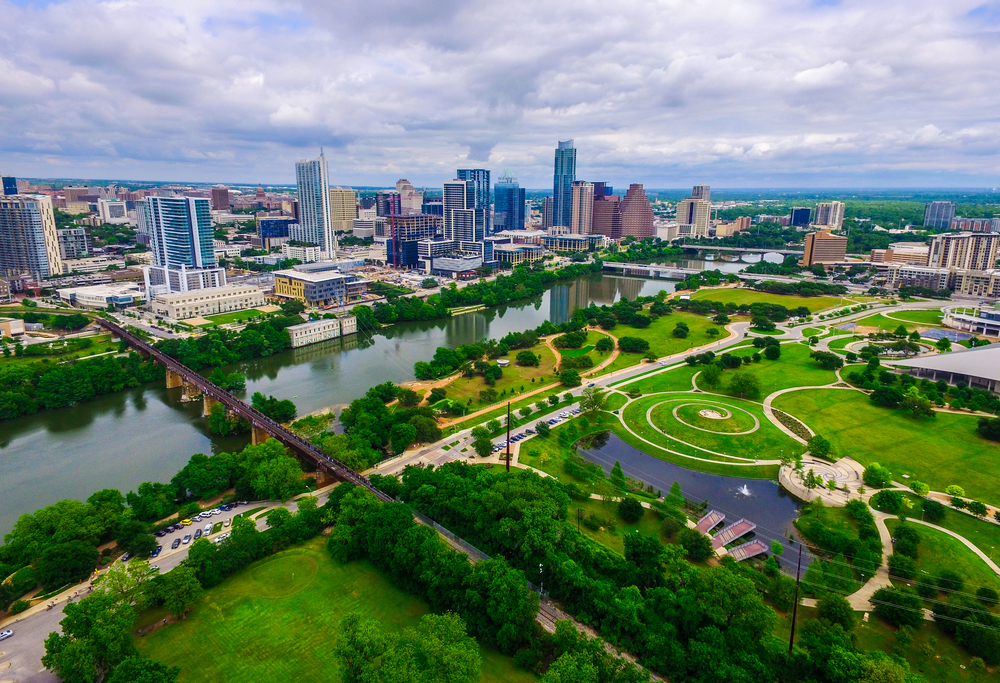 Best Places to Stay in Austin
Remodeled Zilker Area Townhome Walk to SXSW
With just a 9-minute walk from Barton Springs Pool, this Remodeled Zilker Area Townhouse may be perfect for you and your family during your stay in Austin! There are so many things that are close to this area, including, but not limited too, the Capital Building and Austin Convention Center.
Guests seem to love the patio and that this place is pet friendly! Plus free parking! Here you can get your biggest bang for your buck. The townhouse itself has one bedroom, a huge kitchen, a massive tv, and a working laundry room.
When staying here towels and linens are provided, so you can even feel like you are staying at a hotel despite this being a rental property! With comfortable written all over this wonderful townhome, it is clean, features great facilities, and has a good value and location. Check it out!
Check Rates: Booking.com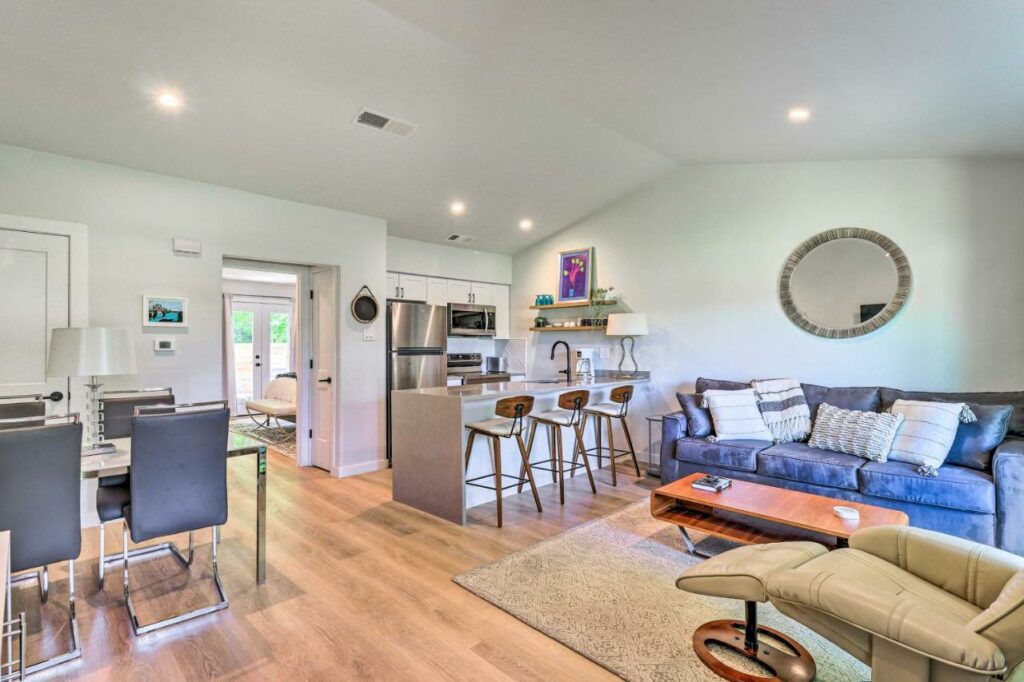 The Carpenter Hotel
Looking to spend some time in Austin with your family at a hotel that has just the perfect amount of unique style? Look into staying at the Carpenter Hotel! Close to places like the Barton Springs Pool, there are tons of activities to do around here. Plus, you are close to all of the greenery, which means lots of outdoor activities too!
The rooms at the Carpenter feature balconies, and spacious floor plans in addition to the coolest decor. The terrace is a great gathering spot, but guests also love to flock to the on-site restaurant and outdoor swimming pool.
Factor in private parking, the 24-hour knowledgable front desk, and room service and you may not want to leave this place! But despite how nice the lodging is, we do suggest you go out and explore. And take your family with you– the Umlauf Sculpture Garden and Museum is a popular must-see that is nearby!
Check Rates: Booking.com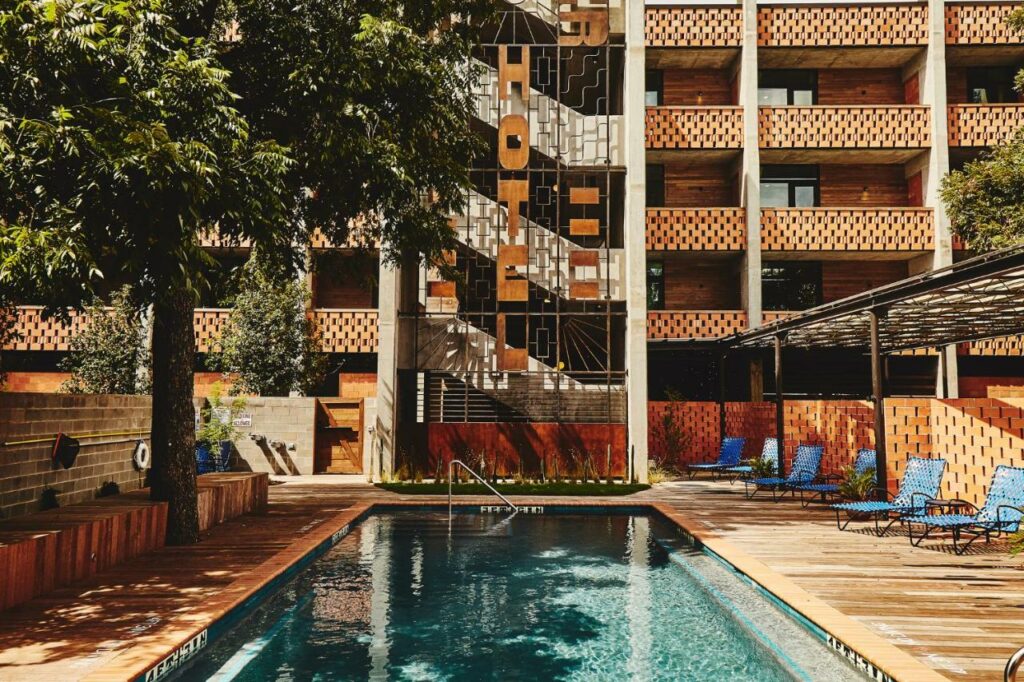 Austin Proper Hotel, a Member of Design Hotels
If you still aren't sure where to book lodging in Austin, consider Austin Proper Hotel! This lovely hotel is a part of the Design Hotels and you can tell by the decor and on-site accommodations alone. With a huge swimming pool, a bar, a fitness center, and more, guests love to relax here.
People flock to the terrace at Austin Proper Hotel, but what they seem to really love is the area. As mentioned, Zilker is popular for its outdoor activities. So, you can find chances to go hiking nearby and with ease! The Congress Avenue Bridge is also close by.
Each room here is fully stocked and designed for your comfort: some come with balconies with city views, and others feature other accommodations. But either way, the private bathrooms, seating areas, and more keep guests feeling like they are at home.
Check Rates: Booking.com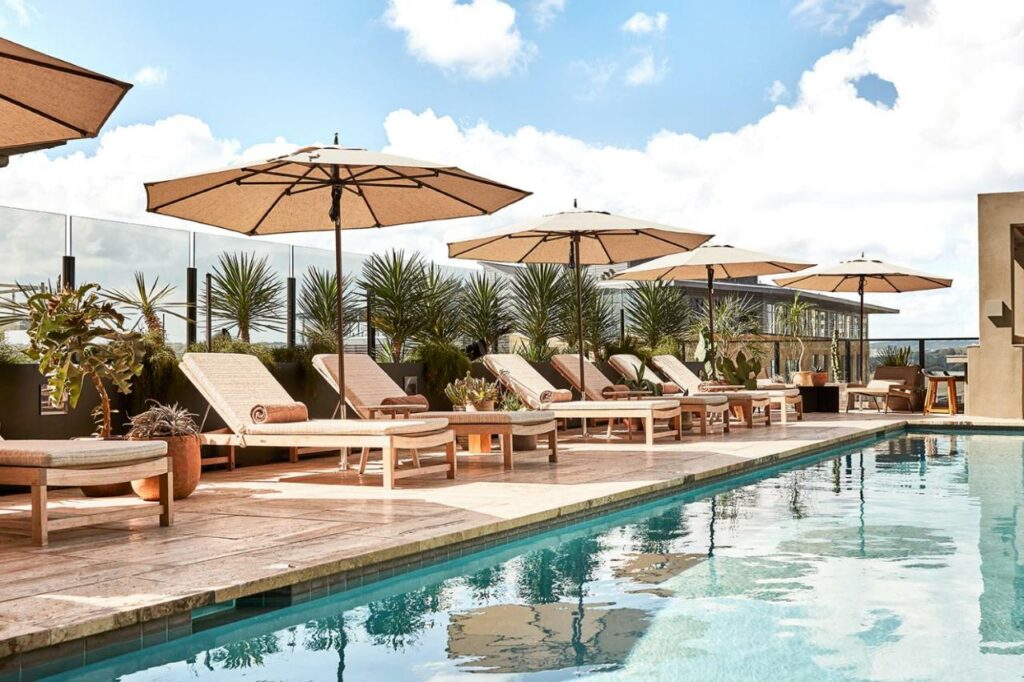 Red River Cultural District is the Best Area in Austin for Nightlife
Are you a party person? Does the nightlife appeal to you? Then book lodging accommodations in the Red River Cultural District! This neighborhood is super unique in its vibrant essence. There is always something happening in the Red River Cultural District!
Thankfully when you visit here you won't be bored. This neighborhood is up-and-coming and always busy: you can pick your poison from a variety of rooftop bars, nightclubs, restaurants, and more. There will always be live music to find, food to eat, and drinks to consume here!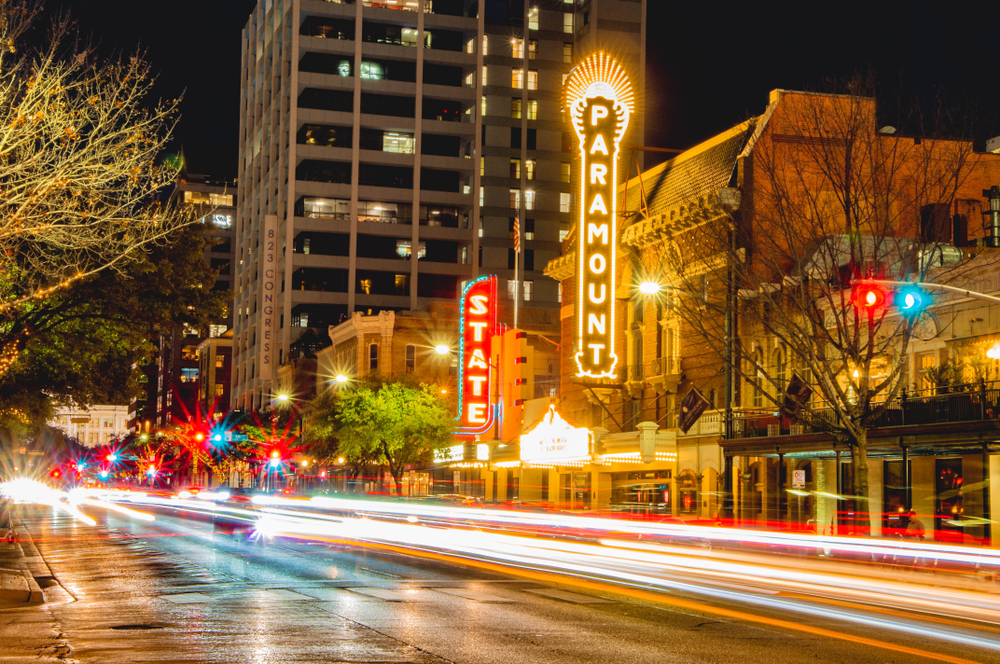 Best Hotels in Red River Cultural District
Sheraton Austin Hotel at the Capitol
Centrally located by downtown and right in the heart of the Red River Cultural District, the Sheraton Austin Hotel will have you ready to go out every night! This perfect location is iconic for those who want to get out, walk around, and explore shops, nightclubs, bars, and more.
The spacious guest rooms here offer modern furnishings and cable TVs. There are private bathrooms and even a southern-style restaurant located on site. Enjoy a snack before heading out, or maybe even start the night with a drink at the Lobby Bar!
In combination with the indoor and outdoor pool, gym, and 24-hour skilled staff that will tell you all about the shopping on 6th street, you'll be set to go for this adventure. And then you can rest at the Sheraton!
Check Rates: Booking.com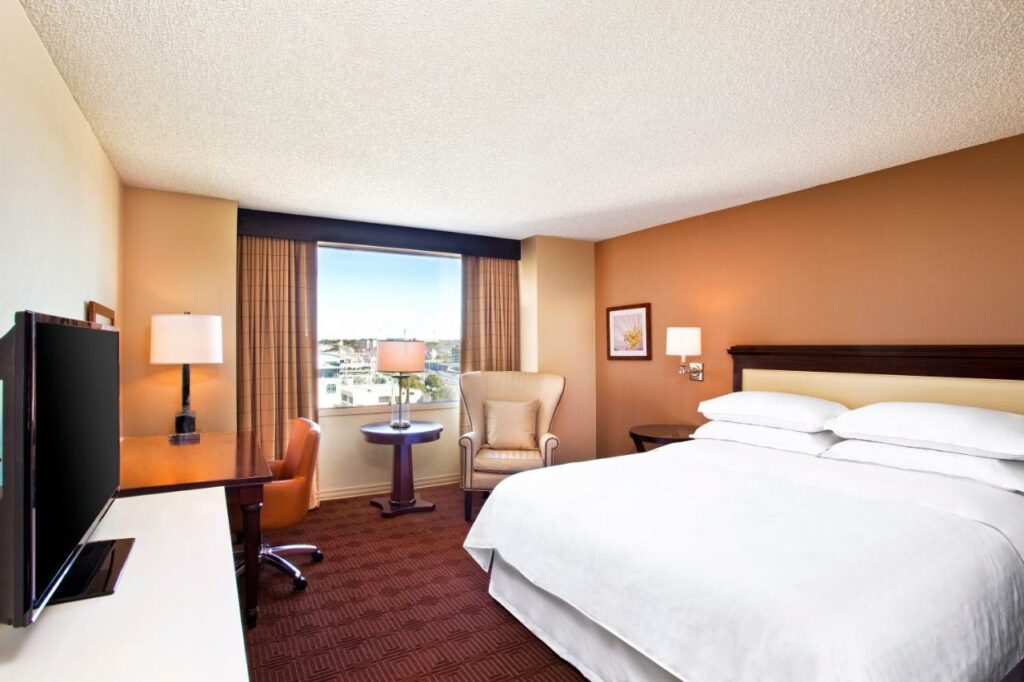 Aloft Austin Downtown
Despite the name saying "Downtown" the Aloft Austin Downtown is in the Red River District and ensures that you are in the heart of the nightlife. In fact, staying here ensures that you are only 1,650 feet from the Capital Building!
While the property features a fitness center and has rooms that are spacious and comfortable, as well as well-designed, you will want to go out and explore the surrounding areas. But if you decide to check out on-site facilities before hitting the streets, do check out the on-site Caroline Restaurant.
Guests also tend to love the coffee bar and the cocktail bar here too! Plus the mini market is perfect for when you come back from a night of shopping, dancing, live music, and more. This lodging is also pet friendly and features free parking!
Check Rates: Booking.com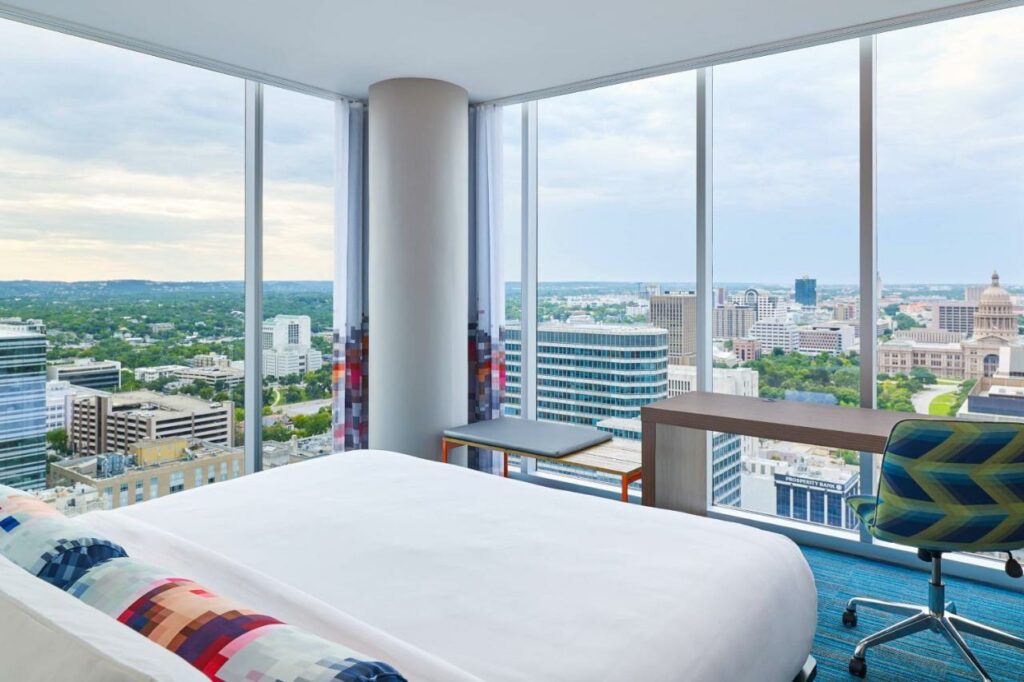 UT Campus is Where to Stay in Austin on a Budget
If you know anything about Austin, you've probably heard about the University of Texas! This public research university is the oldest institution in the University of Texas System. And it keeps people coming back! Because this is a college town and area, most people can stay here on a budget. But this does not mean that you are sacrificing experience for budget!
You are so close to everything in this area! You can enjoy a game at the Texas Memorial Stadium (go Longhorns!), walk to 6th street for a night out, go for a hike at Mount Bonnel, or just explore the stunning UT campus itself. The pleasant environment on campus extends into the area and neighborhood. You will be comfortable AND save money when staying here. We promise that there are tons of hotels around here and that these budgets are great for students and families. So go get your deal!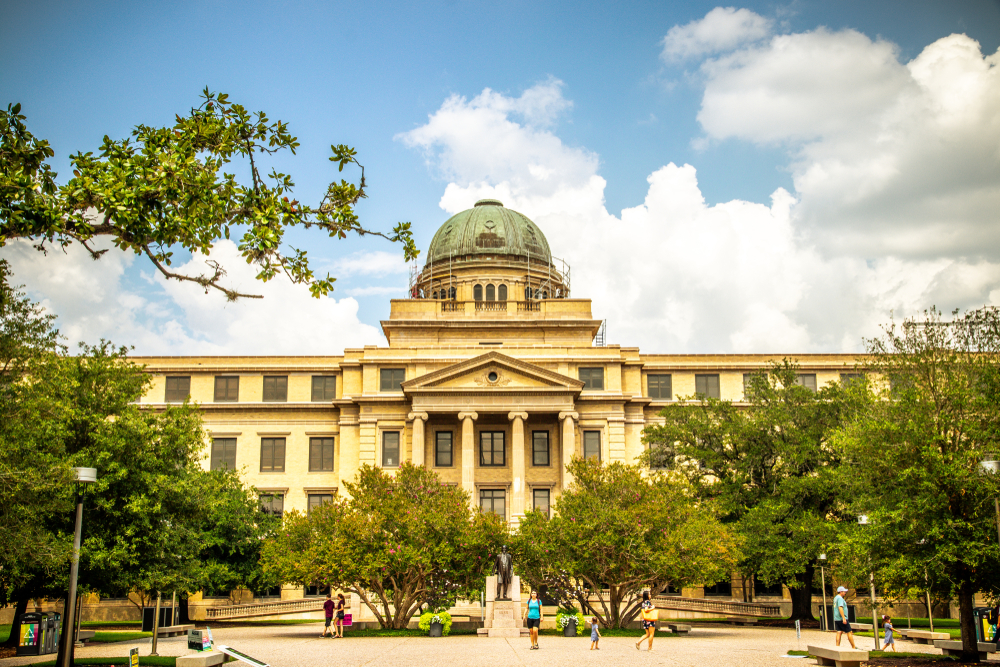 Best Hotels Near UT's Campus
Moxy Austin- University
If you are near the University of Texas, and if you are a student on a budget, check out Moxy Austin-University. The community feel of campus bleeds into this lodging and is super close to the school itself (only 0.8 miles away in fact!).
Every day an a la carte breakfast is available, and guests seem to love the shared lounge and garden. The hotel also features a restaurant on site, as well as a fitness center and bar, so you can relax and socialize perfectly here!
The rooms themselves feature a desk, TV, private bathroom and are stocked and prepared for your stay. You can also ask the 24-hour desk about where to explore: the nearby stadium and capital building being too great options. Luggage storage is also available upon request!
Check Rates: Booking.com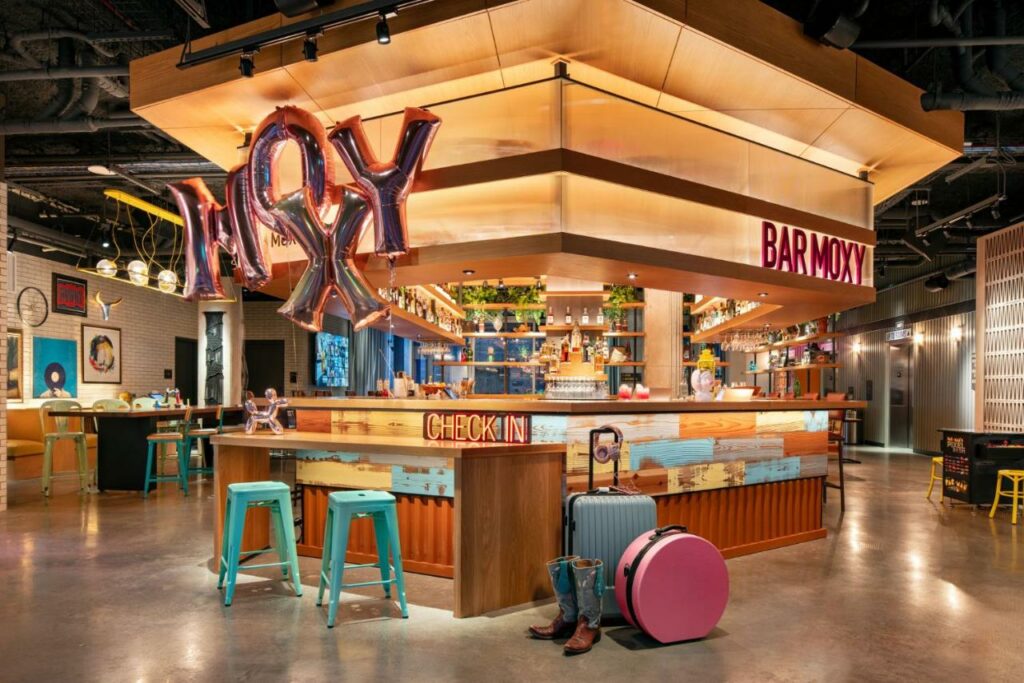 AC Hotel by Marriott Austin-University
Located in the heart of Austin, the AC Hotel by Marriott Austin-University has great accommodations. From an on-site restaurant to private parking, a fitness center, and a bar, you may not even want to stray away from the hotel itself!
This is a 4-star hotel. Guests LOVE how helpful the staff is, and the 24-hour front desk, free Wifi, and an ATM on site is super helpful. Plus, who doesn't love a drink and snack from the snack bar too? And let's not forget an American breakfast every morning!
The rooms here provide guests with great accommodations. From a desk, TV, private bathroom, and more, this is where to stay in Austin! Popular points of interest include the University of Texas itself. There is also the Frank Erwin Center nearby, so you can stay busy!
Check Rates: Booking.com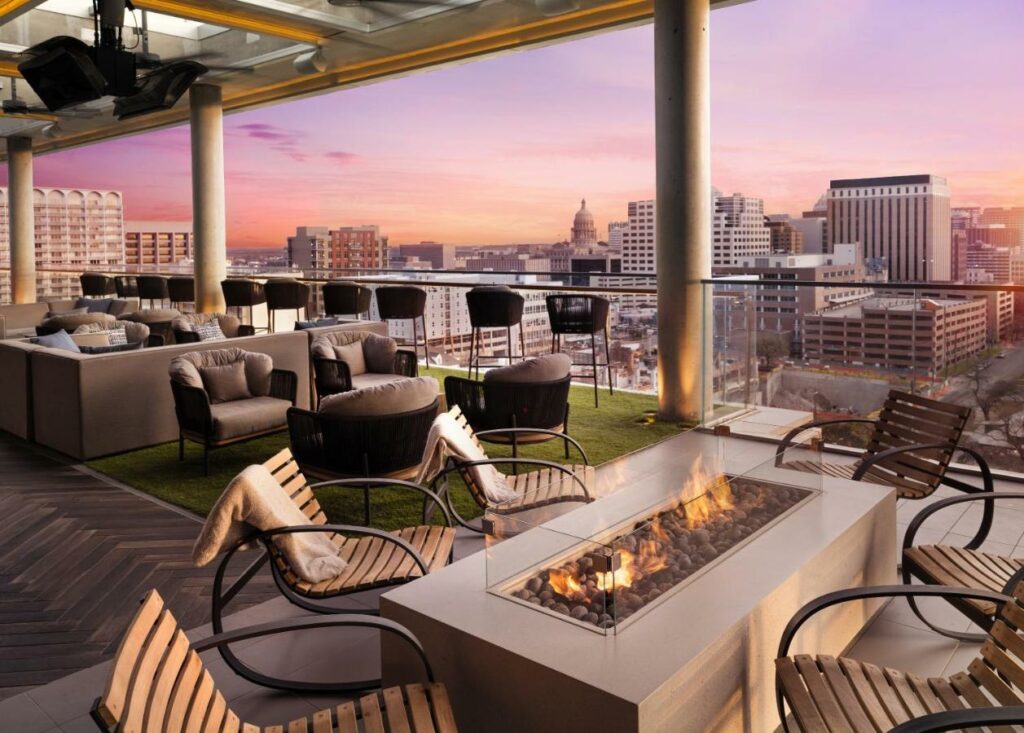 And there you have it, folks! The tell-all guide to help you navigate the best neighborhoods in Austin. If you are wondering where to stay in Austin, this list will help you make a decision best fit for you and your trip!