Looking to discover the best lakes in Houston and its surrounding areas? Perfect! You're in the right place. We've curated a list of the best and most beautiful lakes in Houston – all within an hour and a half drive.
Situated just off the coast of the Gulf of Mexico, Houston is often noted for its proximity to beautiful beaches. However, traveling inland provides visitors with great experiences as the lakes in Texas near Houston are proven to be some of the best in the state. From the quiet fisherman to the energetic family, Houston lakes provide something for everyone to enjoy!
If you need a break from the salt water of the gulf or the bustling crowds of downtown, look into visiting these spots to round out your Houston experience. Whether you're wanting to cool off from the Texas heat, find a new fishing hole, or simply enjoy the scenery, the lakes in the Houston area have a lot to offer and are perfect for a quick day trip or an exciting holiday weekend getaway!
9 Best Lakes in Houston (and Nearby)
Lake Houston
Settled by cattle ranchers in 1862 and spanning nearly 5,000 acres, Lake Houston is perfect for a day trip or weekend getaway! Additionally, the lake is only a 30-minute drive north, making it one of the more accessible lakes in the Houston area.
The Lake Houston Wilderness Park sits on the north side of the lake and offers overnight stays in cabins and campsites, 20 miles of hiking trails, and connection to the mostly shaded Peach Creek, which hosts relaxing fishing spots. Fishermen can find largemouth bass, bluegill, and blue catfish inhabiting the waters here. There are also several spots where the water is usually shallow and have small beaches, perfect for young children and quick family picnics!
This is one of our favorite Fun Kids Activities In Houston!
For those looking to have more direct access to the open lake, head to the southern side of the lake to Alexander Deussen Park. While the park itself is smaller, it provides access to boat ramps, pavilions, and paved bike trails. Boaters here often use the open lake for water skiing and tubing.
If you're looking for a fun day with the family that isn't too out of the way, Lake Houston is surely one of your best options! This is also one of the best places for hiking in Houston!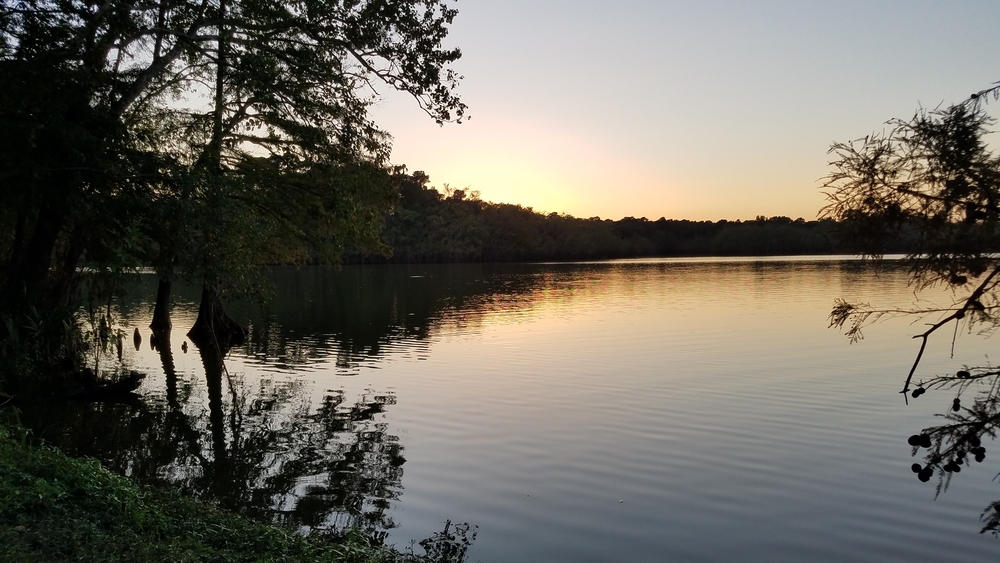 Lake Longhorn
Probably one of the most popular Houston lakes, Lake Longhorn is a hub of activity and excitement!
This 49-acre freshwater lake is often used as the training ground for scuba divers and triathletes. Because of its popularity and notoriety as one of the best places to go swimming in Houston, all swimmers are required to sign a waiver and have a personal swim buoy, which are available for purchase at the lake's shop. Scuba certification and equipment rentals are also available to visitors who are looking to explore the lake's 35-foot depths!
For those looking for something other than swimming, the lake also offers hourly stand-up paddleboard and kayak rentals. Additionally, anglers can pay a small fee to fish on the premises and even offer yearly passes to frequent visitors.
The variety of activities at Lake Longhorn make it one of the best lakes in Houston and with just over a 35-minute commute from the city, it is certainly worth the drive! This is the perfect thing to add to your Weekend in Houston Itinerary!
Lake Conroe
With 22,000 acres of water and 157 miles of shoreline, Lake Conroe is massive. It's no surprise that it is a huge draw for weekenders.
This place is without a doubt one of the most fun lakes in Houston. Want to be on the water but don't have a boat? No problem, you can rent jet skis, pontoon boats, and kayaks and launch them at one of the several boat ramps. You can even enjoy a dinner cruise on a 131-foot paddle boat name the Southern Empress or host up to 70 guests on the Little Palm Yacht Charter!
If you're wanting to stay away from the partying and are looking to decompress, Lake Conroe is one of the top fishing spots not only in the state of Texas, but also in the United States. The Bassmaster Classic tournament is often hosted here. Swimmers can enjoy one of two access points – Lake Conroe Park and Scott's Ridge Swim, the latter of which is in the Sam Houston National Forest; however, it is only open from April through September.
One of the most beautiful lakes in Houston, Lake Conroe is perfect for visitors looking for fun, exciting, and relaxing activities within an hour's drive of the city.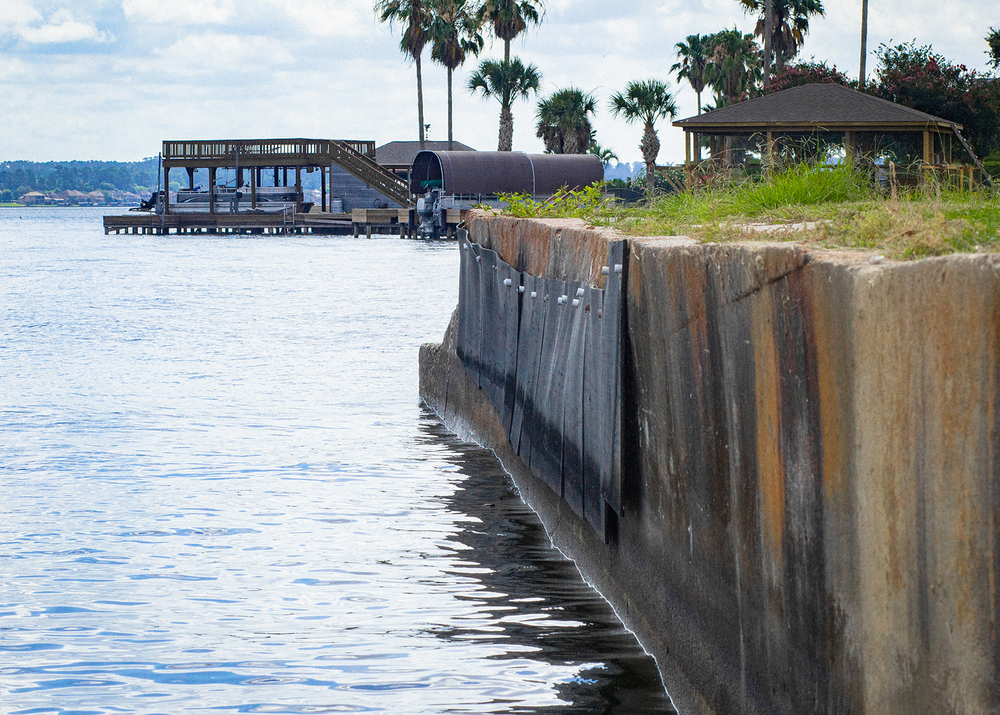 Lake Livingston State Park
75 miles north of Houston you will find one of the largest lakes in Texas. One of the most beautiful lakes in Houston, Lake Livingston attracts those looking to enjoy the fresh air and scenic views. Lake Livingston is notably the home to floating exotic water hyacinths that bloom from late summer to early fall.
Lake Livingston State Park is a 635-acre park that offers 3 boat ramps, geocaching, and kayak and stand-up paddleboard rentals. Pier and bank fishing is available to those looking to catch the plentiful amount of white bass here. Campers are welcome to use one of several campsites ranging from tent spots, to spots with full hookups, to 10 screened shelters – most of which are ADA accessible.
For those eager to learn more about outdoorsmanship, the park offers free ranger programs and junior ranger explorers packs! In these programs, you can learn new skills when fishing or kayaking, go on a night hike, and learn about nature.
A serene destination, Lake Livingston is one of the best lakes in the Houston area for those wanting to get away from the hustle and bustle of everyday life!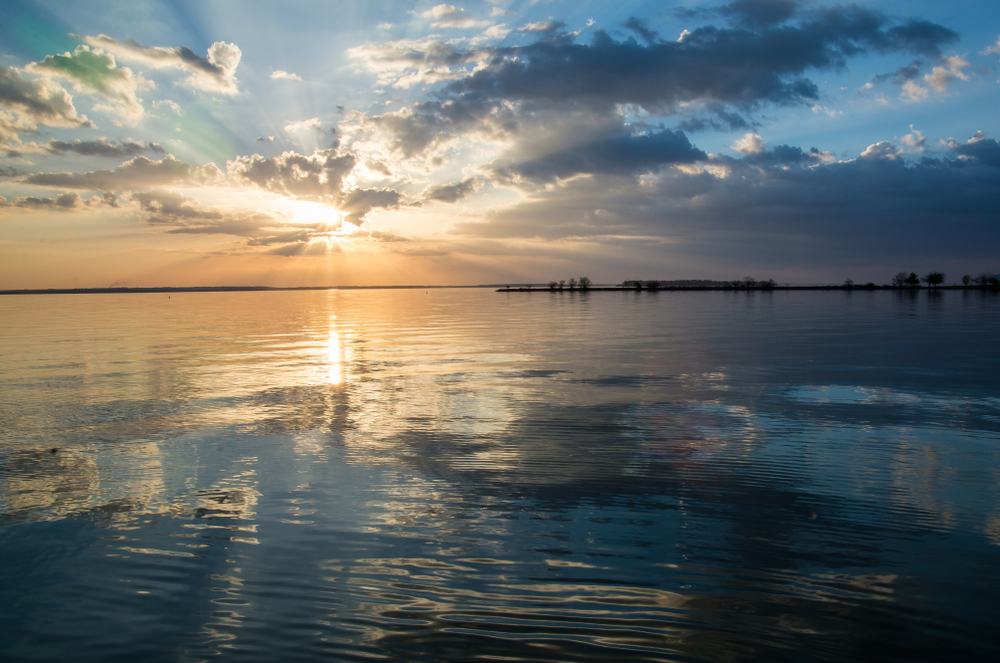 McGovern Lake
Inside Houston, McGovern Lake is easily the most accessible for those looking to staying close to the city. Besides its proximity to downtown, the park is host to some beautiful fall foliage during the later months of the year and is one of the most beautiful lakes in Houston!
Right across the street from the Rice University campus, McGovern Lake is tucked within the Hermann Park Conservancy. The 8-acre lake is great for quality time with the family or even a romantic outing with a significant other.
On the lake, there are several pedal boats to take out for a spin and Bob's Fishing Pier. Those between the ages of 12 and 65 years old looking to fish will be required to have a valid fishing license to participate in the catch-and-release fishing.
Hermann Park is also known to regularly host events, such as "Art in the Park," amongst others. With plenty of walking trails around the lake area, this park is perfect for strolling and maybe even finding the perfect picnic spot in the green space!
Other than the trails, another great way to see and experience this beautiful lake in Houston is to take a ride on the Hermann Park Railroad! Yes, that's correct, there is an actual railroad that transports visitors around the lake and even makes a stop at McGovern Island. The train also provides quick access to the several exciting spots that call Hermann Park home. Among these is the Houston Zoo and the Houston Museum of Natural History.
With so much to do in such a convenient spot, it would be easy to see how one could spend an entire day just enjoying what McGovern Lake and Hermann Park have to offer! Once you have had your fill of fun here, the location of the lake within the city makes it easy to grab a quick bite to eat, or head back to the hotel for a much needed nap to recharge!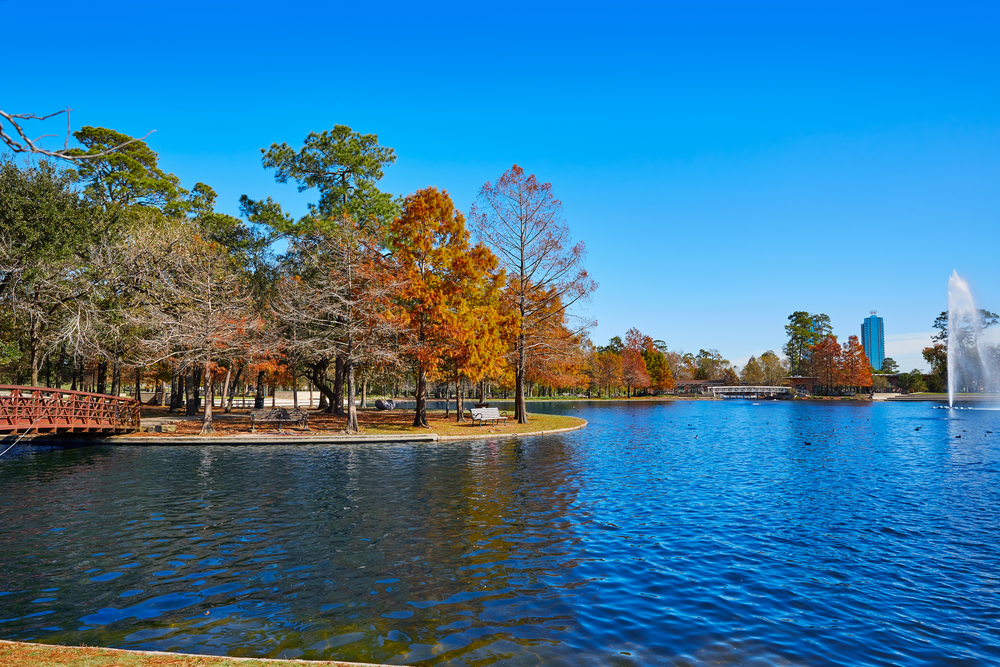 Double Lake Recreation Area
Built in 1937 by the Civilian Conservation Corps, the Double Lake Recreation Area hosts plenty of activities to satisfy anyone's outdoor needs!
Double Lake is the centerpiece of the conservation area and is home to bass, bream, and catfish fishing as well as a sandy beach for swimmers. Seasonal boat and canoe rentals are also available. For those looking to stay dry, there is also a 5-mile hiking trail along the Lone Star Hiking Trail as well as a 21-mile mountain bike trail that encircles the lake! Looking to stay overnight? Double Lake Conservation area provides several campsites available to reserve.
A classic outdoor destination, Double Lake has a little something for everyone to enjoy and is one of the most fun lakes in Houston to visit!
Huntsville State Park
Located a little over an hour north of Hoston, Huntsville State Park is perfect for those looking to take it easy. Secluded within the Sam Houston National Forest, this 2,083-acre wooded recreational area is home to plenty of relaxing and scenic activities for those wanting to unplug.
The 210-acre Lake Raven is definitely the highlight of this shaded and well-maintained park. Mostly known for its great crappie, perch, and bass fishing, the lake also provides access to canoe, kayak, and paddleboat rentals. Those wanting to use their own boat are welcome to use the boat ramp but motored vessels may only operate at idle speeds. Fishing piers are dotted along the lake edge with fish cleaning stations are often nearby. Swimmers are encouraged to wade in the designated swim area due to the presence of alligators.
On land, visitors can find numerous outdoor activities to escape to. 21 miles of shaded hiking trails weave through the wooded landscape in the park and around Lake Raven. Near some of these trails are the 160 campsites available to reserve for your stay.
A Nature Center is also located centrally within the park grounds. Here you can learn all about the wildlife that call Huntsville State Park home as well as view exhibits, animals, bird nests, amongst other collections. It's the perfect way to learn about the local Texas wildlife! Wanting to get more involved? The park provides ranger and junior ranger programs for those wanting to take a deeper dive into learning about the park's history as well as classes on the area's plant and animal inhabitants!
A beautiful and secluded area just outside of Houston, Huntsville State Park and Lake Raven are perfect for those who just need to get away and enjoy some peace and quiet!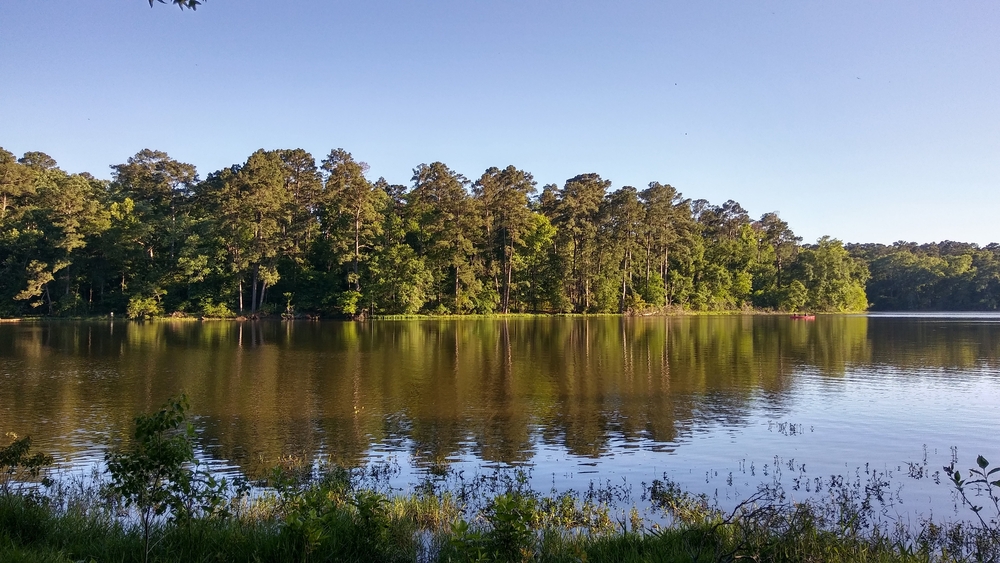 Arboretum Lake
One of the smallest lakes in Houston, Arboretum Lake has a lot to offer!
Once inside the lake area, it's not easy to tell that Arboretum Lake is right inside downtown Houston! Situated within Memorial Park, this beautiful lake is exploding with scenic sights, events, and educational opportunities. Miles of trails allow visitors to hike, jog, or bike throughout the park and enjoy views of the vast amounts of fauna here.
The Houston Arboretum and Nature Center is a quick walk north of the lake. There, you can take part in a variety of programs made for adults and children. The nature center also regularly hosts events such as "Yoga on the Lawn," "Family Full Moon Hikes," and "Concert in the Courtyard." With its close proximity to the city, Arboretum is perfect for a break from the office or a fun family outing!
While tiny, Arboretum Lake is definitely mighty considering how much is packed in here! Make sure to stop by when downtown and see what this oasis in the city has to offer!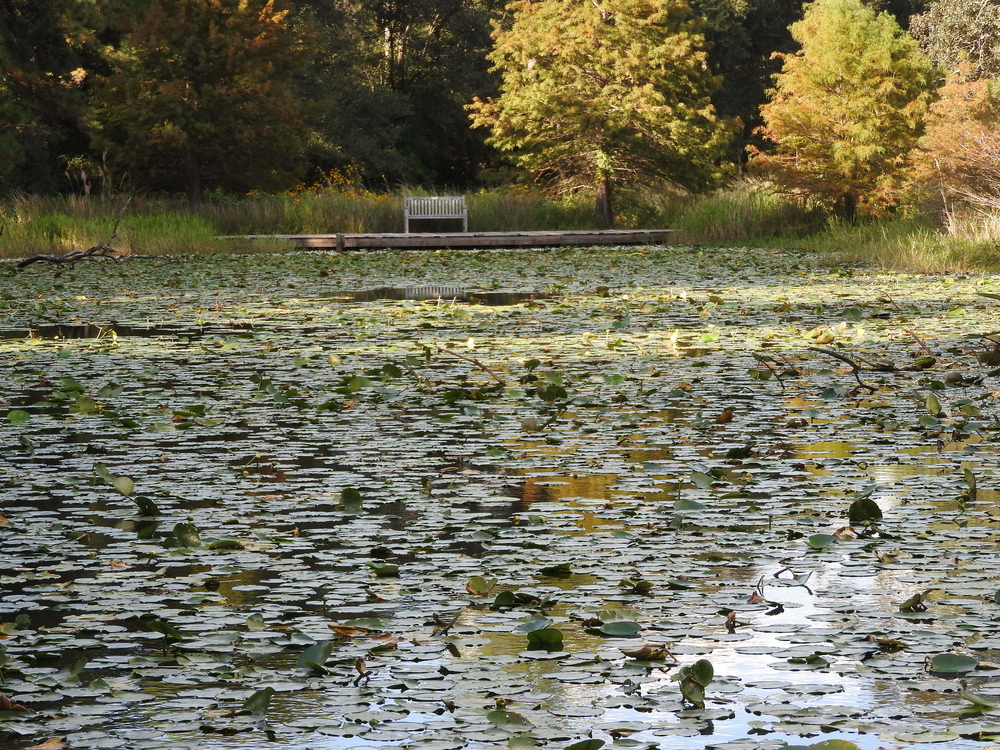 Sheldon Lake
16 miles northeast of Houston sits the Sheldon Lake State Park and Environmental Learning Center.
The park is mainly frequented by fishermen and wildlife observers who aim to take in the beautiful scenery and excellent fishing. Sheldon Lake is open to fishermen with valid licenses every day and boats may be launched at the south boat ramp on Pineland Road. Those without boats are welcome to fish on the banks year-round.
To get the best view of the lake and surrounding area, visit the John Jacob Observation Tower! Visitors can take stairs or a solar-powered elevator to the top for views of the lake, restored prairie, and even the Houston city skyline. The 82-foot tall tower is one of the newest additions to the park and is a must-do when visiting.
Besides the lake and observation tower, visitors should also make a stop at the Environmental Learning Center. Here, the center hosts many programs including hiking, birding, fishing for children, and wildlife/nature studies. A half-mile nature trail passes through 28 naturalized ponds that are home to alligators and wildlife.
One of the best lakes in Texas near Houston, Sheldon Lake is a modest location with plenty to offer for nature lovers and children eager to learn. With plenty of opportunities to experience and learn about the wildlife around, it is definitely worth the visit!
This is a great place to stop if you are taking a weekend trip from Houston!