If you are looking for the perfect getaway, one of the many treehouses in Texas are sure to fulfill your needs. Nothing compares to spending some time tucked away for a few days!
There is something magical about staying in a treehouse. They have the power to take you away from reality and the constant cares of the world.
Texas is known for its large cities and busy highways, but there are also beautiful treehouse rentals that provide an escape from the hustle and bustle of the city. They are perfect for both locals and those that are from out of state.
Whether you are looking to spend some time with family and friends or enjoy a romantic getaway, there is something to offer for everyone!
We have found treehouses in New Braunfels, treehouses in Dallas, treehouses with hot tubs, treehouses perfect for weekend getaways, secluded treehouses, and treehouses with the most amazing views.
You will want to book one of these immediately!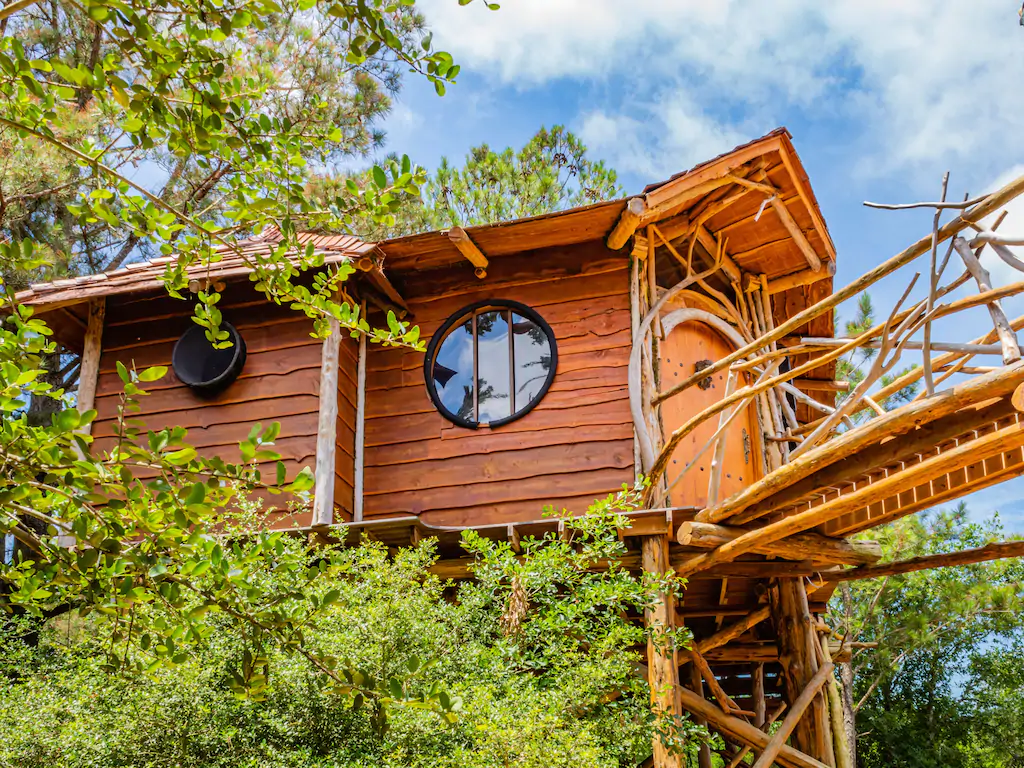 15 Dreamy Treehouses in Texas You Can Stay In
Guadalupe Lazy Days Riverfront TreeTop Cottage
Looking for the perfect treehouse that offers nonstop adventures for you and your loved ones? Look no further! One of these treehouses in Texas is the way to go. The Guadalupe Riverfront is perfect for you.
Located in Center Point Texas, the cottage can sleep up to 6 guests. You can book up to 4 of these cottages making them perfect for holidays, reunions, and relaxing retreats!
The treehouses share a common deck and are located next to the river. This means swimming, tubing, and kayaking are within steps of your accommodations. You have access to an extensive river trail, too!
Schreiner State Park is located nearby where you can enjoy nature, take a walk, or wind down from a day swimming.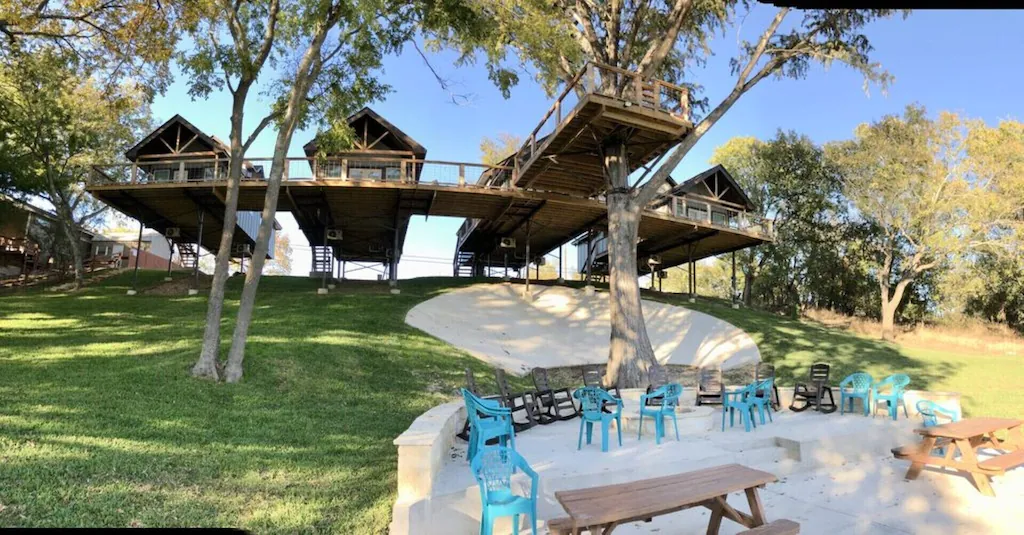 Romantic Luxury Cabin
Emerald Cabin is one of two luxury treehouses in Texas on the Stony Ridge Grounds. Relish all of the high-end amenities in this charming home that is perfect for an intimate, romantic getaway!
With some of the most beautiful views of sweeping hills and greenery, you and your loved one will enjoy lounging on the outdoor decks. There is even a private outdoor hot tub perfect for relaxing and de-stressing.
The interior is just as charming offering shiny hardwood floors, exposed beams, enormous windows, an open living room, rustic kitchen, a wood-burning fireplace, and a sweeping master suite. The double glass doors offer panoramic views of hill country.
Walking down the serene, private nature trail is a must. It's the perfect way to begin or end your day with the one you love!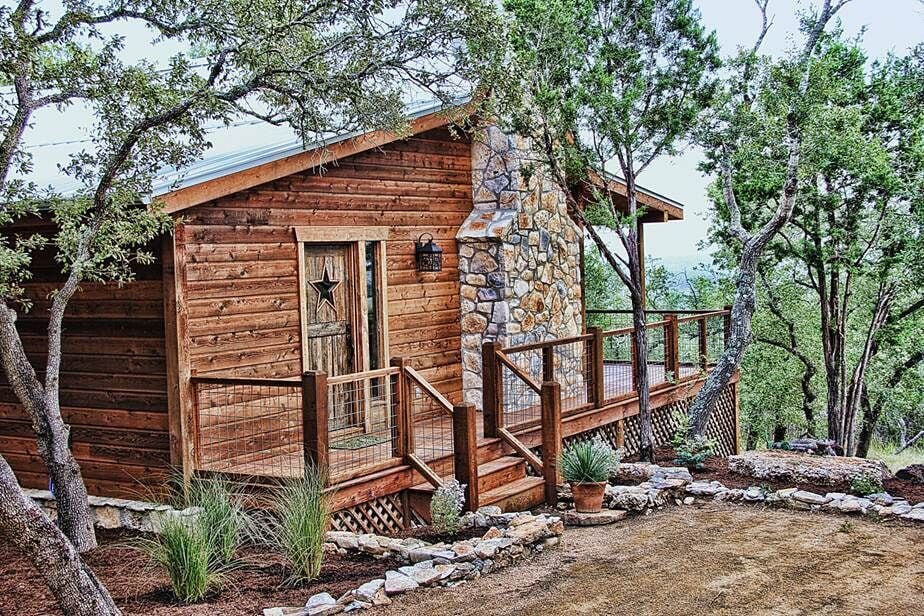 Coach's Quarters on the Creek
Known as "Treehouse Rustic," this cabin in the woods is perfect for a private and tranquil weekend or holiday . Decorated in beautiful lights, it has to be one of the most charming treehouses in Texas!
A lovely deck overlooks White Rock Creek. The wraparound deck also offers two remote places to enjoy the scenery! Two Adirondack Rockers are available for your leisure.
The cabin has 2 bedrooms and 1 bathroom with an open main room, kitchenette, and mosaic bathroom. In addition, the cabin is also accessible friendly with a ramp. Another great bonus: A fully refurbished and running 1936 John Deere Tractor awaits to be used to enjoy the views and take great photos!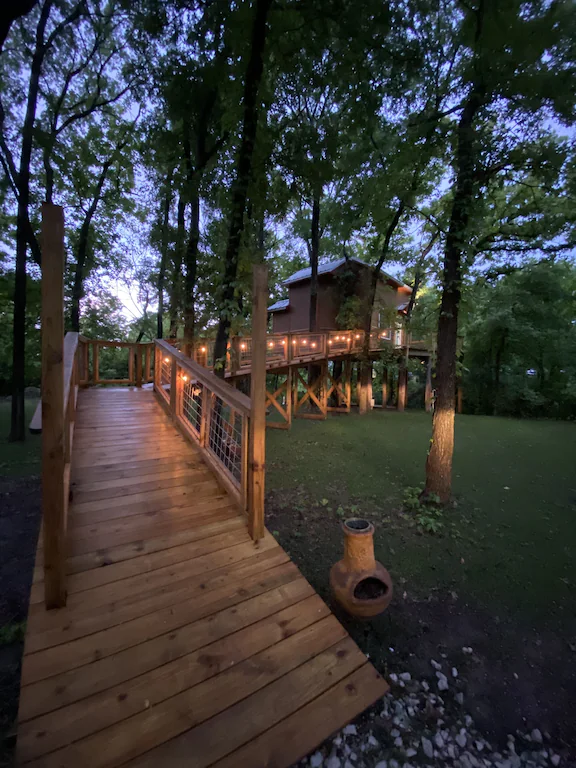 Hobbit's Nest Treehouse
Visit the enchanting and secluded Hobbit's Nest Treehouse! It is perfect for a romantic getaway or family vacation. One of many themed treehouses in Texas, this Hobbit's Nest treehouse offers a unique experience to all of its guests.
One of the best features of this treehouse is the view from the bedroom. Nothing beats the treetop view!
Located on 42 acres, visitors will share Lost Pines Forest with the owners and two short term rental guest houses. There are shaded trails for walking and observing wildlife and a small pond filled with frogs and lily pads.
This experience is very similar to glamping so make sure this endearing treehouse fits your needs.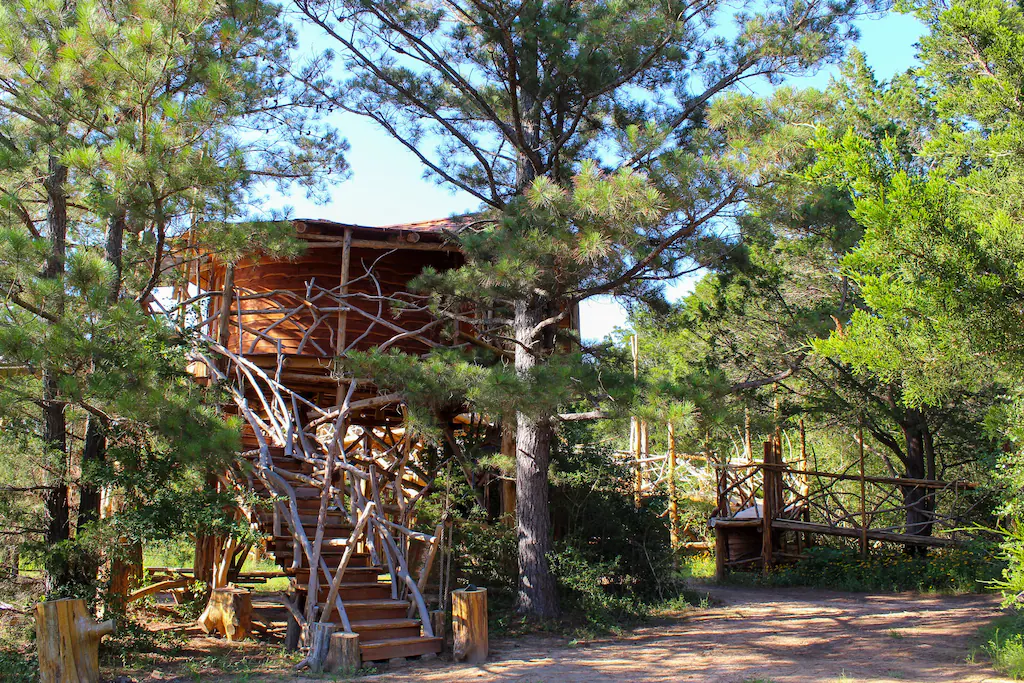 Riverfront Treehouse
One of the newer treehouses in Texas, the Riverfront Treehouse has picturesque views of the Nueces River. The sunrises cannot be beaten!
There is an abundance of outdoor living space with a large deck, oversized chairs, bar, kitchenette, swing and hammock. There is also a BBQ pit and fire pit area perfect for gathering around to cook s'mores.
The treehouse sleeps up to 6 guests and has 2 bedrooms and 1 bath. The house is full of glass windows so that you are your guests are sure to enjoy the views, sunrise, and sunset.
The river is perfect for swimming, fishing, snorkeling, and kayaking. Furthermore, bird watching, biking, hiking, and hunting are also available!
If you need more room for family and friends, the treehouses next door are also for rent.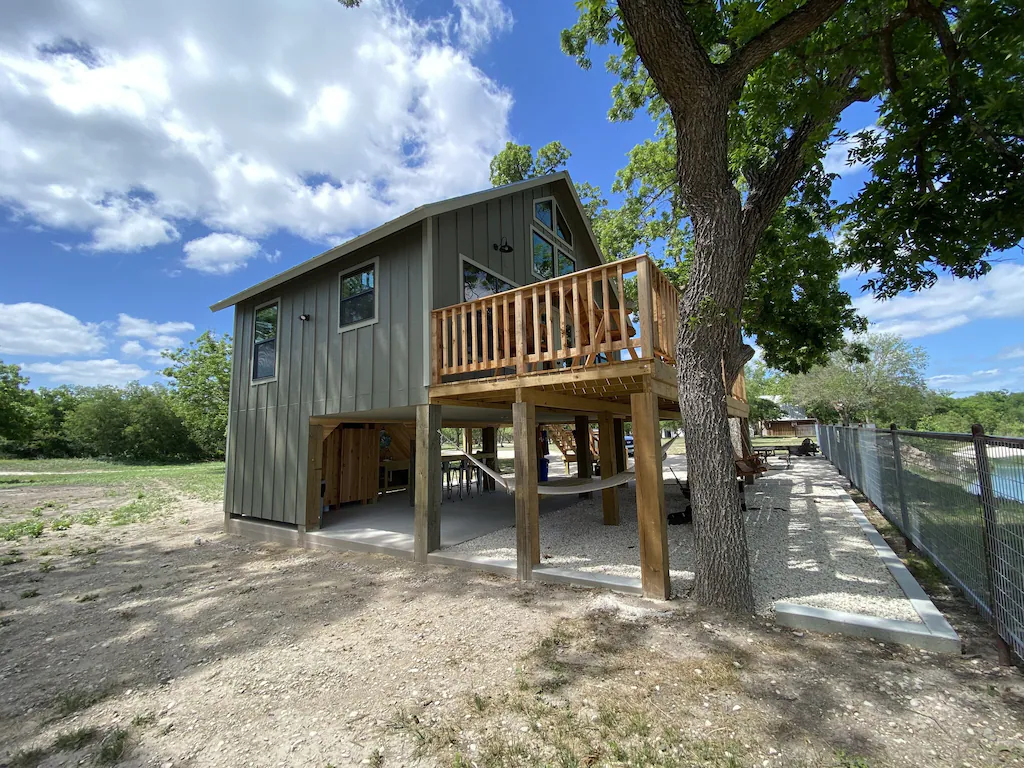 The Extraordinary Treehouse
This exquisite home is tucked away amongst numerous Japanese Maples. The Extraordinary Treehouse is one of the few treehouses in Texas that blends Bauhaus contemporary with a warm and rustic elegance.
Privately tucked away in the heart of Little Forest Hills, this sophisticated treehouse includes gravel footpaths through a forested canopy that leads to the foot of the bridge covering Ash Creek.
This rental sleeps 4 and includes 2 bedrooms and 2 full baths. It also offers a kitchen, living room, floor-to-ceiling windows, and a deck.
In addition, it is also one of the treehouses near Dallas. So it is also a perfect getaway from the busy city.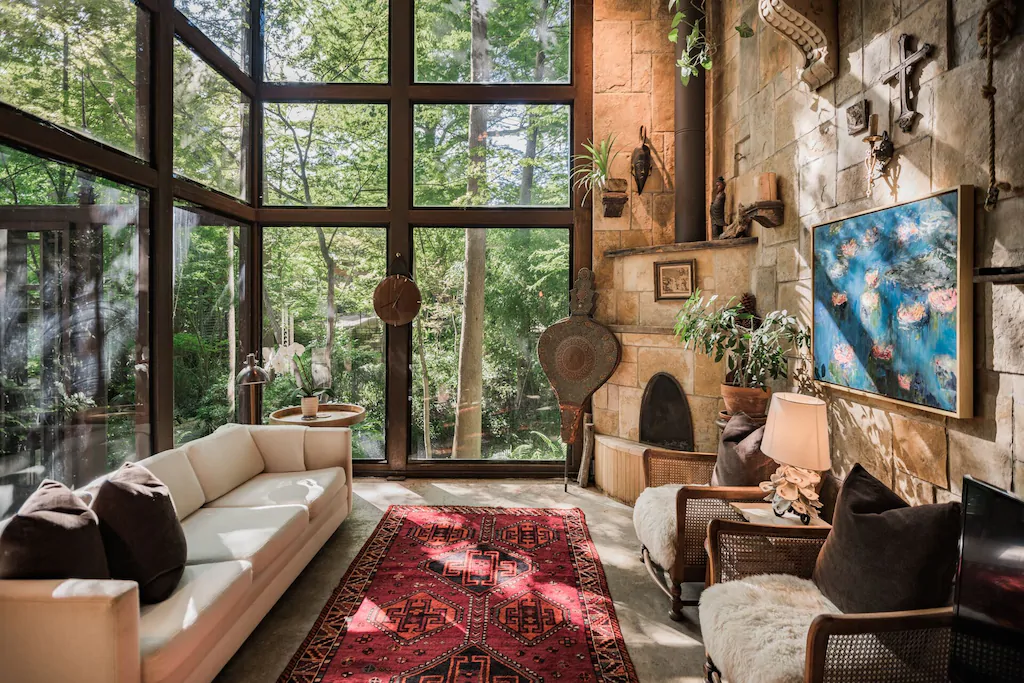 Modern Luxury Treehouse
This Modern Luxury Treehouse is one of the treehouses in Texas that is perfect for larger families. It sleeps up to 9 guests and has 3 bedrooms and 4 bathrooms.
Located in the beautiful Hill Country, this home is located in the gated community of Windermere Oaks. It boasts stunning lake views from multi-level decks and has a modern interior with vaulted ceilings, large windows, and a delightful fireplace.
The lake and three community pools are perfect for sunny days and warm weather. Additionally, tennis courts and a boat launch are available for guests!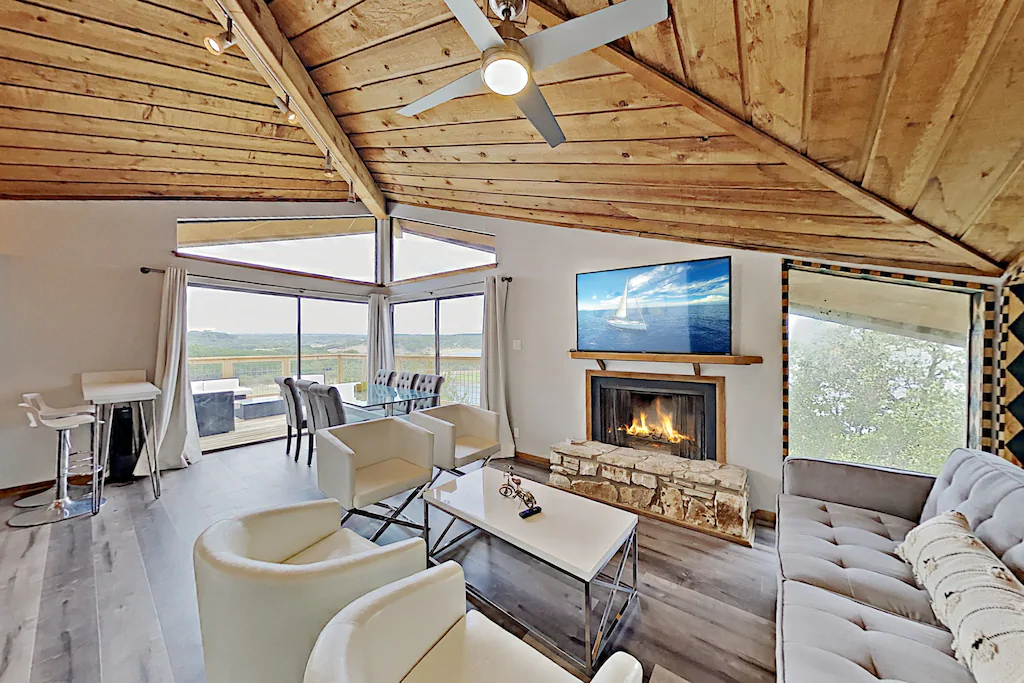 Cabin by the Guadalupe River
Live amongst the trees in a Whippoorwill Cabin at River Road Treehouses! Located next to the Guadalupe River, these treehouses in Texas are majestic.
Sleeping up to 8 people, these treehouses are newly constructed and engineered for modern living. These cabins are actually attached to large hardwood trees!
The treehouses are surrounded by eighty-foot cypress trees with grapevines hanging from their limbs. The 100-foot long bridge that takes you across the seasonal creek to your cabin will make you feel like you are stepping into a magical place.
Sitting over the seasonal dry creek bed, those that stay in the cabins will have over 400 feet of river access with hammocks, picnic tables, fire pits, chairs, and grassy areas.
Conveniently located, guests will also have easy access to places in Texas Hill Country, Canyon Lake, Whitewater Amphitheater, River Road Icehouse, and Schlitterbahn. These treehouses in New Braunfels truly offer the best of both worlds!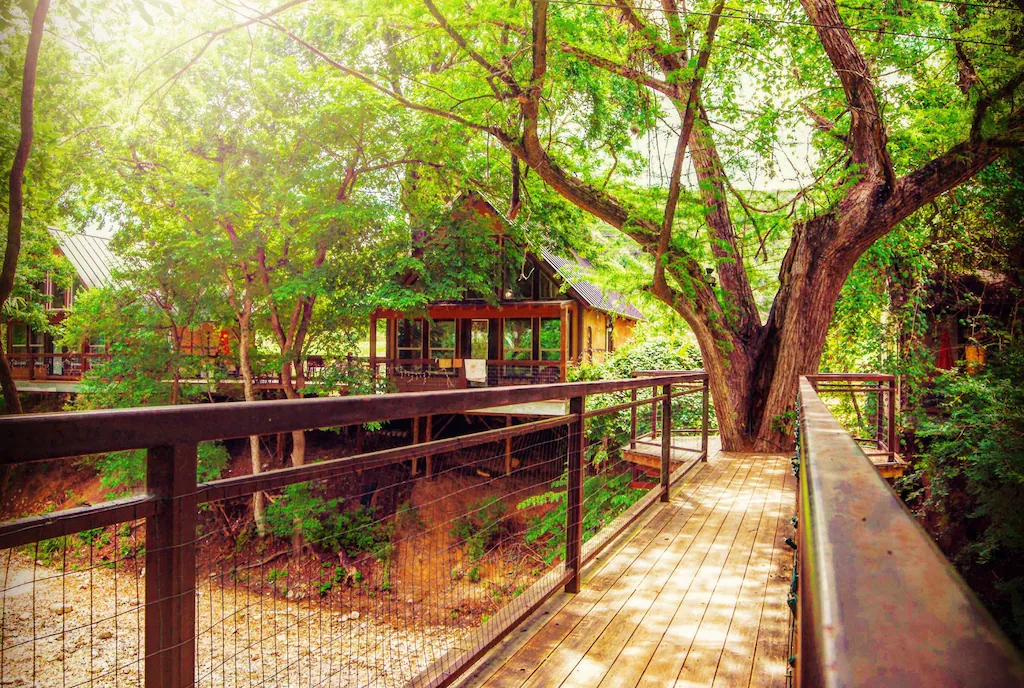 Hobbit Treehouse
Another one of the treehouses in Dallas, the Hobbit Treehouse is secluded and located deep in a forest on a cattle ranch on the banks of the Brazos River.
This 2 bedroom, 1 bathroom rental sits on a spectacular deck beside a majestic waterfall!
Some activities for visitors include hiking to the Brazos River, kayaking, tubing, and fishing. A fire pit and chairs are also provided.
Another perk of staying here is the hot tub. Soaking beneath the stars is a must-do.
If asked, the owners can even set up a cabana on an island in the river for a small fee!
A percentage of all revenue goes to the local food bank. Over 12,000 meals were provided during 2020. Won't it feel great to stay in one of the most unique treehouses in Texas knowing that some of the revenue goes to a greater good?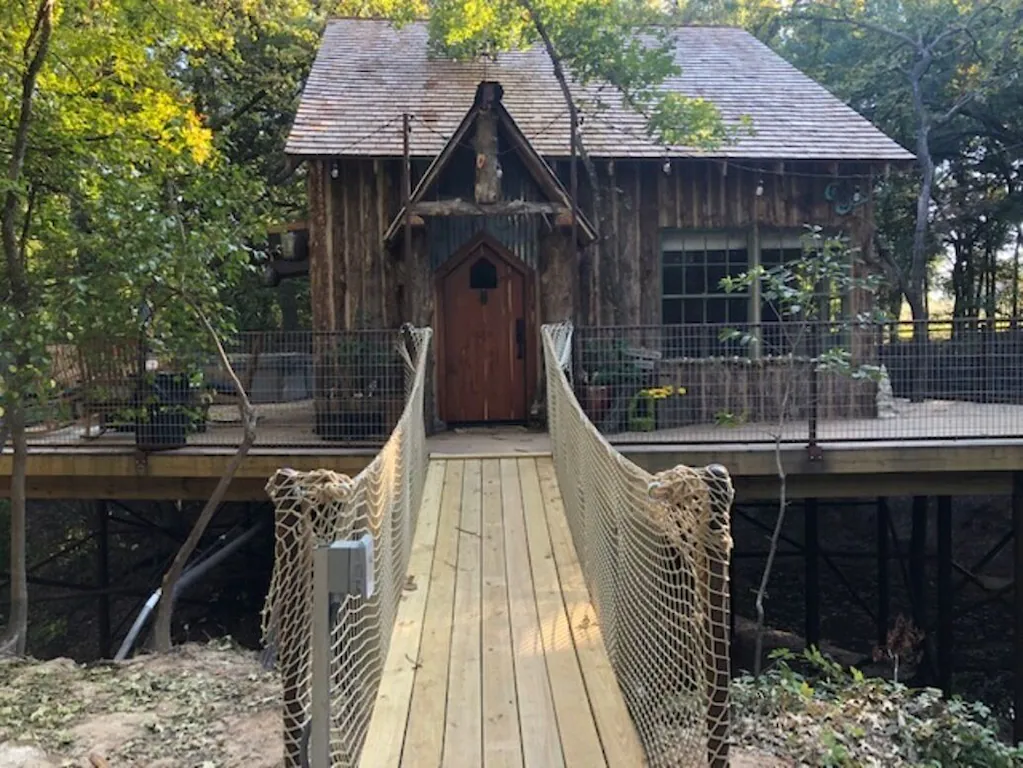 Cloud 9 Tree Haus
Cloud 9 Tee Haus is another one of the unique treehouses in New Braunfels.
The covered patio is a guest favorite and includes outdoor furniture, a charcoal BBQ grill, and fire pit. It shares a pool with four other treehouses. Be sure to bring your own beverage for the swim-up bar!
In addition, visitors will have access to a cabana, children's playground, and hot tub.
The Guadalupe River is only a short walk down the hill. Visitors will have access to fishing and kayaking.
Shops, restaurants, and popular attractions like Schlitterbahn and Gruene Hall are only minutes away! This treehouse in Texas is perfect for a weekend getaway!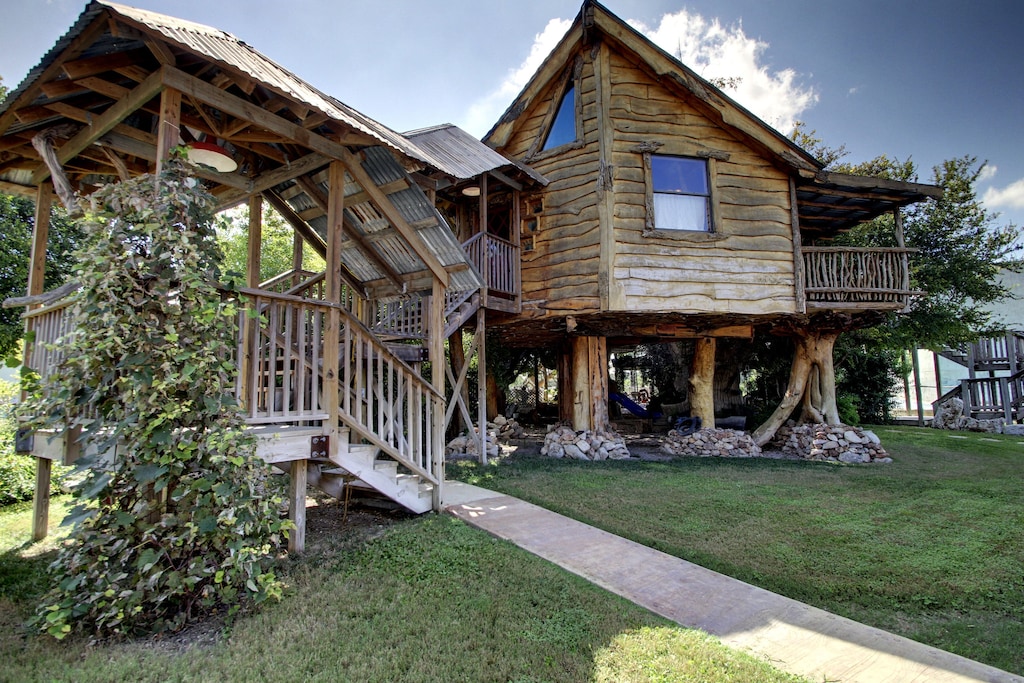 Las Palmas Tree Haus
This Tree "Haus" is located near the other treehouses in New Braunfels and offers many of the same amenities. It sleeps up to 8 guests and offers 2 bedrooms and 2 bathrooms.
The rental has a kitchen, dining/living area, and bedrooms with queen beds. Two rollaway beds are perfect for kids or additional guests. There is also a sofa bed in the living room.
Like the Cloud 9 Tree Haus, you will have access to the swimming pool, cabana, children's playground, and hot tub.
These treehouses in Texas are great for larger gatherings, too! You are able to book multiple rentals for your accommodations.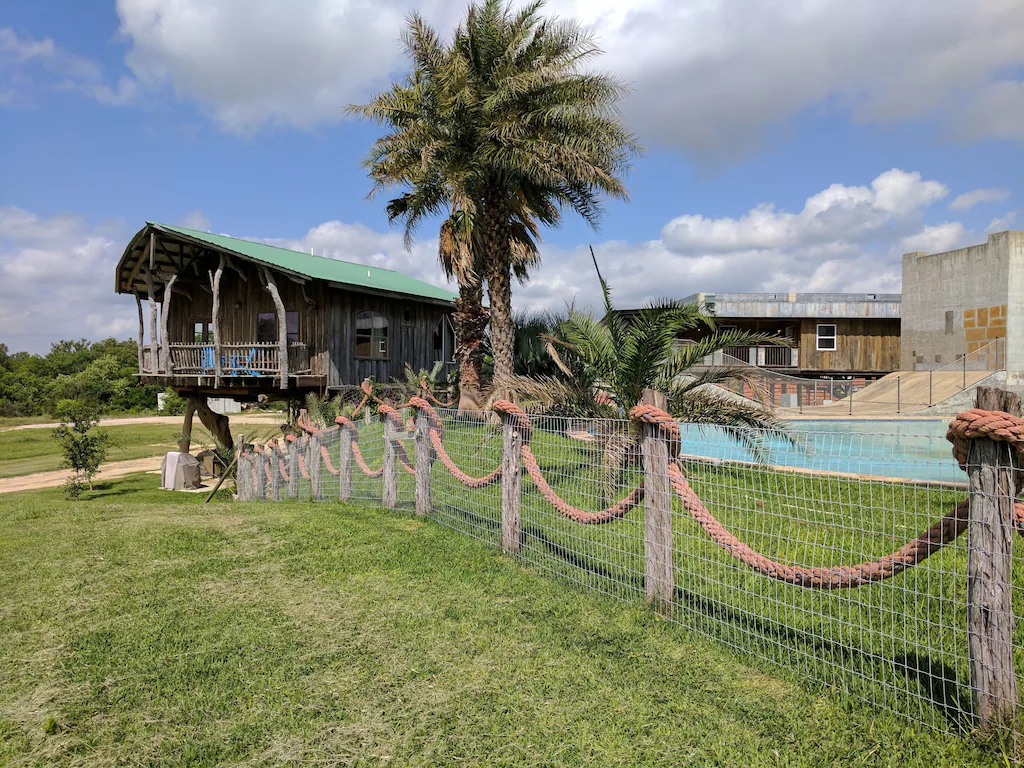 Laguna Vista Tree Haus
Laguna Vista is the largest of the Cloud Lane treehouses in New Braunfels. It sleeps 14 and has 4 bedrooms and 3 full baths.
There is a huge wraparound deck in the front that is perfect for relaxing. There is also a living room, full kitchen, and up to 8 beds that are available for guests.
All of the previous amenities mentioned are also available to the guests of Laguna Vista: swimming pool, cabana, children's playground, and hot tub.
Don't forget to bring your own beverages for the swim-up bar. There are over 15 stools for guests!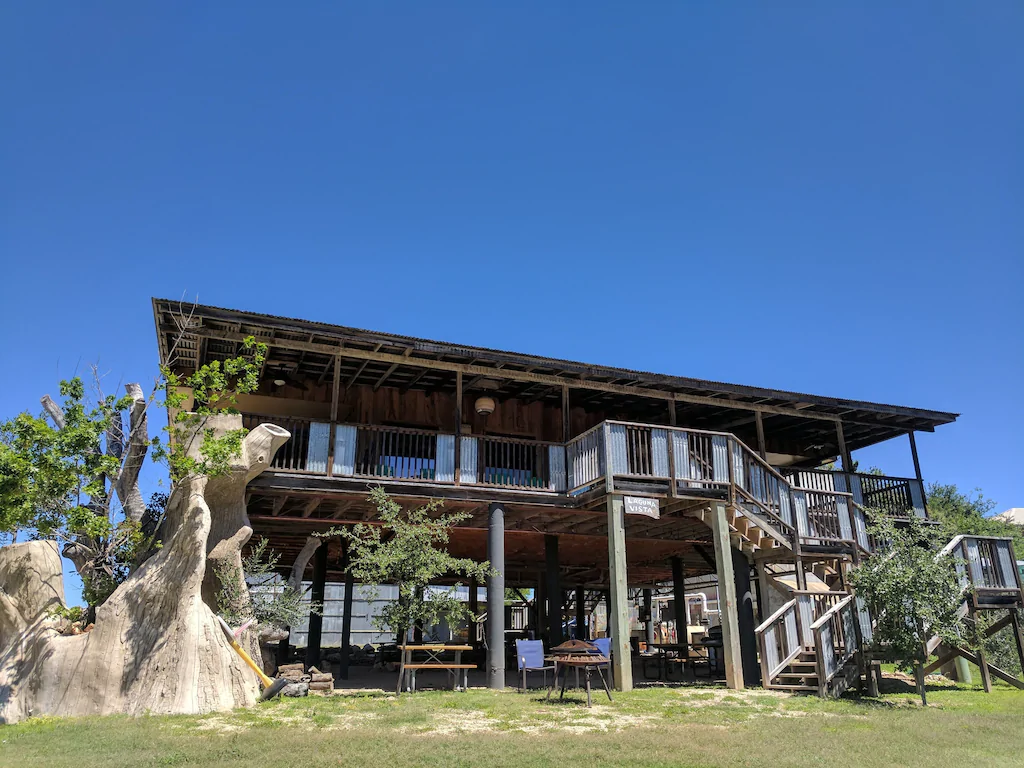 Lost Lake Treehouse
The Lost Lake Treehouse sits upon the shores of its very own pond!
From the three-story wraparound balcony, guests will have spectacular views of the surrounding forest and neighboring pond.
The treehouse sleeps up to 10 guests with 2 large bedrooms and 3 full baths. The treehouse also offers a full kitchen and living room.
Equipped with billiards, ping pong, connect 4, Jenga, Poker, and board games, visitors of all ages will be able to join in on the fun.
On the shores of the lake, there is a fire pit that is perfect for roasting marshmallows or getting warm on a cool night. A hammock is located nearby by for relaxation.
A pond if fully stocked and ready for fishing that can be done directly from the waterfront balcony!
As one of the larger treehouses in Texas, the Lost Lake Treehouse is perfect for families and large gatherings.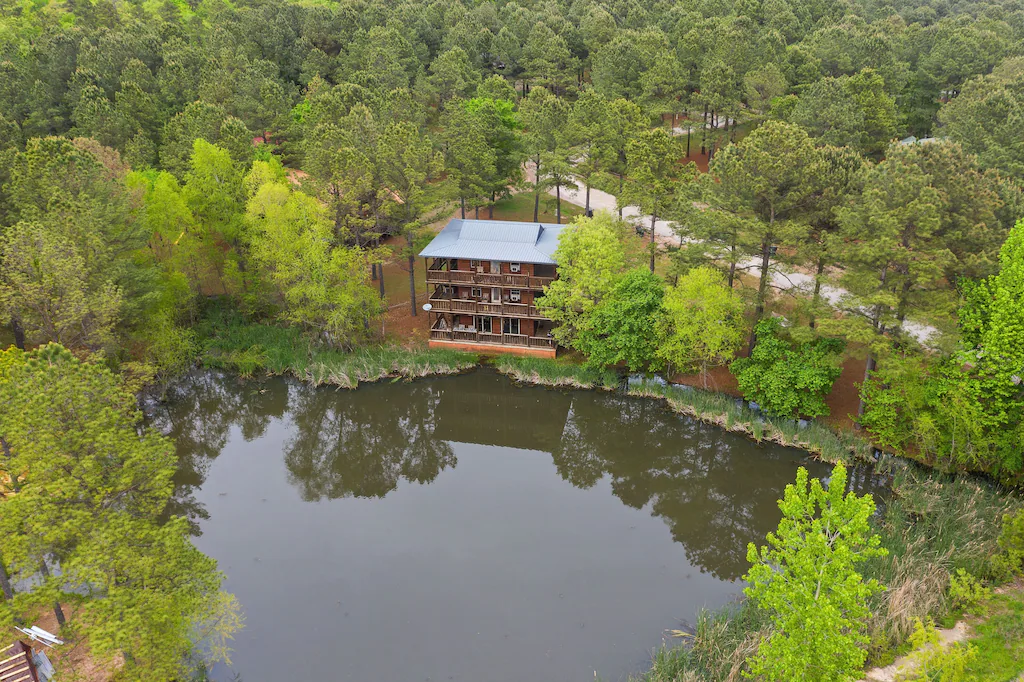 River Bluff
River Bluff is perfect for a secluded, romantic getaway. This 1 bedroom treehouse is perfect for special occasions, anniversaries, and honeymoons.
The River Bluff leads directly to the river. The river is open for fishing, and the hosts provide free kayaks for their guests.
The cabin is beautifully decorated with top-of-the-line appliances. There is also a charming fireplace. Firewood is provided!
Be sure to enjoy sunrises and sunsets from your personal hot tub on the balcony. You will love the serene views.
Book one of the many treehouses in Texas is perfect for you and your partner!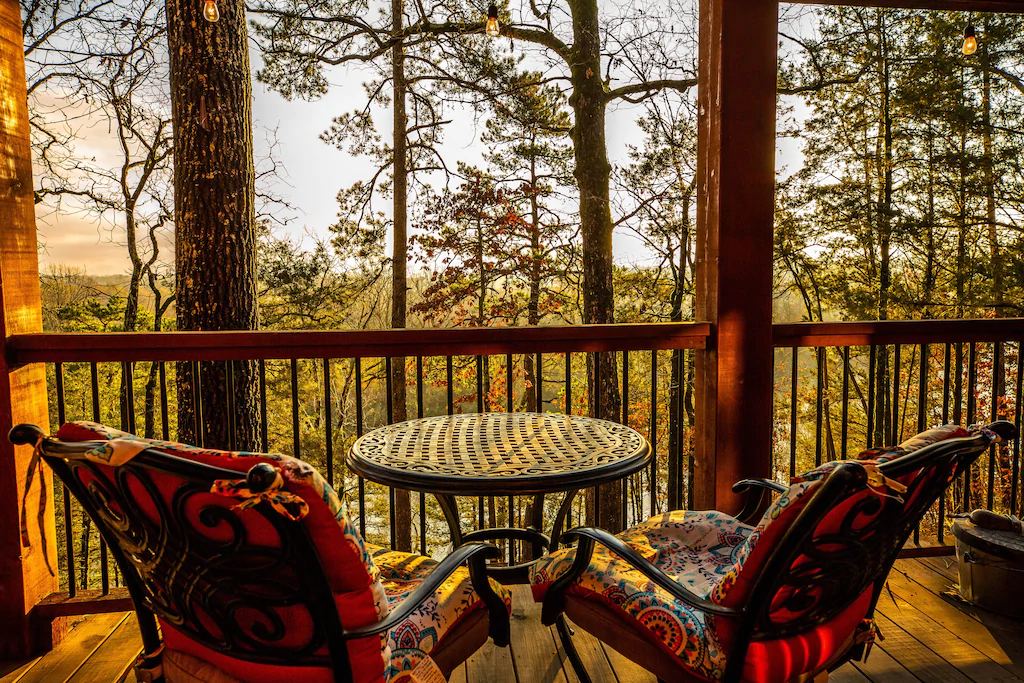 Amazing Cabin
One look at this cabin amongst the trees and you will want to book immediately! This rental is one of the most beautiful treehouses in Texas on this list.
This luxurious cabin sleeps up to 8 guests and is perfect for families and loved ones to embrace nature, appreciate the scenery, and enjoy some time away from their busy schedules.
Floor to ceilings windows allows visitors to enjoy the outdoor views at all times. There is also a custom kitchen and inviting living space to enjoy.
Much of the home was created from trees found on the property. Some of the oaks on the property are over 100 years old!
The second story private balcony overlooks the pond and acreage.
There are over 1.5 miles of hiking trails where visitors have the chance of spotting deer, foxes, birds, and beavers. Can you say paradise?